Cinco de Mayo is in two weeks, which is reason enough for me to come up with a few new twists on my favorite homemade Mexican recipes. This Cinco-de-Mayo-inspired Mexican Balance Bowl is really a glorified taco salad or deconstructed burrito and it is so easy and so delicious.
I have a super indulgent recipe for dulce de leche 7 layer bars in mind, so I wanted to make sure I provided a healthy option, since that's my normal M.O. with recipe sharing around here.
This Mexican balance bowl was a no brainer since it's also a super easy weeknight dinner. If you haven't tried sweet potatoes in your tacos yet, then I highly encourage you to do it ASAP.
Sweet potato and avocado is one of my top culinary combinations (see this healthy 7 layer dip here that converted me). I really think you'll love it!
Mexican Grain Bowl
If you're wondering what food bloggers actually eat, you are pretty much looking at it with this Mexican grain bowl setup.
With busy schedules and days ending in (at least) two trips to Trader Joe's, forgetting to get something for dinner both times, I'm big on meals involving roasted veggies and whole grains. And at least half the time, those dinners have Mexican flavors.
After you get your rice going (see my tip for making perfect rice/quinoa), start chopping your veggies to roast. You can roast whatever veggies you have on hand. A few favorites are bell peppers, onion, sweet potatoes, mushrooms, and zucchini. We've done ALL kinds of veggies though.
The recipe below gives instructions of grilling up some chicken breasts. This is a great place to use leftover meat and fish, however! You can really change this Mexican bowl each time depending on your leftovers and the veggies you have to cook up.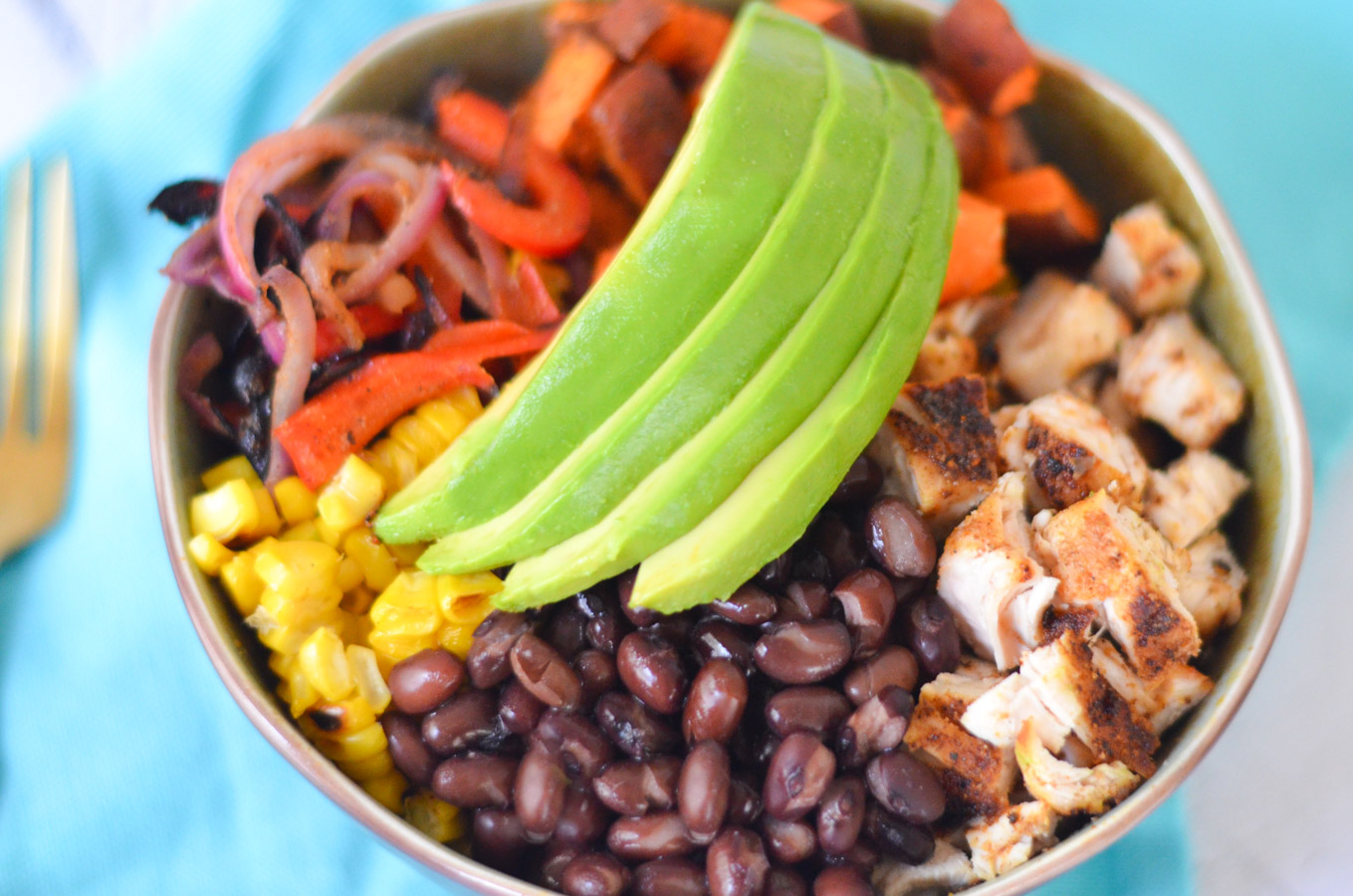 The best part about this setup is that each person can make their own meal however they like it. My husband likes to make burritos while I prefer a salad. We're both pleased with dinner and we're both content and full afterwards.
A few times I've added Mexican fruit cups as well, which has really kicked things up a fancy notch!
It surprises me how much we still love these super simple homemade Mexican nights. But who am I to complain about the tasty, easy situation?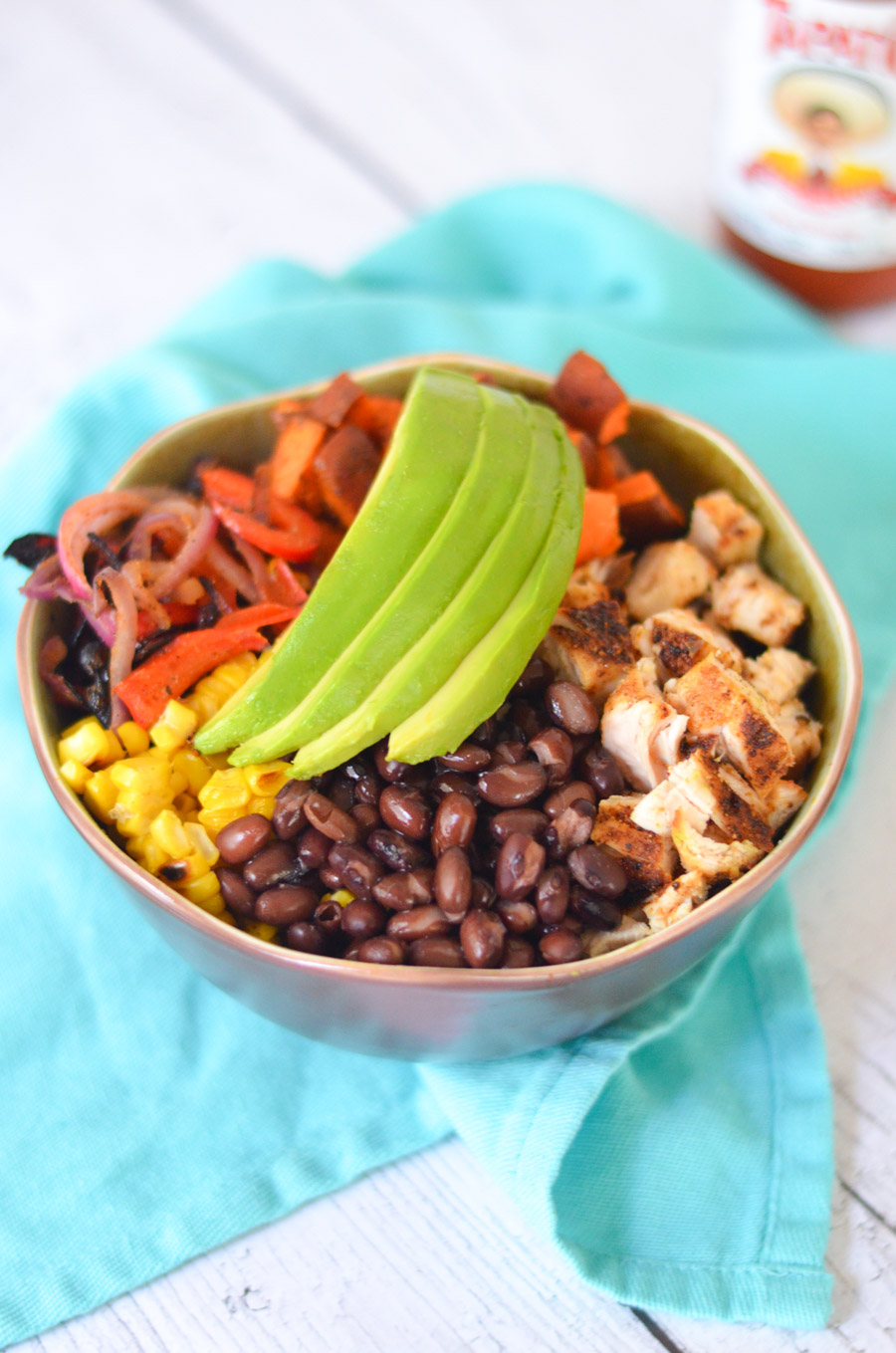 Mexican Inspired Recipes
Want more Mexican-inspired recipes? These Mexican pinwheel appetizers are simply and very tasty.
Homemade fajita seasoning is a must-have no brainer in our world, something we use regularly in these wild rice stuffed peppers, my one pot Mexican casserole (a fabulous dinner for a small crowd), and my 7 layer sweet potato dip (vegan)!
This Mexican Chocolate Cake is simple and yet so deliciously amazing – same goes for my Iced Mexican Mocha.
And if you have time, try these mango margaritas on the rocks.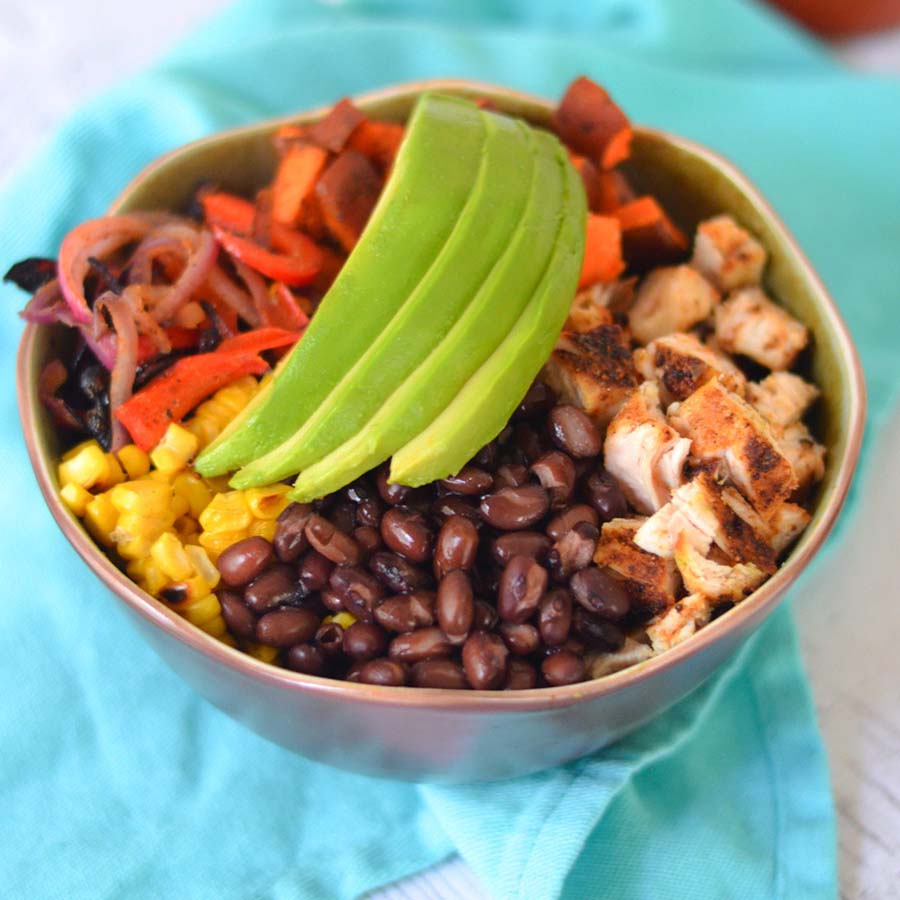 Print Recipe
MEXICAN BALANCE BOWL
If you were to ask me what I usually make for dinner, it's usually some version of this. With my favorite homemade fajita seasoning mix, it's an easy and healthy way to combine whatever proteins and veggies we have at home. It's our default when we can't think of anything else and neither my husband or I are ever disappointed!
Ingredients
⅓

cup

roasted sweet potatoes

⅓

cup

charred corn

⅓

cup

grilled chicken

⅓

cup

onions + peppers

⅓

cup

black beans

1

cup

cooked brown rice/quinoa blend

½

avocado
Instructions
ROASTED SWEET POTATOES: Preheat oven to 400 degrees. Chop sweet potato into bite sized pieces. Drizzle with olive oil. Season with salt + pepper. Roast 20-30 minutes until tender.

CHARRED CORN: Steam corn in microwave or on stovetop. To steam corn in microwave, place in microwave-safe bowl. Add a few tablespoons of water. Cover and microwave 5-7 minutes. To char corn (optional), place of hot bbq or grill pan, rotating every few minutes. Slice kernels of corn cob.

GRILLED CHICKEN: Drizzle chicken with olive oil and season with fajita seasoning mix. Sear both sides evenly until chicken is cooked through. Remove to plate and cover with foil for 5 minutes to maintain juiciness. Chop into bite sized pieces.

ONIONS + PEPPERS: See Homemade Fajita Vegetables Recipe

BLACK BEANS: To enjoy warm, cook black beans in liquid on low heat 5 minutes until warm. To enjoy cool, drain and rinse black beans before topping bowl.

COOKED BROWN RICE/QUINOA BLEND: Use one-half brown rice and one-half quinoa. Cook in rice cooker for best results.
BALANCE BOWL
Layer 1 cup rice/quinoa blend in bowl. Top with sweet potatoes, corn, chicken, vegetables, beans, and avocado. Enjoy with hot sauce!
Nutrition
Calories:
804
kcal
|
Carbohydrates:
116
g
|
Protein:
35
g
|
Fat:
26
g
|
Saturated Fat:
4
g
|
Polyunsaturated Fat:
4
g
|
Monounsaturated Fat:
12
g
|
Cholesterol:
35
mg
|
Sodium:
186
mg
|
Potassium:
2007
mg
|
Fiber:
24
g
|
Sugar:
9
g
|
Vitamin A:
6492
IU
|
Vitamin C:
16
mg
|
Calcium:
144
mg
|
Iron:
6
mg