Life should be full of way more brunch charcuterie spreads. Full of protein and flavor, this board feels lighter than your typical brunch-y fare!
Every foodie has their own specialties. I think I have one or two, but butchery is absolutely not one of them. If you've hung out with me for a while, you'll notice I do A LOT of veggie and whole grain dishes.
I think I'm better at those than anything related to meat, which is why I was ecstatic when I recently befriended a butcher! He offered to help me with my aversion to much meat at home and I jumped at the opportunity. First up, a great charcuterie spread perfect for brunch…
We agreed on a combination of meats, cheese, and fruits as well as some delicious honeys, mustards, and some finishing salt. When the offerings were set on the table, we each tried different combinations of meat, cheese, fruits, and toppings until we found our happy places.
By then, we'd eaten just about everything on the slate! While you can find cured meats a lot of places, head to your local butcher to get better quality meat.
Butcher shops bring you closer to your source of food, which is always a plus if you want to live more sustainably as well.
This charcuterie spread was perfect for a brunch of four hungry people. We might have enjoyed a few pastries to enjoy while we put the board together, which was a delightful beginning to a wonderful meal!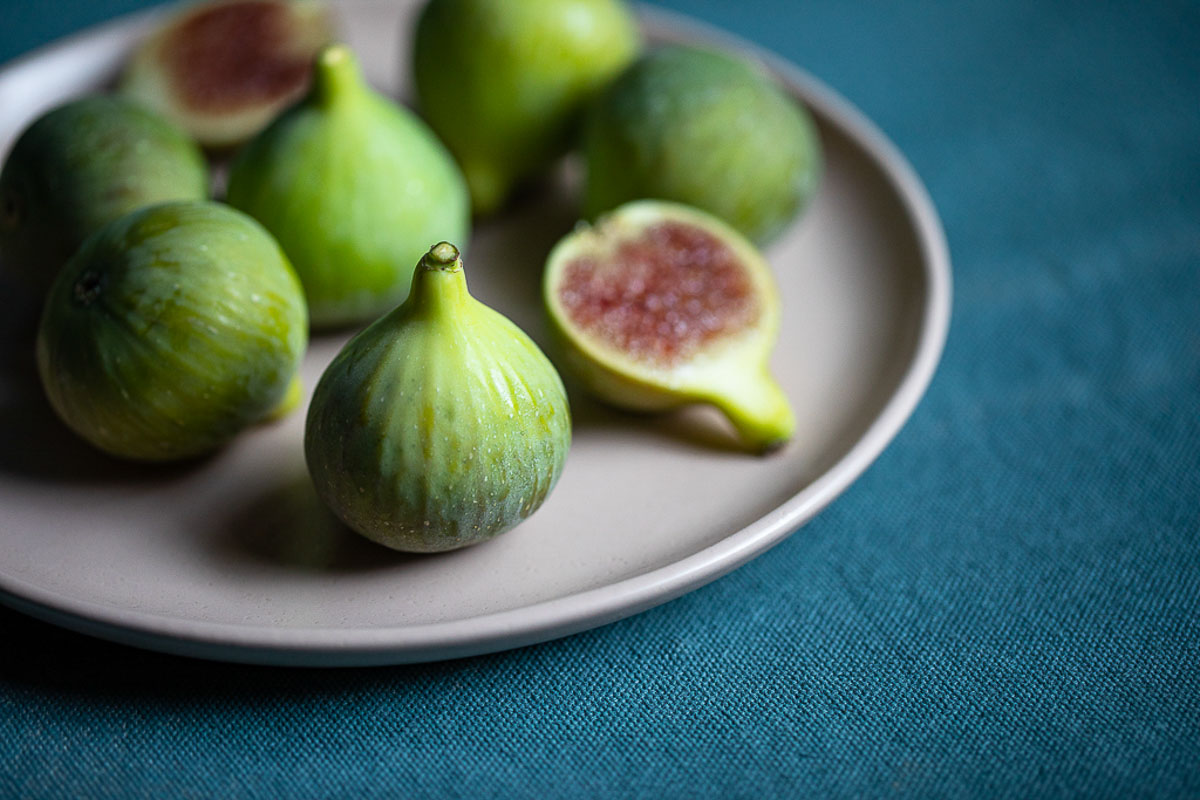 Brunch Charcuterie Board Meats
We selected three meats for this setup. First up was fennel pollen salami. Fennel pollen is a choice flavor enhancer for salami because it provides a slightly anise flavor that isn't too strong. I'm not always big on salami, but this was a lighter version that was quite enjoyable!
Second, was jamón serrano, which was my favorite. It's a Spanish ham that's cured and aged. It has less fat than many of the other meats, which is why I enjoyed it so much, I'm sure. It's very similar to Italian prosciutto – just from a different breed of pig.
You can learn more about different kinds of cured meats in this great slideshow by Huffington Post.
Lastly, guanciale – pork cheek. I've had guanciale in my favorite mussel dishes at Wildcraft in Culver City (sadly closed now). While I don't usually eat the guanciale in the dish, I knew that it provided so much of that great flavor.
Of the three meats, this one was my least favorite on its own, but it was a perfect addition as everyone else loved it!
While the cured meats are what makes up a traditional charcuterie board, providing the right accoutrements were key to really enjoying the whole experience. So before we get into the cheeses and fruits, let's talk about the cherry on top, if you will…
Finishing Touches
There were really three 'toppings' – finishing salt; two kinds of honey, including honeycomb (also available at Whole Foods); and Moutarde de Meaux whole grain mustard.
The salt was a wonderful addition to the sweetness from the fruit and honey.
The honey was a deliciously sweet counterpart to the cured meats, and the mustard just went with everything. You can see why it was so much fun to try so many different flavor combinations!
SEASONAL RECIPE COOKBOOKS
DELICIOUS RECIPES TO ENJOY PRODUCE TO ITS FULLEST ALL YEAR ROUND. SIMPLE AND DELICIOUS RECIPES MADE FROM SCRATCH FOR YOUR FAMILY AND YOUR GUESTS ALL YEAR LONG!
Brunch Charcuterie Board Cheeses + Fruit
To balance out the charcuterie and the toppings, we included two kinds of cheese – burrata and goat cheese.
Additionally, we offered grapes, figs, and peaches. We grilled the peaches for a few minutes to soften them and add sweetness.
And because we wanted to make the slate as visually appealing as possible, we garnished with sprouts over the cheese and fresh dill. The presentation was almost too beautiful to eat, but once we started we just couldn't stop.
You can check out these simple cheese board ideas as well!
And to finish it off, this brunch sangria was PERFECT!
Get your brunch charcuterie board necessities…

More Appetizer boards
Want some more boards? This winter appetizer platter is stunning. Don't miss this Trader Joe's charcuterie board, the kids appetizer board that everyone will love, and a fun holiday-board for Valentine's Day Appetizers and St. Patrick's Day apps!
Savory Breakfast Recipes
I often opt for savory over sweet breakfast items too! Be sure to try this savory pumpkin toast for fall, breakfast tacos (meal prep style), smoked salmon tartine (could probably eat this every day), and Savory French Toast.
Print Recipe
Brunch Charcuterie Board
Whip up this mouthwatering brunch charcuterie board. Sharing three great meats, toppings, cheese, and fruit to pair for the ideal spread!
Ingredients
4

oz.

Fennel salami

4

oz.

Jamon serrano

4

oz.

guanciale

4

oz.

Burrata cheese

4

oz.

Goat cheese

3-4

figs

sliced

1

bunch grapes

Finishing salt

Honeycomb/honey

Whole grain mustard

1

baguette

sliced
Instructions
Arrange meat and cheese on serving board with space between.

Place fruit between meat and cheese, allowing room for finishing touches.

Add salt, honeycomb, and mustard in 'empty space.'

Serve with freshly sliced bread.
Nutrition
Calories:
786
kcal
|
Carbohydrates:
57
g
|
Protein:
35
g
|
Fat:
49
g
|
Saturated Fat:
20
g
|
Polyunsaturated Fat:
2
g
|
Monounsaturated Fat:
6
g
|
Cholesterol:
101
mg
|
Sodium:
1974
mg
|
Potassium:
353
mg
|
Fiber:
3
g
|
Sugar:
27
g
|
Vitamin A:
568
IU
|
Vitamin C:
2
mg
|
Calcium:
279
mg
|
Iron:
4
mg