I'm still on a soup recipe kick. What can I say? It's winter and they're all hearty, delicious, and healthy! This one pot lentil soup recipe is one of my all time favorites.
I didn't eat lentils growing up, so it wasn't until grad school that I started enjoying them. I can't remember the first lentil soup I had, but it must have been amazing because I was quickly addicted.
Many lentil soup recipes call for a meat bone of some sort – not really my jam when I'm cooking at home. I did find a recipe for a vegan lentil soup, however, that is a one pot soup recipe and is positively delicious…
Vegan Lentil Soup
The original vegan lentil soup recipe called for carrots, tomatoes, and celery. I almost never have celery in the house and, well, I'm almost always trying to use up veggies in my fridge.(See tips for how to keep celery fresh).
So, I started adding onions, mushrooms, and bell peppers. I loved the flavors of all those. The recipe now calls for those three veggies, but that part is flexible. It's really the quantity of vegetables rather than the specific flavors that make this soup so great.
One addition you'll see to the recipe is a dash of balsamic vinegar. I know it sounds weird, but please try it before you knock it. I was certainly apprehensive the first time I read about the combo, but it's so, so delicious, I now can't imagine lentil soup without it!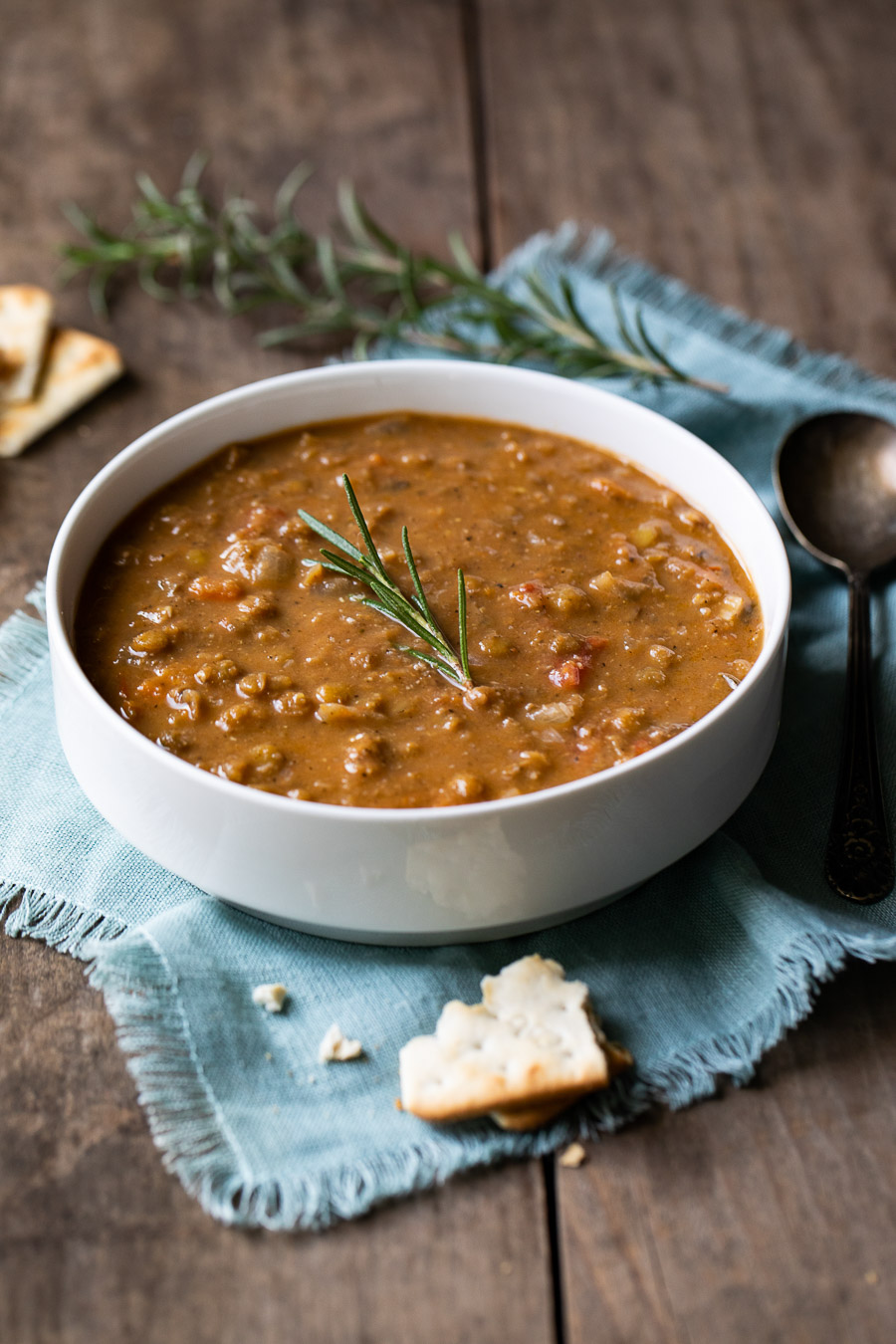 What Type of Lentil for Soup?
It took me a long time to learn that there are various colors and therefore types of lentils. In general, there are four varieties (easily spotted by color) – brown, green, red, and yellow.
When cooked – and you'll never eat lentils raw – brown and green varieties tend to hold their shape better. For recipes like this warm lentil salad, those sturdier varieties are best.
Red and yellow lentils cook the fastest but also break down more easily.
For this soup, since you puree some of it anyway, any variety of lentil (or even a mix) is absolutely fine!
Can you Freeze Lentil Soup?
Absolutely! Most soups freeze beautifully, making them the perfect option for making in bulk and then freezing for easier dinner nights down the road.
To freeze lentil soup, cool in the refrigerator. Then fill sealable containers. Note that glass containers can only be filled about ⅔-3/4 full with soup to allow for expansion. Plastic containers can be filled about 80-90% full for the expansion.
Then label and freeze for 2-3 months.
To defrost, merely pull containers out of the freezer and let thaw on counter or in refrigerator. Thawing time will vary on the temperature in your kitchen and the size of your container, but on the counter it should take a few short hours and possibly 12 horus in the refrigerator.
One Pot Dinners
If you're going through a phase where dinner ideas are few and far between AND/or a phase of dishes seeming like the work of the devil, look into some more one pot recipes.
We love this one pot Mexican Casserole as well as this Lemon Tuna Pasta made with canned tuna. Both dishes call for ingredients you likely already have on hand and there are almost no dishes to clean up!
SEASONAL RECIPE COOKBOOKS
DELICIOUS RECIPES TO ENJOY PRODUCE TO ITS FULLEST ALL YEAR ROUND. SIMPLE AND DELICIOUS RECIPES MADE FROM SCRATCH FOR YOUR FAMILY AND YOUR GUESTS ALL YEAR LONG!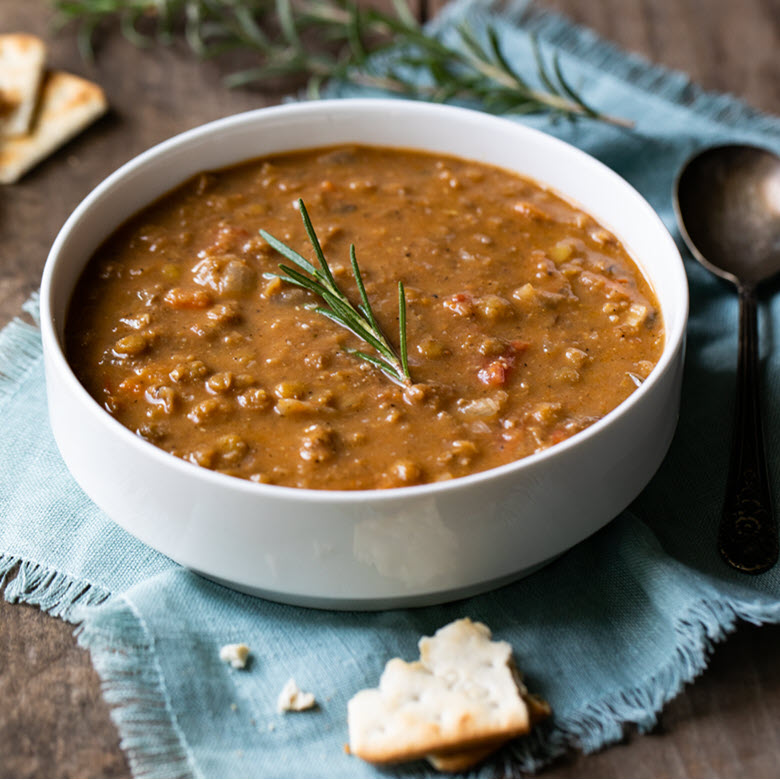 Print Recipe
Vegan Lentil Soup
This lentil soup is one of my all time favorite recipes. Unlike many lentil soup recipes, this one is vegan, so it's just great flavor from the lentils and veggies. I suggest a dash of balsamic vinegar at the end. It sounds crazy, but it adds so much depth of flavor, you'll wonder why you never thought of it before!
Ingredients
3

tablespoons

extra virgin olive oil

2

cups

chopped yellow onion

1

cup

chopped carrots

2

garlic cloves

minced

1

cup

chopped crimini mushrooms

5

cups

vegetable stock

1

cup

brown lentils

rinsed and drained

1-14.5

oz

can diced tomatoes in juice

1

4-inch

sprig fresh rosemary

plus more for garnish

Fine sea salt and black pepper to taste

good balsamic vinegar
Instructions
Heat the oil in a soup pot over medium-high. Add onions, carrots, and garlic and cook until they begin to soften – about 7 minutes.

Add the mushrooms and cook until they shrink and darken and the rest of the vegetables are browned – about 5 minutes.

Add 4 cups of the stock, lentils, and tomatoes with their juice, and the sprig of rosemary, and bring to boil. Reduce heat to medium–low, partially cover and simmer until lentils are tender, about 25 minutes. Discard the rosemary stem.

Transfer 2 cups soup to a blender and puree until smooth. Return puree to the soup pot. Stir in the remaining 1 cup of stock and cook over low heat until all ingredients are warm, 2 to 3 minutes.

Season with salt and pepper as desired. Garnish with small sprigs of rosemary before serving.

Add a dash of balsamic vinegar to individual servings.
Nutrition
Calories:
222
kcal
|
Carbohydrates:
30
g
|
Protein:
9
g
|
Fat:
7
g
|
Saturated Fat:
1
g
|
Polyunsaturated Fat:
1
g
|
Monounsaturated Fat:
5
g
|
Sodium:
811
mg
|
Potassium:
523
mg
|
Fiber:
11
g
|
Sugar:
6
g
|
Vitamin A:
4005
IU
|
Vitamin C:
7
mg
|
Calcium:
44
mg
|
Iron:
3
mg