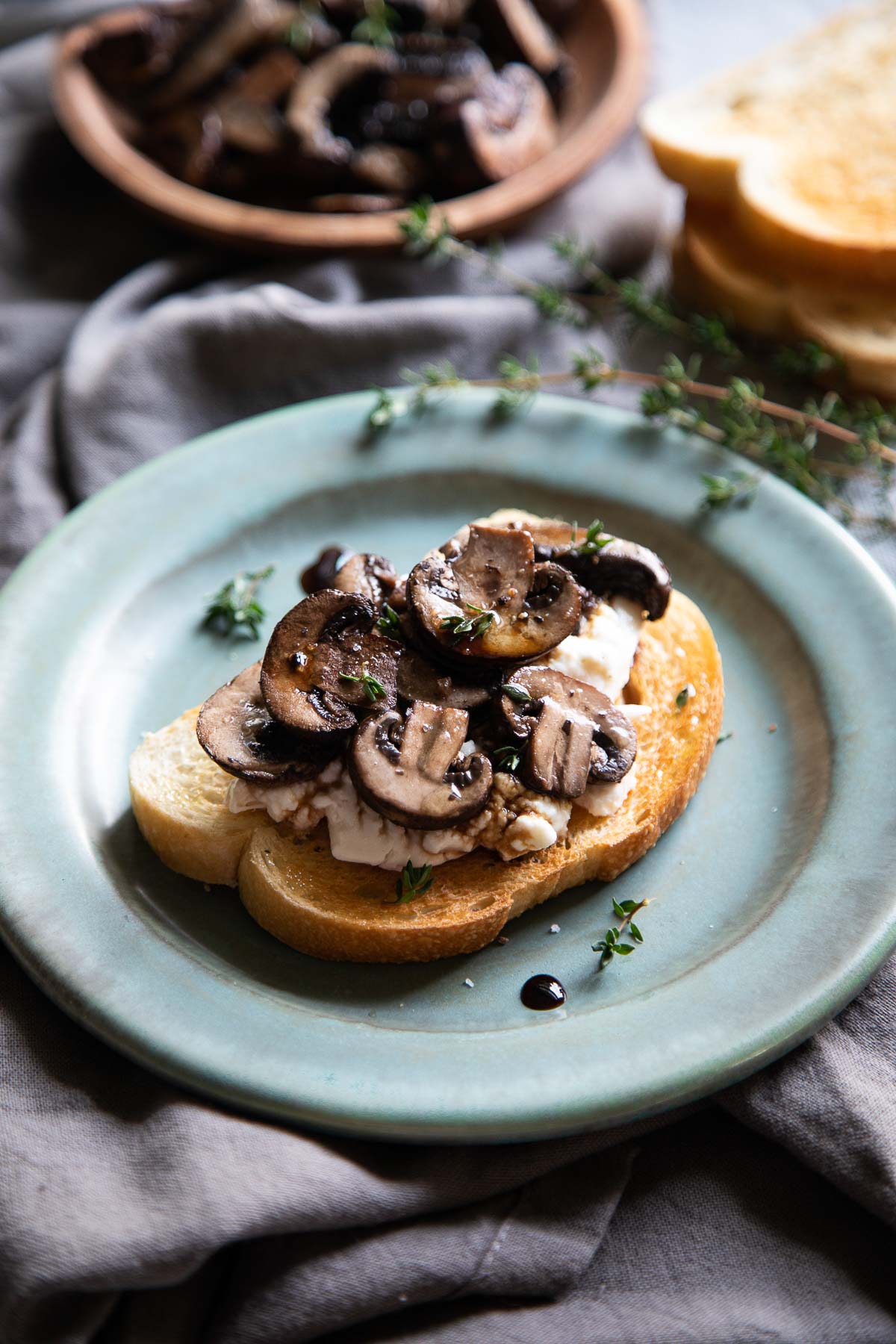 If you've never had mushroom toast, get ready to fall in love with the simplicity of the recipe ad complexity of the flavors.
I didn't know if it would happen, but we've managed to have an 18 month old who LOVES veggies! He's not big on green beans, but he'll take zucchini, bell peppers, onions, and mushrooms just about any day of the week!
And while he's eating this mushroom toast in small bites (and with his fingers), I'm scarfing it down with gusto!
The idea for this tasty toast came from a favorite restaurant in Culver City – Wildcraft (sadly now closed) – within walking distance of our apartment. The cocktails, entrees, and desserts were phenomenal, but they have a burrata + mushroom crostini under one of their salads that is to die for!
A neighboring restaurant was my inspiration for this giant meatballs & ricotta recipe as well!
Delicious hearty bread, mouthwatering burrata cheese, delicious roasted mushrooms mixed with greens, and a fig saba. It's impossibly delicious!
Mushroom Toast
When dealing with good bread and delicious cheese, a recipe really can't be bad. This is a general principle in my cooking experimentation, usually just switching up a flavor or two in a well-known combination of ingredients.
Since my husband started following the Low FODMAP diet a few years ago, the thing I've missed the most is a variety of vegetables. Our usual rotation includes zucchini, red bell peppers (yes, only the red ones), carrots, broccoli (usually roasted), and occasionally greens of various kinds.
I love all those, but I miss onions, mushrooms, cauliflower, beets, winter squash, and whatever else I've blocked from my memory at the moment.
The best part about a baby who loves veggies, however, is that I can easily make something for him and I to share. So it's probably no surprise that I saute onions and mushrooms for him and I pretty regularly! And so the return of burrata and mushroom crostini for my indulgence!
What is Saba?
And if you're wondering what saba is – not to worry, I was too – it's very similar to a balsamic vinegar. It actually predates the balsamic vinegar with which we're familiar. It's on the thicker side and is also a little sweeter! It's quite delicious!! You can buy a bottle online here.
If you don't want to buy it before trying out this recipe, you can actually boil down some balsamic vinegar to make it thicker! It will be a good substitute.
Where to buy burrata
Ahhhhh. The beauty of burrata that just makes your mouth water because you know just how tasty it is!
Burrata is a delicacy in my opinion. It can be expensive, but you can get some pretty decent burrata in the Trader Joe's cheese section. It'll be in with the mozzarella in the plastic tubs. The cheese sits in liquid so as not to dry out!
And if you've never tried burrata cheese, stop what you're doing and go try it. It's super creamy and delicious!
If you already love burrata (and you will – I haven't met anyone who doesn't), try these burrata recipes: Burrata Breakfast Salad, this grilled veggie antipasto plate, and enjoy it on this brunch charcuterie board!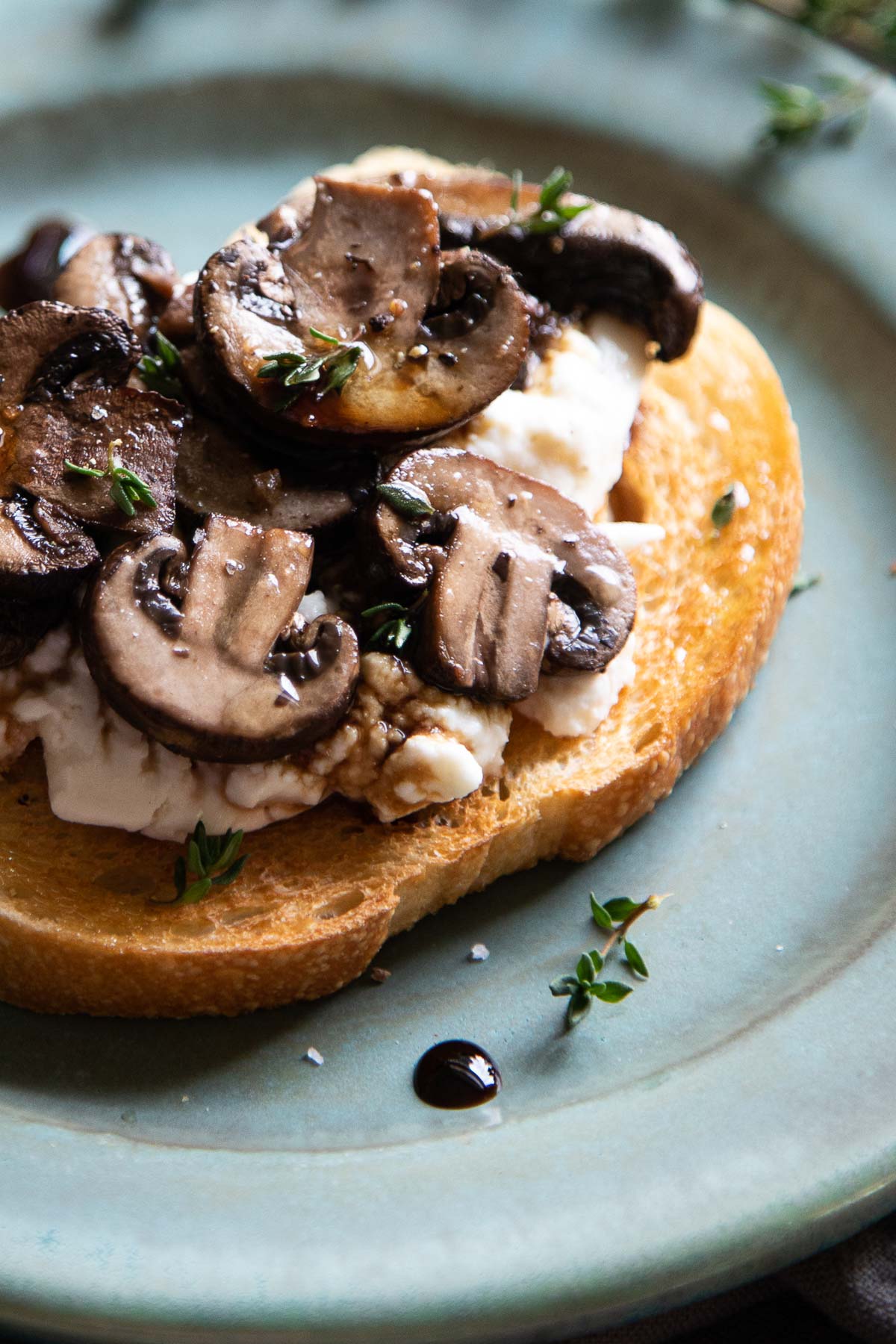 If you just need every meal served on a lovely piece of toast, try this smoked salmon tartine, grilled avocado toast, a tuna tartine for two, beautiful radish toast, some ricotta and zucchini toast, or this ceviche toast! And if all else fails, savory fig toast. One loaf of bread and you're set for the week on meals!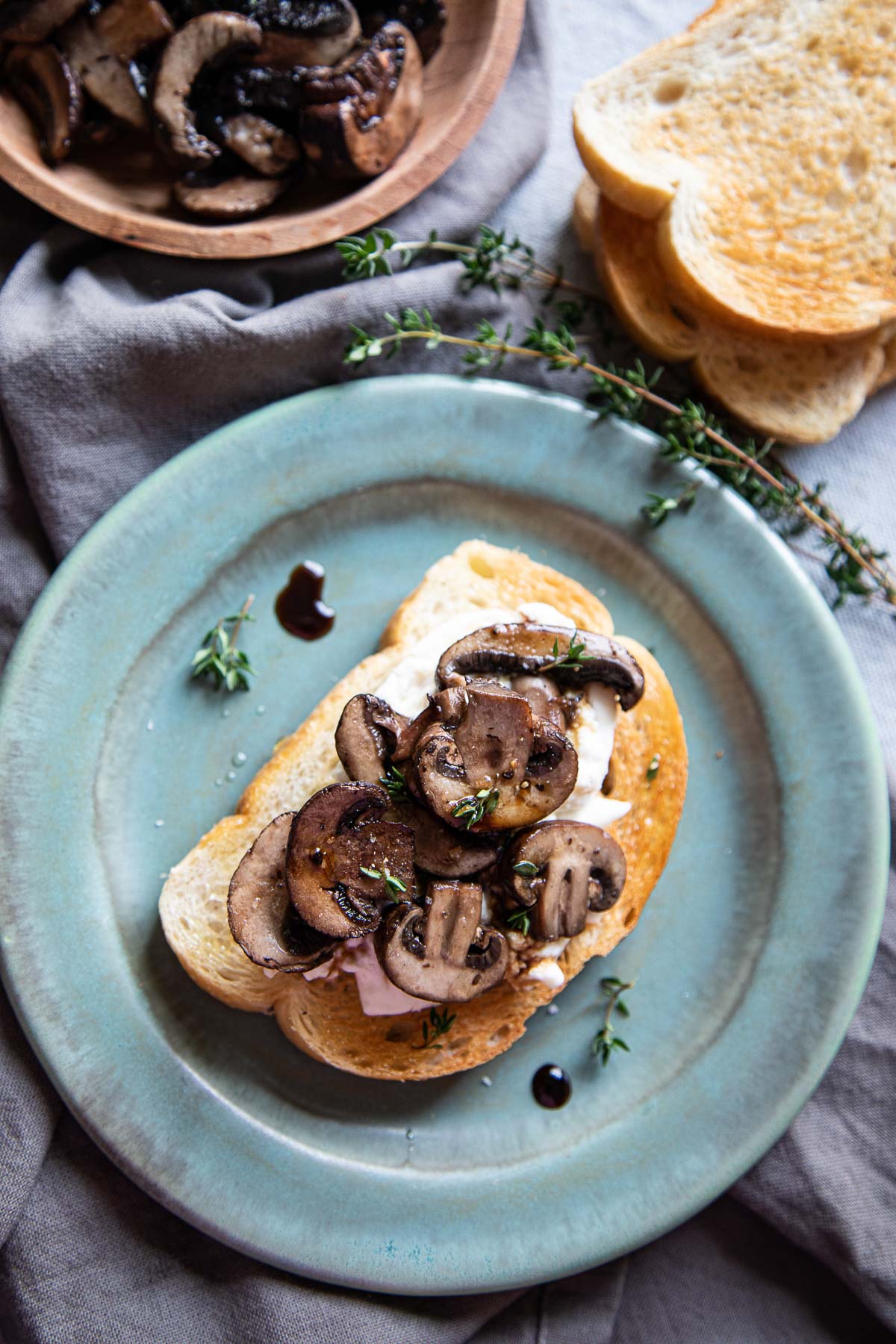 SEASONAL RECIPE COOKBOOKS
DELICIOUS RECIPES TO ENJOY PRODUCE TO ITS FULLEST ALL YEAR ROUND. SIMPLE AND DELICIOUS RECIPES MADE FROM SCRATCH FOR YOUR FAMILY AND YOUR GUESTS ALL YEAR LONG!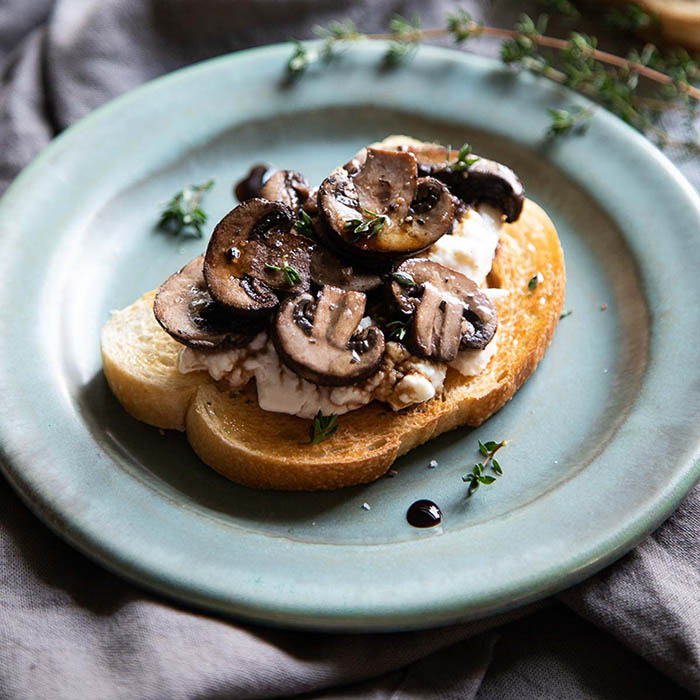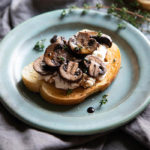 Print Recipe
ROASTED MUSHROOM TOAST
Combine the delicious flavors of fresh burrata cheese and roasted mushrooms with thyme is this hearty starter. Perfect for vegetarians and meat lovers alike, this mushroom toast recipe will have you winning accolades from your dinner table guests in no time!
Ingredients
2

cups

chopped mixed mushrooms

crimini + shitake used here

3

tablespoons

olive oil

¾

teaspoon

salt

½

teaspoon

pepper

¾

teaspoon

dried thyme

4

slices

sourdough bread

or other hearty bread good for toasting

olive oil

6

oz.

burrata cheese

High-Quality Balsamic Vinegar

salt and pepper
Instructions
Preheat oven to 400 degrees.

Combine mushrooms, olive oil, salt, pepper, and thyme. Spread evenly on baking sheet. Bake 10-15 minutes until mushrooms are tender.

Meanwhile, cut 4 slices of bread ¾″ to 1″ thick. Toast bread until just starting to brown around edges.

Drizzle olive oil over bread. Spread burrata over toast. Top with mushrooms. Drizzle vinegar over mushrooms. Season with salt and freshly cracked pepper. Enjoy immediately.
Nutrition
Calories:
241
kcal
|
Carbohydrates:
8
g
|
Protein:
10
g
|
Fat:
22
g
|
Saturated Fat:
7
g
|
Polyunsaturated Fat:
1
g
|
Monounsaturated Fat:
8
g
|
Cholesterol:
30
mg
|
Sodium:
742
mg
|
Potassium:
345
mg
|
Fiber:
3
g
|
Sugar:
3
g
|
Vitamin A:
305
IU
|
Vitamin C:
0.1
mg
|
Calcium:
232
mg
|
Iron:
1
mg