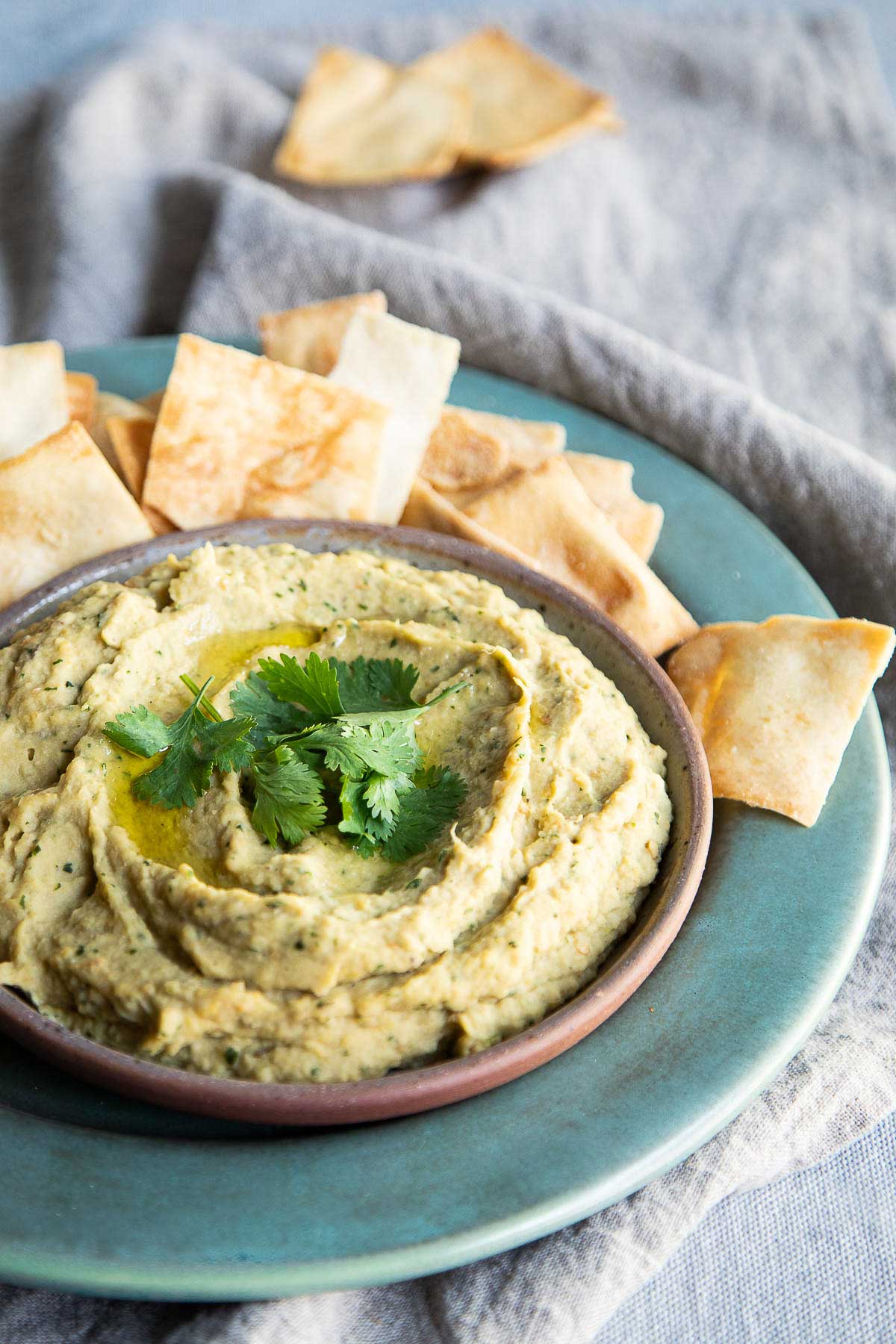 Eggplant was the last "common vegetable" I learned to like. I'd enjoyed it a few times, but then it never tasted right when I tried to cook it at home. Then I learned a few tricks and now it's a go to in our house. The latest concoction? This roasted eggplant dip that we can't stop eating.
Roasted Eggplant Dip
So if there's anything to know about cooking eggplant, it's that it needs oil and it's delicious anyway you want to eat it. I wouldn't recommend it raw, however! We grill it, saute it, slow cook it (usually in our chili), and roast it – all to delicious oblivion!
But there are 2 tricks that takes eggplant from a weird vegetable we don't know what to do with to a scrumptious addition to just about everything.
How to Make Eggplant Taste Good!
I realized in my efforts to cook eggplant that I completely misunderstood the vegetable. I tried cooking it like zucchini. And that would be fine if it were anything like zucchini, but it really isn't.
First, the skin. There are quite a few varieties of eggplant, but the most common here in the US is the Italian Eggplant. The skin on this particular variety is quite tough.
I learned from a few cookbook authors and friends that the easiest option is to peel the skin off. I just run my knife around the eggplant and get rid of the skin. The smaller, more tender varietes can certainly keep their skins!
Second, the spongy consistency. So when you try to cook eggplant like zucchini (or is that just me?), you'll find the eggplant spongy and blah. To combat this, I chop up my eggplant to my desired size and then put it in a bowl with warm, salted water for about 5 minutes. Drain the water (it'll be light brown in color) and you're good to cook it however you like!
Third. Olive oil, olive oil, olive oil. Ok maybe other things too, but eggplant needs liquid to soften and it needs A LOT of it. Olive oil is the delicious, classic ingredient, but it isn't the only option.
As I mentioned above, we use eggplant in our chili to add a great thickness. I don't put any oil in there, rather it soaks up liquid from the canned tomatoes and stock/water!
Roasting Eggplant for Dip
Ok. With all of that in mind, let's get back to this roasted eggplant dip. The joy of roasted multiple things on the same pan is only something I've done for the last year or so, but it is kind of the best thing ever.
I especially love roasting ingredients together, so their flavors can start to marry (like when they're sauteeing in the pan). For this appetizer, place the eggplant, onion, and chickpeas into the oven together. Once they've softened, let them cool a bit and then pureed them with the finishing flavor touches.
I love this dip as an appetizer, but if we're being real, it may or may not have been the star of the show a few times on my lunch plate!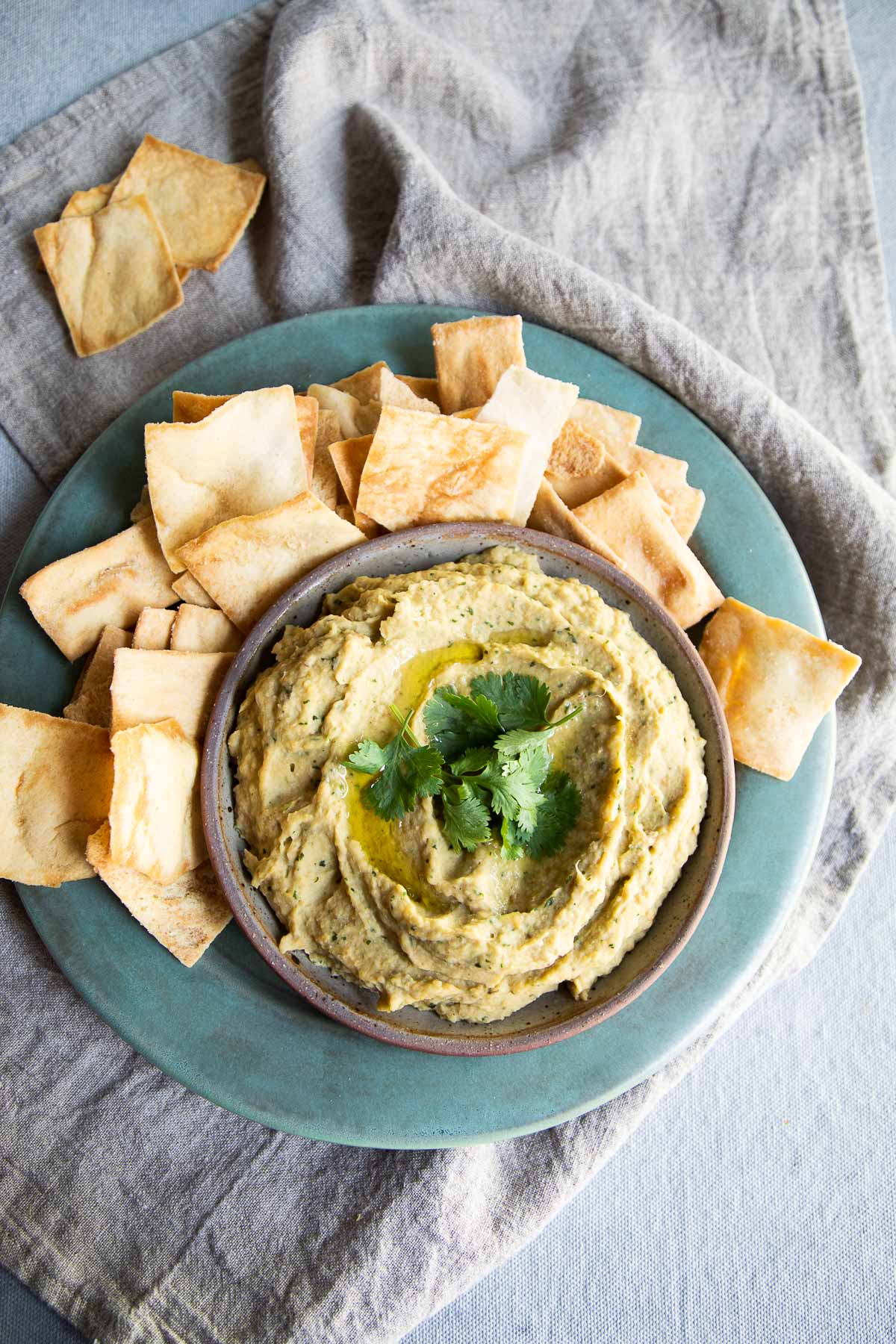 Get more appetizer recipes here.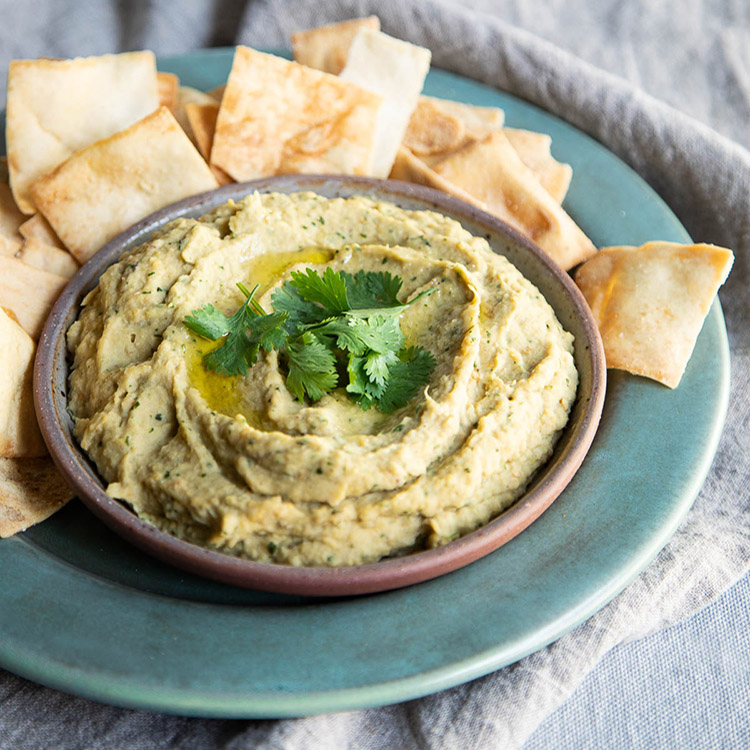 Print Recipe
ROASTED EGGPLANT DIP
Learn to love the flavors of eggplant in this roasted eggplant dip recipe. You'll love the ease of roasting veggies and beans together to then quickly puree them into a scrumptious dip that's full of vitamins and antioxidants!
Ingredients
5

cup

peeled and chopped eggplant

about 2 medium eggplant

⅓

cup

chopped yellow onion

1

15.5 ounce can chickpeas, rinsed and drained

4

tablespoons

extra virgin olive oil

1 ½

teaspoons

fine sea salt

¼

teaspoon

ground black pepper

¼

cup

fresh cilantro leaves

Extra virgin olive oil and cilantro for garnish

Pita chips for serving
Instructions
Preheat the oven to 400 degrees F.

Place eggplant cubes in bowl of warm, salted water for 5 minutes. Drain water.

Spread the eggplant, onion, and chickpeas in a single layer on a rimmed baking sheet. Drizzle with 2 tablespoons olive oil. Sprinkle with 1 teaspoon salt and the black pepper. Stir all ingredients and spread back into a single layer. Bake for 10 minutes. Stir and bake for 10 more minutes, until the eggplant is tender.

Remove from the oven and let cool for 10 to 15 minutes, until just barely warm.

Transfer the contents of the baking sheet to a blender. Add the remaining 2 tablespoons of olive oil and the remaining ½ teaspoon salt. Puree until smooth. Add the cilantro. Process again until the cilantro becomes tiny green flecks throughout the dip. Add more salt to taste, if desired.

Transfer to a serving dish. Drizzle with olive oil and top with cilantro leaves. Serve slightly warm or at room temperature with pita chips.
Nutrition
Calories:
124
kcal
|
Carbohydrates:
6
g
|
Protein:
1
g
|
Fat:
11
g
|
Saturated Fat:
2
g
|
Polyunsaturated Fat:
1
g
|
Monounsaturated Fat:
8
g
|
Sodium:
701
mg
|
Potassium:
209
mg
|
Fiber:
3
g
|
Sugar:
3
g
|
Vitamin A:
74
IU
|
Vitamin C:
3
mg
|
Calcium:
11
mg
|
Iron:
0.3
mg