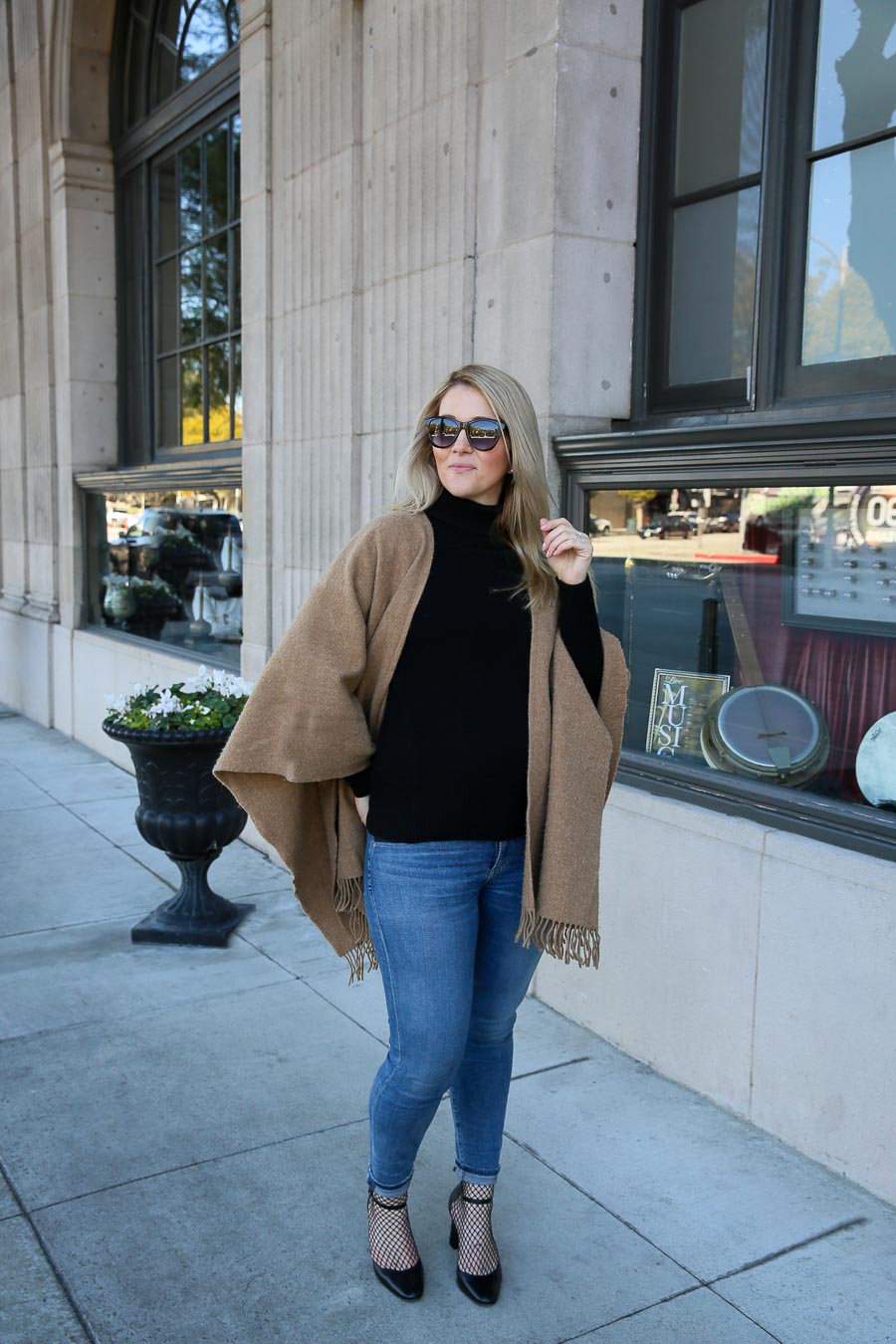 Don't you just love good poncho outfits? The ease of that cozy, oversized layer just exudes classic style while keeping you warm and happy.
In theory there are distinct sartorial differences between shawls, wraps, capes, and pochos, but after some researching, those words all seems to flow together in our consciousness. Is it because we're all too cozy to care?
Maybe. Either way. It's often difficult to make oversized clothing look tailored or flattering, but poncho outfits can easily do that, I believe.
As with everything oversized that I wear, I like to balance the loose fit on top with a fitted silhouette on the bottom. In most cases for me, that's skinny jeans, but you can wear whatever you like!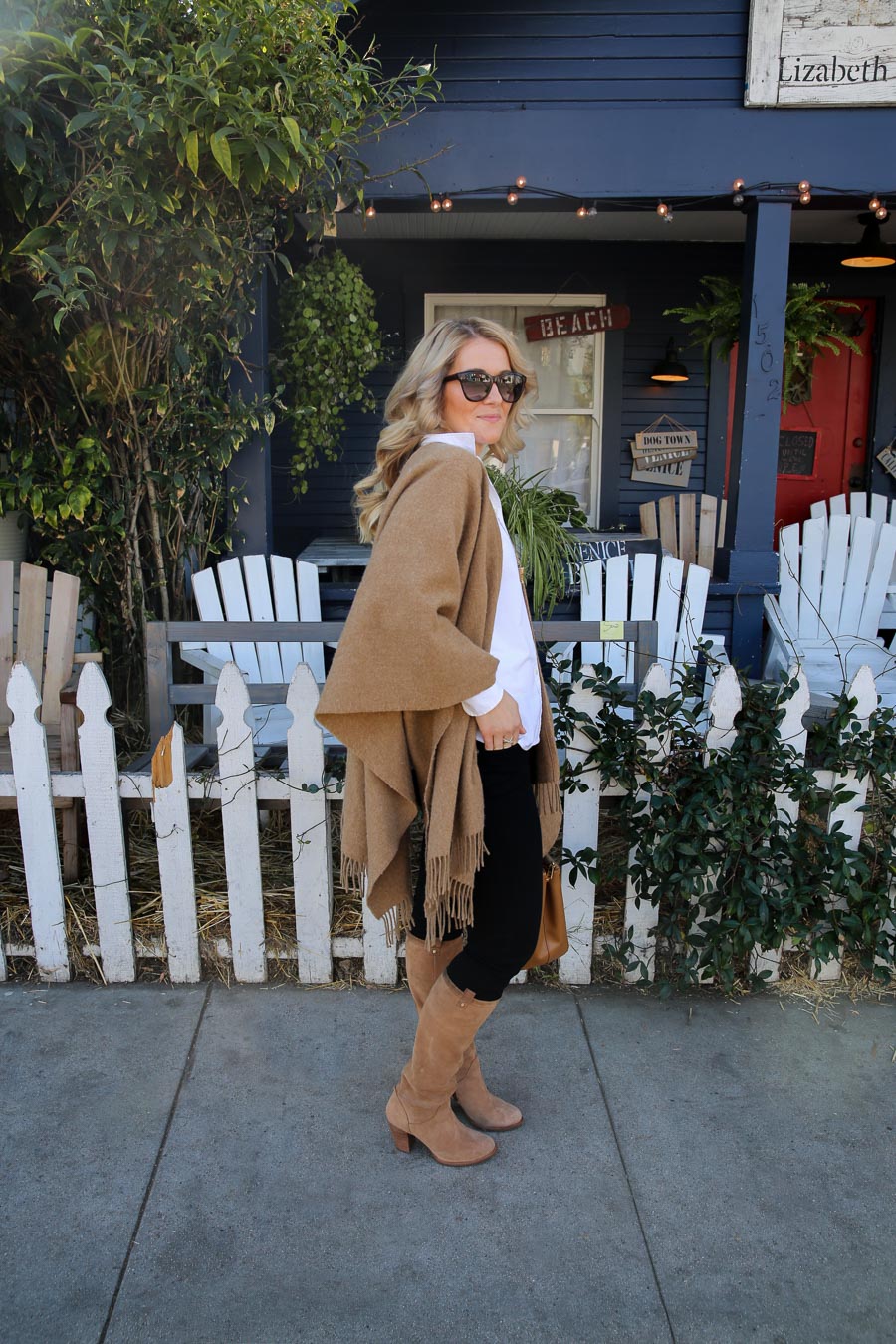 Poncho Outfits
While I can usually bet money that I'll be wearing black in nearly every ensemble, I noticed in looking through these photos, that each of my shawls is actually a tan hue. I'm sharing ponchos in a variety of colors below (all from companies working on creating sustainable fashion)!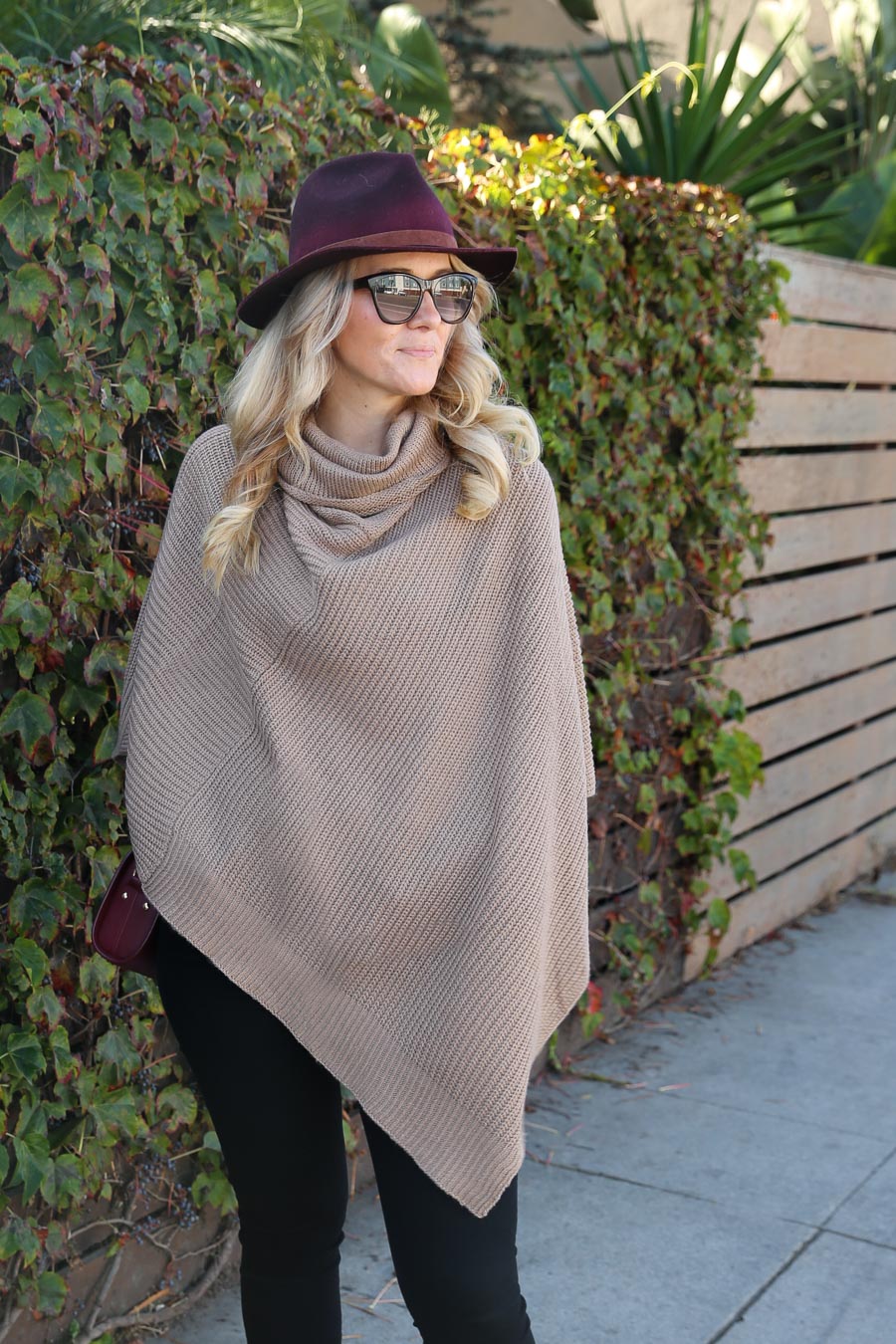 My favorite thing about shawls and capes (and they're largely oversized fit) is that you can layer as needed underneath, making it a piece to wear through fall and winter.
Lately, I've only done t shirts underneath my shawls, but as the temps cool, I switch to my favorite long sleeve layers and eventually add a tank top underneath that long sleeve as well.
If your poncho doesn't have a neck component, you can easily layer a scarf as well!
Check out these winter dress layering ideas, what to wear in freezing temps, and my tips for knowing your style (and buying less clothing)!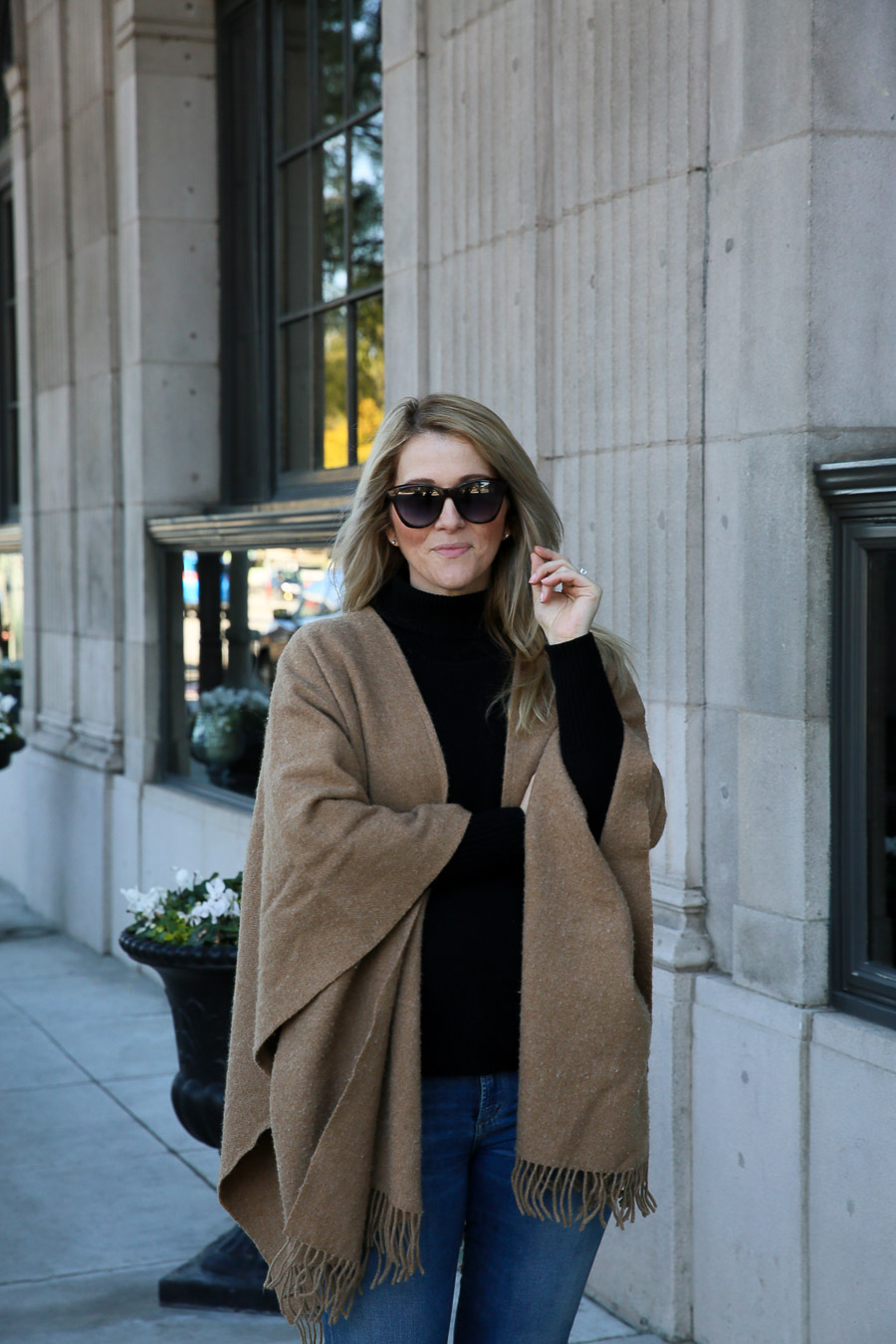 Sustainable Fashion Ponchos
While tan ponchos may be my cup of tea, you can see that they're available in a range of (muted) tones and even a few prints to suit your every need!
Each of the ponchos above is from a company seeking to change the fashion world, making sustainable fashion easy and stylish.
As you click on the ponchos of choice above, you'll see each page boast about their better materials (recycled cashmere in one instance), women-owned factories, and fair trade companies. I'm slowly getting better at sustainable fashion brands all while buying quality clothes!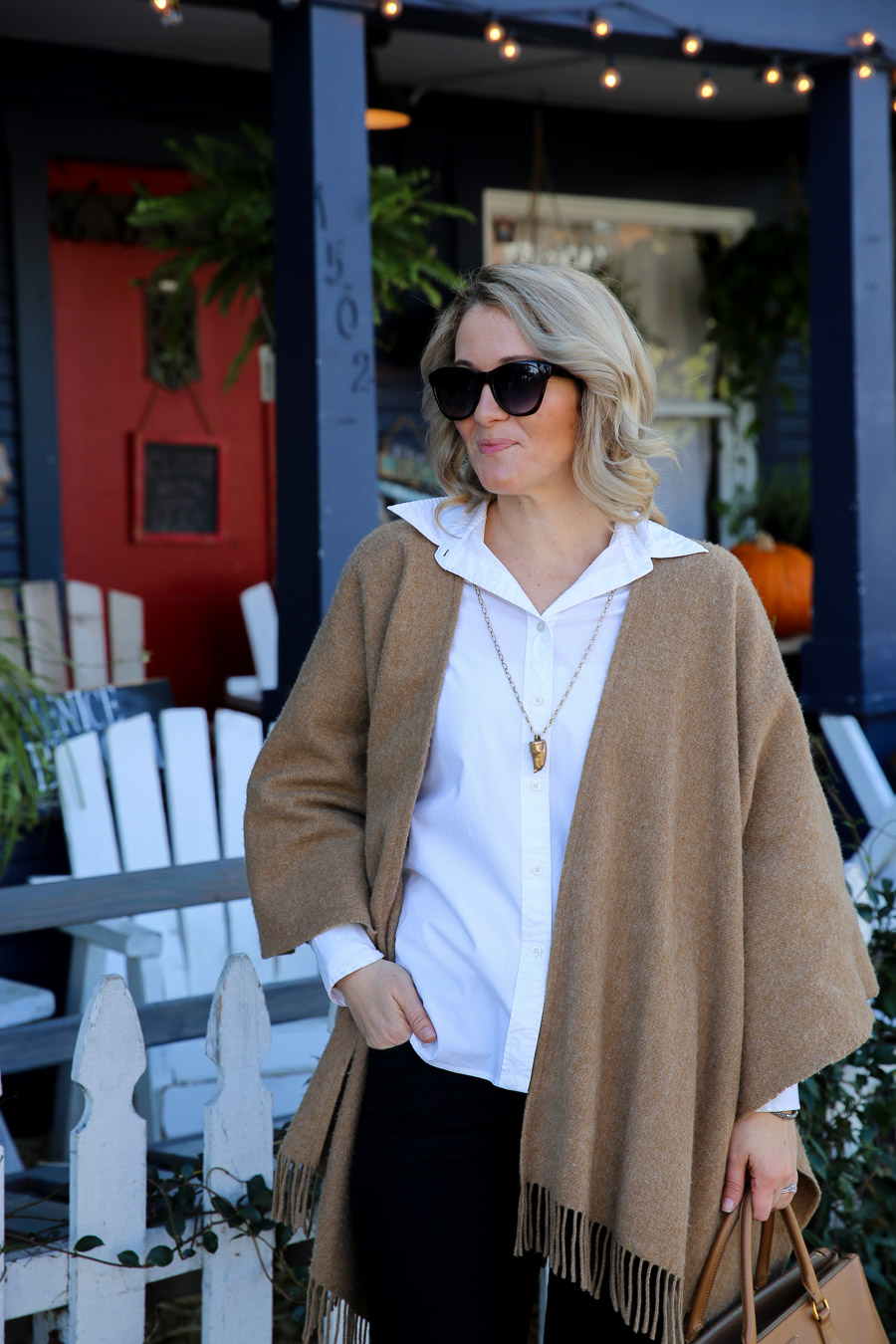 Sustainable Fashion
Looking for more stylish and sustainable fashion? Start simply with these rewearing closet staples:
5 Linen Pant Outfit Ideas for Year Round Wear
Outfit Repeating in Your Black Moto Jacket
11 Ways to Wear a Tan Leather Jacket
Green Military Jacket Outfit Ideas
As you transition to a more eco-conscious closet, you'll start to embrace the importance of knowing your style (and always having something to wear) and then buying quality clothes that fit within your style as well as finding second hand clothing from brands you know and love!