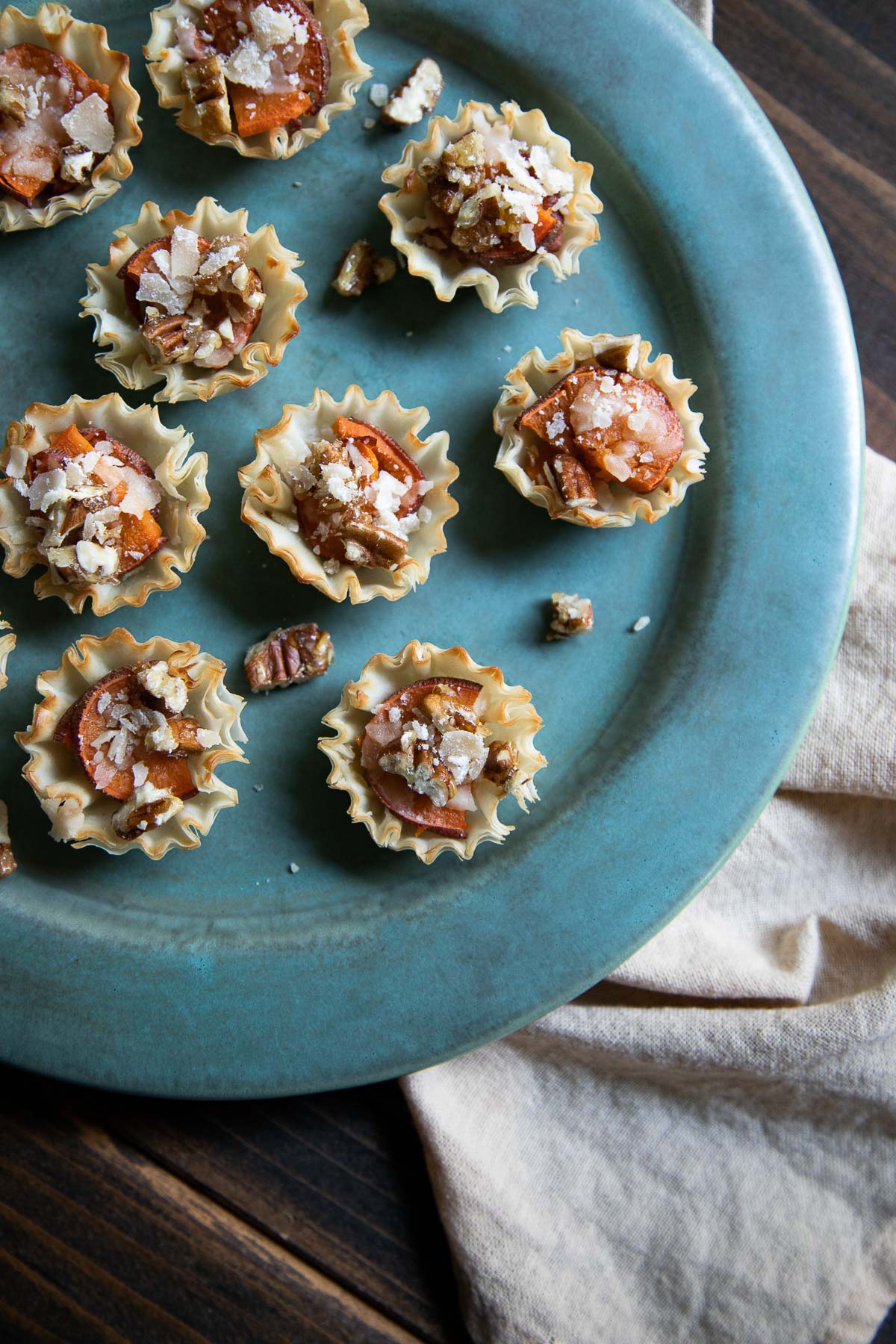 I have a love affair with sweet potatoes, which is mildly humorous considering how much I detested them growing up. And let's be real a sweet potato appetizer like this phyllo cup situation wouldn't have turned me on back then, but now, well, it'll be hard not to eat the whole plate of them!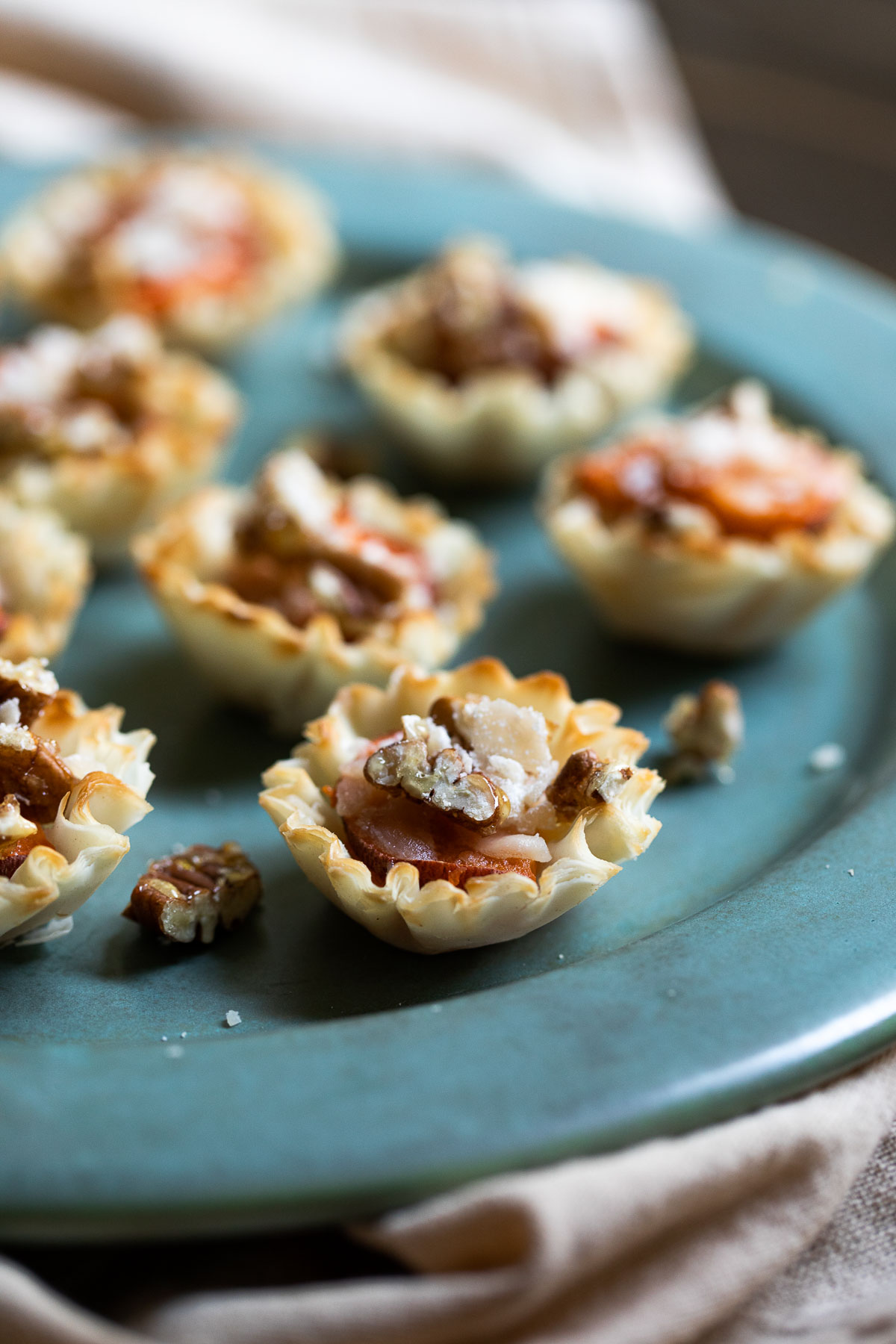 Sweet Potato Appetizer
I love little appetizers (the bite-size-ish variety), but let's be real, they can be such a hassle to make. I'm certainly more of a bake it in a big pan and cut it up into small piece!
These little cups, however, are made with premade phyllo cups – no futzing around with layer of phyllo. Then you just work some simple magic with the filling ingredients, layer in, and enjoy to your heart's content (if you can pry them out of my hands)!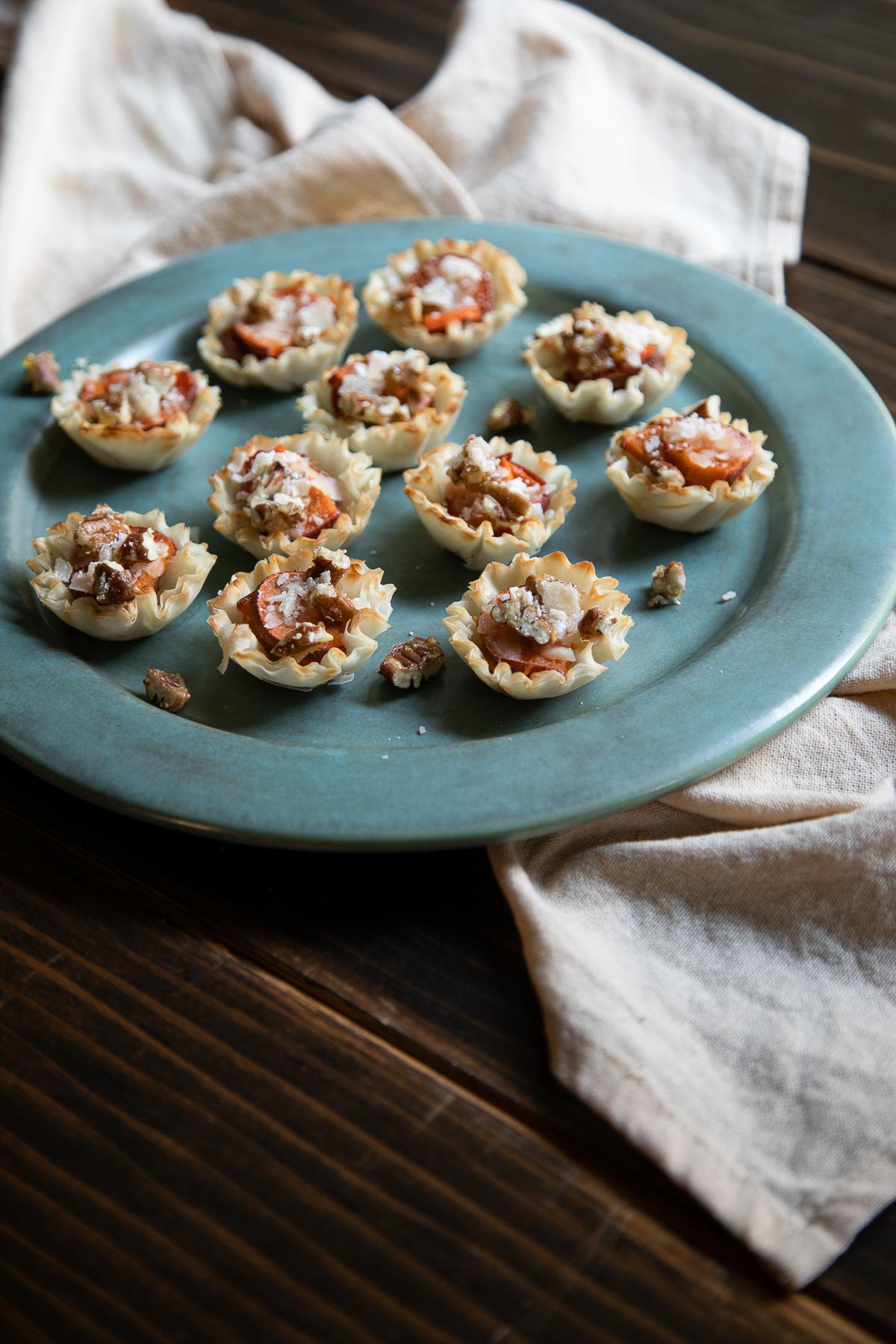 I think one of the things I enjoy most about sweet potatoes (as an adult obviously) is how versatile they are. I love cooking them into chili, roasting them for tacos, or just eating them like a baked potato with butter, salt, and pepper. And then there's the whole sweet potato bread recipe that's possibly in my top 10 of all time!
In these little sweet potato cups, the flavor really comes from the parmesan and the quick-sugared pecans. The dry, savory (and salty) meets the sweet crunch of the nuts. And then it all sit atop phyllo cups and sweet potato slices which are the perfect, neutral balancing act!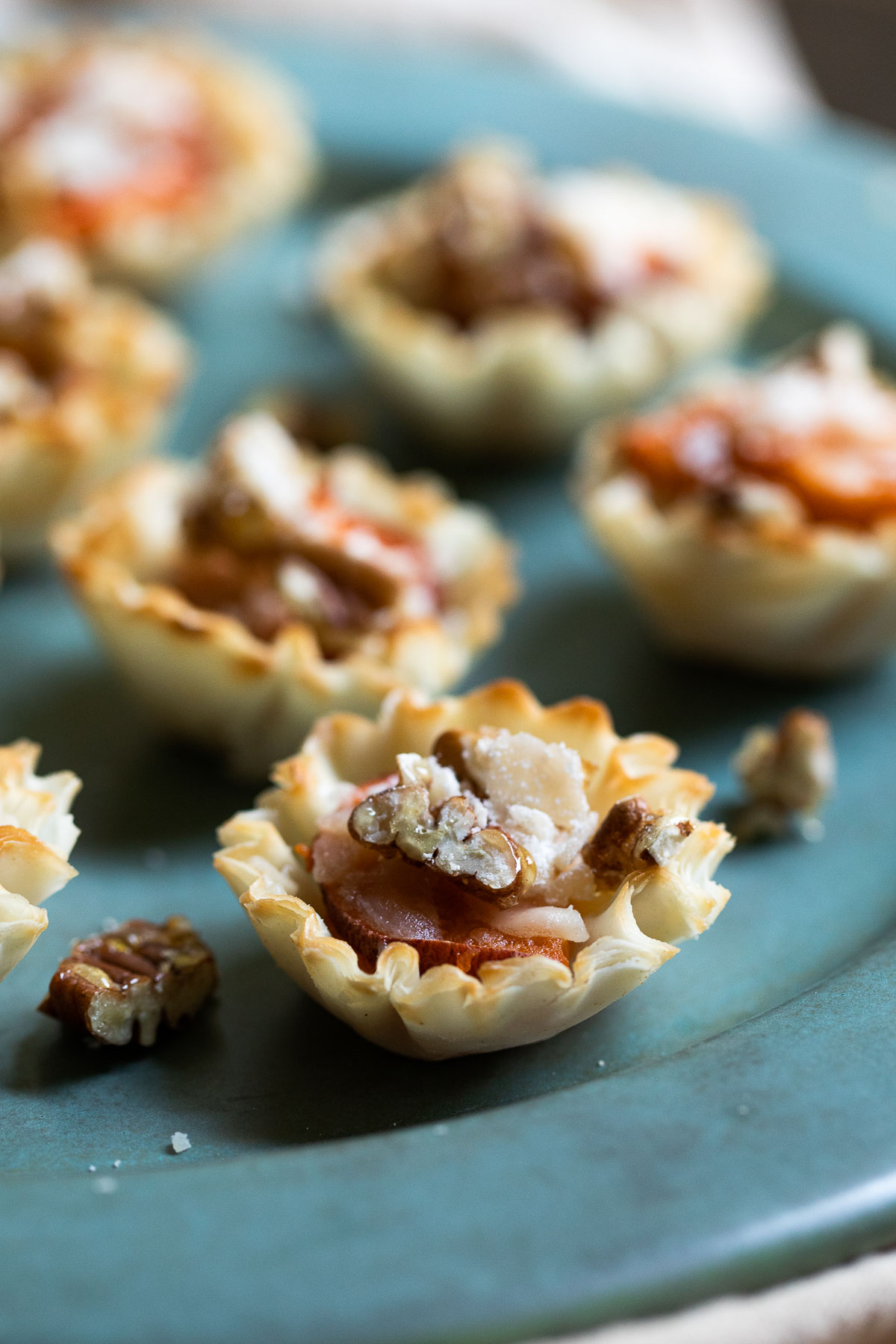 Can You Make These Ahead of Time?
Whenever you're planning a dinner for guests or anything that has multiple courses, making ahead is always my first question.
The phyllo cups are premade, so that's certainly easy. If you want to make them from scratch, here an easy-looking recipe. You can freeze these after they've cooled and then you have premade phyllo cups!
You can absolutely pre-cook the sweet potatoes. I'd let them come to room temperature and then the 5 minutes in the oven with the butter should be plenty to make them warm.
The sugared nuts can absolutely be made at least one day ahead of time. And the parmesan required no work.
Whenever I'm planning to make something ahead of time, I don't necessarily prepare the whole thing beforehand. In this case, I might just bake the potatoes or do the nuts. Even just taking one step out of the picture can save so much hassle and energy!
These are a great option for so many get-togethers! I love them especially for Thanksgiving appetizers and friendsgiving get-togethers!
Looking for more fall inspired appetizers? Try these cranberry brie appetizer crostini and this Fall charcuterie board!
Sweet Potato Recipes
Looking for more sweet potato recipes? I always am! This sweet potato bread is one of my favorite recipes of all time! If you have puree to use, try this sweet potato hummus, these mashed sweet potato toasts, and this scrumptious bean dip!
This roasted potato salad (yes, with sweet potatoes) is a fun alternative to your normal rigamarole and these quinoa-stuffed sweet potatoes are a great, healthy dinner!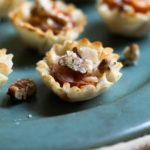 Print Recipe
SWEET POTATO APPETIZER
Delicious sweet potato sliced into phyllo appetizer cups and topped with sugared pecan pieces and freshly grated parmesan. This appetizer combines all the right flavors for fall for that perfect balance of earthy, sweet, and savory. It's a great recipe for Thanksgiving appetizers and just anytime appetizers.
Ingredients
15

pre-made phyllo cups

2

tablespoons

sugar

⅓

cup

chopped raw pecans

1

tablespoon

butter

cold

2

tablespoons

shaved parmesan cheese

Fine sea salt
Instructions
Preheat the oven to 350 degrees F.

Place the phyllo cups on a small, rimmed baking sheet.

Pierce the sweet potato in several places with a knife. Microwave it on high for 1 minute 30 seconds. It should be softened, but still firm enough to slice. Set aside to cool.*

Spread the sugar in a thin layer covering the bottom of a small skillet. Turn the heat to medium. Let the sugar sit for about 2 minutes, as it turns to a clear liquid. Just before all of the dry sugar has dissolved, add the pecans, turn off the heat and stir well.

Transfer the pecans to a plate covered with waxed paper, sprinkle with some salt, and let cool completely. Once cooled, break up the nut pieces.

Carefully slice the sweet potato into thin pieces. Cut larger slices into half-moons. Layer 2 to 3 slices in each phyllo cup. Sprinkle each with salt.

Cut the pat of butter into 15 small cubes. Place one cube over each cup. Reserve 1 teaspoon of parmesan. Crumble the rest in your fingers as you top each cup.

Bake for 5 minutes, until the butter is melted and cheese just begins to melt.

Top each cup with pecans and the remaining parmesan before serving warm.
Notes
*If you want to bake these in the oven, pierce the long, thin sweet potatoes as listed. Bake at 400° for 35-40 minutes until tender. Sweet potatoes will drip natural sugars onto oven, so I like to lay a piece of foil on a rack to just below so you don't have to clean your oven from that burnt sugar smell.
Save this recipe on Pinterest here!
Make this recipe? I'd love to see how it turned out…
PINTEREST: Upload a photo and your review to this Pin!
INSTAGRAM:  Tag me
@lucismorsels
and use #LMrecipes
Nutrition
Calories:
43
kcal
|
Carbohydrates:
4
g
|
Protein:
1
g
|
Fat:
3
g
|
Saturated Fat:
1
g
|
Polyunsaturated Fat:
1
g
|
Monounsaturated Fat:
1
g
|
Trans Fat:
0.03
g
|
Cholesterol:
3
mg
|
Sodium:
25
mg
|
Potassium:
11
mg
|
Fiber:
0.2
g
|
Sugar:
2
g
|
Vitamin A:
30
IU
|
Vitamin C:
0.02
mg
|
Calcium:
8
mg
|
Iron:
0.1
mg