These make ahead vegetable hors d'oeuvres feel like a major feat for me. I've been struggling with food blogging recently. Coming up with recipe ideas (let alone the recipe itself, cooking, and shooting the photos) has felt more like a burden than a joy.
I even debated about moving away from the food portion on my blog to focus on fashion and travel. I knew I couldn't do that since the food is where my blog all started…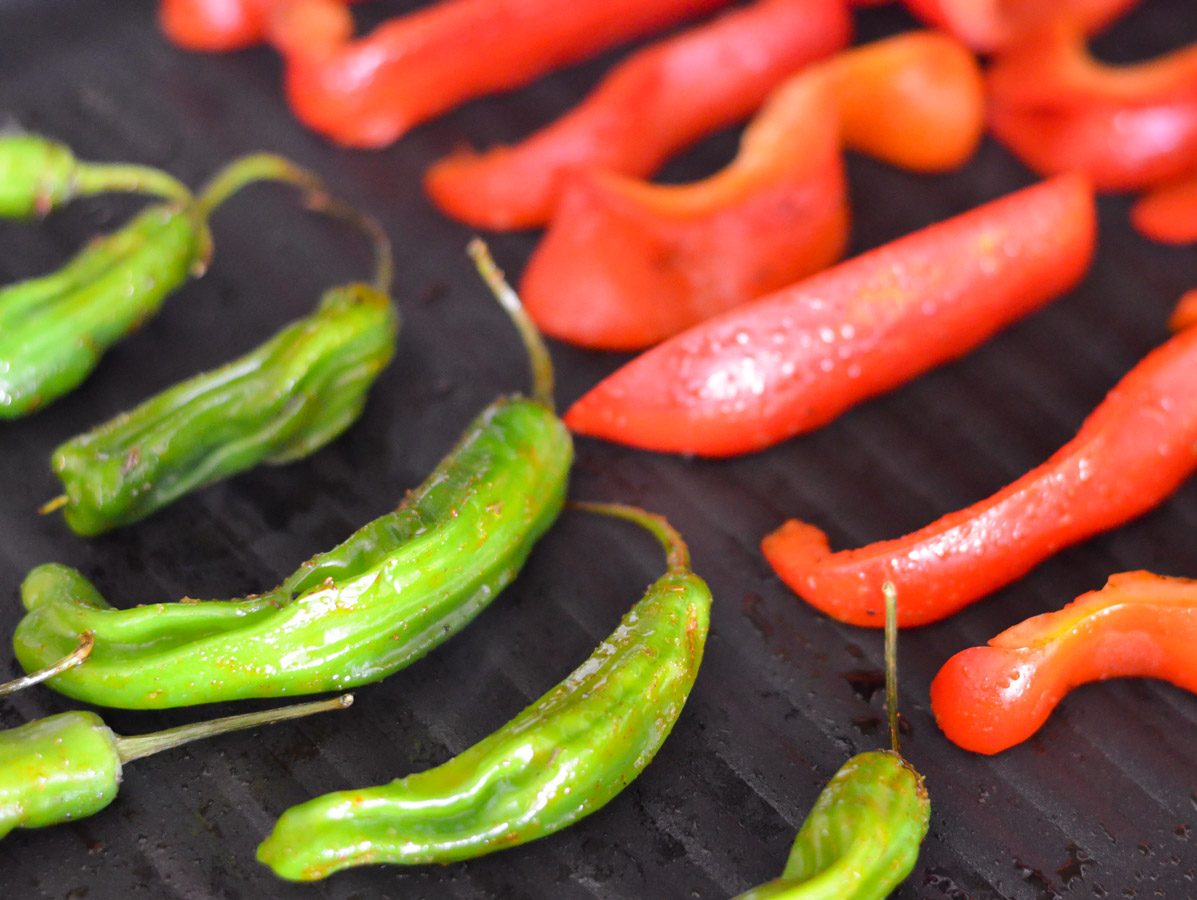 I'm not sure why I've been feeling this way – it was a first for sure. I've been trying to eat more healthy (more protein, less snacking, and trying not to eat after 9), so I'm wondering if my dietary changes have limited my culinary creativity?
I've also been busier, making mornings when I can cook and take photos fewer and farther apart. Possibly after I finish teaching at FIDM this quarter, things will change, but I don't really know if that's the case.
Two things have re-inspired me a bit, however. The first was purchasing a few food props to help with the food styling portion.
The second part of my inspiration came from a recent influx of a lot of fresh produce. In addition to the fruit run to Fresno, I reached out to Melissa's Produce here in LA about getting some fresh vegetables to recreate this amazing make-ahead grilled veggie plate.

make ahead vegetable hors d'oeuvres
At my Whole Foods, they have a salad bar with a grilled veggie platter that always catches my eye.
My mouth waters as I walk by. While it was beautiful and very appetizing it wouldn't be difficult to make. I experimented with it for my guy's birthday dinner (way back in March) and it was a hit (from my perspective as the cook and for our guests)!
The seasoning mix is easy and delicious. You can absolutely use your own or just salt and pepper (though I'd encourage adding dried thyme)!
The best part is that you can use whatever vegetables you like or have on hand. Make ahead vegetable hors d'oeuvres is very adaptable!
What Vegetables Can You Grill Ahead of Time?
I'm trying to think if there is an option that wouldn't work to grill ahead of time!
For this spread, I used eggplant, shishito peppers, red bell peppers, russet potatoes, carrots, asparagus, and parsnips – quite a collection.
I opted for these veggies partly because I knew they'd all keep their "stick-like" shape during and after cooking. You could, of course, do onions, but they'll soften and shrink.
Zucchini would be another option and it is one of my favorites to grill. I find that the center, however, begins to soften and can break apart. They'd taste great but just beware of the consistency changes.
More hors d'oeuvres recipes?
Here are all my appetizer recipes, but these are a few favorites:
Want to sneak in some vegetable without anyone complaining and/or have some plant-based guests? This vegetarian & vegan appetizer are a delicious veggie-filled bite-sized fritter that everyone will love!
I can't tell you how simple these Mexican pinwheels are or how much everybody loves them! Or if you need a last minute appetizer, however, nothing beats this fruit appetizer board – made with whatever fruit is in your fridge these days!
MORE GRILLED RECIPES
If you want to cook everything on this grill – and why wouldn't you – try these:
Sweet & Spicy Grilled Cantaloupe
BBQ Cake with Cherries (bake the cake on the grill while you enjoy dinner)
Print Recipe
MAKE AHEAD GRILLED VEGGIE HORS D'OEUVRE
Love getting together with friends but hate how it's rarely a healthy experience? These make-ahead grilled veggies are easy, healthy, and a sure hit. Perfect all year round, these grilled veggies are a major upgrade to the traditional vegetable tray!
Ingredients
vegetables

cut lengthwise in 3-6" pieces*

seasoning mix

below

olive oil
Seasoning Mix
3

teaspoons

salt

1

teaspoon

fresh cracked pepper

½

teaspoon

onion powder

1

teaspoon

smoked paprika

½

teaspoon

paprika

1

teaspoon

dried thyme
Instructions
Preheat grill pan over medium heat.

Toss vegetables with olive oil and seasoning mix with cut vegetables - roughly 1 Cup of vegetables with 1 tablespoon olive oil and 1 heaping teaspoon seasoning mix. (potatoes will require extra olive oil and a sprinkle of salt to flavor).

Spray grill pan with nonstick spray.

Place vegetables on grill pan perpendicular to grill lines. Flip after 4-6 minutes (check for grill marks).

Cook other side for 4-6 minutes - check for doneness. Vegetables should be tender but not squishy.

Remove to plate to cool. Refrigerate until 30 minutes before serving.

NOTE: for ease, cut, coat, and cook vegetables without mixing to make plate presentation easier.

*Any combination of zucchini, bell peppers, onions, potatoes, asparagus, hatch chiles, parsnips, carrots, or eggplant can be used.
Nutrition
Calories:
163
kcal
|
Carbohydrates:
14
g
|
Protein:
2
g
|
Fat:
12
g
|
Saturated Fat:
2
g
|
Polyunsaturated Fat:
1
g
|
Monounsaturated Fat:
9
g
|
Sodium:
1556
mg
|
Potassium:
539
mg
|
Fiber:
7
g
|
Sugar:
8
g
|
Vitamin A:
305
IU
|
Vitamin C:
5
mg
|
Calcium:
27
mg
|
Iron:
1
mg
Thank you Melissa's Produce for the veggies.