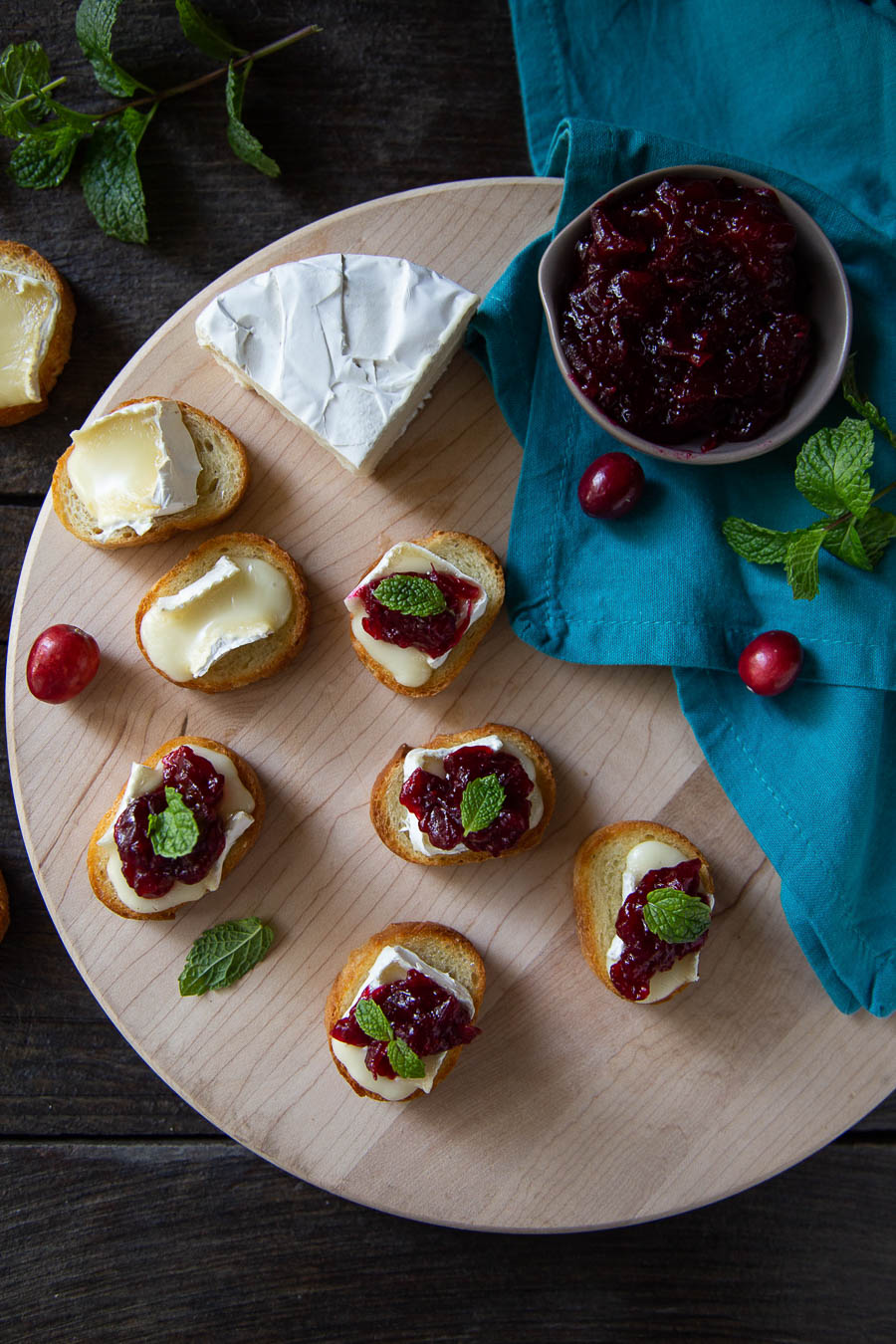 This brie and cranberry appetizer recipe will be your go to for every single get together this winter!
Please don't be mad at me, but I'm totally ok that the "holiday season" kicked off last week. I'm not ready for the end of the year or all the to dos of the holidays, but I am ready for the happiness it brings me as well as the traditions that feel so good!
Since we still have a long way to go, let's just start with recipes for Thanksgiving for which I have a few fun ones to share. For starters (hah – pun intended), these brie toasts with cranberry appetizer are the perfect way to kick off your get-together.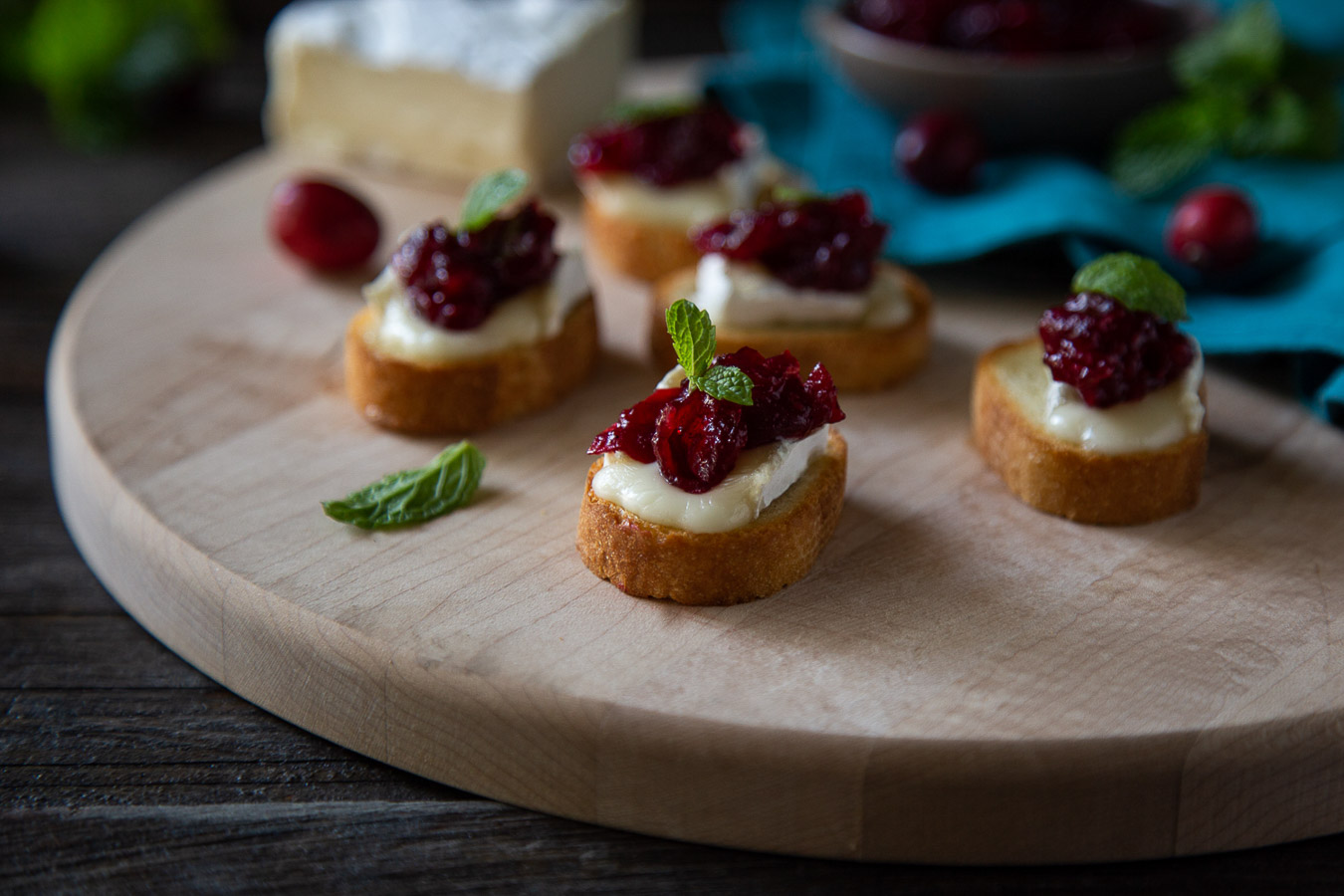 Cranberry Appetizer
Poor cranberry sauce seems to only have one purpose in this world – to accompany the turkey on that fateful day in November. I love the sweet tartness of cranberries, however, and wish they got more time in the spotlight.
Whether you're hosting a small get together around Thanksgiving (or Friendsgiving!) or are looking for a Thanksgiving appetizer, there are a few options for the tasty concoction.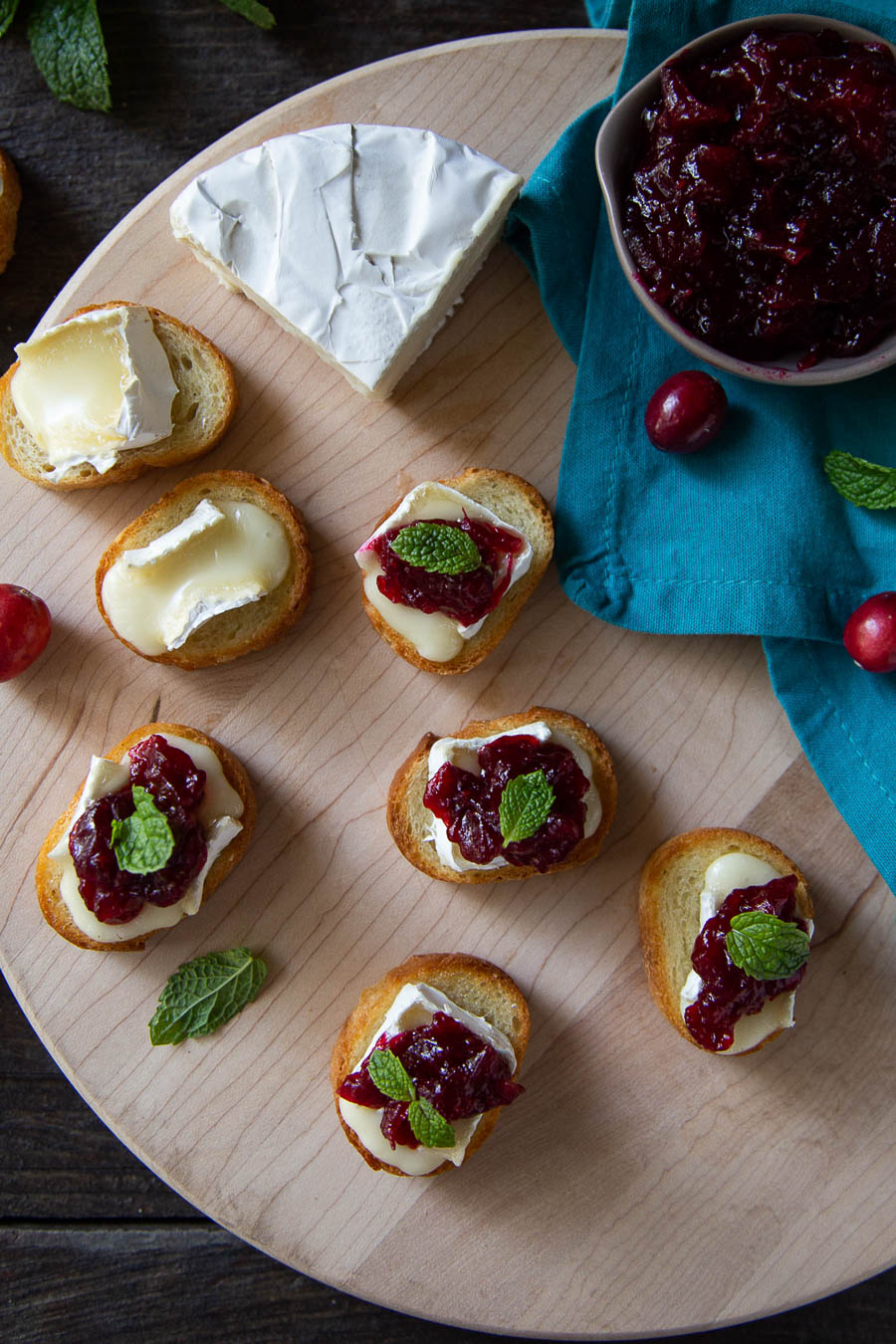 Thanksgiving Cranberry Appetizer
To assemble these brie toasts, you need to slice you bread and brie, bake them under the broiler for a few minutes, and then top them with this homemade sauce. You'll blow everyone away (if you don't eat them all first).
Another fun option that I did last year was my Thanksgiving appetizer board. The board brings all the familiar flavors of Thanksgiving together in about 10 minutes and is perfect for a small get-together.
Cranberry sauce is served as a lovely accoutrement to add to whatever combination you're trying – meat, cheese, and cracker!
The Nordstrom Cafe also sells a Thanksgiving leftover sandwich that's obviously not leftovers. In addition to turkey, havarti cheese, and a delicious seeded roll, there's a nice light layer of cranberry sauce that is DELECTABLE!!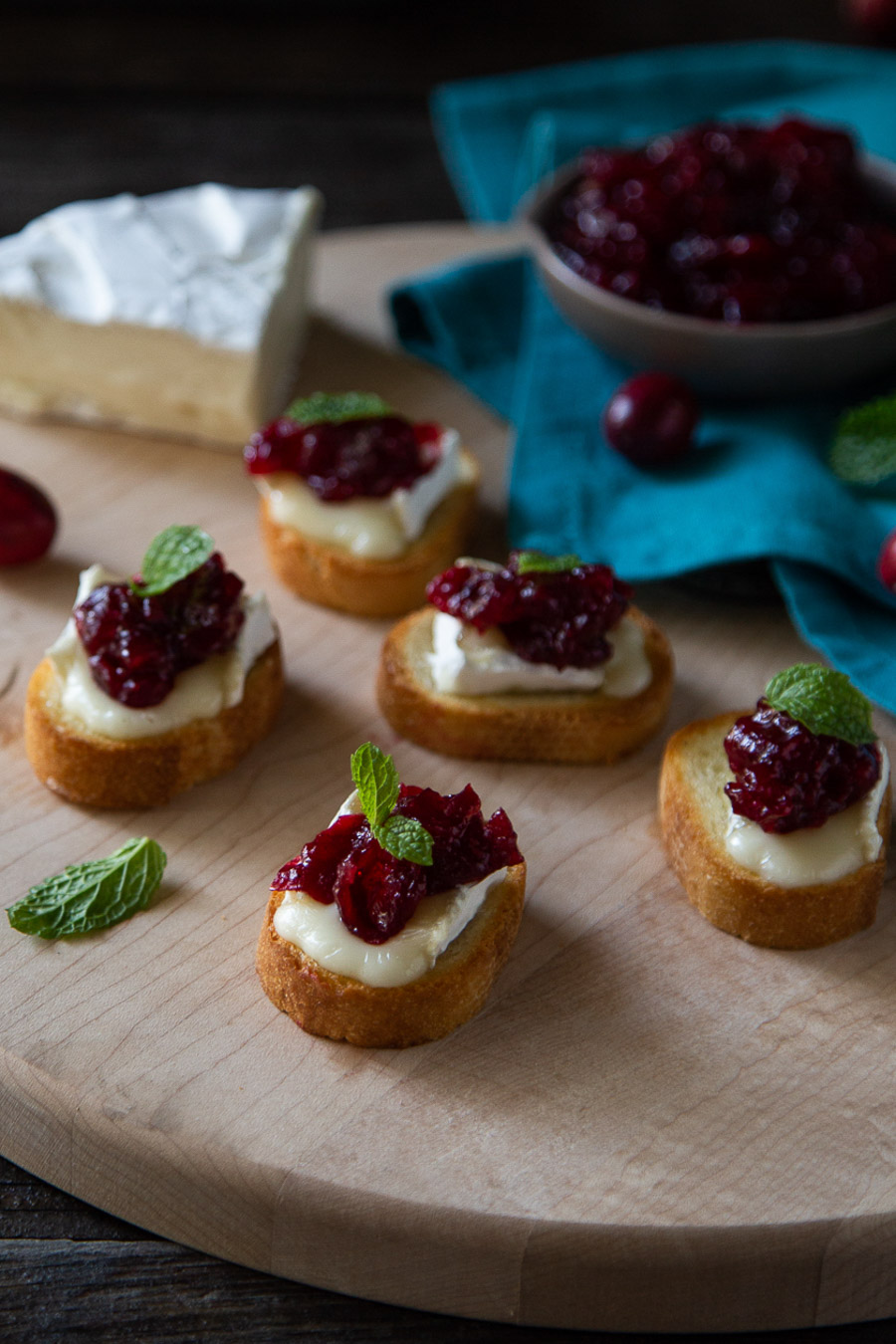 Healthy Cranberry Sauce
If you haven't made cranberry sauce from scratch, I encourage you to try it this year. The traditional sugar and cranberries recipes is impossibly easy and so much tastier in my opinion.
The recipe below is for a healthy cranberry sauce and it really can't be beat. It's so simple and it isn't loaded with sugar – just tons of flavor.
The red wine adds a great depth of flavor. The small amount of sugar and apple juice cut the tartness of the cranberries (actually not a berry at all) just right.
But if you are a fan of a sweeter sauce – and I say you do you on this – you can obviously add more sugar. Just taste as you go, adding a teaspoon or two at a time!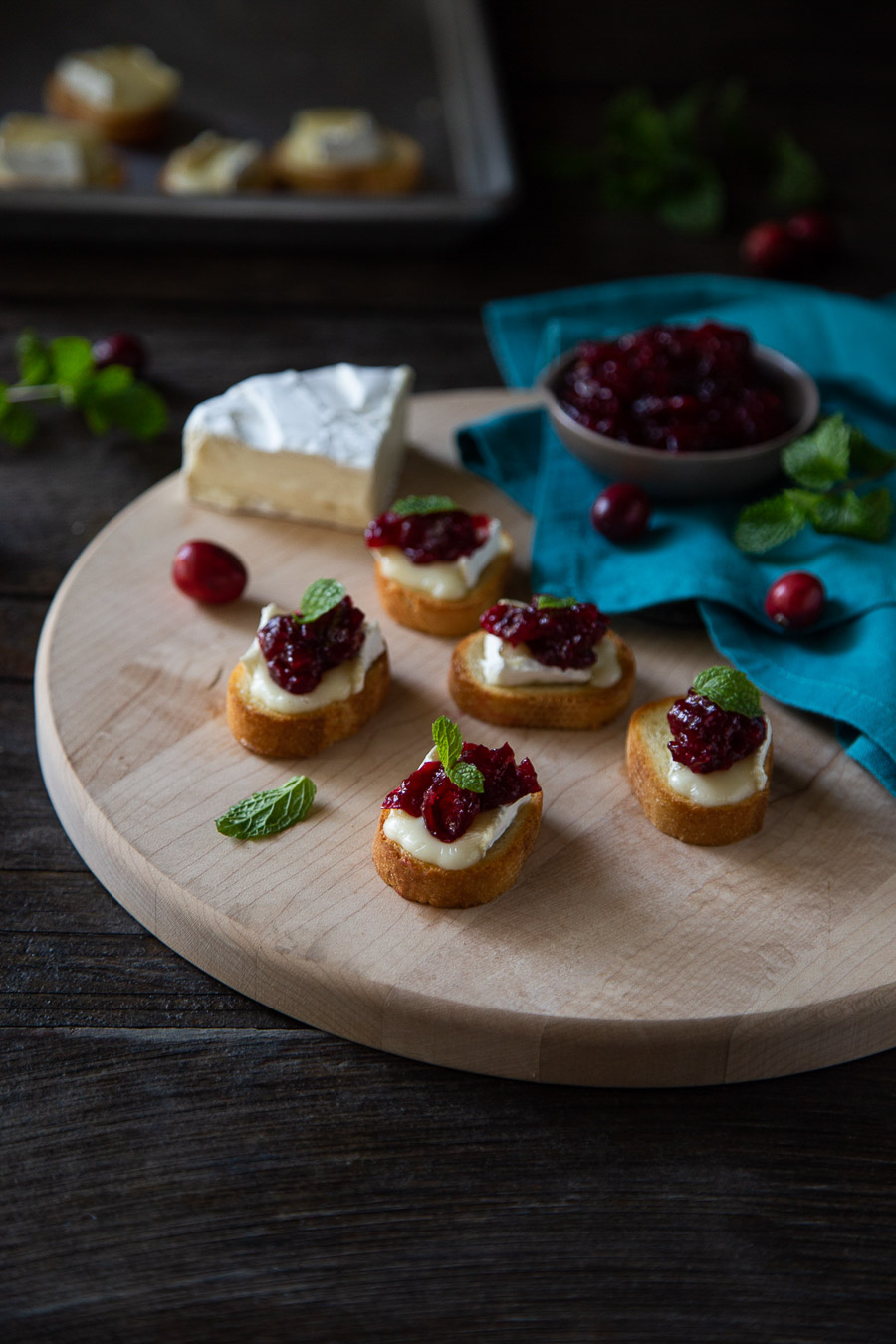 Other Holiday Recipes
Don't get caught up in the traditional, traditional fare. Well, ok, you can do that too, but these more seasonal holiday recipes will be a sure win every time.
First, this winter fruit appetizer (including sugared cranberries) is beautiful, tasty, and pretty quick to make!
Homemade cornbread crackers are also a familiar flavor in a crispier style. They are a great part of this Thanksgiving appetizer board, however!!
These cheesecake bars are DELICIOUS and these mini spiced custard tarts are too!
And check out these natural Christmas dessert decor for great ideas to make any dish look festive!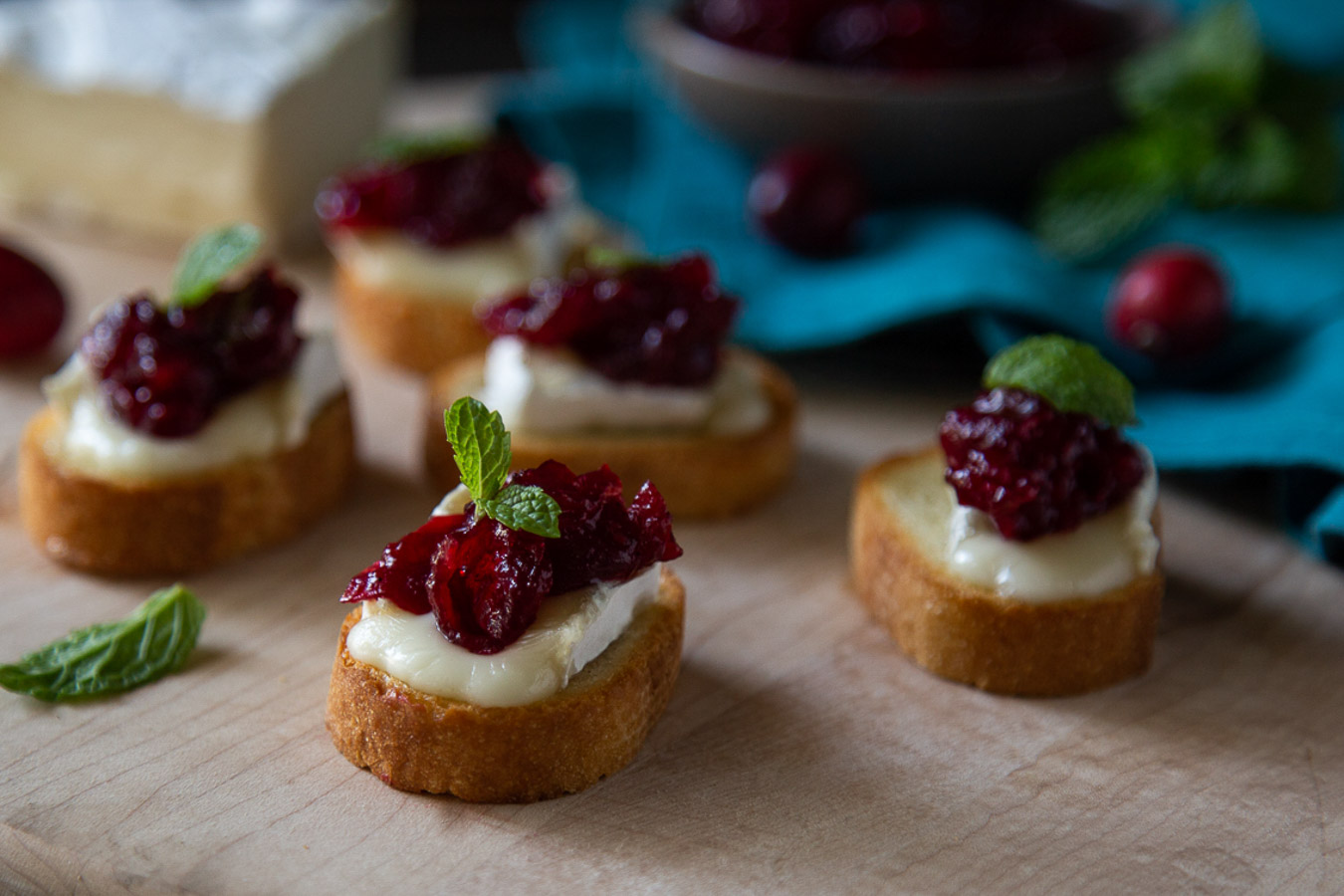 FALL & WINTER RECIPE COOKBOOK
Delicious recipes to enjoy FALL & WINTER produce to its fullest. Simple and delicious recipes made from scratch for your family and your guests THROUGHOUT THE COOLER MONTHS!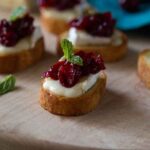 Print Recipe
Cranberry Brie Appetizer Toasts
Traditional Thanksgiving meals are delicious but an undertaking. Instead, you can find ways to bring that holiday spirit into fast and easy dishes like these brie toasts with fast, homemade, healthy cranberry sauce.
Ingredients
Healthy Cranberry Sauce
1

cup

fresh cranberries

2

tablespoons

sugar

2

tablespoons

apple juice

2

tablespoons

red wine

Pinch each of:

ground allspice, ground clove, and ground ginger
Brie Toasts
10

slices

of baguette

1

tablespoon

unsalted butter

melted

Pinch each of:

garlic powder, poultry seasoning, and fine sea salt

3 to 4

ounces

Brie

sliced into small pieces to fit your toasts

Fresh mint leaves for garnish
Instructions
Healthy Cranberry Sauce
Add all sauce ingredients, except the pinches of seasonings, to a medium saucepan. Heat over medium high and bring to a boil. As the cranberries begin to burst, stir often. Cook for 4 to 5 minutes, until thickened and jam-like. Stir in the allspice, clove, and ginger. Set aside to cool.
Brie Toasts
Preheat the oven broiler to High.

Place the baguette slices on a small sheet pan and broil on each side for 60 to 90 seconds, until barely golden brown. Stir the garlic powder, poultry seasoning and salt into the melted butter. Remove the toasts from the oven brush the top of each with the butter.

Place a piece of Brie on each toast. Return to the broiler for about 60 seconds, until the cheese begins to melt. Remove from the oven and top each with a generous teaspoon of the cranberry sauce. Garnish with mint leaves. Serve warm or at room temperature.
Nutrition
Calories:
139
kcal
|
Carbohydrates:
19
g
|
Protein:
5
g
|
Fat:
4
g
|
Saturated Fat:
2
g
|
Polyunsaturated Fat:
1
g
|
Monounsaturated Fat:
1
g
|
Trans Fat:
0.05
g
|
Cholesterol:
12
mg
|
Sodium:
252
mg
|
Potassium:
68
mg
|
Fiber:
1
g
|
Sugar:
5
g
|
Vitamin A:
91
IU
|
Vitamin C:
1
mg
|
Calcium:
51
mg
|
Iron:
1
mg