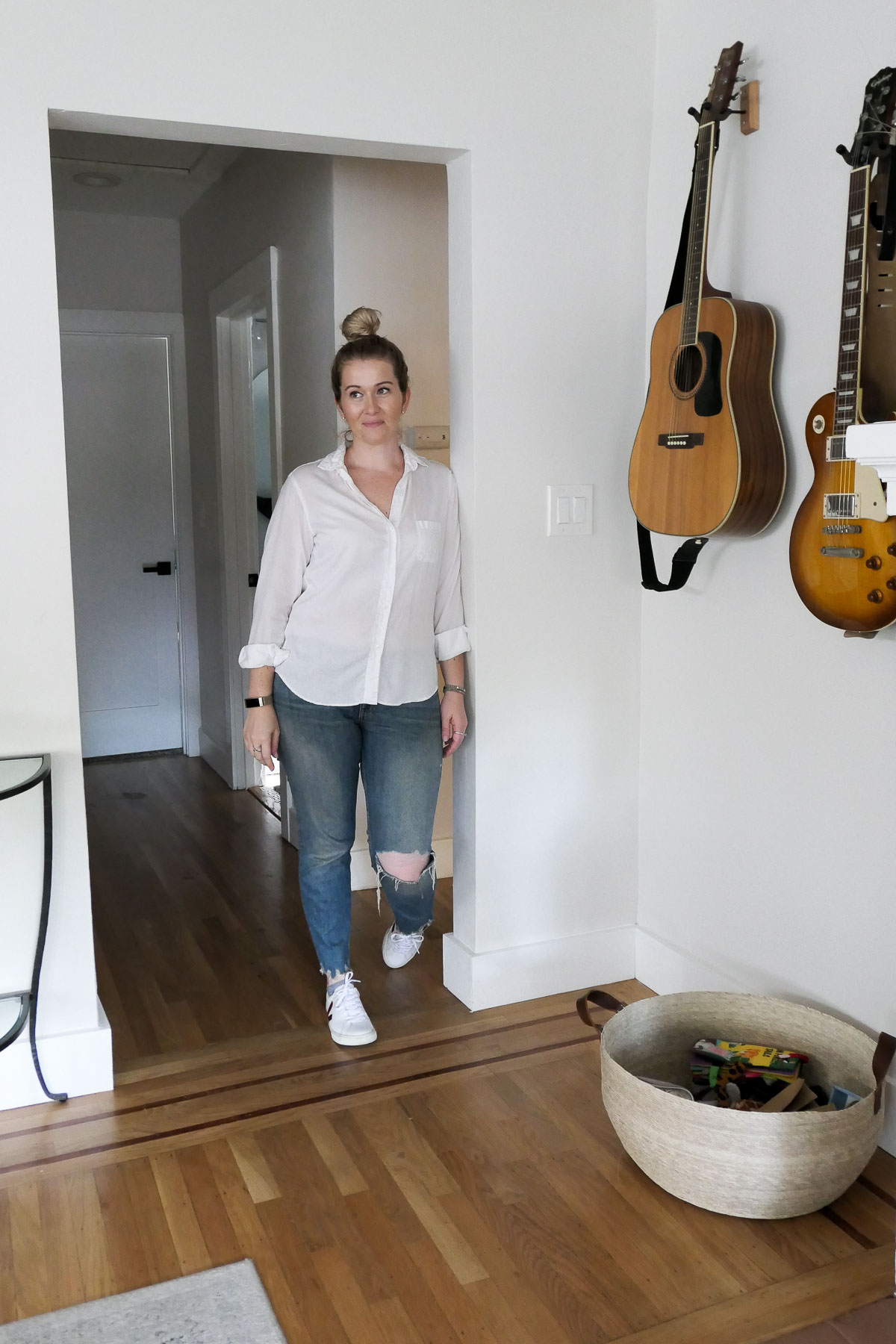 I may be trying to be more sustainable and eco-friendly, but there are a few things I'm not willing to experiment much with or give in at all if something isn't perfect. Namely, shoes. I need comfortable, supportive shoes. End of story. So I really didn't have a sustainable shoes review on my radar, but then it happened with this Veja sneakers review…
I've seen VEJA sneakers for a few years and just assumed they were trendy and, possibly, comfortable. If we're being totally honest, I used to get them confused with Golden Goose sneakers (which are dirty, overpriced shoes – I will never understand that one).
Alas. I've since learned the difference along with a few other fascinating facts…
Veja Sneakers Review
So when I first learned about VEJA sneakers I heard they use wild rubber and recycled water bottles. While, yes, that's true, the whole story is actually even more interesting.
When there was a pair on sale on the Nordstrom Anniversary Sale this summer, I ordered my size and hoped like heck they were comfortable AND that I could fit in my orthotic insert. I need constant support in my shoes, which is why you only see me in Birkenstock sandals and close toes shoes these days.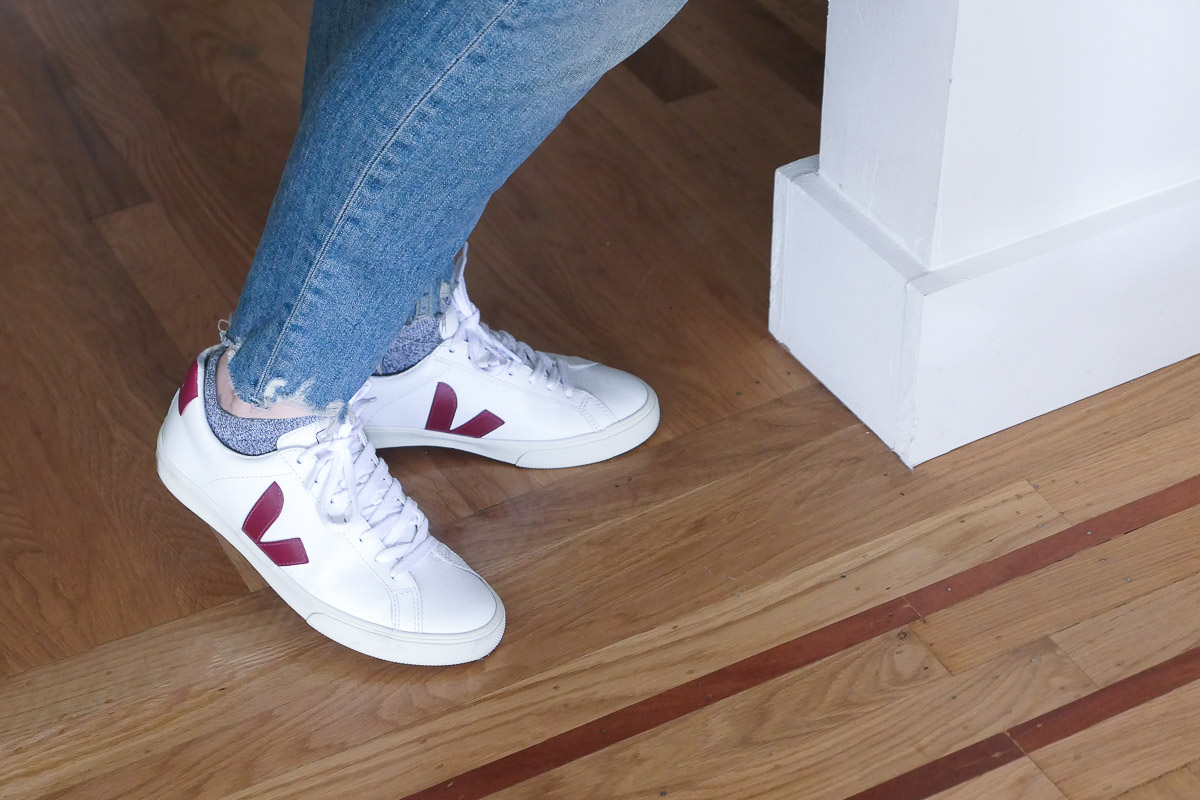 So they showed up and I was nervous. They looked too slim to fit my insert comfortably, but shame on me for even doubting. My insert went right in, so they are keepers.
I have had to wear in the top portion of the shoes as with a lot of sneakers, but I'm so happy with them – sleek, stylish, sustainable, and comfortable!
Why are VEJA Shoes Sustainable?
With my shoes came a small pamphlet outlining a lot more about the materials used in their range of shoes. No pair is perfectly recycled or bio-degradable, but the materials they use/develop, steps they take to improve their company, and how conscience they are of the environment are truly fascinating.
Besides being cute, trendy, and comfortable, here's the rest of the story about VEJA sneakers. The following is taken directly from the mini pamphlet that came with my shoes…
Canvas and laces are made out of 100% organic cotton. Cotton is grown by cooperatives of farmers who have adopted agro-ecological methods! No chemicals or pesticides are used. Farmers are fairly paid.
Veja outer soles are made of 20-30% wild rubber from Amazon forest. Rubber tappers are fairly paid. Wild rubber increase the economic value of the forest.
Learn more about sustainable leather and sustainable leather alternatives.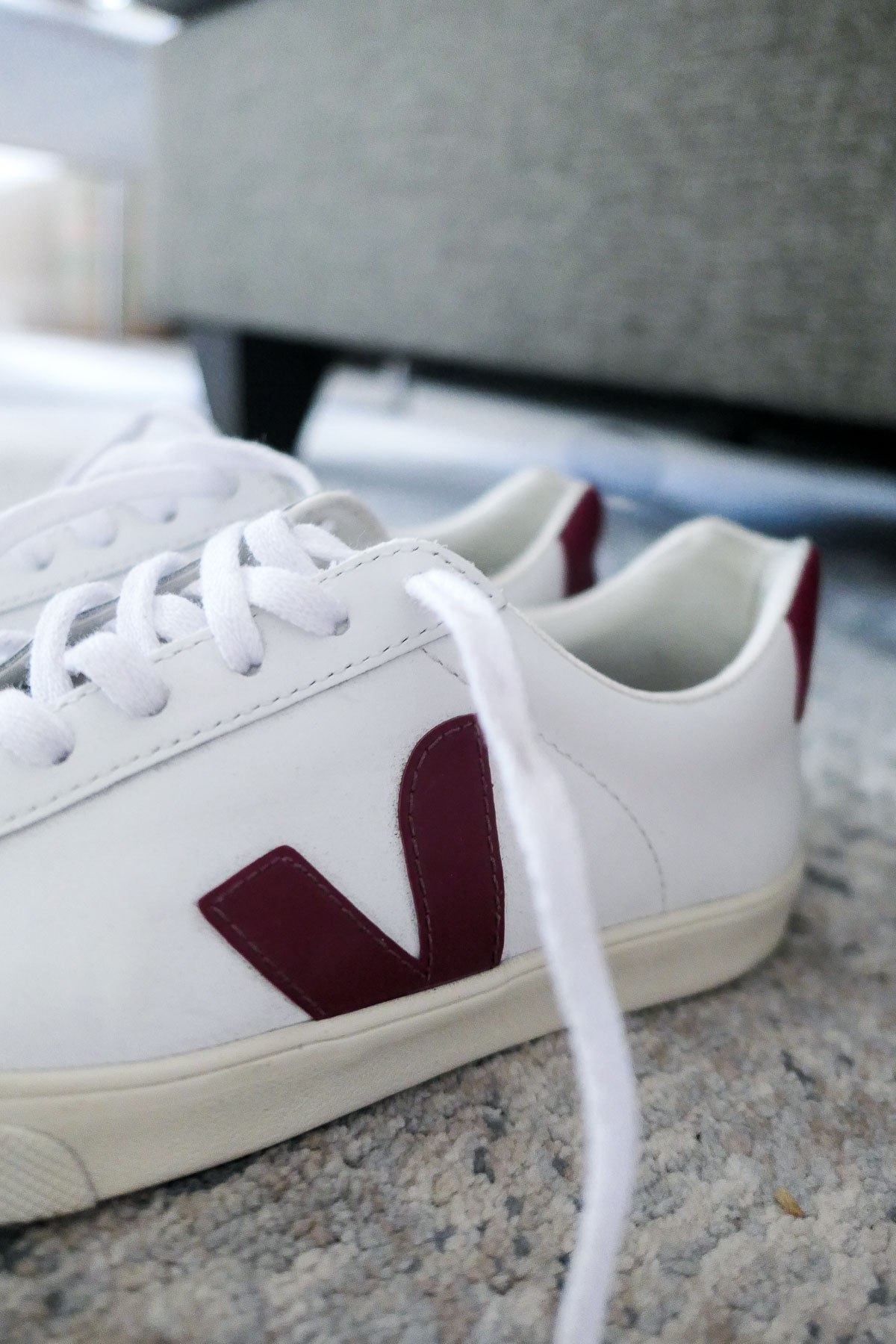 Leather goes through low-level chemical tanning, respecting REACH norms (European Union standards for chemical usage). Leather is traceable and does not comes from areas of deforestation. Water usage during the tanning process is a concern for them.
B-mesh is made from recycled plastic bottles (it takes 3 bottles to make one pair of VEJA). Hexamesh is made of 70% organic cotton and 30% recycled plastic bottles.
Jersey lining is made of 67% recycled polyester from plastic bottles and 33% organic cotton.
Suede is 100% vegan and uses fewer toxic solvents than synthetic suedes.
Their most revolutionary fabric is Corn Waste laminate (C.W.L.). The fabric is made in italy from cotton canvas coated with 50% corn-waste resin from the food industry. It's 63% bio-based, biodegradable, and is an alternative to leather.
They use a v-knit made from recycled plastic bottles.
VEJA sneakers are made in factories in Brazil that offer good working and living conditions for their employees. Sneakers are shipped by boat from Brazil to France.
Esplar VEJA Sustainable Sneakers Review
Each style of shoe is made of different materials, but the VEJA website breaks down the components of each shoe. This pair of Esplars is named after the Brazilian NGO which brings technical support to the organic cotton farming families Veja works with in North Brazil.
The upper part and panels are made of leather, the logo V is made of rubber; the lining is organic cotton; insole is made of wild rubber and other synthetic materials; sole made of wild rubber form the Amazonian forest. The site says 2% for the last fact, so I'm not entirely sure what that means…
Alas. I'm ecstatic to find a sustainable shoe to love and review for you.The shoes aren't each perfect, but they are so, so much better than most others and the company is actively working to improve it all!
Shop VEJA at Nordstrom

Shop VEJA at Shopbop

Shop Veja at Revolve

Shop VEJA at Saks

If you love this Veja sneakers review and want more sneaker outfit ideas for women? Check my white sneakers with a blazer ensemble! They're great spring, summer, and fall looks!
My black high top sneakers are also great in this layered leather jacket look, as part of this graphic tee summer ensemble, for travel in chilly weather, and to finish off this grey jeans outfit!
If you love luxury shoes, check out my Sarah Flint sustainability review and discount code!