Cheddar chive cornmeal waffles are a tasty twist on your favorite breakfast treat with basically no work.
I've shared before that breakfast for dinner is not an uncommon occurrence in my kitchen. We overdid it on omelettes a while ago and have since cut back, but they still occasionally pop up on dinner table.
A while back, I needed something to complete dinner – a grain or carb of some sort (yes, we eat carbs for dinner – and yes we're obviously still healthy and alive!). I mentioned savory waffles as an idea to my guy and he was ecstatic (we love our little waffle maker).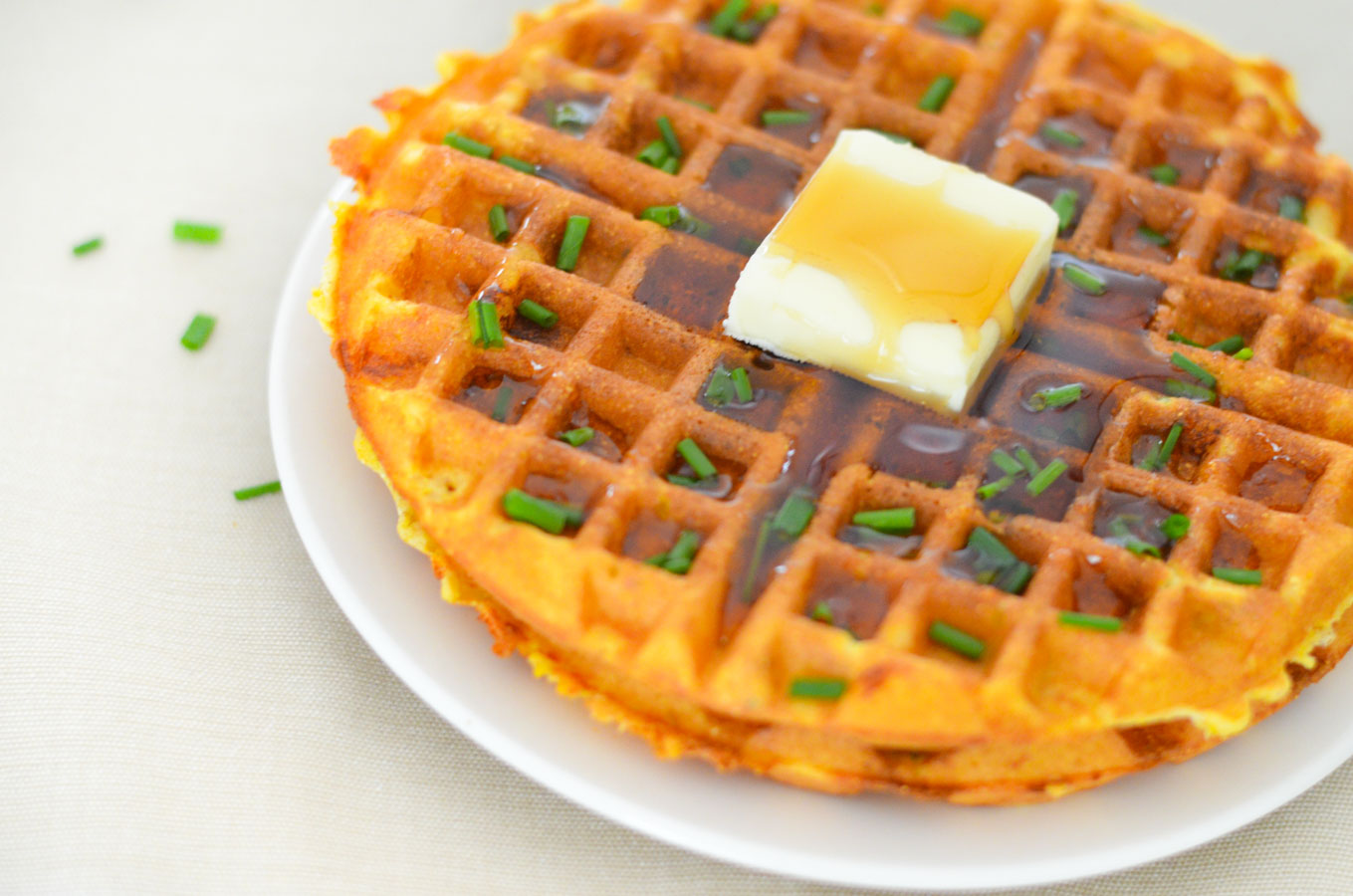 Because I wanted them to be savory, I added herbs and cheese (probably inspired by my cheddar herb crackers). And so Chive + Cheddar Waffles were born!
Again trying to make them a bit heartier, I added cornmeal (you could use polenta, but it'll be crunchier). For dinner that night, we ate them alone and with a bit of butter.
When we toasted them up for breakfast the next day, my guy poured syrup all over his waffles and I smeared peanut butter on top of mine (no surprise there – on either front).
With how tasty these were, I was politely requested to make them again for Saturday morning breakfast and happily obliged. These are great for breakfast, lunch, and dinner!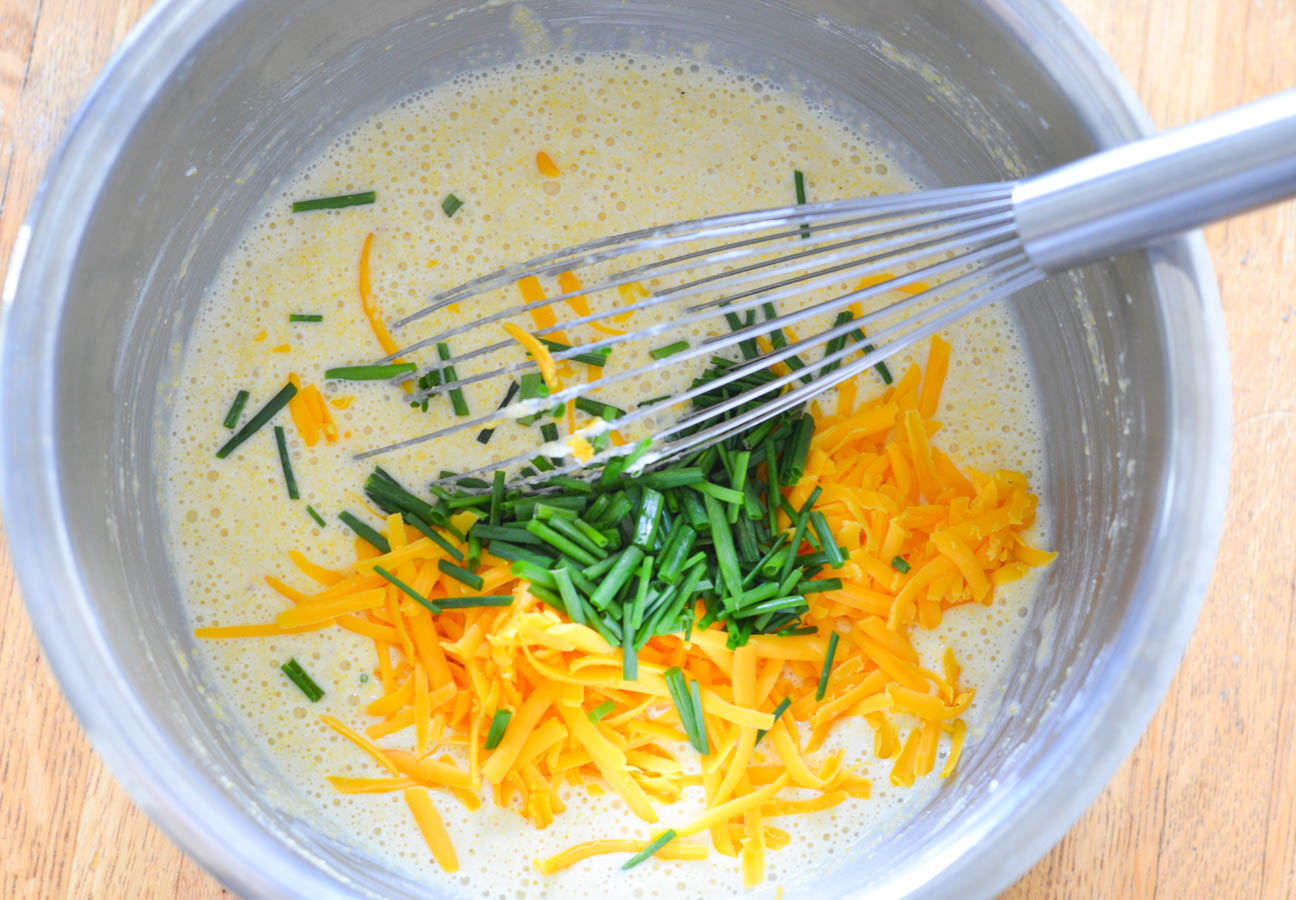 Savory Cornmeal Waffles
Savory cornmeal waffles are nothing short of delicious. You can easily add any herbs or cheese. Additionally, bacon or cut up ham and cheese waffles are quite delectable!
And if you're really looking to "beef" up your waffles (goodness that sounds terrible), you could add finely cut veggies. It would be better if they're already cooked and seasoned. Meat-lover and vegetarian savory waffles are all delicious.
For less carby waffles, you can throw a bunch of stuff in the batter – spread the waffle over a longer distance. I do really love adding the cheese, however. It browns in the waffle maker (i.e. savory dinner waffles for the win)!!

WHAT TO SERVE WITH SAVORY WAFFLES
There are so many delicious things to serve with these waffles – whether it's sweet or savory. If you're erring on the more savory side, I would pair it with my Kale Farro Salad or my Fresh Orange Beet Salad.
Here are a few other dishes to serve with these Cheddar + Chive Cornmeal Waffles:
Squash Quinoa and Kale Salad
Persimmon Salad
Roasted Broccoli Grape Salad
Warm Lentil Salad
CHEDDAR CHEESE SUBSTITUTES
Sometimes if we don't have cheddar cheese, or I want to switch it up, I'll replace it with gouda, gruyere, or even pepperjack (my husband's idea)!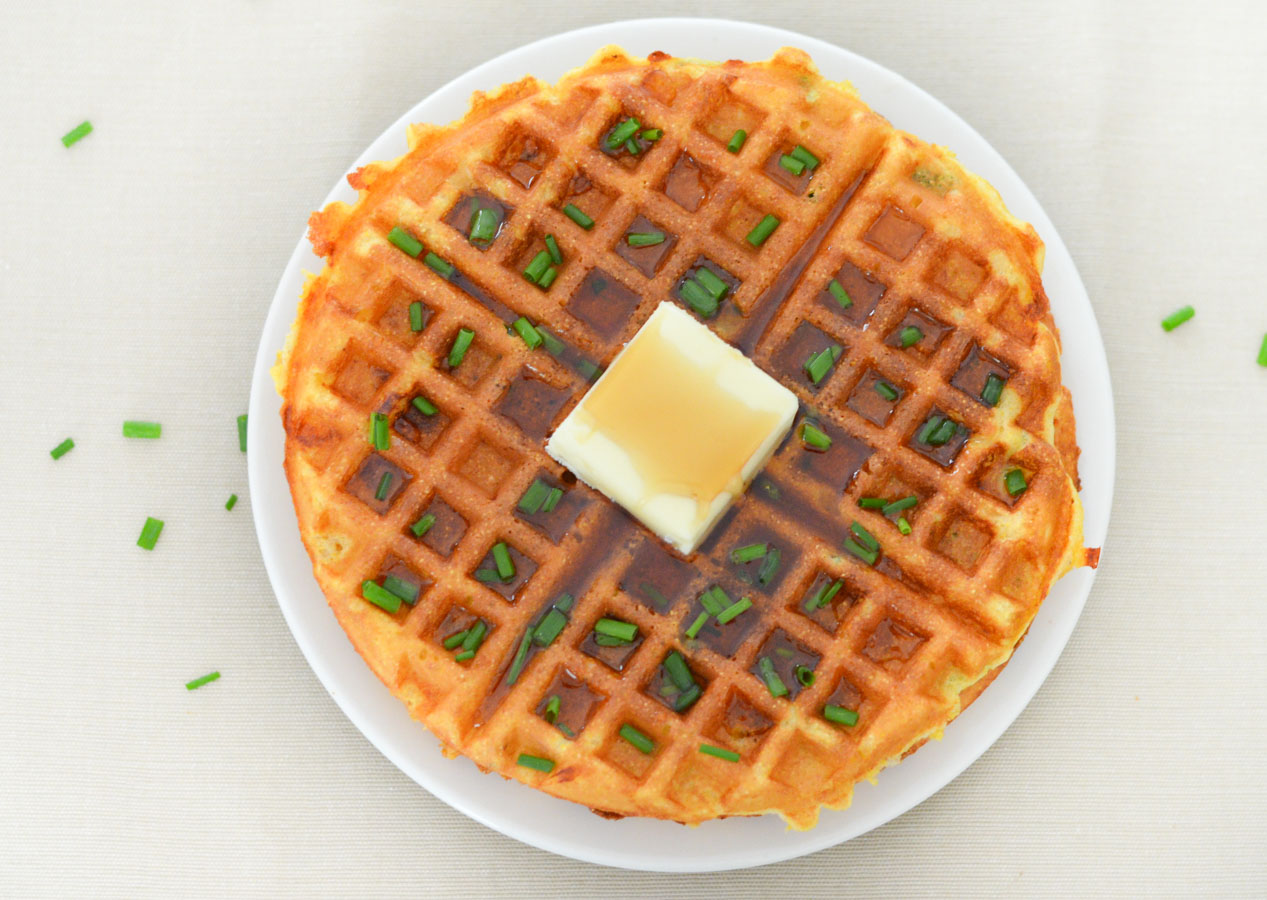 More Waffle Recipes
I love a good waffle – the traditional style with tasty toppings like this or some other fun mixes. Try these chewy vanilla cardamom waffles, ham & cheese waffles (great for leftover ham), and these yogurt & jam topped waffles!
MORE BREAKFAST FOR DINNER RECIPES
If you're a fan of breakfast for dinner like me, try my Salmon Frittata or if you're looking for something more refreshing try my breakfast salad!
Here are a few other breakfast recipes that also have a place at the dinner table: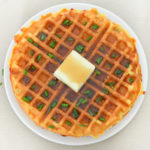 Print Recipe
SAVORY CHEDDAR + CHIVE CORNMEAL WAFFLES
This recipe is one of my all time favorite to make (for dinner). The cornmeal waffle recipe is really the star here, but the addition of cheddar cheese and chives really make these addictively delectable. Serve these savory waffles as a side dish with a protein and veggie for a fun twist on dinner!
Ingredients
2

eggs

1 ½

cups

milk

nonfat is fine

½

cup

Greek yogurt

nonfat fine here too

2

tablespoons

butter

melted

1 ⅔

cup

cornmeal

1

cup

flour

1

tablespoon

sugar

1

teaspoon

salt

1

tablespoon

baking powder

¼

cup

chopped chives

1

cup

extra sharp cheddar cheese
Instructions
Preheat waffle maker.

In a large bowl, whisk together eggs, milk, yogurt, and butter. Add in cornmeal, flour, sugar, salt, and baking powder. Mix in chives and cheddar cheese.

Pour heaping ⅓ Cup spoonfuls of batter on to waffle iron. Close lid and let the magic happen. Remove waffles when light turns green and desired crispiness is achieved.
Nutrition
Calories:
325
kcal
|
Carbohydrates:
41
g
|
Protein:
12
g
|
Fat:
12
g
|
Saturated Fat:
6
g
|
Polyunsaturated Fat:
1
g
|
Monounsaturated Fat:
3
g
|
Trans Fat:
0.1
g
|
Cholesterol:
69
mg
|
Sodium:
604
mg
|
Potassium:
241
mg
|
Fiber:
4
g
|
Sugar:
5
g
|
Vitamin A:
417
IU
|
Vitamin C:
1
mg
|
Calcium:
271
mg
|
Iron:
2
mg