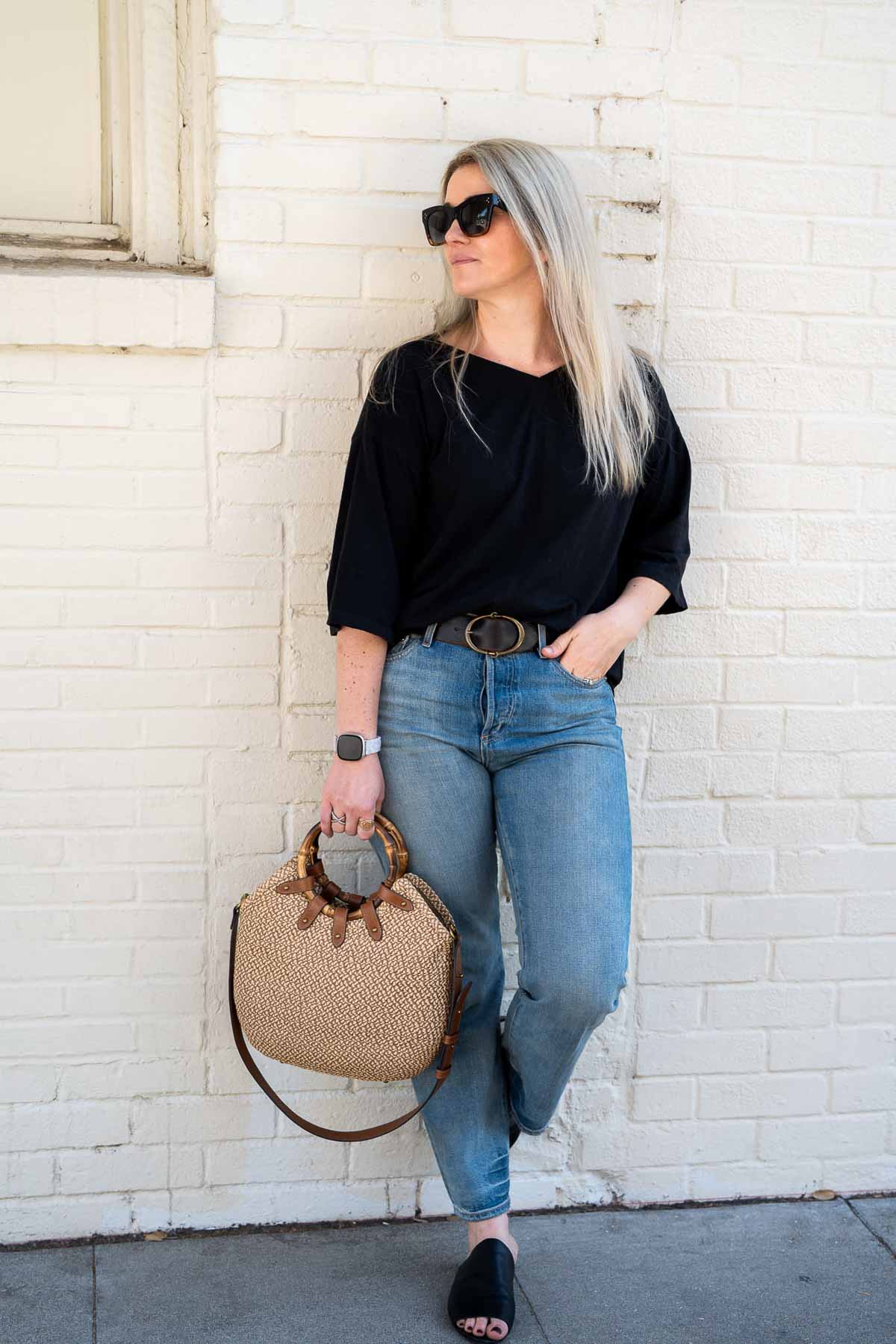 There are two things happening in my life right now. First, I feel as though I'm back into the groove of meeting up with people – for fun and for work. And, second, I'm a little bit living in these jeans. They're comfortable, cropped, and perfect for a coffee date outfit!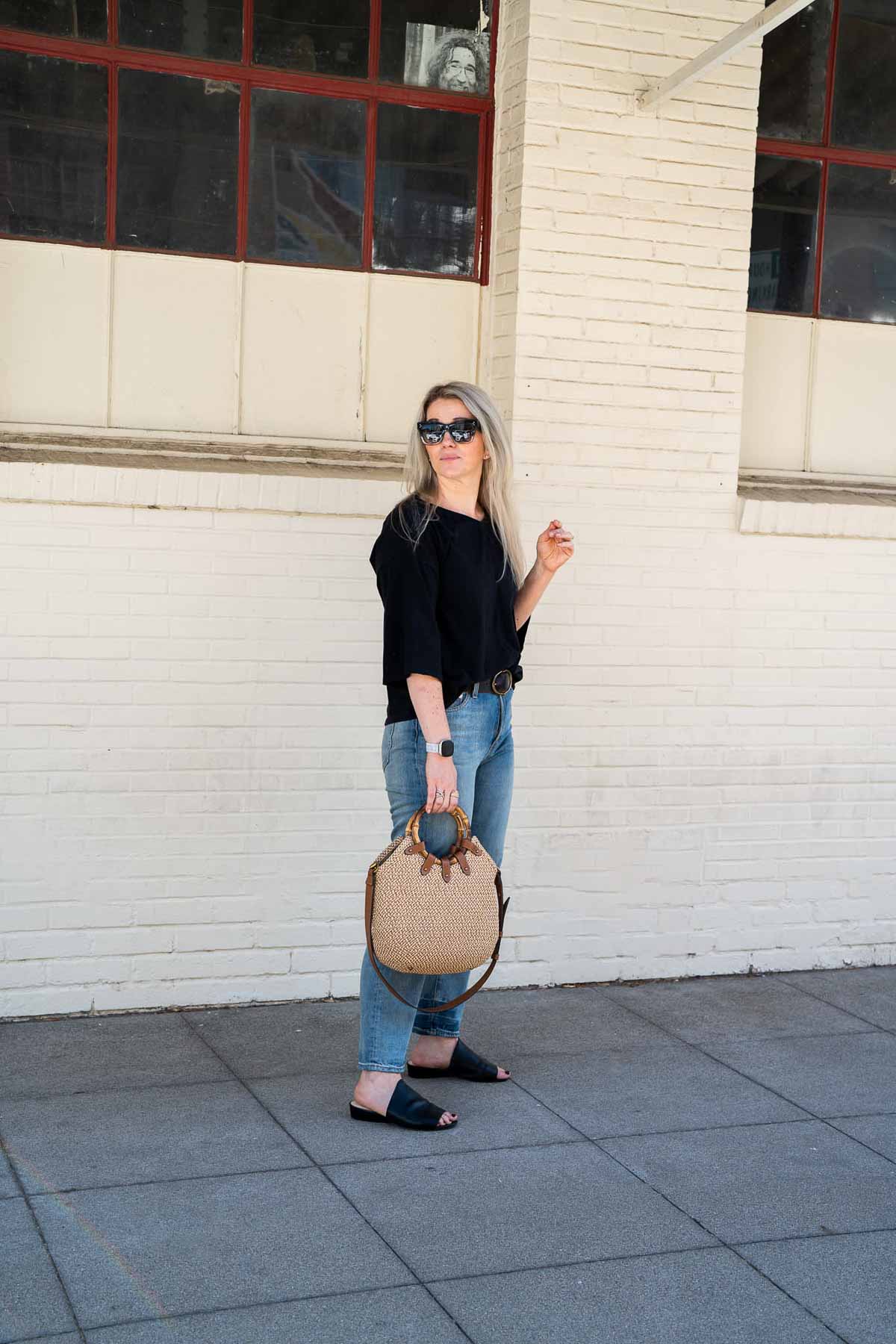 Coffee Date Outfit
I feel like I now have my top picks for my favorite cafes in Sacramento around town. Places where the coffee is good, the seating is plentiful (and comfortable), and the vibe is just right (i.e. relaxed and the music isn't too loud). And while I love them all, I do really try to mix things up when meeting friends – not always hitting up the same spot.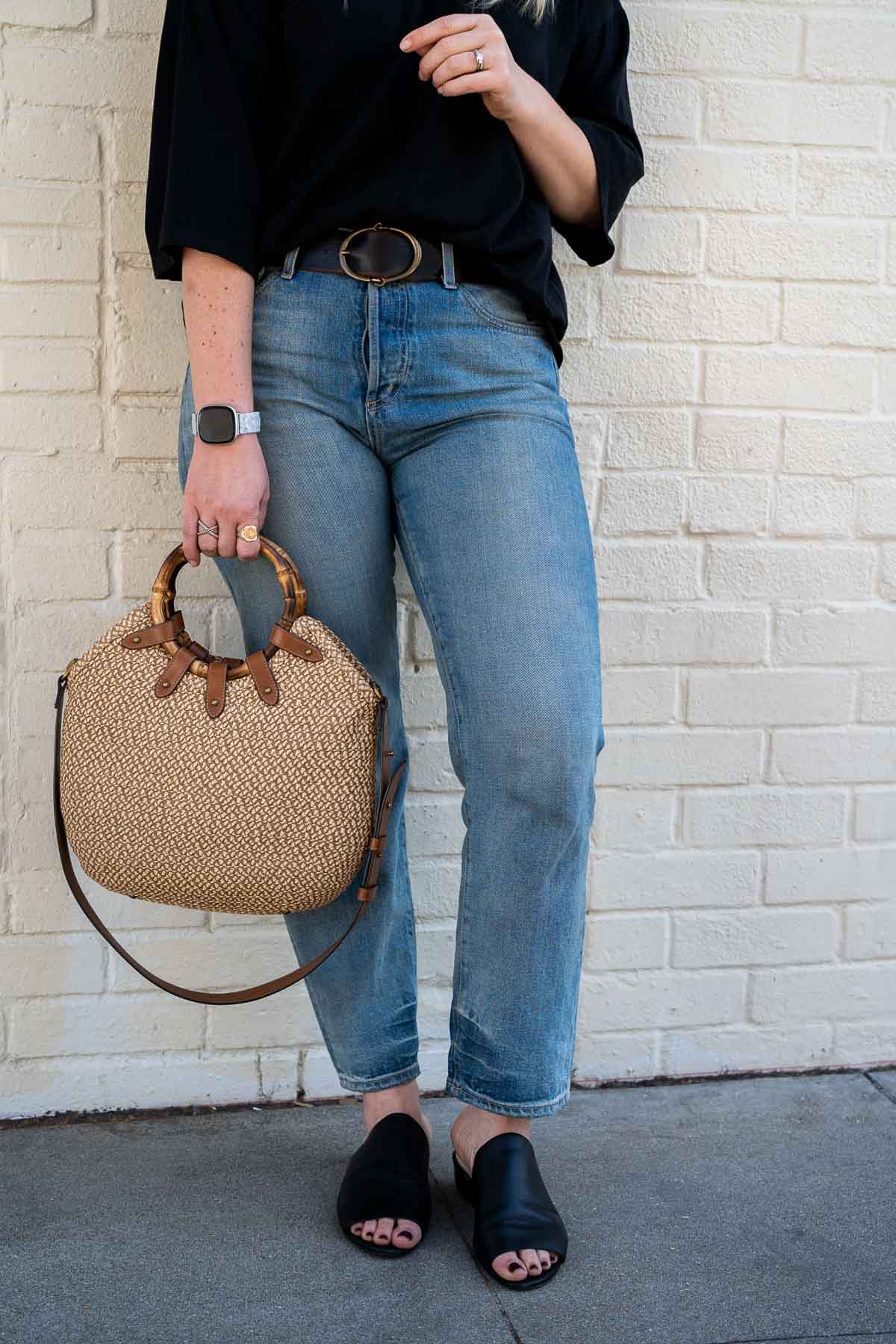 The mornings (and actually the days lately) are still cool here in Sacramento, so a comfortable pair of boyfriend jeans have been just right. This pair of denim is made with organic cotton and recycled cotton. They're very soft, hold their shape perfectly, and have a fun little distress pattern near the cuffs.
They were a part of my sustainable fashion collection and are one of my new (to me) sustainable jeans brands. When I first wore them, I cuffed the leg as they hit just at my ankle (my legs aren't long), but now I'm loving leaving them uncuffed. I'm sure as the summer heats up, I'll play around with cuffing again. They do make a perfect pair of summer jeans!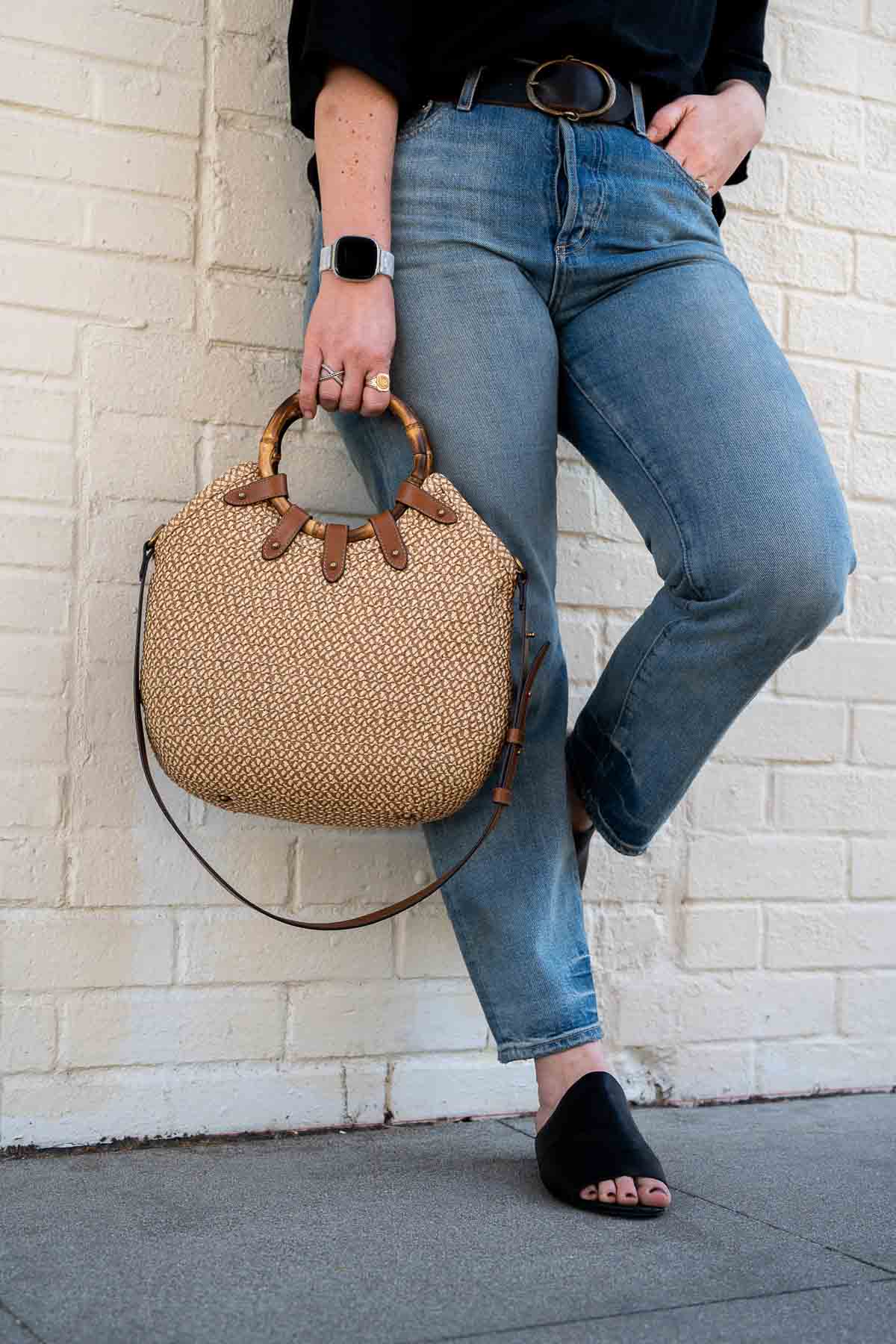 The Perfect Summer Purse
I didn't list a purse in my summer capsule wardrobe must haves, but I usually swap out my purse for summer/winter – and I personally find it necessary. I've had this straw bag (currently on sale!) for a few years now. Just like all my other Eric Javits hats and purses, it still looks casual and easy, yet elegant…and it's so STURDY!
I've become so accustomed to talking about the sustainability components of items – organic, fair trade, etc., that it felt funny to be sharing this bag since I didn't think it hiti any of those check marks I aim for, but here's the thing (or things).
One. These bags last SO LONG. I got my first Eric Javits purse in 2013. My mom bought if for me for my trip to Italy with my now husband. I still have the purse and it still looks as wonderful as it did then (properly storing purses helps obviously)!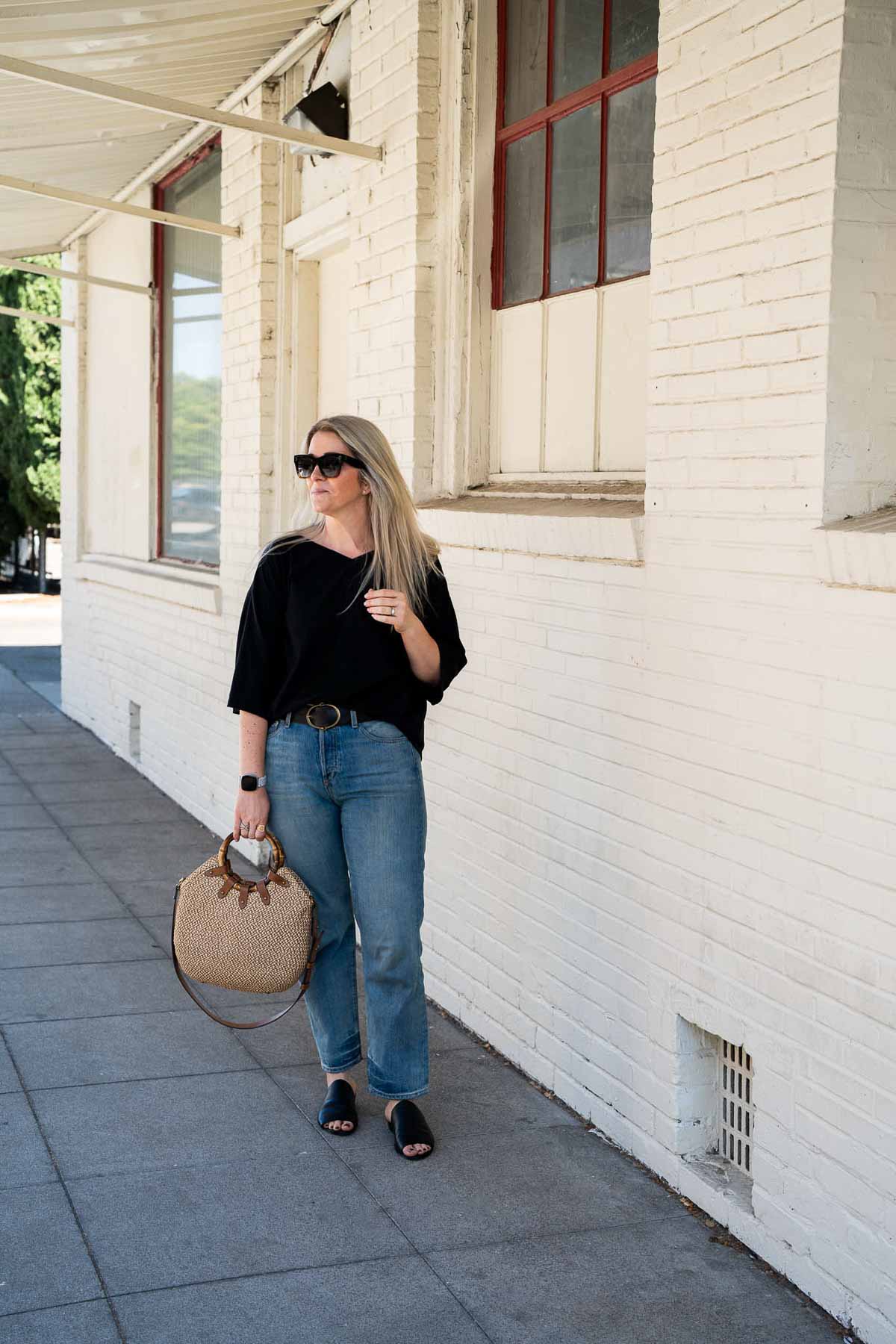 Two. My mantra toward sustainable living is not to be perfect all the time, so it's totally fine that I have items and even buy new items OCCASIONALLY that aren't 'sustainable' as long as I embrace rewearing clothing. Once I felt settled in finding my style and since I aim to invest in quality wardrobe items, it really is very easy to do so.
But you want to know a funny story. Literally as I was writing this up, I went to check again what these purses are made of. It's a human-made material to mimic raffia and straw, but…BUT…it's made of recycled materials! You know I love recycled products and the whole idea of turning single-use plastic into something otherwise so long lasting is AMAZING!!!
I reached out to their Instagram person, and found out that the straw-like material is made of 96% recycled propylene (#5 plastic)! YAY! Sometimes you just get the happy discovery that companies are doing great things all on their own and aren't even advertising it!!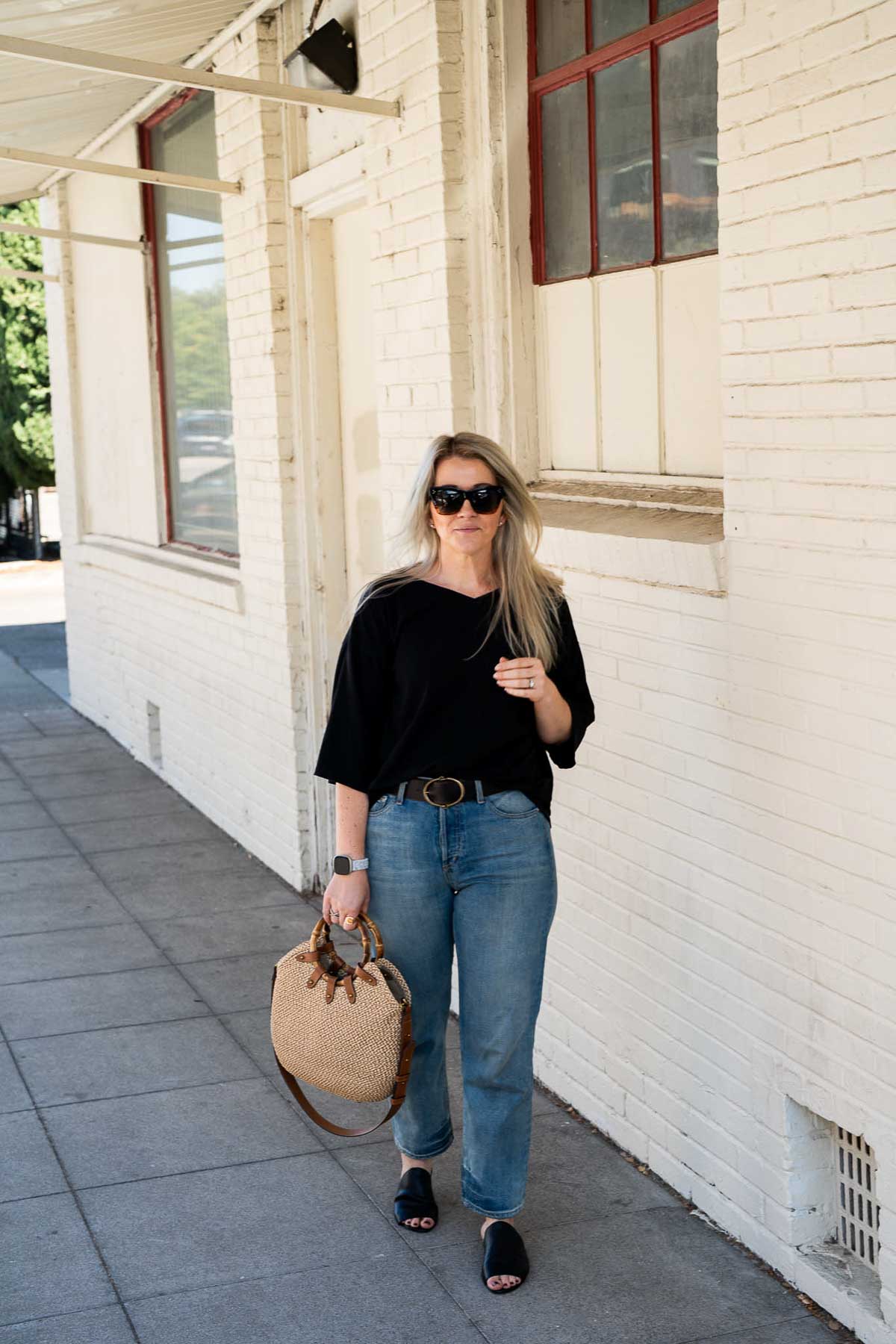 Get this Coffee Date Outfit (Details & Links)