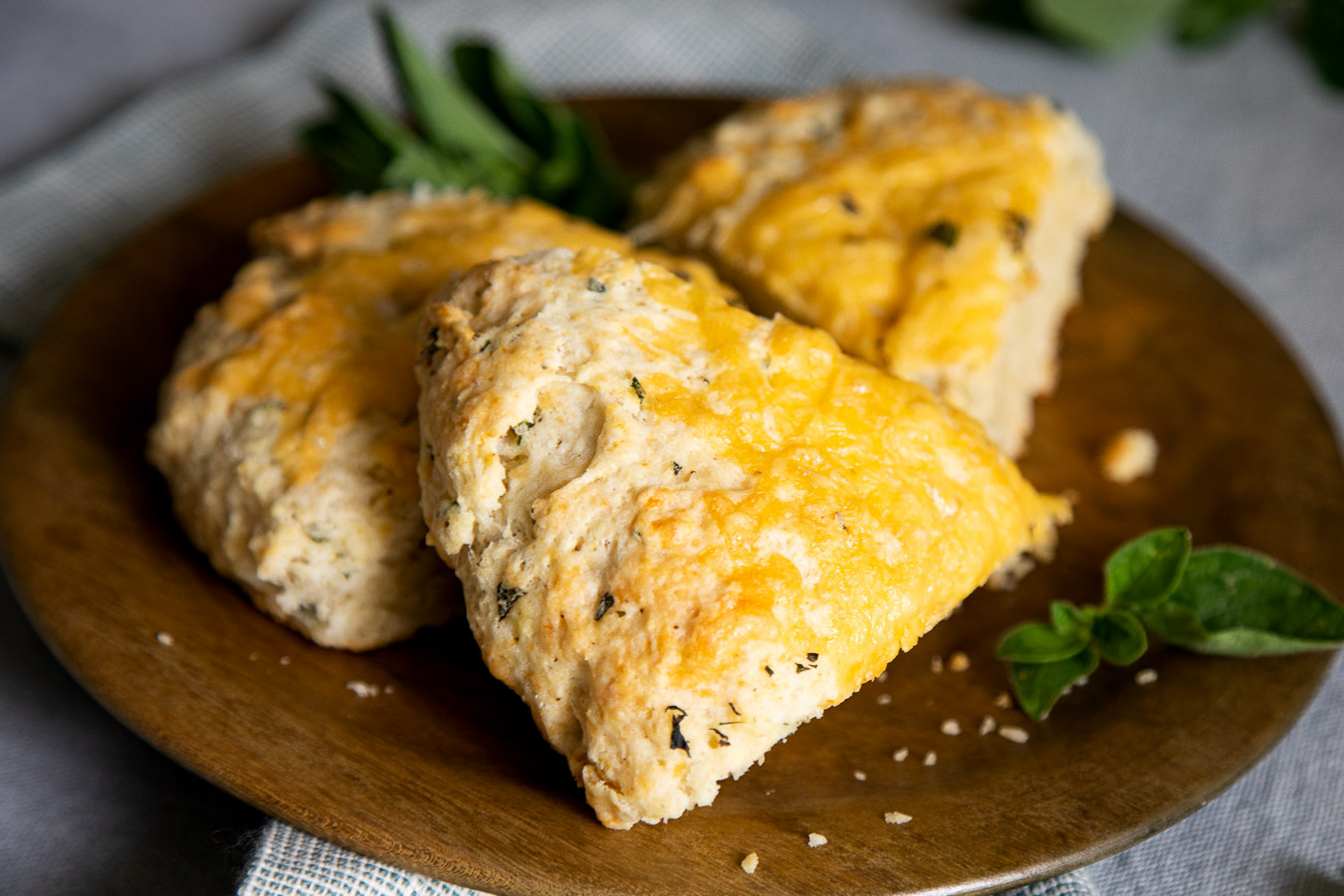 It's been a while since I've made scones. During the first or second year we were in LA, I was on a roll with scone recipes. I tried to turn everything into a scone. And then I stopped for whatever reason…until these cheddar and herb scones that are a savory twist on one of my favorite things.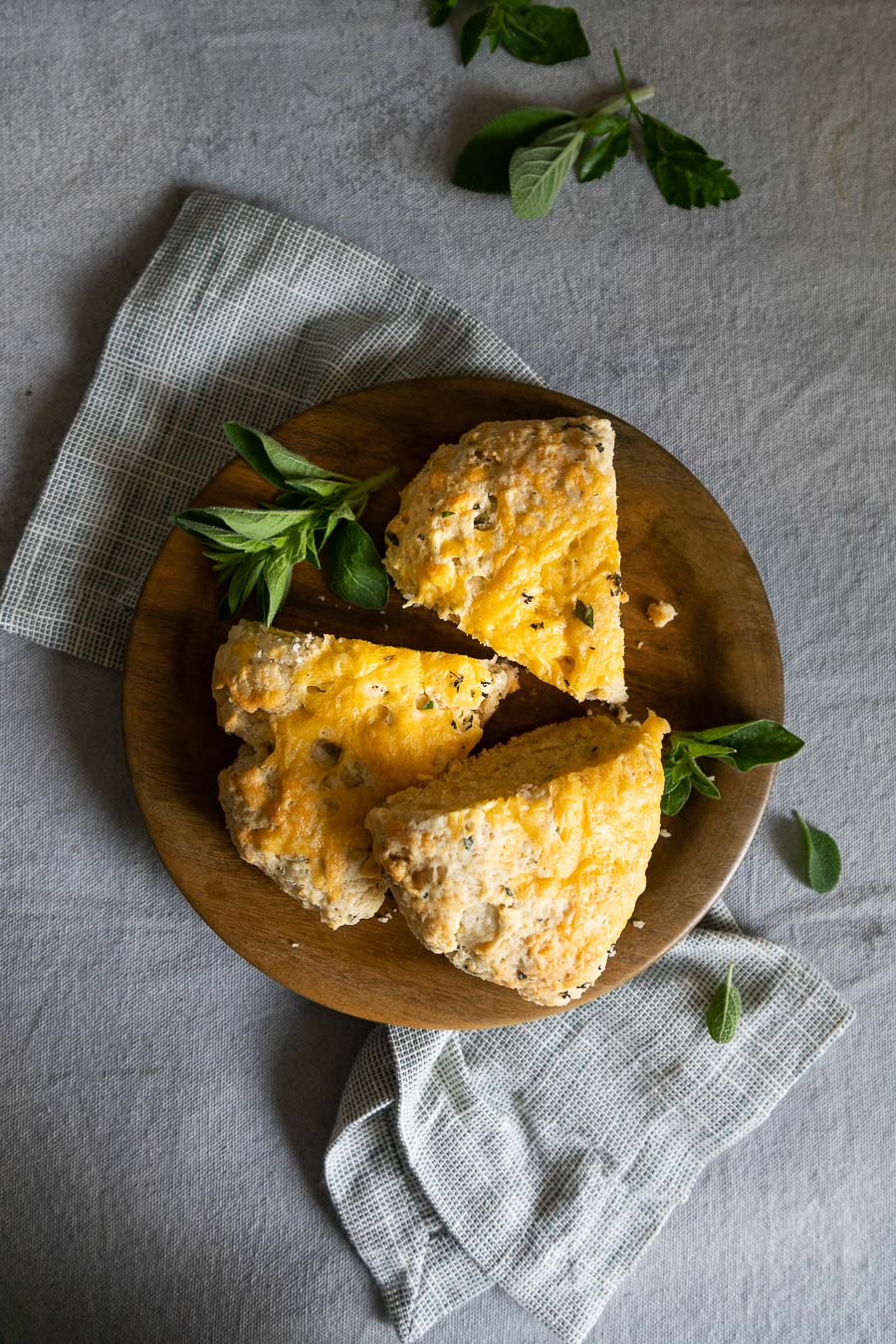 Scones are a very funny thing. I LOVE scones with clotted cream and jam when we're traveling in the UK. Divine! We don't make scones like that in the States.
The UK scones are usually circular (like a biscuit), light, and *maybe* with a few dried fruits.
American scones tend to be heavier and loaded with things. Hello orange, cranberry walnut scones!
I love both kinds of scones, but I do think the American scones aren't as dependably good. They dry out so easily! I spent years (YEARS!) thinking I didn't like scones only to learn that I love scones; I just don't like dry scones. Who does?!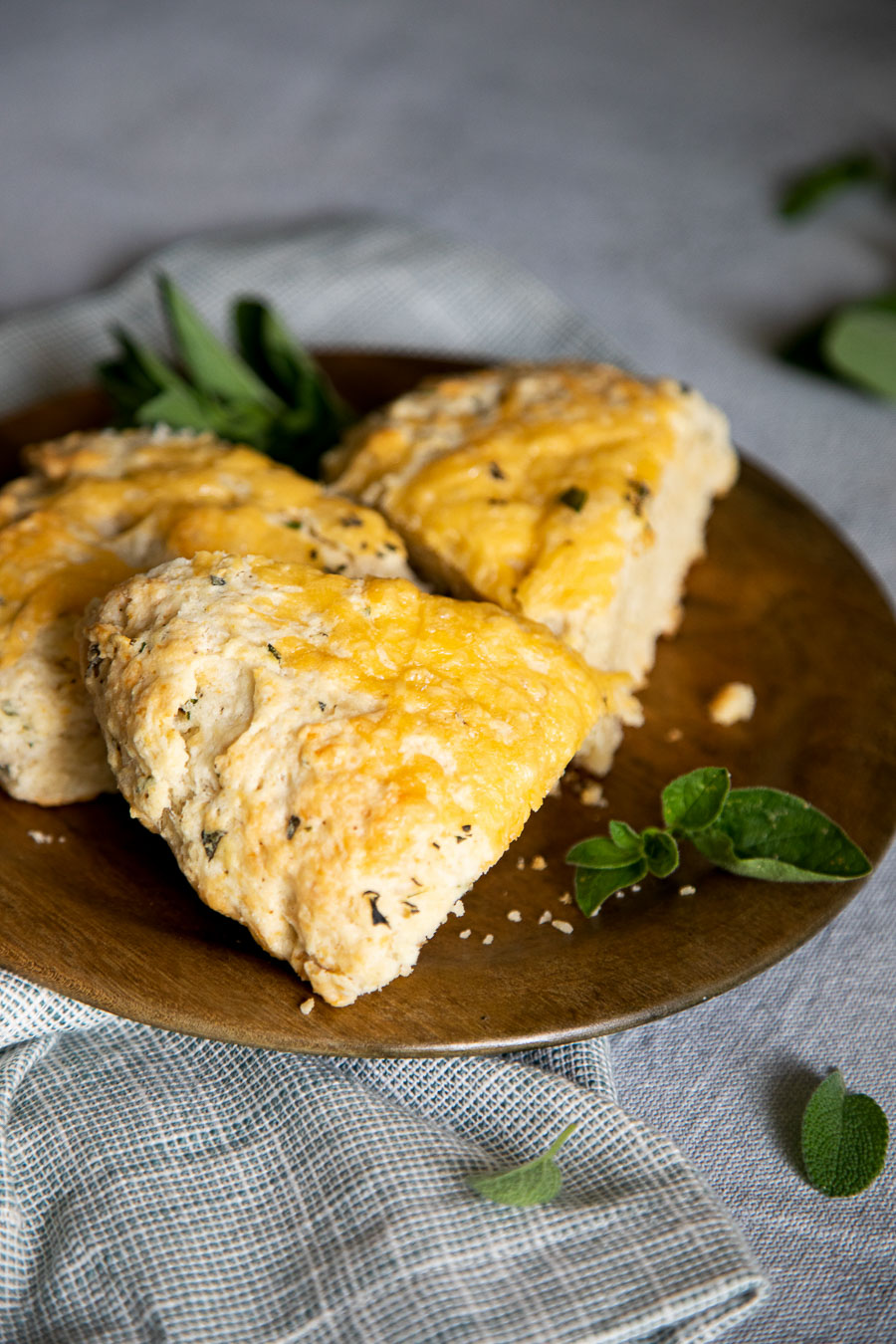 Cheddar + Herb Scones
You know how some things just pair together really well – peanut butter and jelly? burger and fries? cardamom and nutella (that one should be more widely known)? Well cheddar cheese and savory herbs are another one that I, at least, too often forget.
Cheddar cheese is sort of an understated player in the cheese world. Enjoying a fancy charcuterie board? You probably won't see a cheddar cheese on there. And yet, I think you should!
Mild cheese isn't my favorite for nibbling on, but a good sharp cheddar or a white cheddar – quite enjoyable!
The creaminess of cheddar, whatever variety you pick, is what pairs so beautifully with the herbs. Herbs can have a drying, sometimes punchy flavor. The cheese just tones it down enough to enjoy it without thinking twice!
If you love the combination of herbs and cheese, however, you ALSO need to try these savory biscotti!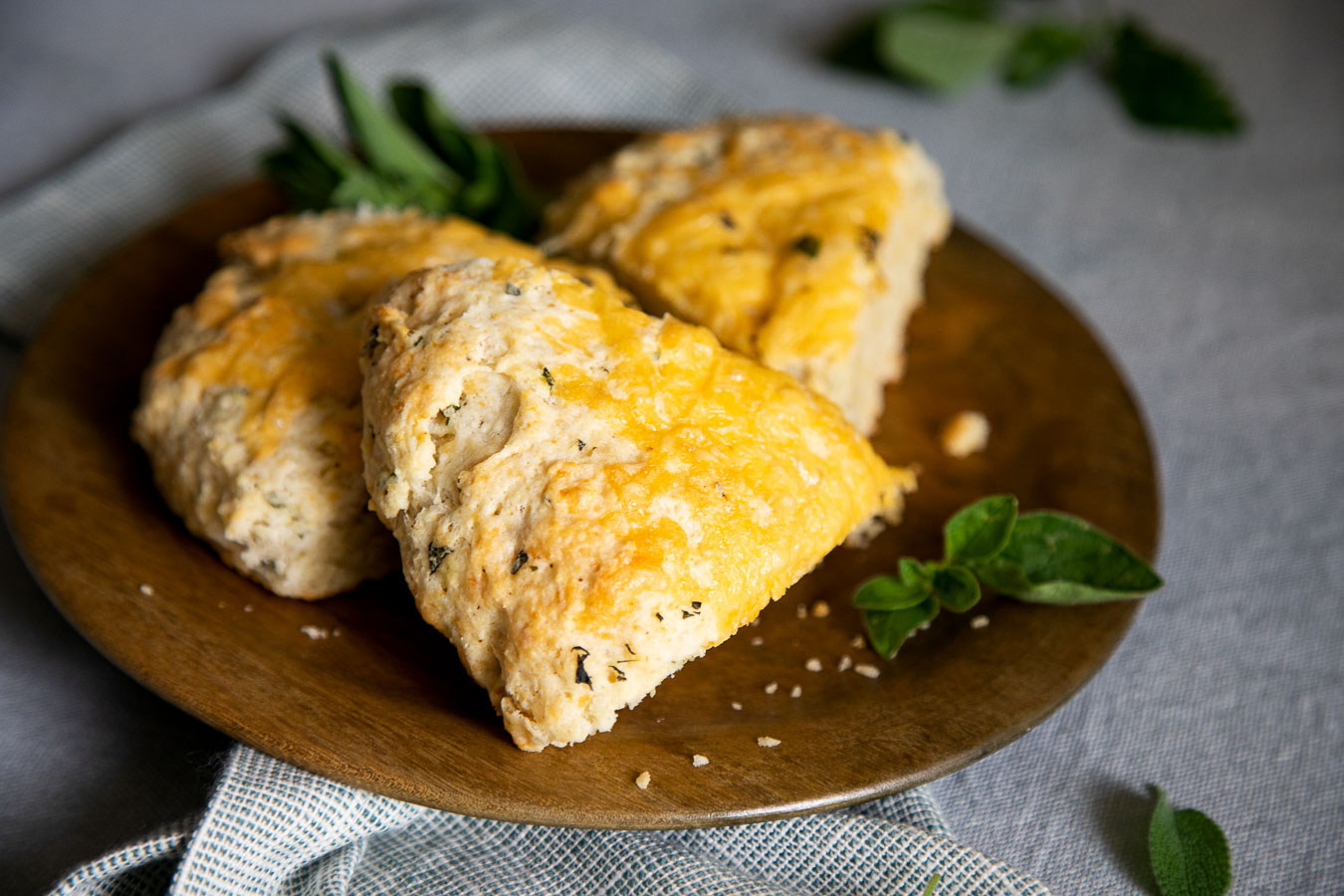 So why are scones so good?
Butter. Sorry. Did you want a longer answer than that? I love when things are complicated and intricate. But when it comes to butter in baked morsels, the answer is plain and simple.
The cold, cubed butter used in scones, melts into every ion of flavor (don't double check my science please) as it cooks in the oven. Scones aren't dependent on the perfect amount of mixing; the butter just melts perfectly into everything!
Let's not kid ourselves, however, good, buttery scones are even better with butter on top!
Side note. I know the movement to love unsalted butter is strong. Can we be honest though?
Of course we can… I never buy unsalted butter. And did you know I salt salted butter? It's not salty enough! Think I can convince some local dairies to start making extra salted butter? At the very least my mom and sisters would buy it with me!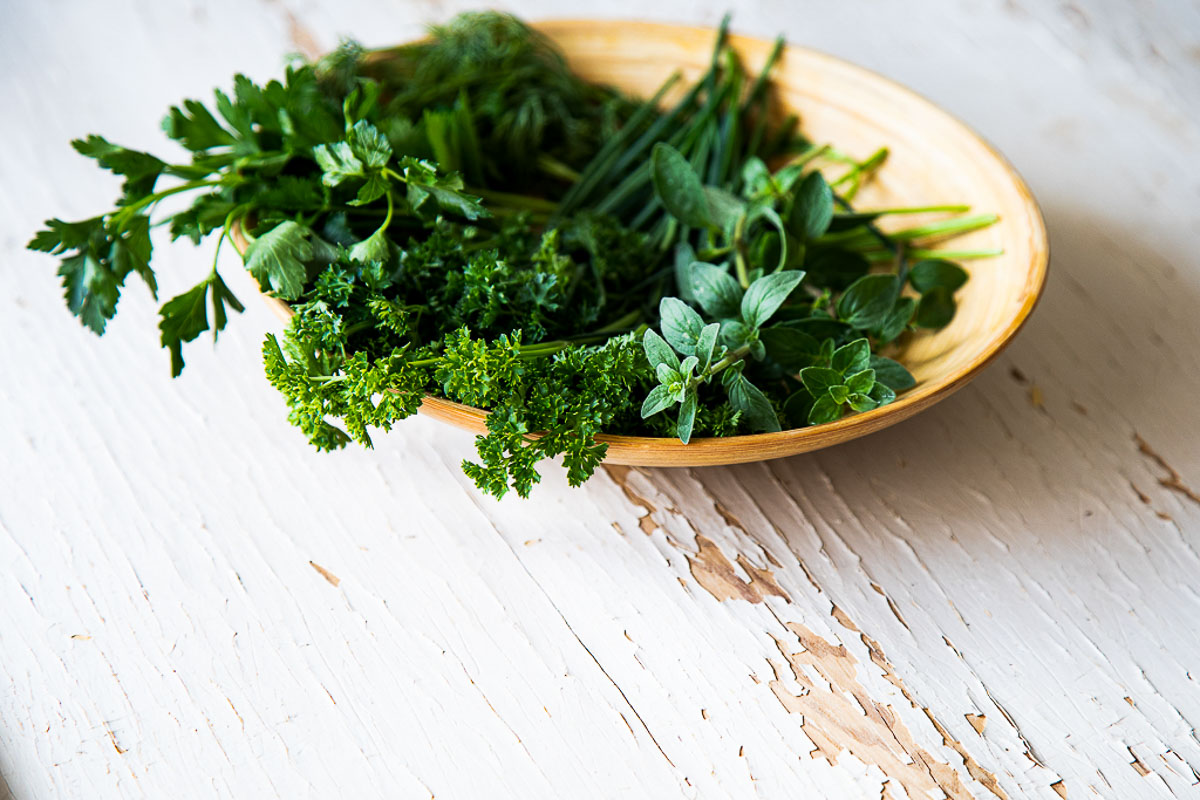 What Herbs Can You Use?
For these scones, the deliciousness came from oregano, parsley, and sage. The oregano is a hearty herb, the parsley is leafier, and the sage is its own magical fuzziness in between.
So what does that mean? Pretty much that you can use any herb! The recipe only calls for 2 tablespoons of chopped herbs, so whatever you have on hand is great – one herb or three.
FALL & WINTER RECIPE COOKBOOK
Delicious recipes to enjoy FALL & WINTER produce to its fullest. Simple and delicious recipes made from scratch for your family and your guests THROUGHOUT THE COOLER MONTHS!
Fresh Herb vs. Dried Herbs Ratio
If you don't have fresh herbs but need to make some cheddar and herb scones (oh boy do I get that!), you can certainly use dried herbs. The ratio is 3:1 (3x as much fresh herbs as dried).
Instead of 2 tablespoons fresh herbs, use 2 teaspoons dried herbs – and obviously the same logic of types of herbs remains the same!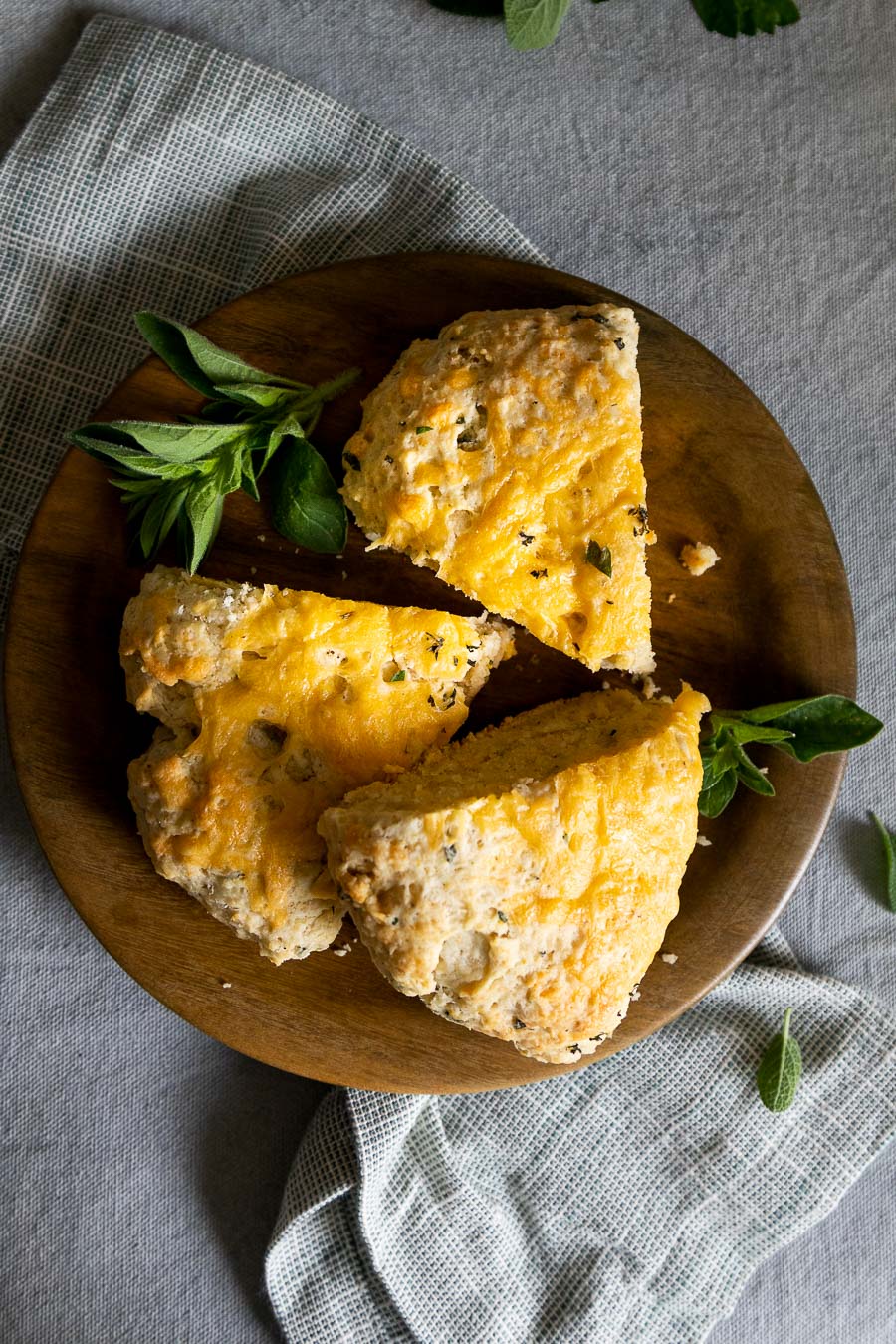 Love scones? Me too. Give these champagne grape scones a shot! These amaretto cherry scones are really fun too!
While all scones are often delicious on their own, I like to enjoy them with a bit of jam – strawberry thyme jam….or plum jam!
If you love cheddar and herbs together, try these cheddar and chive waffles and these herb cheddar crackers.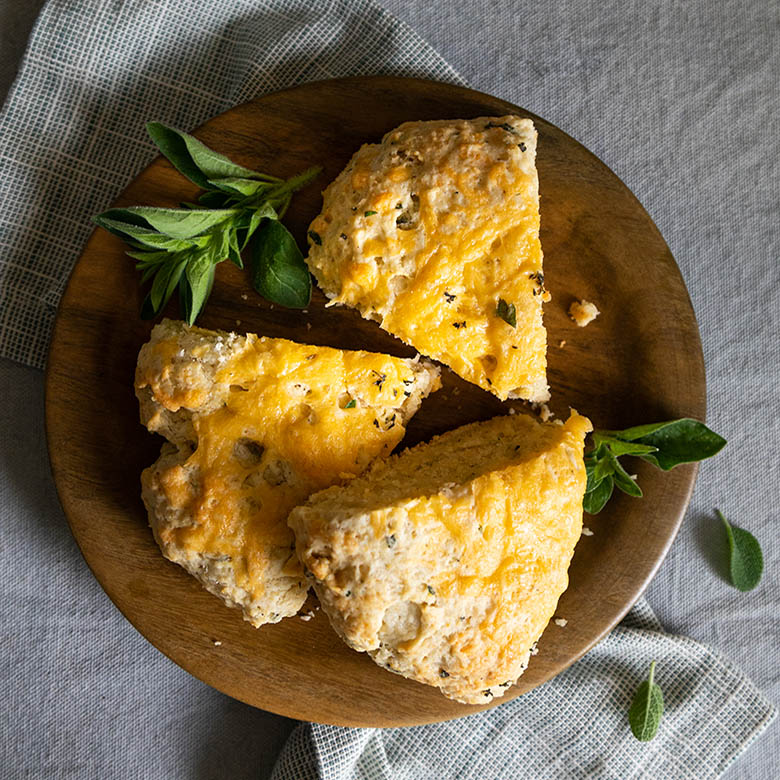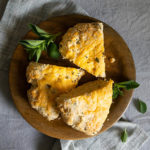 Print Recipe
Cheddar and Herb Scones
There's nothing that doesn't make my mouth water about these scones. A savory scone is the perfect way to enjoy a baked morsel.The cheese and fresh herbs combine perfectly in the buttery scone a truly enjoyable treat.
Ingredients
3

cups

all-purpose flour

3

teaspoons

baking powder

½

teaspoon

fine sea salt

¼

teaspoon

garlic powder

¼

teaspoon

ground black pepper

2

tablespoons

chopped mixed fresh herbs

½

cup

cold unsalted butter

cubed

1

cup

shredded sharp cheddar cheese

1

cup

cream or milk
Instructions
Preheat the oven to 400 degrees F. Cover a baking sheet with a piece of parchment paper or spray with non-stick cooking spray.

Stir together the flour, baking powder, salt, garlic powder, and pepper in a large bowl. Reserve 1 teaspoon of herbs, then toss the rest into the dry ingredients to distribute throughout the flour.

Add the butter and use a pastry blender or two knives to work the butter into the flour until it is evenly distributed in small pieces. Toss ¾ cup of the cheese in the flour until well coated with dry ingredients.

Pour in the cream a little at a time, working it into the dough after each addition. Exactly how much liquid you need will depend on what type of liquid you use (cream, skim milk, almond milk, etc.). The final dough should be slightly dry, but damp enough to hold together when formed into a ball.

Transfer the dough to the baking sheet. Flatten and shape into a 6-inch circle. Use a pastry scraper to cut the circle into 6 triangles, as if you are cutting a pie. Leave the pieces together in the 6-inch circle.

Sprinkle with the remaining cheese and herbs. Bake for 25 minutes, until a toothpick inserted into the center comes out clean. Let cool for 15 minutes. Use a serrated knife to retrace the cuts you made with the scraper. Enjoy warm or at room temperature.
Notes
Save this recipe on Pinterest here!
Make this recipe? I'd love to see how it turned out…
PINTEREST: Upload a photo and your review to this Pin!
INSTAGRAM:  Tag me
@lucismorsels
and use #LMrecipes
Nutrition
Calories:
467
kcal
|
Carbohydrates:
51
g
|
Protein:
12
g
|
Fat:
24
g
|
Saturated Fat:
14
g
|
Polyunsaturated Fat:
1
g
|
Monounsaturated Fat:
6
g
|
Trans Fat:
1
g
|
Cholesterol:
64
mg
|
Sodium:
549
mg
|
Potassium:
157
mg
|
Fiber:
2
g
|
Sugar:
2
g
|
Vitamin A:
841
IU
|
Vitamin C:
2
mg
|
Calcium:
317
mg
|
Iron:
3
mg