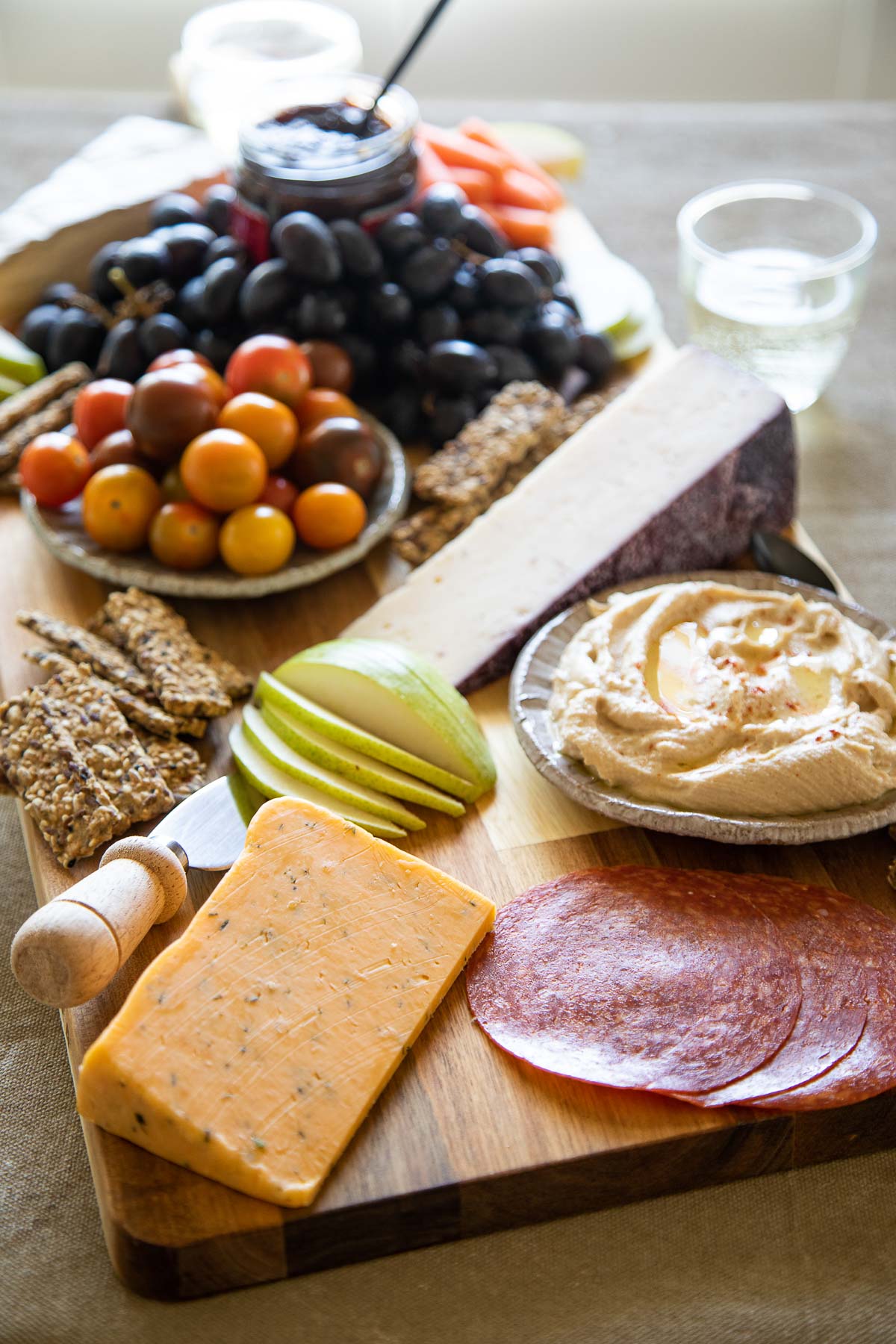 You know what one of my favorite things to do for dinner is? An easy, inexpensive charcuterie board/platter from Trader Joe's! Anytime we're entertaining too, I always default to this sort of grazing board for starters. It's easy, delicious, and not super expensive!
I didn't know what a charcuterie board was until a few years ago (like everyone else). And luckily, I first learned of it as more of a meat, cheese, and whatever option, rather than the traditional board of cured meats.
I still get some heat for calling this kind of arrangement a charcuterie board, but let's just assume the broader definition – appetizer board sounds good but not quite as fancy!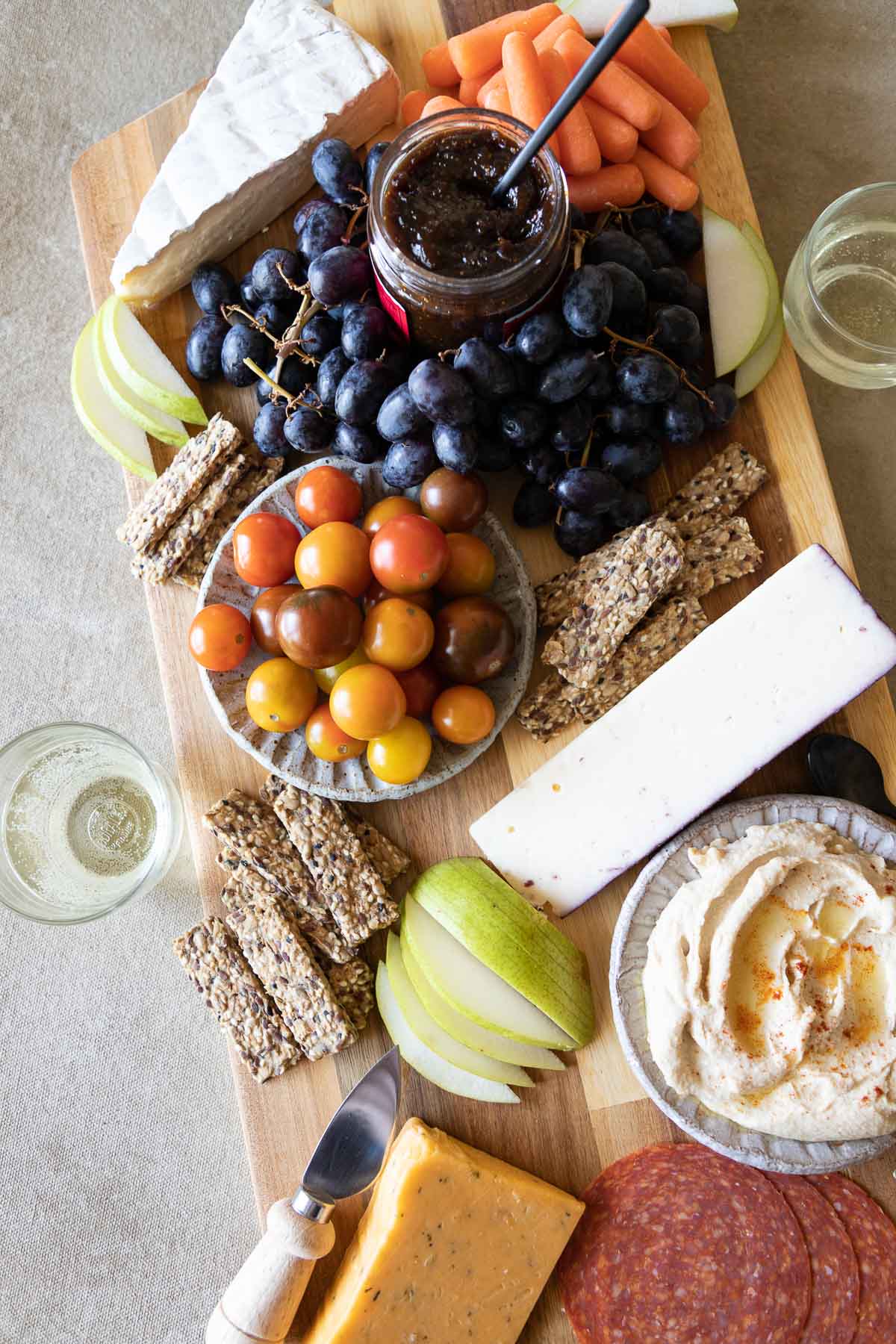 Trader Joe's Charcuterie Board
I think the variety in this type of appetizer is better because it's well-balanced on my palate and more appetizing to a wider variety of guests. Meats, cheeses, and accoutrement can be found at any market, but thanks to TJs, it can be fairly inexpensive for how many it serves!
As a grazing/lighter offering, $30 spent here feeds around 10 people, including one bottle of sparkling wine. As more of a hearty snack or starter, around 6-8.
I like shopping at Trader Joe's because they have such a great cheese selection that isn't expensive. Most of their cheeses are $3-$10 and you get a hefty hunk of cheese! Hello Trader Joe's Charcuterie Board!!!
Helpful Hint: How do you Pronounce Charcuterie?
It's "shar-coot-urr-eee"!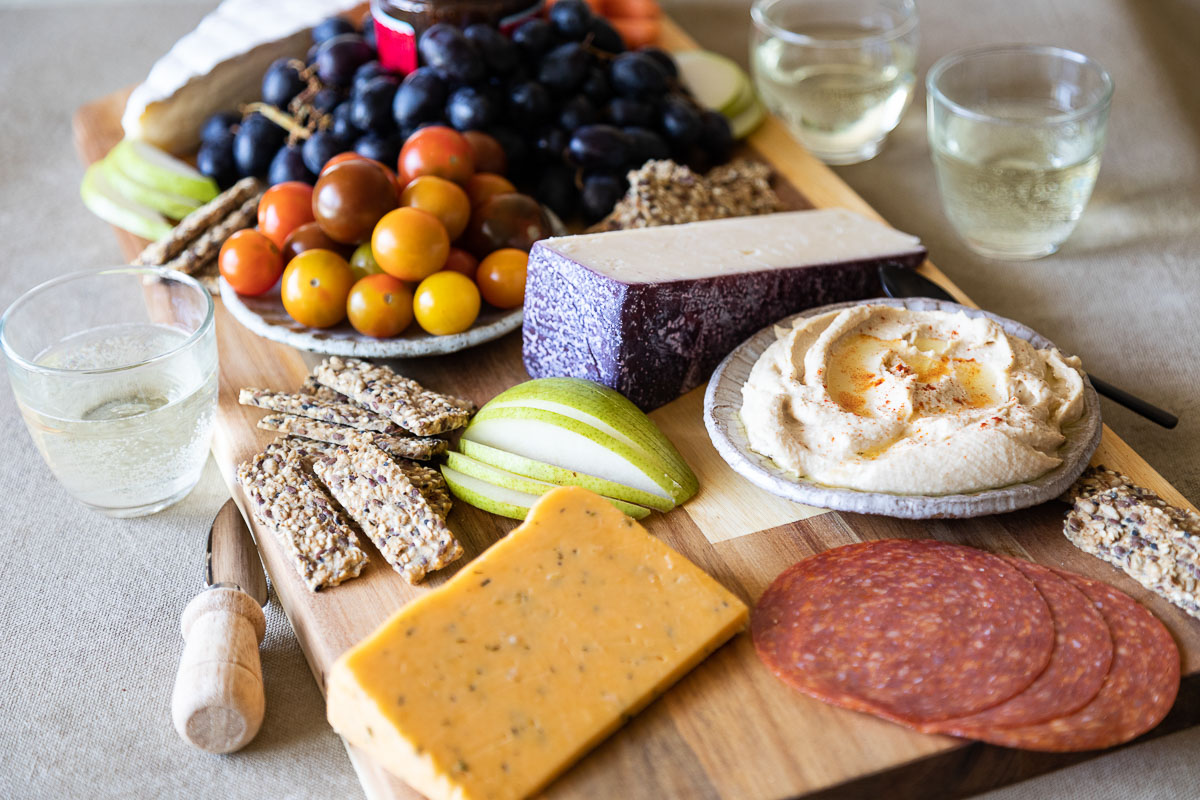 One of the other fantastic things about making your charcuterie board from Trader Joe's is that they have a great variety of cheeses. Our go tos are the syrah soaked toscano and the brie. Past that, I like to experiment each time with something new. The third one on this particular board is the Double Gloucester Cheese with Onions & Chives.
Without getting overwhelmed with the flavored cheese, manchego, goat, and white cheddar cheeses are always fun. But then there's also the pepper crusted or the cinnamon toscanos. Or how about the pub cheese dips and the chili and red pepper cheddar?
If you like their blueberry goat cheese, you can try making your own blueberry chutney with goat cheese!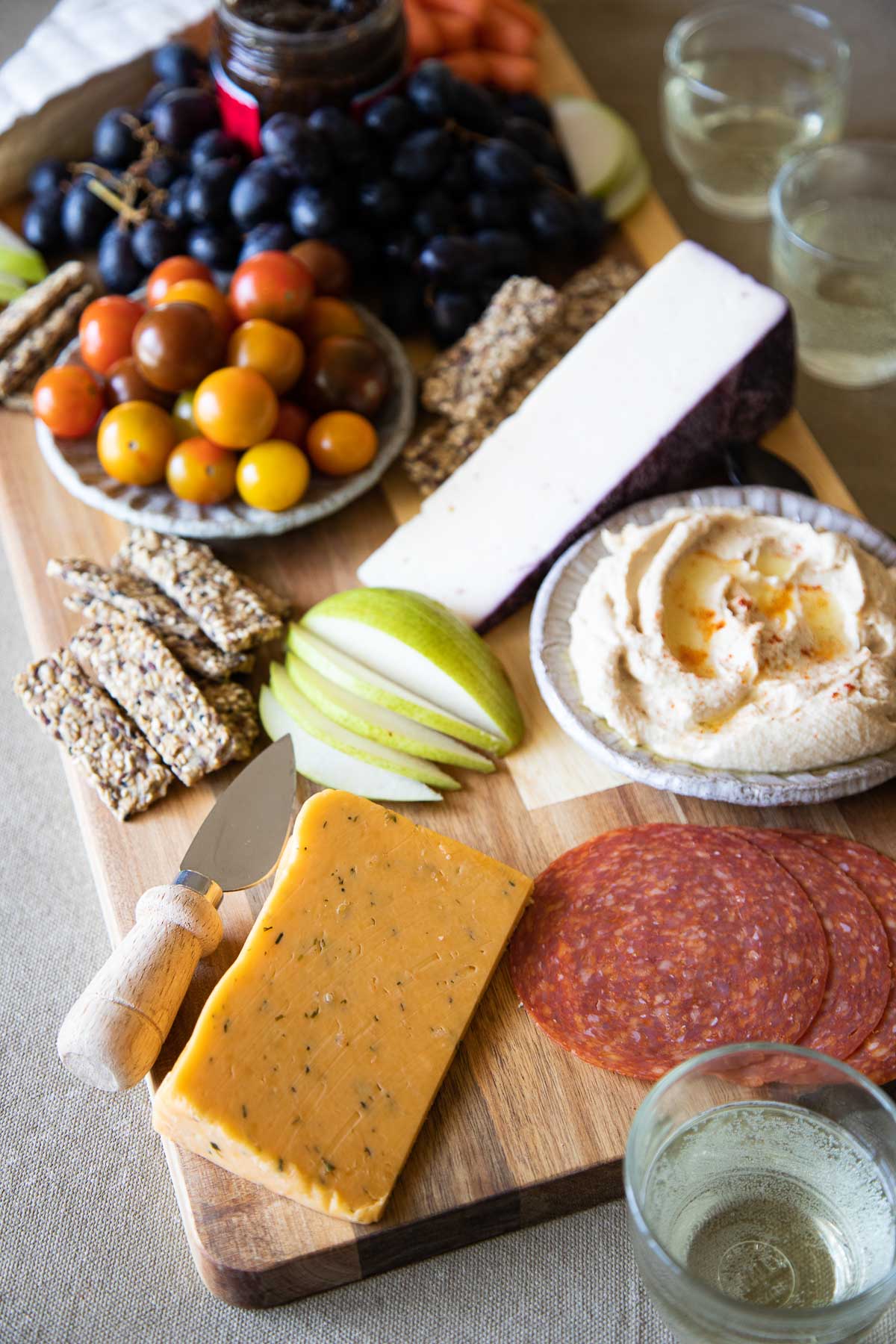 Charcuterie Meats at Trader Joe's
The meat options are a little more limited at TJs, but there are still plenty. I opted for a salami of course. Prosciutto is another absolute favorite.
I've done other boards with turkey meat, sliced (pre-cooked) sausages, and pepperoni. I like to do a mix of peppery, cured, and plain so it's easier to digest. Then everyone is happy!
Traditionally a charcuterie board is just meat and possibly a cheese. My platters always have some sliced fruit, veggies, and crackers. Since I like to serve this as a heartier appetizer or a light meal, I think it's good to have a variety of things to break it up and make the board go a little further!
What Can you Put on a Charcuterie Board?
Creating seasonal boards is always a good idea (especially if you're trying to live more sustainably). Favorites include sliced apples, pears, or oranges in the fall/winter and sliced stone fruit, figs, or cherries in the summer (like  on this brunch charcuterie board).
Cherry tomatoes and carrots are my other go-tos. If you really want to mix things up you can add some grilled veggies like these hors d'oeuvres!
You can check out these simple cheese board ideas too!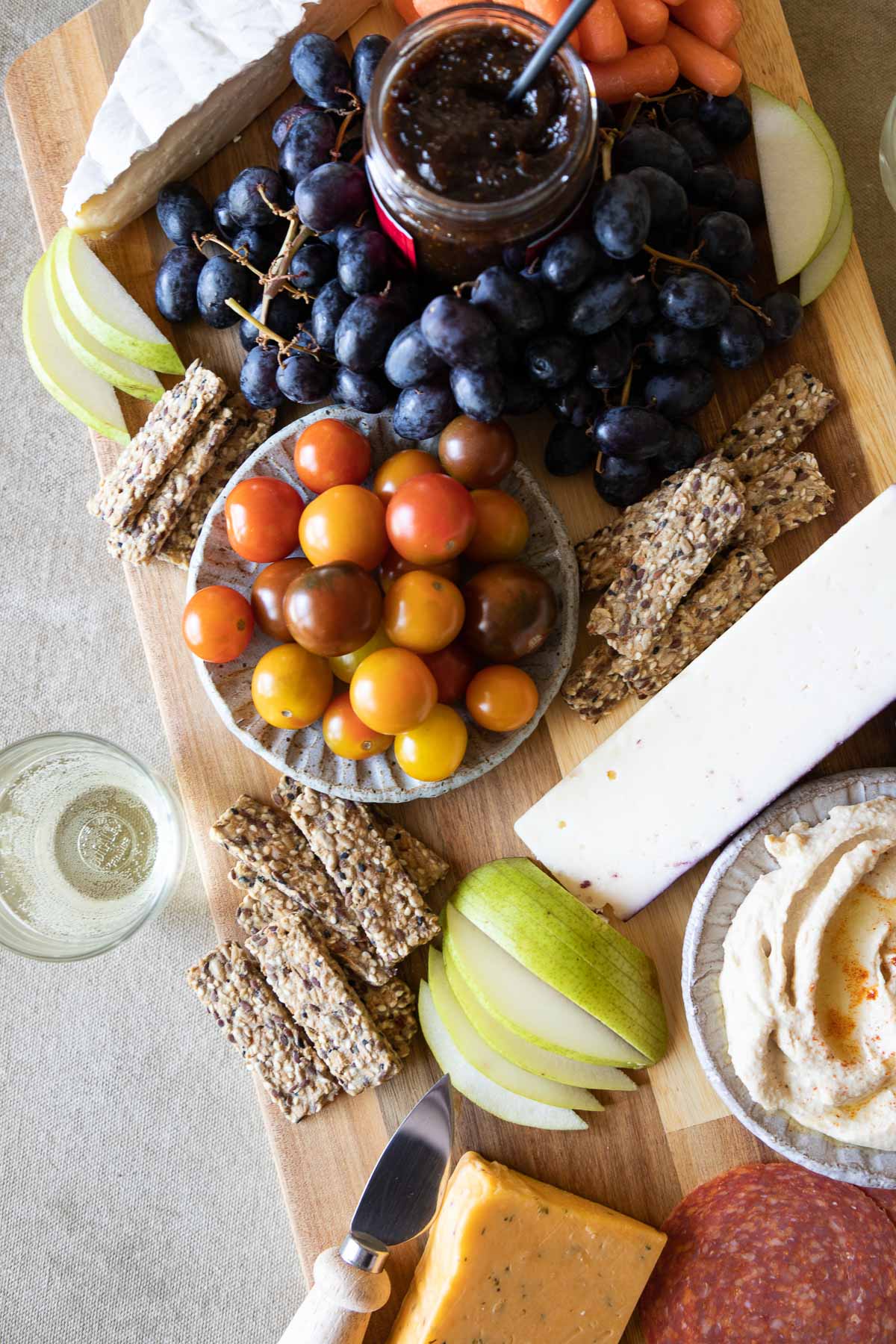 What can I use if I don't have a charcuterie board?
Charcuterie boards and appetizer boards can be expensive. While we use them enough to justify the cost, not everyone does. Also, "charcuterie boards" are trendy and therefore more expensive, but "cutting boards," – which are in essence the same thing – are neither trendy nor expensive!
But truthfully, you can use just about any plate or platter. In fact, smaller boards tend to look better because they fill up so much more easily!
Print Recipe
TRADER JOE'S CHARCUTERIE BOARD
I'm all about charcuterie boards (meat and cheese preferably), but I don't think it has to be expensive. Here is my go-to list of meat, cheese, dips, and spreads for the perfect, inexpensive charcuterie board (all from Trader Joe's).
Ingredients
1-2

bunches

champagne or regular grapes

1

anjou pear

sliced

1

cup

carrots

1

pint

mini heirloom tomatoes

8

oz

hummus

top w. olive oil and paprika

12

oz

salami

1

wedge

syrah soaked toscano cheese

1

wedge

brie

8

oz

chili and red bell pepper cheddar

1

package

stone ground wheat crackers

½

cup

fig butter

wine/drink of choice
Instructions
Keep items refrigerated until 15-30 minutes before servings.

Arrange all items on a large platter or cutting board!

Serve with small spoons and knives for easy enjoyment.
Nutrition
Calories:
436
kcal
|
Carbohydrates:
34
g
|
Protein:
19
g
|
Fat:
26
g
|
Saturated Fat:
11
g
|
Polyunsaturated Fat:
3
g
|
Monounsaturated Fat:
8
g
|
Trans Fat:
0.02
g
|
Cholesterol:
58
mg
|
Sodium:
928
mg
|
Potassium:
496
mg
|
Fiber:
5
g
|
Sugar:
17
g
|
Vitamin A:
832
IU
|
Vitamin C:
20
mg
|
Calcium:
315
mg
|
Iron:
2
mg