Oh man did this spinach smoothie hit the spot last week. Our house hasn't completely forgotten healthy eating, but to say there are donuts and bagels in the kitchen on the regular would be a lie.
The problem is we discovered the raised donuts at Sacramento's Marie's Donuts. It's an unassuming donut shop that's painted turquoise and has a walk up window. And they are AMAZING! Like eat it down as quickly as possible. Kind of embarrassing.
You know what the worst part is? I don't feel guilty about it after I eat it. They're so light.
Alas. We needed to include some other breakfast items in the rotation that are light, bright, delicious (and make sure I get some veggies and nutrients) before/after the donut.

Spinach Smoothie
I used to make smoothies with baby spinach leaves like this one. Then I started buying kale because I could get it not in a plastic container. Then I found organic baby spinach leaves just wrapped with a fancy twist tie, so we started buying spinach again!
Kale and spinach are both great greens to put in any smoothie (you can swap them here too), but they do have different flavors and consistencies.
The spinach is lighter and not quite so earthy. With something like this green smoothie that has the stronger flavors of lemon and ginger, I'm a fan of spinach.
In smoothies with berries or other fruits, I like to do kale so it doesn't taste so sweet! That is if you aren't just making this summer melon smoothie that so, SO good!
Can you use fresh spinach in a smoothie?
It seems a little counterintuitive to use fresh greens in smoothies, but it's the best way to use them. Greens (lettuces, kales, etc.) all have a high water content, so they break down very easily in a blender.
I actually think fresh, raw spinach is the best for smoothies. Cooked spinach takes on a completely different flavor and frozen spinach has a more watery consistency. But you do you!
If calling this a spinach smoothie scares you, you can always try naming it a lemon ginger smoothie! Or a Spinach ginger smoothie! Or even a banana spinach smoothie. It's amazing what a little name change can do for your enjoyment!
Can this be a kale spinach smoothie?
Without going into details (because there aren't too many here), yes! You can absolutely split the spinach called for in this recipe between kale and spinach.

Smoothies w/o Milk
Most smoothie recipes call for milk (whatever kind of milk you like). This one calls for water. The liquid of milk and water both work to get a smoothie to the right consistency rather than a thick paste or even a milkshake.
Water gives you the right consistency, is always available, and makes smoothies lighter (more on the experience of a thick juice than a heavy smoothie).
Milk (dairy or nut-based) gives you the right consistency, adds some protein, and makes a smoothie more filling!
Moral of the story, milk and water can be interchanged in any smoothie recipe, just know that it will take less water to get the same consistency, so start with less and add more until you get the right thickness!

Healthy, Quick Breakfast | Spinach Smoothie
My husband has turned me onto the idea of smoothies for breakfast. I don't do them everyday, but before a long day out or on the weekends when I have no desire to make anything, they're great.
I love how fast spinach smoothies (or kale) are to make. I think the hardest, most difficult part of smoothies is cleaning the blender! But we can do that later!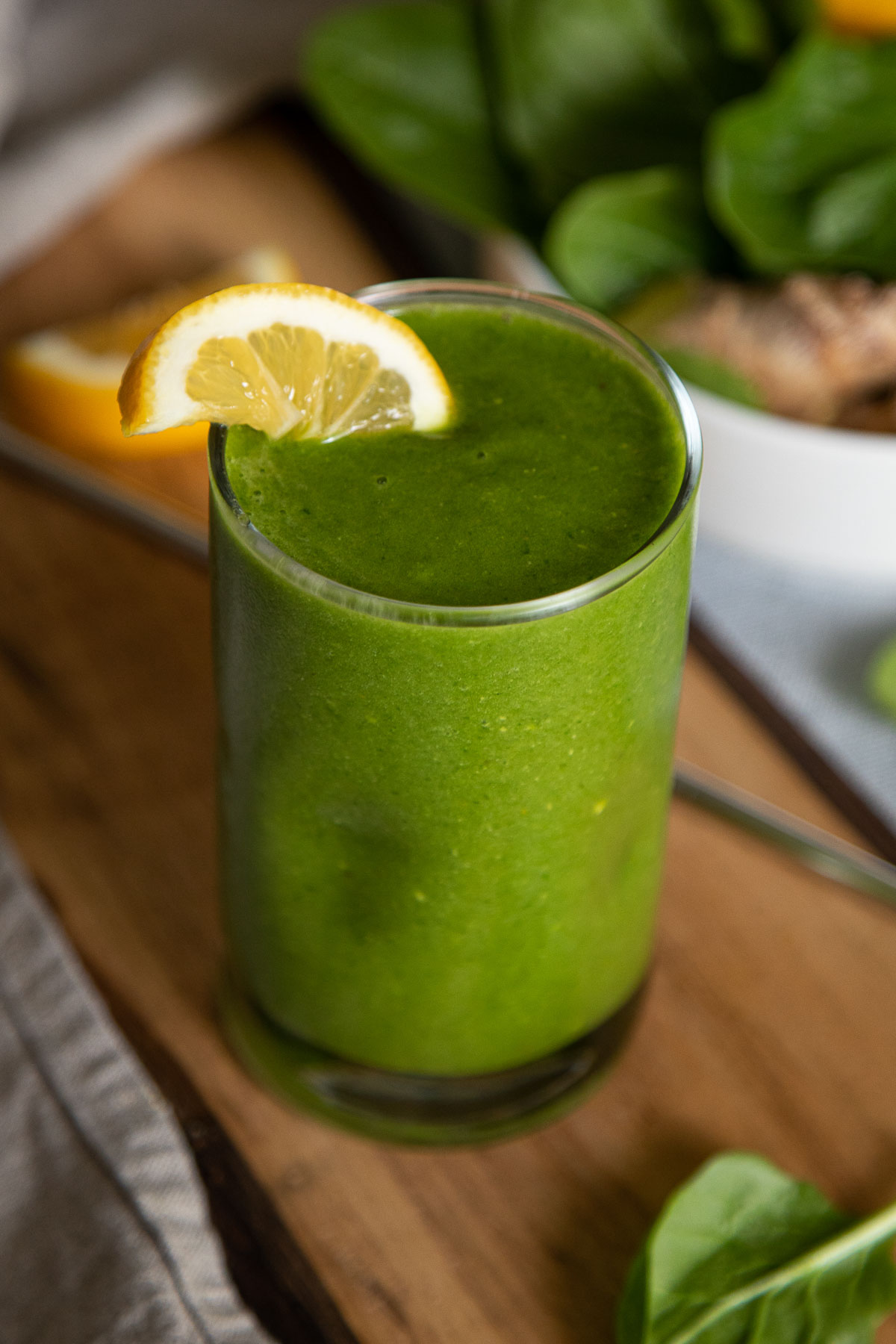 Best Glass Pitcher Blender
If you're looking for a good glass blender. I did a lot of research for the holidays last year. I wanted to get my husband a new blender for his smoothies, but I wanted a glass pitcher.
I was ready to spend whatever it took to get the best. And you know what, there are not that many blenders with glass pitchers – expensive or otherwise.
Anyway, all the reviews pointed to this blender. So I bought it, wrapped it up, and we LOVE it. It's less than $70 and it makes great smoothies with little work!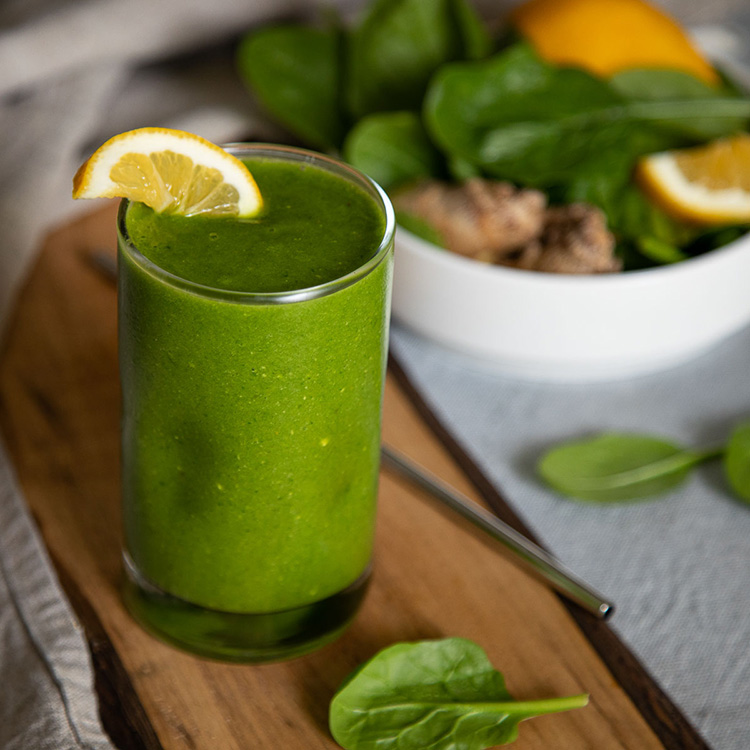 Print Recipe
BANANA SPINACH SMOOTHIE
Enjoy this delicious spinach smoothie with the bright flavors of fresh ginger and lemon! When you're looking for something filling but not heavy in the morning, this is the smoothie you'll make again and again. It's also a great way to use up the last of ginger, lemon, and spinach leaves in your kitchen.
Ingredients
1

large banana

frozen

¼

teaspoon

lemon zest

¼

cup

fresh lemon juice

preferably Meyer lemon

2

cups

fresh spinach leaves

1 ½

teaspoons

finely chopped fresh ginger root

Pinch

fine sea salt

⅓

cup

water

or as desired
Instructions
Add all ingredients to the blender, except for the water.

Puree on medium-low to begin blending the ingredients. Add water as desired to reach preferred thickness. Puree on high for at least 30 seconds until smooth.

Serve right away.
Notes
Save this recipe on Pinterest here!
Make this recipe? I'd love to see how it turned out…
PINTEREST: Upload a photo and your review to this Pin!
INSTAGRAM:  Tag me
@lucismorsels
and use #LMrecipes
Nutrition
Calories:
135
kcal
|
Carbohydrates:
34
g
|
Protein:
3
g
|
Fat:
1
g
|
Saturated Fat:
0.2
g
|
Polyunsaturated Fat:
0.2
g
|
Monounsaturated Fat:
0.1
g
|
Sodium:
54
mg
|
Potassium:
833
mg
|
Fiber:
5
g
|
Sugar:
16
g
|
Vitamin A:
5706
IU
|
Vitamin C:
52
mg
|
Calcium:
72
mg
|
Iron:
2
mg
Read these tips for how to store bananas properly!