This Cheese Board Ideas recipe is sponsored by the Flexible Packaging Association.
I really love appetizer boards. Charcuterie, cheese boards, grazing platters, call them what you will, but all kinds of cheese board ideas make me happy. You too?
The best part about all these boards is that there's no specific recipe or collection of ingredients. It can vary depending on your flavor, what's in season, what's local – what works for you!
I especially love using local, smaller dairy cheeses. A big part of sustainable living is shopping locally as much as possible. So let's embrace the local cheese, seasonal produce, and cheese board accoutrement to the max this year!
One of the other important things is limiting food waste – of ALL food! Did you know that the flexibility of plastic wrap is one of the best ways to keep cheese fresh until it gets into our kitchens?
This kind of wrapping can double the freshness of cheese! It prevents oxygen getting in to spoil the food, any loss or gain of moisture, and keeps all the rights flavors and aromas in and all the wrong ones out. All of this so that we can really enjoy the cheese we want!
Cheese Board Ideas
You know I'm a bit of a cheese board fanatic. It all started with this Trader Joe's Charcuterie board. Then we made that more traditional charcuterie board for brunch! Whether it's just a last minute setup of fruit and cheese, a winter fruit appetizer plate, or… well you get the idea…I'm all in!
If you're new to making these appetizer boards, there are a few easy guidelines I like to follow – no matter what's on it!
First, try to include a variety of textures. For me, that's usually a cheese or dip, fresh fruit, dried fruit, and crackers/nuts. With all this, you get soft, refreshing, chewy, and crunchy! It's just such a great combo!
And after this you won't be surprised to see that many of these items come in flexible packaging as well!
SEASONAL RECIPE COOKBOOKS
DELICIOUS RECIPES TO ENJOY PRODUCE TO ITS FULLEST ALL YEAR ROUND. SIMPLE AND DELICIOUS RECIPES MADE FROM SCRATCH FOR YOUR FAMILY AND YOUR GUESTS ALL YEAR LONG!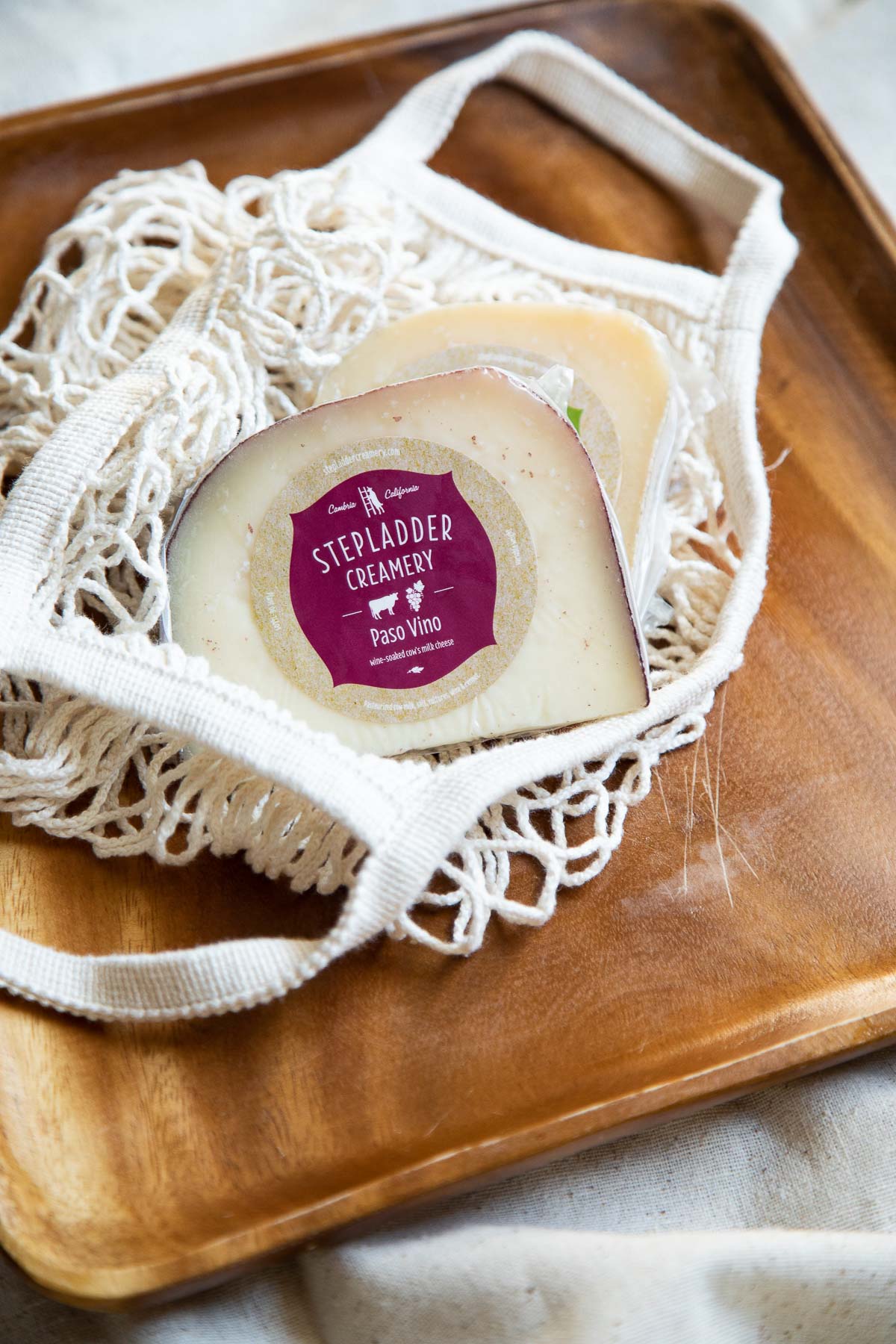 Next up is to use seasonal fruit (and seasonal cheese where appropriate)! Berries and stone fruits (like I have here) in the summer are delectable and pears, apples, and citrus are great for winter.
Besides being healthier for you, eating seasonally is more sustainable because it limits the need to transport it very far (creating emissions). You're supporting a local economy, and LET'S JUST BE REAL, local, fresh food always tastes better. It can get from the farm to your table quickly!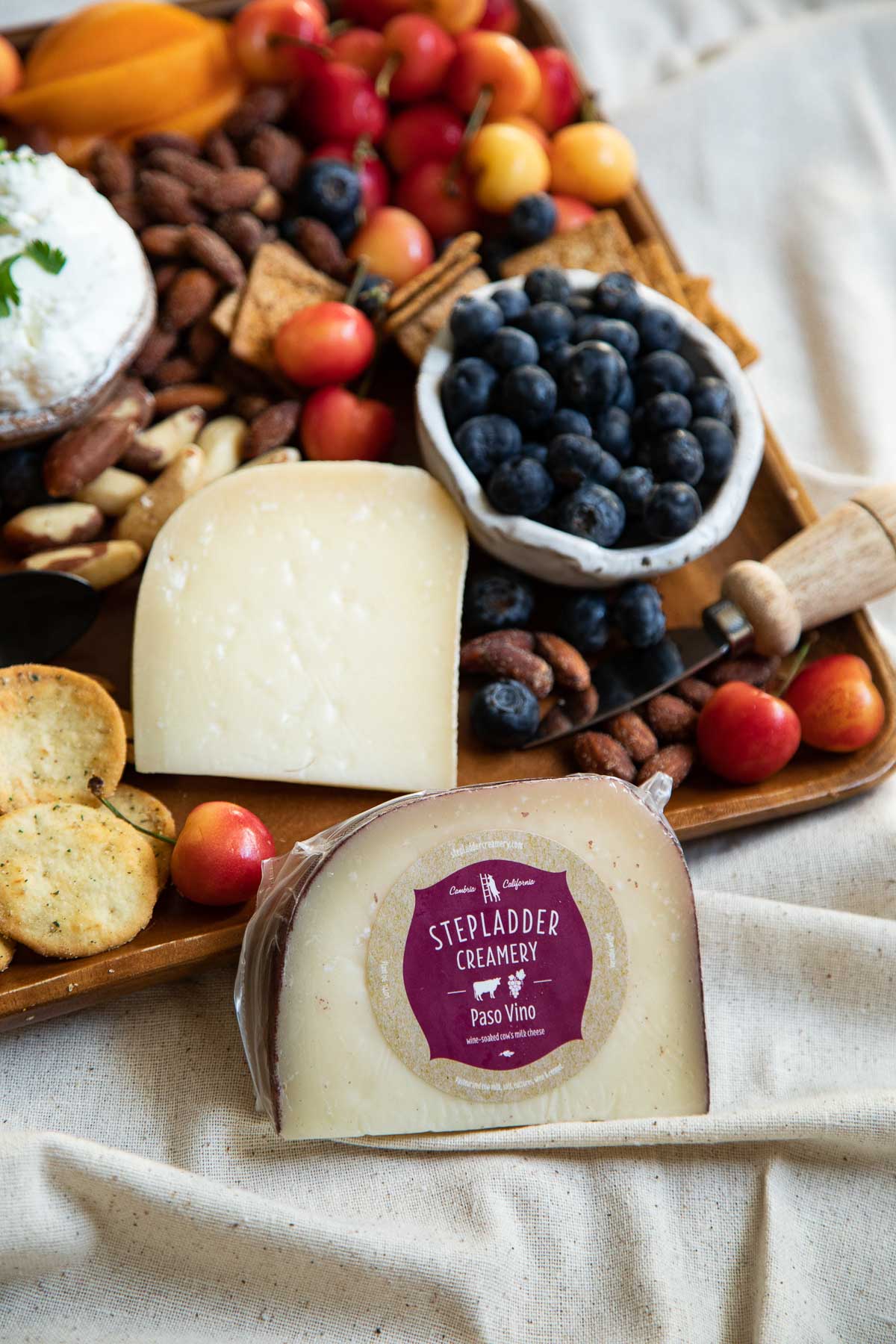 Finally, fill up your board! One of the things that makes cheese boards so appetizing is that they're chock full of food.
This is where the fresh and dried fruit, nuts, and crackers come in handy. No need to spend a lot of money on more cheese and/or meat – just add those textures and you'll be good to go!
Plastic Helps Avoid Food Waste
This year I'm partnering with the Flexible Packaging Association to learn more about the reality of plastics (flexible ones especially) and how it isn't all bad news.
Flexible packaging reduces waste at every stage of its life. It requires less energy and material to manufacture, reduces transportation costs because of its lighter weight, and sends less material to landfills.
One of its greatest contributions is the reduction of food waste. In the US alone, about ⅓ of all food produced is disposed of before it's consumed, resulting in 1.3 billion tons of food thrown out annually. Shocking, right?
Have you ever noticed that almost all cheese is suction-packed in plastic? That's because it's by far and away the best way to keep cheese fresh!
I love supporting local farms and dairies (we're slowly getting better and better about doing this!). Their wonderful products come wrapped in a flexible plastic wrap so it can stay as fresh as possible after they make it – until we're ready to enjoy it.
Food waste is the single most important thing we as individuals can do to live more sustainably.
While I encourage us all to want less, buy less, and waste less, we have to keep in mind a greater good at times – supporting local farms and avoiding food waste is so important!
So make sure you find local dairies and farms as much as possible and make sure you keep them fresh as long as possible.
If you live in California, here's a fantastic map of the "Cheese Trail" – a collection of cheese makers across the state to check out. Many offer shipping, some just pickup!
If you don't finish the cheese that first time, try to use the plastic wrap to seal it up again. I often use this wrapping with a rubber band to seal it up.
If your wrap is too destroyed to use, however, try a glass container or a reusable bag!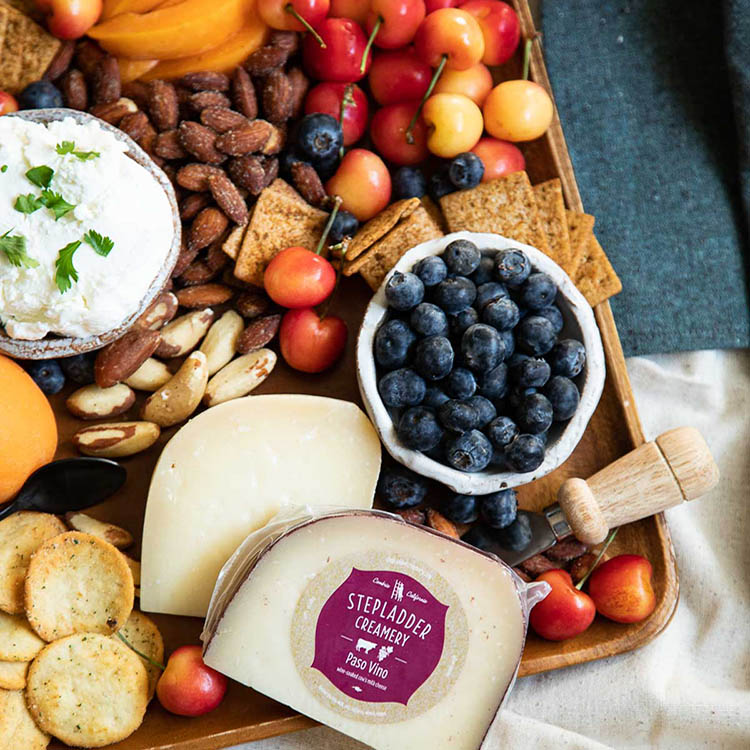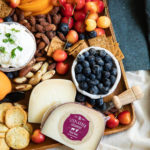 Print Recipe
CHEESE BOARD IDEAS
Create the perfect cheese board every time with these basic ideas and guidelines for how to fill up your appetizer platter or plate and enjoy!! Seasonal and local produce, meats, and cheese always taste best!
Many of the foods below also come in flexible packaging to help keep them fresh for longer and to help avoid food waste (e.g. fresh and dried fruits, nuts, and crackers).
Ingredients
FRESH PRODUCE (summer)
berries

whole

stone fruit (peaches, plums, apricots)

sliced

melon

sliced

cherries

grapes
FRESH PRODUCE (winter)
apples

sliced

oranges, grapefruit, mandarins, any citrus

segmented or sliced

pears

sliced

pineapple

sliced
DRIED FRUIT
any dried fruit (raisins, figs, papaya, apricots, etc.)
CRUNCHY
crackers

nuts (almonds, brazil nuts, pistachios, etc.)

crostini
TOPPINGS
fruit jam

local honey

chutney

spicy jam or jelly
Instructions
Spread cheeses (and meats if using) on board.

Add remaining ingredients, biggest to smallest, around board to fill up space!
Notes
Save this recipe on Pinterest here!
Make this recipe? I'd love to see how it turned out…
PINTEREST: Upload a photo and your review to this Pin!
INSTAGRAM:  Tag me
@lucismorsels
and use #LMrecipes
Nutrition
Calories:
1432
kcal
|
Carbohydrates:
203
g
|
Protein:
49
g
|
Fat:
49
g
|
Saturated Fat:
22
g
|
Polyunsaturated Fat:
6
g
|
Monounsaturated Fat:
17
g
|
Cholesterol:
113
mg
|
Sodium:
1494
mg
|
Potassium:
1117
mg
|
Fiber:
13
g
|
Sugar:
59
g
|
Vitamin A:
1086
IU
|
Vitamin C:
52
mg
|
Calcium:
400
mg
|
Iron:
9
mg
This Cheese Board Ideas recipe is sponsored by the Flexible Packaging Association. All opinions are my own. Thank you for supporting all Luci's Morsels collaborations.