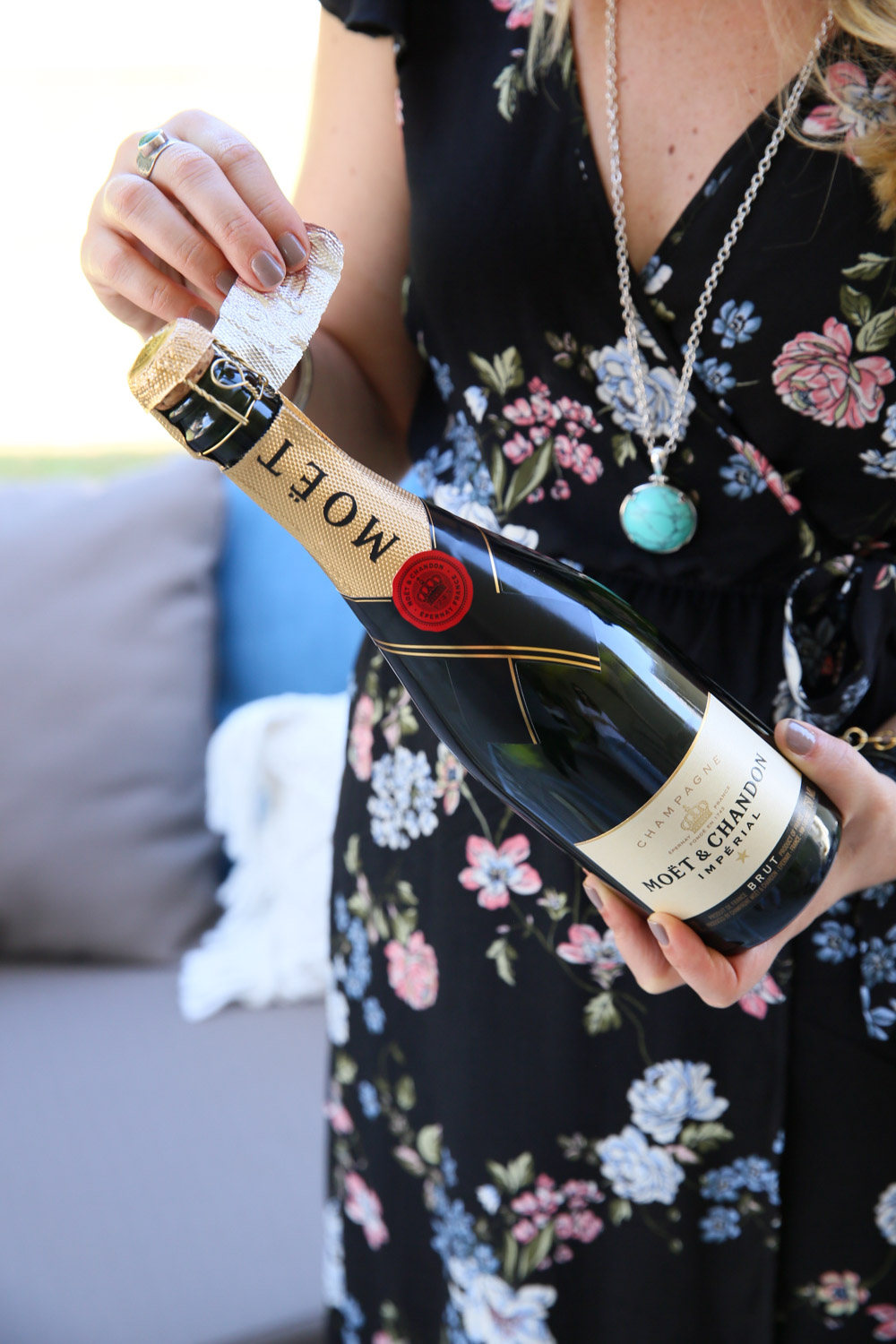 Ready for a summer dinner party and menu that's easier than you can imagine? Always. I get it! This easy dinner party setup is beautiful and full of summer bounty, but there's minimal work and a lot can be done ahead of time!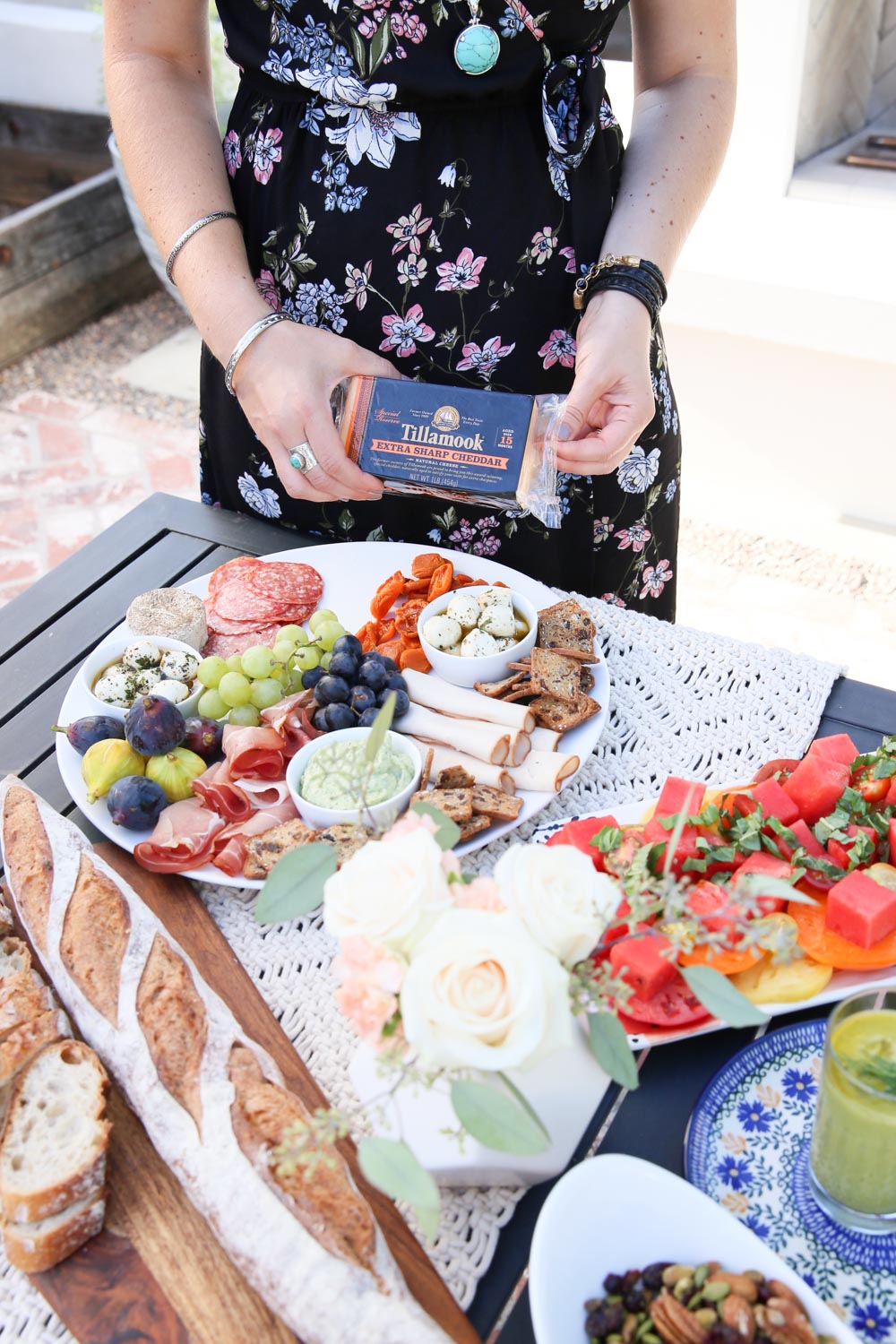 According to some people's calendars, summer ended last week after Labor Day. For others, we have one week left. If life has taught me anything, it's that the weather doesn't care what the date is; It will be warm as long as it wants to be.
Regardless of the end of summer or the beginning of fall, however, I'm determined to hold on to a few ideologies that we tend to leave behind in summer, including summer dinner party plans!
In summer, we make fun plans, invite friends over, and embrace being carefree. Then it seems we all hunker back down to real life before getting caught up in the abyss of the holiday season.
Yep, I just mentioned the holiday season. I'm not ready to even think about the end of the year yet. I'm also not ready to let go of that summer mentality.
So, no matter the temperature outside, let's continue to embrace that summer mentality. And what better way than with a late summer dinner party? You can feature all the summer produce still in the markets and those longer days lingering around a bit longer. . .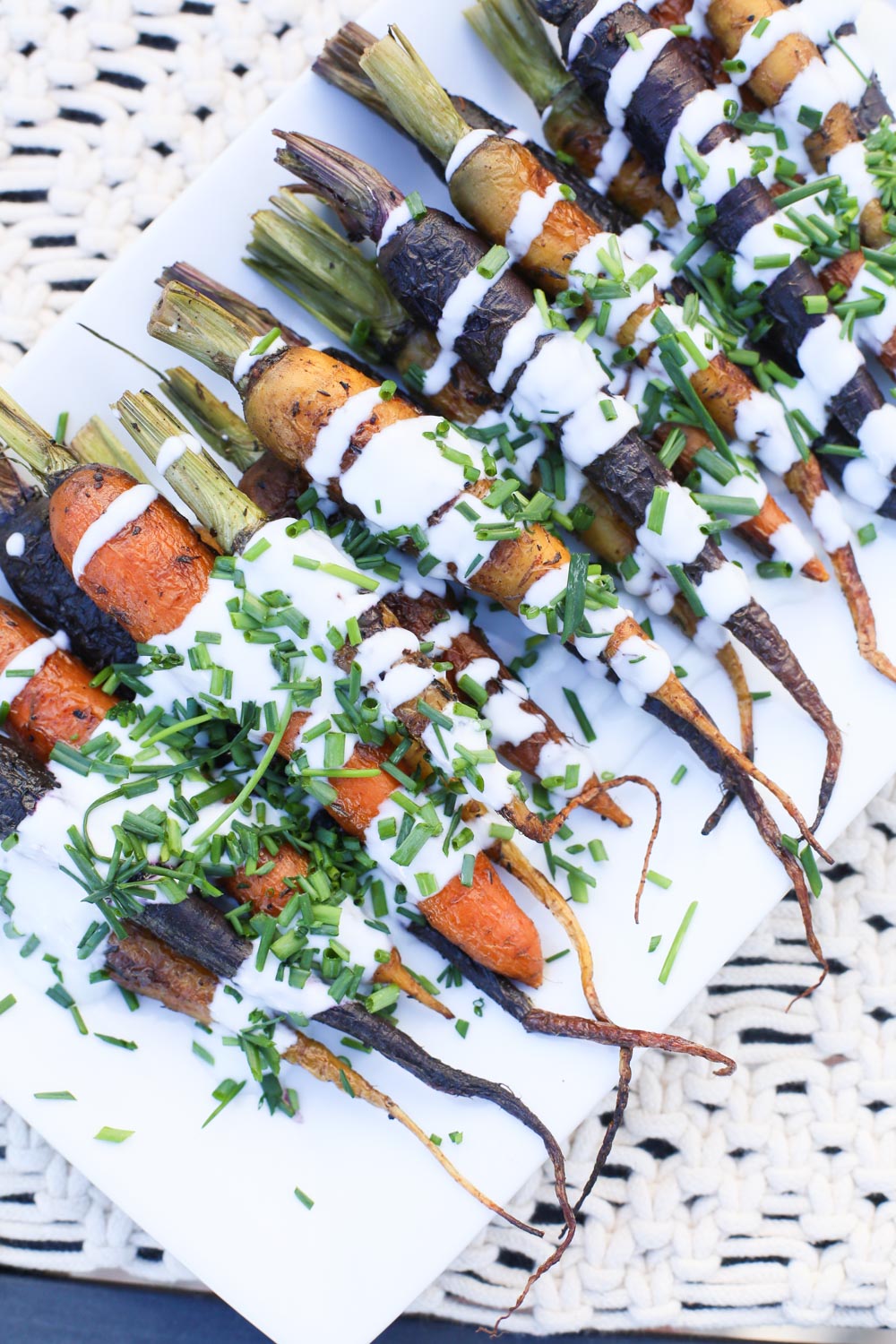 summer dinner party
For whatever reason, it seems like it took most of the summer for produce to reach perfection (I'm especially looking at you, watermelons!). I live for fresh summer produce (well, all fresh produce really), so I want to take full advantage.
What you see on the table here are a few summer recipes mixed with some super simple food combinations. Even I was pretty impressed with this spread, but you want to know a secret? I made everything the day before except 1 dish. ONE!
Looking to add some easy decor to your summer alfresco table? If you want a slew of summer produce recipes, grab a copy of this spring & summer recipe collection. It sits on your countertop and gives you everything you need to have delicious, seasonal food at any time!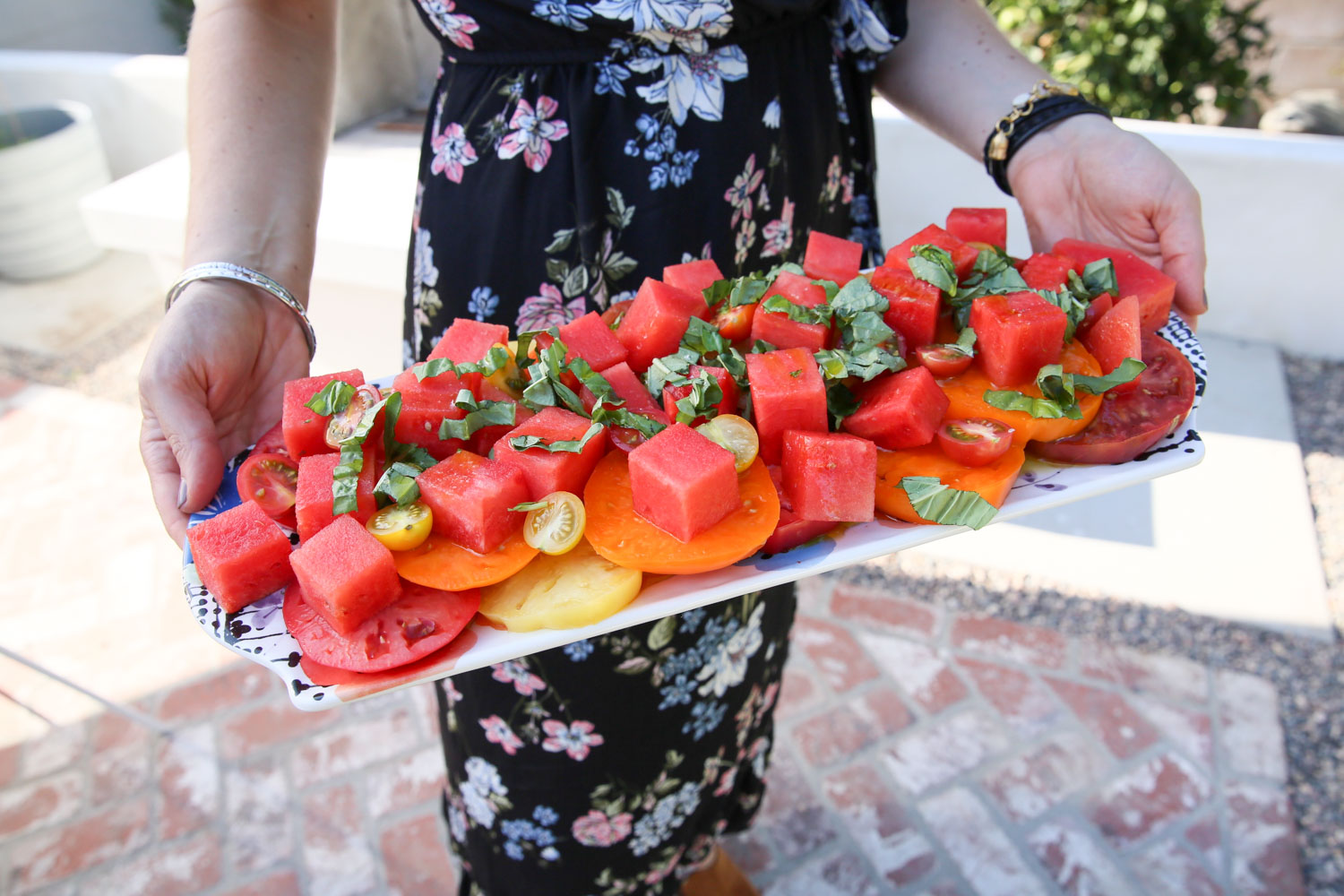 Summer Entertaining Recipes
This heirloom tomato + watermelon salad just has to be made right before serving, but considering it takes about ten minutes (even less after I had a friend cut the watermelon), it wasn't too much work.
Depending on my mood, I might make this "breakfast salad" for to enjoy with our dinner next time as it's such a lovely light dish, featuring a variety of summer fruits!
SPRING & SUMMER COOKBOOK
DELICIOUS RECIPES TO ENJOY SPRING & SUMMER PRODUCE TO ITS FULLEST. SIMPLE AND DELICIOUS RECIPES MADE FROM SCRATCH FOR YOUR FAMILY AND YOUR GUESTS ALL SUMMER LONG!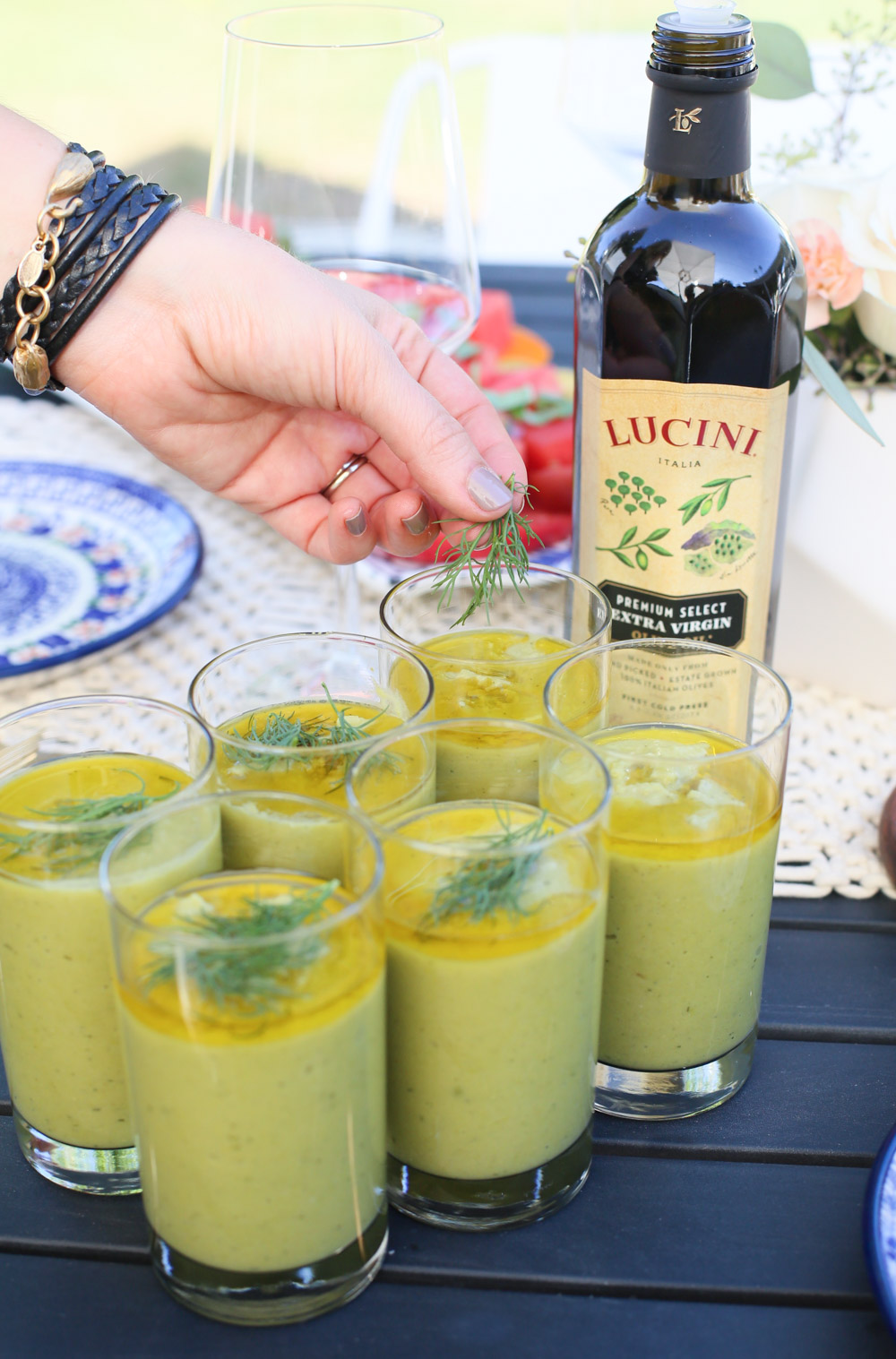 Since I wanted to embrace fresh produce and healthy flavors at this summer dinner party, I grilled some carrots using this make-ahead hors d'oeuvres recipe (same for the asparagus) with just salt, pepper, and dried thyme.
I served them at room temperature drizzled with some plain yogurt and fresh herbs. You could easily do this with zucchini, mushrooms, or whatever your heart desires.
I've been dying to serve these pea soup shooters since making them earlier this year. These can be served warm or at room temp, but when you're trying to simplify entertaining, make it the day before and serve it room temperature. I topped it with a delicious olive oil and fresh dill!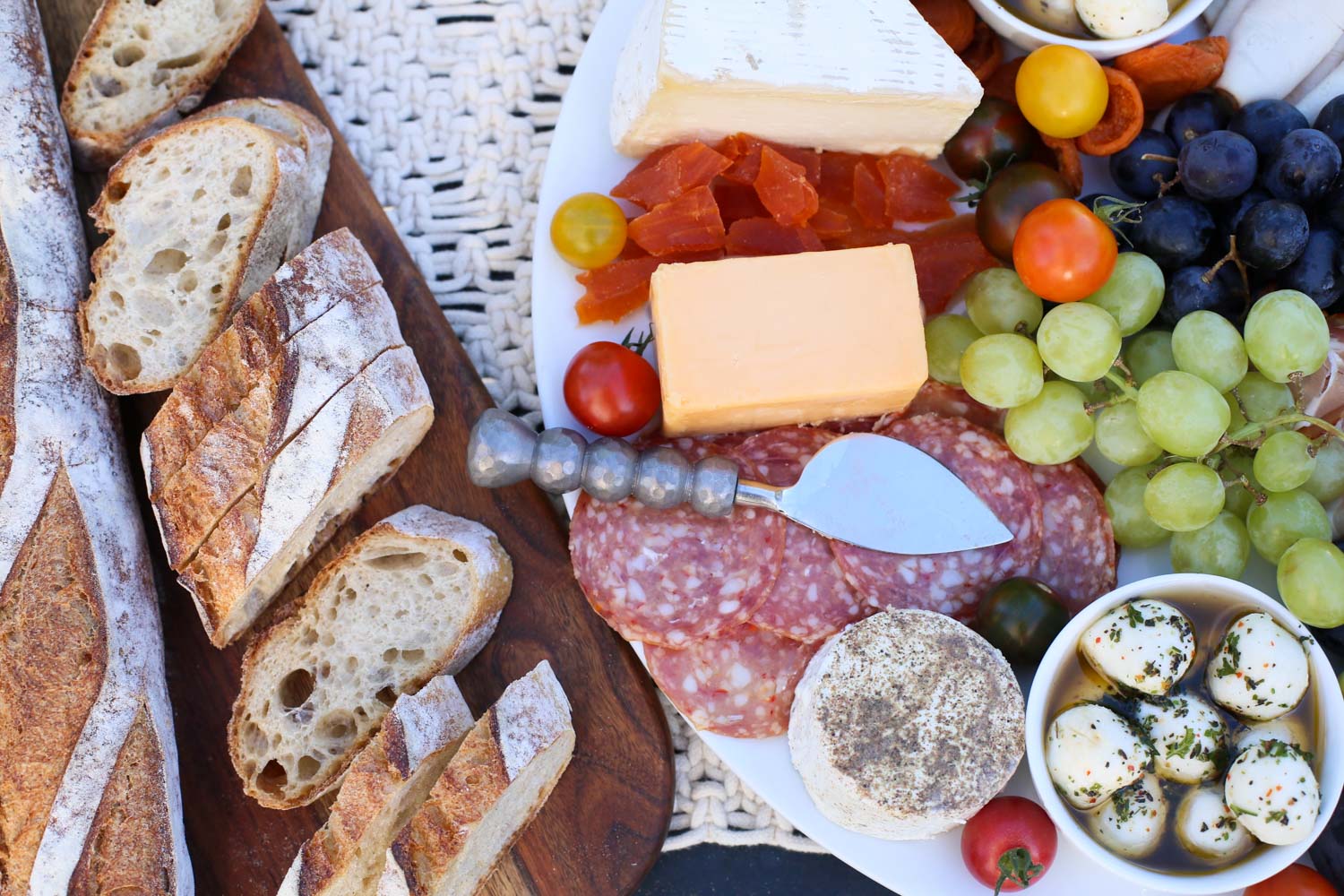 Get more appetizer ideas here for your own perfect summer dinner recipes collection. And if you're nervous about entertaining, don't be. Here are a few straightforward tips for entertaining and recipe ideas to make it all so much more simple!
Table Decor Trauma? Try these fun and easy way to decorate your summer al fresco table.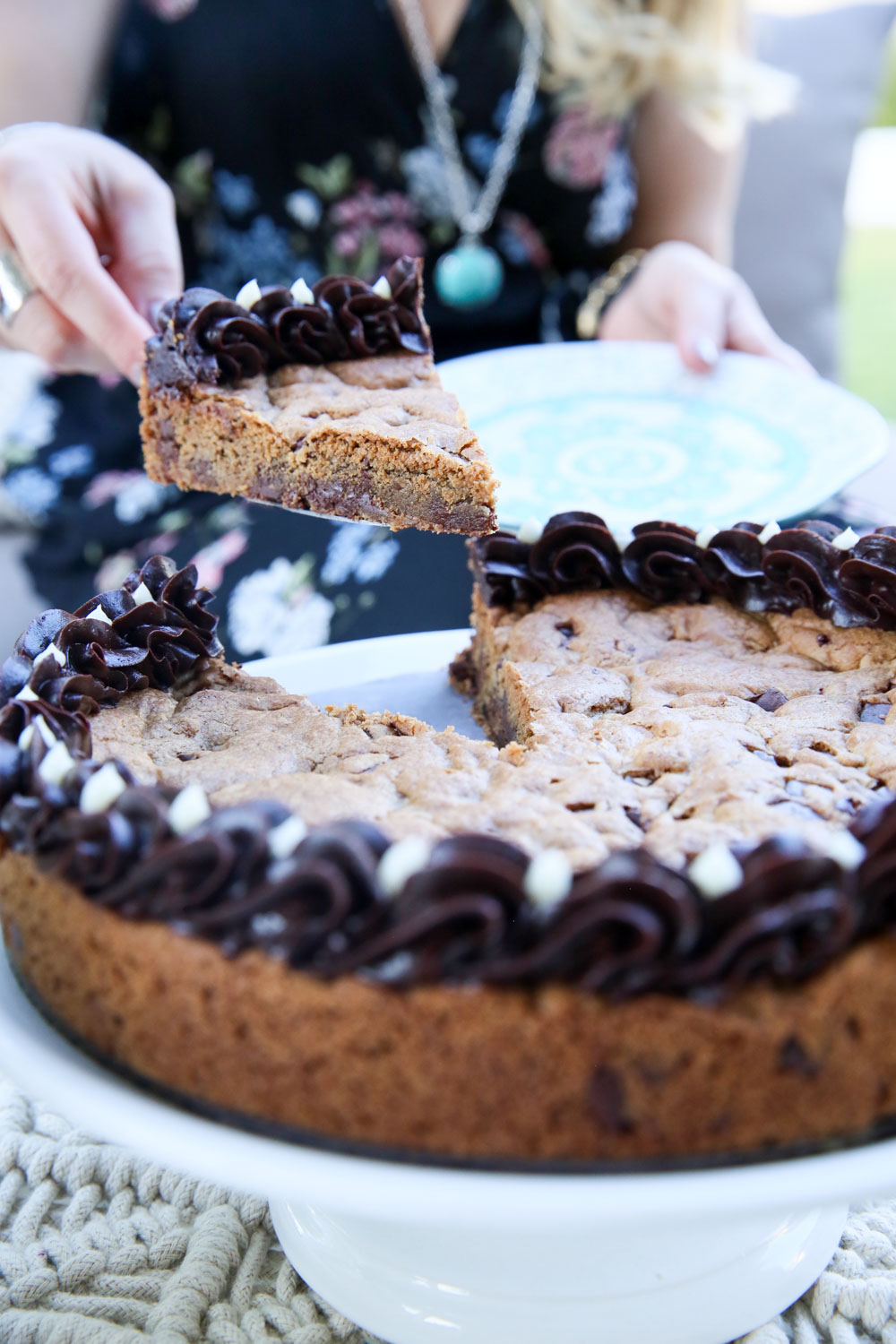 Dessert Options
So while I LOVE making dessert, turning the oven on to bake when it's oh so hot outside just isn't my jam. For this get-together, I opted to buy a cookie cake from a local baker and bought a tub of delicious ice cream.
When it comes to entertaining, it's easy to get carried away and want to impress your guests, but then you inevitably get stressed and that's the last thing we want.
So pick your dishes and feel free to buy a dessert (bonus points if it's from a local bakery)!
You can also ask others to bring the dessert – take that worry off your plate.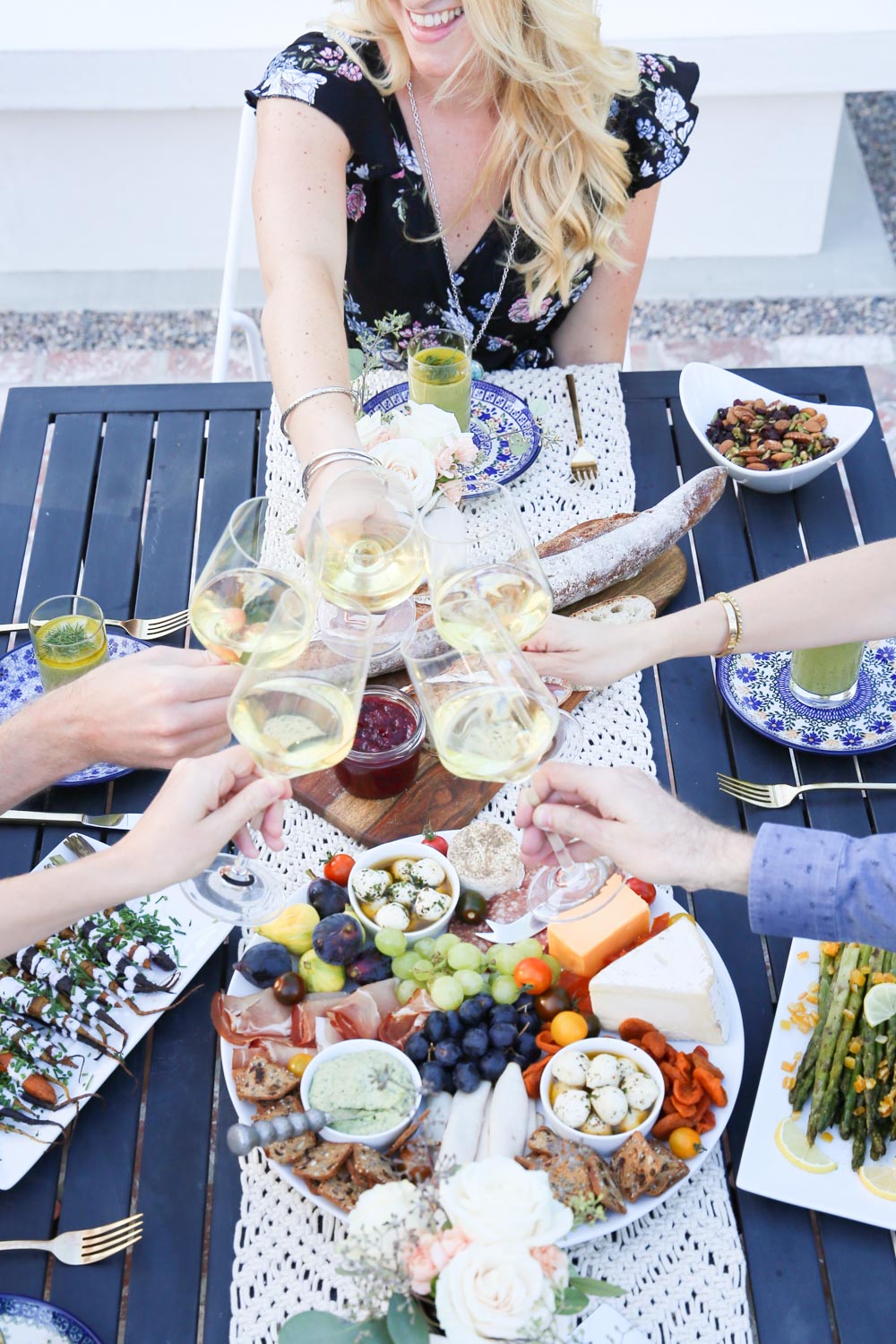 This charcuterie plate/grazing board was nothing short of amazing. I'm still actually nervous about putting together a charcuterie plate that looks as decadent as the ones I see at parties or on Pinterest.
I think I figured out the trick though. Lay out your meats and cheeses. And then fill in the empty space with fresh and dried fruit. Seriously. And it doesn't matter if the plate is 4 inches or 24 inches across – the same technique will work!
You can check out these simple cheese board ideas as well!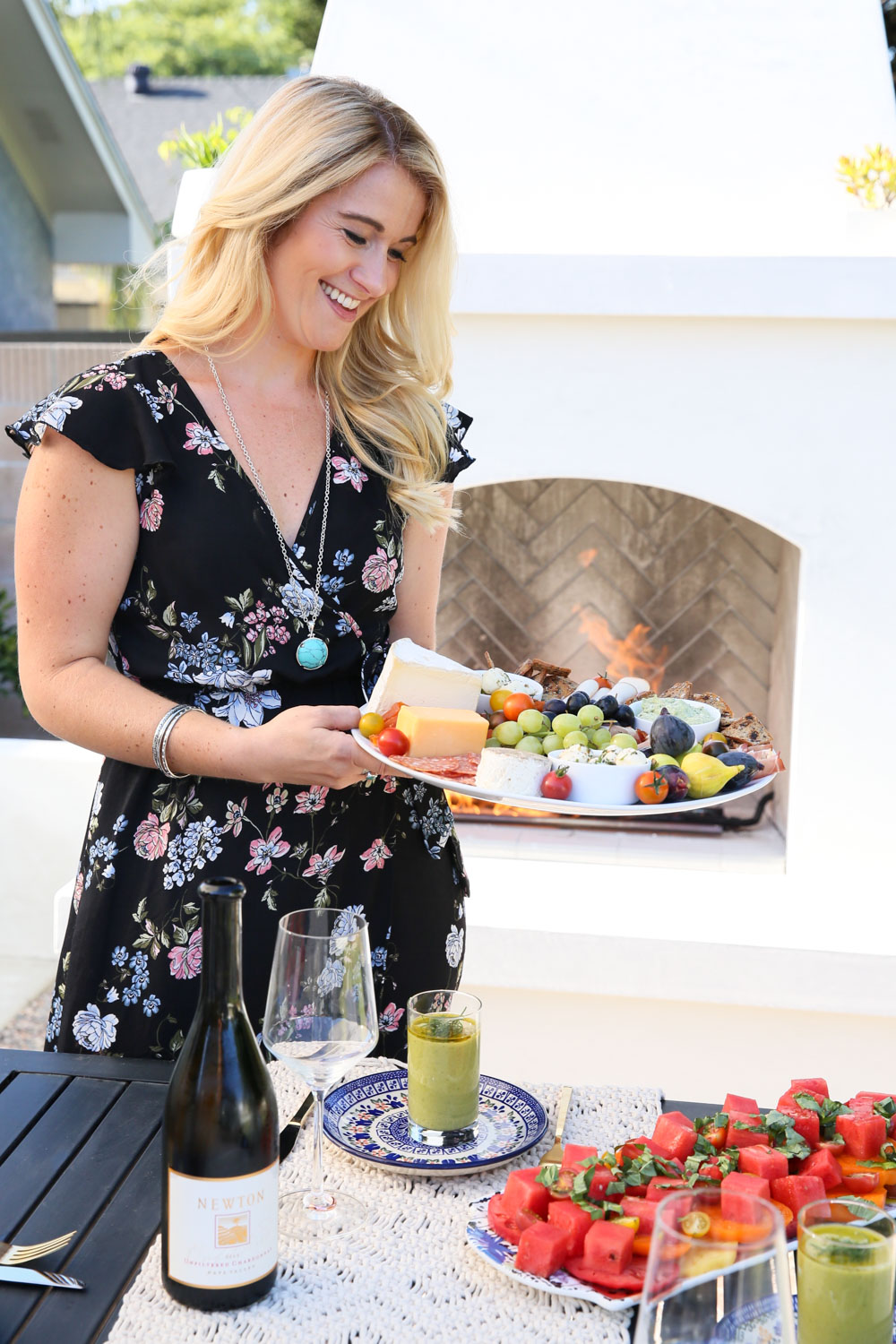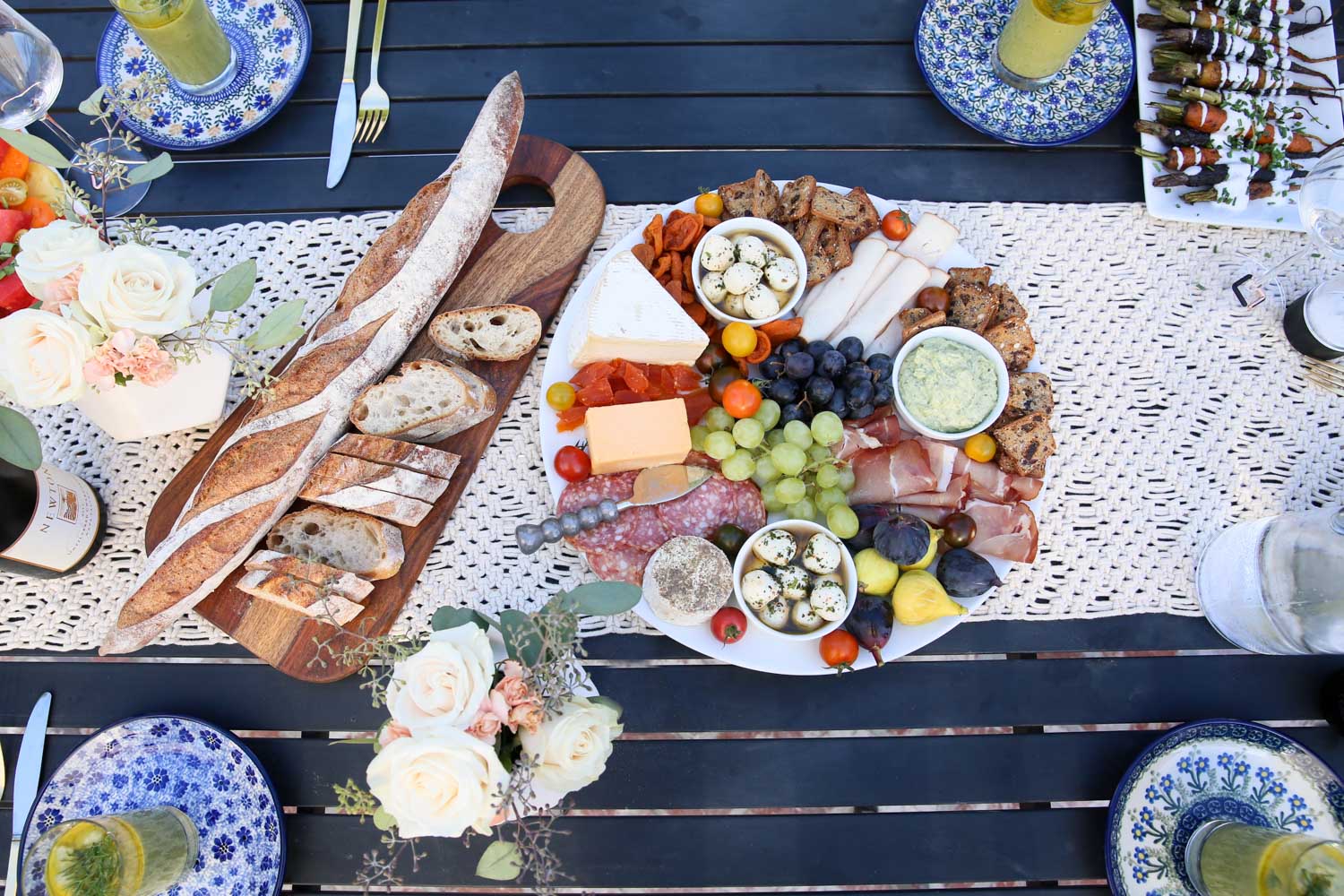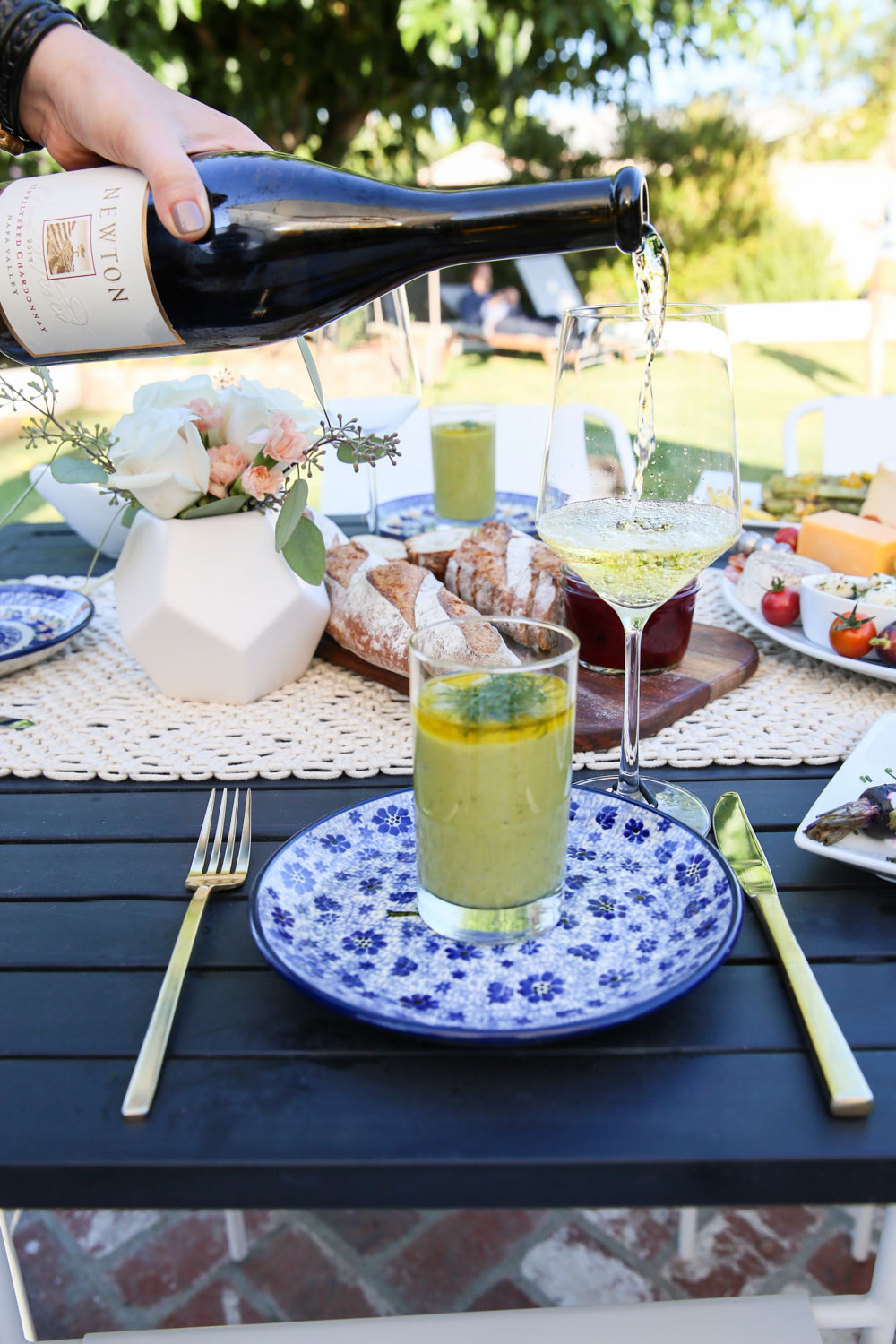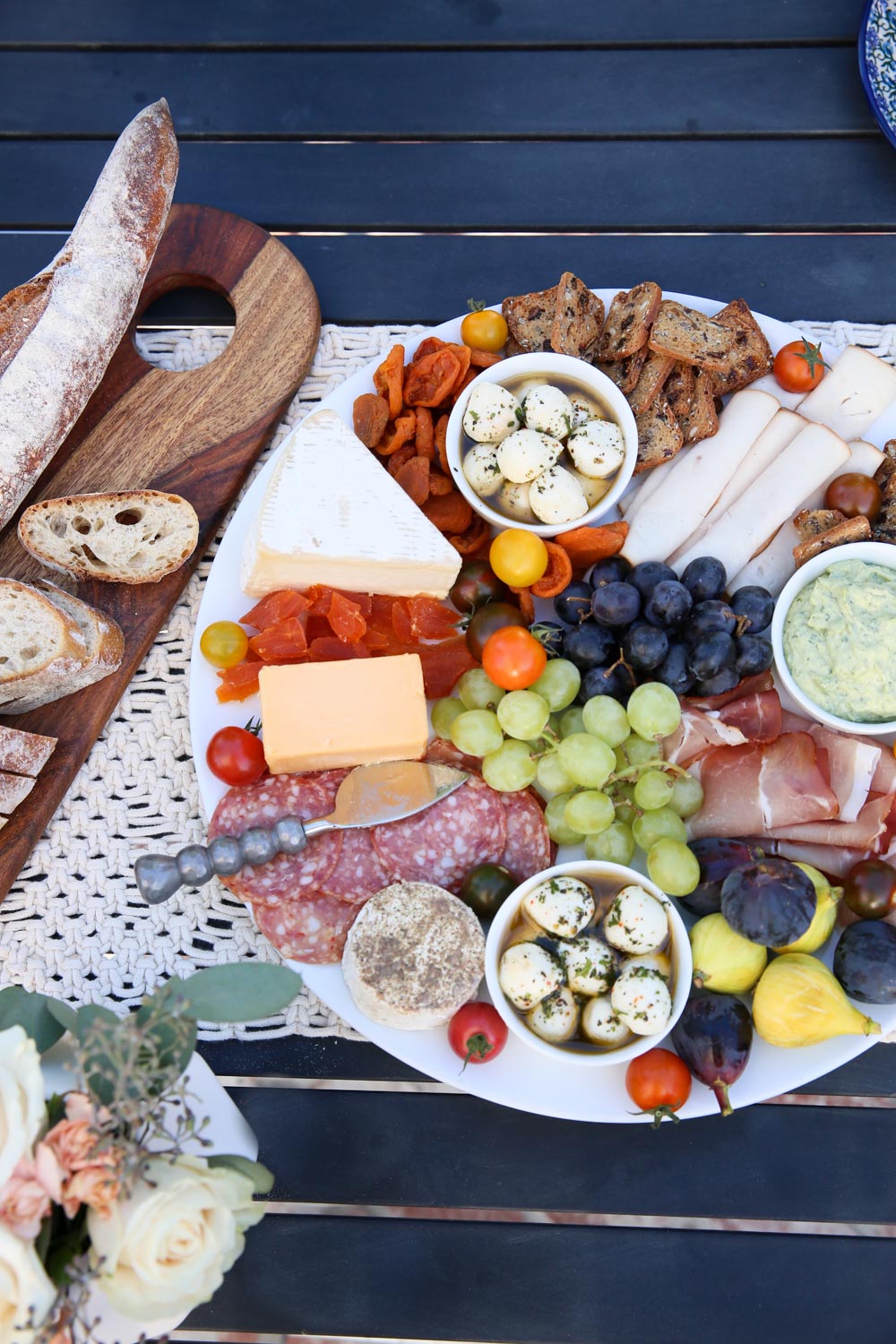 What to Drink at Your Summer Dinner Party
Since we were embracing summer, I opted for a white wine and champagne. You could do rosé or prosecco. Or you could let your guests bring it and enjoy whatever comes through the door!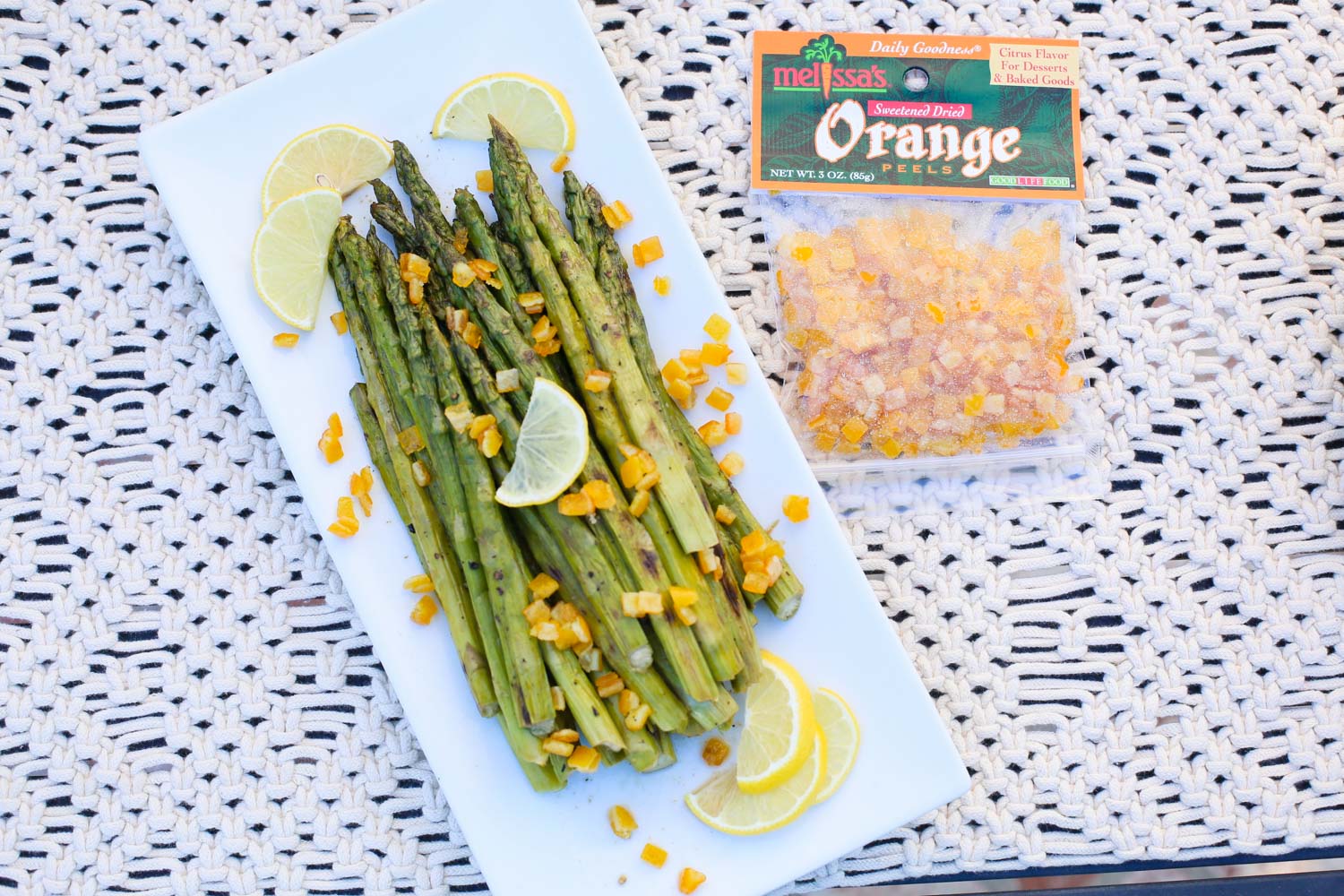 As I mentioned above, these asparagus were grilled up the day before (stored in the fridge overnight) and then topped with candied orange peel for a fun freshness!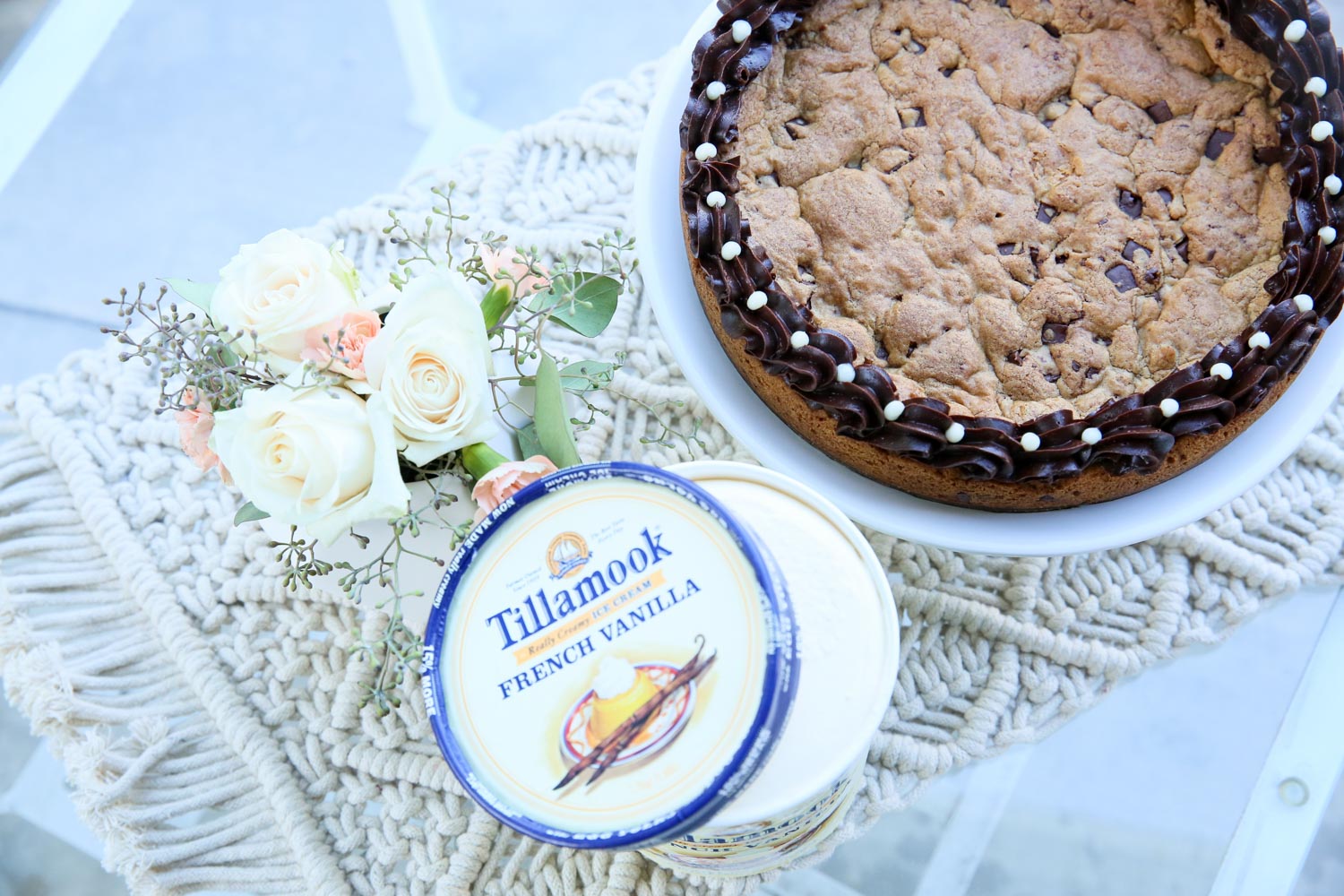 Easy Dessert Idea
And of course there was dessert! But I certainly didn't make this. I made up as much of the spread as I could the day before and then bought a delicious dessert and ice cream.
And let me just tell you the Chocolate Chip Cookie Cake from my friend here in LA with a scoop of French Vanilla Ice Cream on top was nothing short of amazing!! And all I had to do was order it and pick it up! Easy. Peasy.
And one more secret? I hosted this dinner at my friend's house. She has a great backyard and I had no desire to try to cram people in our apartment when the weather outside is still gorgeous! It was a win-win for everyone!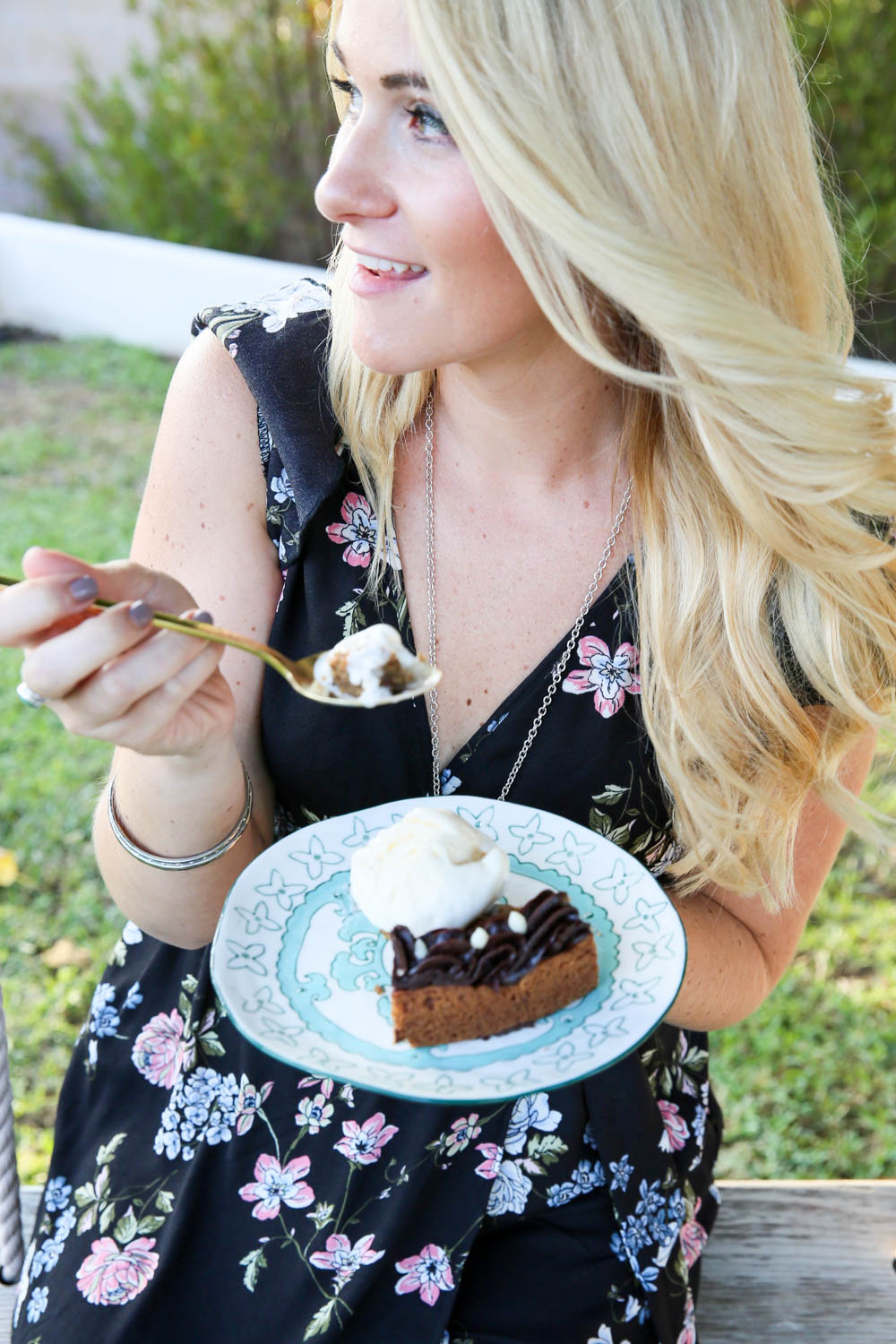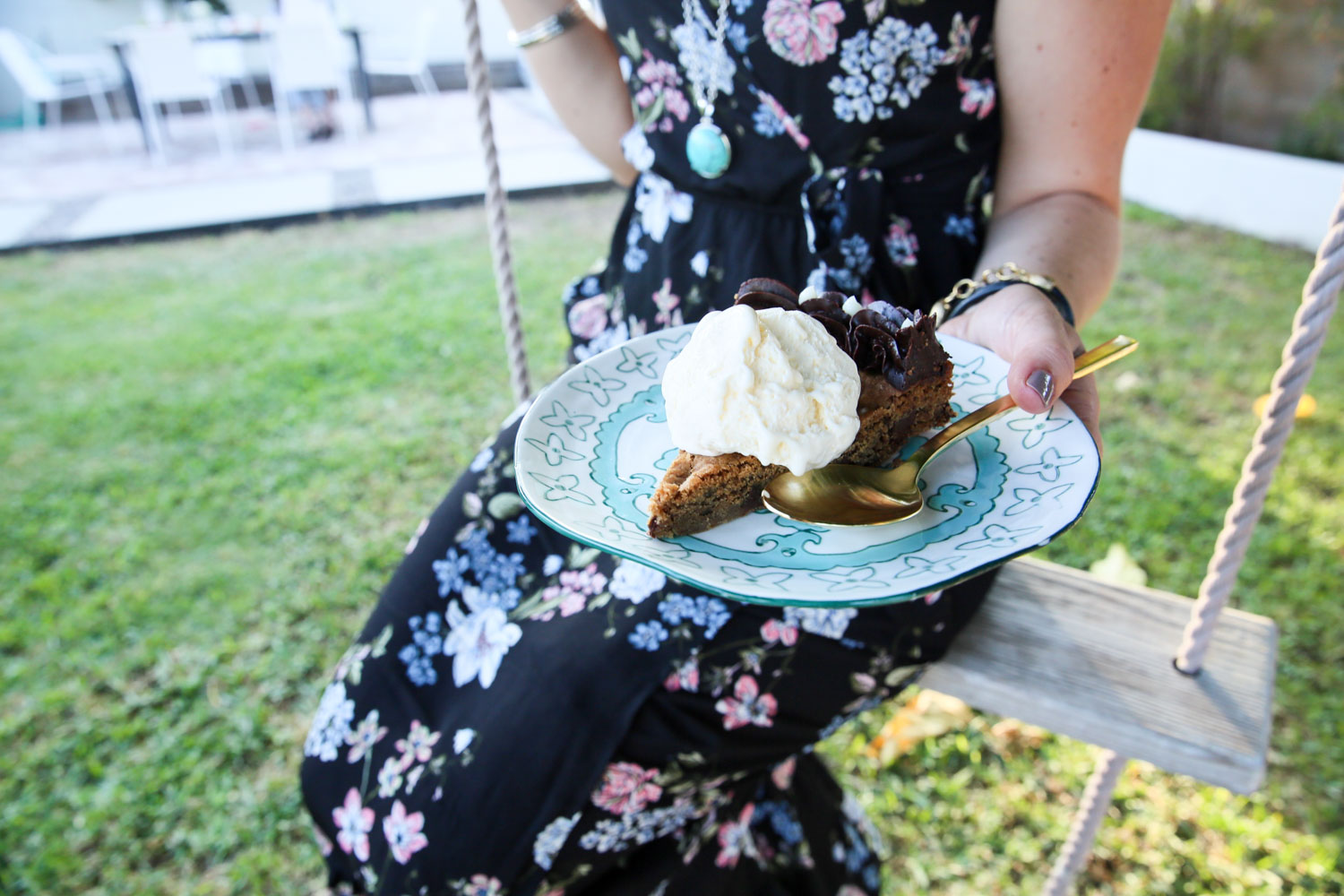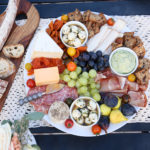 Print Recipe
SUMMER DINNER PARTY MENU
Invite your friends over for a delicious summer dinner. Full of make ahead recipes, this meal will please your guests and keep you happily calm!
Instructions
Pea soup, grilled carrots and asparagus can all be made the day before.

Assemble charcuterie and heirloom tomato & watermelon salad just before guests arrive!

Notes: You don't need matching plates and platters. Let the food decorate your space. Don't forget to enjoy yourself!
Nutrition
Calories:
689
kcal
|
Carbohydrates:
42
g
|
Protein:
37
g
|
Fat:
42
g
|
Saturated Fat:
19
g
|
Polyunsaturated Fat:
6
g
|
Monounsaturated Fat:
15
g
|
Trans Fat:
0.1
g
|
Cholesterol:
79
mg
|
Sodium:
2073
mg
|
Potassium:
691
mg
|
Fiber:
6
g
|
Sugar:
8
g
|
Vitamin A:
7717
IU
|
Vitamin C:
7
mg
|
Calcium:
223
mg
|
Iron:
7
mg
Thank you to Tillamook, Melissa's, and Lucini (all companies I LOVE) for providing me with some tasty food to share with friends.
{photography by Emily Provansal | Social Society}