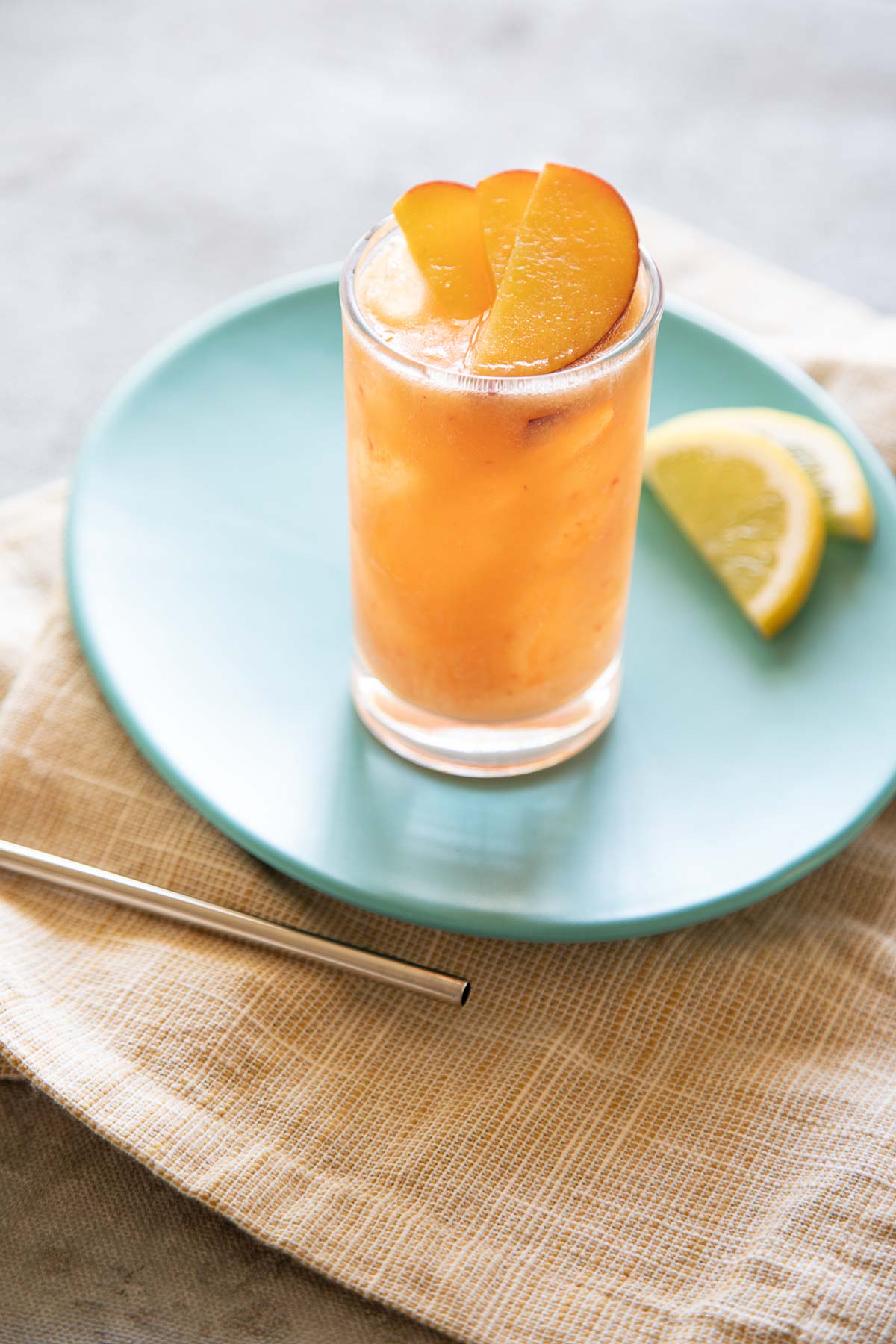 I love the fresh fruit puree in this homemade peach lemonade. I think it might just be my favorite peach recipes! And while my recipe is on the more tart side, you can sweeten it up however you like!
Summer just screams lemonade, doesn't it? There's a chain in LA called "Lemonade." They have lots of tasty salads, main dishes, and desserts, but they're most known, unsurprisingly, for their lemonades.
They usually have about five 'on tap' – anything from classic lemon to blueberry and even a cucumber lemonade (you'll want to check out that recipe). When we lived in LA, we'd take visiting friend to Abbot Kinney and grab a lemonade and food. It was easy, delicious, and had something for everyone!
From there I started dreaming up all kinds of lemonades and then juices to enjoy! And now that Starbucks offers refreshers, I'm dreaming up some ways to use fresh seasonal fruit juice in iced teas as well!
Fresh Peach Lemonade
Now that it's summer again (with overwhelming temps locally), I'm rediscovering my homemade lemonade recipes with fresh fruit. The natural sweetness of fresh fruit is just so much better than any amount of sugar you can add in my opinion. And when you finally get your peaches perfectly ripe this season, there's little that beats that flavor.
I tend to go overboard when buying fruit. Then they all get ripe at the same time. Because of this recurrence, I love to have recipe options to make sure none of it goes to waste – avoiding food waste is a big part of sustainability after all!
How to Make Peach Juice?
My recipe below calls for baking the peaches to pull out the sugars but also to help soften the peaches. Once these baked peaches cool, remove the skin and puree in a food processor to get delicious nectar juice.
If you have very ripe peaches on your hands, you don't need to bake the peaches (or for less time just to pull out those tasty natural sugars).
And you can always make it sweet to taste with homemade simple syrup!
You can certainly freeze peaches chunks or slices too and then defrost them a bit to puree for fresh juice.
As I mentioned above, my recipe isn't too sweet. I think this drink would be a great dessert kind of thing for those really hot days, so you can absolutely add more simple syrup. The natural sweetness of fruit varies so much, I just like to encourage you to try it first!
Fresh Peach Recipes
More peaches on hand? This green bean, corn, and peach salad is fabulous and healthy! A little heartier is this peach grilled cheese! And if you need something for happy hour, swap out the nectarines in this sparkling rosé sangria!
Print Recipe
FRESH PEACH LEMONADE
If you love lemonade but haven't used the natural sweetness in other fruits, you are missing out. Whip up this classic lemonade recipe, but use the sweetness from fresh peaches for a flavor no amount of sugar can replace! But a little homemade simple syrup doesn't hurt!
Instructions
Preheat oven to 425 degrees.

Lay halved peaches cut side down in rimmed baking pan.

Bake 20-25 minutes until tender. Remove and let cool to the touch.

Remove skin and pit from each peach. Place in food processor. Puree peach flesh.

Combine peach flesh, lemon juice, water, and simple syrup. Stir to combine.

*This recipe is tart. Adjust lemon juice and simple syrup levels according to taste.
Nutrition
Calories:
129
kcal
|
Carbohydrates:
33
g
|
Protein:
2
g
|
Fat:
1
g
|
Saturated Fat:
0.1
g
|
Polyunsaturated Fat:
0.2
g
|
Monounsaturated Fat:
0.1
g
|
Sodium:
42
mg
|
Potassium:
313
mg
|
Fiber:
3
g
|
Sugar:
27
g
|
Vitamin A:
735
IU
|
Vitamin C:
21
mg
|
Calcium:
16
mg
|
Iron:
1
mg