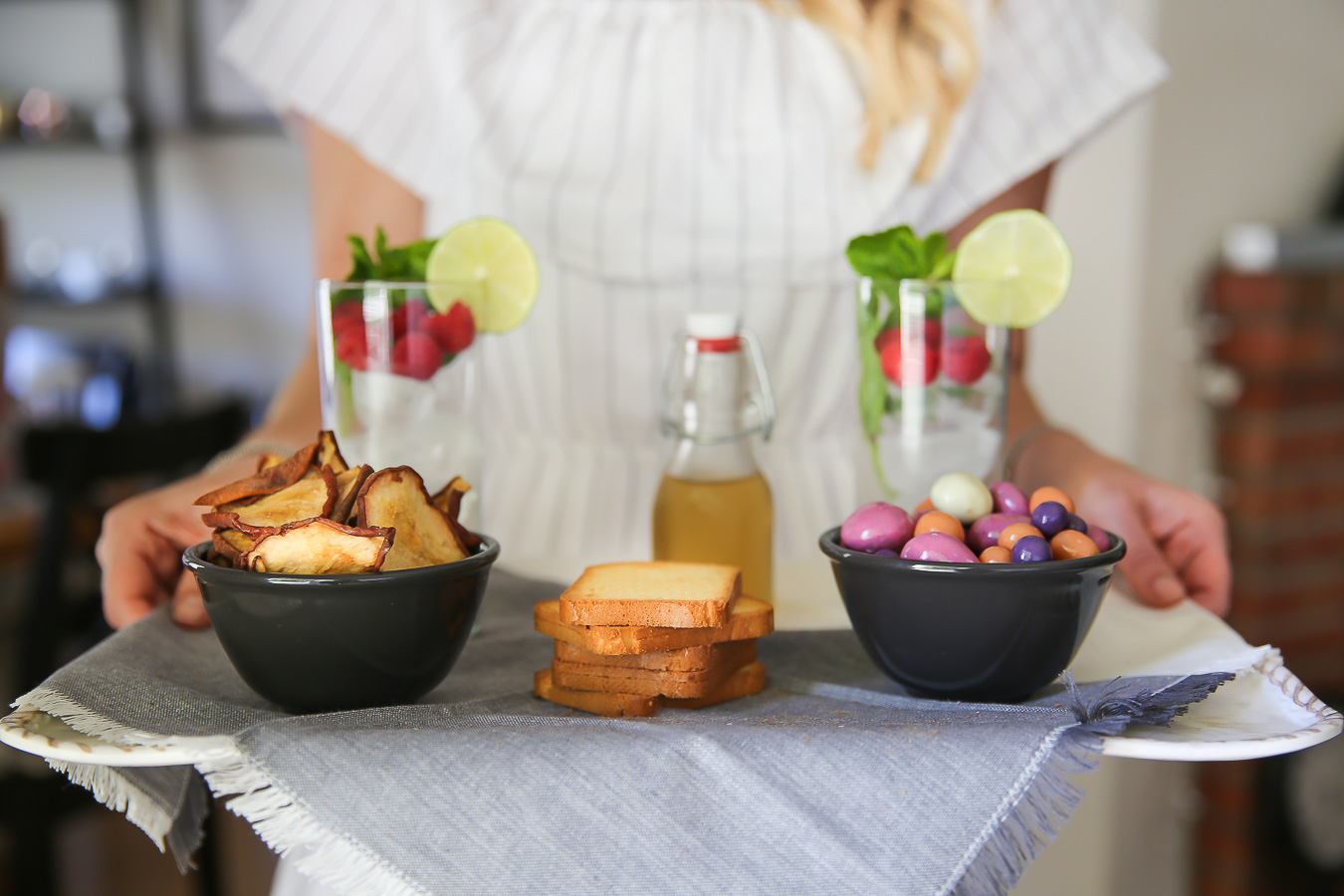 I've been on a healthy iced tea kick lately and it's SO easy to make; It was rather a no-brainer. Mix in my new favorite snacks from Trader Joe's, some wonderful conversation, and we had a great time…
With so much traveling recently, it's been hard to meet up with friends It's 100% percent my fault, but that means I need to make even more of the effort to hang out. Since I also really want to be home whenever I can, I'm all about inviting friends over to our place to hang out.
Dinner can be difficult to coordinate with busy summer schedules. Instead I recently invited a friend over in the afternoon for a healthy iced tea and snacks situation.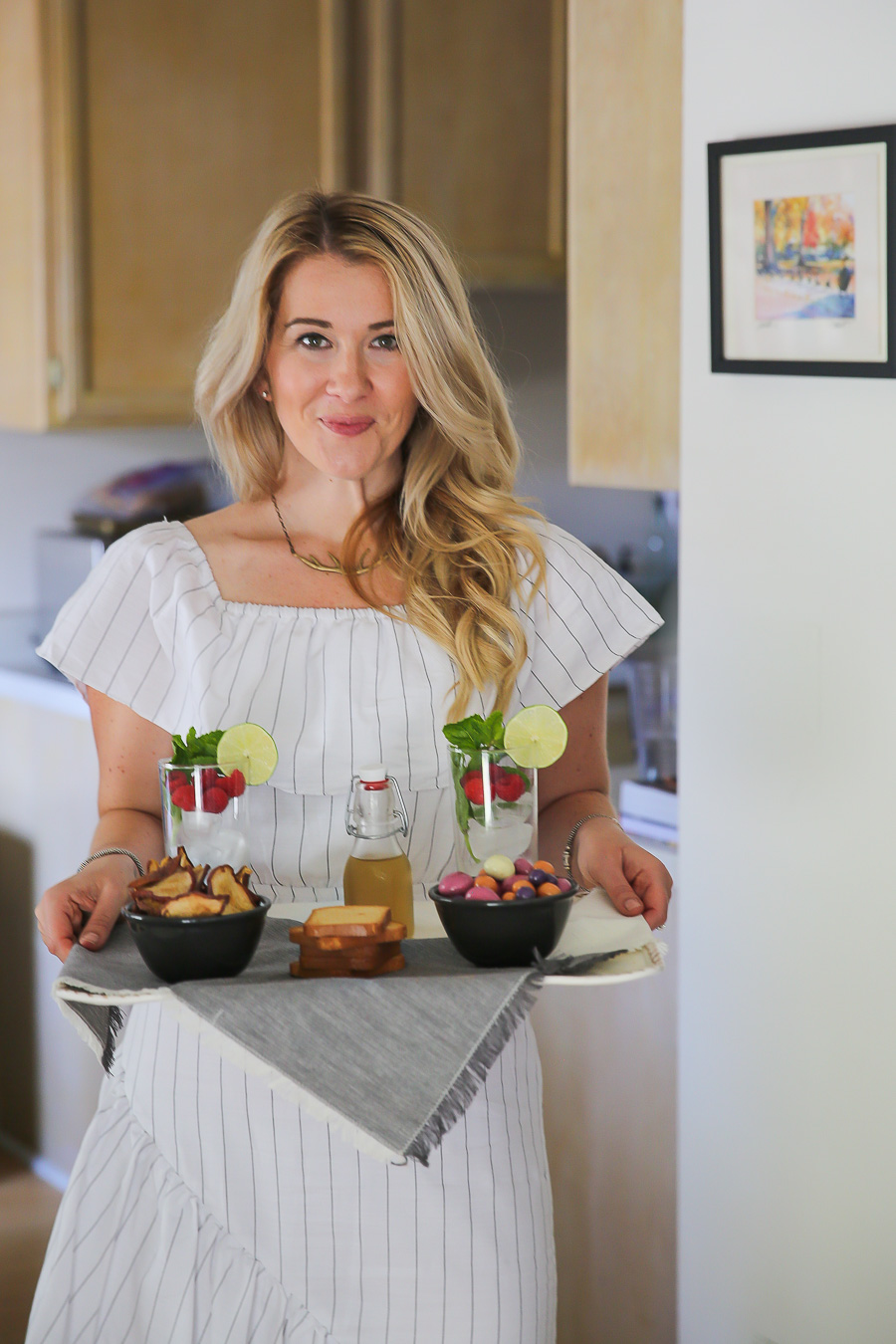 Healthy Iced Tea Recipes
My mom and I love a restaurant in northern California that sells all kinds of tea. Looking for lower caffeinated teas and in an attempt to consume more turmeric (it's supposed to be amazing for you – great anti-inflammatory and antioxidant), I tried the iced ginger turmeric tea last year.
I completely fell in love. It's surprisingly flavorful without being overwhelming like you'd expect. Even my mom and husband, who were both very skeptical of my choice, discovered they liked it as well.
You can find organic turmeric ginger tea bags at Trader Joe's for about $3, which is by far and away the least expensive I've found them!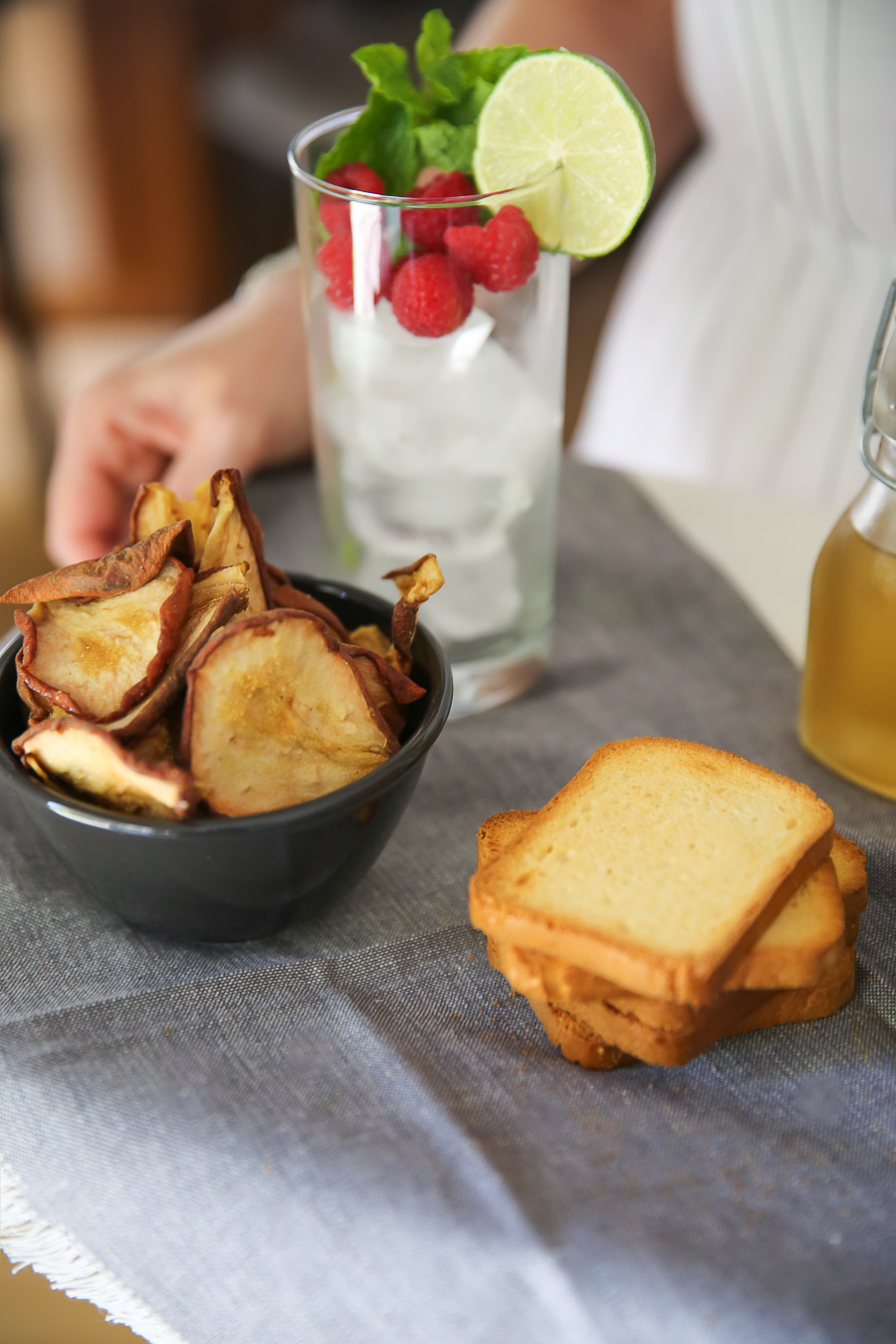 For my intimate girls get together, I made a pitcher (I love these glass carafes) of the turmeric ginger herbal tea as well as a jasmine green tea (organic and fair trade), and a mango black tea.
I added homemade simple syrup (recipe below) and then fresh mint, berries, and lime slices for some fun flavor infusions.
I love fresh mint, but I LOVE fresh mint in my iced tea even more. It adds a subtle flavor that brings it all together.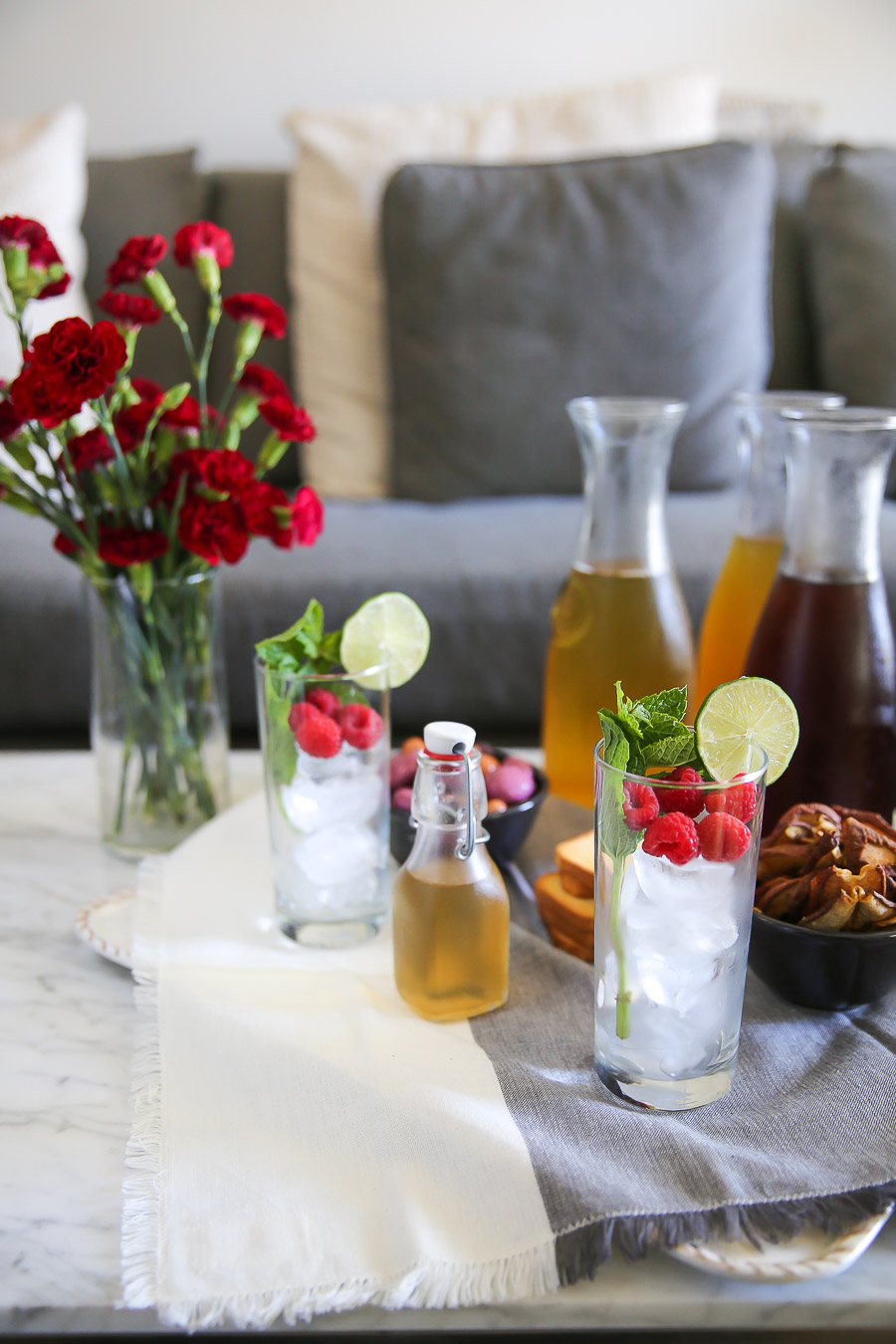 Iced Tea Syrups
The simple syrup below is a basic recipe of sugar and water, but if you want to really deck out your offering or experiment on your own and come up with all sorts of tasty combos, try and infused simple syrup – ideal as an iced tea syrup because the liquid just mixes right in.
This peach simple syrup is made with fresh peaches (a perfect summer produce recipe) and would be great with a green or black tea.
SEASONAL RECIPE COOKBOOKS
DELICIOUS RECIPES TO ENJOY PRODUCE TO ITS FULLEST ALL YEAR ROUND. SIMPLE AND DELICIOUS RECIPES MADE FROM SCRATCH FOR YOUR FAMILY AND YOUR GUESTS ALL YEAR LONG!
A fresh ginger simple syrup is also a fun twist – great with green or black tea as well! It'd also be a nice counter to a fruity/floral herbal tea.
And I'm wildly obsessed these days with lavender simple syrup and black tea. I haven't even tried it with other tea varietals yet because this combo is so delicious!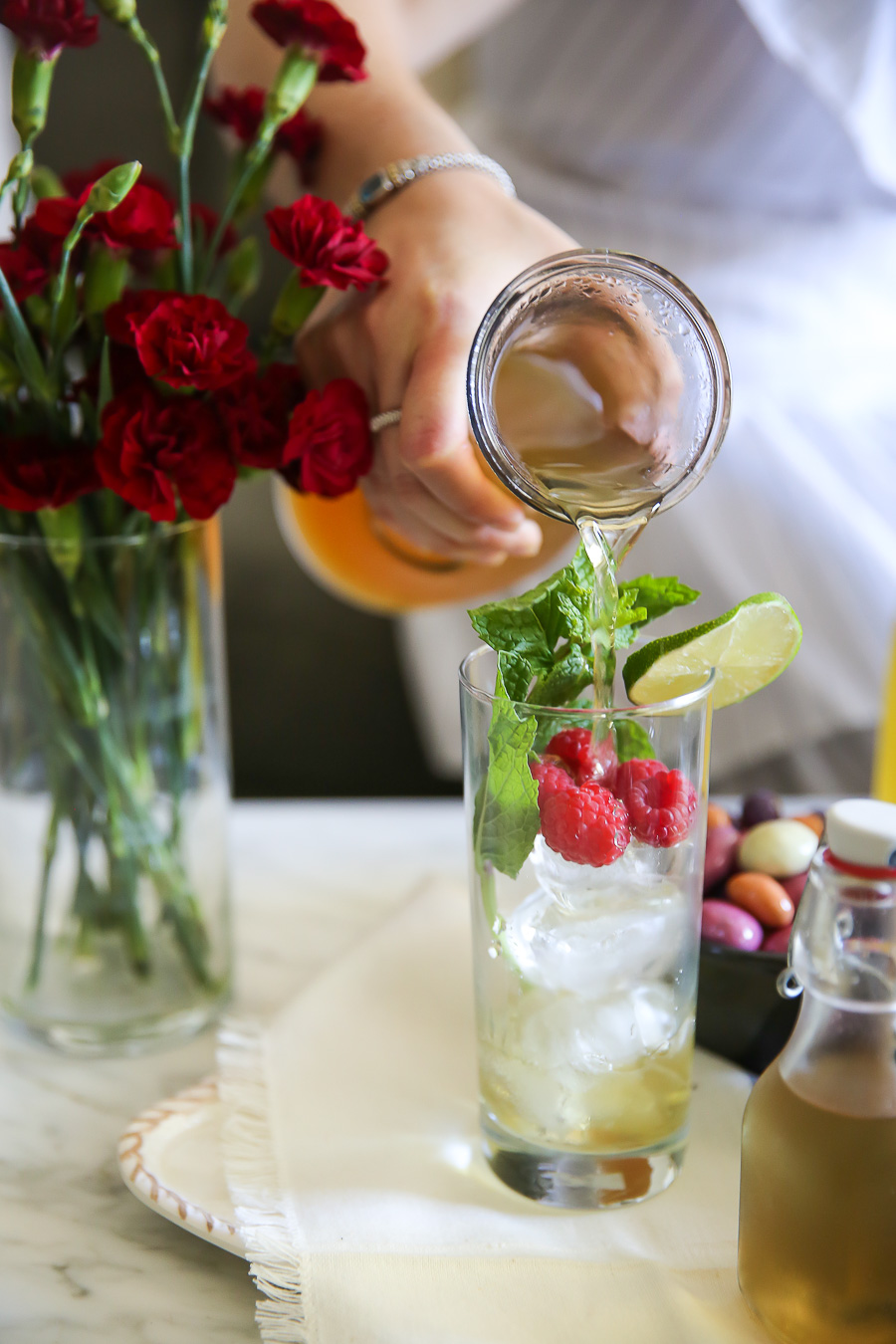 New Favorite Trader Joe's Snacks
In a quest for some snacks to go with my healthy iced tea drinks, I went to Trader Joe's. I figured I'd pick up my usual favorites. Instead, I found three new things (some just to me) that are so amazing, I wanted to hoard them for myself. Luckily I managed some self control and waited until my friend arrived!
Topping the list of these new TJ's snacks is the package of dried pears. Dried pears can be an undependable sort, but these are slightly moist and full of flavor. They don't have any sugar or preservatives added which makes them even more amazing!!!
Next up are the chocolate-covered dried fruits (the colorful things). These are far from healthy but everything I love, so you'll want to try these soon!
And then the brioche toasts, which I've seen for a while, but finally decided to try. I think I had dreams of serving them with something on top (like this cannellini bean spread or herbed goat cheese). That didn't happen (I told you things were a little busy around here).
As it turned out with the dried pears, chocolate fruits, and iced tea with accoutrements, they were perfect on their own!
You could also easily offer a simple summer fruit platter or serve any number of in season produce items. Check out what's in season in summer here (and here for spring, fall, and winter)!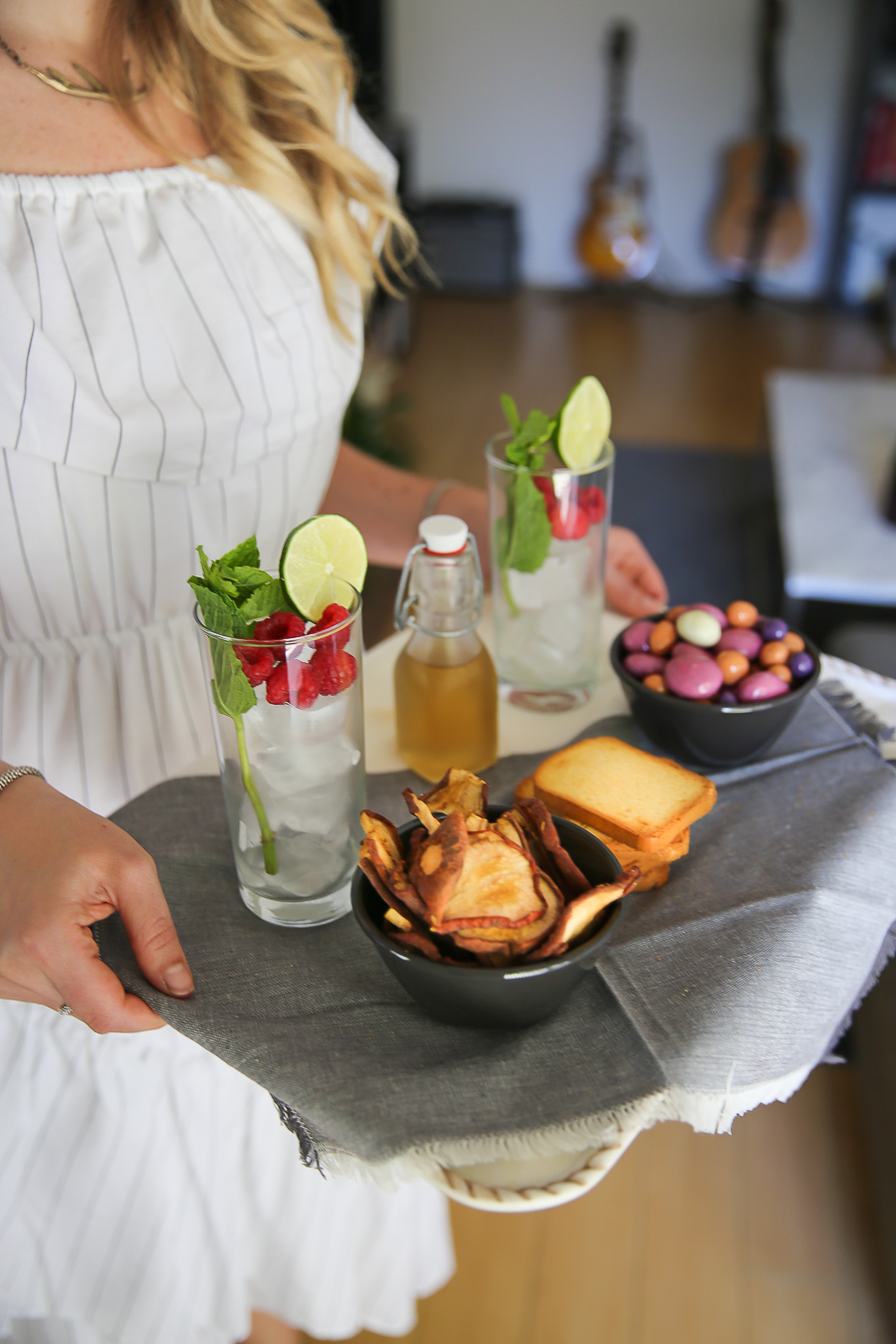 Maybe next time I'll have enough time for one of my favorite summer recipes or year-round entertaining recipes, but if not, it'll be ok! If you want to do more of a spread, you could try this Trader Joe's Charcuterie spread!
More Drink Recipes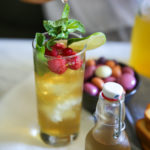 Print Recipe
HEALTHY ICED TEA RECIPES
Enjoy refreshing healthy homemade iced teas this summer at family dinners and when you're entertaining. A black, green, and herbal iced tea provide great options in addition to homemade simple syrup, fresh mint, and fresh fruit.
Ingredients
Iced Teas
3

tea bags per variety

4

cups

boiling water per pitcher of tea
Simple syrup is traditionally a 1:1 ratio between water and sugar. I often like to make it less sweet, so I use a lower sugar to water ratio.
Additional Toppings
fresh mint sprigs

raspberries

sliced peaches

blueberries

strawberries

fresh rosemary
Instructions
Iced Teas
Add boiling water to tea bags in large pitcher.

Check tea bags for steeping time. For black tea, steep 3-4 minutes. For green tea, steep 4-6 minutes. For herbal tea, steep 5-7 minutes.

Refrigerate to cool completely before serving.
Simple Syrup
Heat water and sugar over high heat, stirring frequently. Heat until sugar is completely dissolved into water.

Remove from heat. Let cool completely.
Nutrition
Calories:
97
kcal
|
Carbohydrates:
25
g
|
Protein:
0.04
g
|
Fat:
0.1
g
|
Polyunsaturated Fat:
0.01
g
|
Sodium:
14
mg
|
Potassium:
6
mg
|
Fiber:
0.1
g
|
Sugar:
25
g
|
Vitamin A:
22
IU
|
Vitamin C:
1
mg
|
Calcium:
10
mg
|
Iron:
0.05
mg