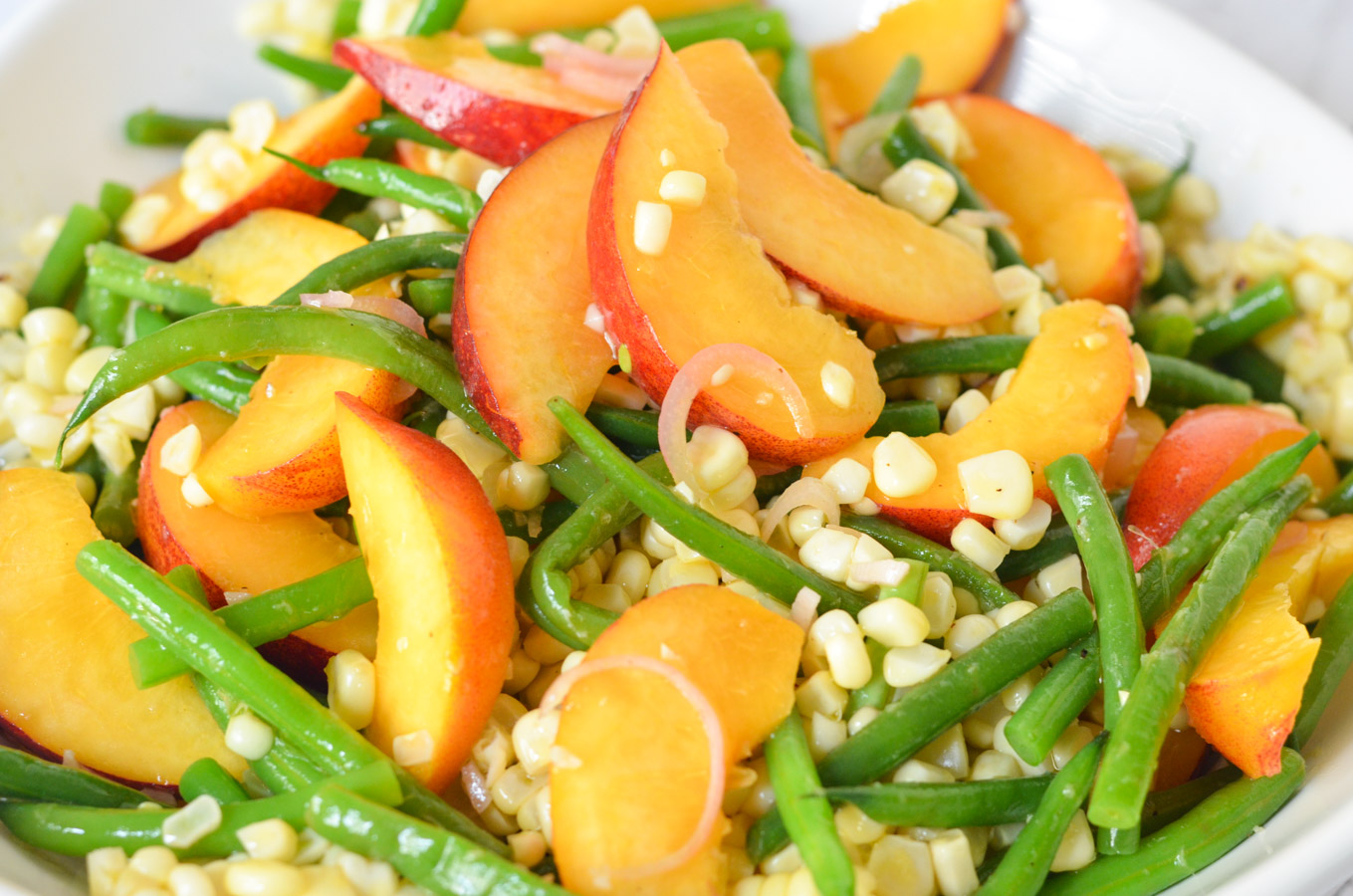 This peach corn salad with green beans is everything summer in a single dish. You'll wonder why you didn't combine all these flavors before (and how you'll live without them once summer is gone).
Whenever we do the Fresno Fruit Trail, I'm usually so excited for the berries, I underestimate the stone fruits and how much I love them (not to mention how inexpensive they are).
This year was different, however. I started dreaming up stone fruit recipes, knowing that I would just eat the berries by the handful! Peaches and nectarines have so much natural sweetness that they're great in desserts and in savory dishes. Oh and fresh peach lemonade is an absolute MUST!
As luck would have it, other delicious flavors converged in my fridge around the time we brought home the fruit. And so this peach corn salad with green beans was born!
peach corn salad
Corn is mostly commonly enjoyed on its own (off the cob or out of the can). It's recently come to my attention, however, how delicious it is in salads.
Corn has a delicious sweetness that isn't sugary. And I absolutely love the crunch fresh corn provides in any scenario! It's quite delicious in this simple radicchio salad as well as this California succotash salad!
But back to this peach corn salad… The dressing is light but flavorful. With a hint of ginger and garlic, it really holds up to the salad and brings the summer produce together.
A salad like this would be delicious just because the ingredients are ripe and great. But when the dressing is just right all the magic seems to merry together!
The starchiness of the corn absorbs the dressing so well. It really becomes the star of this dish even amidst the delicious peaches and haricots vert (french green beans). Talk about a corn salad with summer fruits and vegetables that's perfect…
What is an ice bath?
If you've never done an ice bath with your veggies before, not to worry. The ice bath stops the cooking process, so you can get lightly cooked veggies and not soggy ones lacking flavor and color…
All you do is put a bunch of ice in a large bowl. Fill it with water (leaving a few inches for the veggies). The second you pull your veggies out of the pot or microwave, use tongs to put them in the ice bath. Et voile. They will be cool, still a bit crunchy, and still with loads of flavor!
Corn Recipes
If you're a recent convert, like me, to the versatility of corn, then you'll love all these recipe ideas for fresh corn. Whether you shuck it into your salads, pasta dishes, balance bowls, or into a salsa, you'll fall in love with summer corn all over again.
SUMMER CORN PASTA w. ZUCCHINI – whip up this summer corn pasta with zucchini. It's the perfect easy dinner or side dish – not to mention a delicious cold salad to enjoy for lunch!
SMOKED SAUSAGE SKILLET w. VEGGIES – This delicious and easy one pan smoked sausage skillet with veggies is a sure fire dinner for 1, 2 or 4! You'll love all the flavor from the sausage, the freshness of the veggies, and the ease of a one pan dinner!
MEXICAN BALANCE BOWL – If you were to ask me what I usually make for dinner, it's usually some version of this. With my favorite homemade fajita seasoning mix, it's an easy and healthy way to combine whatever proteins and veggies we have at home. It's our default when we can't think of anything else and neither my husband or I are ever disappointed!
BEET + CORN SALAD – Many of the most delicious salads I've ever had are really just combinations of flavors I love. This corn and beet salad is just such a combo. The trick to a good salad is not just balancing the flavors but also the consistencies. The crunchy corn kernels balance the soft beets perfectly. You keep reaching for bite after bite!
SUMMER SUCCOTASH SALAD – This recipe is my take on the traditional American side dish. A mix of fresh and cooked veggies mix with avocado (that seems to make everything "Californian") and fresh tomatoes, this salad combines everything to love about summer produce!
ZUCCHINI QUESADILLAS w. CORN SALSA – Looking for a delicious no cook summer dinner recipe? Yeah, I usually am as well. These zucchini quesadillas are the perfect combination of fresh produce for great nutrients and just plain deliciousness. Topped with corn salsa, it's summer perfection!
Well, to keep things simple, just check out these corn kernel recipes!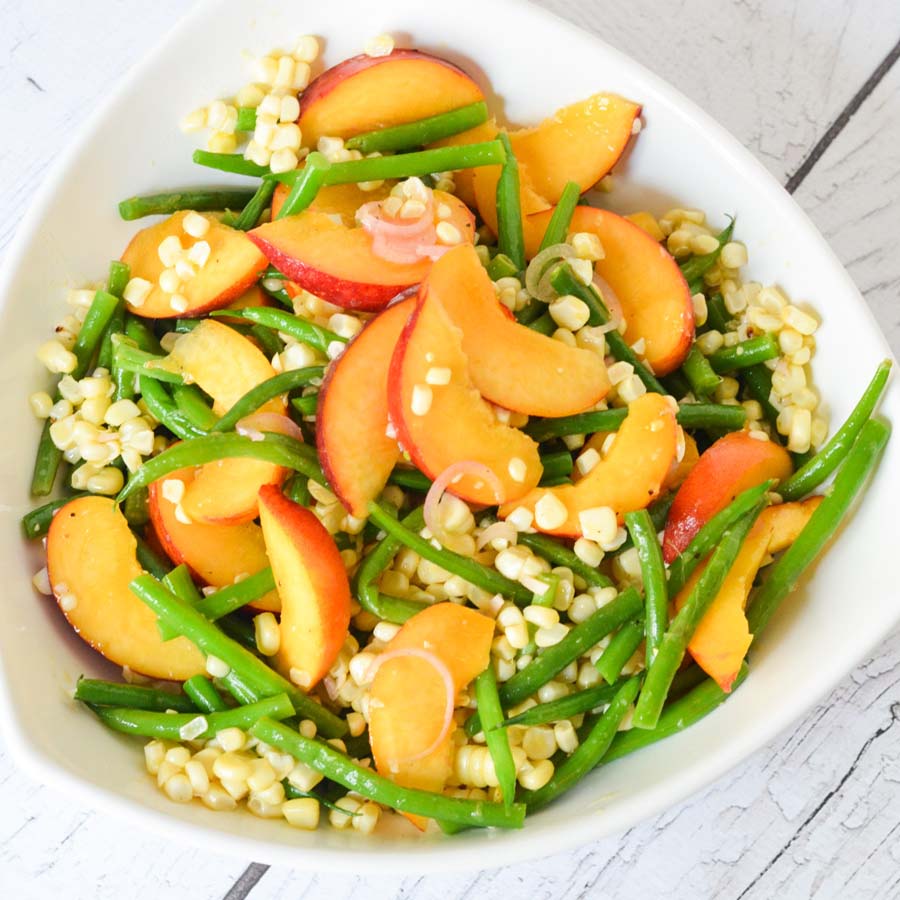 Print Recipe
GREEN BEAN, CORN, + PEACH SALAD
If you need a recipe that screams summer, it's probably this salad. Three of my favorite summer flavors combine in the salad. Everyone will be reaching for seconds!
Ingredients
12

oz.

haricots verts OR green beans

cut into 3" pieces

2

ears of corn

shucked

2

ripe peaches

sliced

ice bath
dressing
¼

cup

olive oil

¼

teaspoon

grated ginger

1

clove

garlic

minced

1

tablespoon

lemon juice

½

teaspoon

salt + more

¼

teaspoon

pepper
Instructions
microwave method

Place ears of corn in microwave safe bowl with 2 tablespoons water. Cover. Microwave 4 minutes. Remove corn to let cool to the touch.

Microwave green beans with 2 tablespoons water, covered, for 4-5 minutes, depending on desired crunchiness. Immediately place vegetables in ice bath (large bowl of ice water).

stovetop steaming method

Place enough water in pot to cover corn (but leave corn out to begin). Bring to boil. Add corn. Boil 3-4 minutes. Remove corn to let cool to touch.

Boil water in a large saute pan. Add green beans, cover, and steam 4 to 5 minutes, depending on desired crunchiness. Immediately place vegetables in ice bath (large bowl of ice water).
salad
In a small bowl or jar, mix dressing ingredients together. For a stronger garlic flavor, make dressing ahead of time and let sit.

 On a large cutting board or in a large bowl, slice kernels off corn husk. Add green beans after they've chilled in ice bath. Mix corn and green beans with dressing. Add sliced peaches. Mix again. Season with salt and pepper to taste.

Serve immediately or refrigerate until ready. 
Nutrition
Calories:
145
kcal
|
Carbohydrates:
15
g
|
Protein:
3
g
|
Fat:
10
g
|
Saturated Fat:
1
g
|
Polyunsaturated Fat:
1
g
|
Monounsaturated Fat:
7
g
|
Trans Fat:
0.002
g
|
Sodium:
305
mg
|
Potassium:
267
mg
|
Fiber:
3
g
|
Sugar:
8
g
|
Vitamin A:
611
IU
|
Vitamin C:
12
mg
|
Calcium:
25
mg
|
Iron:
1
mg