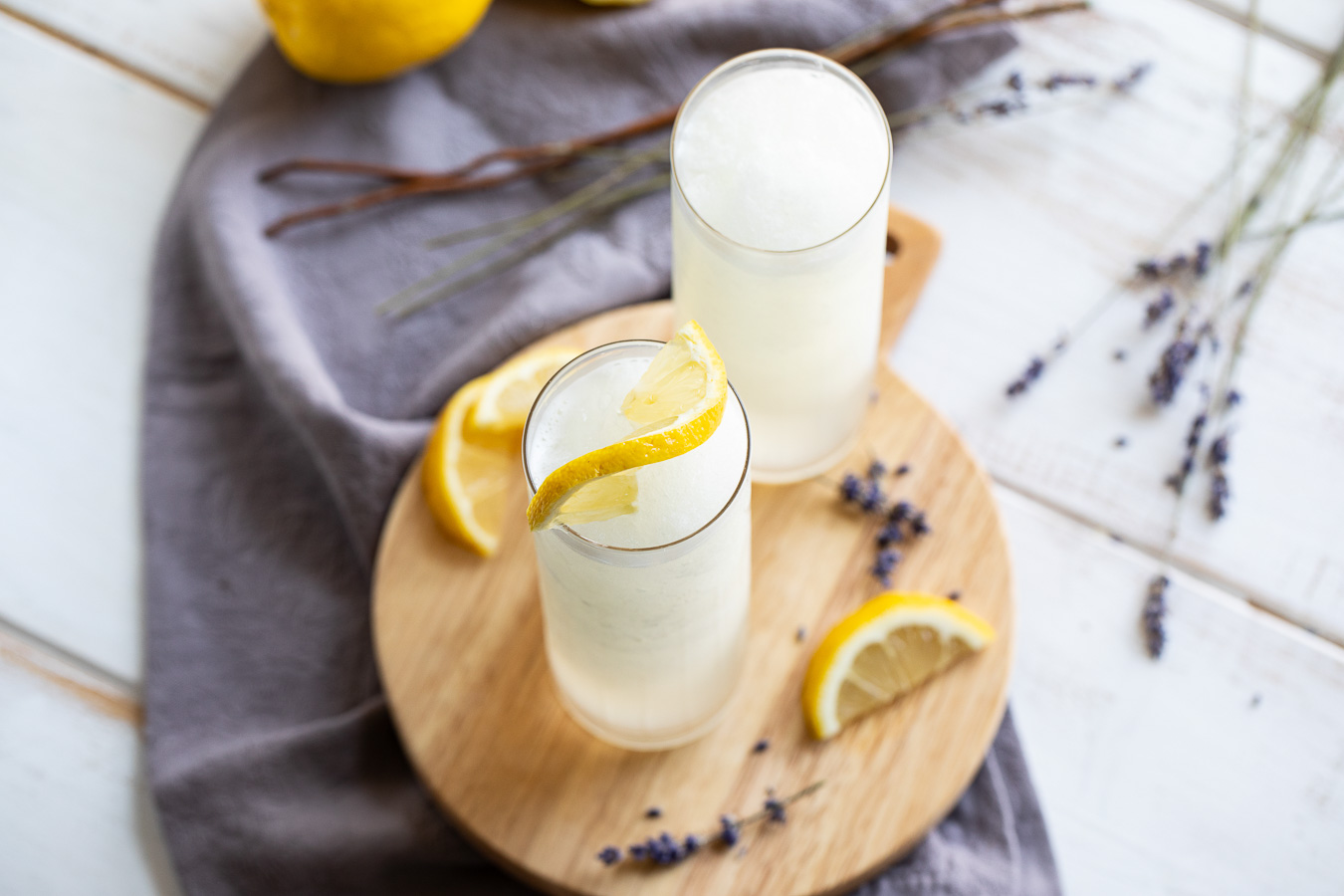 I was going to share this recipe for frozen lavender lemonade at the end of the month. But yesterday was quite warm in LA (80 degrees) and this just sounded too perfect.
I may regret sharing this so soon with temps dropping down for at least the rest of this week, but you know – I highly doubt it!
I like to consider myself a decent speller and pretty good with my grammar. Lavender, however, continues to prove me wrong every time I need to write it out. I really want it to be lavendar not lavender.
Yes, the red squiggly line is there telling me that I'm embarrassing myself. UGH! I can't tell you how many times I had to fix it in this post alone! Not sure why that 'a' refuses to leave me alone, but I may be on the losing end of this battle!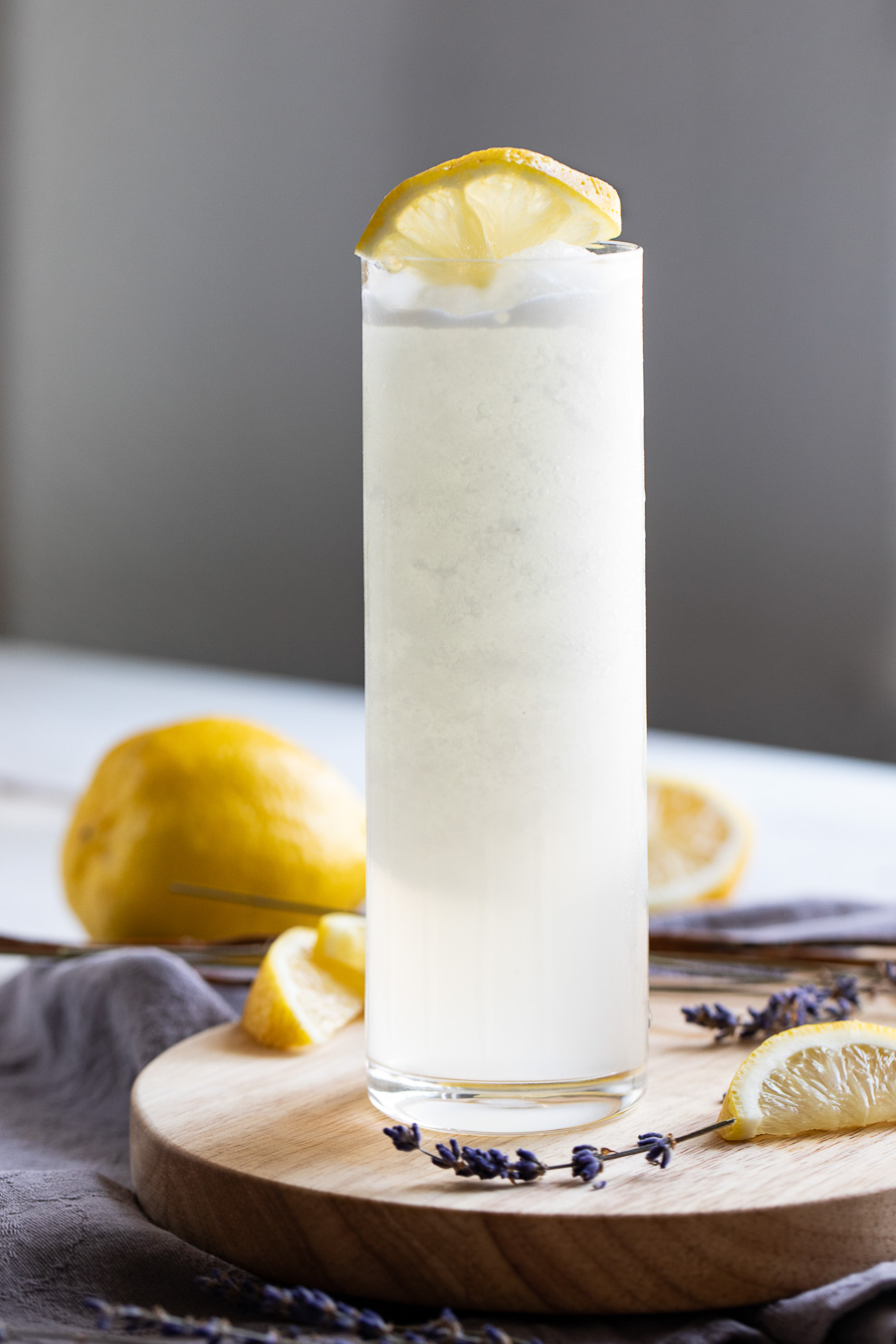 Lavender Lemonade
Did you know that lavender is part of the mint family? I had no idea until I did a little research recently. The recipe below calls for culinary lavender to make this scrumptious lavender lemonade.
Apparently any lavender can be used in cooking, but culinary lavender is better for adding that lavender flavor (described as citrusy by some) to dishes. You can learn more about culinary lavender here!
Anyway, I love that this lavender lemonade is the perfect entertaining recipe for summer! It has just a few ingredients and it's a fun twist on a classic drink. Adults can add a spirit if they want (the clear ones would work well). Honestly though, try it without first – you'll be surprised how quenching it is!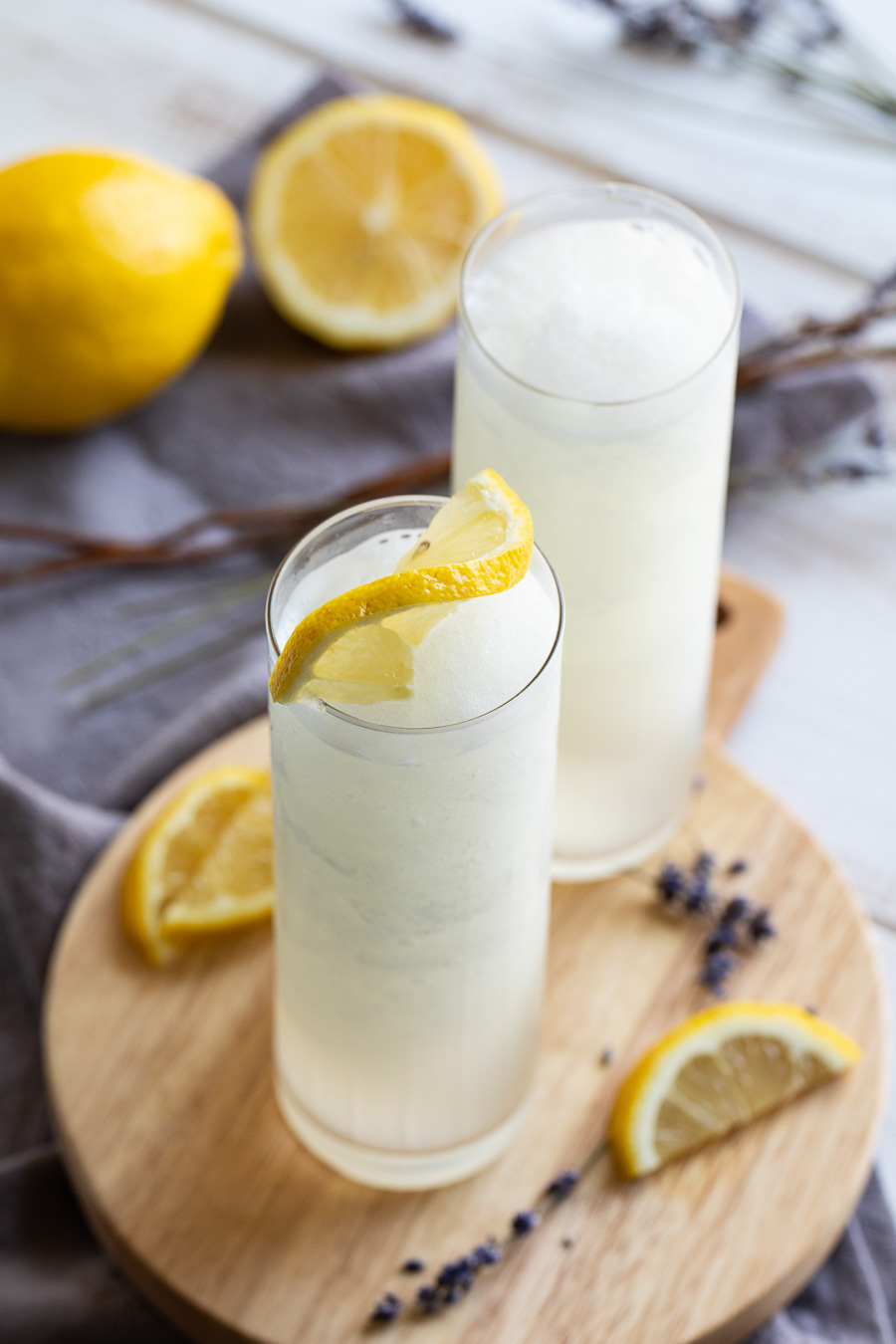 Frozen Lemonade
With spring here and summer on the horizon, I thought a slushy or frozen version of this lavender lemonade recipe would be fun.
Of course, you can skip the blender step and just make it over ice. The "slushie" version, however, is super fun! I usually run for the hills when you say slushie. Images of those corn syrup and food coloring infused drinks come to mind. But this slushie is right up my alley!
And don't forget to try this rosemary lemonade slushie!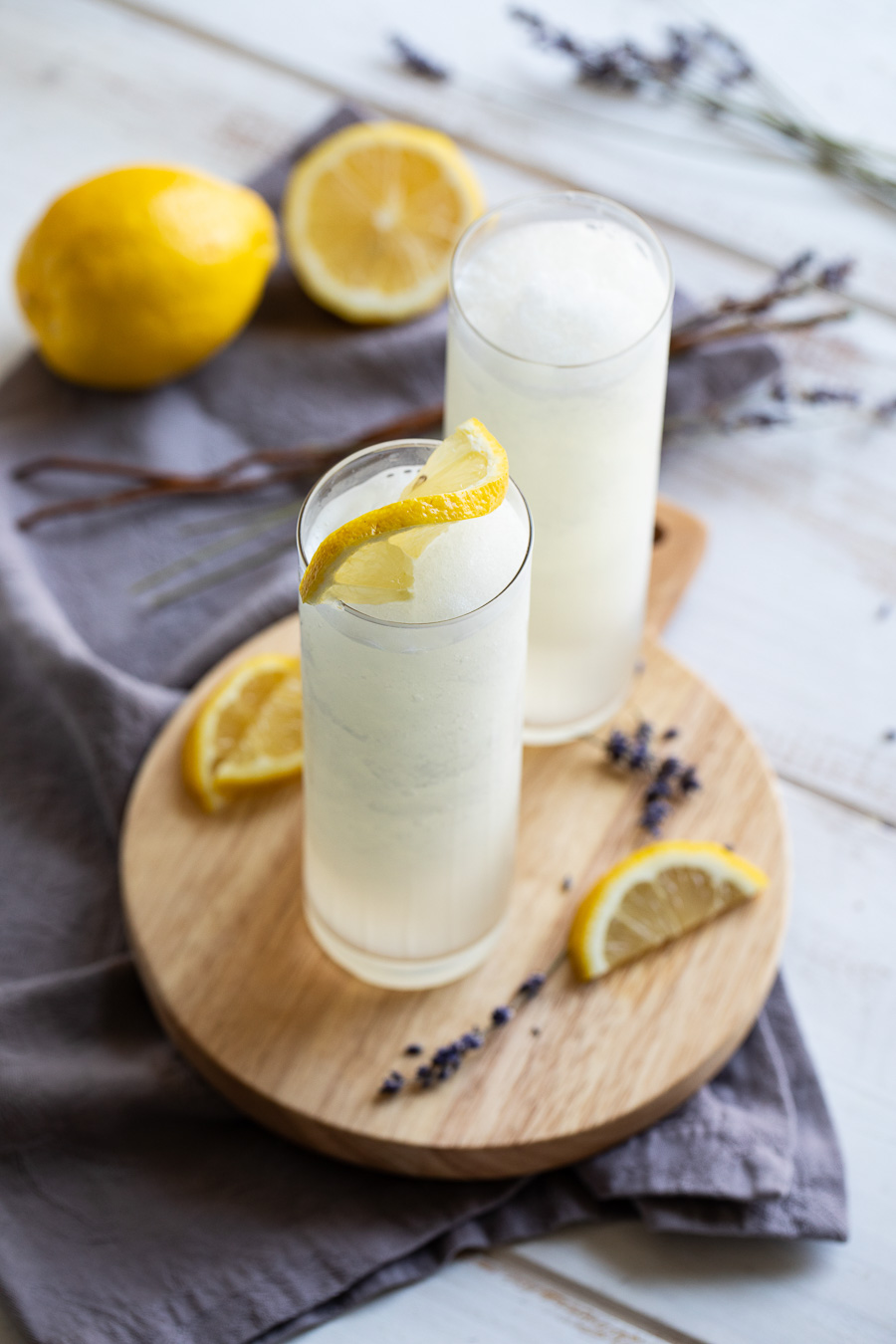 Hot Weather Drinks
If you're looking for other drinks to quench your thirst in the heat, check out these summer mocktail recipes! This fresh peach lemonade is perfection. You'll be craving this lavender iced tea all summer long! And this iced mexican coffee is a great pick me up morning and afternoon! Or if you need a mix of your drink types, just start looking at this list of tasty drink recipes!
Lemonade Recipes
I'm actually quite a big fan of flavored lemonades. In summer, this cucumber lemonade is so refreshing (not to mention a great way to use up cucumbers).
In fall and winter, try this pomegranate lemonade (easily made into an adult beverage). And if you can find them, prickly pear lemonade is a fun one!
And lavender lemonade is good basically every day of the year!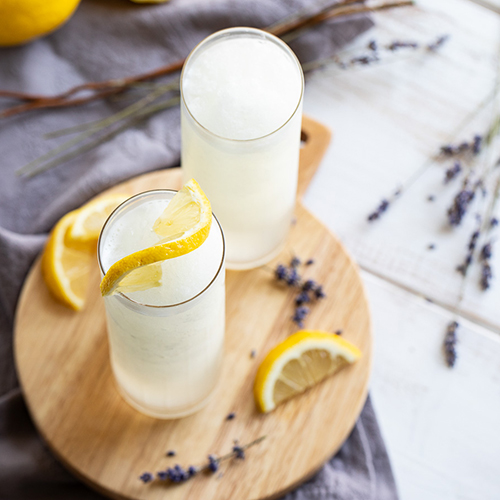 Print Recipe
Frozen Lavender Lemonade
Have a little fun with this non-alcoholic spring and summer drink! Spice up your traditional lemonade drink with this lavender lemonade mix. Enjoy it frozen for a fun slushy all the adults will enjoy!
Ingredients
Lavender Syrup
½

cup

sugar

½

cup

water

1

teaspoon

culinary lavender
Lemonade
1 ½

cups

chilled water

¾

cups

fresh lemon juice

2 to 3

cups

ice

Lemon slices
Instructions
Lavender Syrup
To make the syrup, add the sugar and water to a small saucepan. Turn the heat to medium-high and gently swirl the pan to mix in the sugar. Heat to a boil and cook for 1 minute. Remove from heat and stir in the lavender.

Let cool completely, at least 1 hour, up to 8 hours. The longer the lavender sits in the syrup, the stronger the flavor. When it reaches your preferred strength of flavor, strain the syrup and discard the lavender.
Lemonade
To make the lemonade, add the syrup, water, and lemon juice to a high-powered blender. Add 2 cups of ice, secure the lid and blend on high. Add more ice until the drink reaches your desired slushie consistency.

Pour into glasses, garnish with lemon slices, and serve right away.
Nutrition
Calories:
107
kcal
|
Carbohydrates:
28
g
|
Protein:
0.2
g
|
Fat:
0.2
g
|
Saturated Fat:
0.02
g
|
Polyunsaturated Fat:
0.01
g
|
Monounsaturated Fat:
0.003
g
|
Sodium:
13
mg
|
Potassium:
48
mg
|
Fiber:
0.1
g
|
Sugar:
26
g
|
Vitamin A:
6
IU
|
Vitamin C:
18
mg
|
Calcium:
13
mg
|
Iron:
0.1
mg