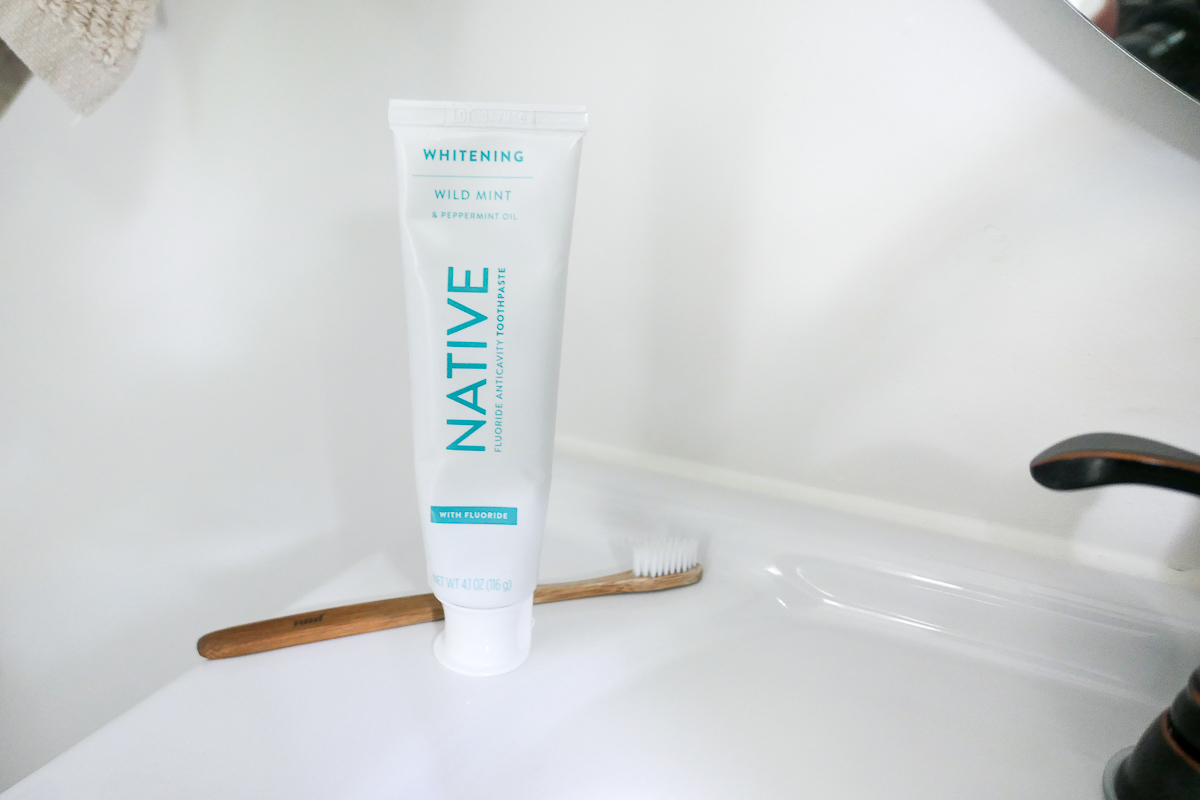 Just when you think you're getting the hang of clean products in your life with beauty + makeup as well as cleaning supplies, you realized you have to start worrying about what are the best natural toothpastes. Will it ever end?
I'm not sure if it will, to be fair – I'm still learning too. I'm a big proponent of using clean beauty and skincare. Of course you should transition to clean makeup because it can get overwhelming and expensive if you do it all at once (not to mention wasteful).
If you've been trying to figure out what sustainability is, the truth it that it's multifaceted. This is actually a good thing. We can all live more sustainably in ways that work for each of us. It isn't a singular path or lifestyle!
You can start with less waste, less shopping, and clean beauty. You can start buying and using only clean cleaning products (or your DIY your own cleaners). Or we can start the super simple place with natural toothpastes because what we use for our bodies and what goes down the drain really does matter!
Best Natural Toothpastes with Fluoride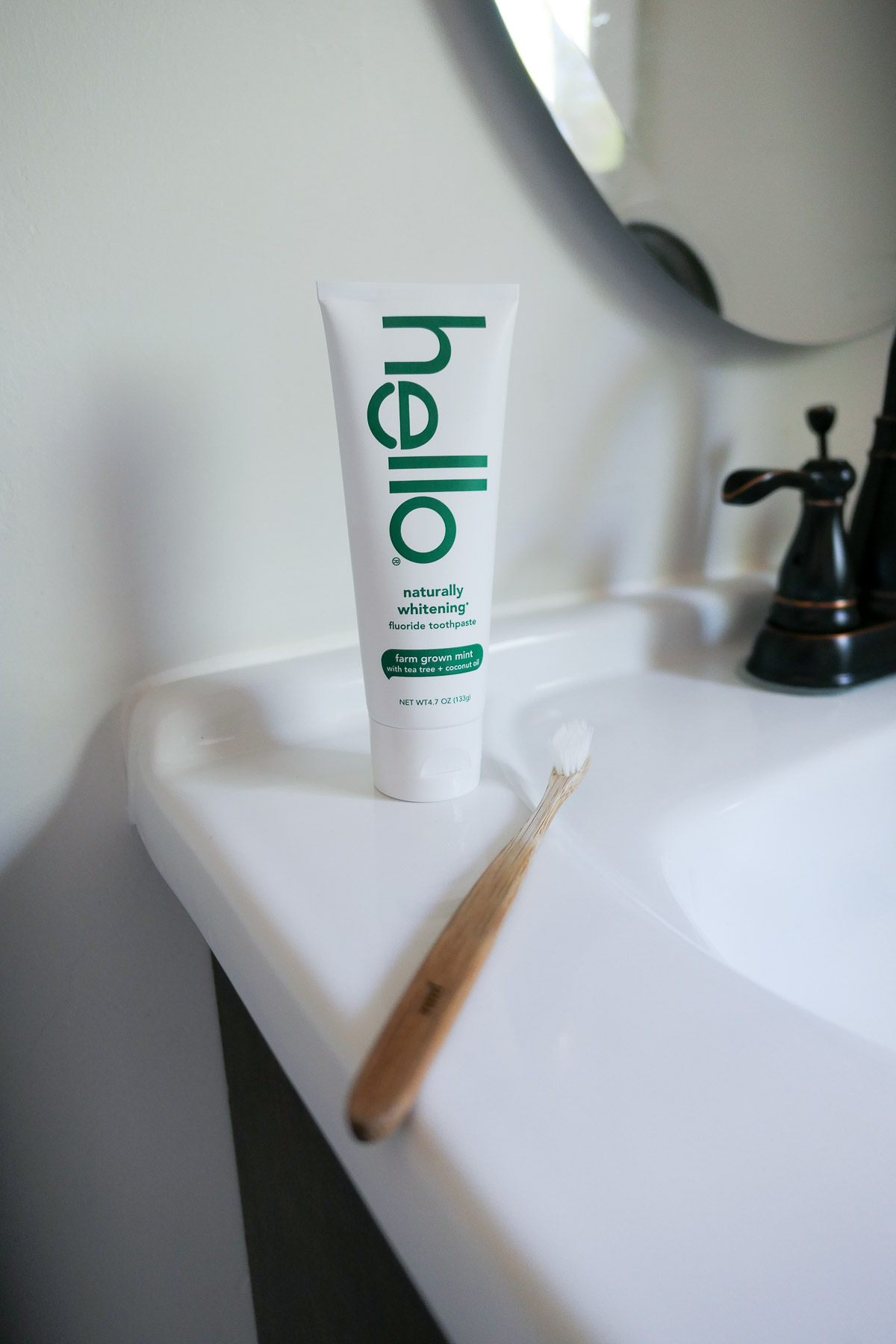 If you've looked into natural toothpastes (and don't worry – they're very easy to find), you'll quickly notice that there are many options without fluoride.
There is a big debate about fluoride and I say to each their own. Our family chooses to use fluoridated toothpastes. We have done some without fluoride, however, so I've included some of each!
Additionally, I talked to my dentist last year about natural toothpastes and no fluoride. She suggested I use a fluoride-free sustainable option in the morning and a fluoridated one at night – no rinsing! I think it's a fabulous middle ground for all of life's needs!
Hello Toothpaste Review
Hello Toothpaste ($4.99) was one of the first natural options I tried. It is one of the least expensive, available at Target (among other places), and offers fluoride and fluoride-free options.
Their pastes are also free of sls, parabens, phthalates, and dyes. The brand is vegan and cruelty-free (leaping bunny certified and PETA recognized)!
We love the naturally whitening variety with farm grown mint. They also have a charcoal and sensitivity pastes as well as a few kids varieties (with and without fluoride). Add that to their tablets, mouthwash, and floss – they're a natural dental brand!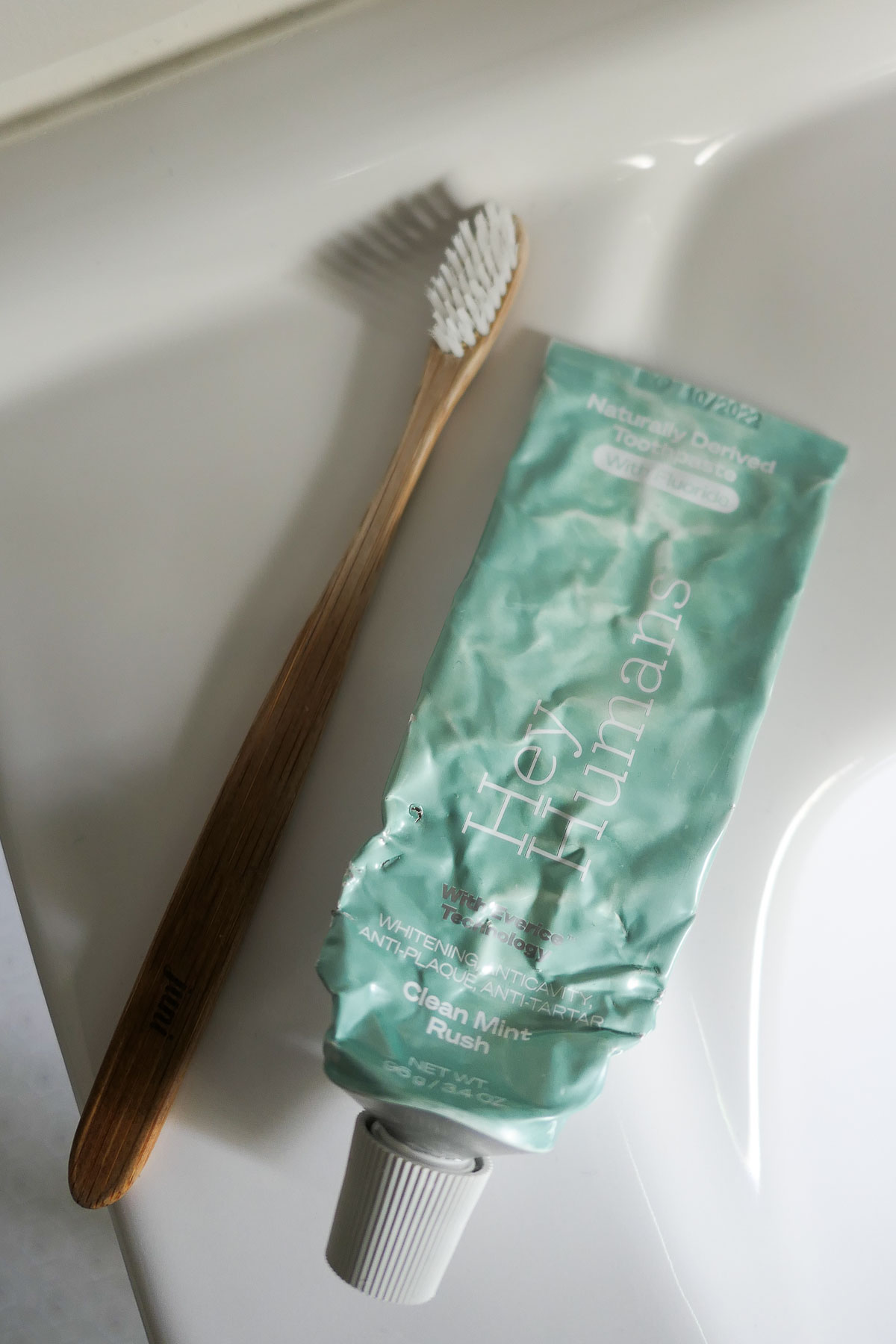 Hey Humans Toothpaste review
Another great Target find was Hey Humans Toothpaste ($3.99). I was ecstatic to find this one because it's the first (and only so far) fluoridated toothpaste in an easily and fully recyclable container!
The Hey Humans company was co-founded by Jada Pinkett-Smith and offers toothpaste, body lotion, body wash, and deodorant – all clean and recyclable!
The paste is a gel, rather than a paste. We tried the "Clean Mint Rush;" they offer two flavors (also Wintermint Chill) – each with and without fluoride.
Overall, the flavor was good and my mouth felt quite clean. If you like gel toothpastes, this is the one for you!
Additionally, it's the least expensive clean toothpaste we've found at just $3.99 per tube!
To recycle, remember to use up every tidbit in the tube. The tube is aluminum and fully recyclable. The lid (made from recycled plastic) will vary by location.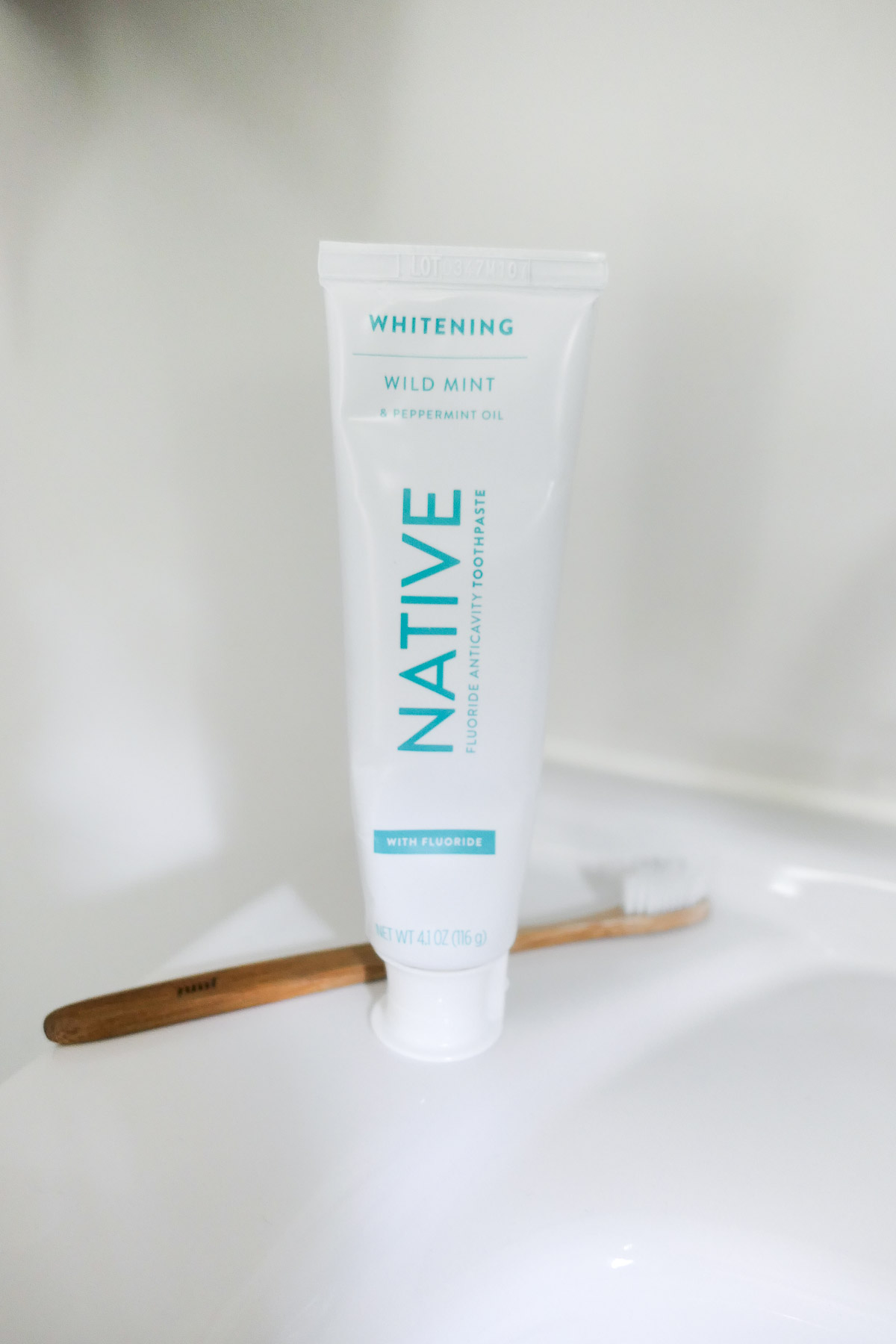 Native Toothpaste Review
If the name Native sounds and looks familiar, it's because it's the best natural deodorant in my humble opinion! So you can imagine when I found a brand I love selling toothpaste (with fluoride options), I was beside myself!
Again at Target, Native Fluoride Toothpaste ($9.99) is an easy find. The flavor is great; the consistency good; and we love it. In fact my mom used ours one night while visiting and ended up going out to buy her own (she hadn't switched toothpaste brands in years)!
Besides toothpaste and deodorant, Native also offers body wash, lotion, shampoo, and conditioner! See their full selection here!
A word of warning that the colors o the tubes with and without fluoride are very similar. I've come home with the wrong one once!
My only critique of this toothpaste is the higher cost. At nearly 2x the price of the other two, it's noticeable!
Want to see all the Clean Beauty Brands at Target?
Natural Toothpastes without Fluoride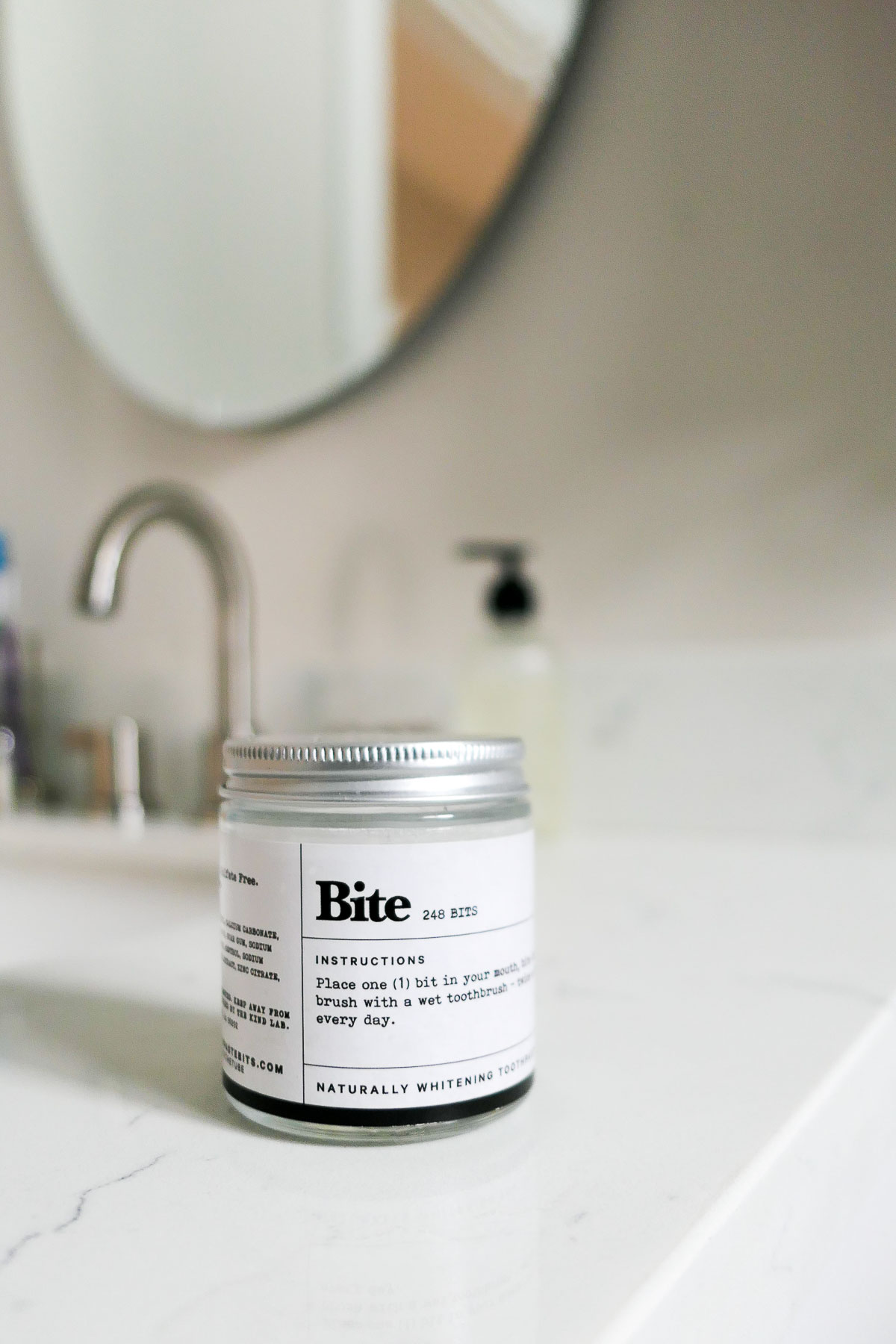 Bite Toothpaste Tablets Review
If you haven't tried toothpaste tablets yet, you might be nervous, but there's no need to be. They're little bits of toothpaste. You use one tablet per brush. Just chew the tablet and brush like normal.
The taste of these Bite Toothpaste tablets is very mild, which is nice! They do provide a good clean feeling and help to remove some of the staining!
The major appeal of toothpaste tablets is that they skip the water weight and drastically limit emissions and packaging (there's NO PLASTIC).
You order them via subscription. Your first shipment includes the jar. Replacement orders come in a compostable bag! It's a pretty wonderful concept!
The cost is $30 for the first jar, which gives you enough tabs to brush twice daily for four months!
FINAL THOUGHTS: I actually really liked te toothpaste bites. They were easy, took up little room, and did provide a gentle scrub cleaning of my teeth to make them brighter. If it weren't for my need for fluoride, I'd definitely be using these.
As an aside, I do have some leftover, and plan to take them on international flights as they take up little room and will give me clean teeth.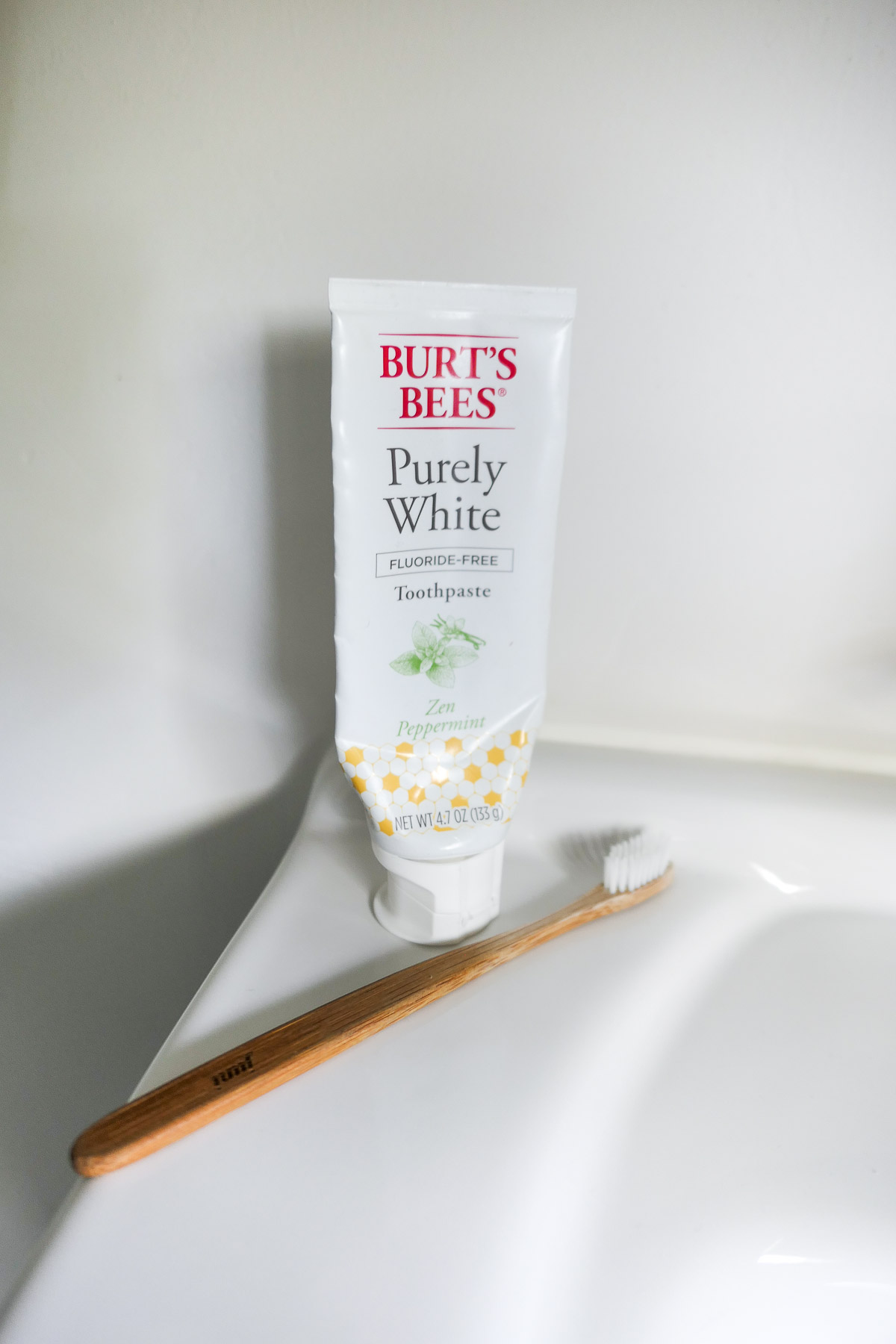 Burt's Bees Purely White Natural Toothpaste Review
I bought their Burt's Bee Purely White (fluoride-free) toothpaste ($4.49) before I knew about the fluoride debate. It's paraben and sls free as well as cruelty-free!
This toothpaste is mild in flavor and very easy to find – most groceries stores carry it even. They do also offer a fluoridated whitening option.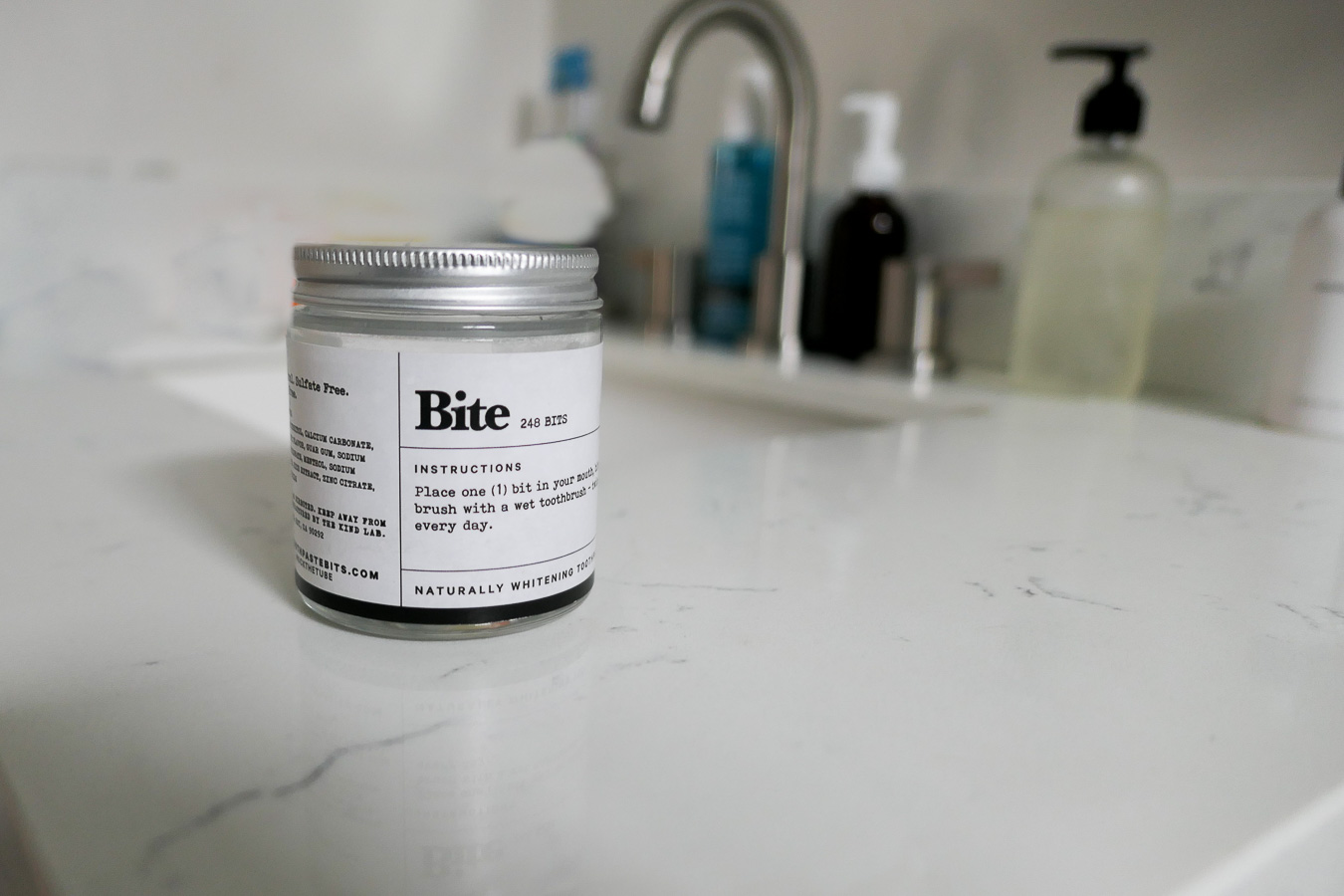 Natural + Sustainable Toothpaste Packaging
Besides the ingredients in toothpastes, the packaging is a big problem – most dental product packaging isn't easily recyclable.
Tom's of Maine recently launched an easily recyclable toothpaste tube! Otherwise, however, the classic plastic tube must be thrown in the trash or recycled via TerraCycle (we have a drop off box for this at Refill Madness here in Sacramento)!
Anyway, because of this, the options for finding recyclable or reusable toothpaste options are necessary. The aluminum tube by Hey Humans above is also in use by David's, but they offer no options with fluoride.
Additionally, more companies offer tablets, including Georganics and Hello!
The options of great natural toothpastes is growing. I'm seeing new brands and companies with better and better packaging almost every month or two!
Our favorites are the Hello and Native brands. I usually opt for the former because it's less expensive but happily buy the latter when it's the one available!
Try These Natural Toothpastes…