Having a stash of homemade road trip snacks is the only way I can survive all that time in the car!
Summer just screams road trips, doesn't it? The last few weeks have been full of time in the car. We still have a few more escapades on the horizon this summer yet.
I'm a huge fan of getting in the car with friends and family, but you can imagine I don't love a lot of the eating options along the way. Besides In-n-Out, I don't really like fast food restaurants.
But I travel on my stomach, so you can bet I always have a bag of a store-bought and homemade road trip snacks, water, and usually my iced coffee in hand whenever the day gets started.
I have a number of store-bought snacks that I love to bring (maybe I should do a roundup on those soon), but here are some homemade road trip snacks that are delicious and make road trips that much better…
I'm a cracker aficionado and always have them in my cupboards. Whenever I can, however, I love to make homemade crackers. They have such tasty flavors and you can add fresh herbs, salt, and even cheese in the case of this recipe! You'll be a cracker monster too in no time!

I'm a sucker for anything granola, so when I was introduced to granola bites (or squares) I ate them all immediately and knew I had to come up with my own recipe.
This recipe is incredibly straightforward and easy to alter for whatever you have on hand or are craving. The recipe calls for baking, but you can absolutely skip the baking and cut them into squares after they set.
I like to keep mine in the fridge to keep them together for longer!
Homemade Road Trip Snacks
The major perk to homemade road trip snacks is that you have total control of ingredients and the healthy factor and you know you'll love the snack. I find snacks to be what does me in when traveling.
I don't mind indulging a bit on meals, but the in-between will be my achilles heel and if I'm traveling with friends it's even worse since we all seem to fuel each other's weaknesses! These snacks usually last past our time in the car and then are a great option once we arrive at our fun destination!
These little reusable bags with lids are perfect for many of these homemade road trip snacks!!
Trader Joe's has an impeccable trail mix selection (one which I find hard to resist each time I'm in their stores). The absolute best, in my opinion, is their Omega-3 Trek mix. I quickly fell in love and then made it at home as soon as I could.
This homemade Trader Joe's trail mix has been my go-to for snacking and serving with cocktails to guests for years!

If you've ever tried the Trader Joe's raisin and rosemary crackers, then these little guys need no introduction. The flavors are just as tasty as you can imagine and I just love that it's made in my kitchen where I'm in control of all the ingredients.
This make-ahead lunch is healthy and delicious, but it has sentimental meaning for me. I first had a wrap like this at the Ahwahnee Hotel in Yosemite Valley. I remember sitting there with my mom and husband, enjoying every bite and taking in the memory.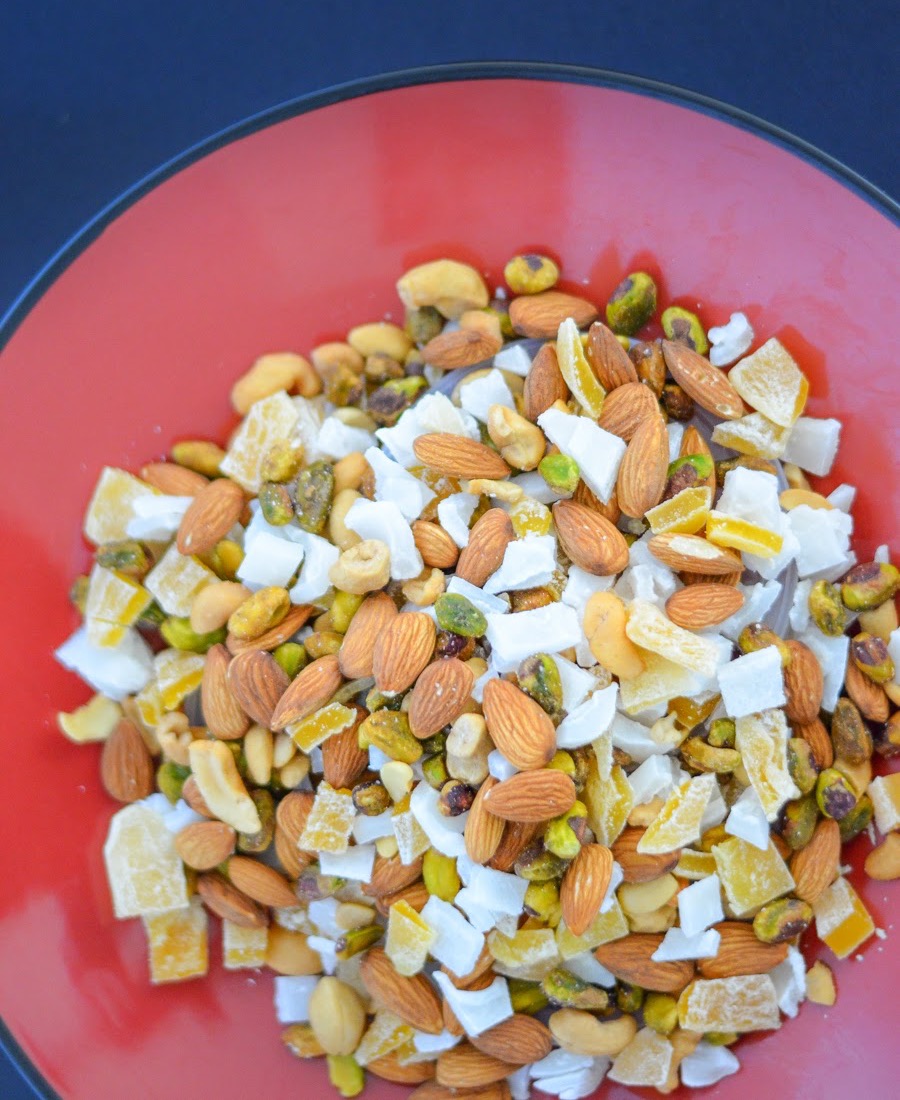 When I first started Luci's Morsels, it was actually a baking business and I included homemade trail mixes on my menu! One of them was a "beach bum trail mix," now updated to this Tropical Trail Mix. It's a delicious mix of fresh nuts and all those tropical fruit flavors we can't get enough of.