Whenever I go on a great trip, I think of seemingly millions (but in reality ten) topics, themes, and places to share in blog posts on my return. I eventually reign it in and pick about five. So you can bet this Edinburgh City Guide is packed full of everything you need.
As I'm working through the posts, I start to worry you all are tired of reading about a place and that you're certainly tired of seeing me in the same clothes (probably not great to start everything off with a what to wear in Scotland post – note to self!).
But then I get caught up in editing photos and gathering links and info for the write up and I remember how it was all so wonderful and why I need to share it all!
My mom and I totally fell in love with Edinburgh and the people in Edinburgh know that it's fantastic! The city is easy to get around; there's a lot of great food and fun to be had (touristy or otherwise); and there's just a vibe that's so easy to love.
Edinburgh City Guide
We stayed in Stockbridge for our first week and loved the trendy, local vibe (see that post here). For our last few days, however, we stayed in New Town which has a downtown feel with a lot going on!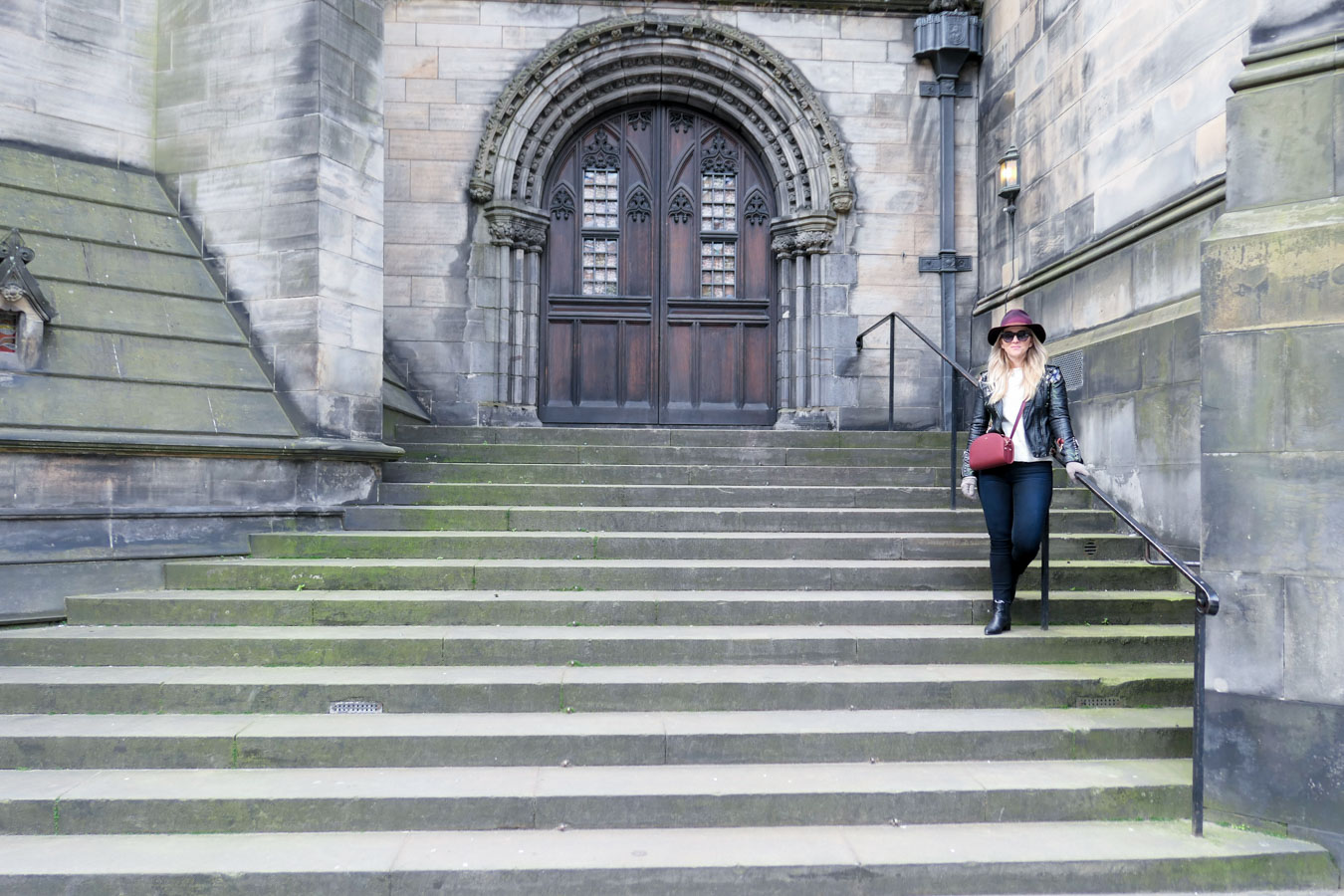 Free Edinburgh Tour
I've mentioned before that we love taking unique tours. We searched for some fun tours in Edinburgh and what we ended up on was actually a free walking tour. Go figure!
Little Fish Tours offers a variety of tours that look like great fun (hello whisky + folklore tour). They also offer free, twice daily tours. The tour wanders around Old Town and gives you a very wide range of history and cultural insight about Edinburgh and Scotland.
The tours are supposed to last a little under two hours, but ours certainly went over. To be fair, our tour guide was a history grad student – long-windedness is just part of our DNA. And the tour was lots of fun, so I didn't mind!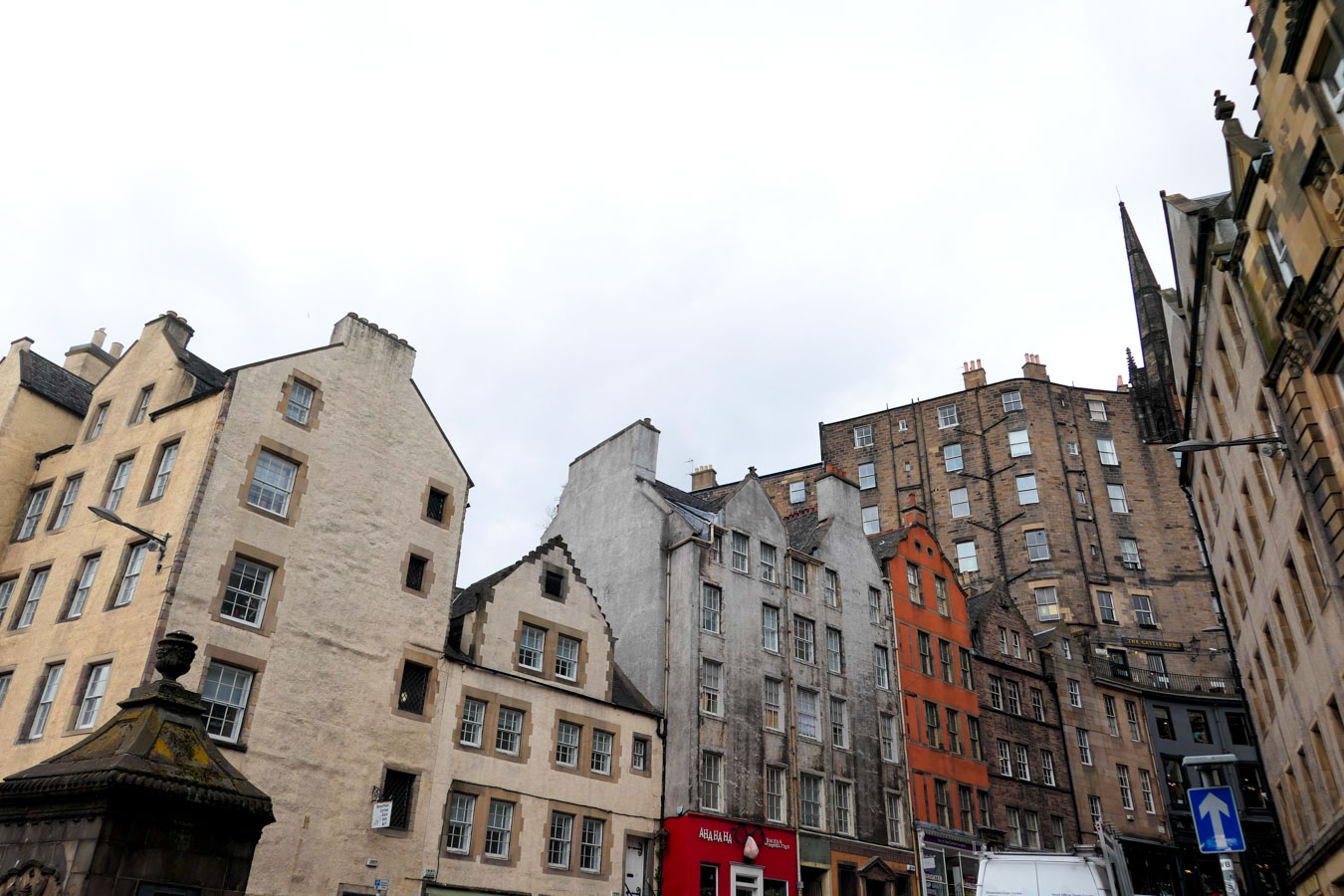 One of the highlights of the tour for us was visiting Greyfriars Kirkyard (cemetery). Now, I'm not usually into cemeteries, not to worry, but this one has a whole lot of Harry Potter references. In fact, it inspired much of the story details throughout the books and movies, including a grave marker for one Tom Riddle.
And next to the cemetery is George Heriot's School that's actually comprised of four different houses each with colors similar to those of Slytherin, Gryffindor, Hufflepuff, and Ravenclaw. And the exterior looks awfully familiar too. Just sayin!
If you aren't into Harry Potter (I'm a very recent convert), not to worry – there's a whole lot more on the tour!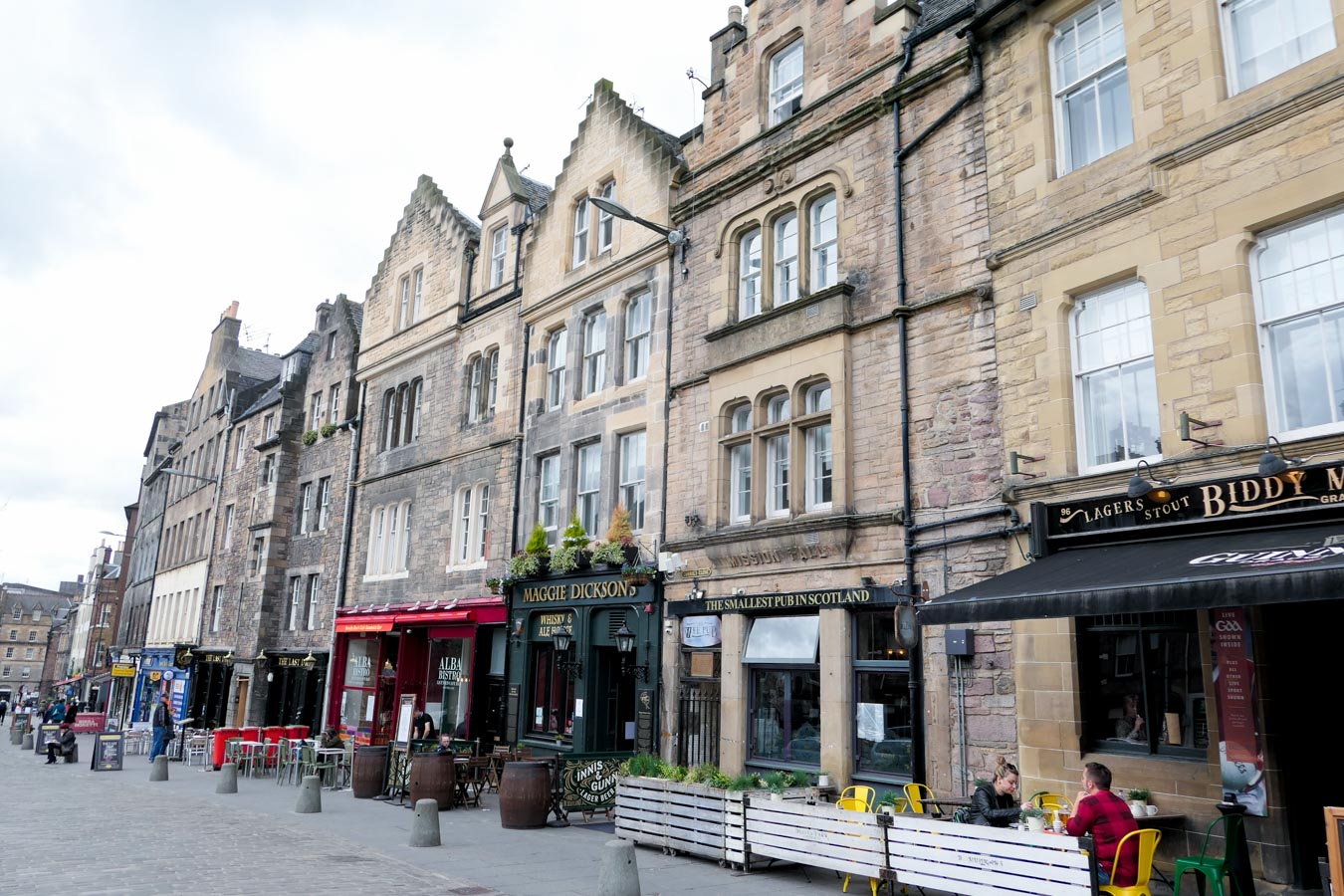 Just outside Greyfriars Kirkyard is Grassmarket where one of the weekly farmers markets happens – this one on Saturdays. There are a number of restaurants in this area as well as the National Library of Scotland, so there's always something happening in this little area.
If you walk past these restaurants above, you'll hit a small road that will lead you around to the northern edge of Princes Street Gardens, which is the perfect spot for a stroll or, in our case, a picnic lunch from our finds at the farmers market. You can see Edinburgh Castle on the hill (yes, I got the Ed Sheeran song stuck in my head a few times)!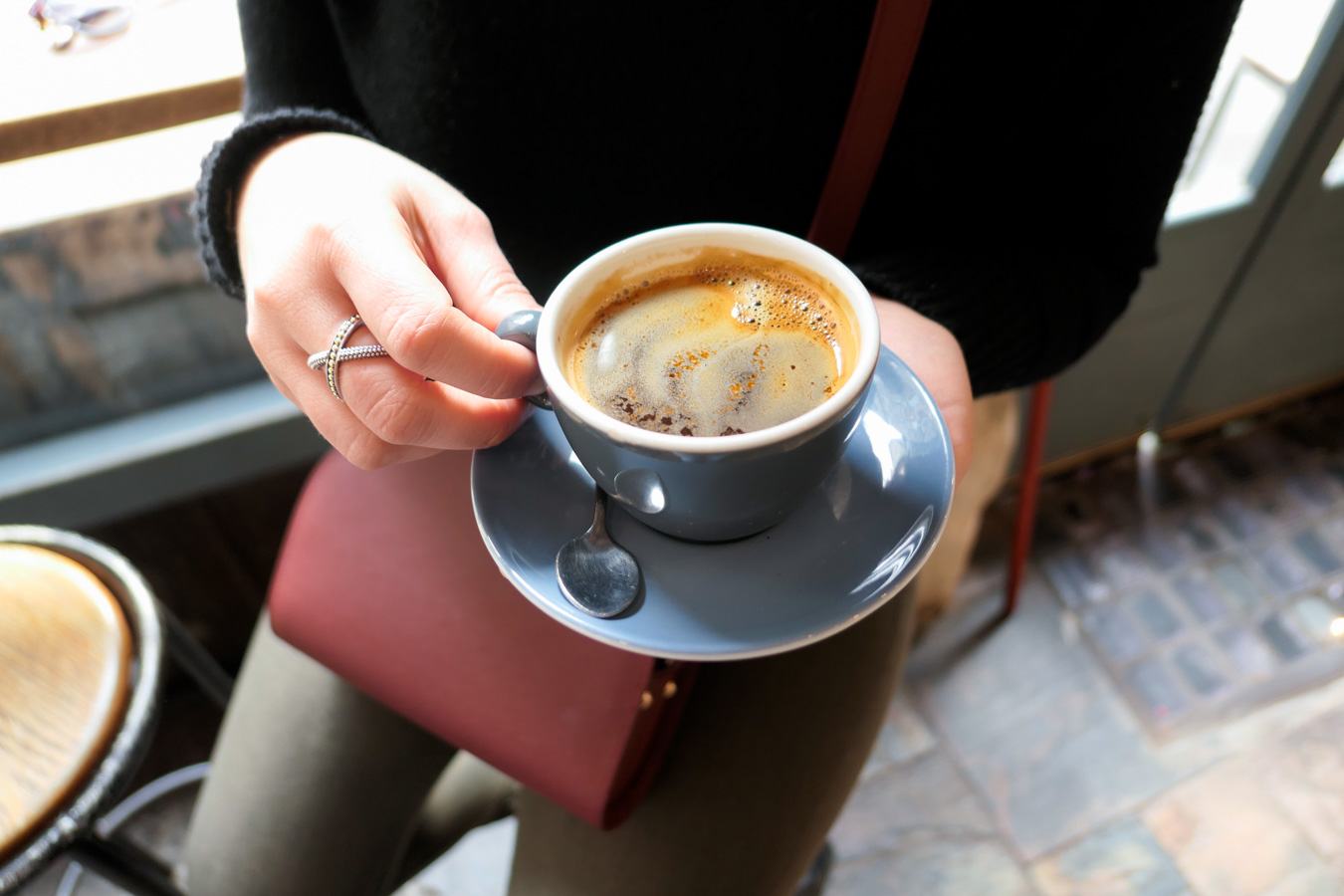 Coffee + Food in Old Town Edinburgh
Besides the tour, there is everything to do on the Royal Mile, including Edinburgh Castle, Holyrood Palace, and a LOT of shopping in between. Since the area requires lots of walking, it also demands oodles of good food and coffee.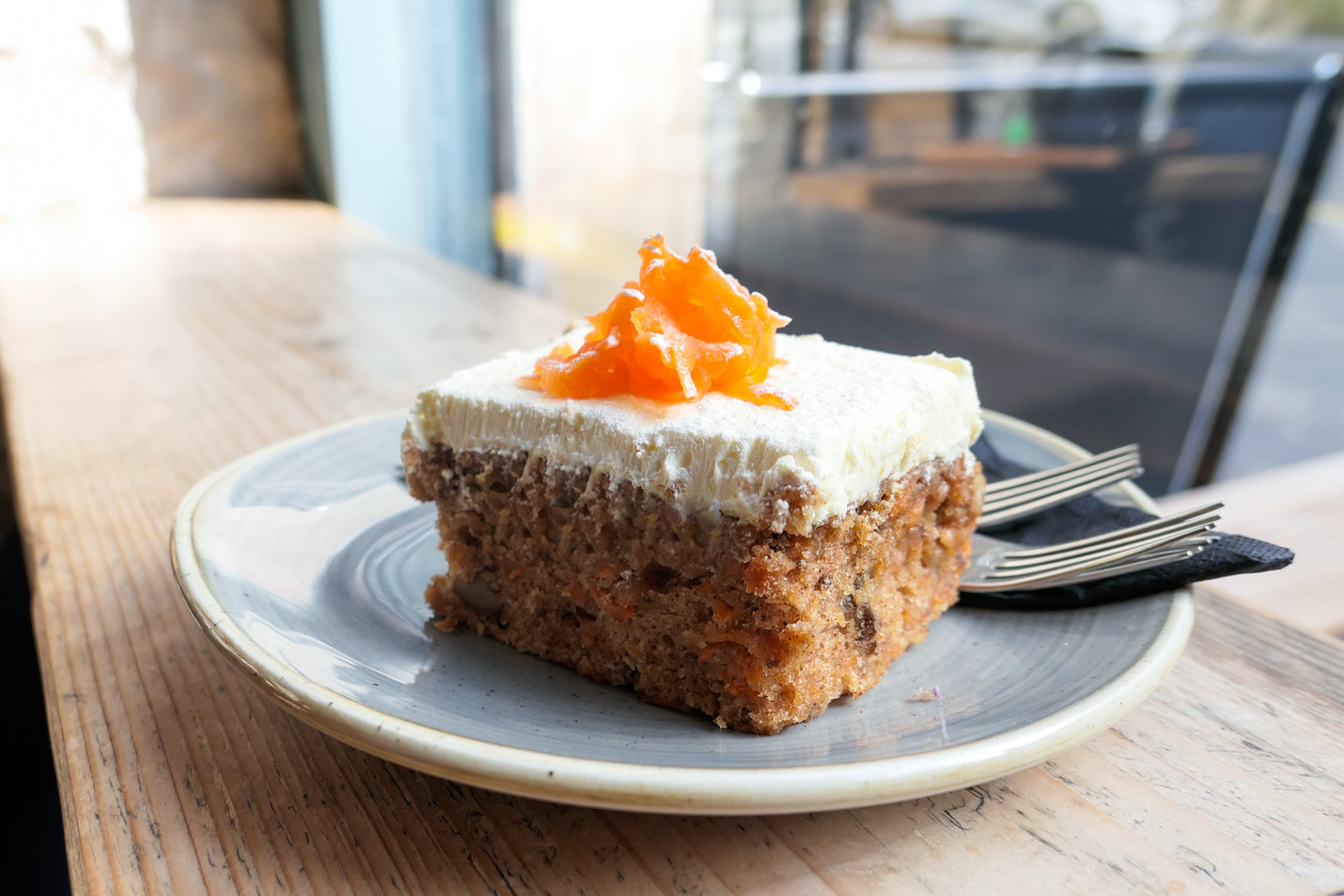 A tasty stop (off the very beaten Royal Mile path) is The Milkman. The small storefront was easy to miss at first – it has an old cigarette painting above – it's a fun little spot to pop into for a coffee to go or a place to stay.
We enjoyed the carrot cake with our coffees and tea, watching the foot traffic out the front window. They also have wifi (as most cafes do), so if you're in Edinburgh in the cold, this is a warm place to head!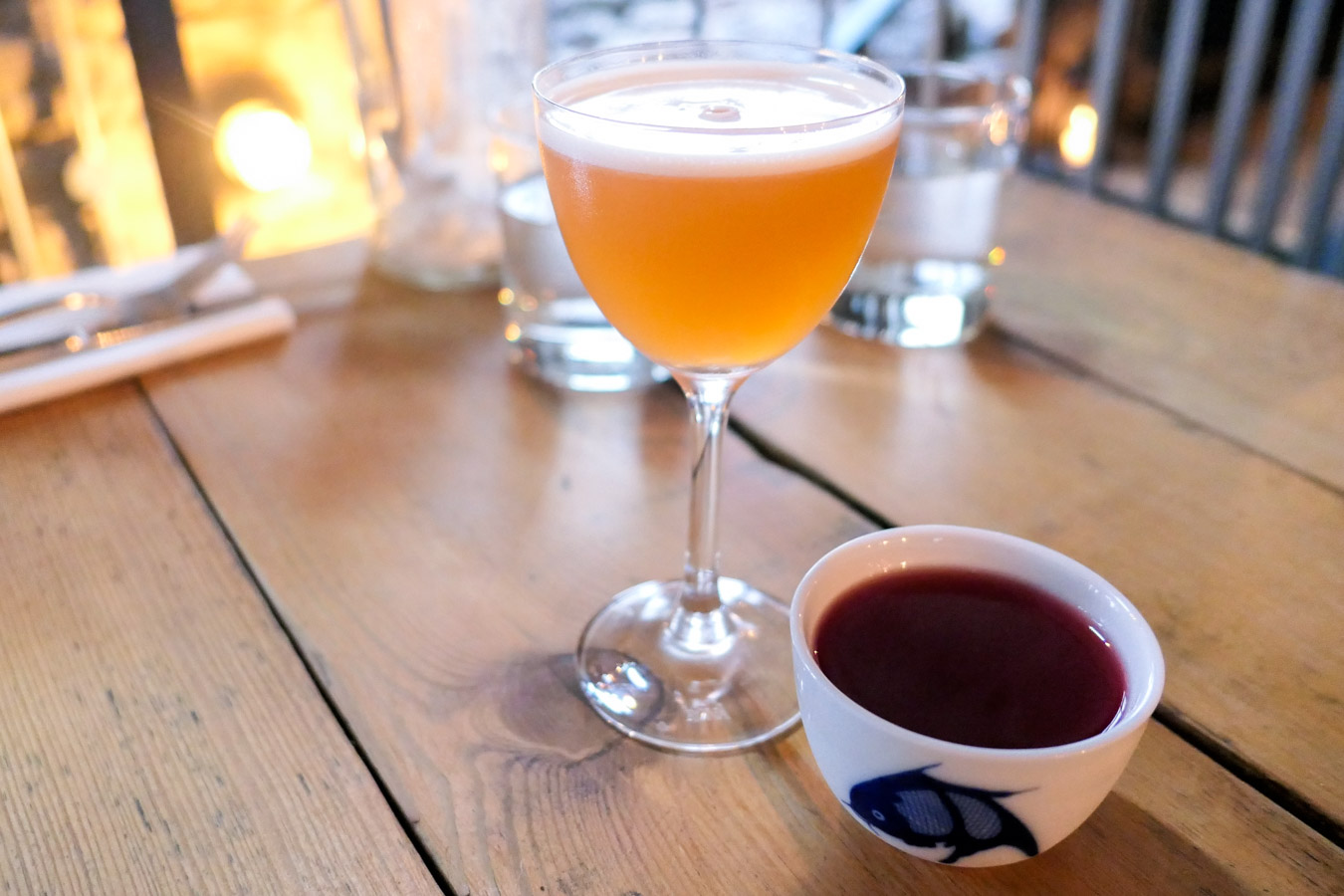 When you're ready for a hearty lunch, there are two great Old Town restaurants to try. We heard a lot of great things about Devil's Advocate, which is halfway down a small close with stairs up and down no matter which you you come. They have artisan cocktails (SO GOOD!) and fun food offerings – nothing too crazy.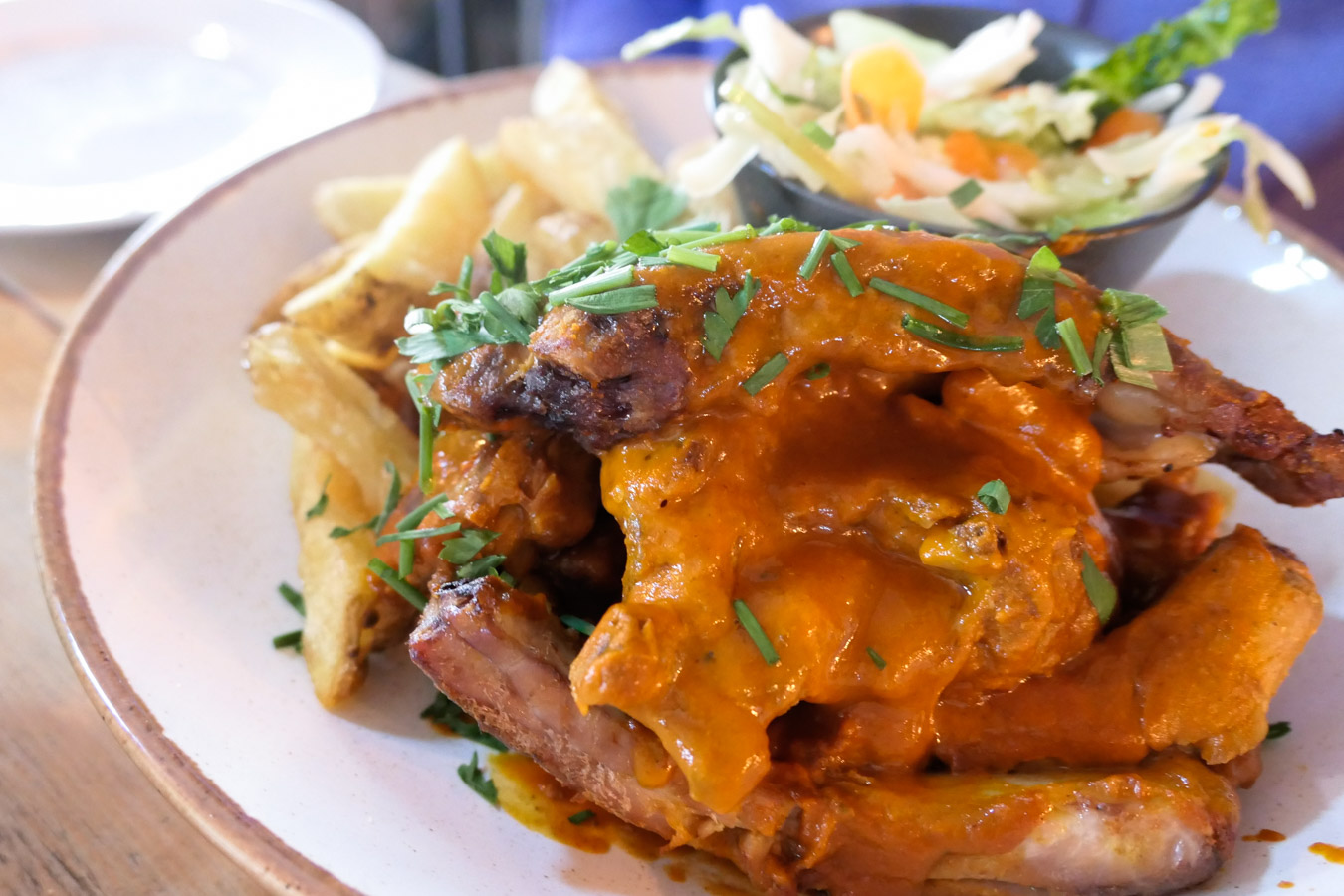 My husband was the one who was most excited about eating here, but I'm the one who loved it the most. The chorizo mussels are delectable. For drinks, I got the small one in the tea cup. It was made with Nikka Whiskey (from Japan, which felt sacrilegious) and beet juice. I could have enjoyed a few of them, no problemo, but luckily I controlled my tantalized tastebuds.
If artisan cocktails are your thing, then Devils' Advocate is a must. We made reservations for lunch but didn't need them (we were there midweek). It can fill up, especially for dinner, however, so it wouldn't hurt to make them when you visit.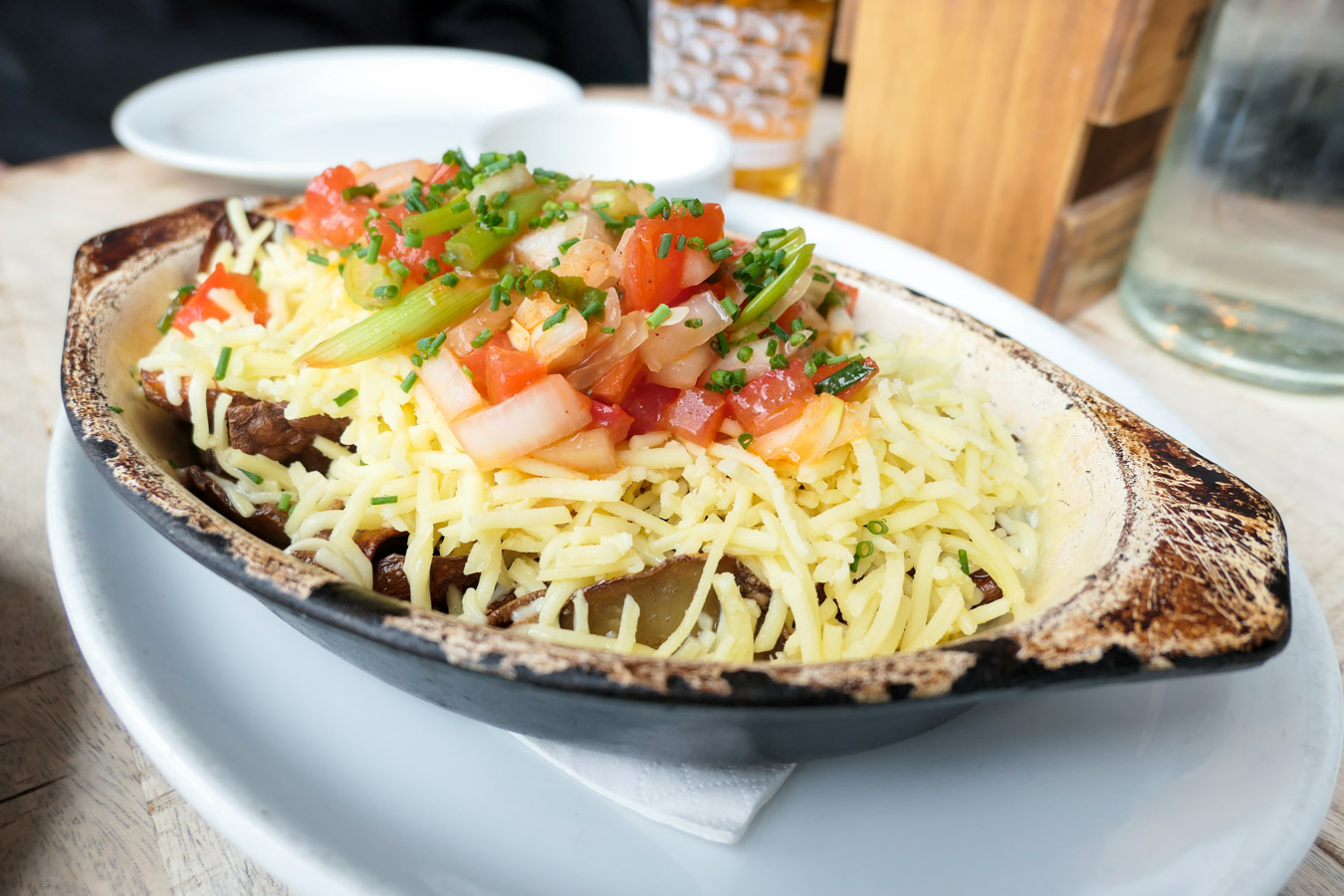 The other tasty stop was Makar's Gourmet Mash Bar, which is also just off the Royal Mile. Their claim to fame is serving potatoes in a variety of ways – mashed, fried, etc. – and they do it well. Above are the potato skins, which are much more just skins of potatoes than the American version I'm used to.
The restaurant peels potatoes for all the flavor combos of mash offered and they use the skins for this dish. Without more of the potato flesh, however, the skins are chewier. Ours were topped with loads of cheese, a pico de gallo, and served with sour cream! We could have just enjoyed this, it was so yummy.
But of course we didn't. My mom and I shared chicken over a mustard potato rosti and my husband got this bangers and mash with bacon and cheese mash.
We were all trying each others and licking our forks. We walked right into the restaurant before our walking tour and had plenty to eat before wandering through Old Town.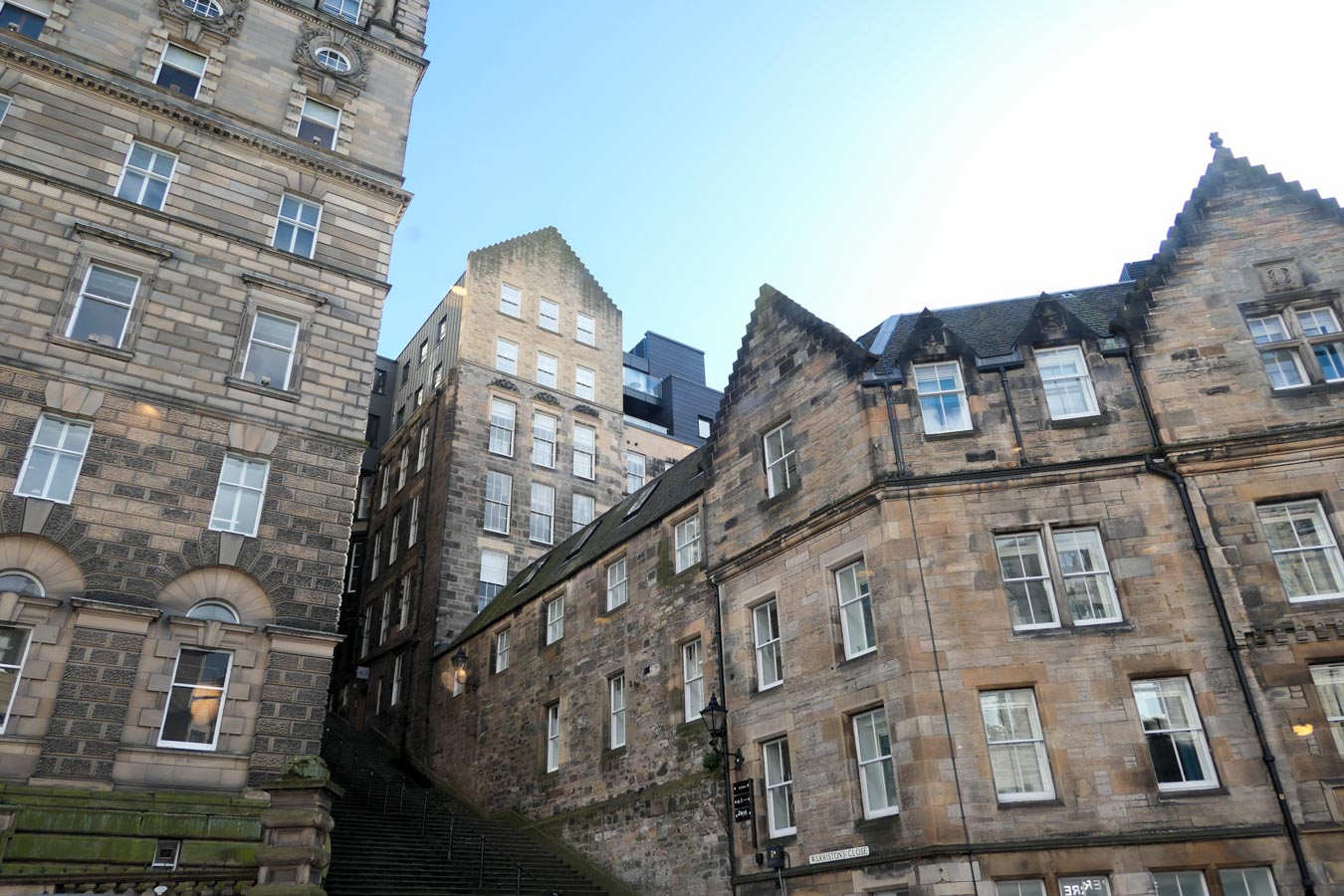 Whenever we return to Edinburgh, there are two places that I'd love to try on the Royal Mile in Old Town Edinburgh. The first is Mimi's Little Bakehouse. It's a walkup window with a dining area and selection of coffees, teas, cupcakes, and all sorts of morsels. In doing some research now that I'm back, I see they have a few locations around the city, so you'll have to visit for me and report back!
The second place is the Edinburgh Larder which I found when I was looking for an actual larder in the city. This one doesn't seem to have an extensive shop full of fresh foods that make me want to move in upstairs, but their food looks delicious and easy – great when you're walking around all day!
And don't forget about The Piemaker that I shared in my Scotland Palaces and Castles post for some fun grab-n-go hand pies that are quite delicious!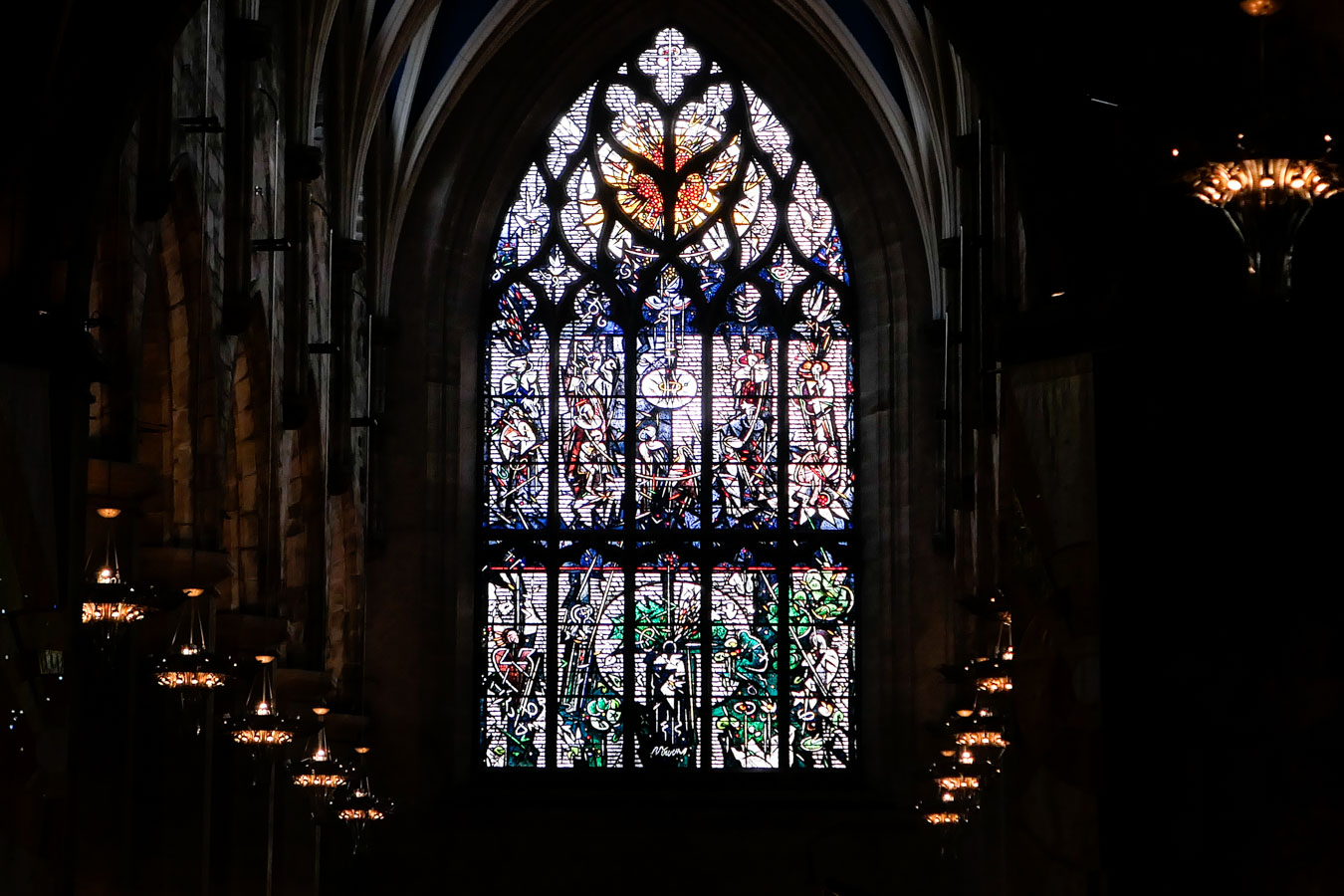 What to do In Edinburgh at Night
For our final few days in the city, I let my mom pick what we did (long before we arrived). She's always looking for shows and performances when it's just the two of us traveling and she certainly didn't disappoint on this trip.
Our first night back in the city, we saw the Scottish Chamber Orchestra at Usher Hall. It was an intimate performance and the music was positively beautiful.
Then two nights later we saw the London Concertante play a Bach-Brandenburg Concerto at St. Giles Cathedral! Coincidentally enough, we'd seen the London Concertante perform at St. Martin in the Fields when we were in London in December 2016!
I almost felt like a local seeing the same performers twice! Anyway, there's always something going on in Edinburgh at the performance venues, so be sure to do a little homework and enjoy!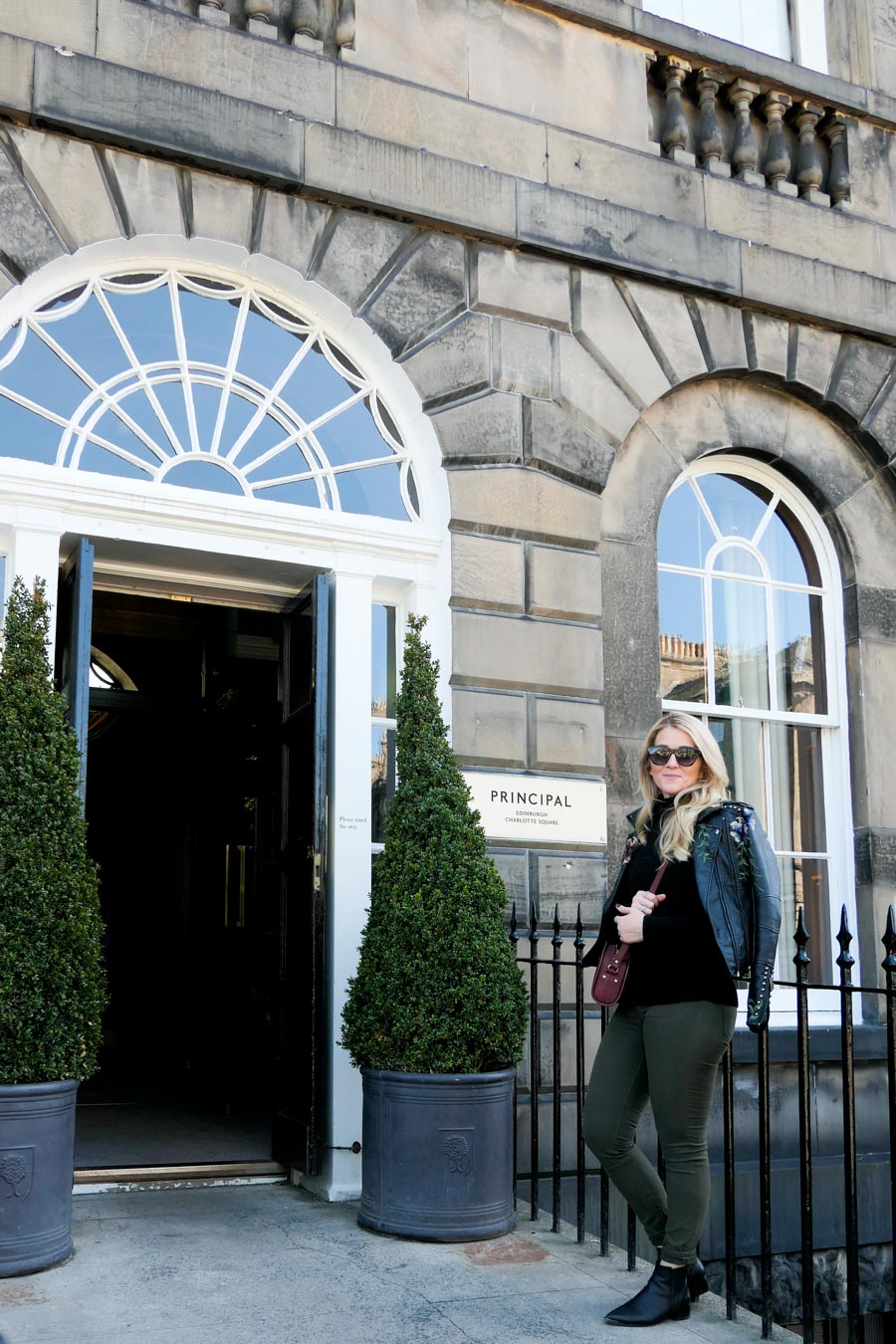 Where to Stay in Edinburgh's New Town
For our first week in Edinburgh, we opted to rent a flat through Airbnb in the Stockbridge area. For the final few days, we were ready to book a hotel and have someone else make our beds and our breakfasts – the perks of traveling, right?
Looking for a place near Old Town and Waverley Train Station, we opted for The Principal Edinburgh Charlotte Square, which is on the border between New Town and the West End. It's situated across from the beautiful Charlotte Square and if you didn't know it was there you'd walk right by it and miss a gem in the city…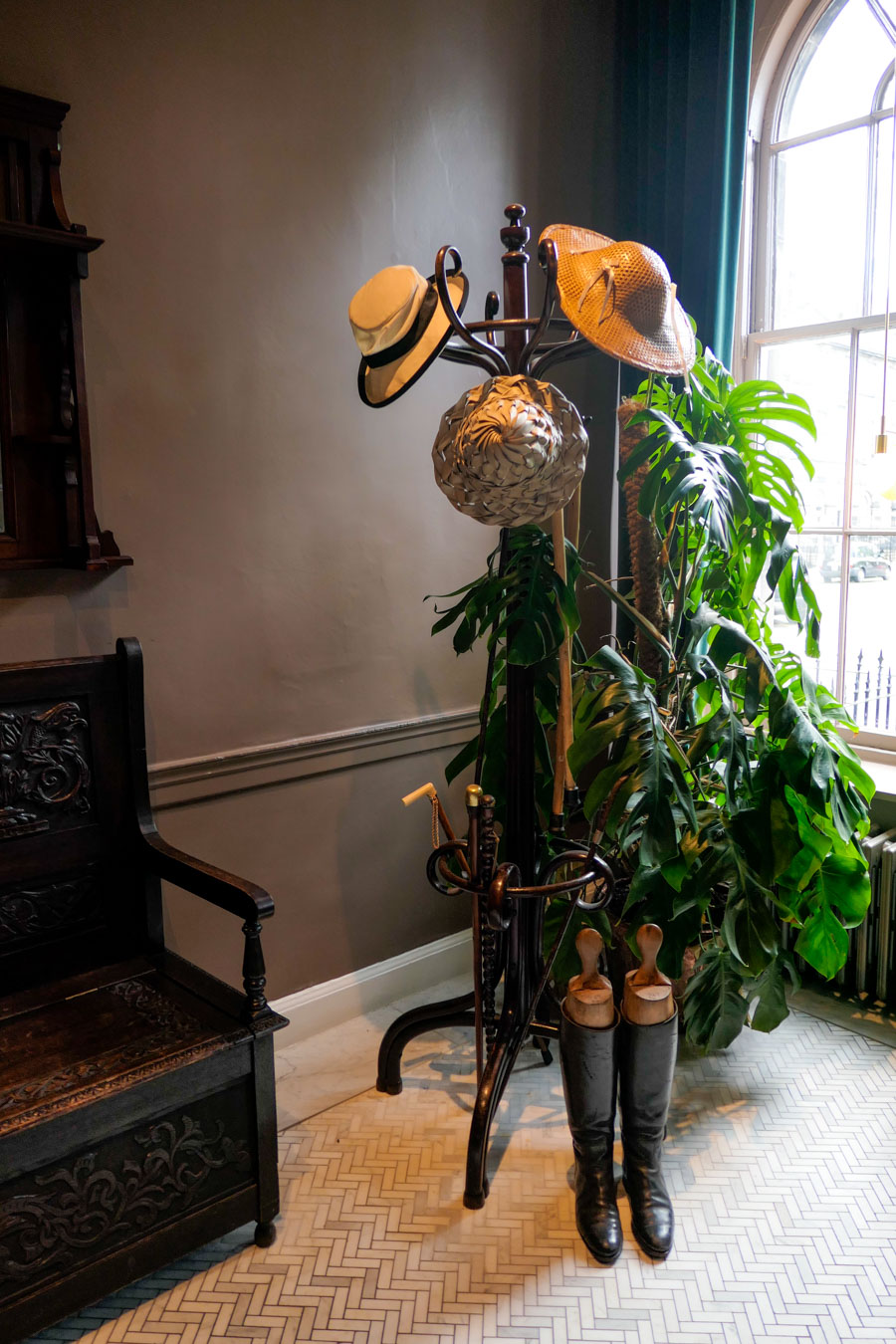 With a modest street presence, the Principal is truly a hidden gem. You walk off the street and into a cute foyer, welcoming you to relax immediately. Just past reception is where the magic really captures your attention with their restaurant. It's draped in indoor plants in all the right ways, headed by an expansive bar, and full of nooks and crannies for parties of 1 or 2 to 8 or 10.
The delicious breakfast (truly AMAZING!!) is served in here each morning, but we also enjoyed afternoon coffee and a morsel while watching others sip on wine and cocktails for happy hour.
Even if you aren't staying at The Principal, you absolutely must stop in for a drink or bite to eat! Though we were in Edinburgh in spring, a respite from the elements of Scottish weather would be well spent here. I can only imagine how great it would be during a storm or summer rain!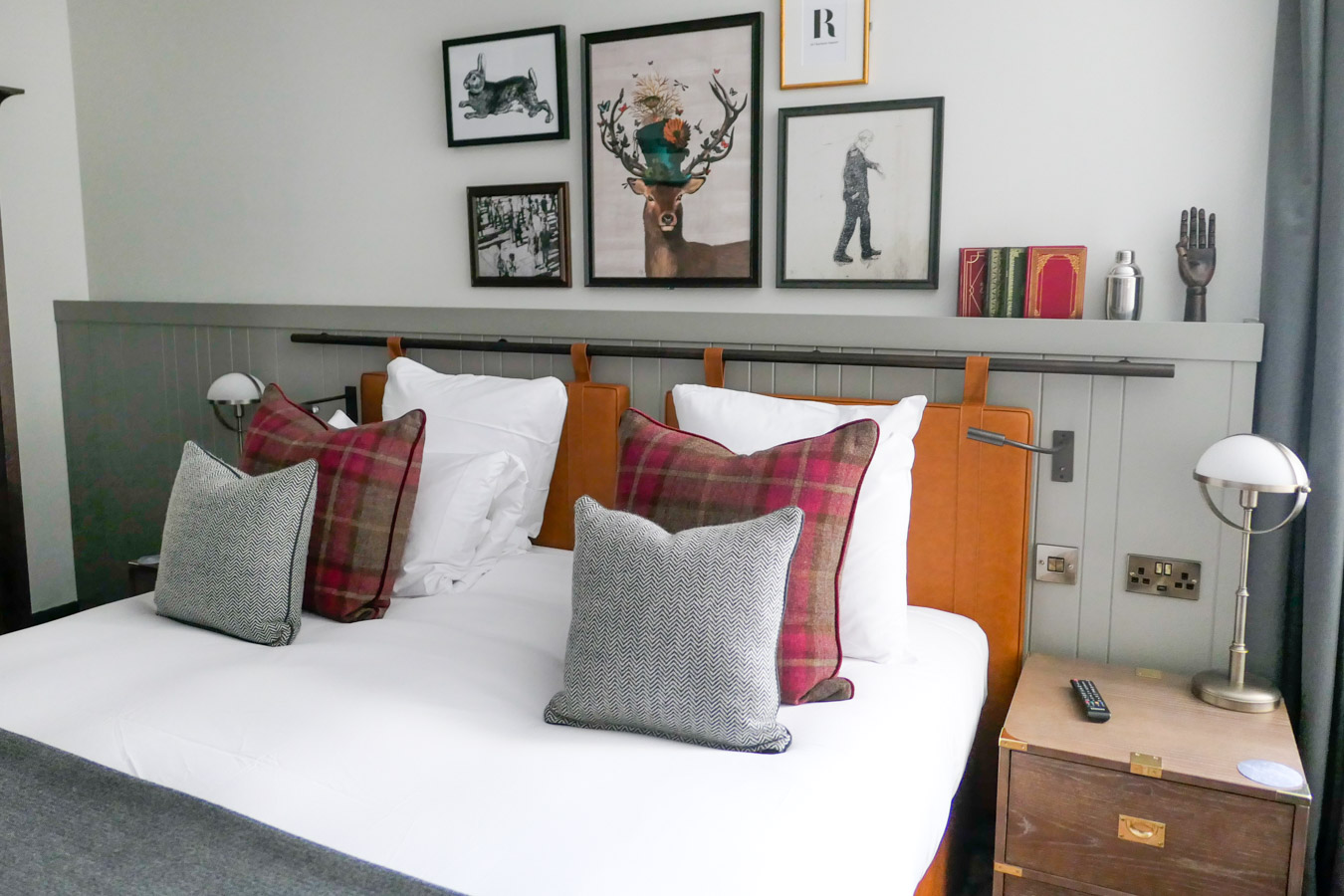 As if the indoor-garden restaurant weren't enough, the rooms are freakin adorable. They're classic, trendy, and quirky all at the same time, so you can imagine I immediately fell in love!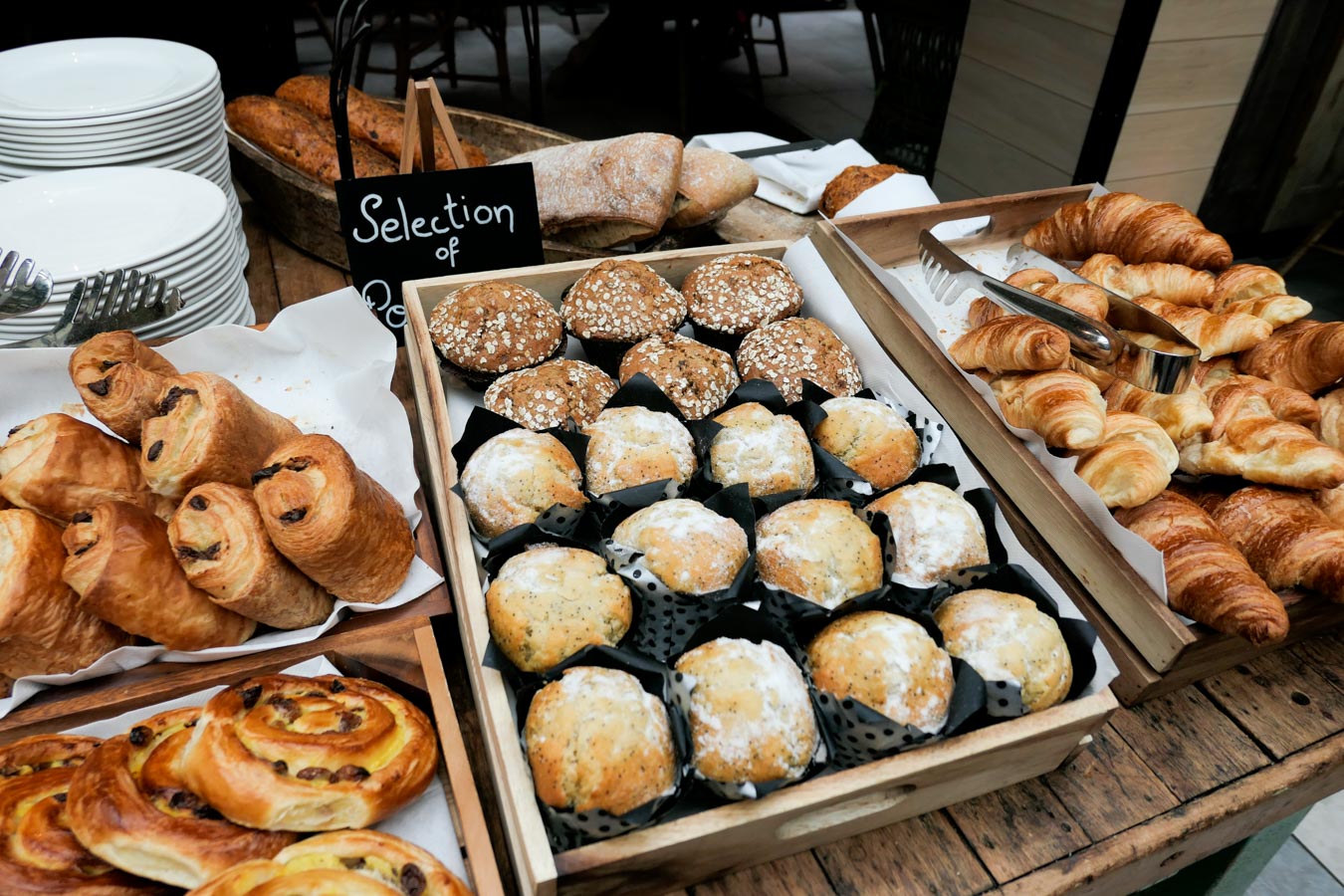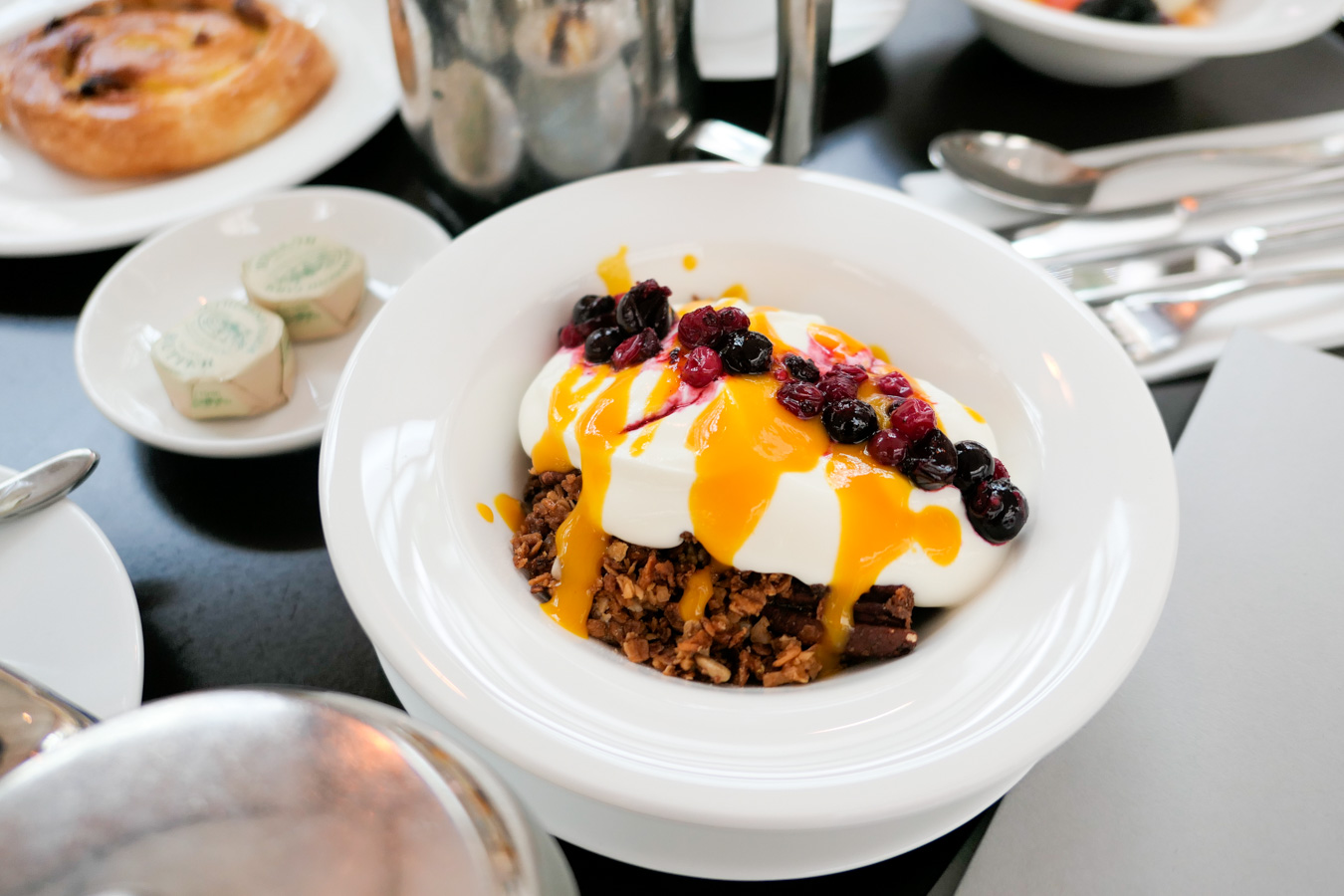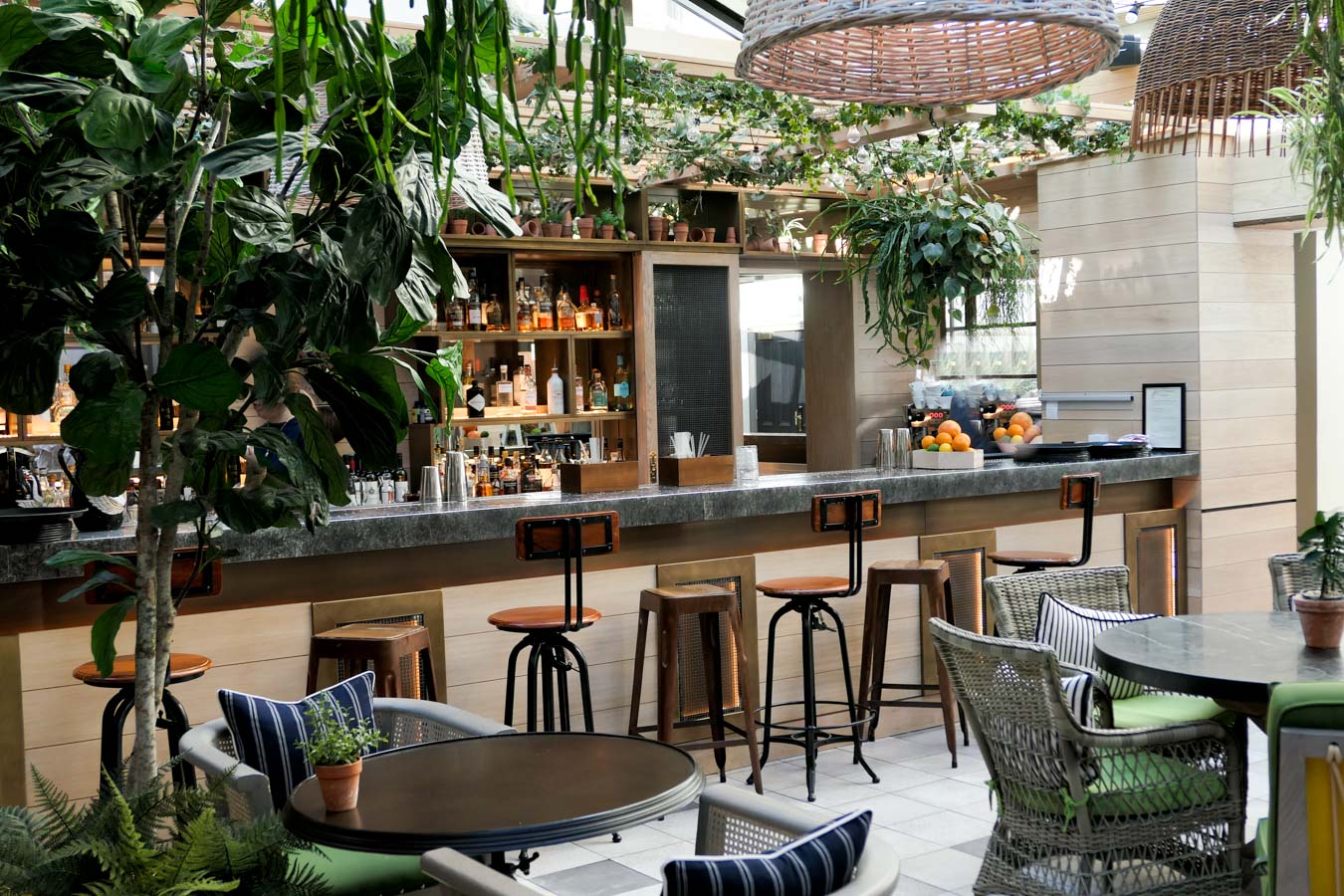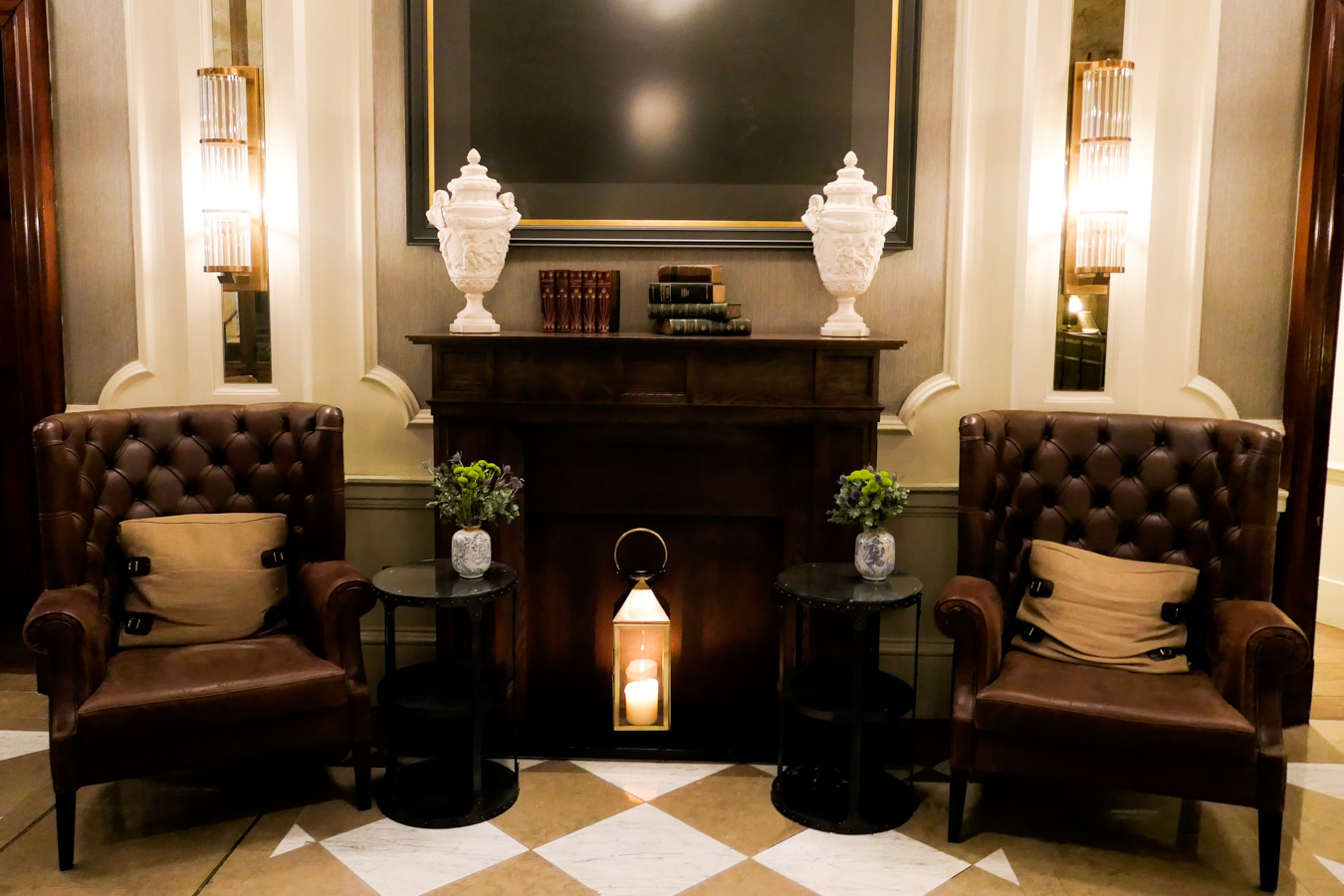 The Principal has a second location which is also a great place to stay in New Town, Edinburgh. It's The Principal Edinburgh George Street (now the InterContinental) further up George Street with tons of shopping in between. This property is much more classic and traditional, though quirks appear here and there just to remind you it's part of The Principal family.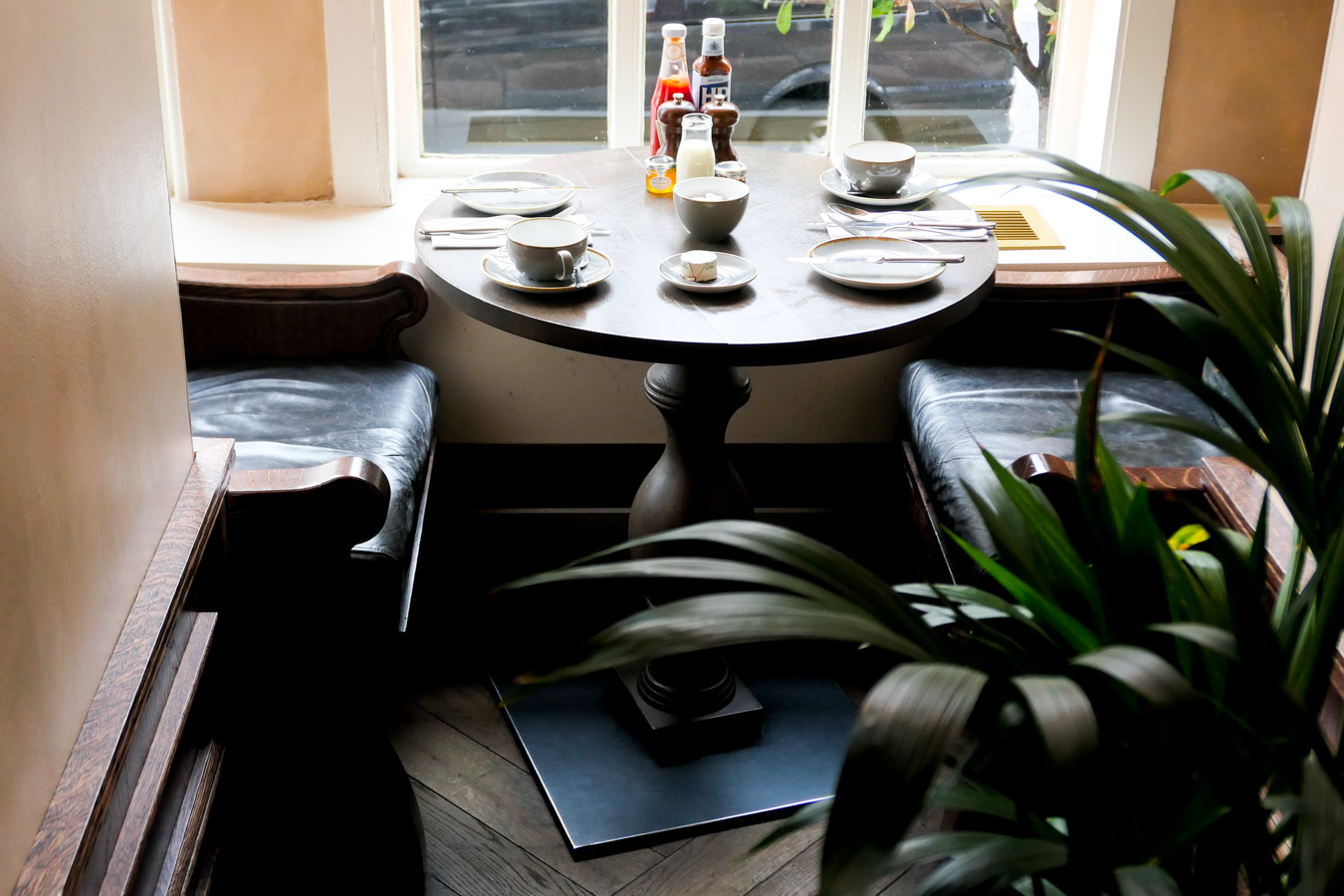 I'm not one to play favorites… well, yes I am – I am a travel blogger after all. Both properties were lovely and I'd recommend a stay at either to friends visiting Edinburgh, but the Charlotte Square hotel completely stole my heart. I love the quirks and that it's a touch off the beaten path.
The George Street property also hosts events, which can make it a bit crowded at times. The restaurant at the George Street location, however, is a must no matter where you stay in Edinburgh!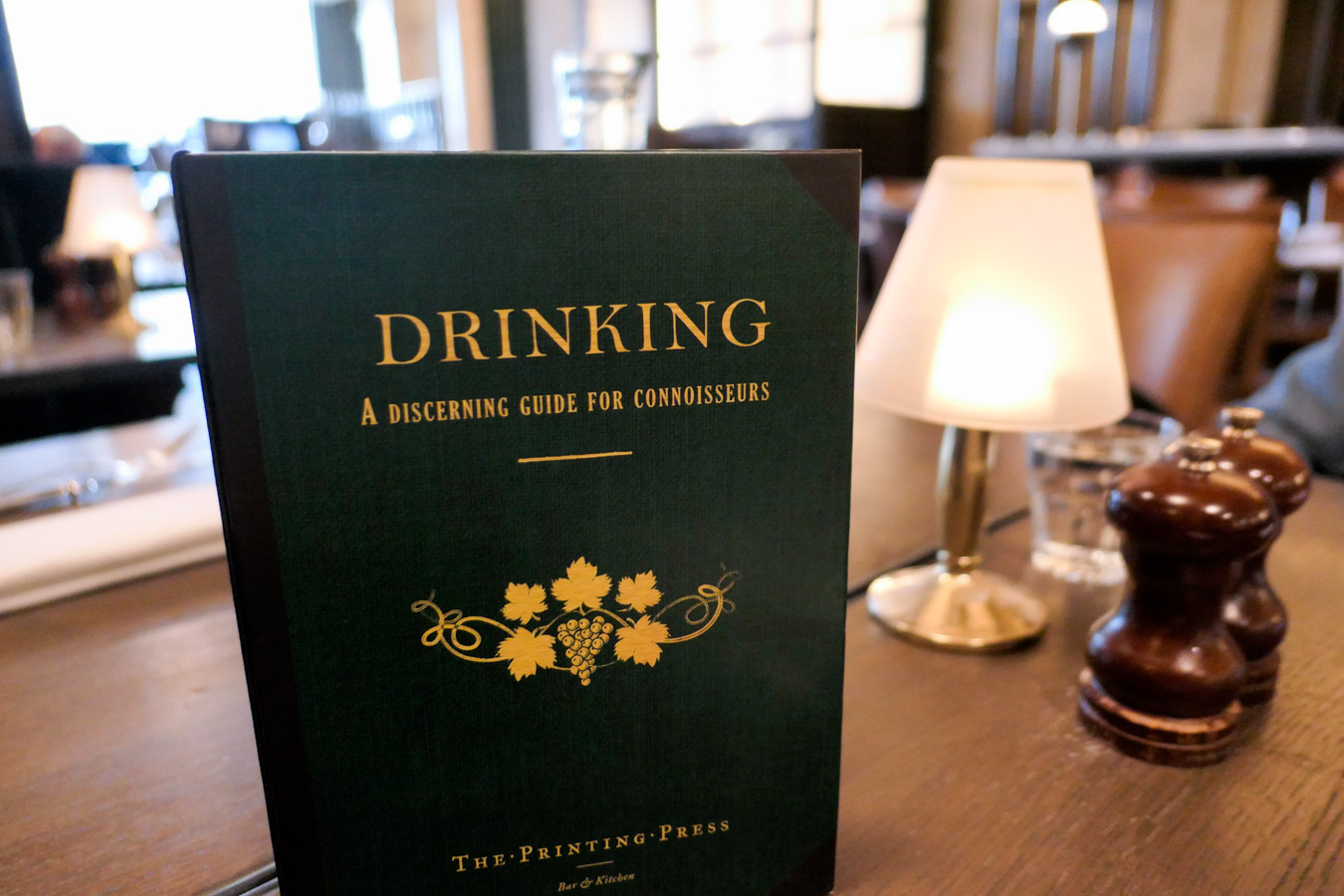 Where to Eat in Edinburgh's New Town
New Town is chock full of shopping and food from one end of George Street (and the nearby alley off Rose Street) to the other. Whether you're looking for tapas, coffee, pizza, or oysters, this is where you'll find it. And it's all delicious to boot…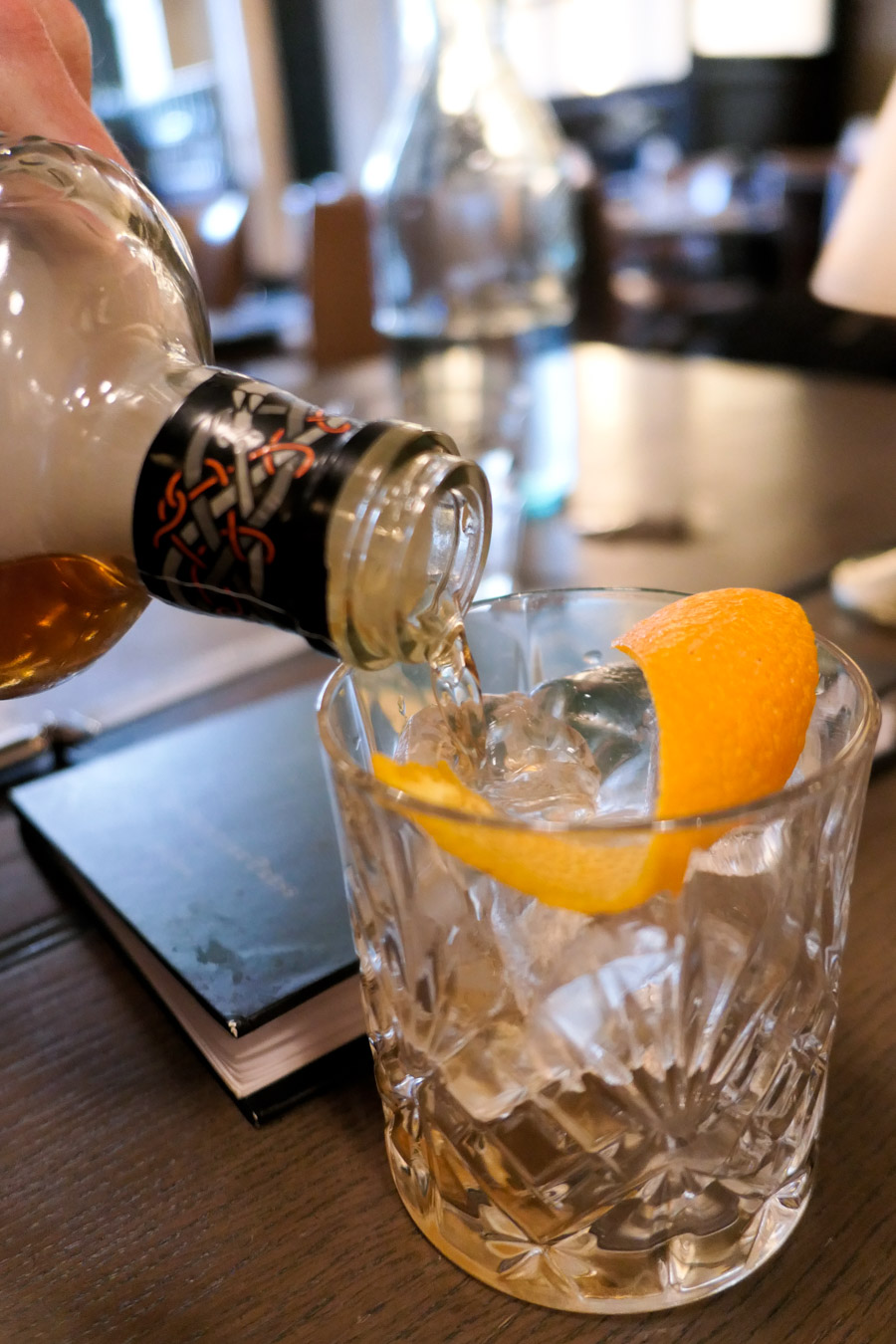 The restaurant at The Principal George Street is the Printing Press Bar & Kitchen. We wandered by on our first few days in the city and ended up making reservations only to discover at the end of our meal we'd be staying in the hotel it was apart of!
The restaurant is actually a bar and a dining area, so their drink offerings are on point. My husband and I shared this smokey (or is it smoky since we were in Scotland?) old fashioned. The bottle arrived with smoke which added about a billion percent to our cool factor!
The restaurant is a perfect little place to wander into for some respite from cold weather. Just take off your coat and enjoy!
In addition to the drinks, the menu is full of interesting and classic options. This was also where I tried haggis for the first (and only) time.
I figured I needed to try the local delicacy and it might as well have been at a fabulous restaurant accompanied with a platter of bread. (side note – the haggis wasn't terrible, but I didn't enjoy it. However much of that was mental or actual, I have no idea!).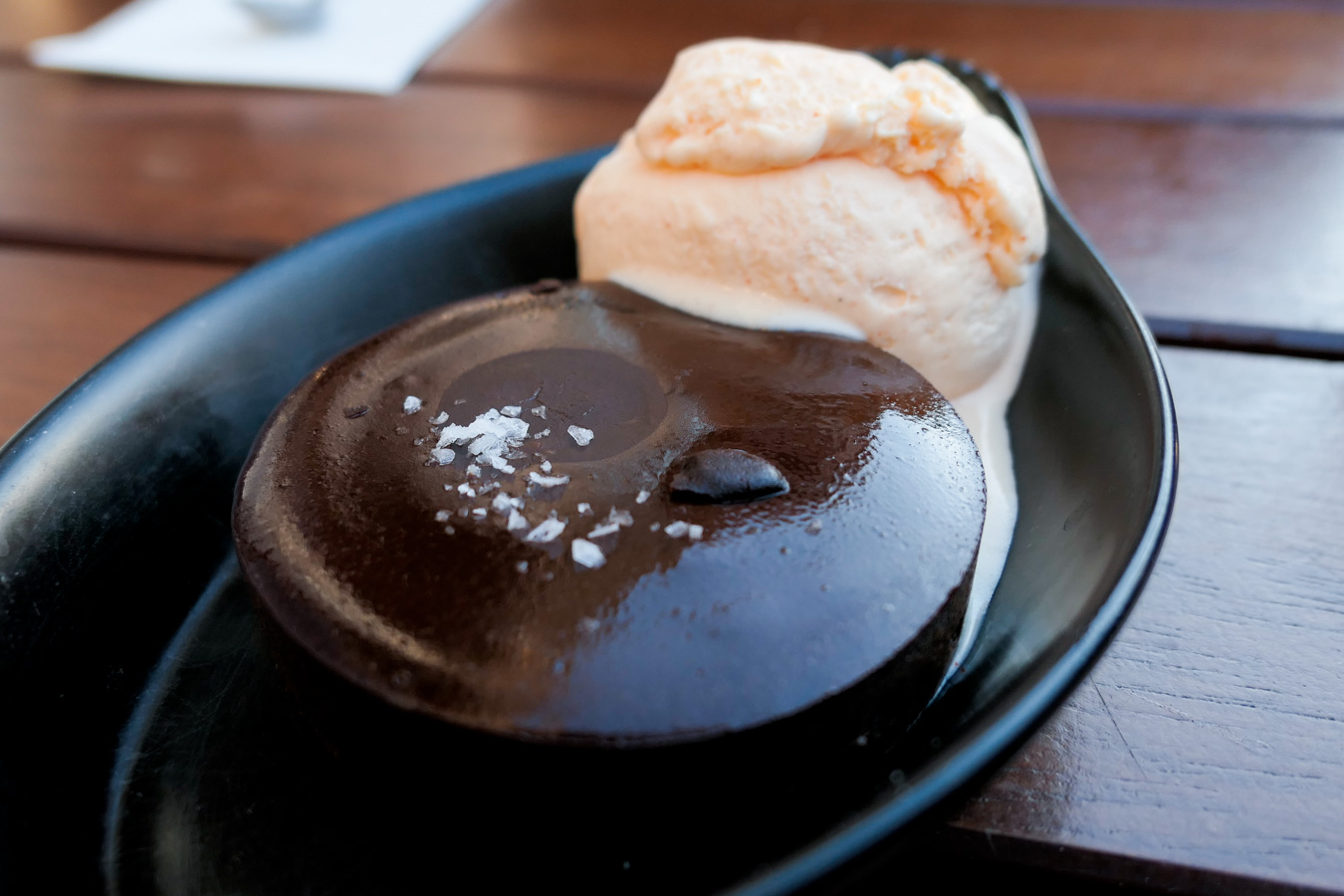 Just a block or two away from the hotel (on the east end of George Street) is a slew of other tasty spots.
First up is Dishoom Edinburgh. Dishoom is a hip restaurant in London with a few locations. It's Indian food and rumored to be AMAZING. We tried to get in a few times when we were in London, but they don't take reservations and I (we) wasn't about to stand in line for 2-3 hours for anything!
We walked into Dishoom Edinburgh with no problem. We did sit outside at the last available table, however, which helped. They take reservations for breakfast and lunch at this location.
We did really enjoy the food, so that part was totally worth all the hype. Would I wait in line for 2-3 hours? No. But again – I wouldn't wait in a line that long for any restaurant!
Dishoom was also the inspiration for my curry spiced potatoes – an easy, flavorful side dish!
Almost next door is The Refinery at St. Andrew Square. The restaurant has a cute vibe and good food. We had crab on toast, a cauliflower and sun-dried tomato side dish, and a fish entree. We finished it off with a plum sundae!
When you make a reservation (which I'd recommend at just about every restaurant no matter the night), you block off a table for a certain time. We were going to the listen to the Chamber Orchestra that night, so we got 530-730 and we left a bit early. It's an interesting way to do reservations for sure.
And then there's Amarone. Amarone is a fairly large Italian restaurant with a bar. It's great for groups (so we learned), but also a fun vibe for a small party. They have thin crust pizzas, salads, and a whole slew more. After a few weeks of Scottish food, which we loved, we opted for pizza and their salads on TWO occasions!

Coffee in New Town Edinburgh
Ok. Ok. Let's get back to the important stuff. Coffee. We tasted three coffee shops in New Town Edinburgh – each of them twice! I did it for you, ok?
The first of these was Wellington Coffee, which is a fun little shop with a corner view just below street level. The coffee is delicious and they have these slices of epic carrot cake.
We visited here on our second day and saw the cake but felt guilty having it for breakfast. When we went back for afternoon coffee on our very last day in the city, we got the last piece. What looked like 3x too much cream cheese frosting turned out to be just right!
My husband and I were in a debate about the tastiest coffee in Edinburgh (though honestly, we didn't have bad coffee at any of these cafes).
Anyway, LowDown was certainly part of the conversation. Their flat whites were perfection and the homemade cake and bread selection was to die for! I think they're mostly quick bread recipes, but the flavor combinations and the sheer beauty and quantity of each stole my heart!
The ambiance is a bit lacking, but the fact that the owner replied to my Instagram stories the day I posted them wiped away any critiques I have! This is the cafe you absolutely must tuck into (it's also below street level – just across from Wellington).
Finally, Burr & Co. is a cute coffee shop with plenty of seating (a rarity among a lot of these cafes). They have a fairly extensive coffee, tea, and morsel selection in addition to offering happy hour with beer and wine. There's fun outdoor seating as well as plenty of indoor tables!
And, of course, on our final afternoon in Edinburgh we walked by a coffee shop I hadn't seen or heard of before. I assume it magically opened up over night. That's pretty much the only explanation I can think of.
Anyway, Cairngorm Coffee is also in New Town (second location in the West End) and it looks pretty adorable, so let's add that to the list of places you need to try for me (until I get back to these Edinburgh Cafes)!
And if ever you see a bit of tiffin to enjoy, DO IT! It's a Scottish morsel that absolutely will become your favorite!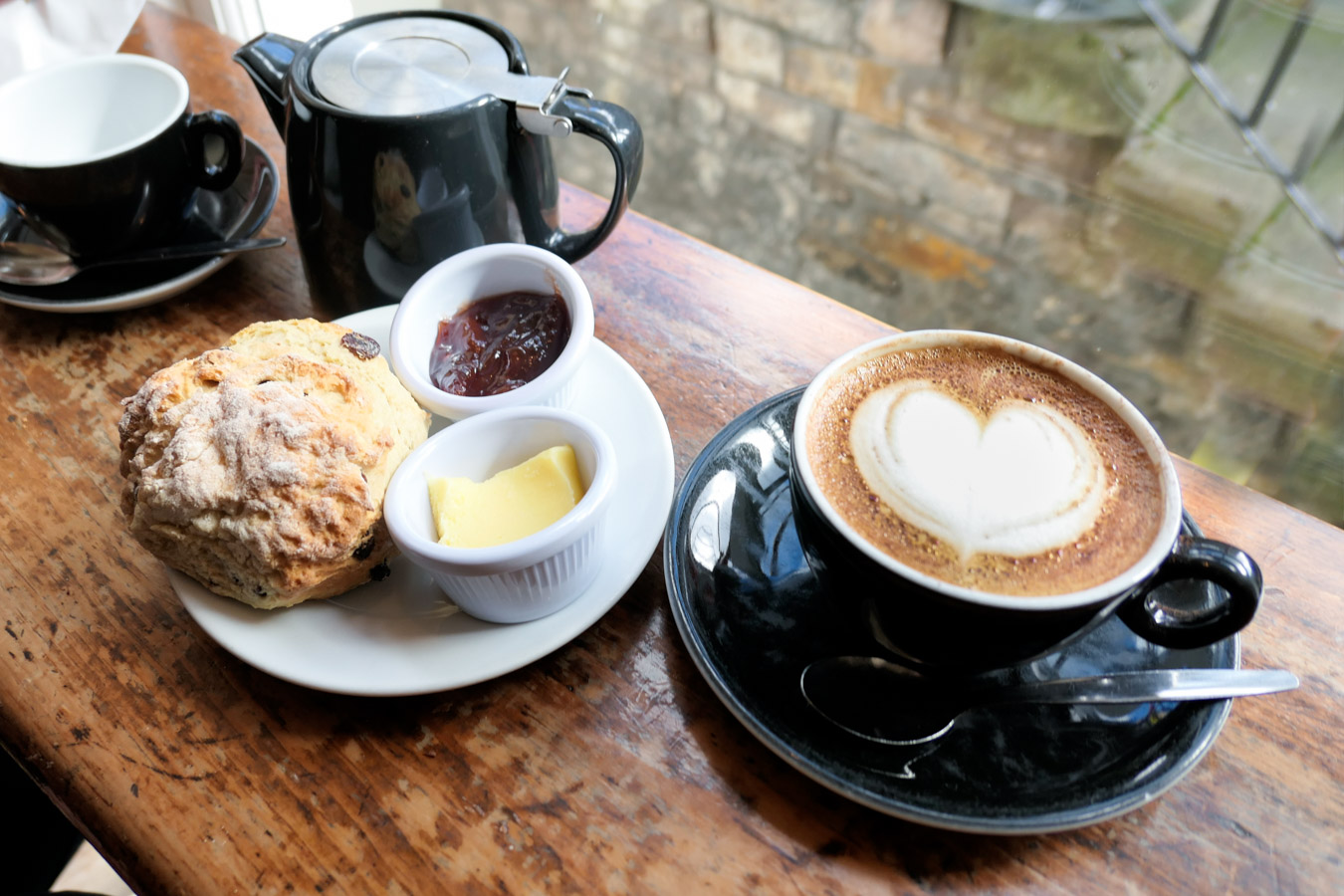 Need some more Scotland in your life? Whip up this easy scottish dessert for chocolate tiffin! Check out my other Edinburgh Guide to Stockbridge, the Fort William Travel Guide, our video diary of Shetland + Orkney, and the 5 Castles and Palaces to see in Scotland! And once your tickets are booked, you'll want to check out the 3 things I wore in Scotland.
If your trip takes you south to England, try to visit the Cotswolds (with a stop at Daylesford Farms). In London, you MUST go to Borough Market and try to schedule a London Walking Tour (available in areas across the city).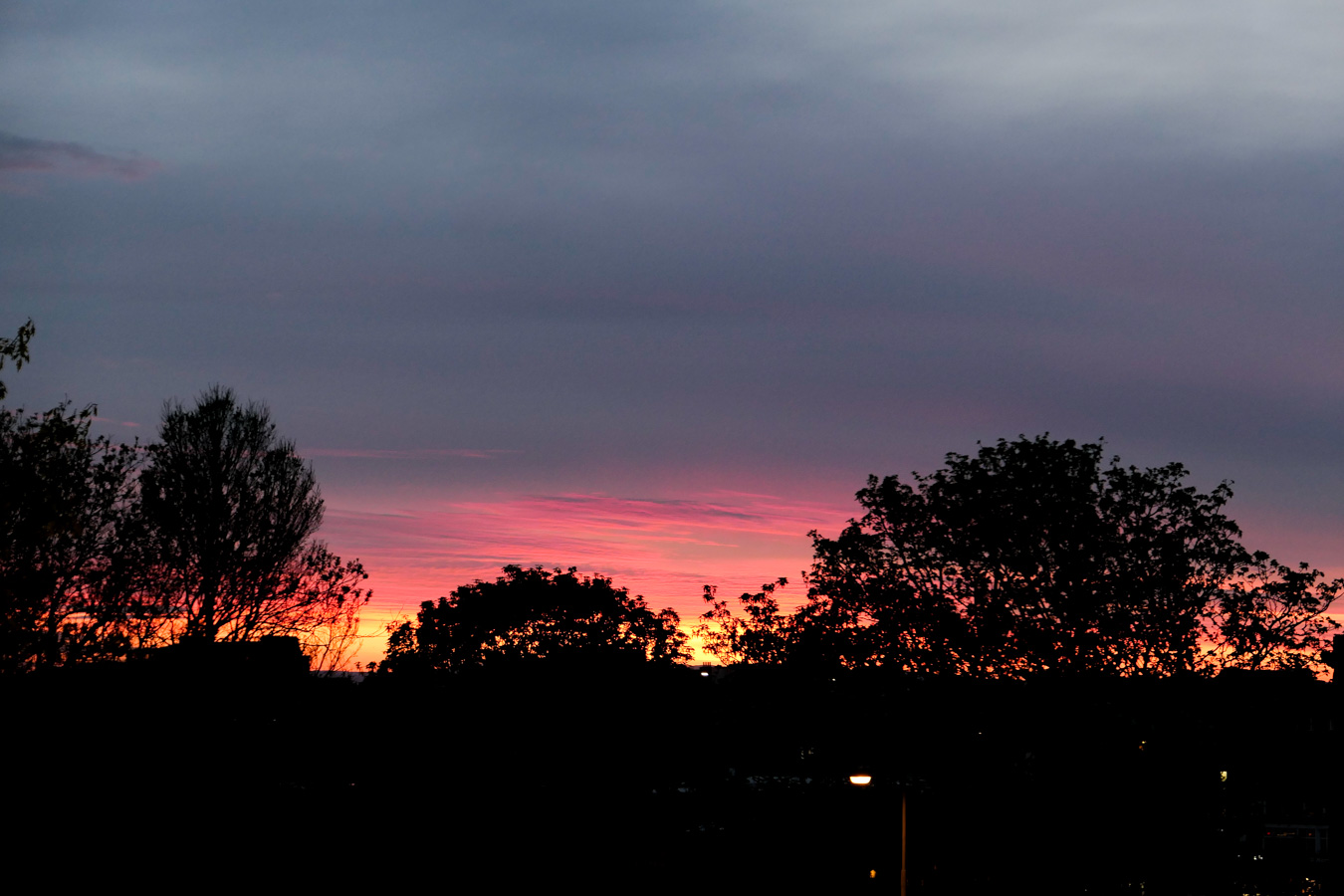 MORE CITY COFFEE GUIDES
Food, Drink, & Shopping on Abbot Kinney in Venice, CA
Where to Eat & Drink Coffee in Chicago
Coffee, Food, & What to Do in Portland, Maine
2 Day Visit to Seattle, Washington
CANADA
Vancouver Must Visit Restaurants & Coffee Shops
Best Coffee Shops in Victoria, B.C.
Thank you to The Principal Hotels in Edinburgh for hosting part of our stay. As always, all opinions are my own.