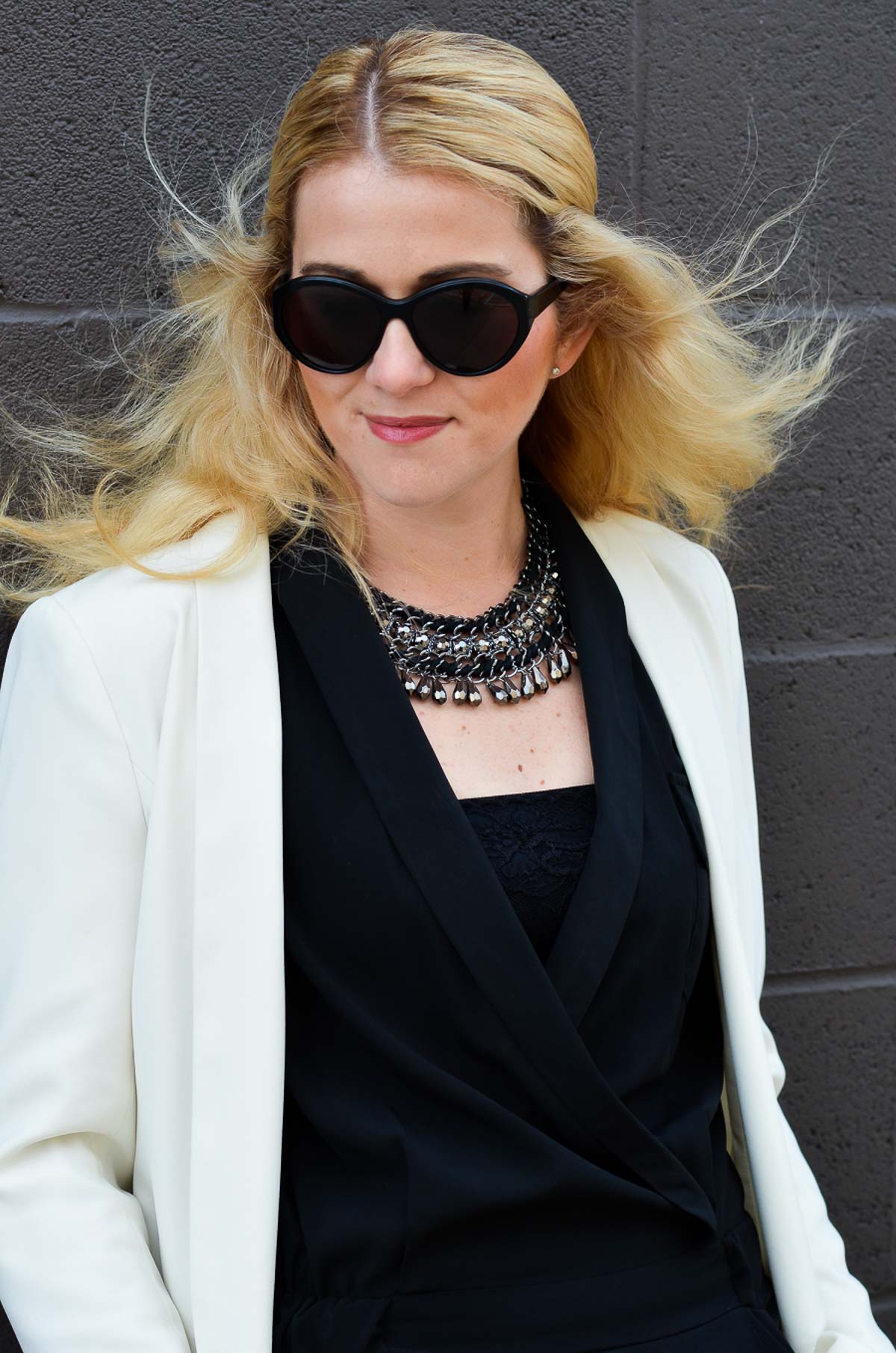 Because sometimes a jumpsuit is just the right thing, isn't it?! My sleeveless jumpsuit has been on hiatus this winter, but I pulled it back out for spring and I'm reminded how much I love this style. I wondered at first what to wear over a sleeveless jumpsuit since it isn't quite warm yet.
KUT from the Kloth Sleeveless Jumpsuit (similar via Eddie Bauer and Wear Pact)
Trouve Blazer | black lace bandeau
Louise et Cie Shoes | Statement Necklace
Elizabeth & James Sunnies | Clinique Lips

What to Wear Over a Jumpsuit
I paired it with this white blazer and my favorite camel color heels. This black and white contrast in fashion is always appealing to me and the addition of the camel is a go-to for me as you all know.
I think I might need to replace this jumpsuit for a new one soon. I like this relaxed, summery option and this short-sleeved version with ribbed cuffs at the bottom – great with heels, flats, or maybe sneakers!
If you're wondering what to wear over a sleeveless jumpsuit, I recommend a light blazer like this. You can always take it off. And as temps really start to warm up, you can wear just a bandeau underneath with little skin exposed and you'll be cool.
And because we want to rewear our clothes as much as possible, check out how to wear a jumpsuit in winter!
Get more ideas for spring and summer outfit ideas here!

Darker Lips for Spring
I recently read that darker lips are in for spring still, so I'm going to continue wearing my favorite sheer, Clinique Black Honey color.
If you haven't tried it yet, I recommend it. It goes on so easily and matches your natural hue for a less intense, bold lip.
It's the perfect foray into darker, bolder lips without anything too threatening. Honestly, I may not ever venture into anything much darker!