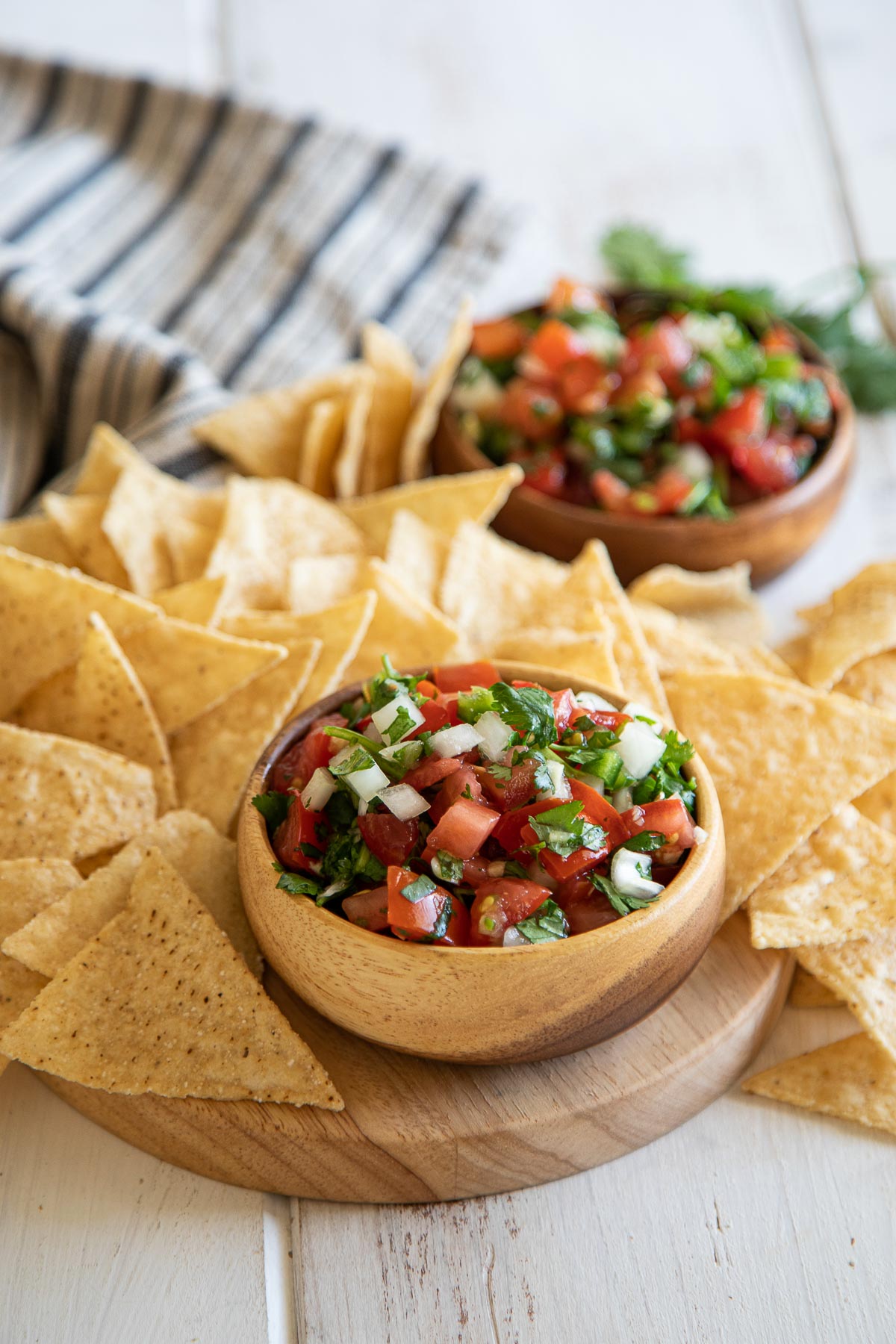 Some recipes just stand the test of time. This homemade pico de gallo recipe is probably the ultimate in always good recipes.
I originally shared this recipe in the summer of 2014. I'd made it for years (since a terrible college boyfriend taught it to me – something good came from that!). But then in about 2016, it started to gain some traction on Pinterest. And for the next 3 or so years, it was my top post year round!
I've made friends on Instagram from people tagging me, sharing a photo of their fresh salsa. It really is a dish that brings people together!
It also made my husband feel famous! One of my old photos included his thumb (see it on Pinterest here), holding a chip. And when it started getting thousands of views and website visits, he and I joked that it was certainly because of him! Probably it's just because it's a great recipe, but I'm never gonna tell him that! He's too wonderful!

Authentic Pico de Gallo Recipe
Fresh salsa is delicious in many forms, but there's something magical about homemade pico de gallo. The flavors are more fresh. The chunks provide a great consistency whether you're enjoying it with chips, on a taco, or on a Mexican Balance Bowl.
One of the most important things about getting this pico recipe right is letting the ingredients sit for a bit.
Don't get me wrong. It'll be tasty just after you make it, but if you give it a few hours or even a day… well, you just won't regret it. The flavors merry and magic takes place, I think!
I will give you a bit of warning that there is a decent amount of chopping involved here. It also makes a lot so invite your friends over to enjoy it or even to help you whip it up.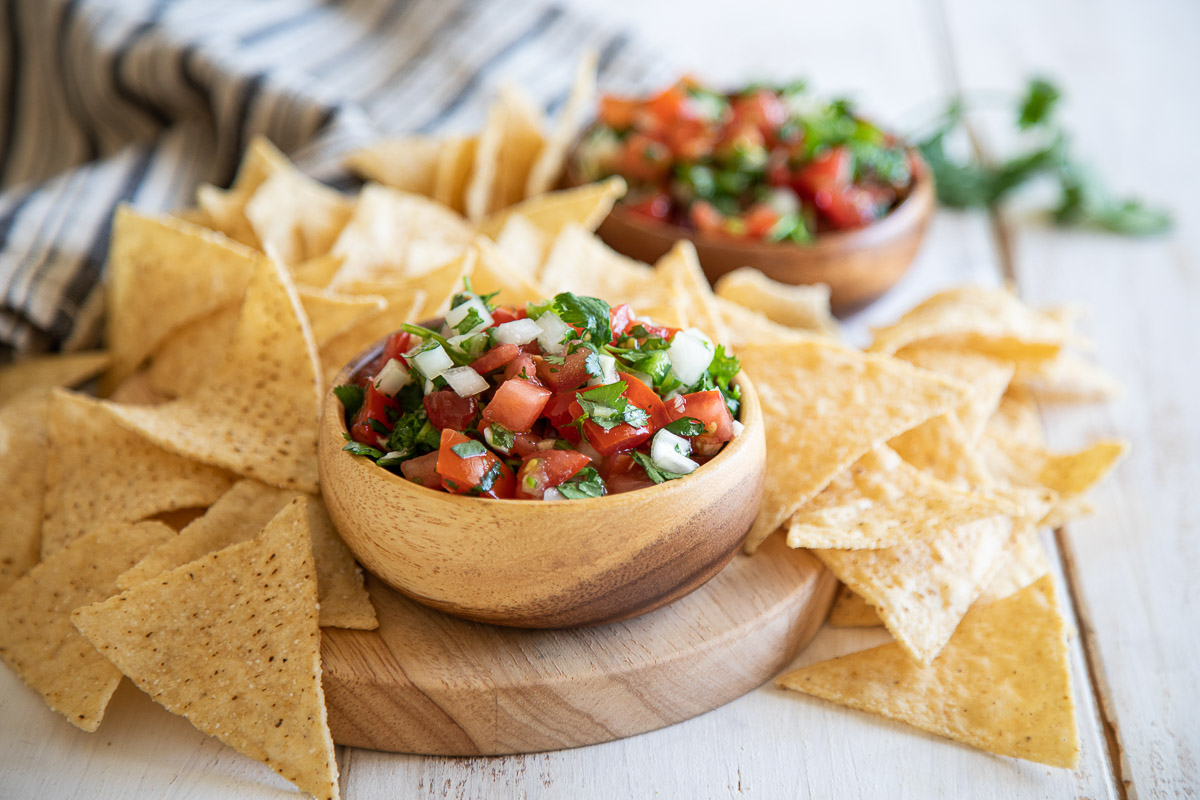 Salsa Ingredients
When it comes to making salsa, almost all recipes start out the same way. Tomatoes (obviously), cilantro, garlic, and usually onion.
Beyond that, there's a little debate in regard to onion, garlic, and jalapeno. Now while the amounts of these three ingredients is certainly up to preference, I don't think omitting any one of those would be a travesty.
Be sure to check out how to store fresh herbs and tomatoes properly!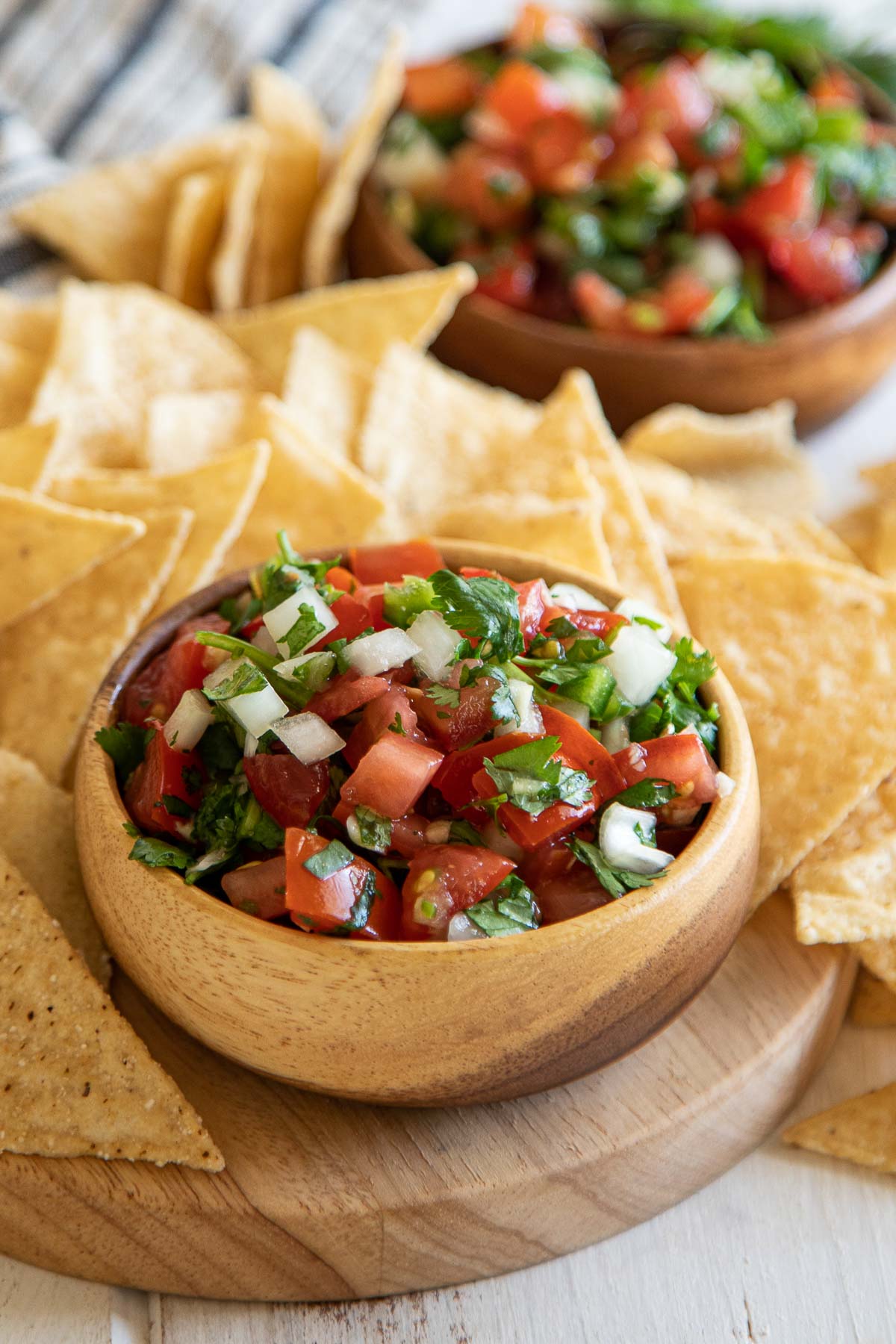 But beyond these basics, I'm actually a fan of just the original. I know of lots of fruit salsas, doing different things to your tomatoes, and all that jazz.
With the exception of fire roasted tomatoes on occasion, I think these twists are good occasionally (especially this cilantro strawberry salsa situation – delicious!). But when you just need so good ole chips and salsa…go with the authentic pico de gallo!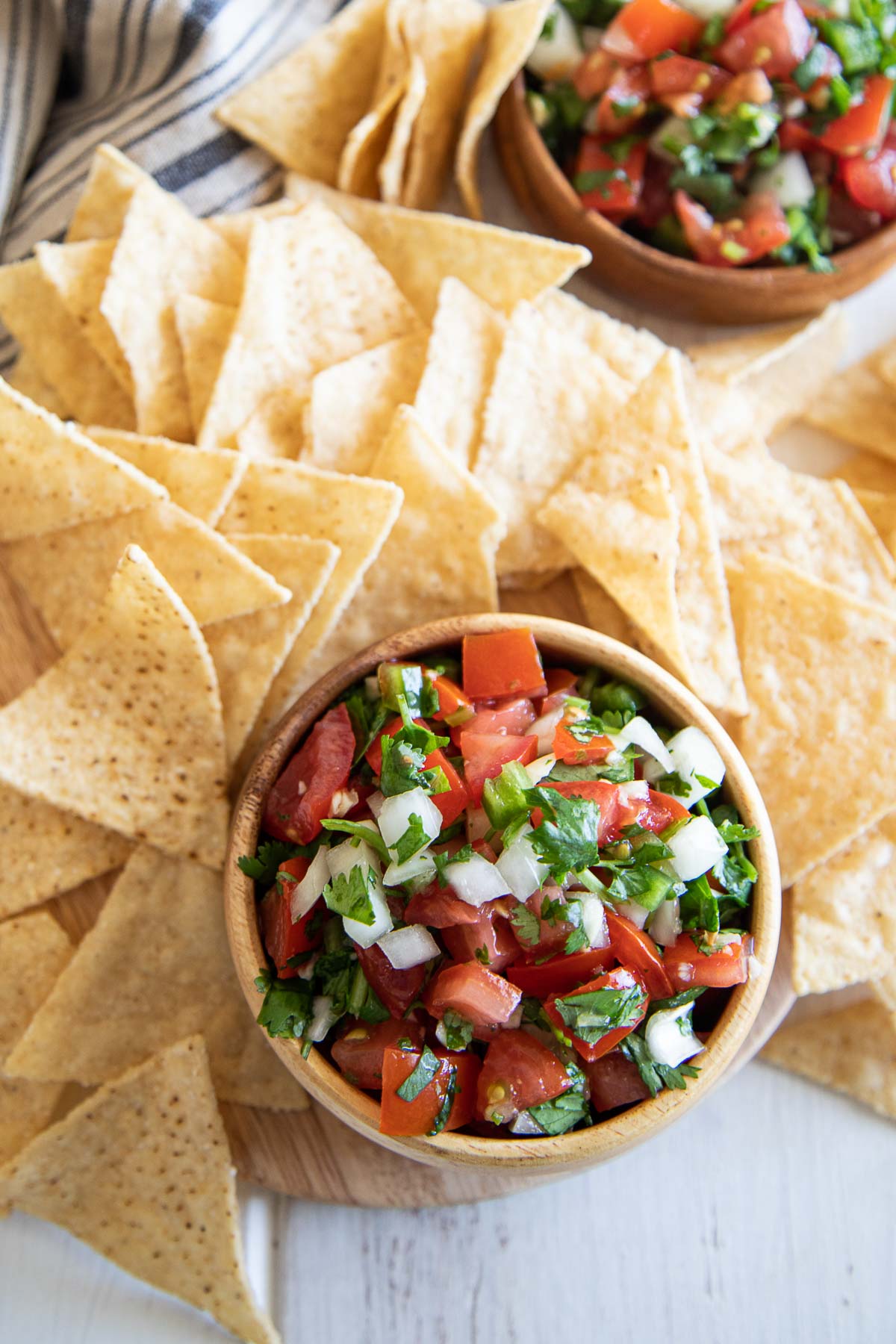 Can you make salsa in a food processor?
I get asked pretty frequently if you can make pico de gallo in a food processor. It really is a lot of chopping, so I get it. Obviously the consistency will be totally different, but you can do MOST of this recipe in a food processor…
The garlic and jalapeno are PERFECT in a food chopper (in batches or by ingredient) or processor. The onion, however, isn't. You end up getting finely chopped onion and onion juice (gross!).
So if you want to use the food processor, I'd just recommend chopping the onions by hand. Then you'll have the perfect dip for chips or topping for tacos!!
How do You Pronounce Pico de Gallo?
It's pronounced Peek-oh, day, Guy-Oh!
What's the difference between salsa and pico de gallo?
Pico de gallo is a raw mix of fresh ingredients that usually quite chunky (also called "salsa fresca."
Salsa in Spanish directly translates to "sauce," so there isn't a single type of recipe. Salsa can refer to raw and/or cooked ingredients (or sauces that aren't salsa-like at all to us Americans). Oftentimes salsa has a thinner consistency as well.
What ingredients are in pico de gallo?
It's a delectable combination of fresh tomatoes, cilantro, garlic, onion, lime juice, and jalapenos (a few or a lot).
What to Serve with Pico de Gallo?
Besides the obvious answer of delicious chips (we prefer white corn to yellow corn), there are a host of tasty recipes to serve with pico.
Veggie, shrimp, or meat fajitas are great and easily made at home with a homemade fajita seasoning mix! That seasoning also goes into these wild rice stuffed peppers, my one pot Mexican casserole, and my 7 layer sweet potato dip (vegan)!
It's also great atop quesabirria tacos (or any tacos for that matter)!
If you want to keep things lighter and healthier, try this roasted veggie salad with cumin dressing and Mexican fruit cups!!
To drink you'll love easy mango margaritas!
And for dessert, this Mexican Chocolate Cake is a favorite in our family!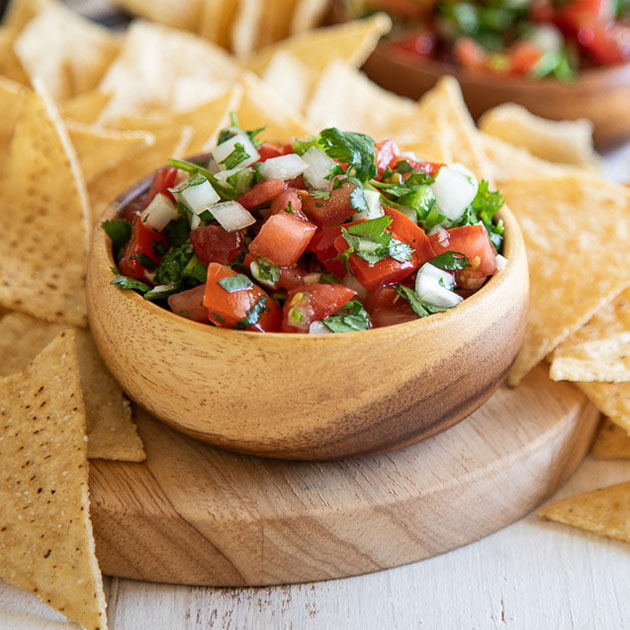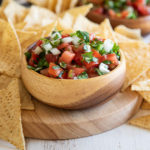 Print Recipe
HOMEMADE PICO DE GALLO
There are so many fancy recipes that foodies and recipe creators dream up, but sometimes the basics are better than anything new. This pico de gallo recipe is just a delicious combination of great flavors. It makes a lot and it never seems like too much!
Ingredients
5

cloves

garlic

minced

2+

jalapeno peppers

seeded, deveined and finely chopped

4-5

cups

finely chopped roma tomatoes

1 ½

cups

finely chopped onion

1 ½

cups

chopped cilantro

1

teaspoon

salt

½

teaspoon

lime zest

3

tablespoons

lime juice

approx. 1-2 limes
Instructions
Combine all ingredients in a large bowl and refrigerate (at least an hour – better overnight).

Season with salt and lime juice according to taste.
Notes
Seeded jalapeno peppers are not that spicy in this salsa. Feel free to continue adding peppers to reach a mild heat – of course spice is all to taste!
Save this recipe on Pinterest!
Make this recipe? I'd love to see how it turned out…
PINTEREST: Upload a photo and your review to this Pin!
INSTAGRAM:  Tag me @lucismorsels and use #LMrecipes
Nutrition
Calories:
26
kcal
|
Carbohydrates:
6
g
|
Protein:
1
g
|
Fat:
0.2
g
|
Saturated Fat:
0.03
g
|
Polyunsaturated Fat:
0.1
g
|
Monounsaturated Fat:
0.03
g
|
Sodium:
200
mg
|
Potassium:
242
mg
|
Fiber:
1
g
|
Sugar:
3
g
|
Vitamin A:
819
IU
|
Vitamin C:
17
mg
|
Calcium:
17
mg
|
Iron:
0.3
mg