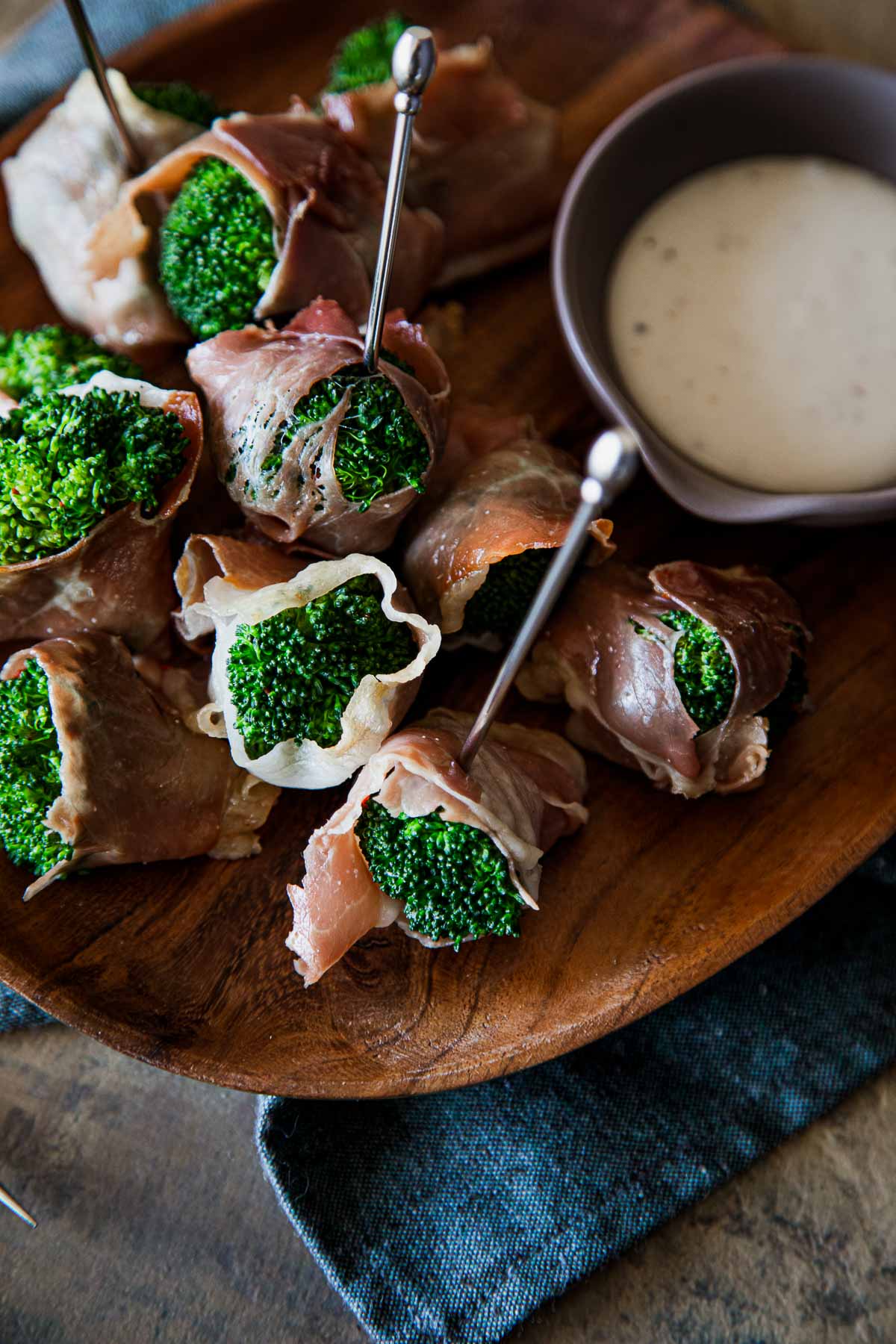 Did you know there aren't enough broccoli appetizer recipes in the world? Broccoli is such a staple vegetable for so many people and there are so few appetizers (usually cheesy and/or fried), but we're changing that here and now!
If you're thinking, wait, it's usually prosciutto wrapped asparagus, you're right! So why not take the delicious simplicity of that and use it with broccoli?
Broccoli florets are such a simple finger food (unlike asparagus spears) and I find the tastiness of broccoli to be far more consistent and dependable than asparagus.
Did you know broccoli is a great winter and spring produce item?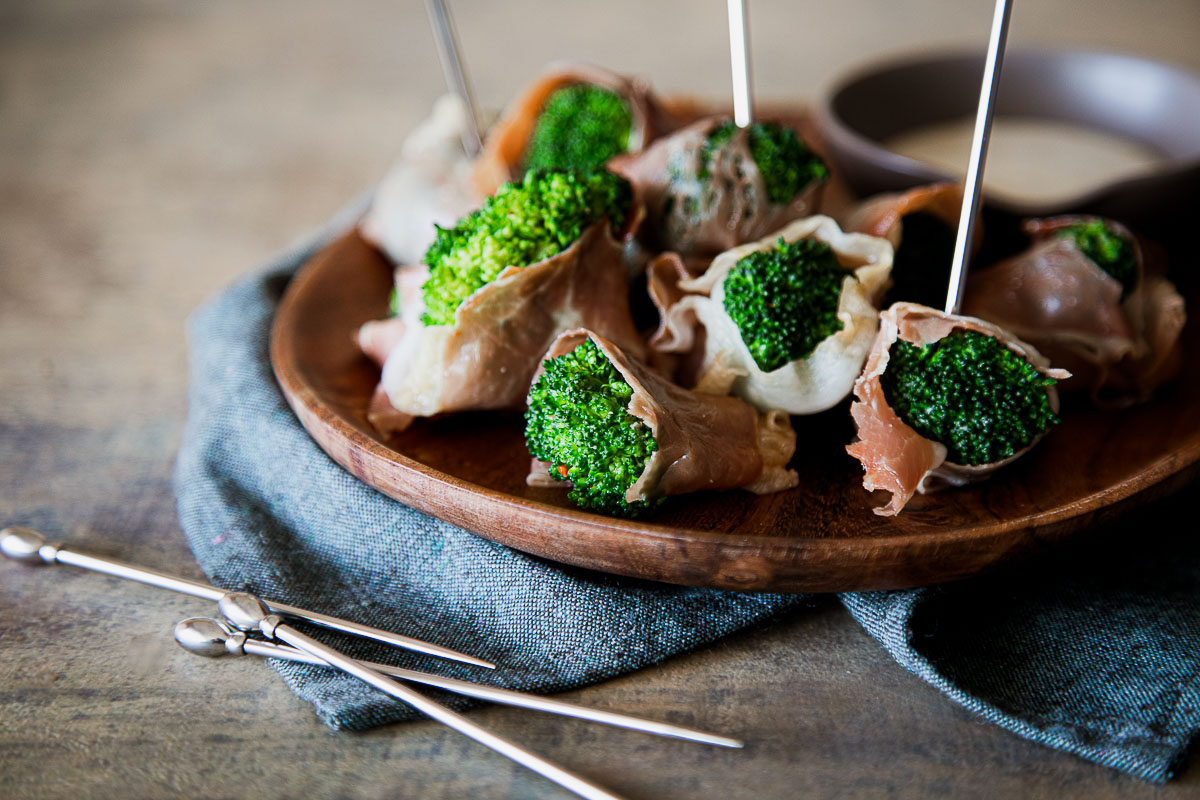 Broccoli Appetizer
If you've been around long enough, you'll know that broccoli hasn't always been on the menu in our house. I've loved it I think for my entire life. My husband, however, detested broccoli until about 3 years ago.
After switching to his Low FODMAP diet and the limitations on fruit and vegetables, I'd finally had it one day at the market. Technically he could eat broccoli, he just didn't like it. So I decided (without his input), that we were going to have it one night, even if we had to smother his in cheese.
So I roasted broccoli in our toasted oven with olive oil, salt, and pepper. Super simple. The florets crisped a bit and apparently I'd nailed the saltiness – a fair accomplishment considering I never measure salt! He LOVED them. It was an epic moment in our lives!
He still doesn't love plain, steamed broccoli, but roasted is now a mainstay on our dinner rotation (and thankfully our kiddo likes it too).
So this latest broccoli appetizer recipe is right up his alley (please note that seasonings called for in the recipe are not low FODMAP).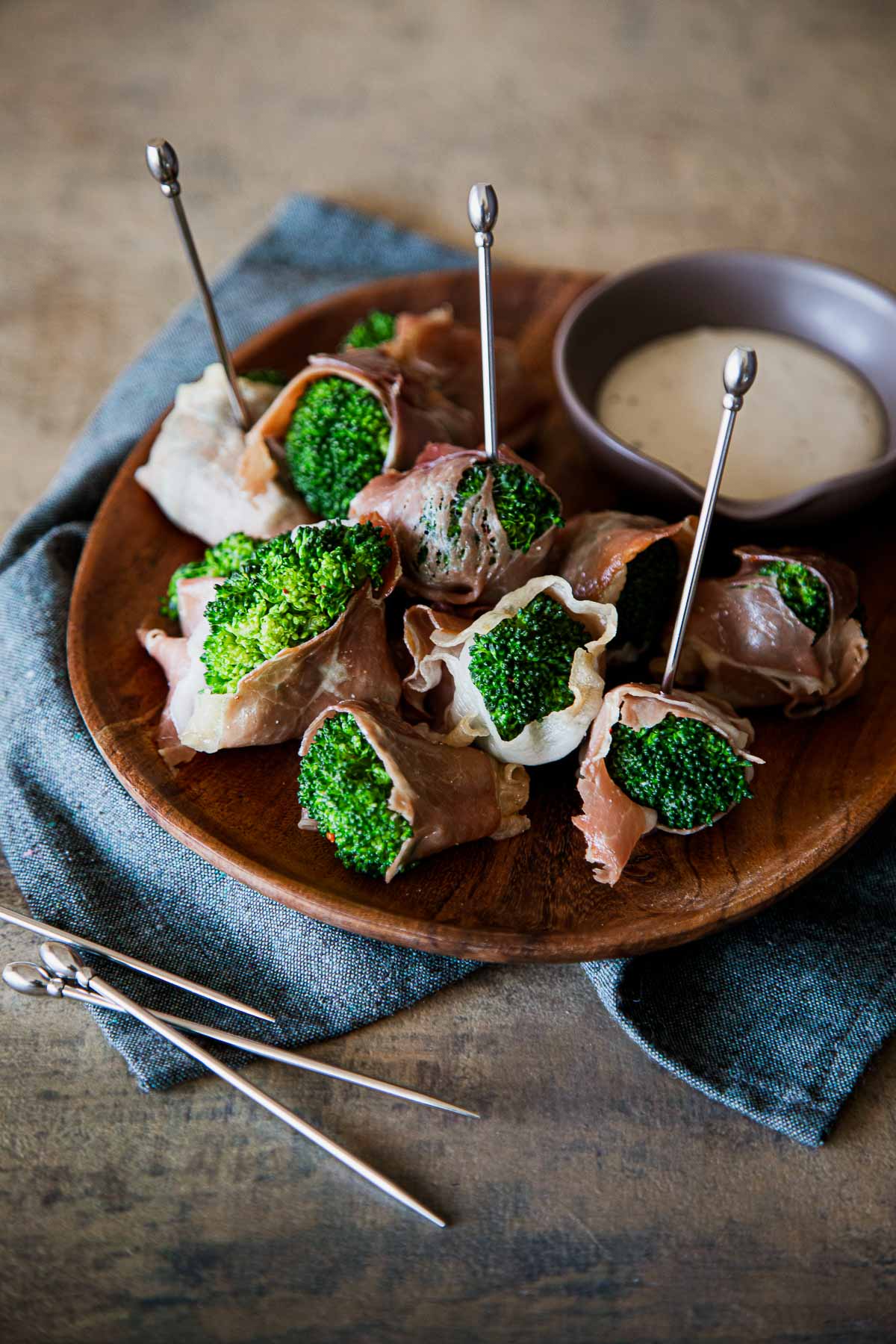 What to serve with Broccoli Appetizer
So, first of all, these are a fabulous appetizer that don't take much time to pull together (seriously). If you wanted, you could also steam the broccoli ahead of time and then just wrap and roast just before serving!
And skip the disposable toothpicks for some cocktail skewers that are just right for starters. Also fabulous in cocktails like this spiced pear martini.
These broccoli and prosciutto florets are quite tasty, but a little dressing dip really makes it tasty – not to mention, the dip makes it an incredibly versatile dish as you can change the dressing depending on who's eating your dish.
Three options for dressing include ranch, caesar, and a vinaigrette. Ranch tends to be a favorite (especially among kiddos and me!), so that's probably the best option for a wide range of palettes.
The caesar dressing would be great for an adult audience. The tang is quite delicious with the broccoli! And the vinaigrette is certainly a more refined option. If you're making this for a bigger crowd, you could always offer more than one dipping option of course.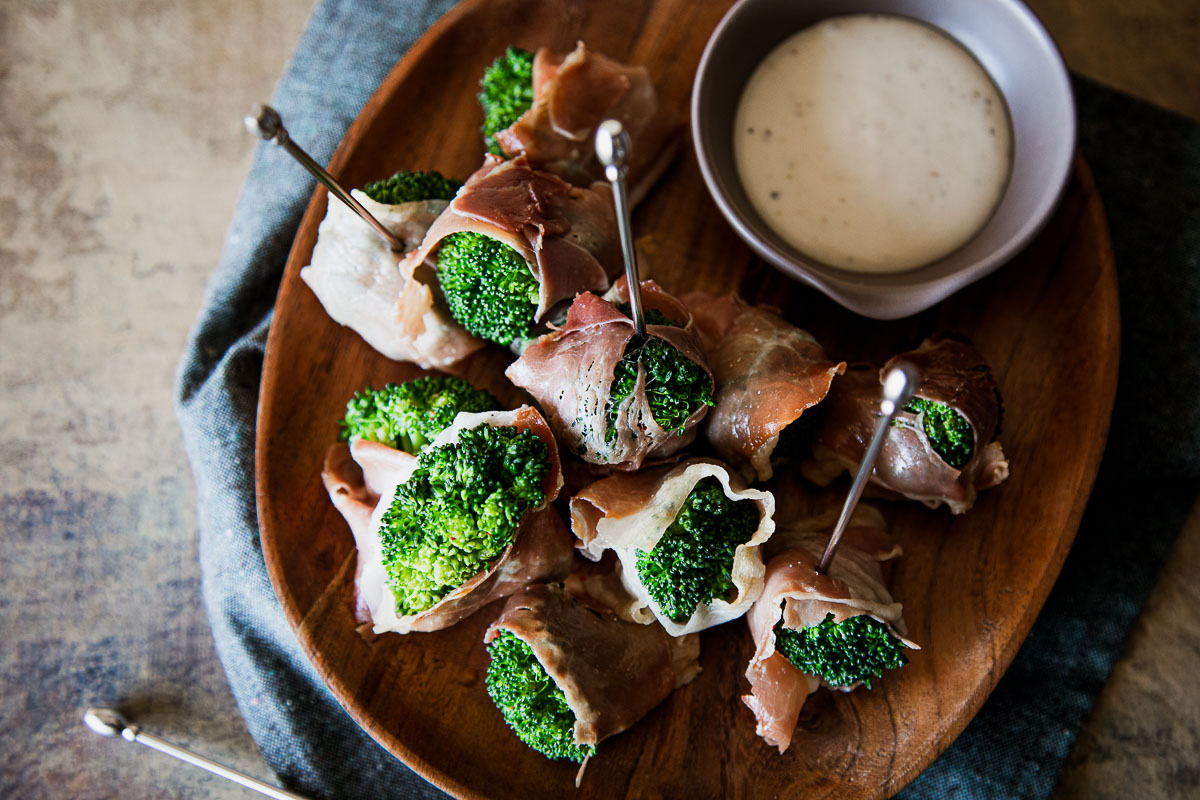 Broccoli Recipes
If you love broccoli (or just have a fair bit on your hands), you'll also want to try this broccoli potato soup (vegan), this roasted grape and broccoli salad, our go to prosciutto broccoli floret appetizer, this cashew, broccoli pasta (vegan) and our healthy sesame chicken with broccoli.
Prosciutto Recipes
Since we're all about avoiding food waste around here, let's make sure we're using up the prosciutto as well. It's only really good for a few days after opening, so you want to make sure you've got it taken care of.
In the fall, these pumpkin butter prosciutto toasts are HEAVENLY! Any time of year, however, prosciutto is a must on a brunch charcuterie board or any cheese board really!
SEASONAL RECIPE COOKBOOKS
DELICIOUS RECIPES TO ENJOY PRODUCE TO ITS FULLEST ALL YEAR ROUND. SIMPLE AND DELICIOUS RECIPES MADE FROM SCRATCH FOR YOUR FAMILY AND YOUR GUESTS ALL YEAR LONG!
SHOP NOW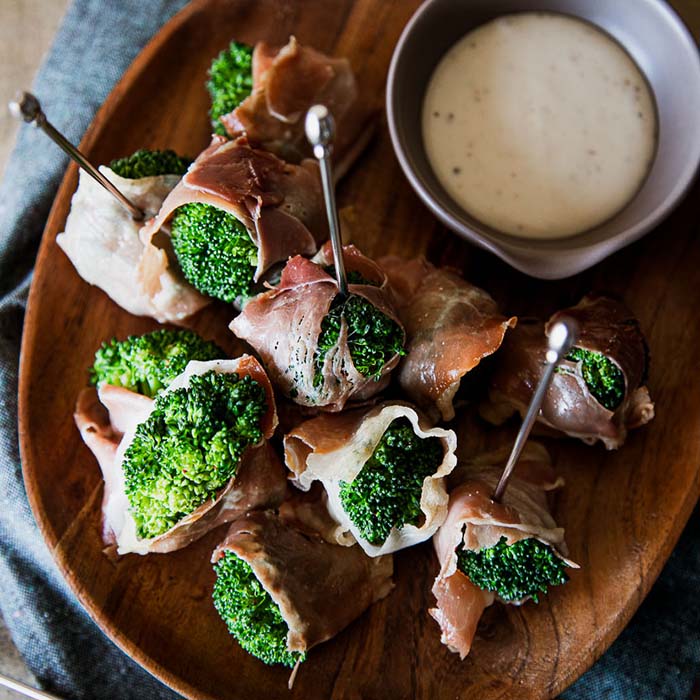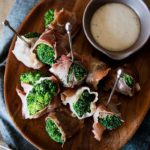 Print Recipe
Prosciutto Broccoli Appetizer
Broccoli is such a versatile and common vegetable, yet the number of broccoli appetizers is so limited! These prosciutto-wrapped broccoli florets are my solution to that. Quickly steamed broccoli is wrapped in delicious prosciutto and broiled. Served with your choice of dressing, this appetizer can be made to suit everybody's tastes
Ingredients
12

raw broccoli florets

about the size of a ping-pong ball

¼

teaspoon

garlic powder

¼

teaspoon

fine sea salt

Pinch

of ground black pepper

Pinch

of aleppo pepper or crushed red pepper

optional

3

ounces

prosciutto

6 slices

Optional: dressing for dipping such as ranch, Caesar, or vinaigrette
Instructions
Place the broccoli in a microwave safe bowl with a lid big enough so that the broccoli is in a single layer on the bottom. Add ¼ cup water. If the lid has a vent, secure the lid and open the vent. If not, lay the lid loosely over the bowl.*

Microwave for 2 minutes. The broccoli will be vibrant green and still firm. Drain the water. Let the broccoli rest until cool enough to touch.

Preheat the broiler at 500 degrees F.

Sprinkle the garlic powder, salt, black pepper, and hot pepper, if using, over the broccoli. Store to coat all the pieces.

Tear each piece of prosciutto in half so you have 12 pieces. Wrap each floret of broccoli in a piece of prosciutto. I like to make sure some green is exposed for more color when serving.

Place each piece of wrapped broccoli on a baking sheet. Broil for 3 to 4 minutes, until the prosciutto darkens and becomes crisp along the edges. Serve warm or at room temperature.

These bites can be served alone or with a favorite salad dressing for dipping such as Caesar, ranch or Italian vinaigrette.
Notes
*Can also lightly steam on stovetop if desired.
Save this recipe on Pinterest!
Make this recipe? I'd love to see how it turned out…
PINTEREST: Upload a photo and your review to this Pin!
INSTAGRAM:  Tag me
@lucismorsels
and use #LMrecipes 
Nutrition
Calories:
236
kcal
|
Carbohydrates:
41
g
|
Protein:
18
g
|
Fat:
5
g
|
Saturated Fat:
2
g
|
Polyunsaturated Fat:
1
g
|
Monounsaturated Fat:
1
g
|
Trans Fat:
0.01
g
|
Cholesterol:
5
mg
|
Sodium:
296
mg
|
Potassium:
1936
mg
|
Fiber:
16
g
|
Sugar:
10
g
|
Vitamin A:
3790
IU
|
Vitamin C:
542
mg
|
Calcium:
286
mg
|
Iron:
4
mg