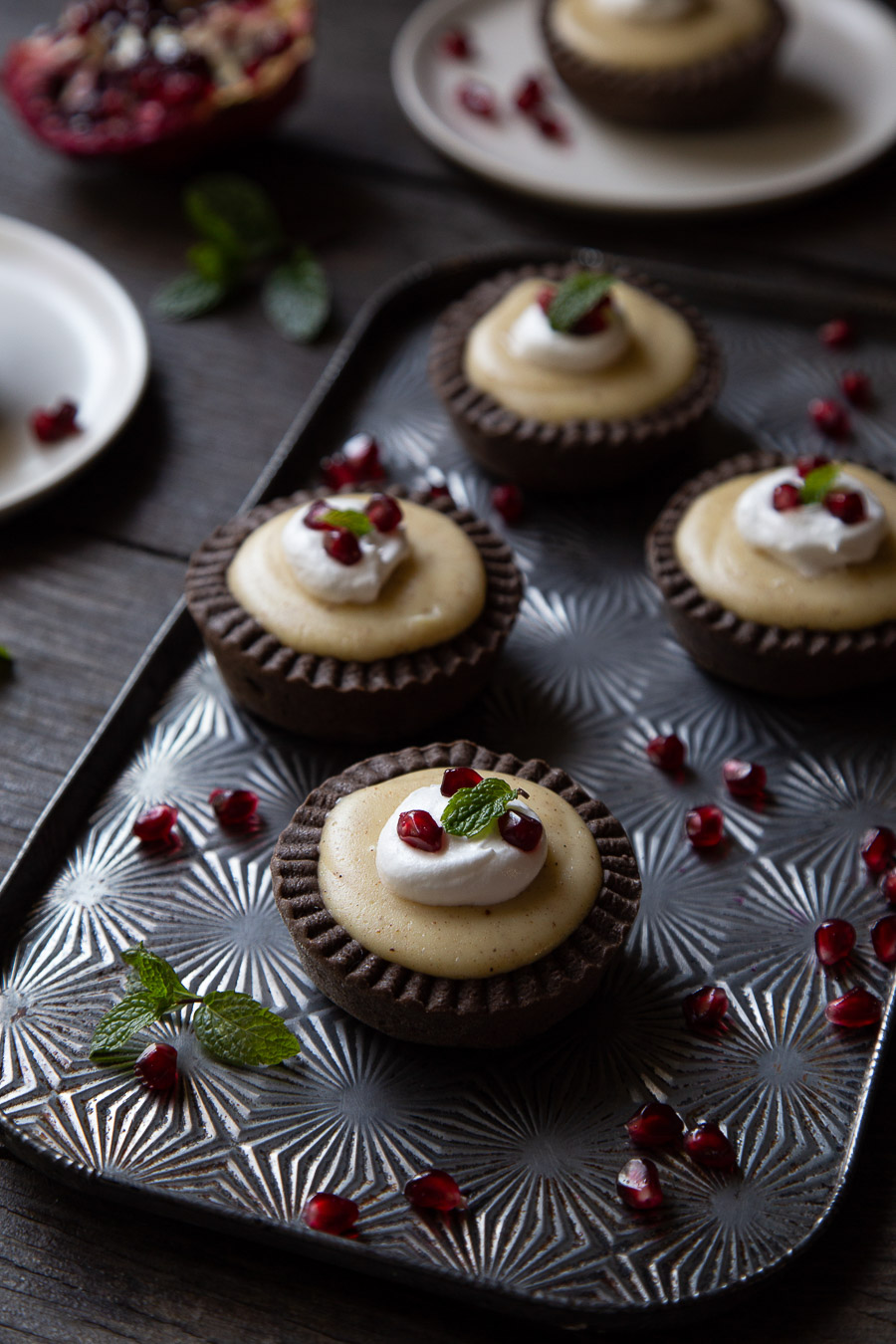 I'll give you a hot second to wipe the drool off your chin. Aren't these mini tarts gorgeous? Ok, but they taste phenomenal too! These little desserts are the perfect ending to your holiday meal. I'm calling them Christmas Tarts for now, but they're so tasty, they may need to be at least a fall and winter favorite. . .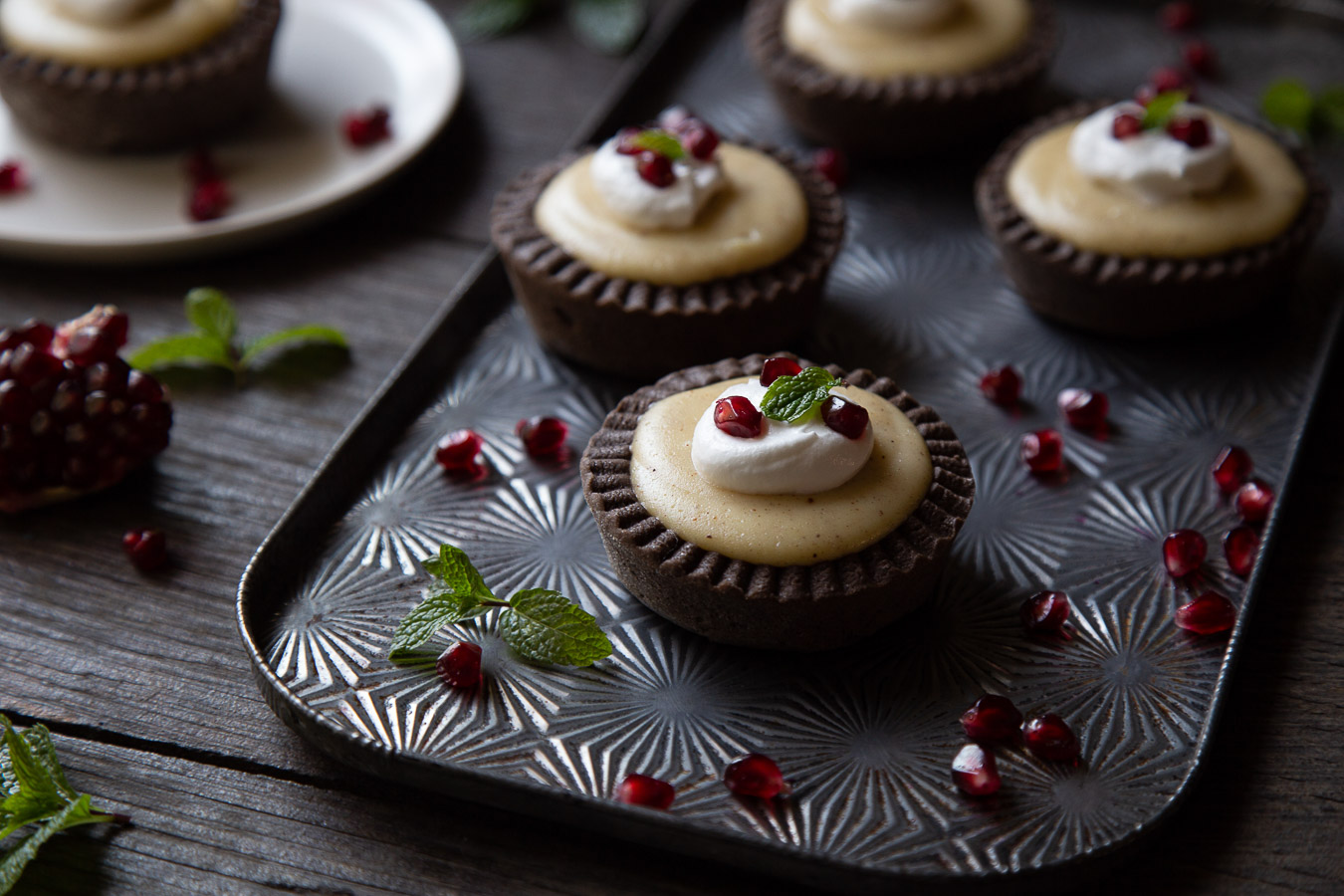 Christmas Tarts
So let's start from the bottom and work our way up, shall we?
After making my first chocolate tart shell a few years ago, I've been a little obsessed.
I obviously don't make THAT many tarts, but when I do, I love doing this recipe. It's a great addition of chocolate flavor that isn't overly rich or overwhelming. It's the perfect base for…
…the spiced custard. Truth be told, I could eat the spiced custard on its own – probably by the spoonful out of the pan. But let's ignore my bad manners when dessert is involved.
The custard is a lovely, smooth filling and the warm spices make it the perfect filling for a Christmas tart. You can even add more spices at the end, but I'm skipping a few tasty layers.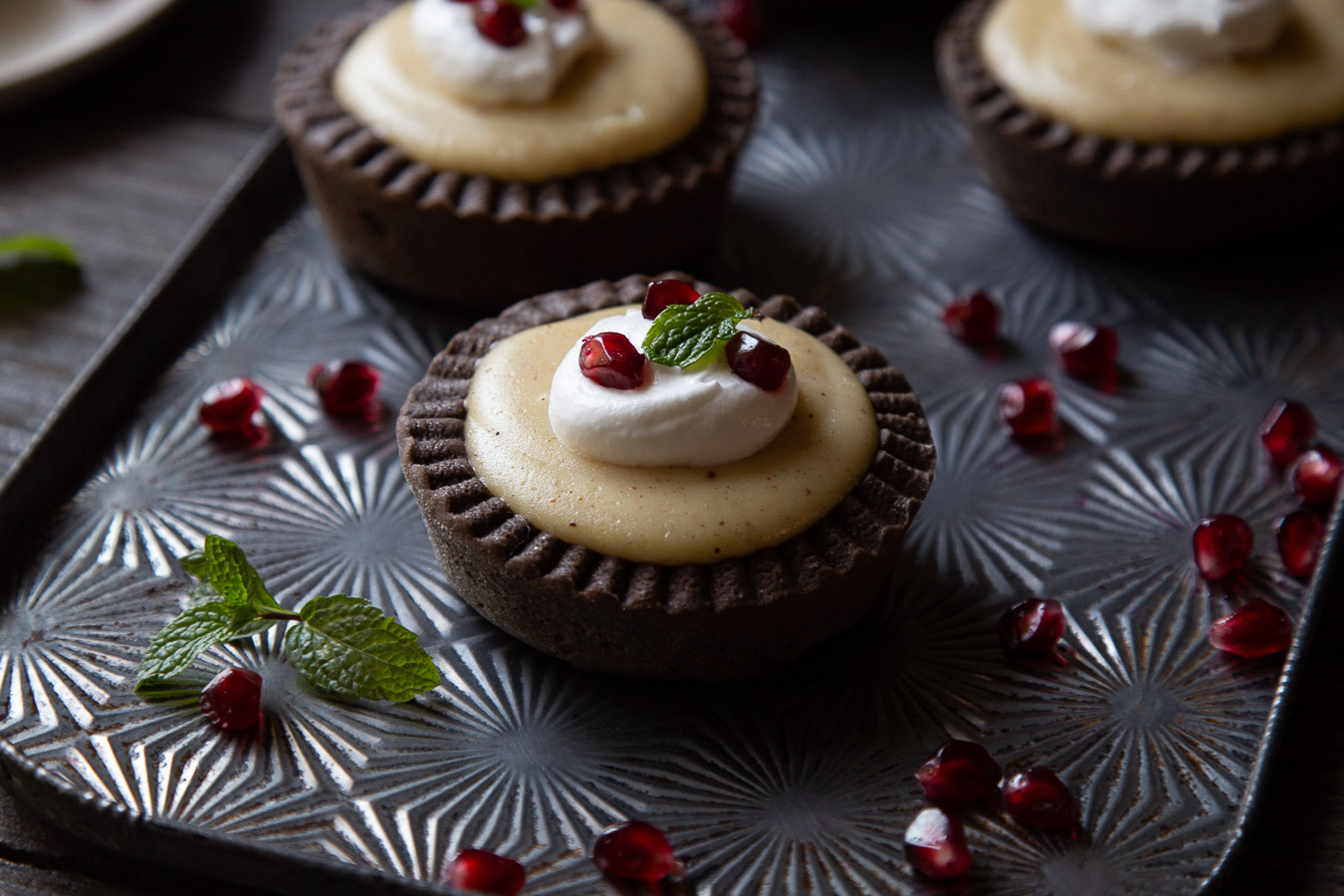 So then comes the whipped cream. You know I'm a fan of homemade whipped cream and if you've ever made it, then I'm sure you are too! Finish it all off with pomegranate arils and a fresh mint leaf.
The pomegranate arils and mint are really what make this tart look like a Christmas dessert. The seeds are also a perfectly tart and sweet compliment to the custard and chocolate.
And then finish it all off with more spices if your heart so desires. Obviously mine does!

Making this ahead?
As with most desserts, or rather any sort of entertaining recipe, I always want to know if I can make it (or at least some of it ahead of time). The answer to for this dessert is yes, but only a certain way.
These mini tarts are served chilled. After making the shells and custard, you'll need to refrigerate them 30 minutes to an hour. You can definitely do this part a few hours beforehand without missing out on anything. And then I'd recommend making the whipped cream just before serving.
You could also do the tarts up to 12 hours ahead of time, but you'll want to seal them away after they've cooled down.
One more random trick is that you can get your pomegranate arils all ready a while beforehand – something that can take a little time and make a little mess – both of which I like to avoid before a meal!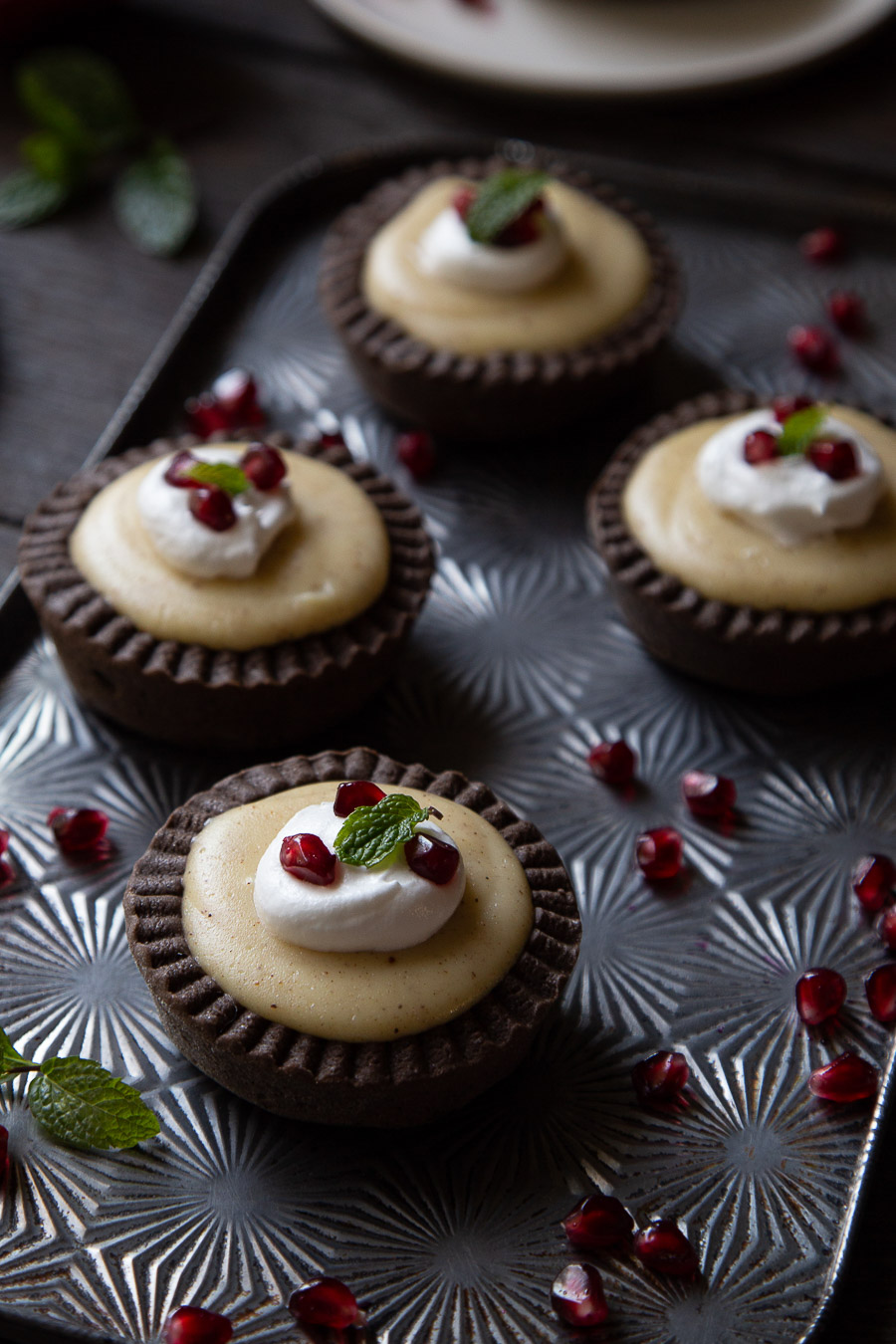 Want more holiday recipes? Try these Christmas Cheesecake Bars, this Winter Appetizer Platter, and Christmas Sangria made with Lambrusco!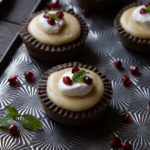 Print Recipe
Mini Christmas Tarts
These spiced custard Christmas Tarts are the perfect combination of warm flavors and delicious decadence. The chocolate tart shells are the perfect base for the delectable custard. And it's all topped off with fun and tasty pomegranate arils.
Ingredients
Chocolate Tart Crust
½

cup

unsalted butter

softened

½

cup

sugar

1

large egg

2

tablespoons

dark cocoa

¼

teaspoon

fine sea salt

1 ½

cups

all-purpose flour
Custard
2

cups

whole milk

½

cup

sugar

2

tablespoons

cornstarch

4

large egg yolks

1

teaspoon

brandy

¼

teaspoon

ground cinnamon

¼

teaspoon

ground ginger

¼

teaspoon

ground nutmeg
Whipped cream, pomegranate arils, and mint leaves for garnish
Instructions
Chocolate Tart Crust
Preheat the oven to 375 degrees F. Grease 9 slots in a jumbo muffin tin with butter. (Most jumbo muffin pans have 6 slots so if you do not have two pans, you'll need to bake the tart shells in batches.)

To make the tart shells, cream together the butter and sugar on medium-high speed for 3 minutes until it becomes light in color and almost fluffy. Scrape the sides of the bowls as needed.

Mix in the egg and then the cocoa and salt. Mix in the flour a half cup at a time. After the last addition, turn the mixer to medium-high and mix until the dough forms a ball in the center of the bowl.

Place the dough on a floured surface and roll to about a ¼-inch thickness, about an 8-inch circle. Use a 4-inch round or scalloped edge biscuit cutter to cut 4 circles. Re-roll the dough and continue on to cut 9 circles.

Place the circles of dough into the muffin tin slots and gently press to fit the bottom of the slot.

Bake for 18 minutes, until firm. Let cool completely and then carefully remove from the pan. It should be easy to remove with your hands. Or you can use a knife along the side to assist.

Place the tart shells on a sheet pan or serving tray.
Custard
While the tart shells cool, begin the custard. Whisk together the milk, sugar, and cornstarch in a large saucepan. Whisk in the eggs and then the brandy.

Turn the burner to medium heat. Heat, whisking often, until the custard begins to simmer and thicken. Do not allow it to boil, but continue to whisk as it simmers. Once it coats the back of a spoon, about 6 to 8 minutes, it is ready. Remove the pan from the heat and whisk in the cinnamon, ginger, and nutmeg.

Let the custard rest for about 3 minutes, then pour the custard into the tart shells. To get the shells as full as possible, fill them up and then refrigerate them a few minutes before adding the remaining custard.

Once full, refrigerate for at least 30 minutes, preferably 1 hour. Add a dollop of whipped cream, pomegranate arils, and a mint leaf to each tart before serving.
Nutrition
Calories:
329
kcal
|
Carbohydrates:
43
g
|
Protein:
6
g
|
Fat:
15
g
|
Saturated Fat:
9
g
|
Polyunsaturated Fat:
1
g
|
Monounsaturated Fat:
4
g
|
Trans Fat:
0.4
g
|
Cholesterol:
141
mg
|
Sodium:
99
mg
|
Potassium:
142
mg
|
Fiber:
1
g
|
Sugar:
25
g
|
Vitamin A:
549
IU
|
Vitamin C:
0.003
mg
|
Calcium:
89
mg
|
Iron:
1
mg