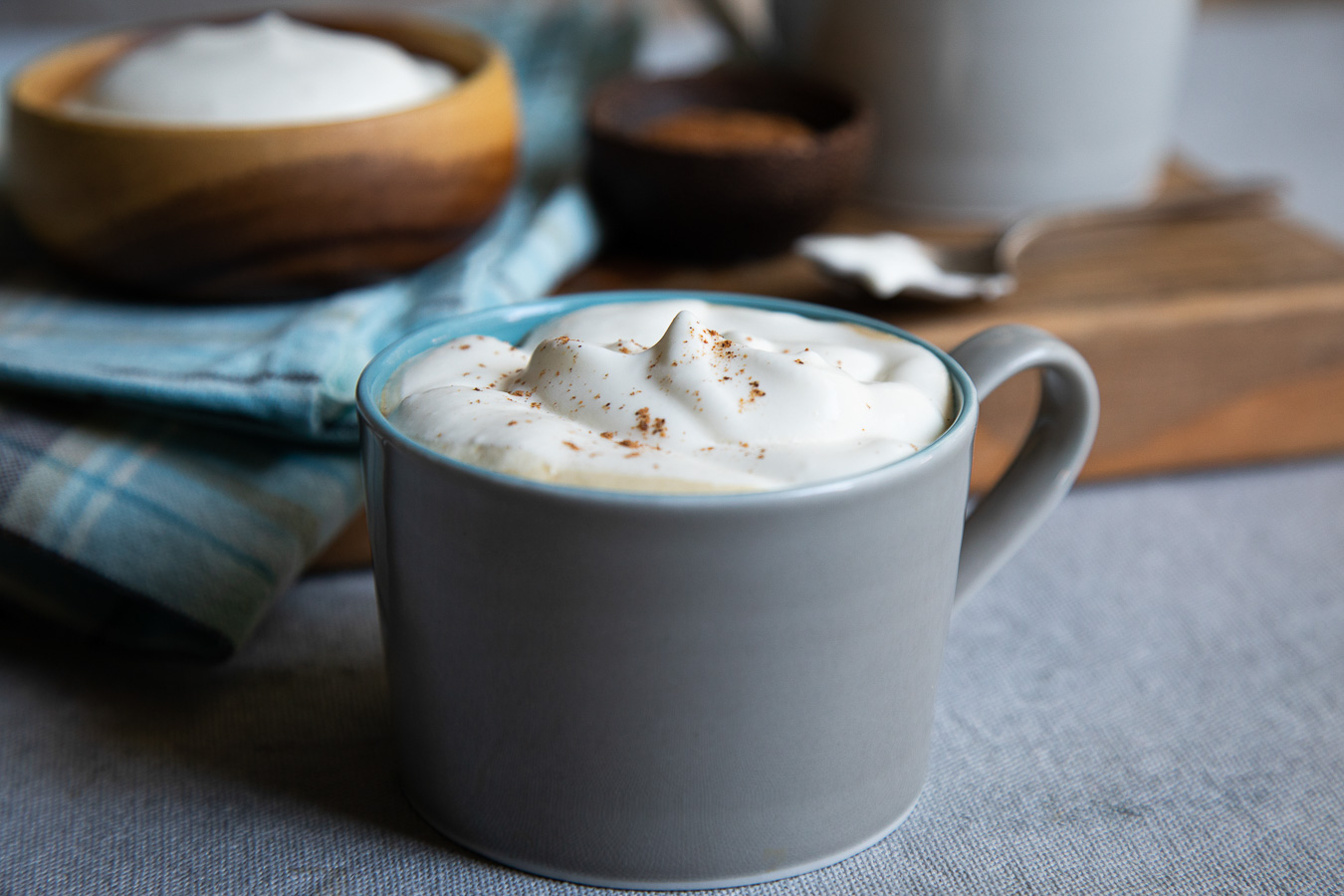 My Starbucks app says that it's "coffee weather," which I think is all kinds of hilarious. IT'S ALWAYS COFFEE WEATHER in my world. We won't talk about how it's pretty much always iced coffee weather for me, however! Luckily this eggnog latter made with nutmeg coffee can be enjoyed warm or iced!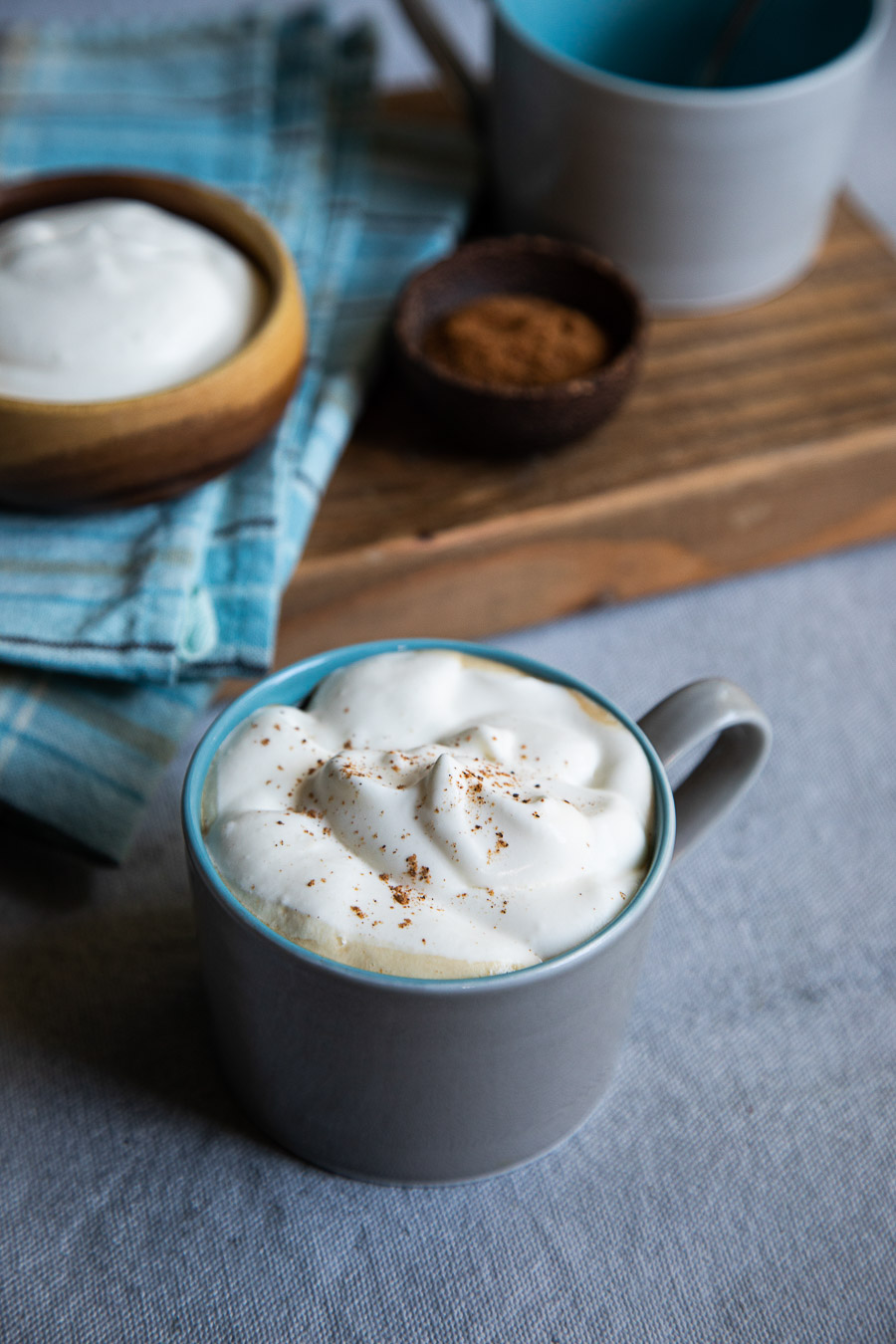 I was in for my usual iced coffee a few weeks ago and they were offering samples of the eggnog latte, so obviously I grabbed one! I'll probably never order that type of drink, but I did enjoy the small sample!! A LOT!
Those drinks are usually too heavy for me to drink in their entirety, but the flavor is DELICIOUS! So I thought we should find another way to enjoy all that tasty flavor for a little indulgence.
Eggnog Latte
First of all, have you ever flavored your coffee? I usually add any sort of flavor to my coffee AFTER it's made.
As you'll see from the recipe below, however, you can actually just add in ground spices to your coffee grounds (check out these sustainable coffee companies for an even better feeling sip). How simple and genius is that?!
So if you want to stop there with your festive coffee recipe for nutmeg coffee, then go ahead! You could actually brew your cold brew with that same idea, letting the water and beans steep with the spices!
If you want to step up the tasty indulgence, however, then go for the eggnog whipped cream to dollop on top of (and then into) your nutmeg coffee!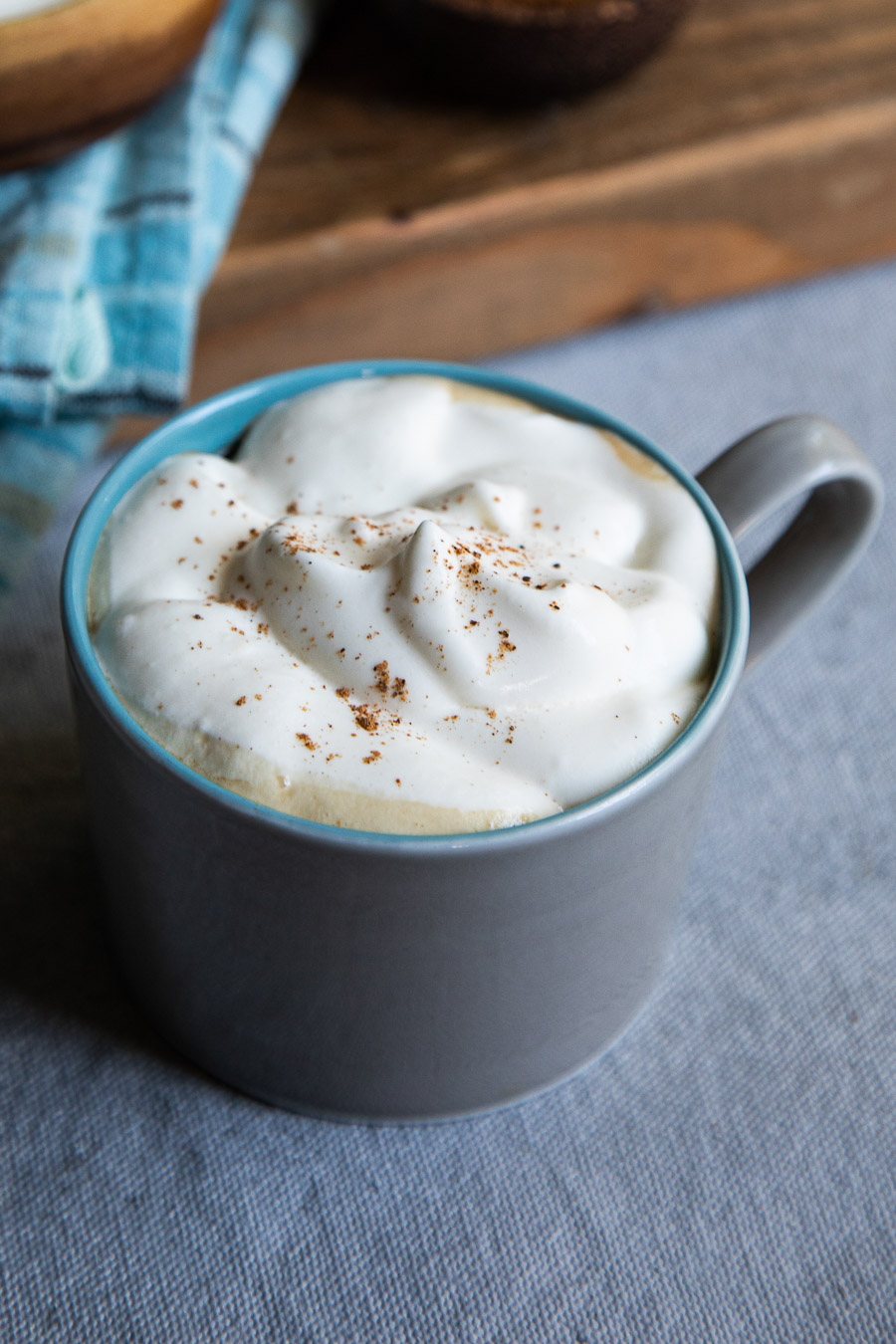 Eggnog Whipped Cream
I love the taste of eggnog, but I can never make it through very much. Even if we buy the small local dairy bottle (it truly is the way to go), we rarely finish it off. We just enjoy small sips here and there.
Mixing it into this whipped cream is the best way to enjoy the flavor in a slightly lighter version!
If you haven't made homemade whipped cream before, then you absolutely have to do that this baking season. It really is super simple and positively perfect.
When you're ready to kick up your basic whipped cream, however, adding some eggnog is the perfect way to do it!
If you need ever more of that holiday flavor, try these chocolate eggnog cupcakes! Yum. YUM!!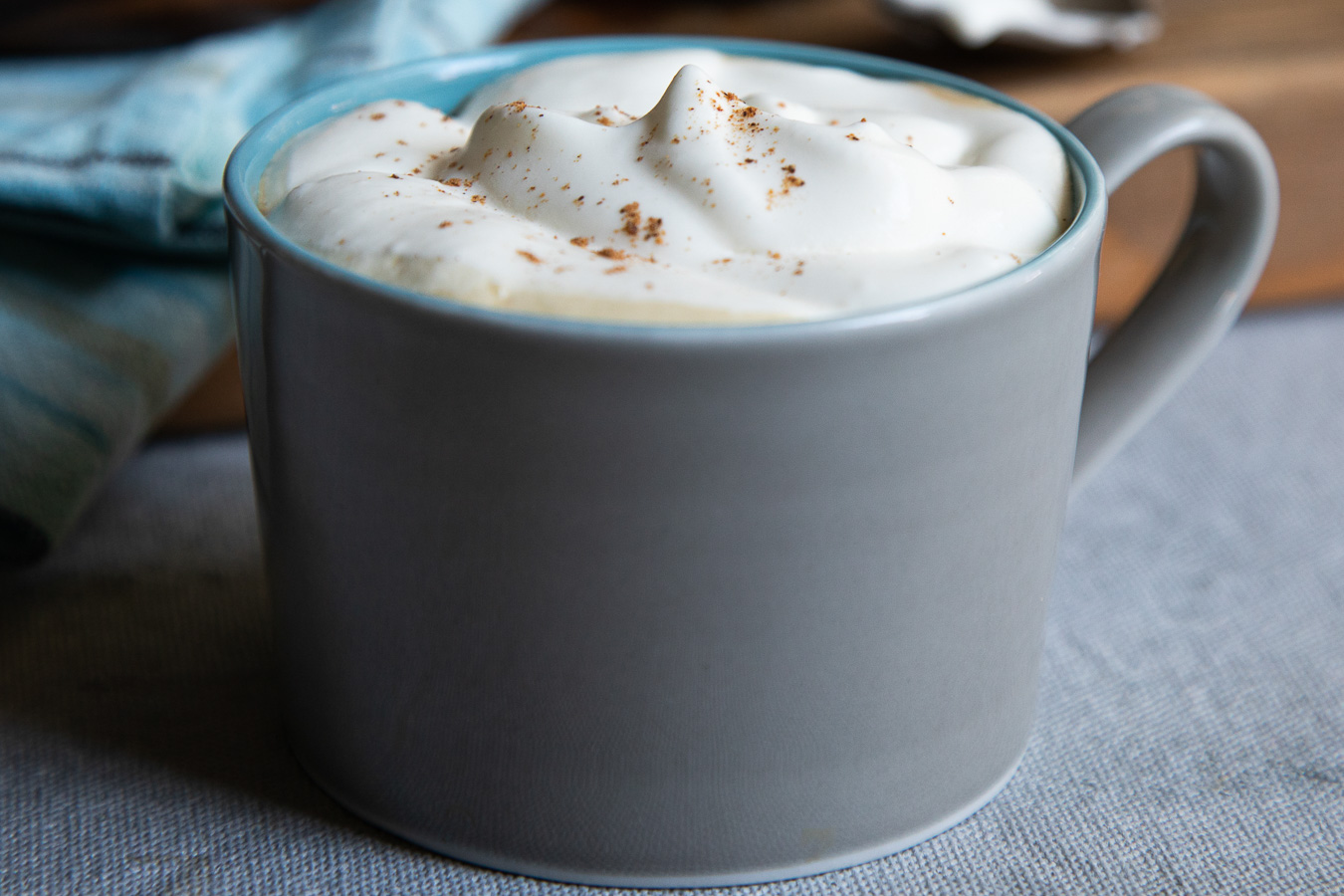 How to Serve
While some might think this is a standard coffee to enjoy (like in the morning), I think it's more of a dessert type or an afternoon treat. But to each her/his own; this is a judgement-free zone as always!
With that said, you can serve it in any style of cup or glass you like! You can make the drinks with the coffee and whipped eggnog cream on top, or you can serve it separately to let people add however much they like!
Check out these ways to drink coffee sustainably! And check out these homemade recipes for a Mexican Iced Mocha, Cardamom Latte, and a Five Spice Tea Latte!
What to Have with Nutmeg Coffee?
I personally think this eggnog latte/nutmeg coffee would pair nicely with a morsel. Why not a scone? These champagne grape & brie scones and amaretto cherry scones are both SOOO delicious! And cheese scones for a savory treat might be a good balance with this latte.
And while a classic cornmeal biscuit isn't a scone, they are positively delicious in just about any situation when I'd enjoy a scone…especially strawberry thyme jam….or plum jam!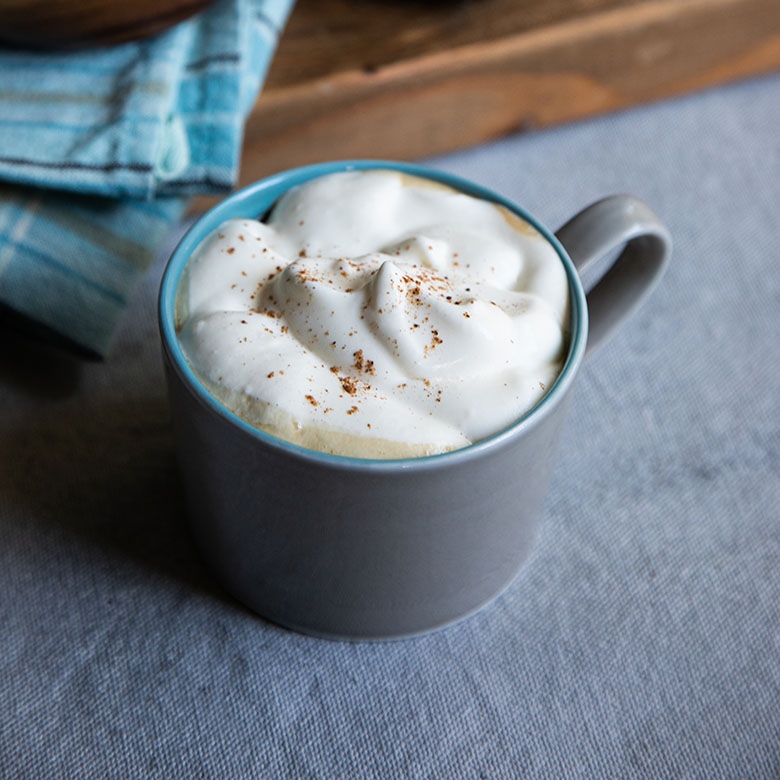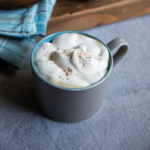 Print Recipe
EGGNOG WHIPPED CREAM NUTMEG COFFEE
Enjoy this easy, seasonal favorite drink at home in just a few steps. Nutmeg coffee topped w. Eggnog whipped cream! It's eggnog coffee whenever you want!
Ingredients
Ground coffee to make 4 cups

1

teaspoon

ground nutmeg
Eggnog Whipped Cream
½

cup

heavy whipping cream

¼

cup

eggnog

1

tablespoon

powdered sugar

Ground nutmeg for garnish
Instructions
Prepare the coffee maker by adding the grounds to the filter and adding water to make 4 cups. Sprinkle the nutmeg over the grounds. Brew the coffee.
Eggnog Whipped Cream
Add the heavy cream and eggnog to an electric mixer with powdered sugar. Whip on medium and then high, 3 to 4 minutes, until soft peaks hold.

Pour the coffee into 4 cups. Serve each with a dollop of eggnog whipped cream and sprinkle with ground nutmeg.
Nutrition
Calories:
120
kcal
|
Carbohydrates:
4
g
|
Protein:
2
g
|
Fat:
12
g
|
Saturated Fat:
7
g
|
Polyunsaturated Fat:
1
g
|
Monounsaturated Fat:
3
g
|
Cholesterol:
43
mg
|
Sodium:
21
mg
|
Potassium:
172
mg
|
Fiber:
0.1
g
|
Sugar:
2
g
|
Vitamin A:
471
IU
|
Vitamin C:
0.4
mg
|
Calcium:
46
mg
|
Iron:
0.1
mg