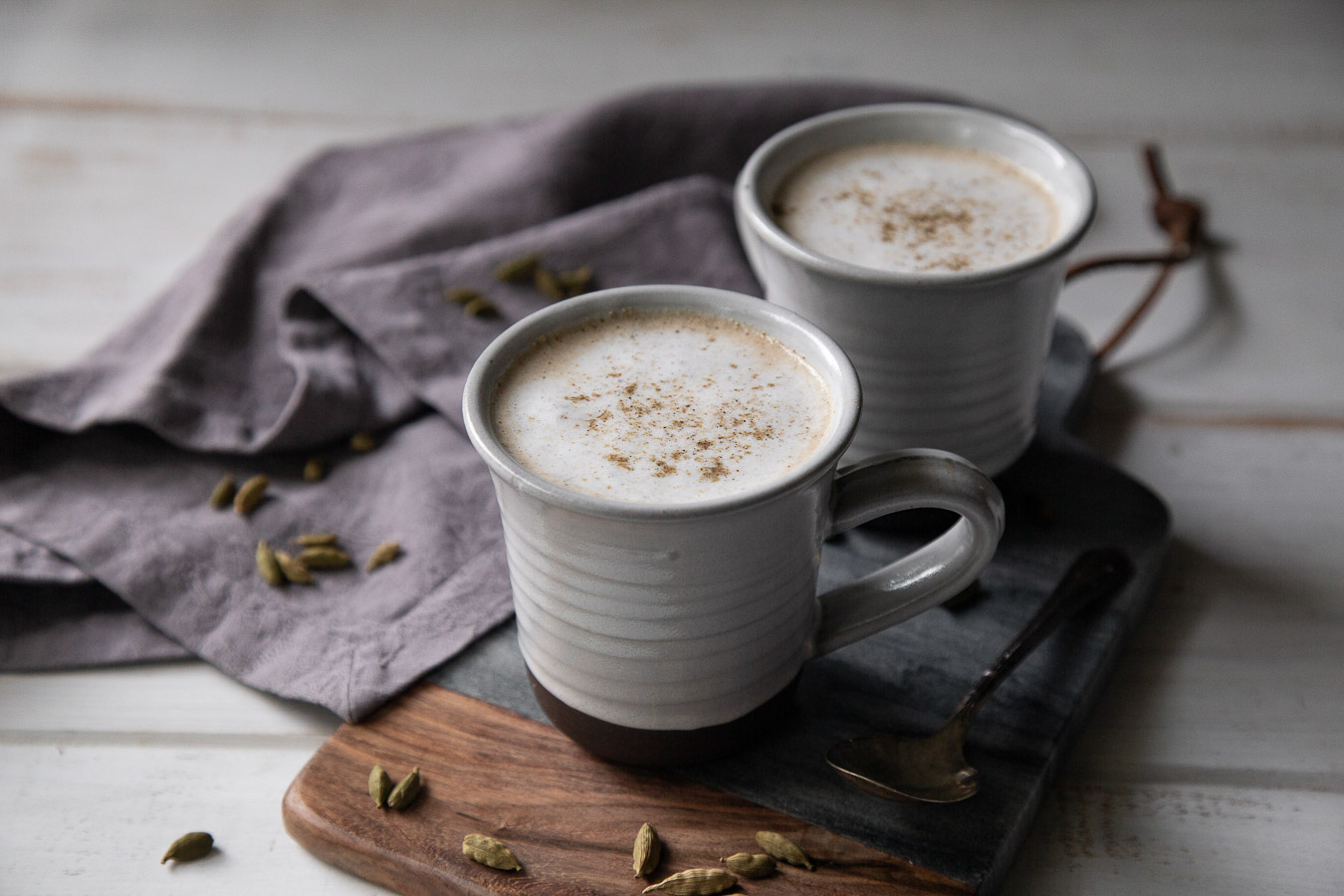 A cardamom latte? Moi?! Well, I'm usually a pretty straightforward coffee gal. Normally iced. Always with a bit of sweetness with sugar or simple syrup and, if it's hot or straight iced coffee, a splash of milk. That's it. So when "fancy" drinks are offered on the menu, I usually read them out of interest and order my go to…
That was until cardamom started appearing on the specialty drink menus. Then I couldn't resist. A cardamom latte sounds super fancy, but it's actually very straightforward and doesn't add any unwanted sugars or fat to your coffee.
Cardamom Latte
I fell in love with cardamom a few years ago, never before understanding what it was. Whenever I have a new spice on my hands, I like to just close my eyes and smell it. More often than not, I immediately get images and flavors of familiar dishes that I never knew included the spice.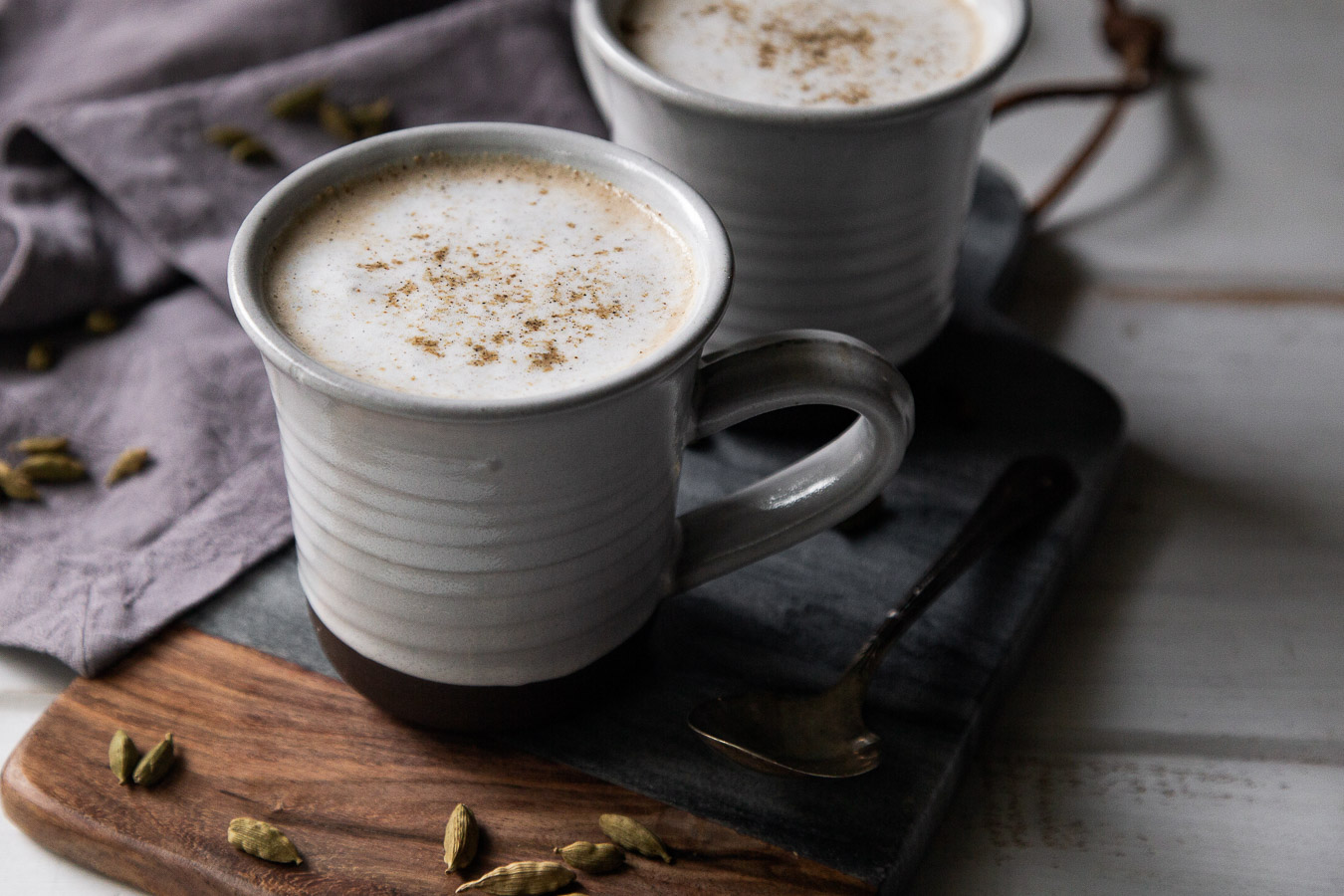 Cumin is the spice I associate most with the widest variety of foods and cuisines – Mexican, Indian, and even American on seared and roasted chicken!
Cardamom, however, was another fun discovery as I pictured chai tea, puddings, and pretty much everything with cinnamon (a funny association, I know).
Cinnamon is such a familiar flavor to me that I was excited to "taste" cardamom in all the same dishes and started adding it upon occasion. It isn't sweet itself, but it is so easily paired with sweet flavors you almost think it is (just like cinnamon).
In this cardamom latte, it's an ideal boost of flavor to the espresso and milk without making your coffee overwhelming or a dessert (as so many special coffee drinks are).
Sometimes with lattes, I also want a little less milk, so I can taste the coffee more OR if I'm enjoying it with food. I often order cappuccinos for just this reason. If you love the cardamom latte flavor profile but want a smaller drink or need that stronger coffee flavor, feel free to adjust the quantity of milk as necessary. It is your drink after all!
Easy Uses for Cardamom
Pretend fancy coffees isn't the only way I enjoy cardamom, however! Lately, I've been sprinkling it on my toast with almond or peanut butter, mixing it into my oatmeal, and adding some to my smoothies!!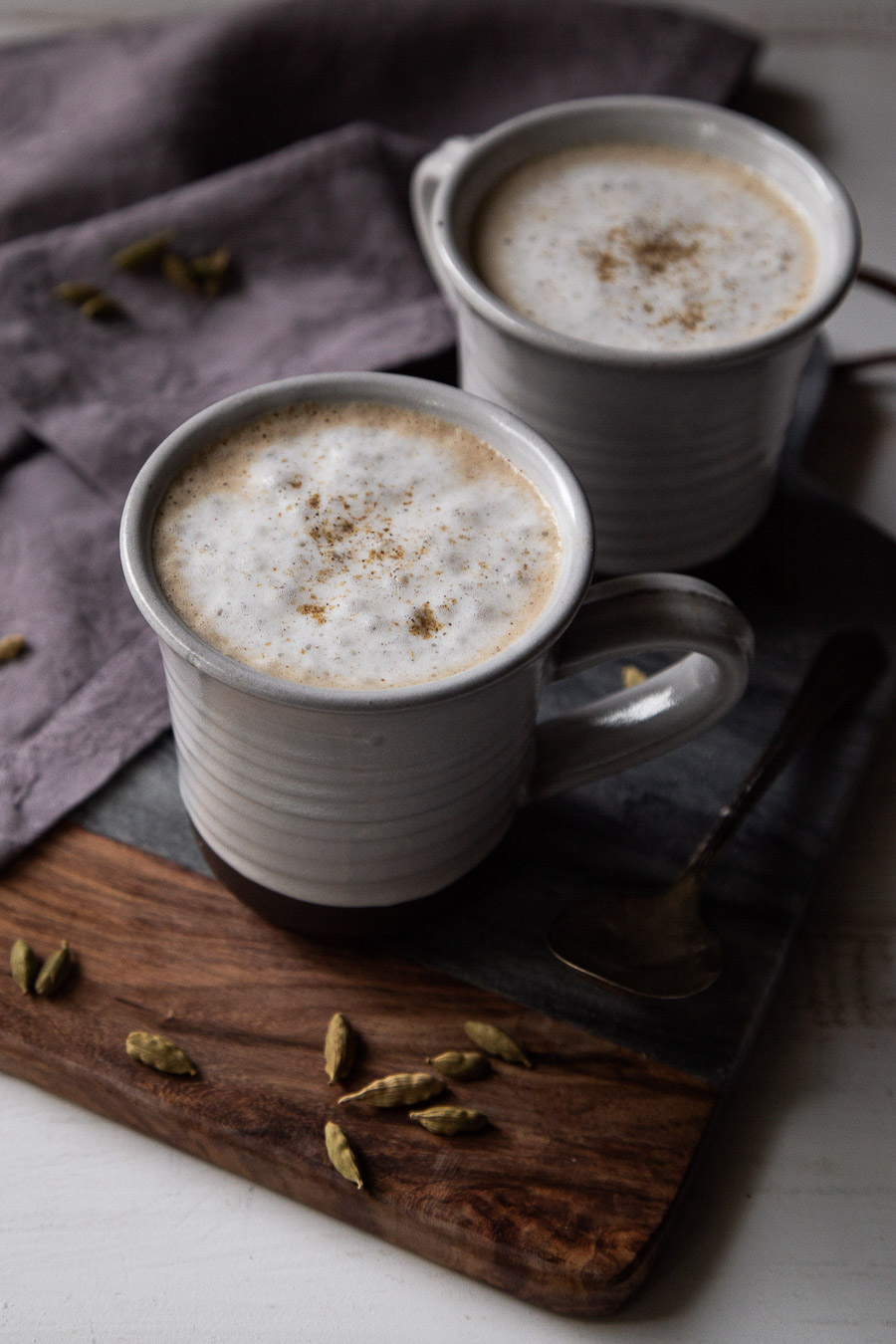 Want something a little more indulgent? Try this nutmeg coffee with eggnog cream or go all out with a homemade affogato!
And you should absolutely try this Iced Mexican Mocha
What to Have with Your Cardamom Latte?
I personally think this eggnog latte/nutmeg coffee would pair nicely with a morsel. Why not a scone? These chocolate chunk rolls would be ideal. But then amaretto cherry scones and champagne grape and brie scones are both SOOO delicious! And cheddar & herb scones for a savory treat might be a good balance with this latte.
If you just have biscuits or even a piece of toast, trying topping it with strawberry thyme jam….or plum jam!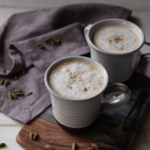 Print Recipe
Cardamom Latte
A delicious, homemade cardamom latte is the perfect solution to spicing up your morning coffee or a weekend treat. This drink is surprisingly simple and full of loads of delicious flavor!
Ingredients
2 to 4

shots of espresso

2

teaspoons

of honey or more to taste, warmed

1 ½

cups

milk

2

teaspoons

ground cardamom

Extra ground cardamom for garnish
Instructions
Whisk together the espresso and warm honey in a heatproof measuring cup with a pour spout. Pour an equal amount of the sweetened espresso into each of two serving mugs.

Whisk the milk and the cardamom together and then froth and heat the milk using a milk frother. If your frother doesn't have a heating mechanism simply warm the milk in the microwave before adding the cardamom, 30 to 45 seconds on high, until it reaches your desired temperature.

Pour the frothed milk into the mugs with the espresso. Sprinkle with ground cardamom before serving.
Nutrition
Calories:
137
kcal
|
Carbohydrates:
16
g
|
Protein:
6
g
|
Fat:
6
g
|
Saturated Fat:
3
g
|
Polyunsaturated Fat:
0.2
g
|
Monounsaturated Fat:
1
g
|
Cholesterol:
22
mg
|
Sodium:
70
mg
|
Potassium:
302
mg
|
Fiber:
1
g
|
Sugar:
15
g
|
Vitamin A:
296
IU
|
Vitamin C:
0.5
mg
|
Calcium:
233
mg
|
Iron:
0.3
mg