Mixed in with that day trip in Ogden a few weeks ago with my best friends from grad school were two part-days in Utah's capital Salt Lake City. My previous time in Salt Lake, if we can even call it that, was when I drove back from Denver a few years ago. We largely skirted around the city and headed west, so this trip was really my first visit…
Salt Lake City Travel Guide
Of course coffee is always a priority for me. I got a few suggestions, more below, but Publik Coffee was high on the list. It's a bit south of the main part of town but well worth the trek. The interior is a great space to get some work done as well! And the price of their coffee was a pleasant surprise for me – dollars less for delicious nitro cold brew than I would normally pay here in LA!
SLC is full of beautiful parks and squares to enjoy the outdoors. Pioneer Park is just one such park – full of tree and with a farmers market on summer Saturdays. They also have year round markets across the city, so you can always find local food, fare, and fun!
Lunch in Downtown Salt Lake City
After arriving from early morning flights on that first day, we were hungry. We headed to The Copper Onion in downtown after I got such rave reviews on my Instagram.
The lunch menu is large and DELICIOUS! We tried the burger (amazing!), salads, and their french fries. We all licked our plates clean – absolutely worth the stop!
Another delicious find was Spitz Mediterranean Street Food in the heart of downtown. They offer salads and wraps with chicken, beef/lamb, falafel (my favorite), or veggies. The food is fresh and full of flavor! I just discovered they have LA locations, so I'll be needing to get there ASAP!
What to Do in Salt Lake City
One of the tricky parts of planning travel is participating in the local events, mostly because you don't know what's happening. Luckily my friend suggested SLUG Magazine – SLC's calendar for what's going on.
Everything from concerts and mom-gatherings to art exhibits and book signings. You can see the daily calendar online and/or pickup the latest copy during your stay – they're free and available throughout the city.
Famous Mexican Food in SLC
When I first told my guy I was heading to Salt Lake, he told me about Red Iguana. His former colleagues back in the Bay Area raved about it after returning from their work trips. He said I had to go.
I love Mexican food but wasn't exactly sure it would be high on my list of musts. That was until everyone started recommending I go there.
Red Iguana 1 and 2 (only a few blocks from one another) serve simple, authentic Mexican food in a very relaxed atmosphere. The wait time at Red Iguana 1 can be lengthy, but the second property isn't far away and the wait is far less.
Shopping in Salt Lake City
Luckily traveling with my two friends, our schedule was dictated largely by my constant hunger and desire to try new places! Between the food and coffee, however, we checked out a few shopping centers – three actually – to see some sights, work off some calories, and do some catching up!
There is something for everyone in Salt Lake on the shopping front. The Gateway is a beautifully curated, outdoor shopping center with a movie theatre and children's museum. Next up is Trolley Square with a Lululemon, Williams Sonoma, Pottery Barn, Whole Foods, and a fun souvenir store!
Last, but certainly not least, is City Creek Center which has all the shopping you're used to, including Nordstrom, J. Crew, West Elm, etc. While shopping always happens during my travel, the selection in Salt Lake City (along with the ease of getting around) and the hot temps outside made shopping all the more interesting. It also worked well for the three of us to catch up!
Best Coffee in Salt Lake City
Another coffee shop heartily recommended on Instagram was The Rose Establishment. Tucked away in a somewhat industrial looking part of town, the coffee shop is a cute and tasty find.
The interior offers extensive seating and cute decor (see my photo here). The exterior of the building was a great array of updated industrial buildings that I would have loved to snap some outfit photos in front of, but I'll have to save that for my next visit.
Hilariously enough, I got a recommendation for "the best coffee in Salt Lake City" during my visit to The Rose Est. and it wasn't there.
This coffee connoisseur recommended Three Pines Coffee (just around the corner from Spitz). The couple who owns it moved back to SLC from LA after gaining a lot of caffeinated experience at Handsome Coffee Roasters.
Sadly, the shop was closed when we arrived as they were off serving coffee at a local festival, but it's at the top of my list next time I'm in town!
Dinner in Salt Lake City
Good thing I have hungry friends because I certainly showed up with a lengthy list of all the restaurants I wanted to try.
One restaurant group owns a few restaurants that received quite a few recommendations, including East Liberty Tap House. Sipping on wine and water (separately of course!), we tried an array of dishes on their menu – salads, tacos, falafel bites, and the most amazing dessert I'm still dreaming of…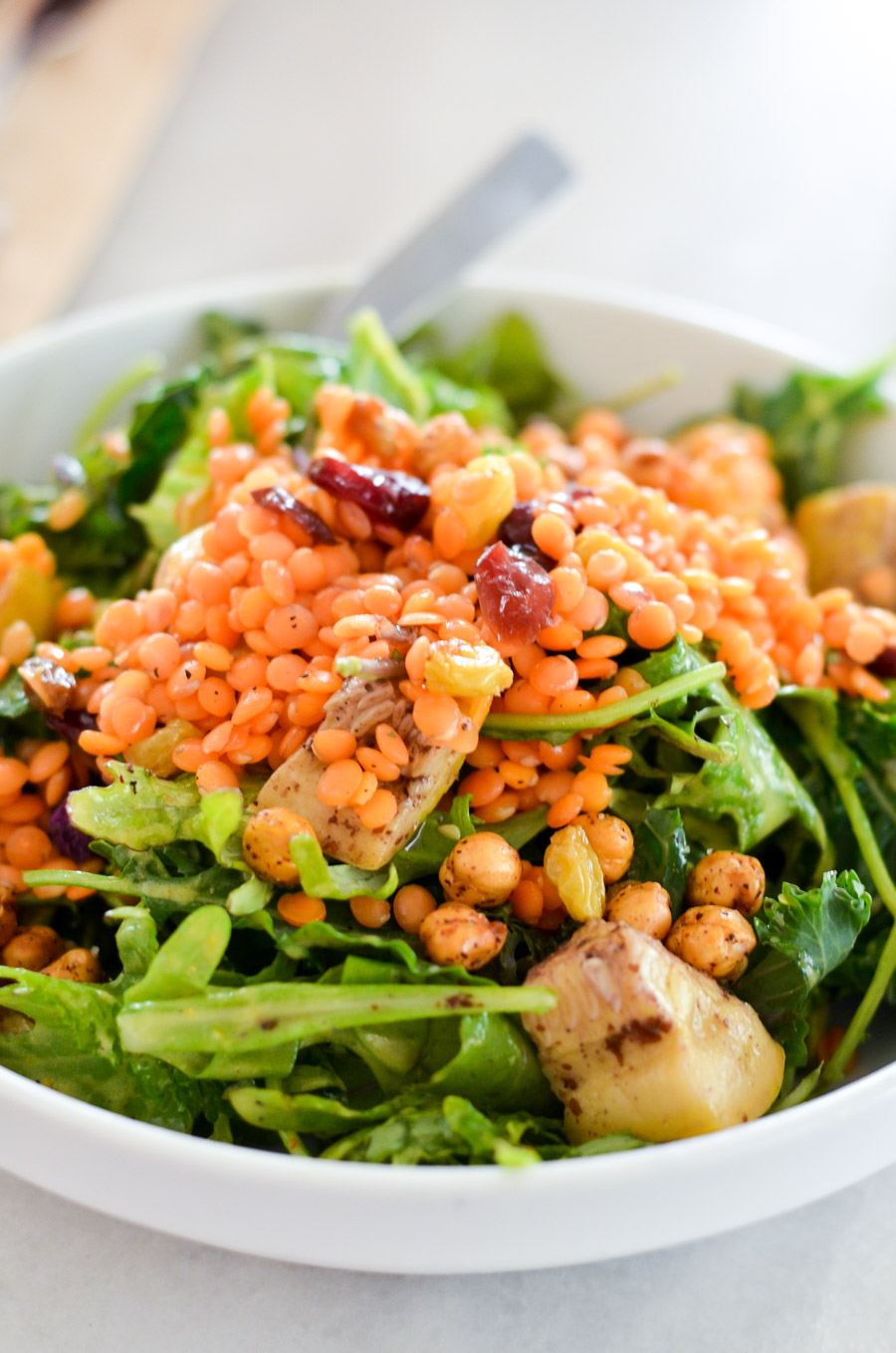 This warm red lentil salad with roasted vegetables was a delightful inspiration for some lunches back home (see my warm lentil salad recipe).
The flavors were warm and delicious, and those chickpea croutons were so much fun. I need to try to make those up again!
Shrimp ceviche, smoked trout tacos, and chicken tacos for heartier entrees and the falafel bites with yogurt sauce which even my friend who doesn't like chickpeas devoured rounded out our meal!
Flavors are all light and refreshing with a perfectly matched ambiance!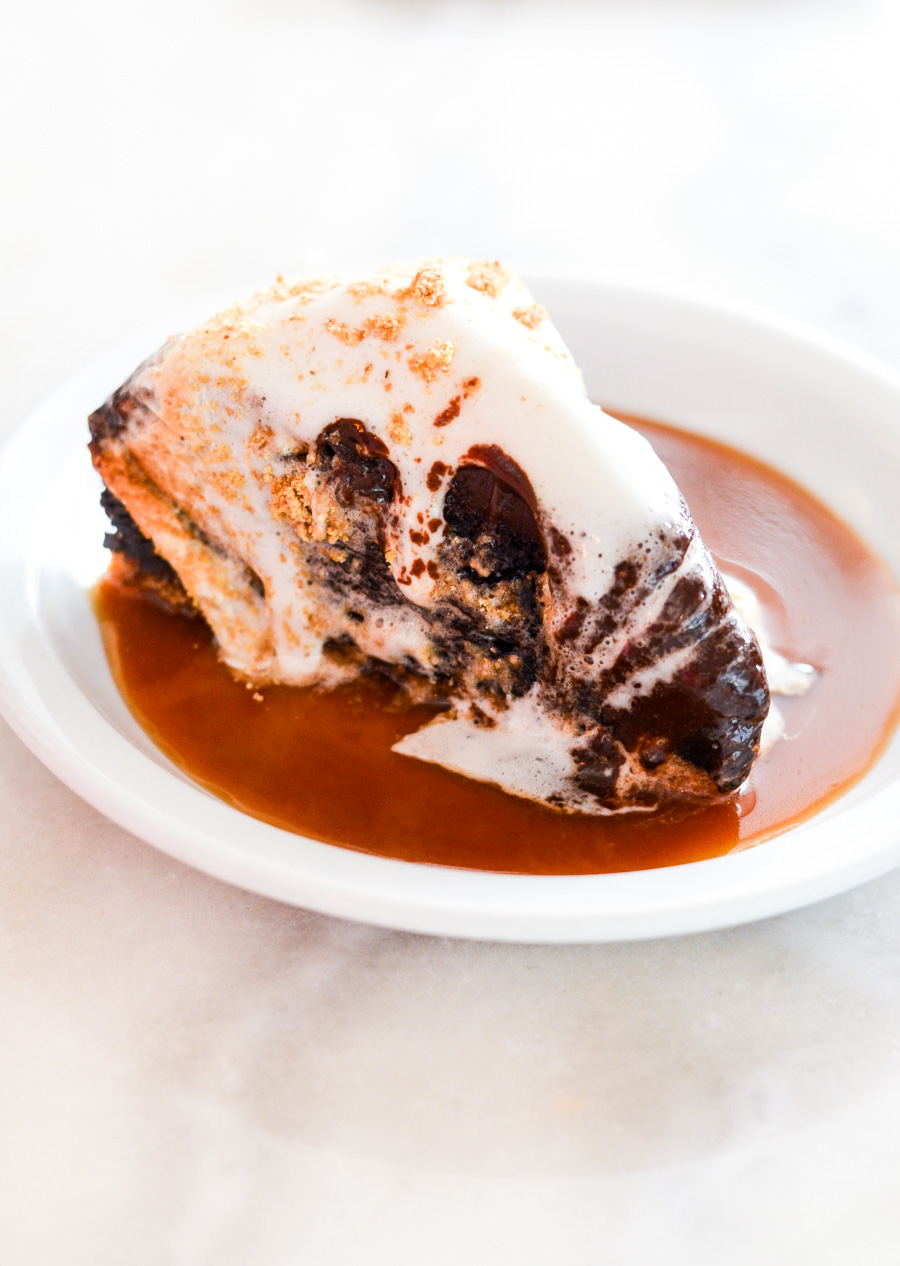 And then came the s'mores dessert with Maker's Mark whiskey sauce that was so rich and so chocolatey that we couldn't stop licking our forks! Usually rich, chocolate desserts aren't up my alley, but this. This was different and I wish I could have it again!
I didn't know exactly what to expect on our visit to Salt Lake City but really enjoyed the smaller city (similar to my enjoyment of St. Louis!).
Rush Hour is practically nonexistent and it's really easy to navigate around town. The food was delicious and everyone was really nice.
Also, restaurants offer an array of beer, wine, and cocktails, which was a bit surprising to me. There are also museums, parks, and a few beautiful drives that we missed on this girls trip to catch up, but you can bet they're on our itinerary for the next go round!
OTHER SLC Food RECOMMENDATIONS
Hub & Spoke Diner (breakfast, lunch + dinner)
Finca (tapas + cocktails)
Ruth's Diner (on Emigrant Canyon)
Pago (seasonal, new American cuisine)
BTG Wine Bar
Eva (dinner)
Bambara (new American bistro)
Chunga's (Mexican)
Siegfried's Delicatessen
Current Fish & Oyster (regional seafood cuisines)