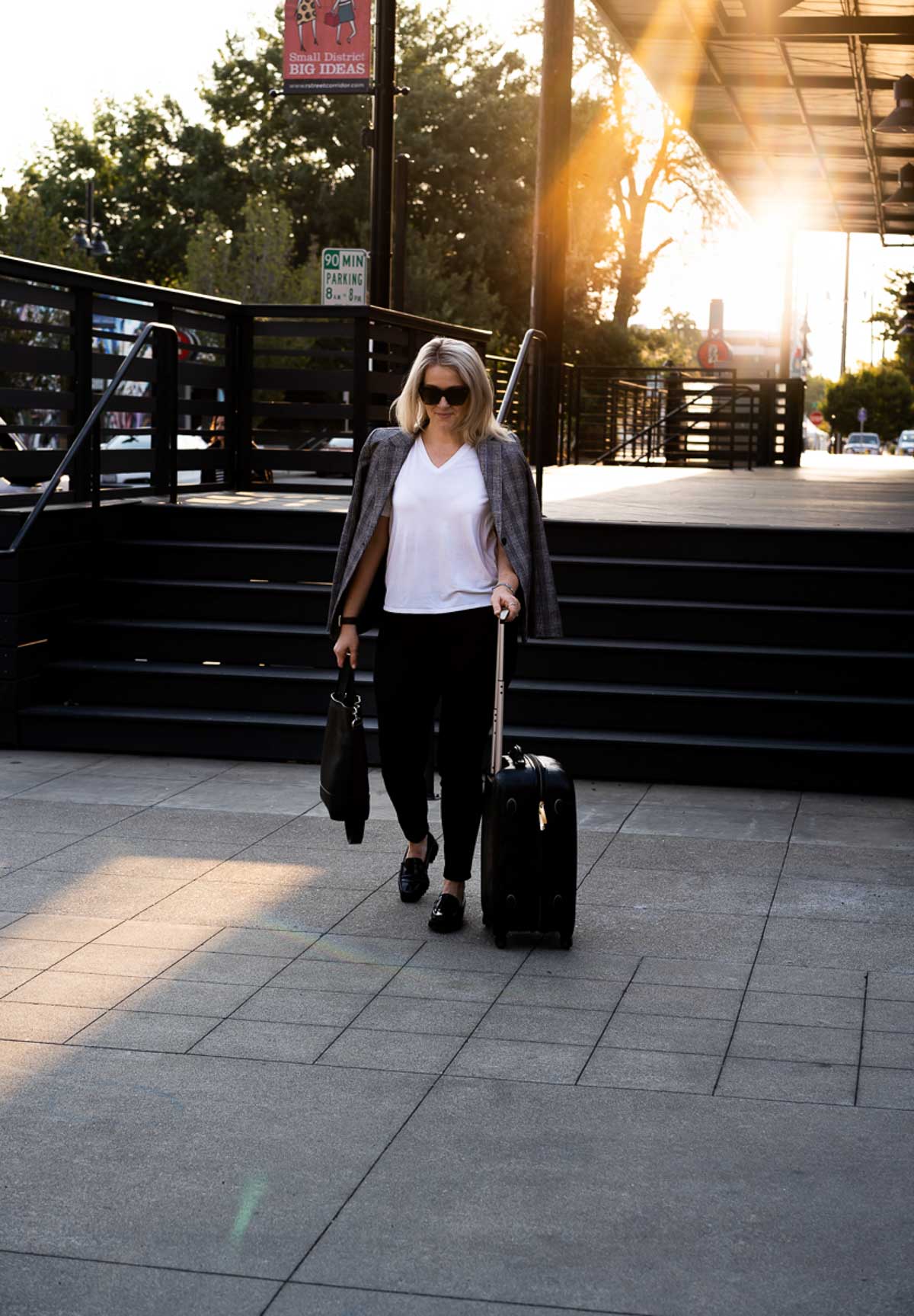 When I first started getting really into sustainable living, I was a new mom and not traveling much. Then there was that little 'demic thing that put a total stop to travel, so I was able to scoot around the topic of sustainable travel tips for a bit. But now it's time to get back to it…THANK GOODNESS!!!!!!
It's easy to think how un-sustainable travel is, but in reality it doesn't have to be AND I'm a firm believer that travel (however near or far) is an absolute must for humanity to be better!
So without further ado, here are EASY sustainable travel tips. The more you can do, the better, but I understand life is full of hitches and giddyups.
I also understand that no two trips are the same. The destination, the plan, the season, the weather, the cost. Each of these things factor in, so do what you can!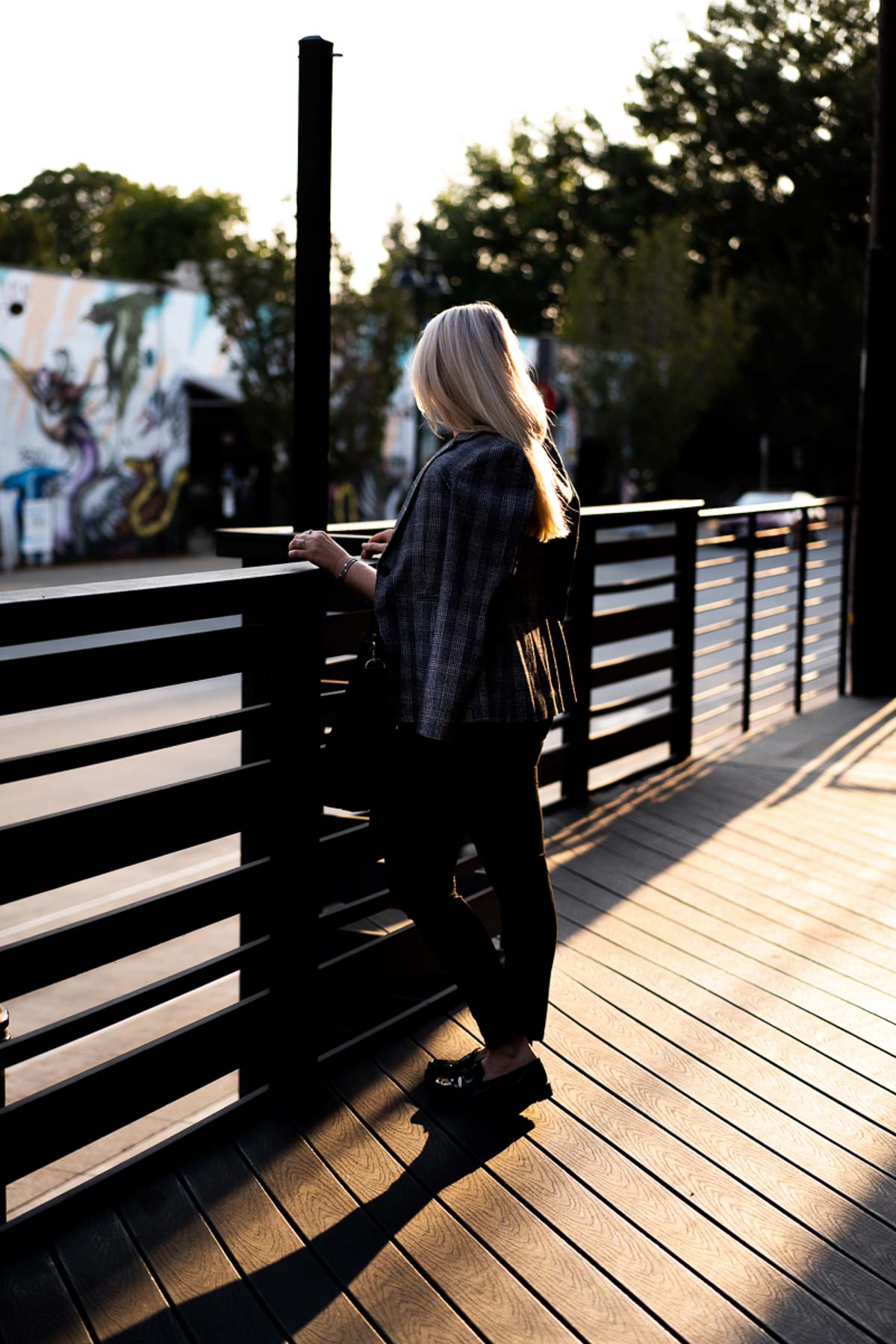 Easy Sustainable Travel Tips
Whether you're running away for the weekend or taking the long haul flight to whatever lovely place I'm sure I'd like to visit, these sustainable travel tip works for domestic and international travel.
Traveling Sustainably
Pack Lightly
This might be the trickiest sustainable travel tip for everyone (me included). I'm really working to cut back on what I pack these days. I was never TERRIBLY bad at overpacking, but I certainly took more than I needed.
With an extra human and his luggage in mind, I really have been trying to minimize my luggage situation.
Check out my fall travel outfits for the perfect weekend getaway.
Why is packing lightly sustainable?
There are a few facets to this, but if you imagine that every extra partial pound of luggage requires resources (namely oil/gas), then you can see how the emissions can add up with heavier, bigger luggage.
If you're traveling by air, then you should also know that most airlines store passenger baggage as well as other commercial freight down below, so the smaller/lighter your luggage, the more can be shipped per flight, and the fewer flights necessary.
Yes, I realize your one carryon might not tip the scale on this one, but if you and I are on the same flight (along with my family), then things might start adding up!
So be sure to check out my carry on travel packing tips!
2. Travel Sustainably (even for air travel)
We'll get into this more below, but any sort of transportation that is already happening and that carries more than a single person/group is often better. Buses and trains are actually more efficient ways to travel.
If traveling by car, try to take the more efficient automobile available.
And then… air travel. Planes are NOTORIOUS for the mind-boggling amount of fuel they use and their emissions.
There are airlines working on this, trying to improve in every category, but if we remember that planes literally make us fly and we can transverse thousands of miles in mere hours, then it makes sense why they consume and emit so much.
So are we stopping plane travel? Nope. No. Uh-uh. While it's great to opt for the airlines doing more to limit their 'footprint,' the simple step for this one is to go by plane only as necessary and to try to buy carbon offsets.
Many airlines make this a simple option to add on to your flight credit. Carbon offsets are great in theory, but they're certainly still a work in progress. And I don't love the idea that we'll just plant a new, tiny tree to counter my boarding a plane, BUT we have to start somewhere and do something, right?
The NYT has a good article on the reality of carbon offsets for air travel if you're interested in more sustainable travel tips and intel.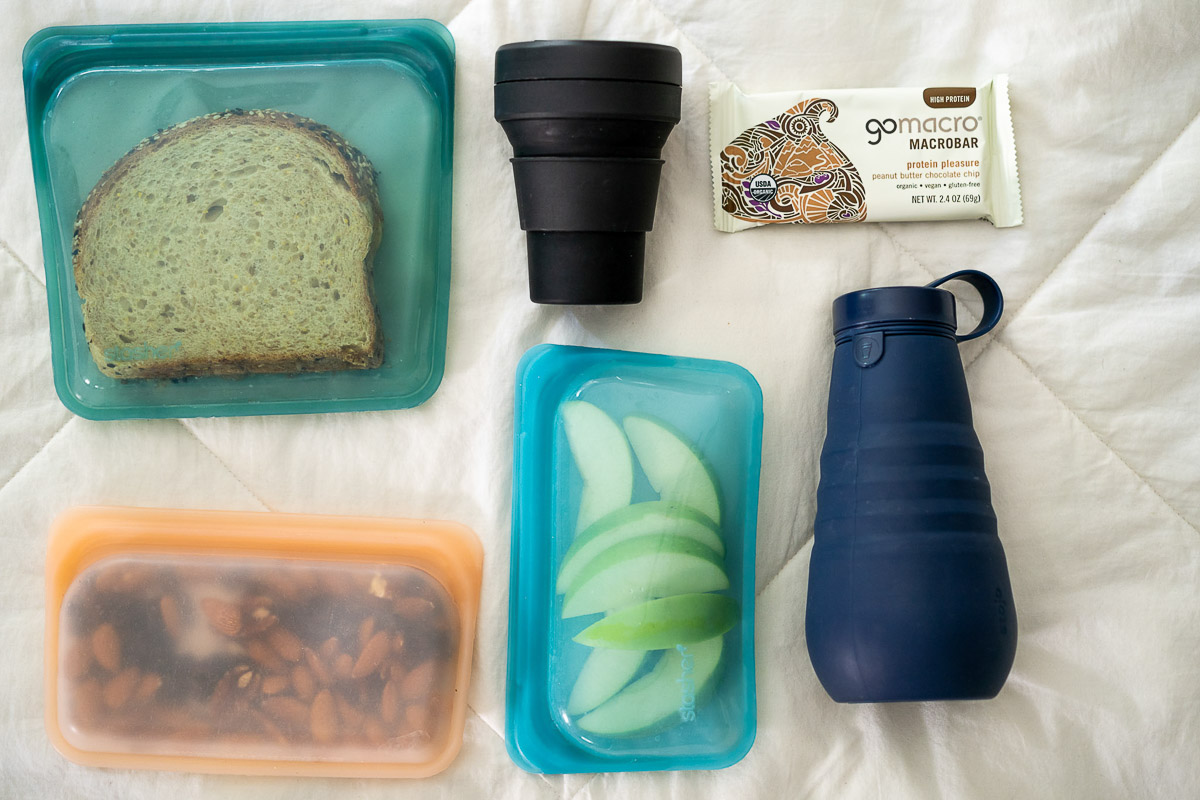 3. Bring Your Own Reusables
Ok, so no matter how you get where you're going or even where you're going, it's good to cut back on disposable items. When traveling, we tend to eat and drink out more and, thereby, we get more disposable food and beverage containers.
While you may not be ready to pack your collapsible, reusable coffee cup like me, you should at least take something for your water.
For years, I've carried my BIG water bottle since I drink so much water. Recently, however, my water bottle has gotten even bigger (🤦🏼‍♀️) and it's just too much to bring in my travel bag.
Instead, I've been taking my 20 oz. collapsible, reusable water bottle! Even if you just use this one during your travel, you'll be happy, hydrating, and avoiding the disposable plastics.
And you'll be happy to know that in all my travel, I rarely have trouble finding places to fill up my bottle – even just emptying water cups from lunch and dinner helps a lot!
Finally, since I try to travel healthy and I travel on my stomach, I usually like to bring snacks and perhaps a sandwich in small reusable bags. These bags often help with any kind of snacks and even personal trash collecting on our route (all the more real with a kiddo in tow)!.
Sustainable Tourism
4. Stay Locally
So. Now let's switch to your actual vacation. When it comes to staying somewhere, it's the most sustainable to stay at a place that's owned locally. It isn't always easy to tell what's local and what's not, but if they only have one location and aren't part of a larger hotel rewards program, you should be good to go.
If you're traveling to a few destinations on your trip, you can always try to stay in smaller, local places in some places and not others if it's cost or geographically prohibitive.
5. Travel Publicly
When it comes to getting around, public transportation and walking are always the most sustainable options. Public transportation will run whether or not you get on it, so you're eliminating extra emissions by using what's already available.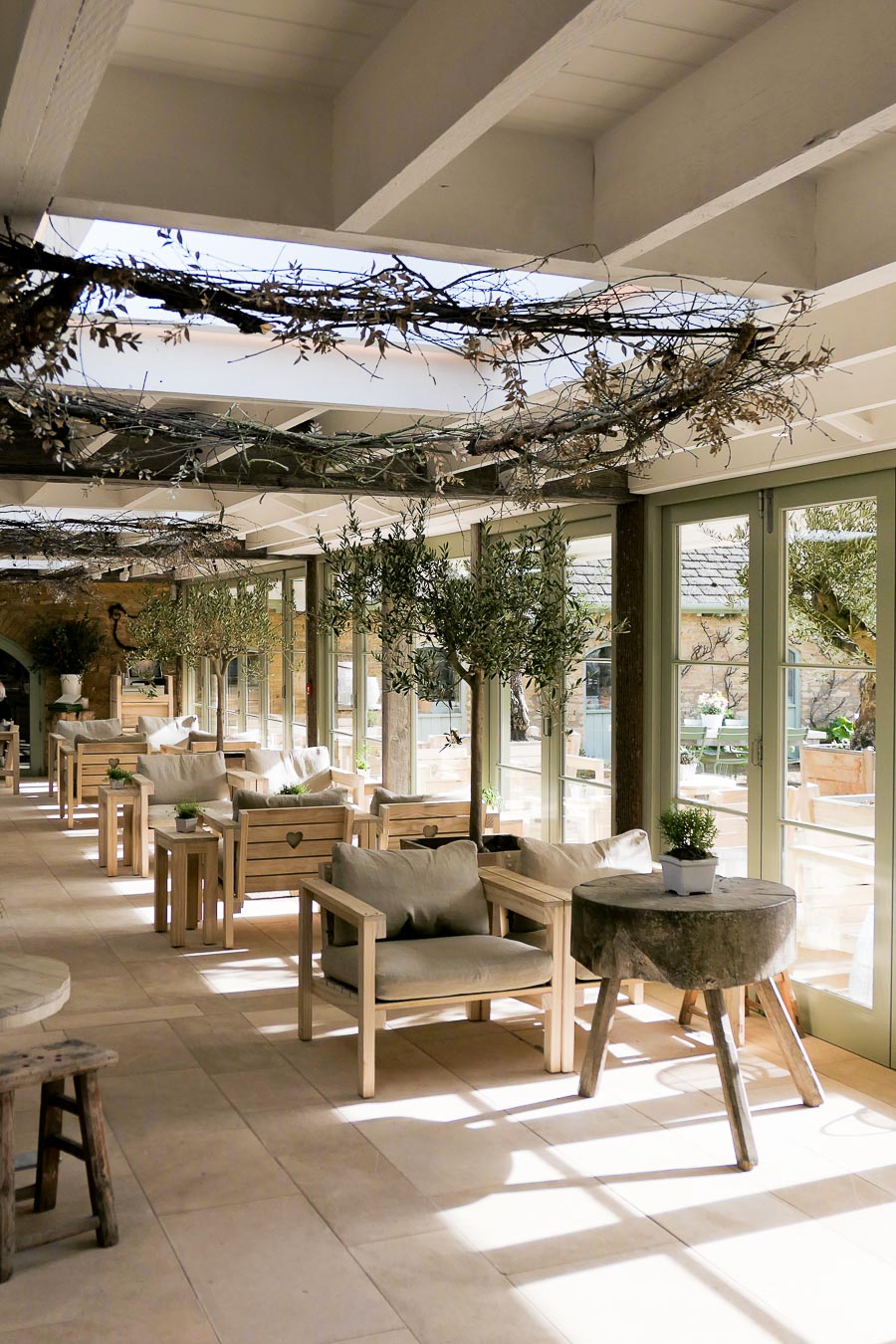 6. Eat & Drink Locally
When it comes to eating and drinking, try to skip the chains and big names. Eating at local restaurants and trying coffee and morsels at local cafes is one of my absolute favorite parts of traveling. In case you need help drooling over some local food…
Best Vancouver Restaurants & Coffee Shops
Fun Places to Eat in Nashville (+ Coffee Too}
Downtown Chicago Restaurant Recommendations
Favorite Coffee Shops in Sacramento
Edinburgh Cafes To Love and my Edinburgh City Guide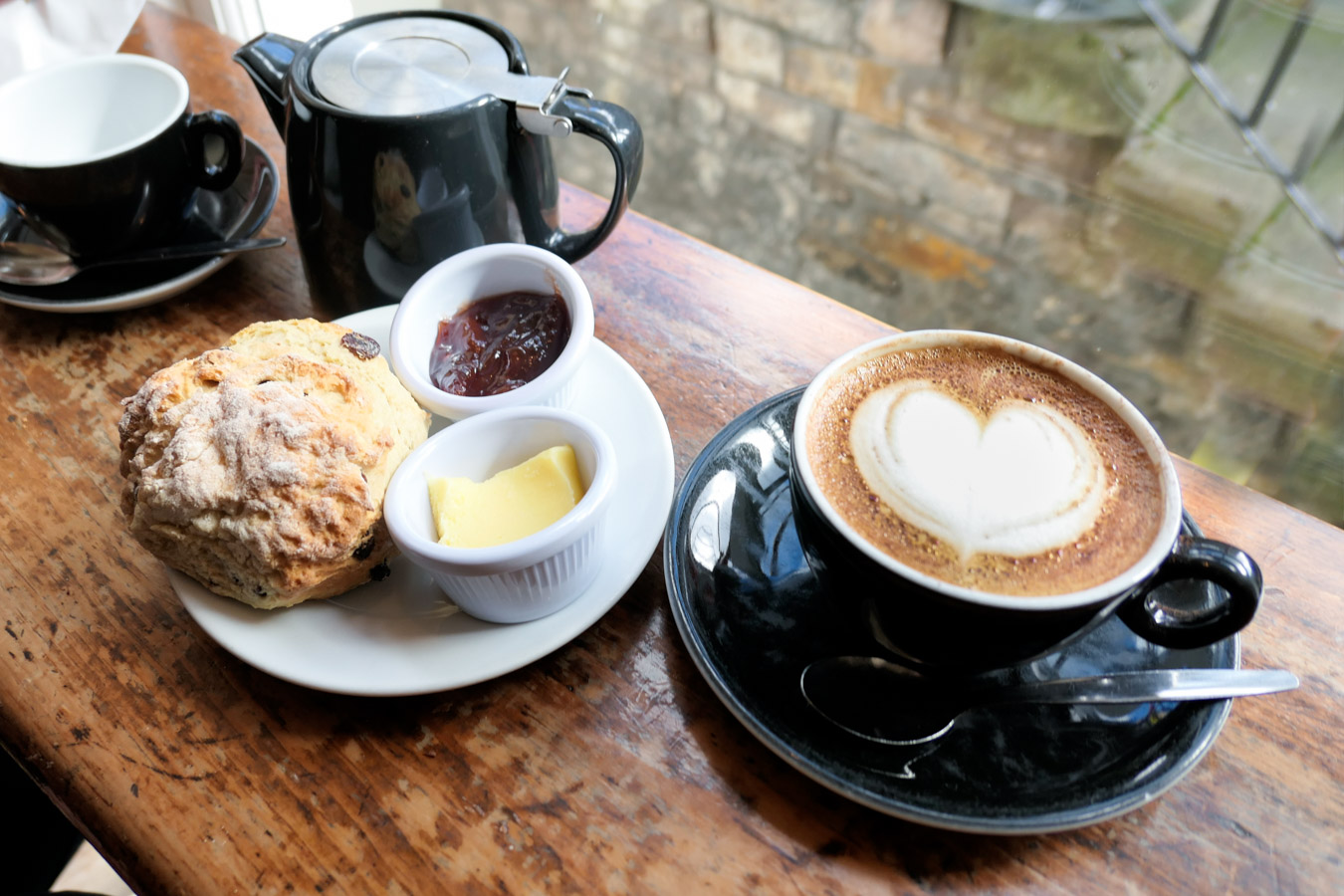 7. Don't Overdo it at Restaurants
Ok. This is a funny one, but as a food blogger and now that I'm a bit obsessed with avoiding food waste, I see how indulgent we get when traveling. It's wasteful.
I completely understand wanting to try everything at a new place. And wanting to try everything that the internet says is good (ok, not me, but I see people do this, which is great!). But we tend to over order and we aren't taking home leftovers on a trip!
You can ALWAYS order more food, so start conservatively with your order and go from there!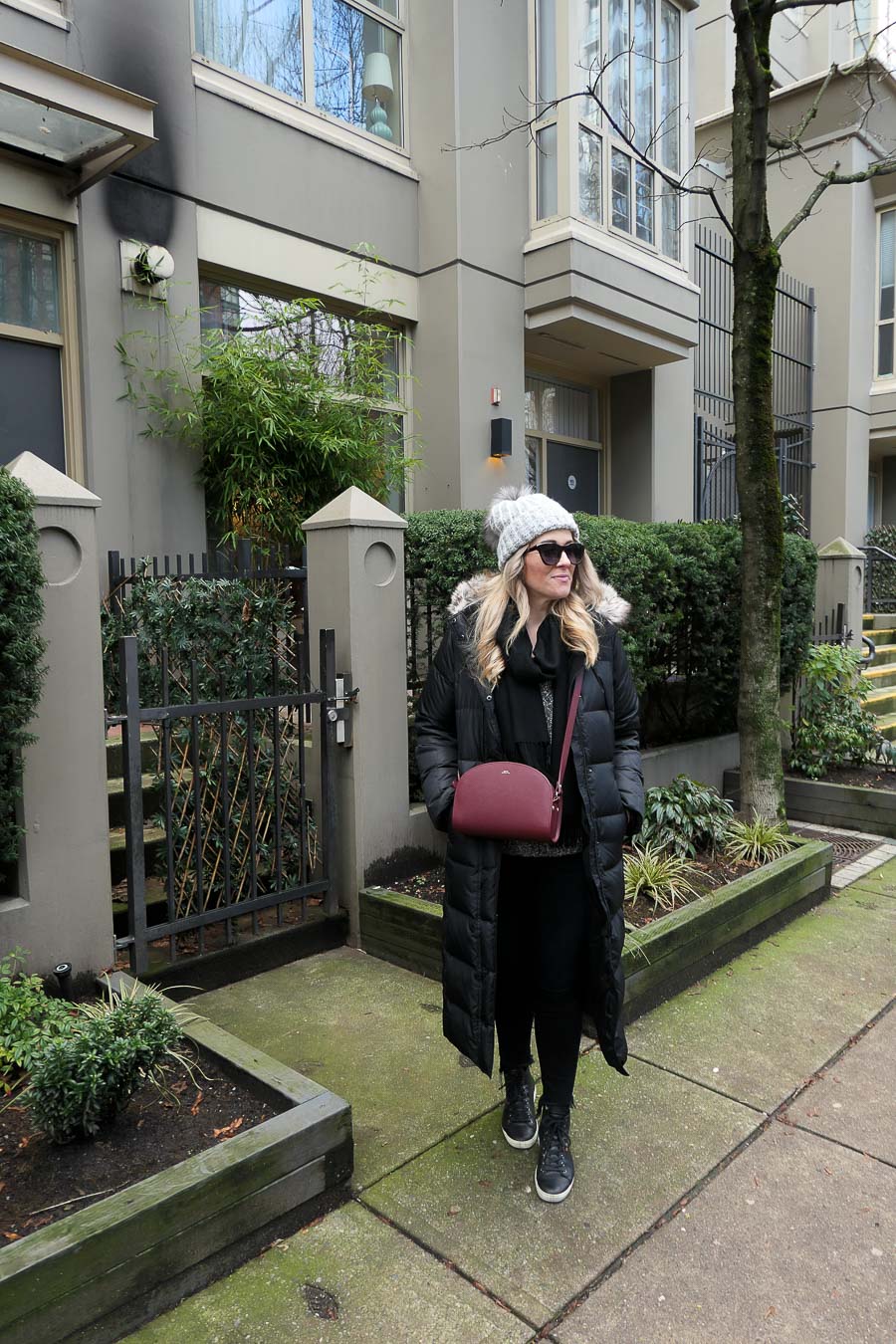 8. Tour Locally &/or sustainable
My family was always big on taking a tour of some kind our first day or two in a new city. It's a fabulous way to get some history, get your bearings, and get acquainted with the city.
Purely for the sake of a good experience, but also as a major sustainable travel tip, opt for local tours and, especially, ones that aren't on a bus or in a car.
My favorite city tours to date have been the bike tour my husband and I did on our honeymoon during our stay in Nice, France; the self-guided bike tour in Victoria, B. C., and the London walking tour! Even the restaurant tour and the ghost tours during our stay in Charleston stick with me!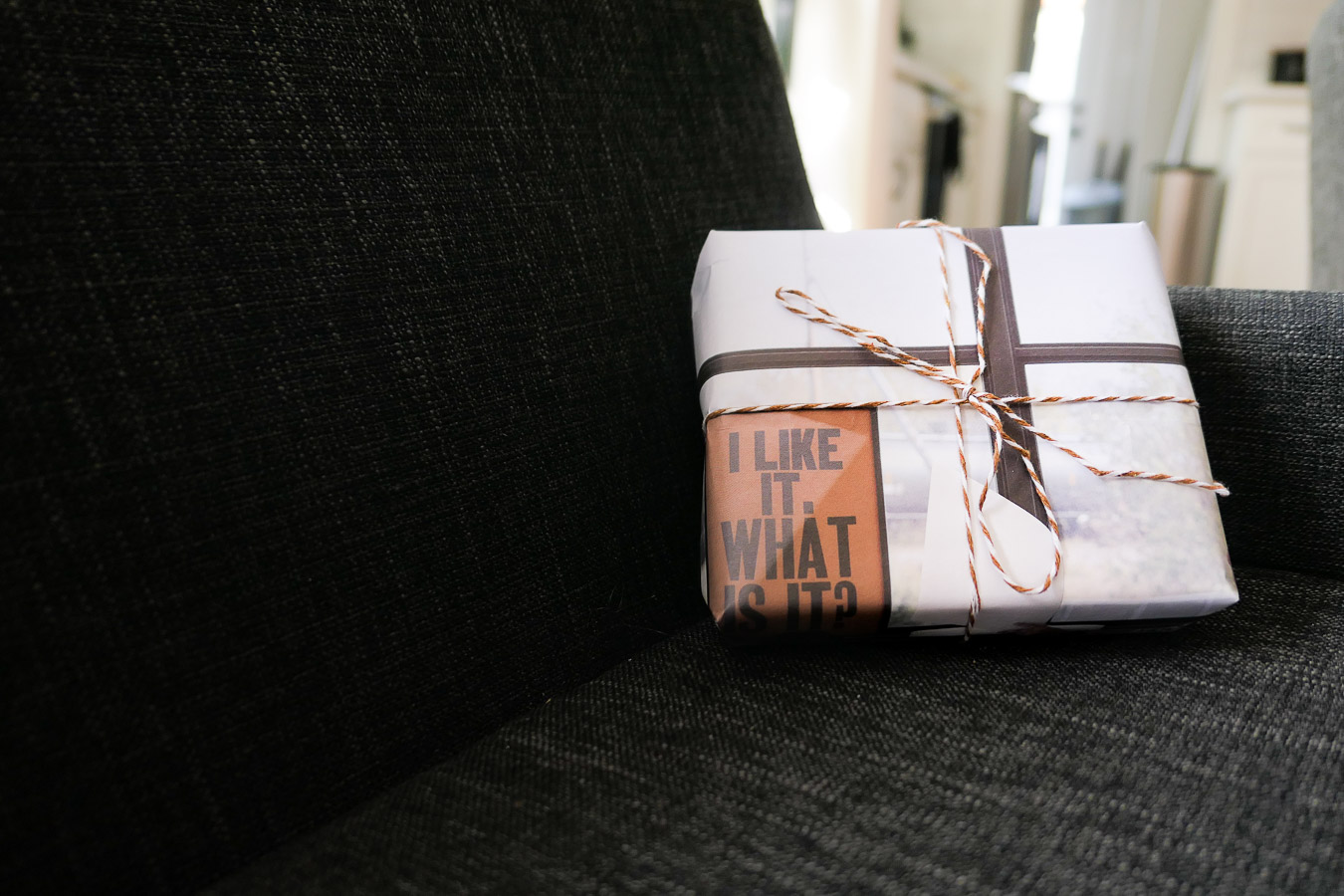 Sustainable Travel Tips for Souvenirs
9. Shop Locally for Souvenirs & Memories
Most souvenirs are not made locally. I don't how many people buy stereotypical souvenirs like the t-shirts, magnets, shoulder bags, etc., but those stores are still open, so there must be a business.
Sustainable travel tips for souvenirs, I encourage you to think twice! Who is making it? Who benefits? And would you/whomever value this thing?
When buying items to take back home (for yourself and for others), opt for locally made, locally-sourced, or locally sold at the very least.
We've really stopped buying items for people on our trips unless we find just the right thing. We do often find great items for people, but it isn't an absolute must.
If you're looking for memory tokens, however, try local boutiques and craft or artisan fairs. Just like in your hometown, these are the places local business owners sell their wares.
Buying local food is also a fun option. My husband and I "collect" coffee beans. Not only does buying the beans support a local coffee shop, when we get home, we can recreate flavors from our trip. AND it doesn't take up any room in our house since we consume them quickly.
The same goes for any other kind of non-perishable foods!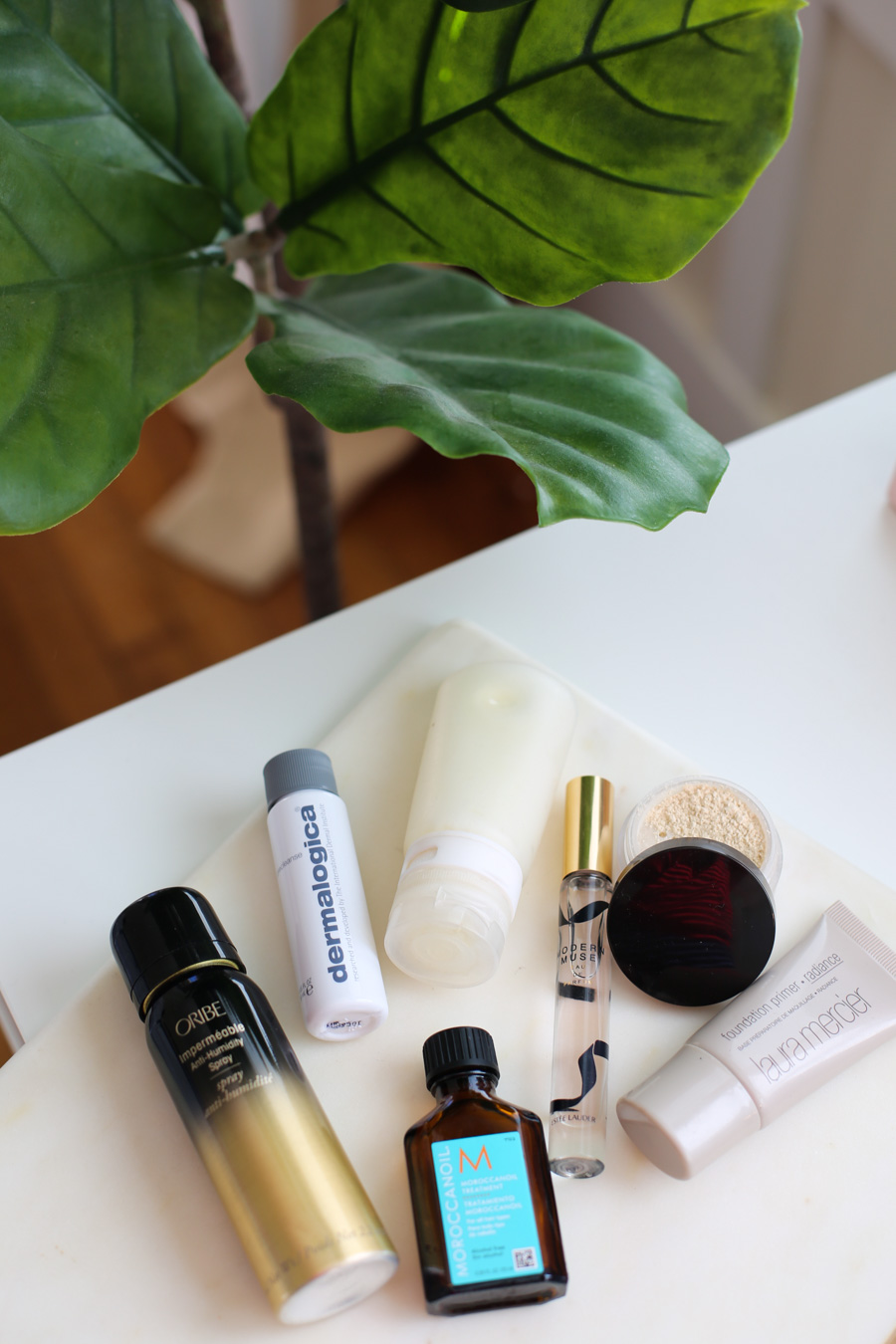 10. Avoid the freebies
Finally. Over the years, freebies have become synonymous with traveling. Miniature toiletries from the hotels, snack bags on planes, gimmicky things at tours.
Every time you're presented with something of this nature, take a second to think if you really need it or would use it to its fullest capacity.
Alternatively, does each person in your group need one or could you do with just one?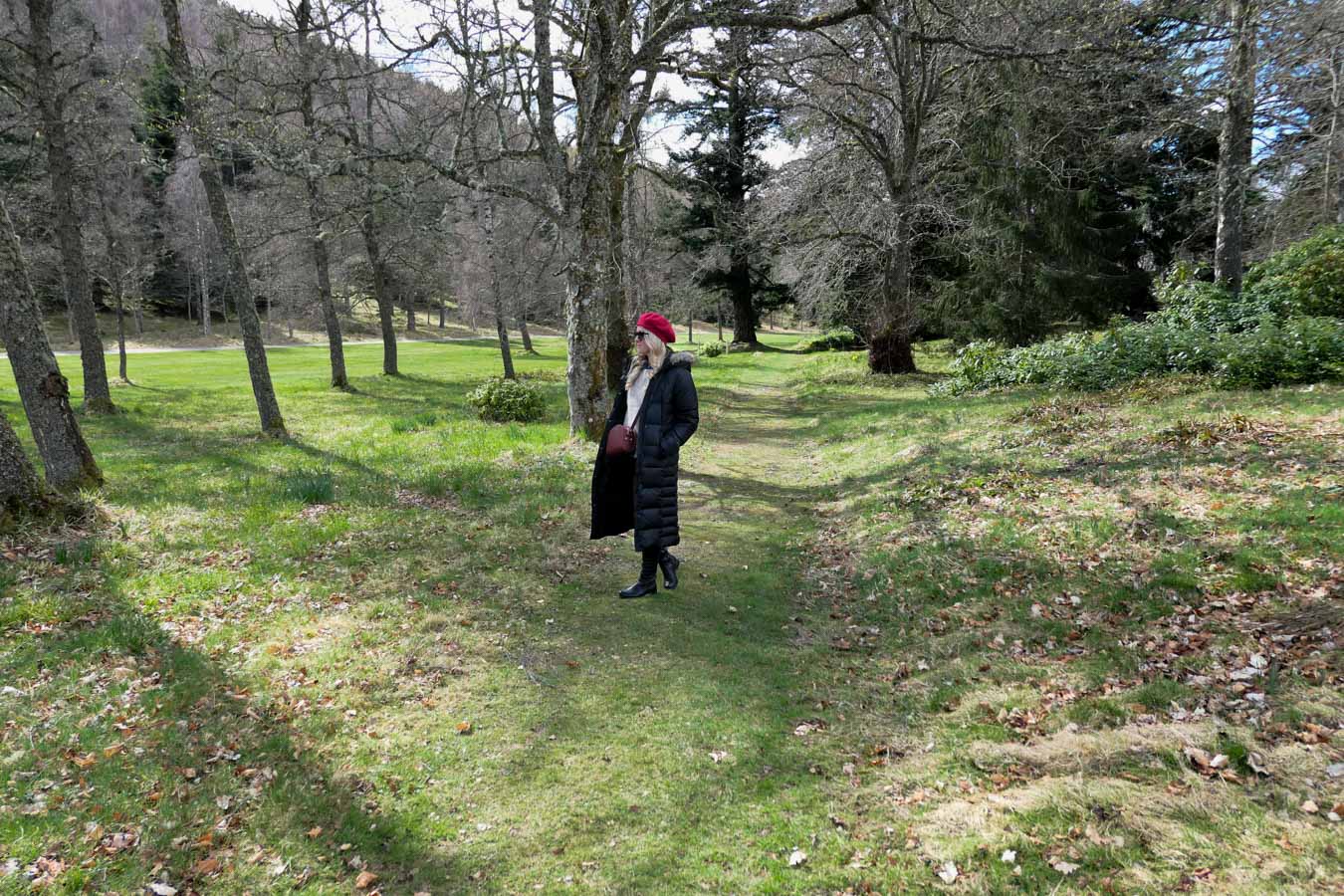 More Travel Guides