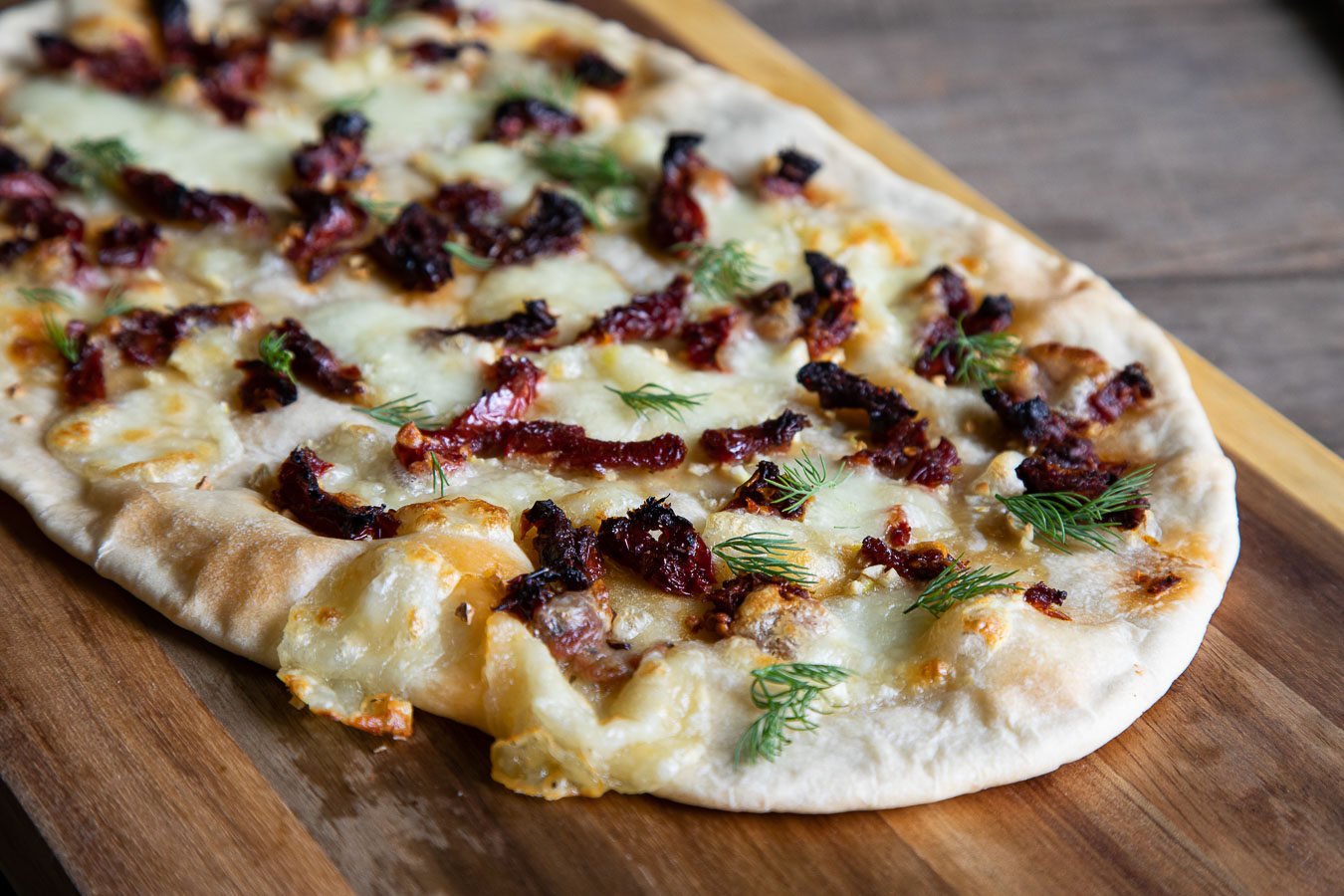 I secretly love sun-dried tomatoes. Just a few of them can give a nice punch of flavor. My husband, however, does not secretly dislike them! Opening up a jar of sun-dried tomatoes, therefore, doesn't happen nearly enough in my life. But a sun-dried tomato pizza reheats beautifully, makes my soul happy these days, and doesn't require sharing!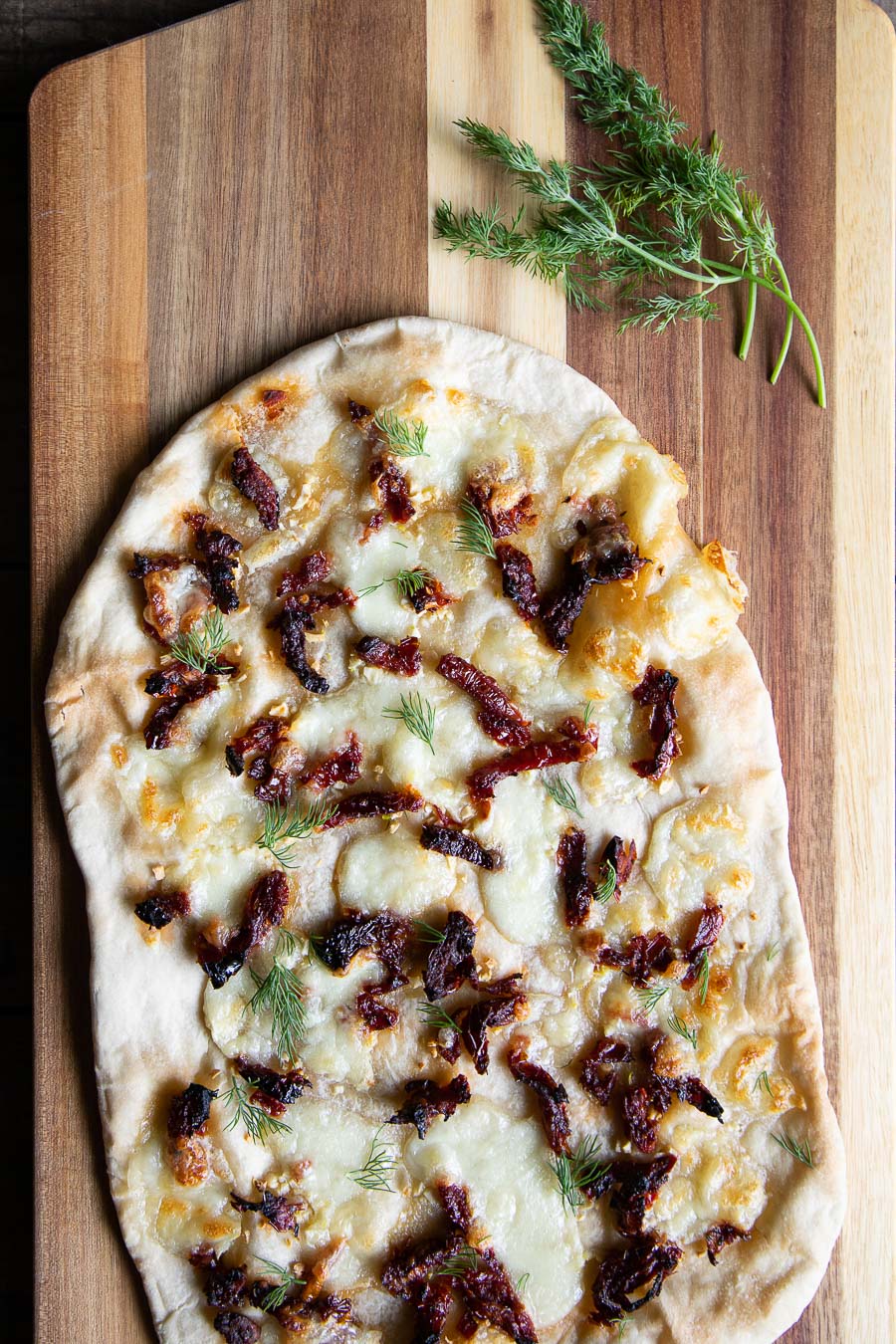 Sun-Dried Tomato Pizza
If you're among the lucky ones who's found yeast at the market these days (I snagged the mini packs last time I was out), then you follow the directions for homemade pizza dough in this BBQ thai chicken pizza recipe.
If you don't have yeast, don't fret. This pizza dough without yeast recipe works just fine and requires baking powder instead!
And if we're being really honest, you could do this combo on a tortilla for a quesadilla or on toast and you'd be so happy!!
I do really like the addition of fresh dill here. Fresh herbs are always a light addition that can really take a simple dish to the next level (and don't forget you can easily dry fresh herbs if you have extras to avoid any food waste).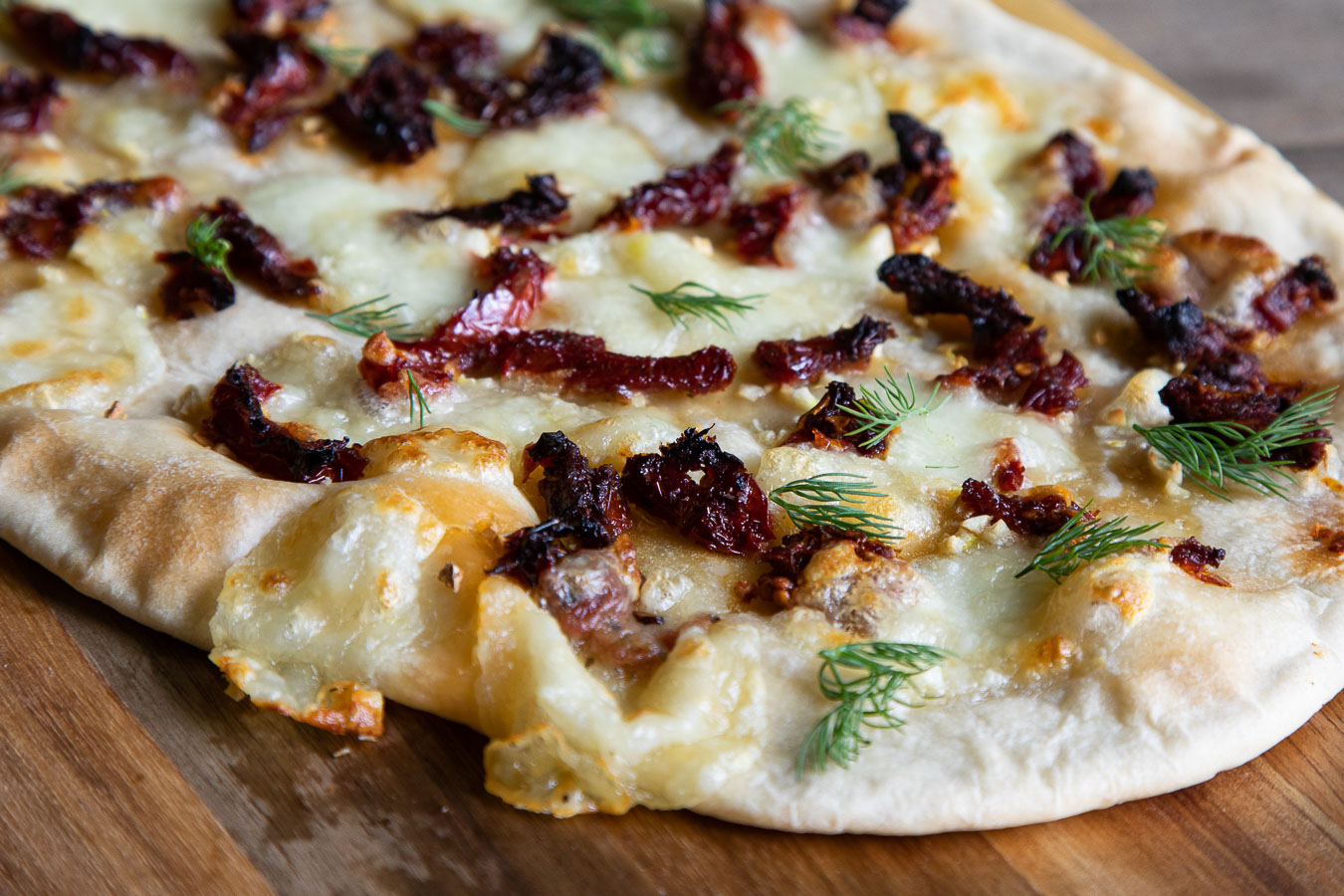 sun-dried tomatoes
If you're looking for sun-dried tomatoes, you'll find them one of two ways – dried in a bag or dried and soaking in delectable olive oil in a jar (usually with pickles and condiments). This recipe calls for the latter. And in my humble experience, the oil soaked ones are the ones to get.
If you're feeling fancy (or daydreaming like me these days), you can make your own sun-dried tomatoes and then can them in oil.
Otherwise, I really just like the Bella Sun Luci brand – not because of the name…well, ok, yes, because of the name, but also their products are really quite delicious!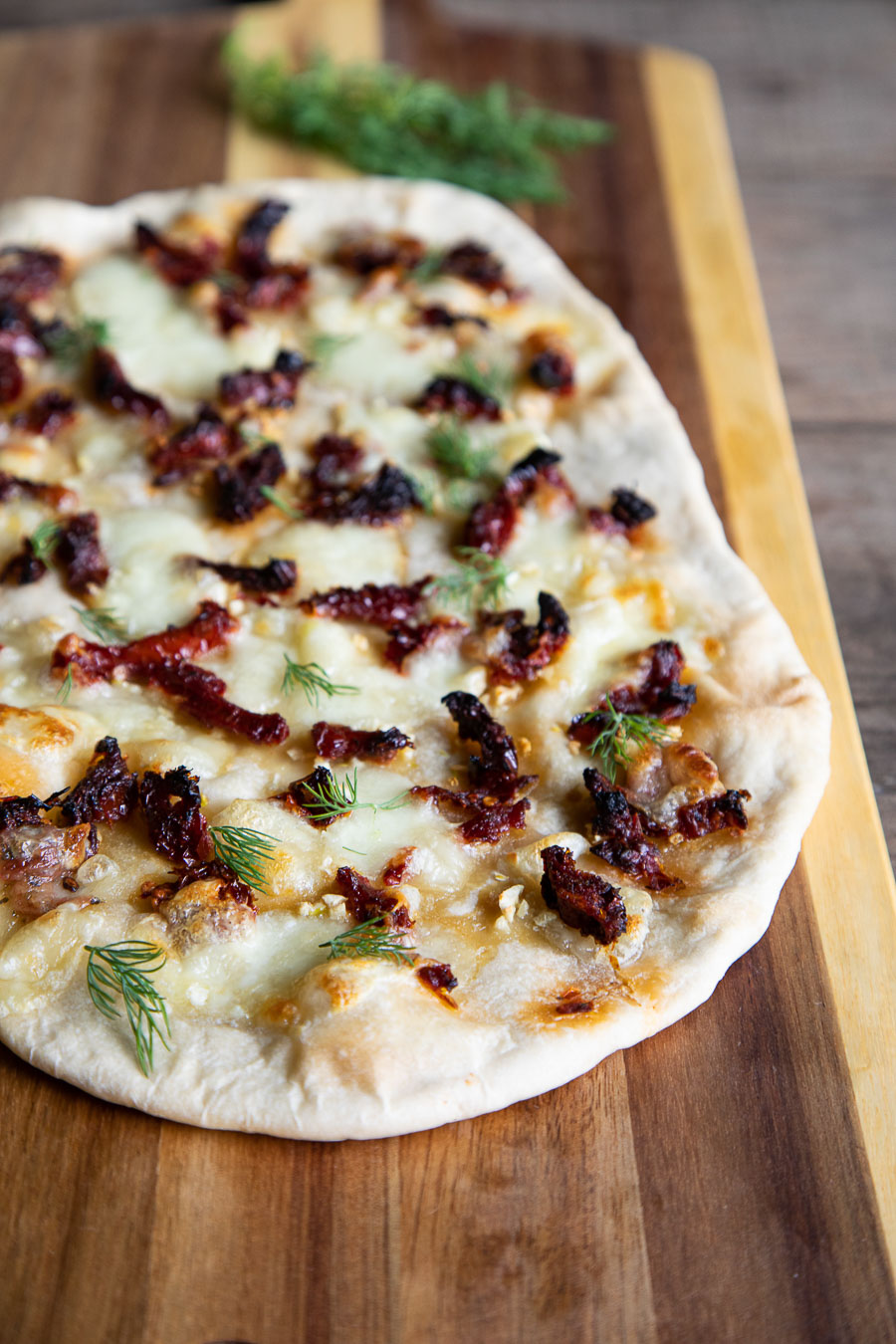 Flatbread Cheeses
The recipe here calls for the traditional whole milk mozzarella because sometimes the classic option is the best option. But now I'm not thinking of other delicious cheeses you could do.
I bet a ricotta (like we used on these giant meatballs) would be good. And what about some shredded havarti, gruyere, or fontina?
But honestly, anything with "cheese" in the name would probably be good. I have that much faith in the sun-dried tomatoes, the flatbread setup in general, and your skills!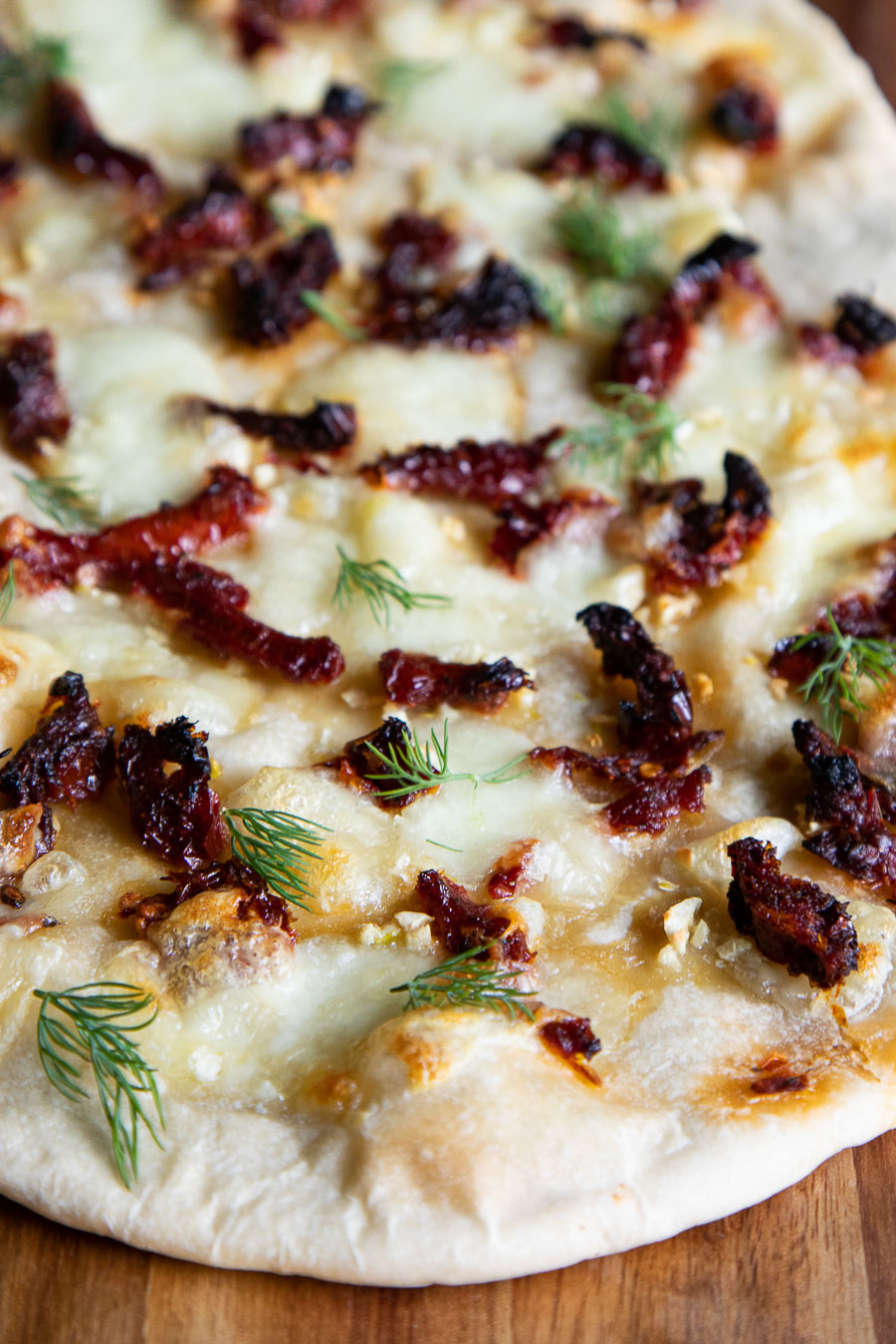 What to Serve with Flatbread
You don't need much to round out the meal, which is nice. I'm always trying to eat more veggies, so I'd recommend this simple radicchio salad with corn or this swiss chard with ginger!
SEASONAL RECIPE COOKBOOKS
DELICIOUS RECIPES TO ENJOY PRODUCE TO ITS FULLEST ALL YEAR ROUND. SIMPLE AND DELICIOUS RECIPES MADE FROM SCRATCH FOR YOUR FAMILY AND YOUR GUESTS ALL YEAR LONG!
Sun-Dried Tomato Recipes
I love sun-dried tomatoes, but I find I use a jar for one recipe and the rest to easily go to waste. So here are a few recipes that help finish out the jar with ease!
Avocado crackers mix with sun dried tomatoes for a fast and flavorful appetizer or snack!
Don't forget you can use them as savory yogurt toppings! And they're DELICIOUS in this grilled shrimp toast!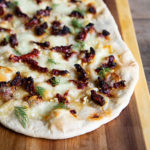 Print Recipe
Sun-Dried Tomato Pizza
Whip up this easy sun-dried tomato flatbread with little to no effort but all the happiness. An easy dish for breakfast, lunch, or dinner!
Ingredients
Extra virgin olive oil

2

garlic cloves

minced

½

cup

sliced sun-dried tomatoes packed in oil

drained

4

ounces

whole milk mozzarella

chopped

Dill for garnish
Instructions
Preheat the oven to 450 degrees F. Place a pizza stone in the oven to heat as the oven warms.

Roll the dough thin over a piece of parchment paper to an oval about 10-by-14-inches. Slide the parchment with the dough onto the pizza stone and bake for 5 minutes.

Remove from the oven and brush with olive oil. Sprinkle with the garlic, sun-dried tomatoes, and cheese. Bake for about 12 more minutes, until the crust is browned and cheese is browned and bubbly.

Garnish with dill sprigs before slicing to serve.
Notes
Save this recipe on Pinterest here!
Make this recipe? I'd love to see how it turned out…
PINTEREST: Upload a photo and your review to this Pin!
INSTAGRAM:  Tag me
@lucismorsels
and use #LMrecipes
Nutrition
Calories:
117
kcal
|
Carbohydrates:
4
g
|
Protein:
7
g
|
Fat:
8
g
|
Saturated Fat:
4
g
|
Polyunsaturated Fat:
1
g
|
Monounsaturated Fat:
3
g
|
Cholesterol:
22
mg
|
Sodium:
215
mg
|
Potassium:
243
mg
|
Fiber:
1
g
|
Sugar:
0.3
g
|
Vitamin A:
369
IU
|
Vitamin C:
14
mg
|
Calcium:
152
mg
|
Iron:
1
mg