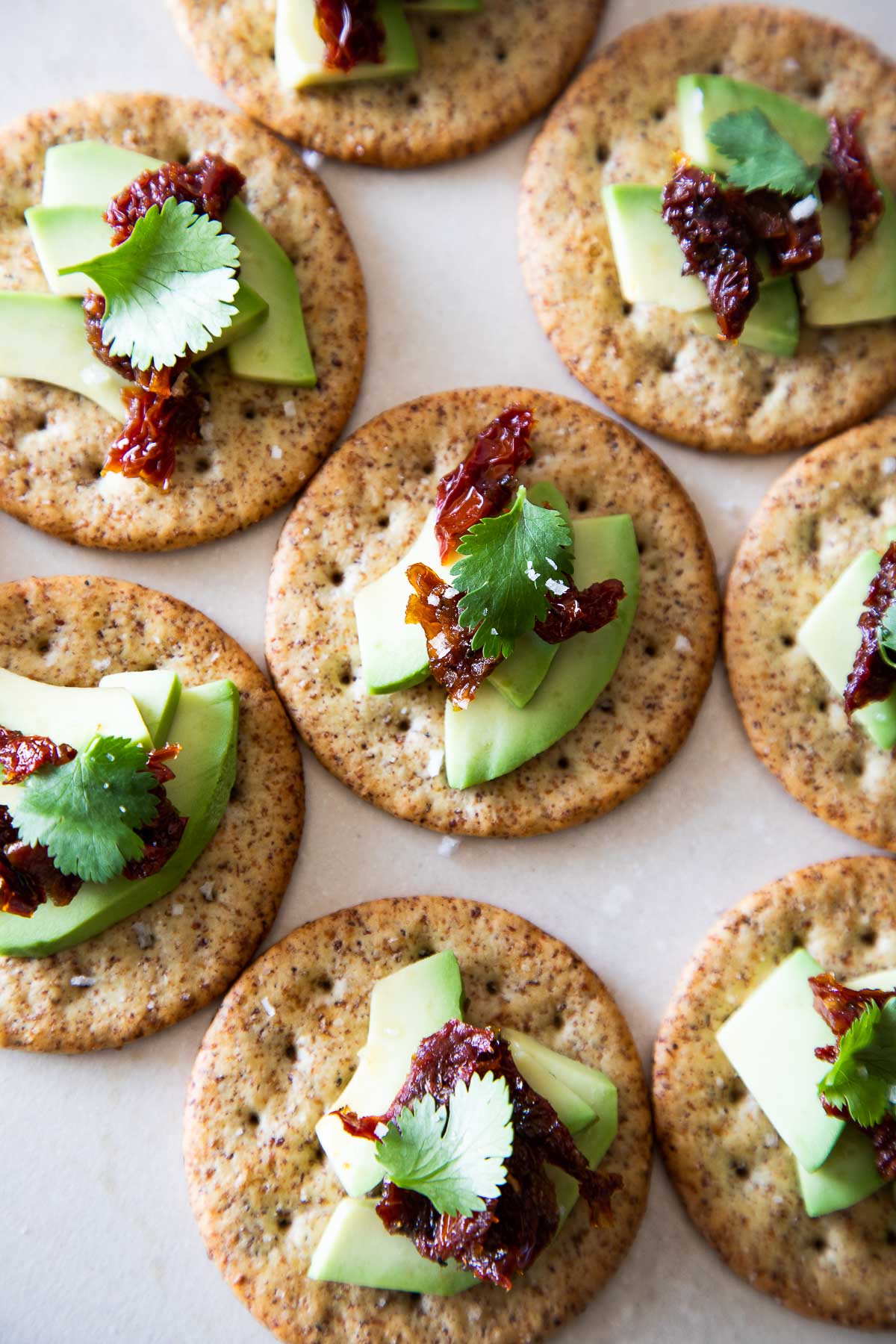 I've long said that I love entertaining, but it's also obvious that I live for easy entertaining recipes. These avocado crackers (topped with sun-dried tomatoes, cilantro, and salt) might just take the cake for simplicity, however!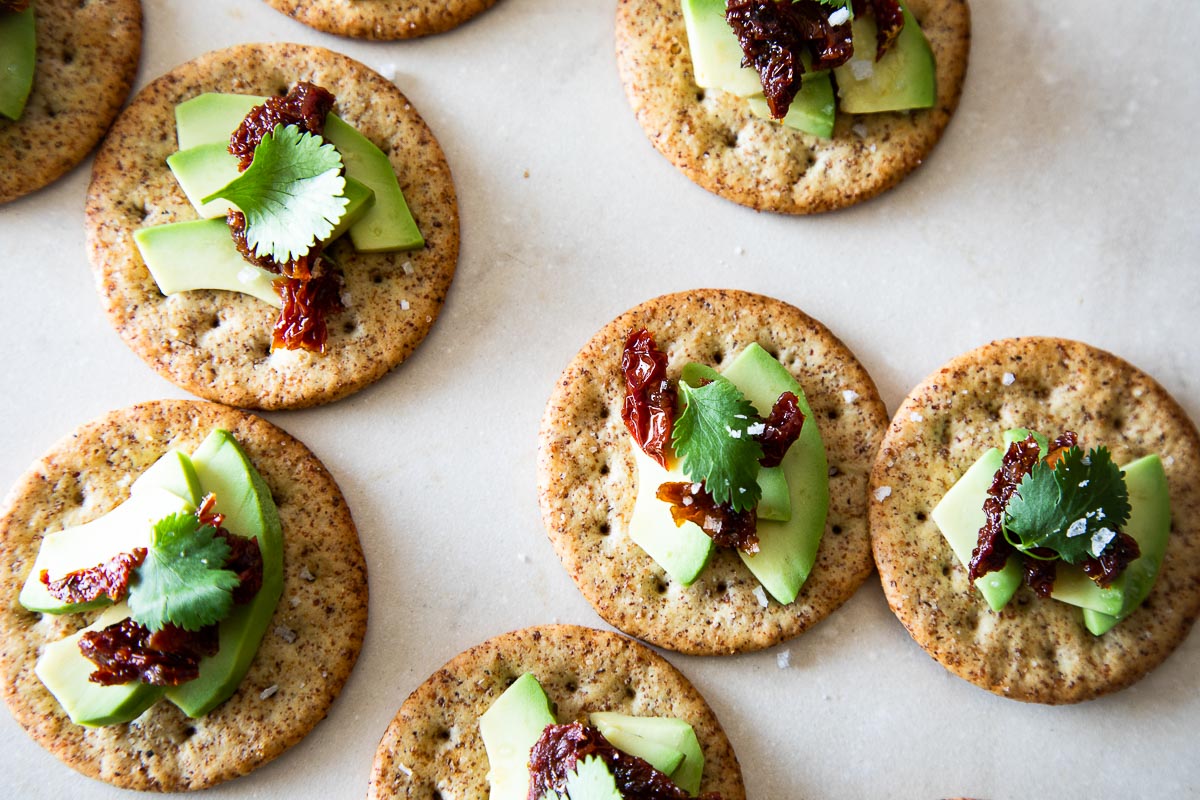 Avocado Crackers
I love avocado. It's a delicious and fun fruit to eat, but too often we (me!) just opt for a guacamole, topping a taco, or of some kind of an avocado toast (as evidenced by my ceviche avocado toasts, spicy grilled avocado toasts, and even these avocado & hard-boiled egg breakfast toasts).
But then every once in a while I remember that I can use those precious green fruit in other ways. This usually happens when I need a quick snack or very last minute appetizer! Hence the creation of these avocado crackers.
Avocado Cracker Topping Idea
Now clearly we could put some avocado on a cracker, sprinkle some salt and call it a tasty day!
But if you have sun-dried tomatoes in olive oil in your cupboard (or taking up space in your refrigerator door), you should absolutely add those too.
My husband isn't big on sun-dried tomatoes, but I think when they're soaked in a good olive oil and paired with just the right ingredients, they are so, so tasty! (scroll down for more sun-dried tomato dishes).
The only thing to note here is that you really need to drain the tomatoes WELL after you take them out of the oil. The tomatoes will still retain that delicious moisture, but if the tomatoes are too drippy, they'll make the cracker soggy pretty quickly and that would ruin the simple delectability of these avocado crackers!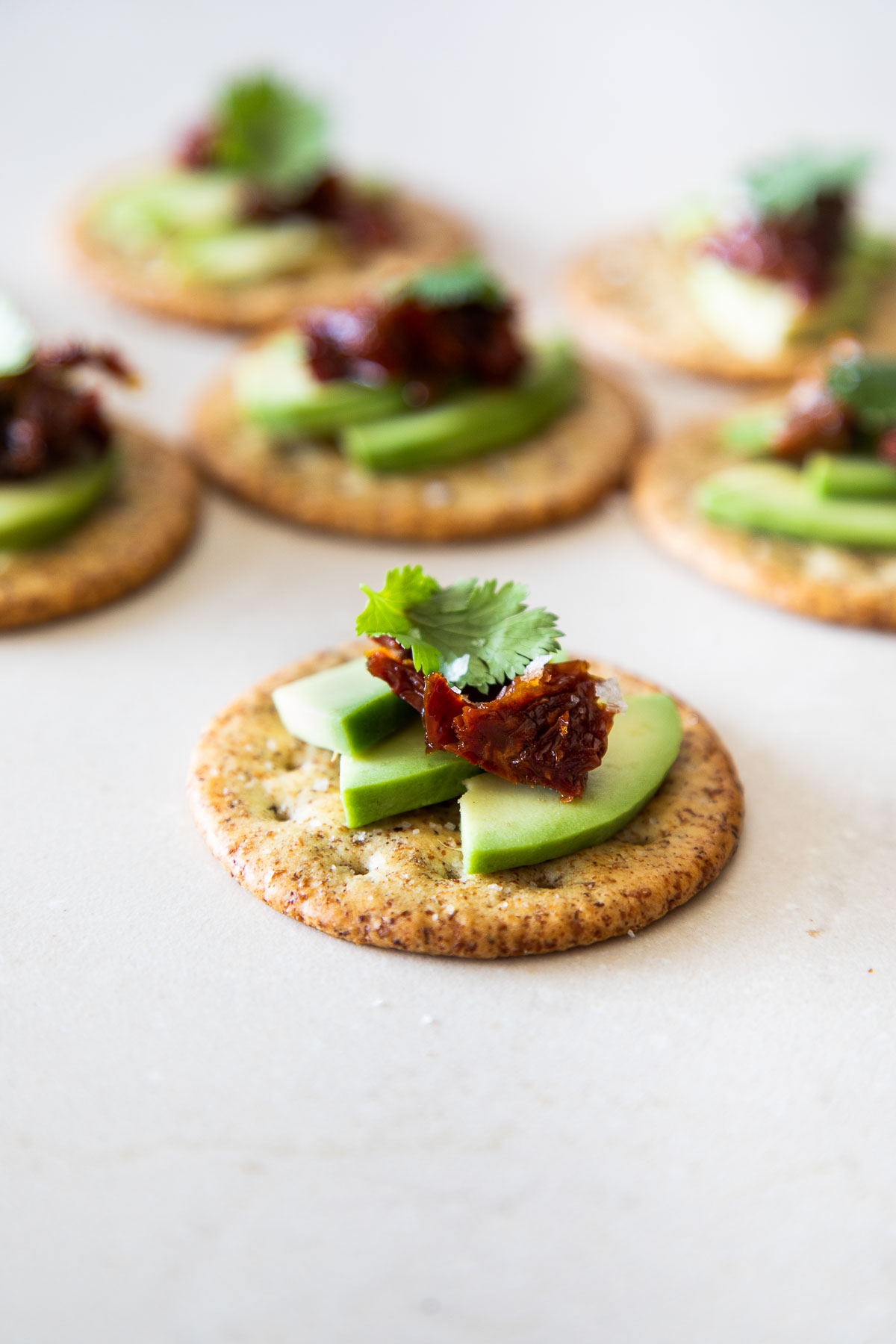 What to Serve with These?
These tasty avocado crackers are the perfect beginning to a meal or a centerpiece in any impromptu get-together (usually my favorite kind).
These crackers are a nice compliment to this Trader Joe's trail mix with toasted nuts, dried cranberries, and pepitas.
For drinks you could try any of these healthy iced teas or a seasonal lemonade. It can all come together in less than ten minutes and you'll love how it all turns out! All of it is so simple but yet the setup (and the flavors) are a real treat!
Life is busy enough, so effortless get-togethers are a must. And while I loved this simple setup, it's delicious and elegant enough for party of any kind!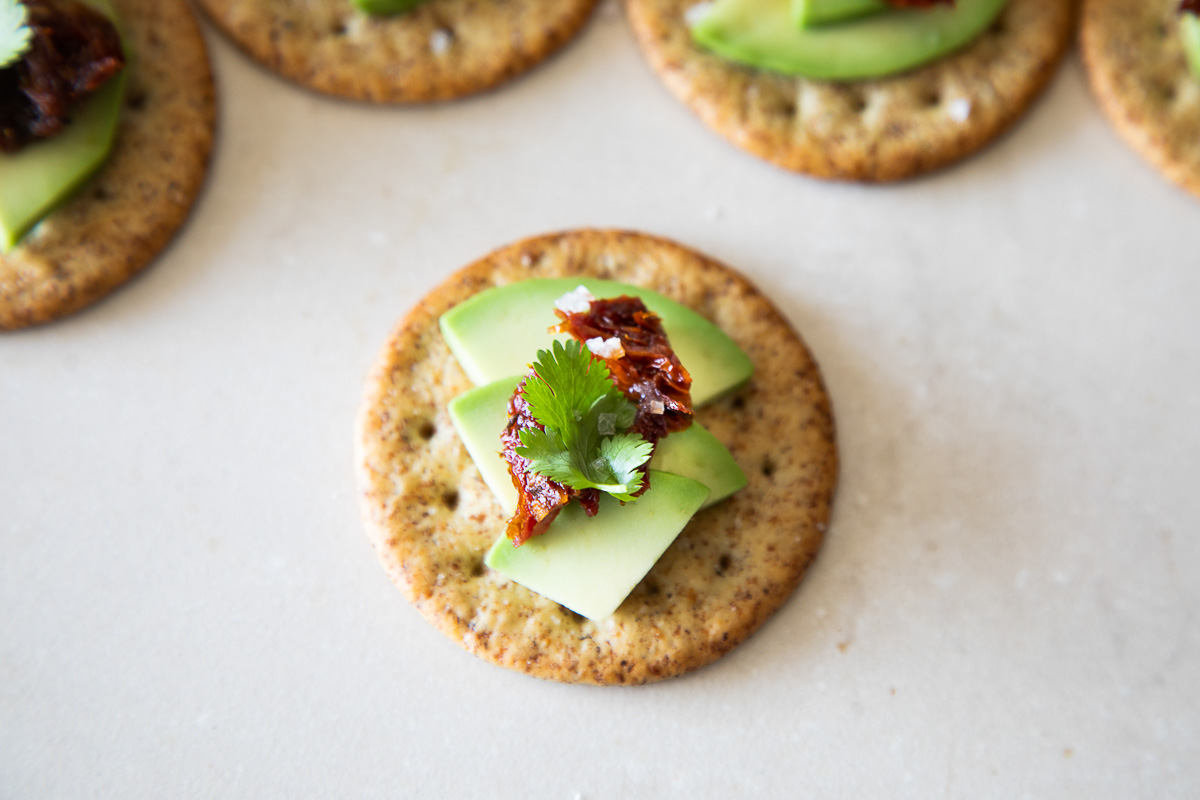 Sun-Dried Tomato Recipes
I love sun-dried tomatoes, but I often have part of a jar hanging out in my fridge for way too long. So here are a few recipes that help finish out the jar with ease!
Sun-dried tomato flatbread is fo simple and so delicious – as a dinner or cut up into an appetizer for friends!
Don't forget you can use them as savory yogurt toppings! And they're DELICIOUS in this grilled shrimp toast.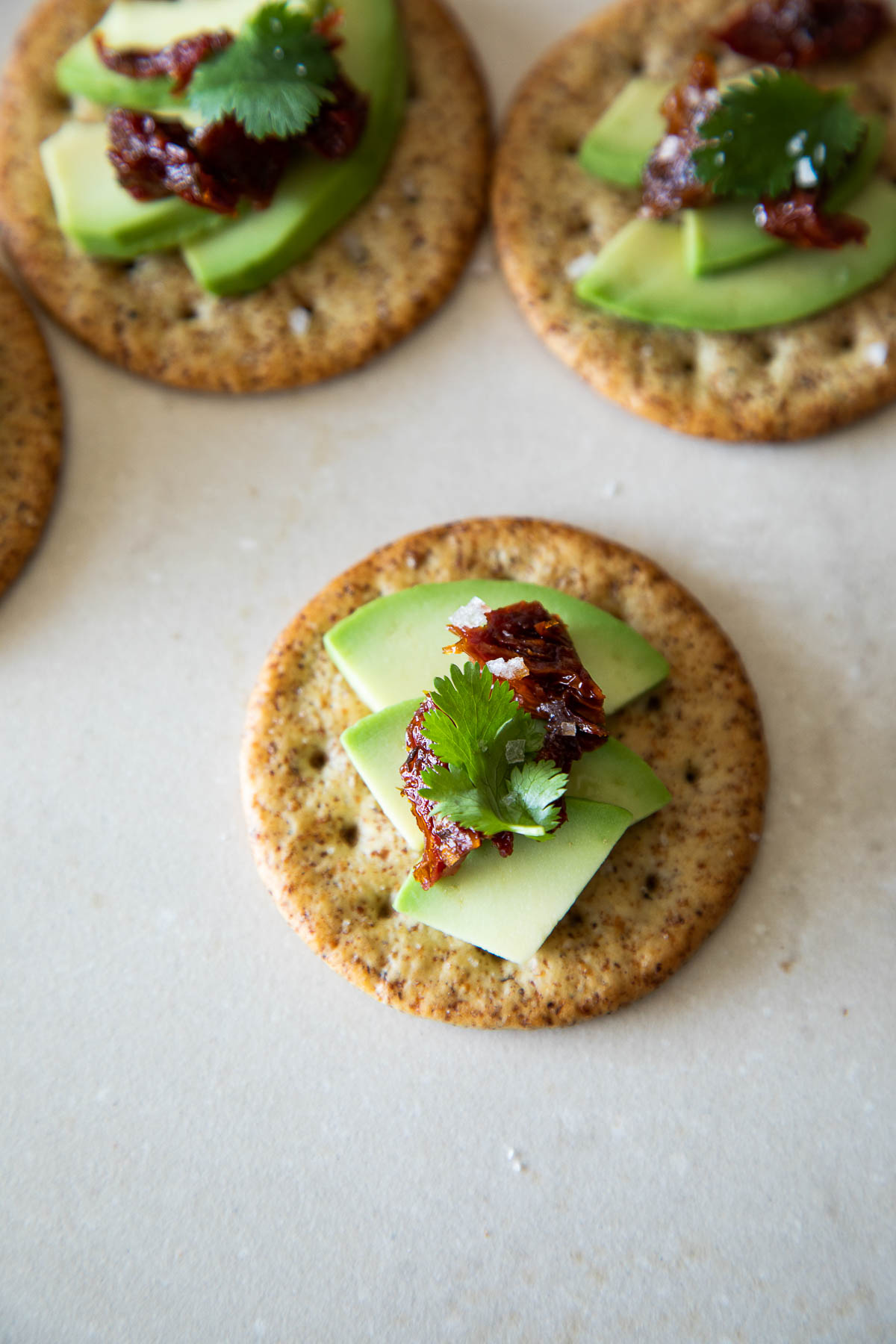 More Simple Appetizers
If last minute and/or impromptu appetizer recipes are the name of your game too, you'll love these cheese board ideas, grilled veggie antipasto, and these Mexican pinwheels made with kitchen staples! And this last minute fruit appetizer board is ALWAYS a hit (last minute or otherwise).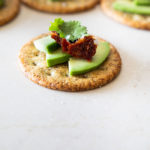 Print Recipe
AVOCADO CRACKERS w. SUN-DRIED-TOMATOES
Have you ever invited friends over for dinner only to realize you didn't plan anything for them to snack or drink while you finished prepping dinner? I'm sort of notorious for this and I love combining whatever cracker and topping I have on hand. These avocado crackers with sun-dried tomatoes are one of my favorite concoctions to woo guests in no time!
Ingredients
Instructions
Score avocado halves in both directions, forming a grid. Scoop avocado into bowl. Using spoon, mix and gently mash avocado pieces. Divide evenly between crackers. Sprinkle with salt.

Top each cracker and avocado with 2-3 small pieces of sun-dried tomato and cilantro. Serve immediately.
Nutrition
Calories:
44
kcal
|
Carbohydrates:
4
g
|
Protein:
1
g
|
Fat:
3
g
|
Saturated Fat:
0.5
g
|
Polyunsaturated Fat:
1
g
|
Monounsaturated Fat:
2
g
|
Trans Fat:
0.01
g
|
Sodium:
28
mg
|
Potassium:
128
mg
|
Fiber:
2
g
|
Sugar:
0.1
g
|
Vitamin A:
56
IU
|
Vitamin C:
4
mg
|
Calcium:
4
mg
|
Iron:
0.3
mg