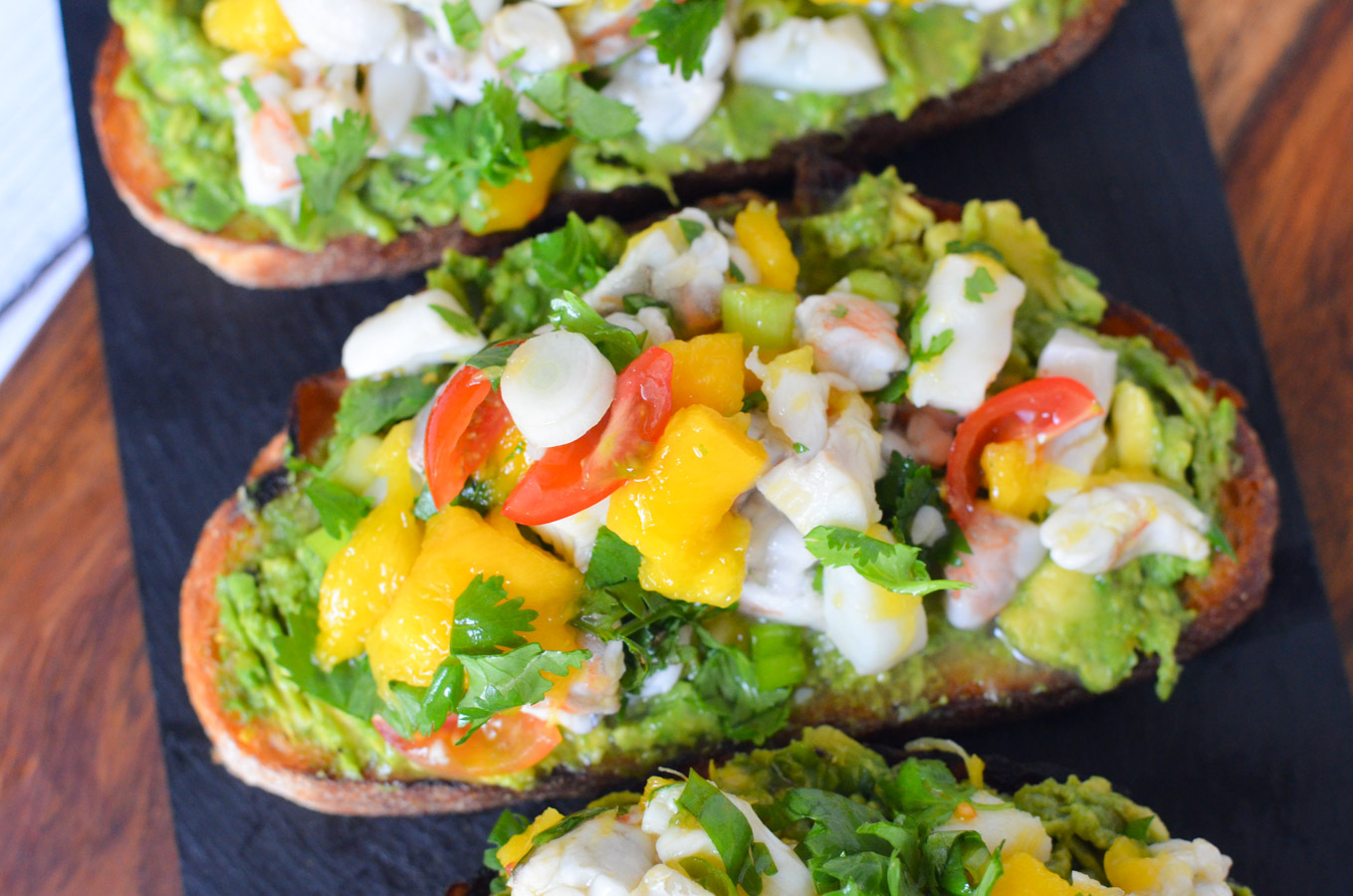 Sometimes I get carried away. While we were up in the Eastern Sierras a few weeks ago, I was planning my to do list when I returned. I had to make a recipe that featured chili flakes and in all my brainstorming, I dreamed up this avocado ceviche toast. I figured the ceviche would be kicky with the chili flakes and the avocado toast would calm the flavors perfectly. Genius, right?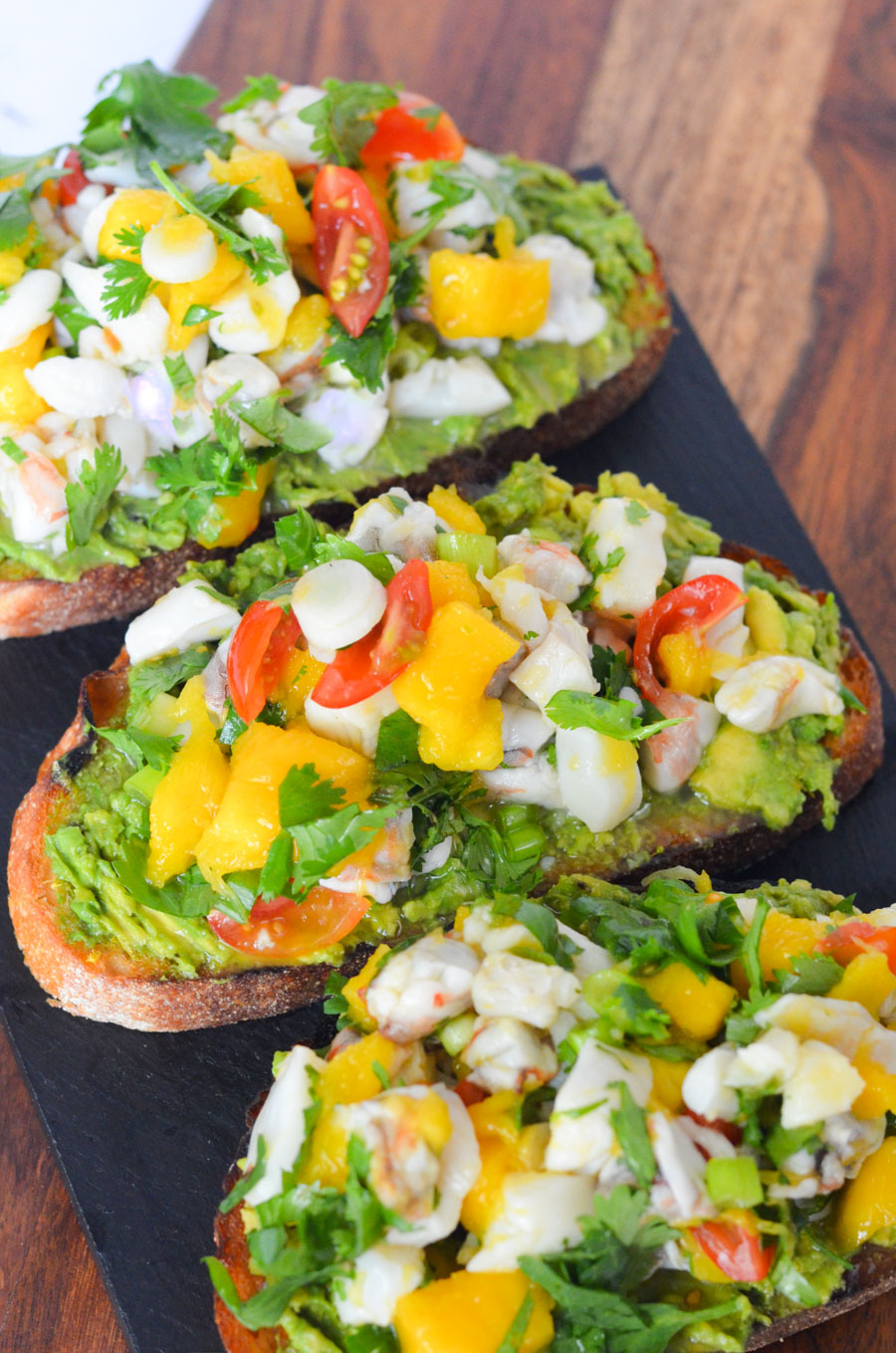 I mean, I thought so at least. I got back to my office only to realize the recipe was supposed to emphasize outdoor grilling and they wanted a short ingredient list with simple items.
So, the kicky ceviche toast with avocado was out and the spicy avocado toast (also insanely delicious) was born. But I wasn't gonna let this delicious combination of ceviche and avocado toast (two of my favorites) disappear…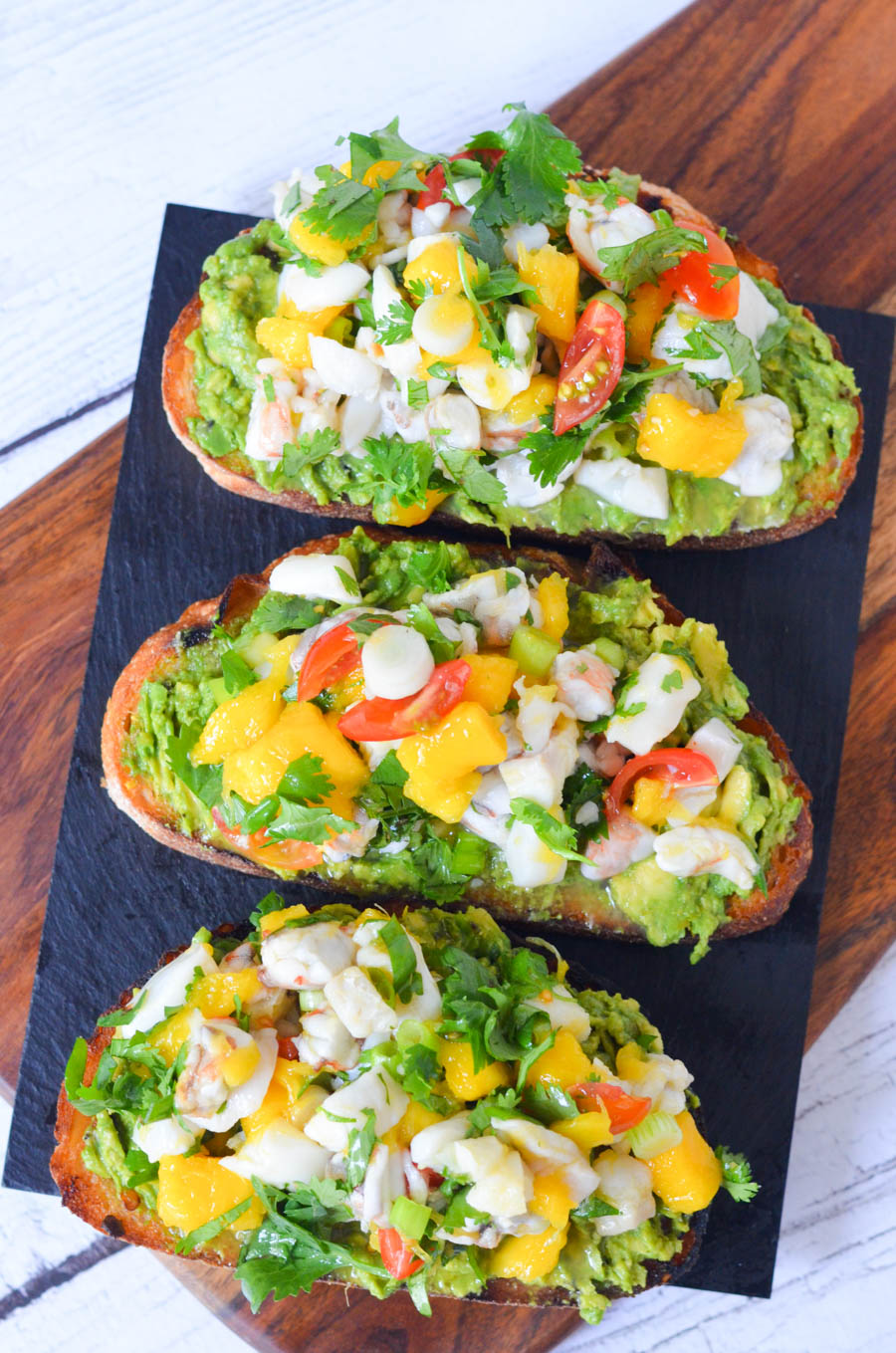 Ceviche Toast Recipe
Honestly, this recipe is good just for the ceviche. You could ditch the avocado toast, heat some corn tortillas, and have ceviche tacos.
OR you can go the traditional route and just serve it with great tortilla chips. I'm currently partial to the ceviche avocado toast, but this is a judgement free zone!
Ceviche is the perfect no cook summer recipe. It's hearty, healthy, filling, and doesn't require your oven or even your stovetop to cook. Whip it up in the morning or early afternoon for a make-ahead dinner recipe. You can use any combination of fish, but I think variety is the spice of life.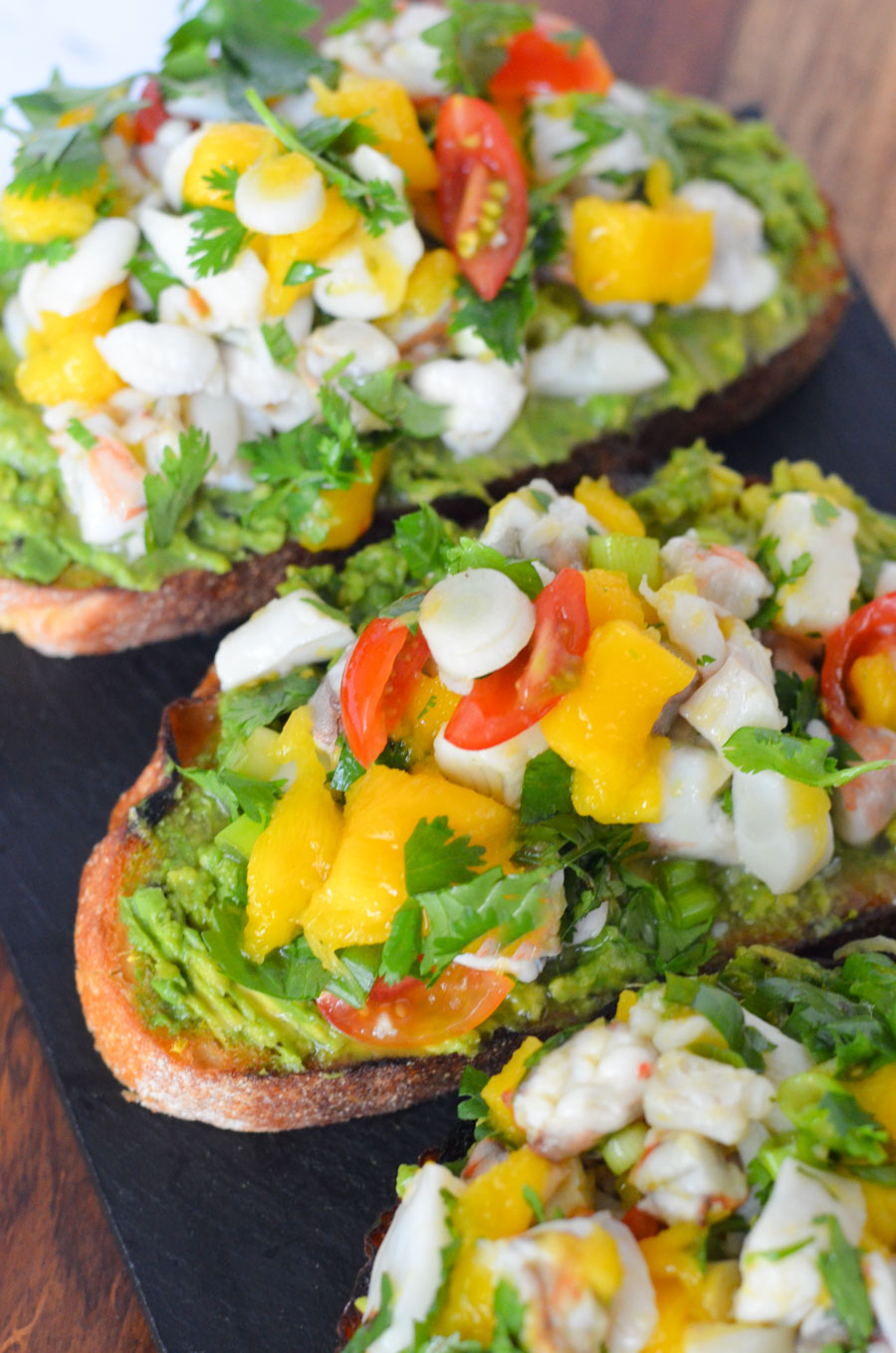 What Fish Is In Ceviche?
Traditional ceviche has a combination of fish in it, including shellfish and non-shellfish.
If we're being honest, I usually like scallops (seared scallops is my other favorite way to enjoy) most. They tend to be the most expensive at the fish counter, however.
You can also use shrimp, white fish, other shellfish, salmon, or, well, whatever. Alas this combination really is the tastiest! I think a combination of fish is the best for flavor and cost. It can start to feel all the same if you only use one.
If you have a great source for fish, you'll also want to try this smoked salmon toast, grilled shrimp toast, and tuna tartare toast!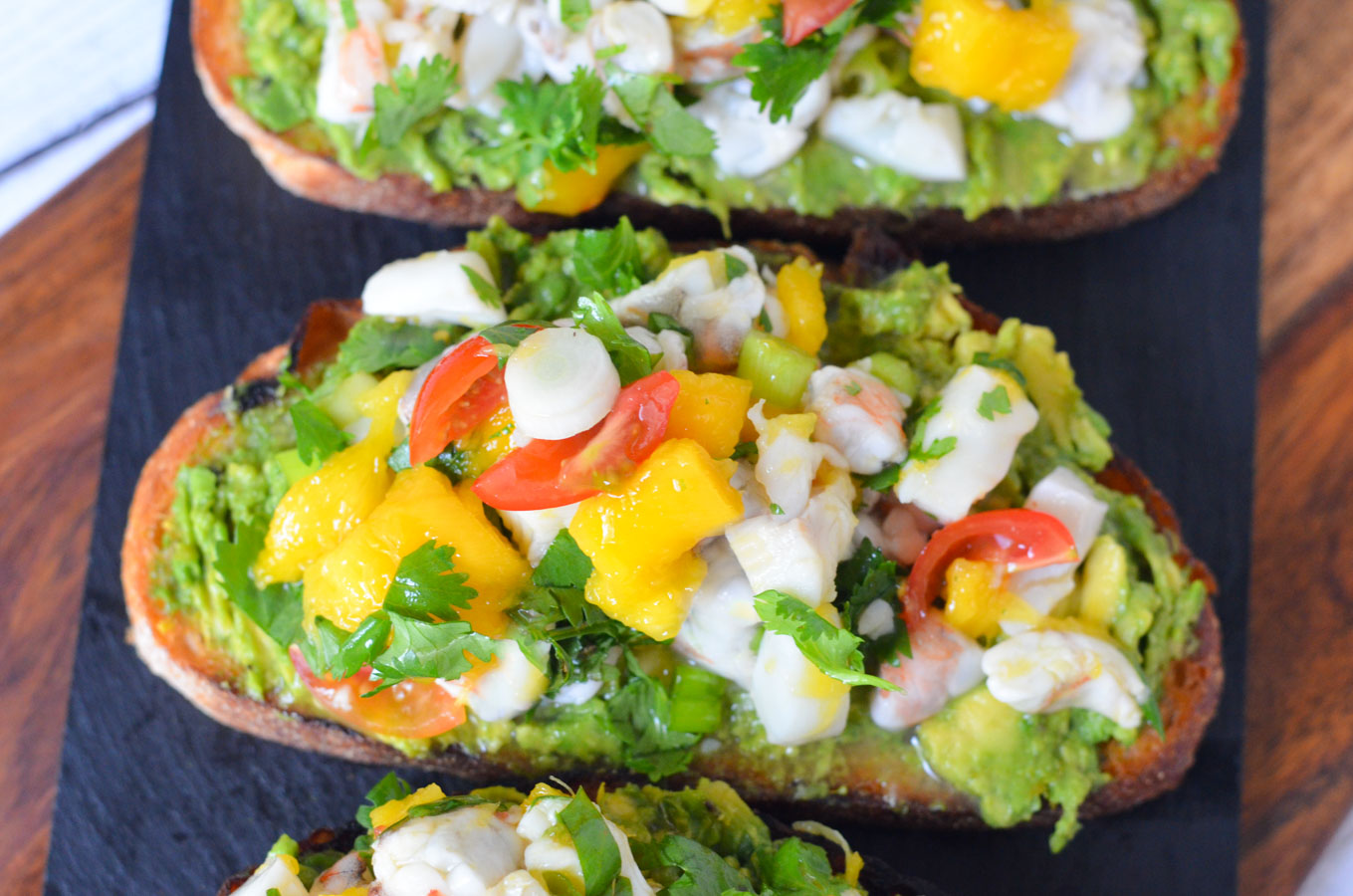 If you just need every meal served on a lovely piece of toast, try this smoked salmon toast, spicy avocado toast, a tuna tartare tartine for two, beautiful radish toast, or some ricotta and zucchini toast!
On the sweeter side, this blood orange crostini is positively perfect! One loaf of bread and you're set for the week on meals!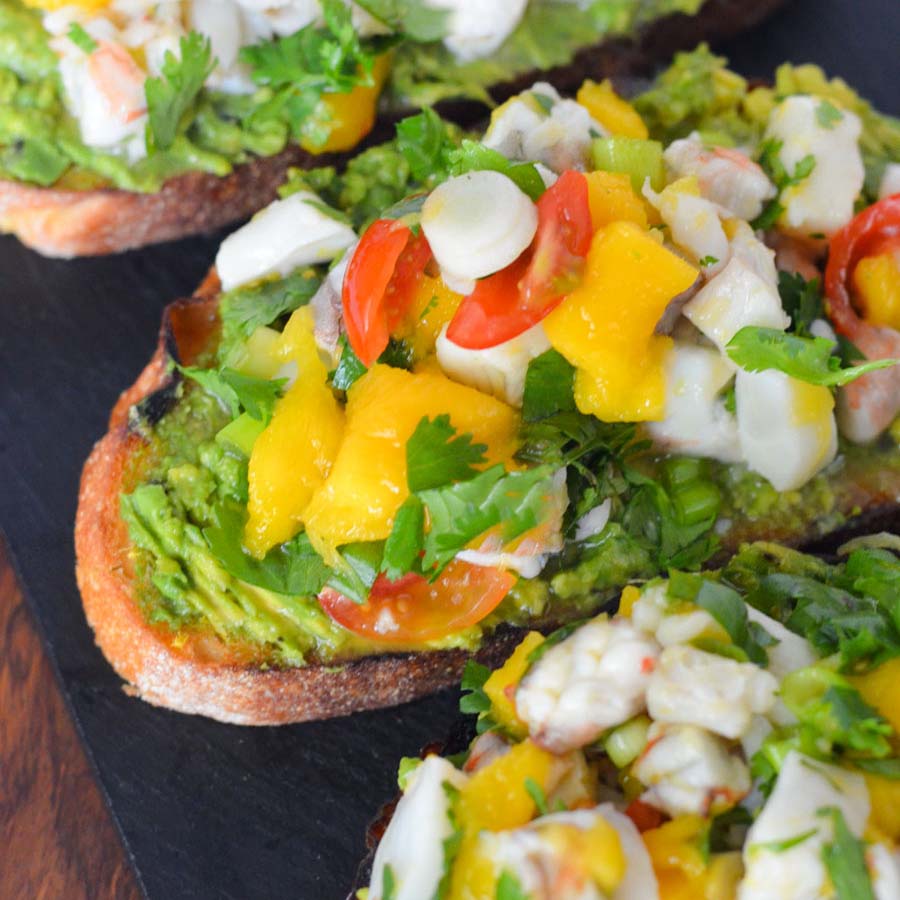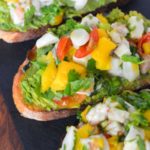 Print Recipe
AVOCADO CEVICHE TOAST
This recipe is a crazy concoction of two of my favorite things - ceviche and avocado toast. And you know what, it's one of the best mashups I've ever created! All the deliciousness melts together in your mouth and it really is a crowd pleaser without ever having to turn on the oven!
Ingredients
½

lb.

raw shrimp

shelled, deveined, tails removed*

¼

lb.

raw scallops*

¼

lb.

raw white fish

rockfish, halibut, or sole work well*

5

limes

1

mango

chopped in ½" pieces

1

cup

chopped cilantro leaves

2

green onions

chopped

8

mini tomatoes

quartered

6

slices

hearty bread

2

large avocados

½

teaspoon

salt

½

teaspoon

fresh pepper

chili flakes optional
Instructions
Cut all fish into ½" pieces. Add to medium bowl. Add juice of limes - fish should be completely covered by juice. Cover and refrigerate 3-4 hours.

Remove fish from refrigerator. Fish should no longer be translucent and shrimp should be pink. Drain liquid from ceviche.

Combine fish with mango, cilantro, onions, and tomatoes.

Toast bread slices until golden brown. Divide avocado between toasts, mash with fork. Season with salt and pepper. Divide ceviche on toasts. Sprinkle with chili flakes if desired. Serve immediately.
Notes
any combination of shellfish and whitefish will do as long as the fish together weighs about 1 pound.
Ceviche can be made up to 6 hours ahead of serving.
Save this recipe on Pinterest!
Make this recipe? I'd love to see how it turned out…
PINTEREST: Upload a photo and your review to this Pin!
INSTAGRAM:  Tag me @lucismorsels and use #LMrecipes
Nutrition
Calories:
383
kcal
|
Carbohydrates:
52
g
|
Protein:
20
g
|
Fat:
12
g
|
Saturated Fat:
2
g
|
Polyunsaturated Fat:
2
g
|
Monounsaturated Fat:
7
g
|
Trans Fat:
0.01
g
|
Cholesterol:
62
mg
|
Sodium:
1081
mg
|
Potassium:
728
mg
|
Fiber:
8
g
|
Sugar:
10
g
|
Vitamin A:
898
IU
|
Vitamin C:
42
mg
|
Calcium:
94
mg
|
Iron:
4
mg