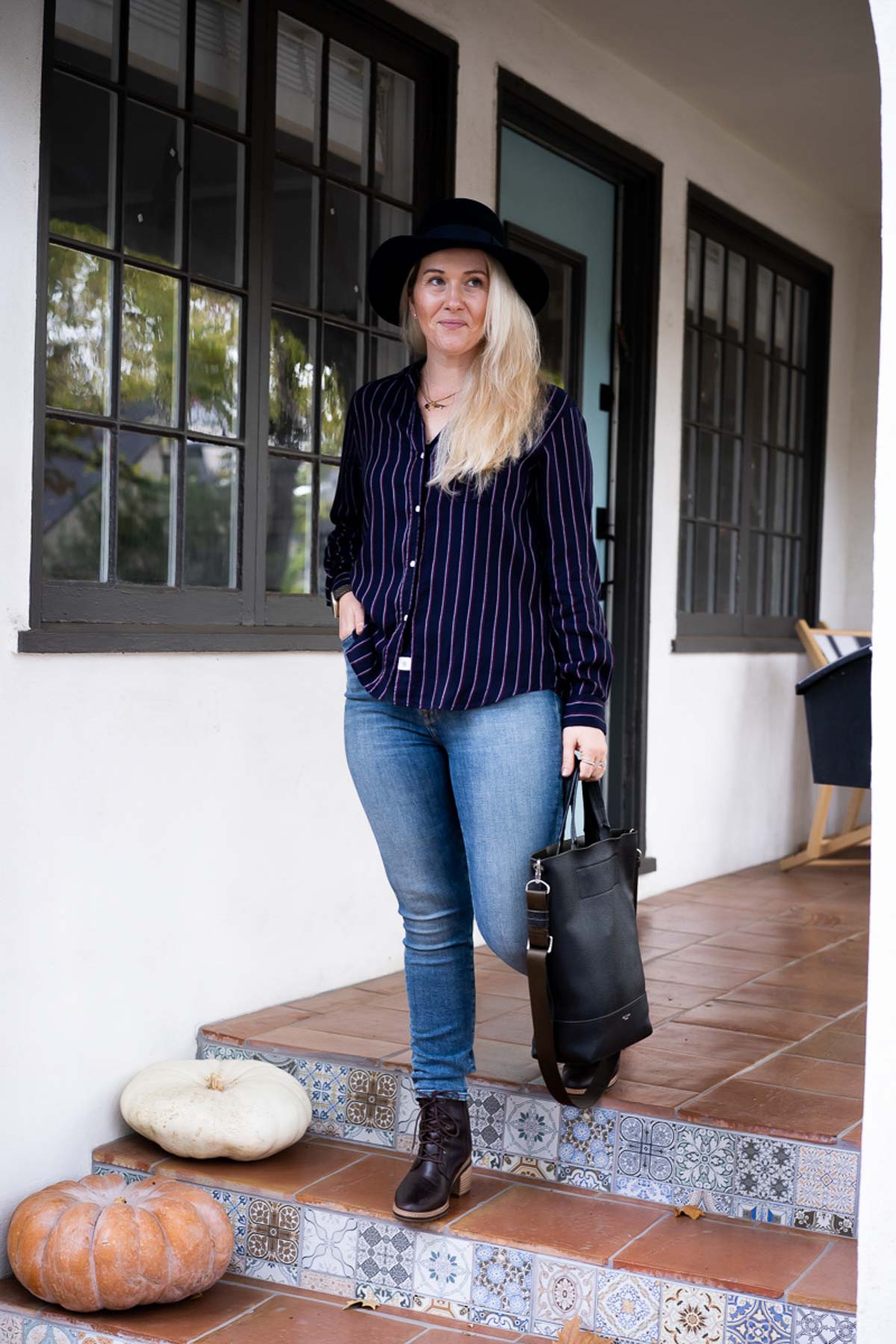 I've been forgetting about my fall hats and only pulled one out when I put on my new flannel button down last week! The navies (is that right word for the color?) matched perfectly and now I have my fall family photoshoot outfit all picked out!
I basically lived in 2 hats this summer. The one seen in this quality clothes post is stylish but also functional. This beautiful wide-brimmed hat is decidedly less functional but chic as all get out!
Alas. It's time for cooler weather and a different style of hat. To me, fall screams felt hats and fun berets (don't run for the hills – they're great – just look at this red beret ensemble!).
And before we delve into practically freezing weather outfits, let's embrace the fall fashion season!
Fall Family Photoshoot Outfit
When selecting a fall hat (before the outfit is even a consideration), I'd encourage you to pick a neutral tone (I include navy in that) or a muted pop of color (like this one!)
Of course knowing that my style is primarily made up of muted tones, both color groups match my wardrobe. If you like to wear a lot of color, however, I'd go with a black or neutral tan to get the most bang for your buck!
Remember you want to get a lot of wear out of it, and you want yoru fall family photoshoot outfit to be comfortable for you.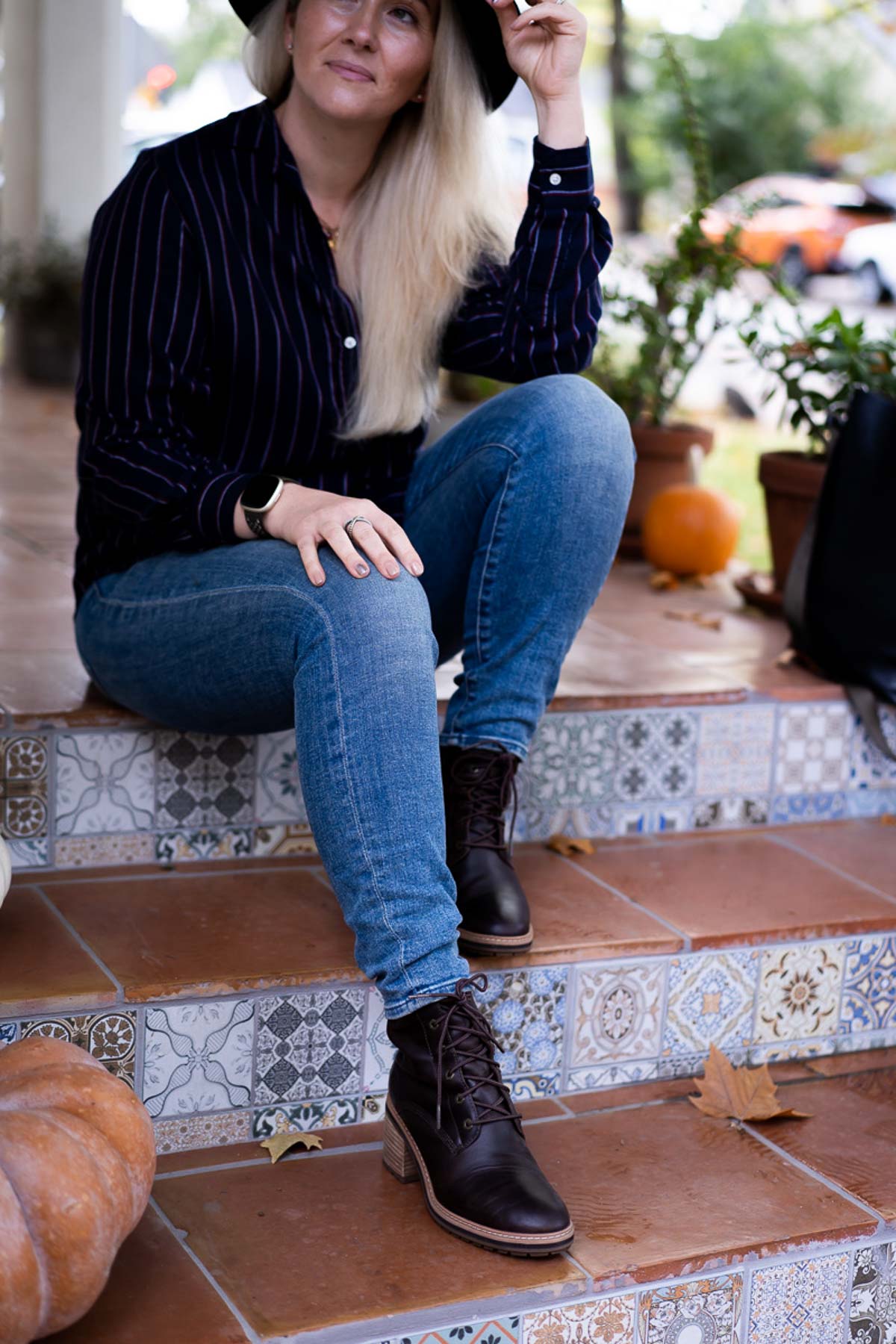 OUTFIT DETAILS
GRAYSON LIQUID FLANNEL | GOORIN BROS. HAT
7FAM JEANS (similar blue jeans) | RAG & BONE BAG (similar)
TIMBERLAND BOOTS (see other sustainable shoe brands)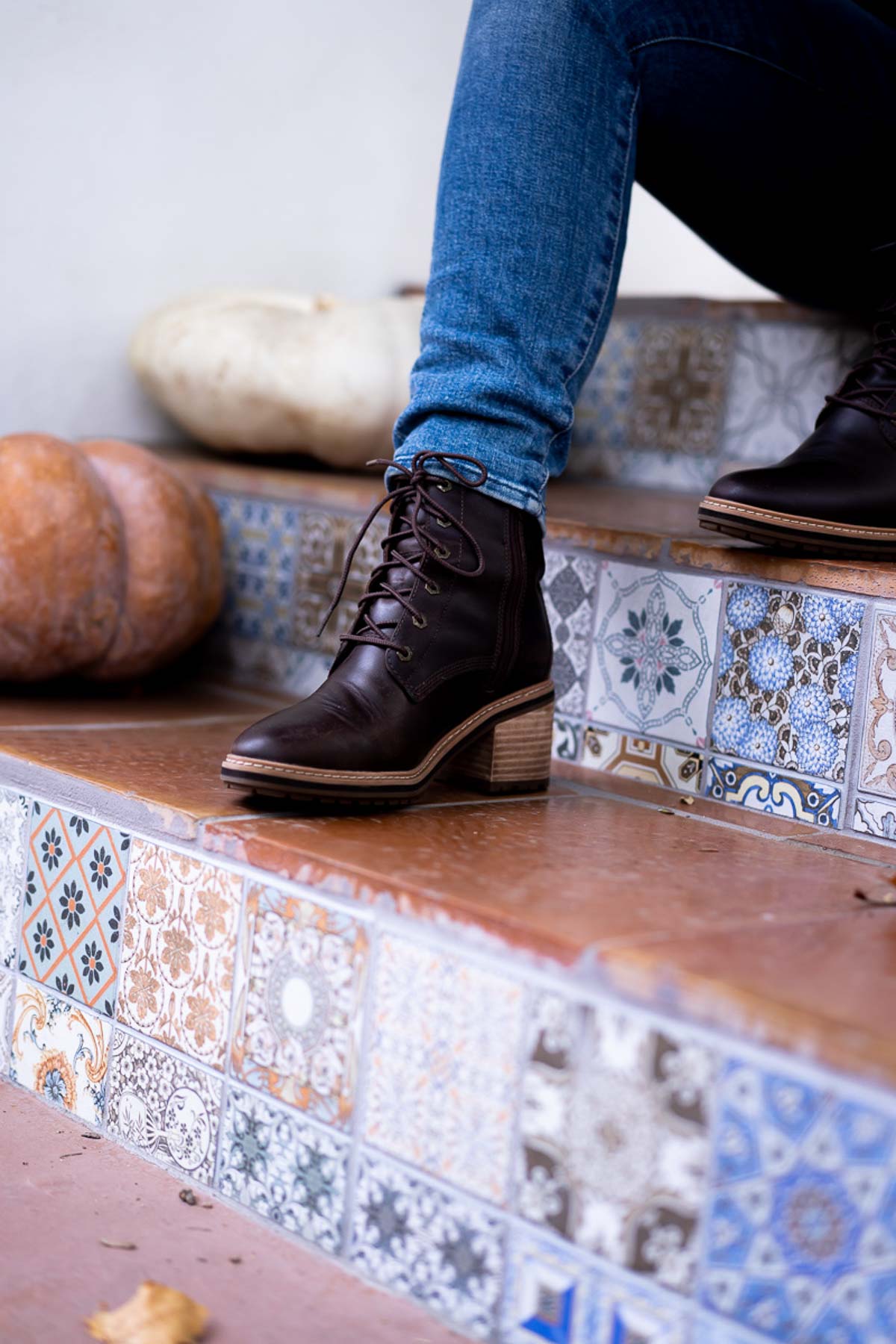 How to wear Hats
I seriously thought I was the last one to the hat party. But I can't tell you how many people I know who say that they can't wear hats – just like I used to think.
I think it just comes with getting used to it! When I first started wearing hats, it was only with a single side braid. Then I only did it with my hair down and curled. And now. I'll throw it on with a messy low bun, straight hair, wet hair, you name it!
You really have to start with the one tried-and-true look. Then you'll start to feel more comfortable with different styles and outfits!
See more hat outfit inspiration for warm weather!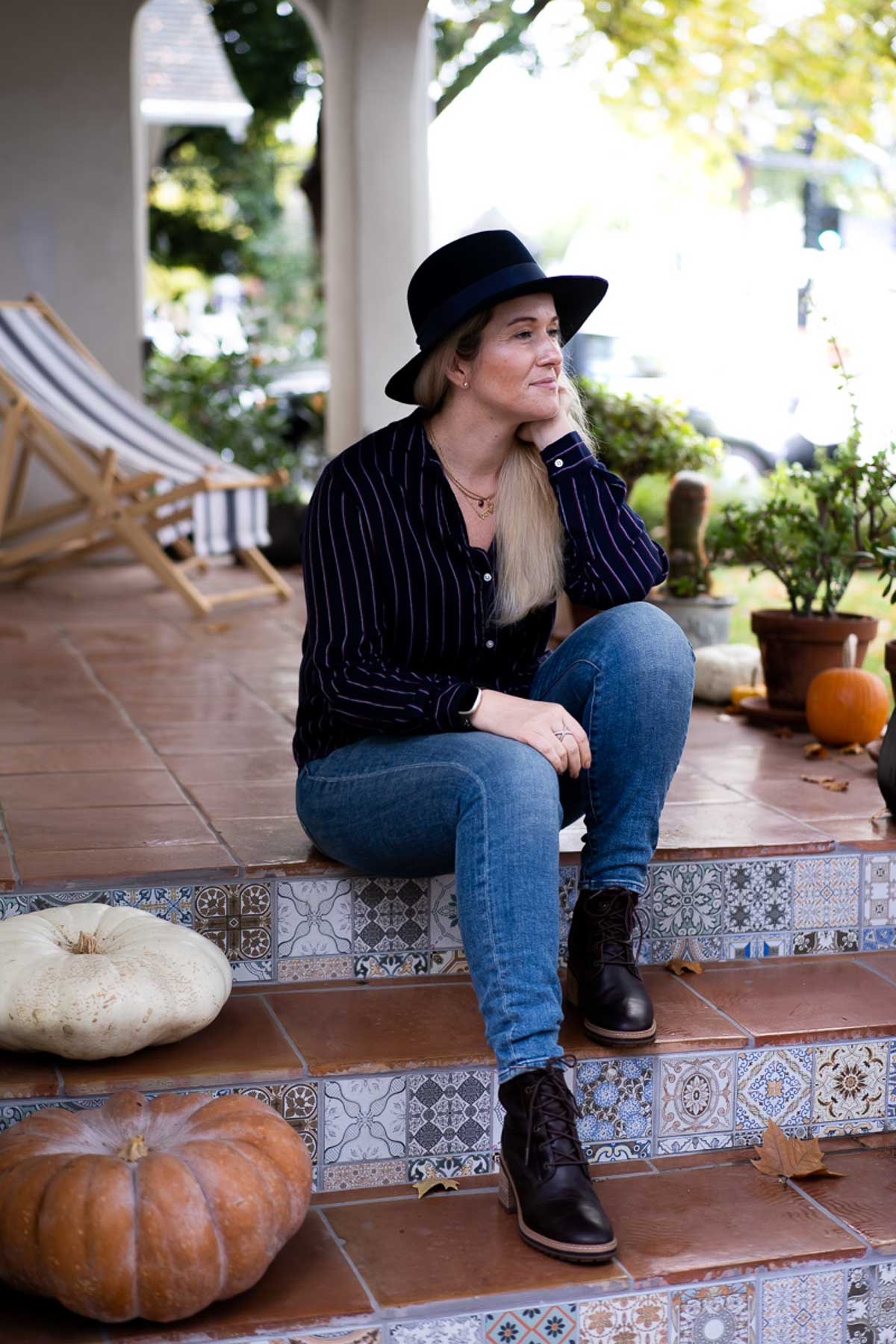 Chic Women's Navy Button Up Shirt
This button down (or up?) is another one from my favorite brand Grayson*. It has the look of a flannel, but it's a comfortable cotton top. I love navy year round (see my French summer style outfit, but it's one of my favorites in fall.
This particular shirt is no longer available, but there are similarly beautiful options. I love this delicate ruffle shirt in a soft jersey material for tucking into your pants. Or if you like the ruffle detail, but want something more elevated, this navy top by & Other Stories is IT! If you're taking photos where it's a bit warmed, this v-neck ¾ sleeve option is perfect!
*Sadly, Grayson is no longer in business, but their parent company Frank & Eileen offers some fabulous button down options as well! This is their navy blue button down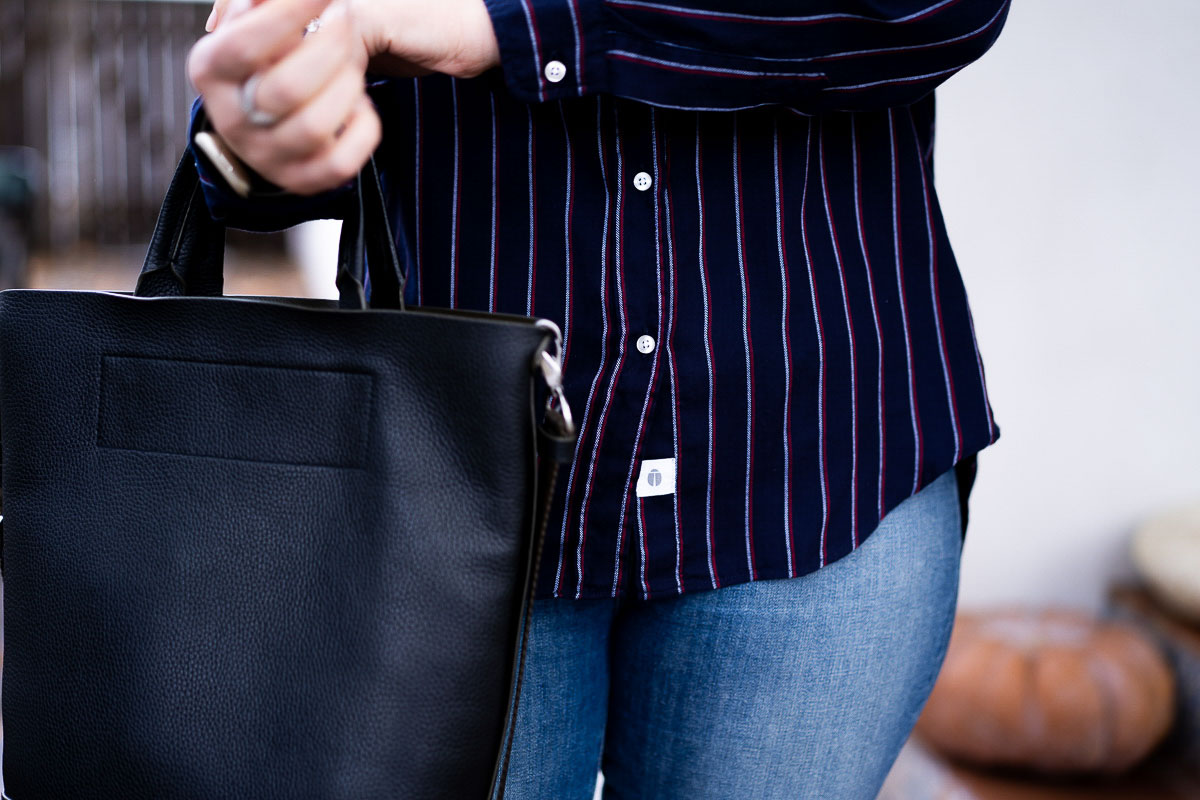 Trying to have a smaller wardrobe. See my minimalist wardrobe tips!
Traveling? See how to easily pack hats in your suitcase without them losing shape!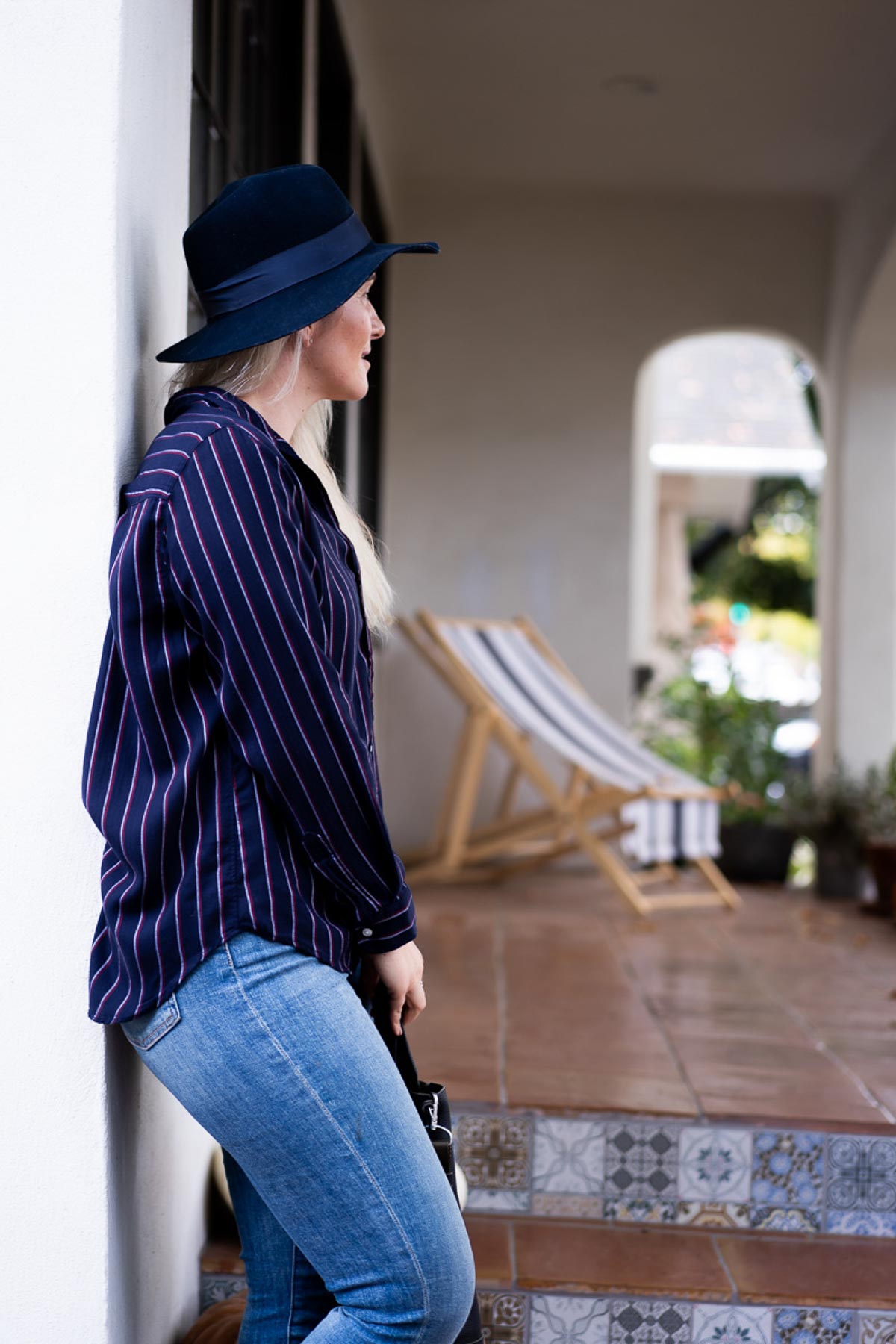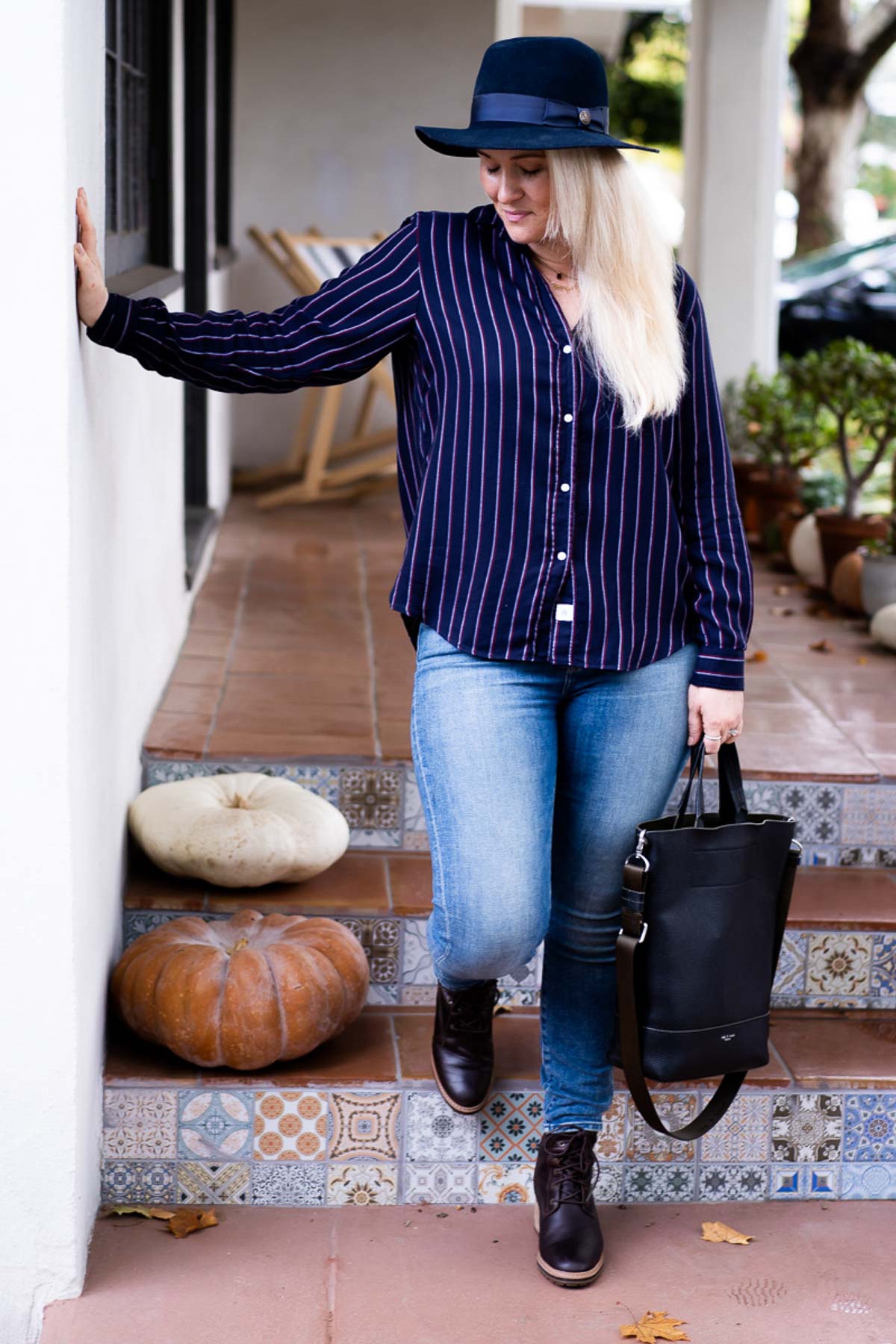 Photography by Sacramento Photographer Val Leddy