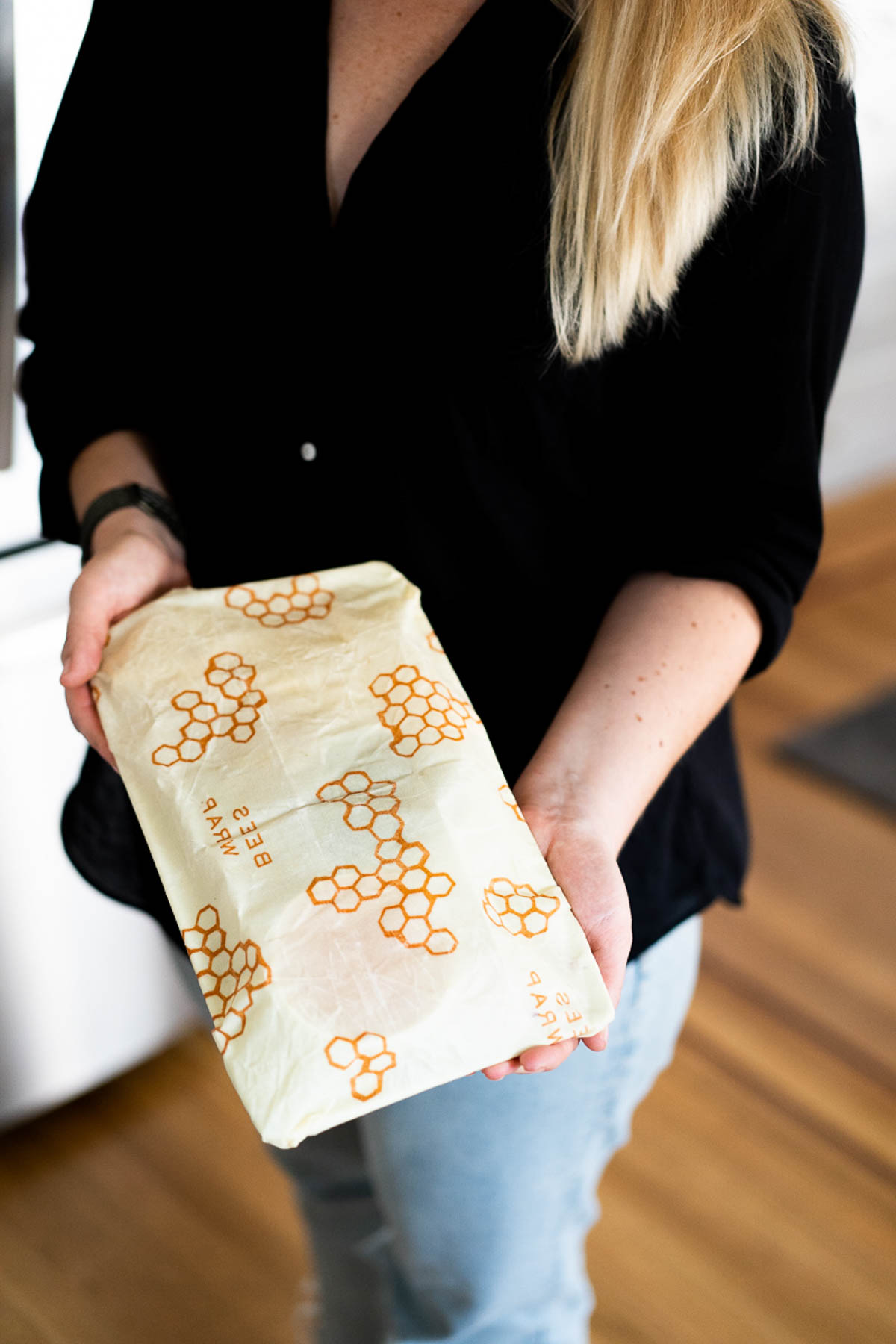 I did an Instagram Live a month or so back. Beforehand I polled followers to hear what they wanted me to talk about and how we finally stopped using single-use items in the kitchen was the most wanted topic. The biggest offender (and possibly the most difficult to get rid of) is plastic wrap. Here are our plastic wrap replacements!
Plastic Wrap Replacements
Now you may not have had a love-hate relationship with plastic in the past – love its utility, hate when it gets all wrapped on itself, but I did.
While you can often reuse a plastic bag, reusing plastic wrap is darn near impossible, so I think we should try to get rid of it first! (along with trash bags! Use compostable bags for a sustainable replacement)
Before you chuck it out the window (or sell your leftovers for $1 on Facebook Marketplace like I did), let's talk about replacements for each of the uses of plastic wrap.
Reusable Bags
I'm wildly obsessed with reusable bags. My favorite brand to use is Stasher.
Besides replacing single use plastic wrap and bags, they're durable, reusable, microwave-safe, dishwasher-safe, sous-vide ready, oven strong, and they come in a variety of colors (if you're into that kind of excitement)!
They come in snack size, sandwich size, ½ gallon, upright bags, and more!
And you don't just have to use them in the kitchen. Use them for leak-proof travel containers, pen/pencil bags, or whatever sounds good!
You can get them at Target, The Container Store, World Market, Amazon, Williams Sonoma, and even my local refill store has them – yeah, they're that popular and amazing!
So when you want to use plastic wrap to seal something in (like a sandwich or avocado), just slip it into a reusable bag, get out extra air (nothing excessive), and seal it up!
I also really like the smaller bags as snack bags for our little guy. He can easily get in to the snacks (once it's opened for him), but the top isn't wide open, so if he drops it, food doesn't easily fall out!
They also have a recycling program so you don't have to throw these in the trash at the end of their life!
Beeswax Wraps
I was gifted beeswax wrap a while ago, but it took me a long time to realize its magnificence.
It all happened when I made an apple galette for dessert and then had no way to cover it up so it wouldn't dry out.
I really didn't want to use plastic wrap or foil. The plate was too big for a lid and obviously tupperware was out of the picture. Then I remembered the beeswax wrap in my drawer.
How to use Beeswax Wraps
Beeswax wrap seems thick and kinda weird, but you'll love it once you use it. Make sure your piece is large enough to cover your item. I have overlapped two together to make it big enough before, however!
The warmth from your hands is actually what creates the seal, so just wrap the item and gently hold it in your palms to seal it.
If replacing plastic wrap to cover a dish, just squeeze the wraps around the edge of the plate and let the warmth of your hands seal it there.
To wash, just use warm soapy water and a sponge. Then air dry. Hot temperatures can melt the wax, so be careful!
I've seen lots of brands out there. My favorite is BeesWrap and it's readily available.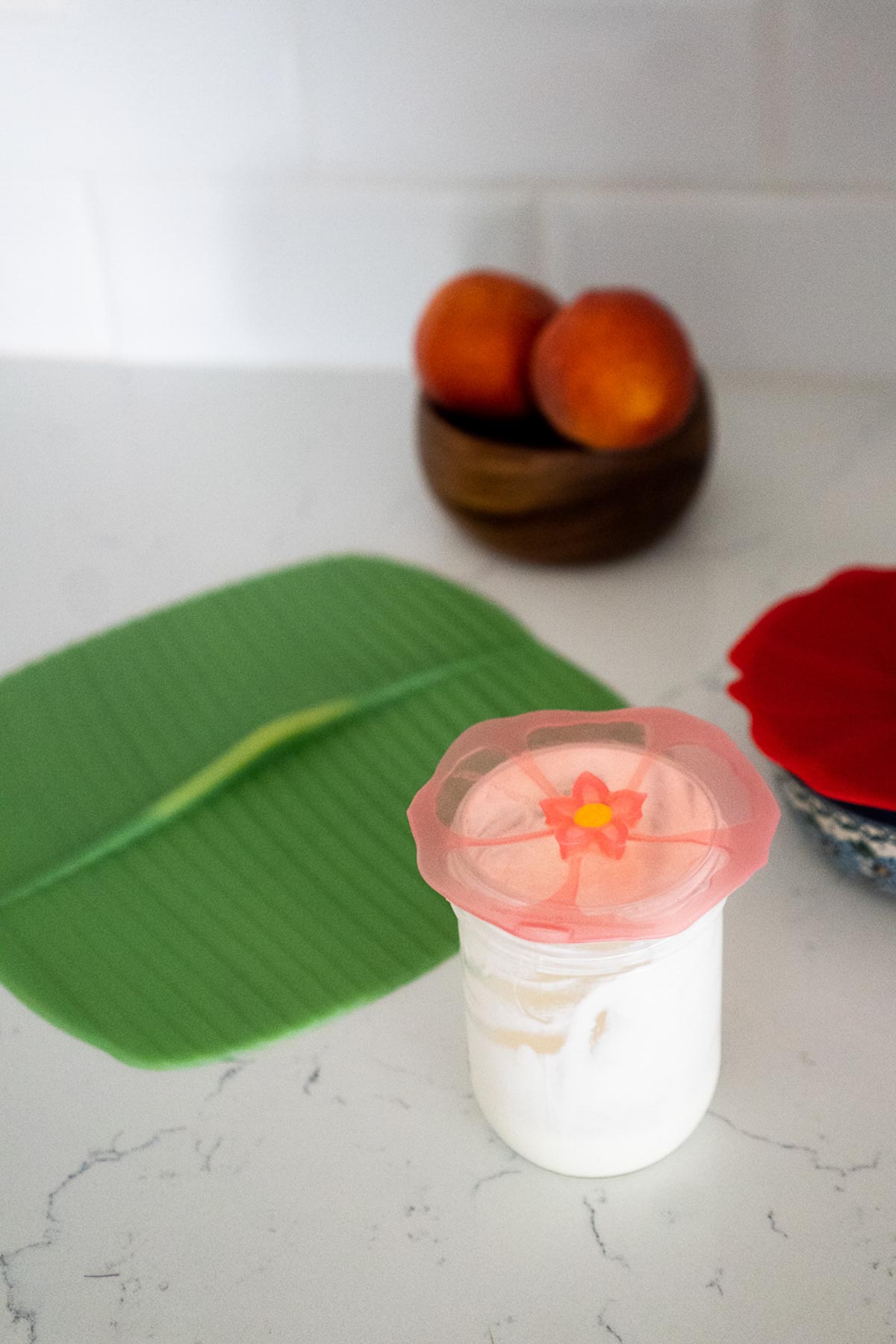 Silicone Lids as Plastic Wrap Replacements
So much of the way I used to use plastic wrap was to cover a bowl – usually then into the fridge. Since avoiding food waste is a crucial part to living sustainably, making sure your food stays fresh is really important.
For this purpose, we love silicone lids. My mom discovered these colorful lids by Charles Viancin years ago in our local kitchen store. We've been slowly collecting one or two here and there.
Now we each have quite a collection for just about every need – small bowls to 9×13 pans! Local kitchen stores often carry them as well as Amazon.
There are also other brands (not quite so colorful). I've used one other brand with no problems, so if you check that the items are dishwasher safe, oven safe, and all that – you should be good to go.
Bowl covers are also a great option! These bowl covers are organic and Fair Trade certified.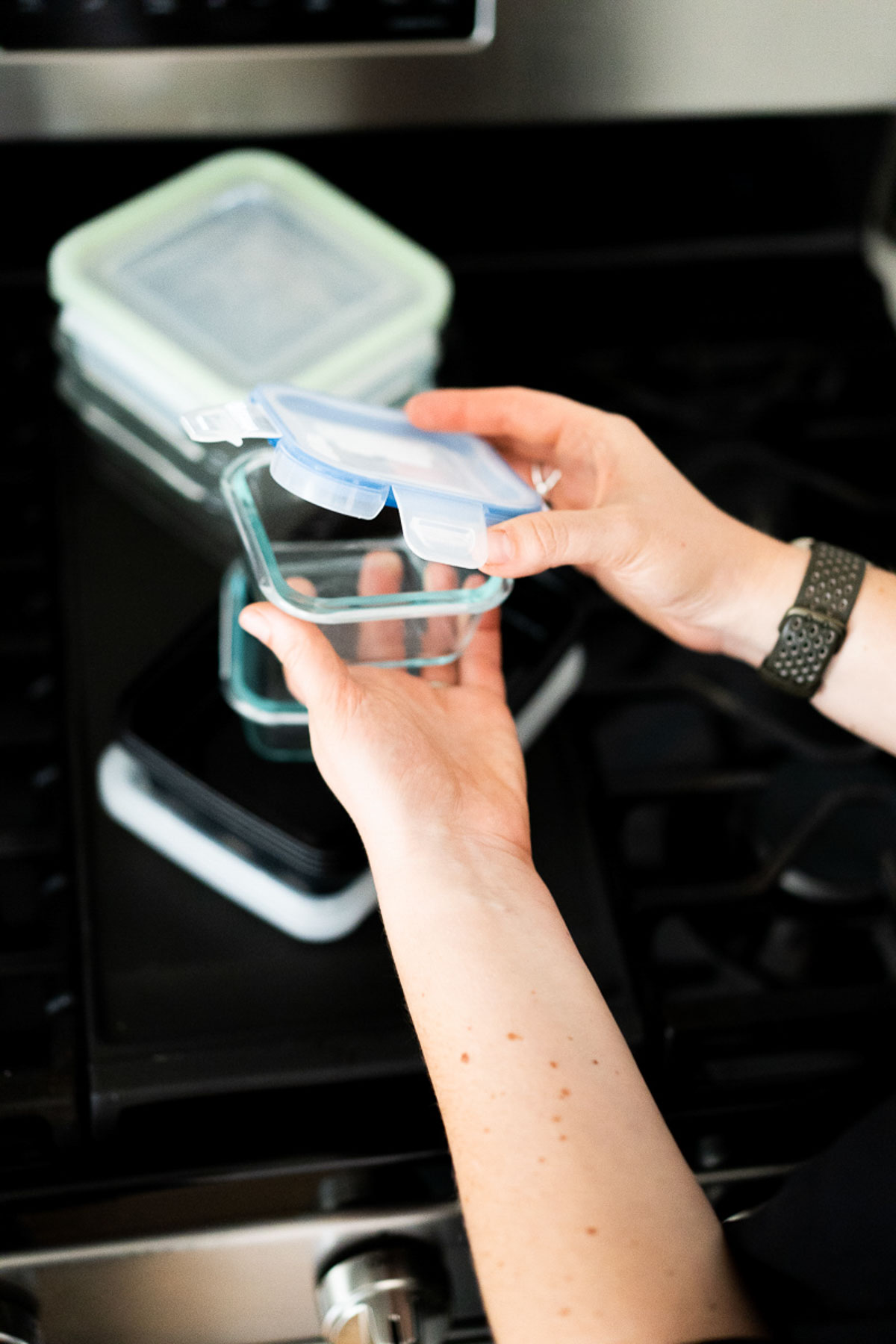 Tupperware
And, finally, GOOD OLE FASHIONED TUPPERWARE. I realize tupperware might technically only refer to the brand of plastic containers with lids, but I'm talking about any and all containers that have a sealed lid.
There are certainly many options out there too. Beyond the traditional plastic containers, check out glass containers (with glass and silicone lids too), and even stainless steel containers.
We have glass and plastic and I love them all. We actually even have a few containers from take-out dinners in our cupboards as well!
Any of these items are great sustainable gift ideas for friends and family!
Photos by Val Leddy