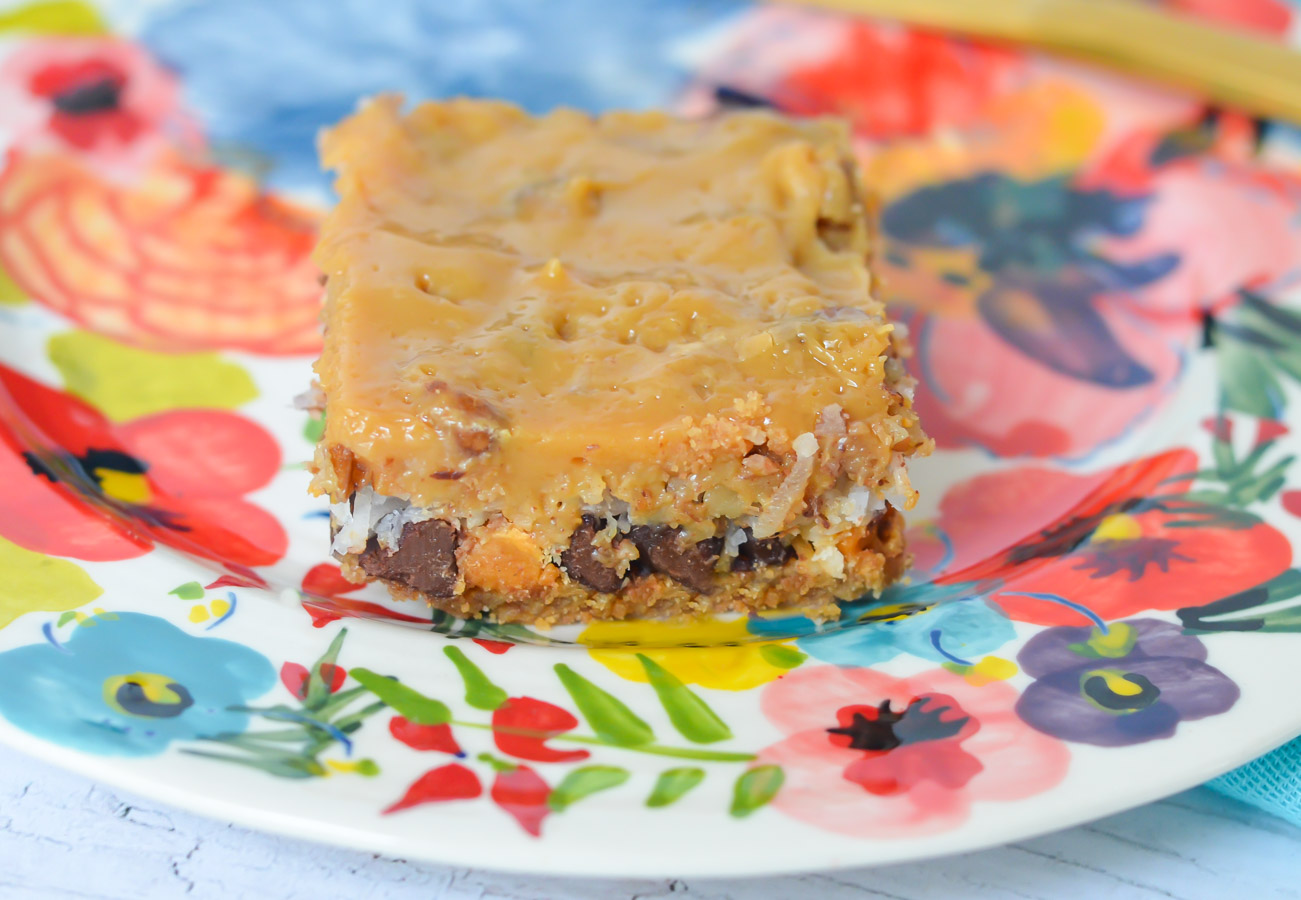 So here's the story on these seven layer dulce de leche bars…
I've been reshooting some photos from old posts – great recipes with photos from my very early days of food photography (not a pretty sight). After the cinnamon streusel coffee cake, the second post to remake was for classic seven layer bars.
Apparently half the world (i.e. U.S.) calls them magic cookie bars. I agree with the magic part, but these definitely aren't cookies. Whatever you call them though, these magical seven layer bars are impossibly easy (literally 7 ingredients) and pretty impossibly delicious.
When I went to make these for the reshoot, I needed to run to the market around the corner for sweetened condensed milk. Right next to it on the shelf was dulce de leche and immediately the wheels started turning – SEVEN LAYER DULCE DE LECHE BARS!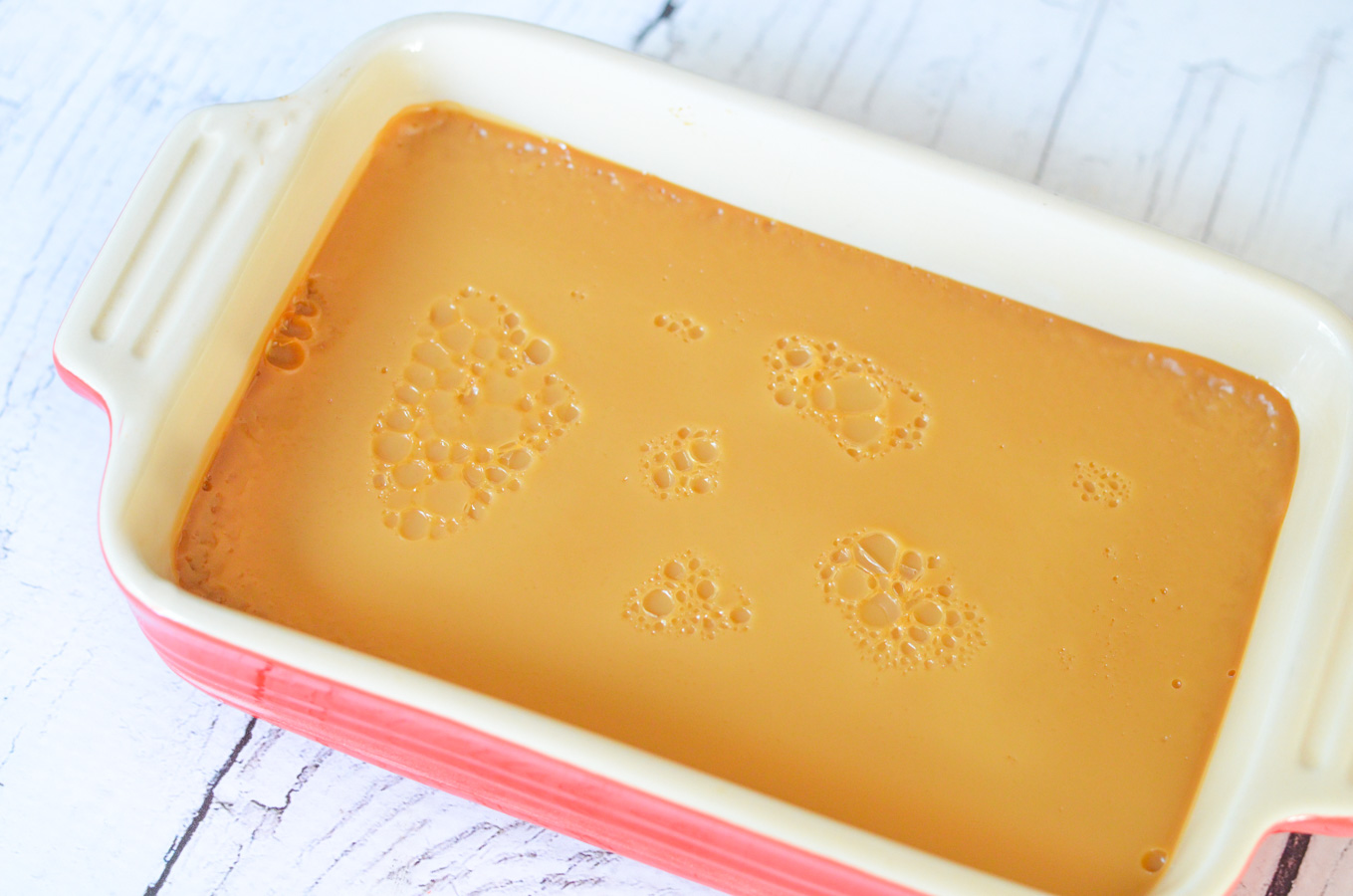 Dulce de Leche Bars
Just like traditional seven layers bars, these bars have 7 ingredients and come together just as quickly (unless you make your own dulce de leche from scratch).
All the yummy flavors remain the same, but instead of the condensed milk holding the bars together (and being the first thing you sink your teeth into), it's the sweetened milk so known in Latin American cuisine.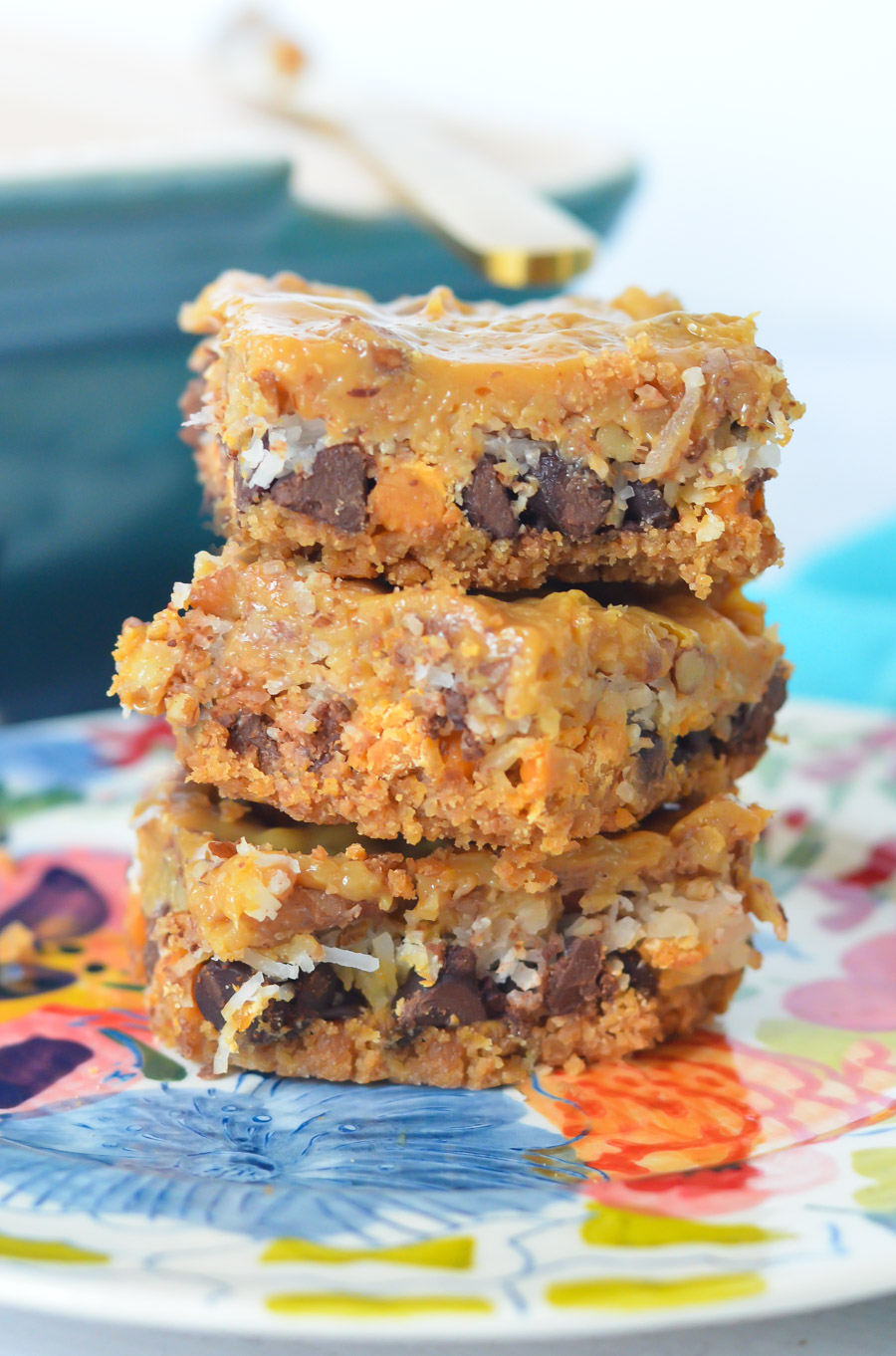 Homemade Dulce de Leche
There are three ways you can go about the dulce de leche – super easy, pretty easy but time consuming, and not as easy but super legit!
The latter two methods I got from epicurious. The super legit way is to stir the milk and sugar on the stovetop for about two hours. I dreamed of this method, but real life seriously prevented that from ever happening.
The super easy method is to go to that market around the corner and buy the can of dulce de leche (I think I might do this next time).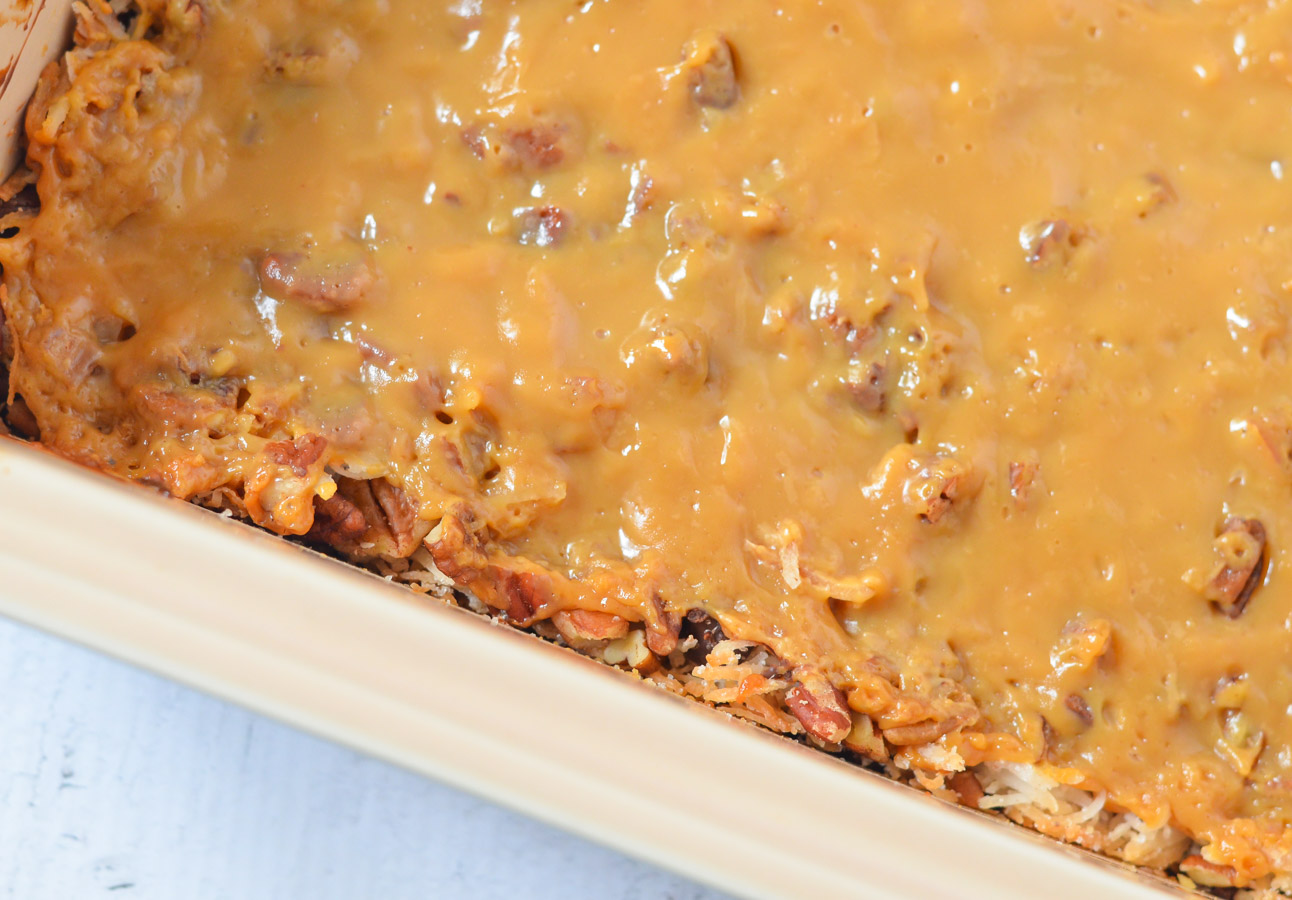 For the easy but time-consuming method, pour condensed milk into a baking dish, put it in a bigger pan of water (creating a water bath), and cook it for about 90 minutes.
This method was super easy, but two things deterred me from wanting to do it again. The first is that as summer hits, I will have zero desire to have my oven on that high for so long.
The second is that I made the dulce de leche and then refrigerated it as instructed. It ended up being really thick which was hard for spreading on top of the seven layer bars.
If you were to add it right after it came out of the oven, you'd be fine. OR you'd have to stick it back in the oven to heat it up and melt it down before pouring it over the other six ingredients. Because it went on a little thicker, some of the pieces came apart – still delicious but not as pretty.
We enjoyed them happily, but now I know for the next time I make dulce de leche bars.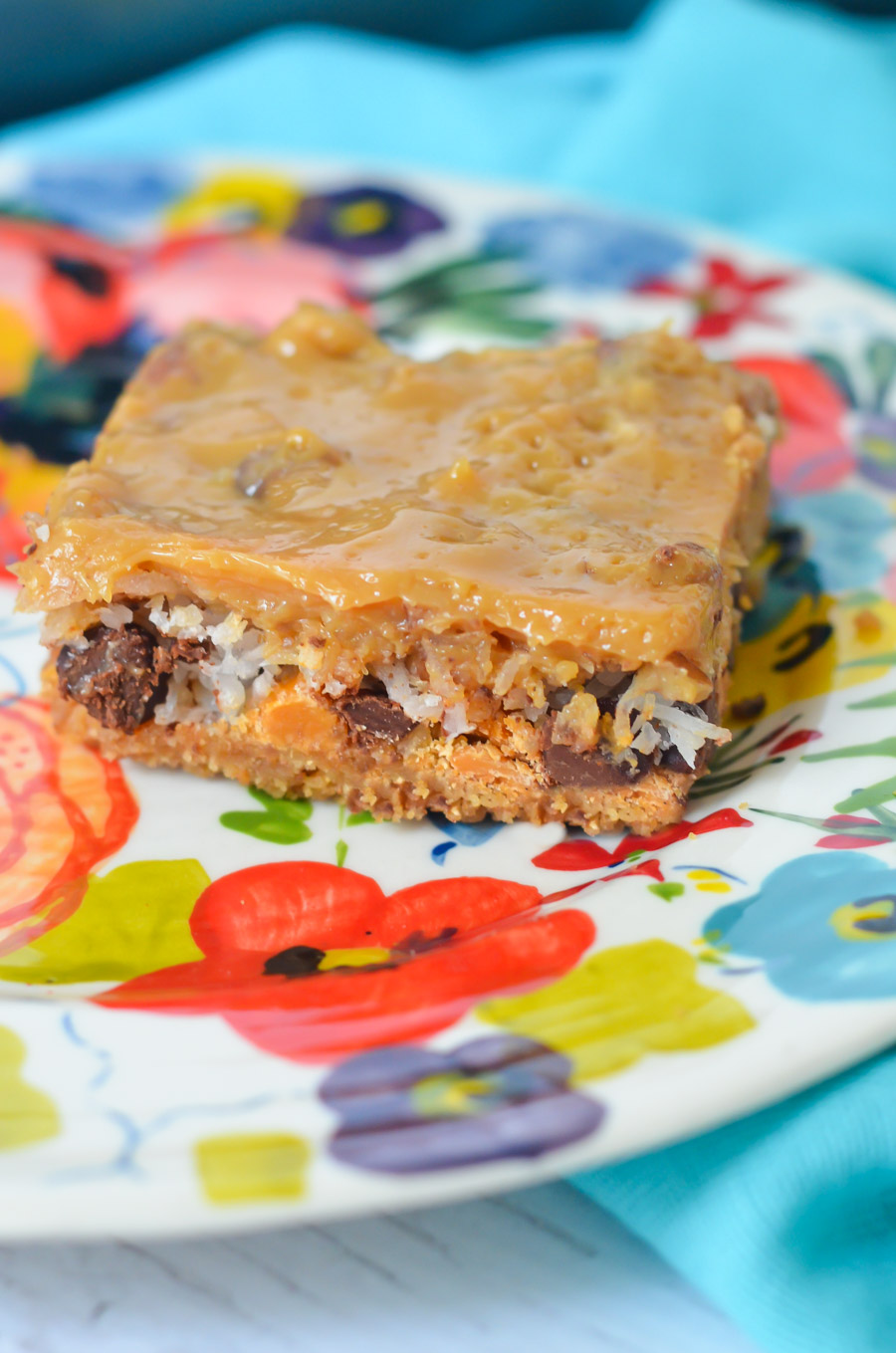 Looking for some other tasty desserts? If you love the combination of chocolate and spices, you'll die over this Mexican Chocolate Cake and a Iced Mexican Chocolate Coffee (secretly also good hot)!
If you just need some good, easy chocolate morsels around the house, try Scottish chocolate tiffin.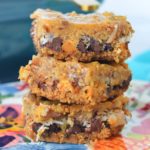 Print Recipe
DULCE DE LECHE BARS
I went to the market for condensed milk to make my family's classic 7 Layer Bars. Right there on the shelf was dulce de leche and this recipe was born. I found a recipe to make it at home, but you can go either way on the dulce de leche. You won't be disappointed!
Ingredients
½

cup

butter

1½

cups

graham cracker crumbs

¾

cup

chocolate chips

¾

cup

butterscotch chips

¾

cup

shredded coconut

1

cup

nuts

chopped (pecans or walnuts)

14

oz. 

dulce de leche

homemade recipe here
Instructions
Place butter in 9x13 pan and place in oven as it preheats until it melts (2-4 minutes). Remove from oven.

Pour in graham cracker crumbs. Mix with fork. Pat into crust on bottom of pan.

Pour chocolate chips over crust. Sprinkle butterscotch chips, then coconut, and finally nuts over mixture. Drizzle dulce de leche over whole mixture.

Bake 30-35 minutes. 

Let cool completely before cutting into bars. The corners bars are sometimes hard to get out of the pan, but the rest will come out easily.
Nutrition
Calories:
80
kcal
|
Carbohydrates:
7
g
|
Protein:
1
g
|
Fat:
5
g
|
Saturated Fat:
3
g
|
Polyunsaturated Fat:
0.4
g
|
Monounsaturated Fat:
2
g
|
Trans Fat:
0.1
g
|
Cholesterol:
6
mg
|
Sodium:
46
mg
|
Potassium:
31
mg
|
Fiber:
1
g
|
Sugar:
5
g
|
Vitamin A:
68
IU
|
Vitamin C:
0.1
mg
|
Calcium:
8
mg
|
Iron:
0.3
mg