This iced Mexican mocha recipe is actually one from years ago here on LM. The recipe is so easy and so tasty (and it's cuss words hot outside) that it needed an update and a reboot! While it isn't authentic, it's my easy way to enjoy some of that delicious combination of chocolate and spices.
I dreamed up this iced Mexican coffee inspired drink for Día de Muertos back in 2015 (just after my wedding). I was working with Zulka sugar and had a few week run of sugar-inspired recipes.
My husband had just started a job and I all too quickly inundated them with delicious, homemade goodies! I quickly had to settle back on my dessert making and stick with healthy veggie-focused salads so nobody revolted!
I'm a purist when it comes to my iced coffee and cold brew. There are so many products and recipes that have flavors added, but I always go for the classic, adding the sweetness and milk on my own. Rarely (basically never) do I venture into the minty, salty, caramely varieties.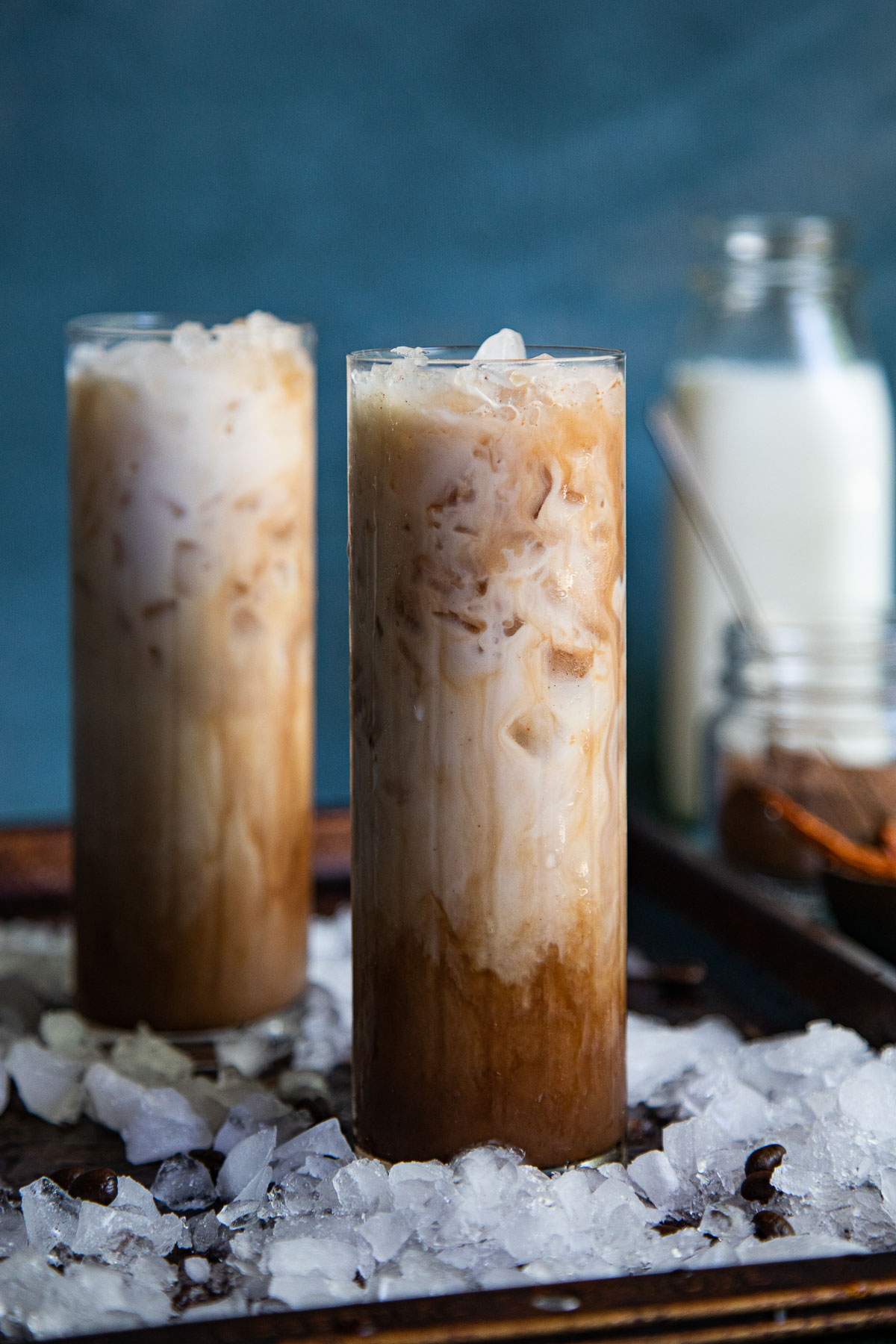 This Iced Mexican Coffee (or is it an Iced Mexican Mocha?) is just the perfect spin on my classic drink, however, that I will make an exception at home!
Most of the flavor comes from the spices, which the foodie in me loves. And I always have all of the ingredients on hand, so I can whip it up whenever I need to kick up the flavor of my coffee.
It's also a great recipe for any Mexican holiday parties, including Cinco de Mayo and Día de los Muertos festivities.

Iced Mexican Mocha Coffee
So this recipe is actually for hot or iced mexican mocha. If your house is anything like ours, then you have at least one who only drinks hot coffee and another who really likes it iced. It's a crazy life – somehow we make it work!
Anyway, this recipe pulls on the flavors of Mexican hot chocolate – cocoa powder, cinnamon, cayenne pepper, and chili powder. It doesn't take much of any of these spices to add a warm flavor to your coffee!
What Milk Can You Use in this Mocha?
I used nonfat milk in this recipe because I always have it on hand. Obviously a reduced fat or whole milk would be super delicious.
Or if you use almond or coconut milk or the very popular (and rather tasty) oat milk… Well, my mouth is starting to water thinking how delicious that would be. So, yes, you can use whatever milk you like in this recipe.
You can also use whatever kind of brewed coffee (or even espresso) you have on hand. I love that I can make this as a treat on the weekends. I can just as easily make it for my morning coffee and start my weekdays off on a tasty foot!
Coffee Recipes
Want some other ideas to spice up your coffee (literally)?! Try this easy cardamom latte and this nutmeg coffee with eggnog whipped cream!
Or if you just want some more chocolate and spices in your life, try this Mexican Chocolate Cake!
Check out these other drink recipes! And see how you can drink coffee more sustainably as well as this lengthy list of sustainable coffee brands!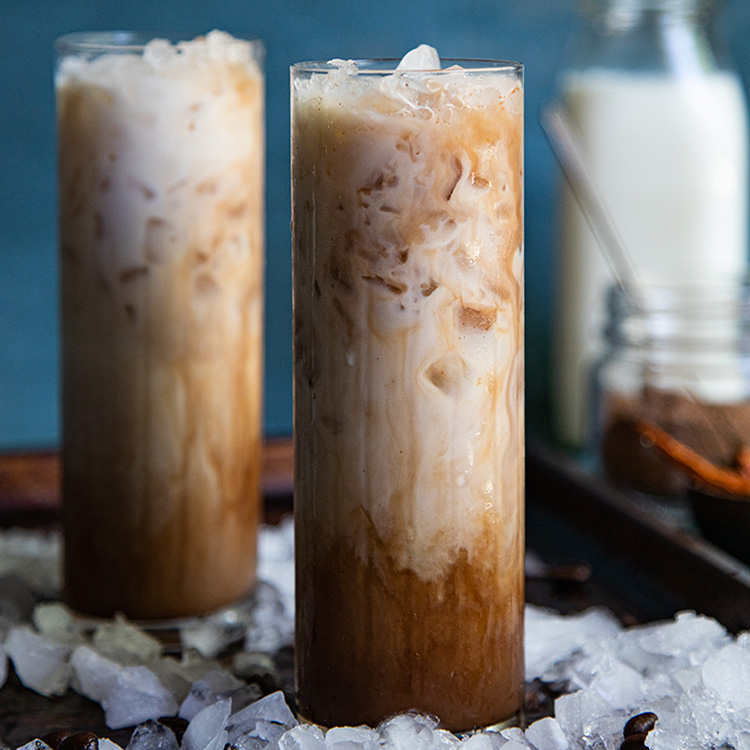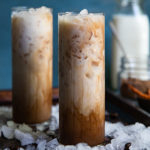 Print Recipe
ICED MEXICAN MOCHA COFFEE
I love the idea of Mexican mochas. I'm an iced coffee fanatic, so this was my attempt to combine my want for those warm, delicious flavors with my needs. Or maybe it's just my wants with my wants. This recipe is actually great hot or chilled, so it's perfect for everybody's wants!
Ingredients
6

tablespoons

sugar

2

tablespoons

unsweetened cocoa powder

2

teaspoons

chili powder

1 ½

teaspoons

cinnamon

¼

teaspoon

cayenne pepper

optional - see note

½

cup

water

2

cups

cold coffee

ice

milk/cream of choice
Instructions
Sift sugar, cocoa, and seasonings together.

Mix ½ Cup cocoa mix with ½ cup water. Heat in microwave for 20-30 seconds until sugar mix dissolves into water. Chill.

Stir cocoa 'syrup' into two cups cold coffee.

Serve over ice with milk
Notes
The cayenne pepper doesn't provide a great deal of spice in this recipe, but feel free to omit or adjust measurement as desired.
Save this recipe on Pinterest!
Make this recipe? I'd love to see how it turned out…
PINTEREST: Upload a photo and your review to this Pin!
INSTAGRAM:  Tag me @lucismorsels and use #LMrecipes
Nutrition
Calories:
90
kcal
|
Carbohydrates:
21
g
|
Protein:
1
g
|
Fat:
1
g
|
Saturated Fat:
1
g
|
Polyunsaturated Fat:
0.1
g
|
Monounsaturated Fat:
0.3
g
|
Cholesterol:
2
mg
|
Sodium:
27
mg
|
Potassium:
144
mg
|
Fiber:
2
g
|
Sugar:
19
g
|
Vitamin A:
375
IU
|
Vitamin C:
0.1
mg
|
Calcium:
36
mg
|
Iron:
1
mg