A refreshing piña colada smoothie that's the perfect treat in those summer months!
In the last few years, the term "smoothie" has taken on new meanings. Purees of fresh fruit (and sometimes veggies) are all the rage. While produce is good in any form, too much can be an issue.
And then there are so many things you can add to those so-called "healthy smoothies" to detract from the real health benefits. As far as I'm concerned, smoothies are frozen treats – like shakes made with something other than ice cream.
So don't get any ideas that this coconut lime smoothie is a healthy breakfast option. Nope! It's a simple, super refreshing, frozen treat to enjoy whenever you need this summer!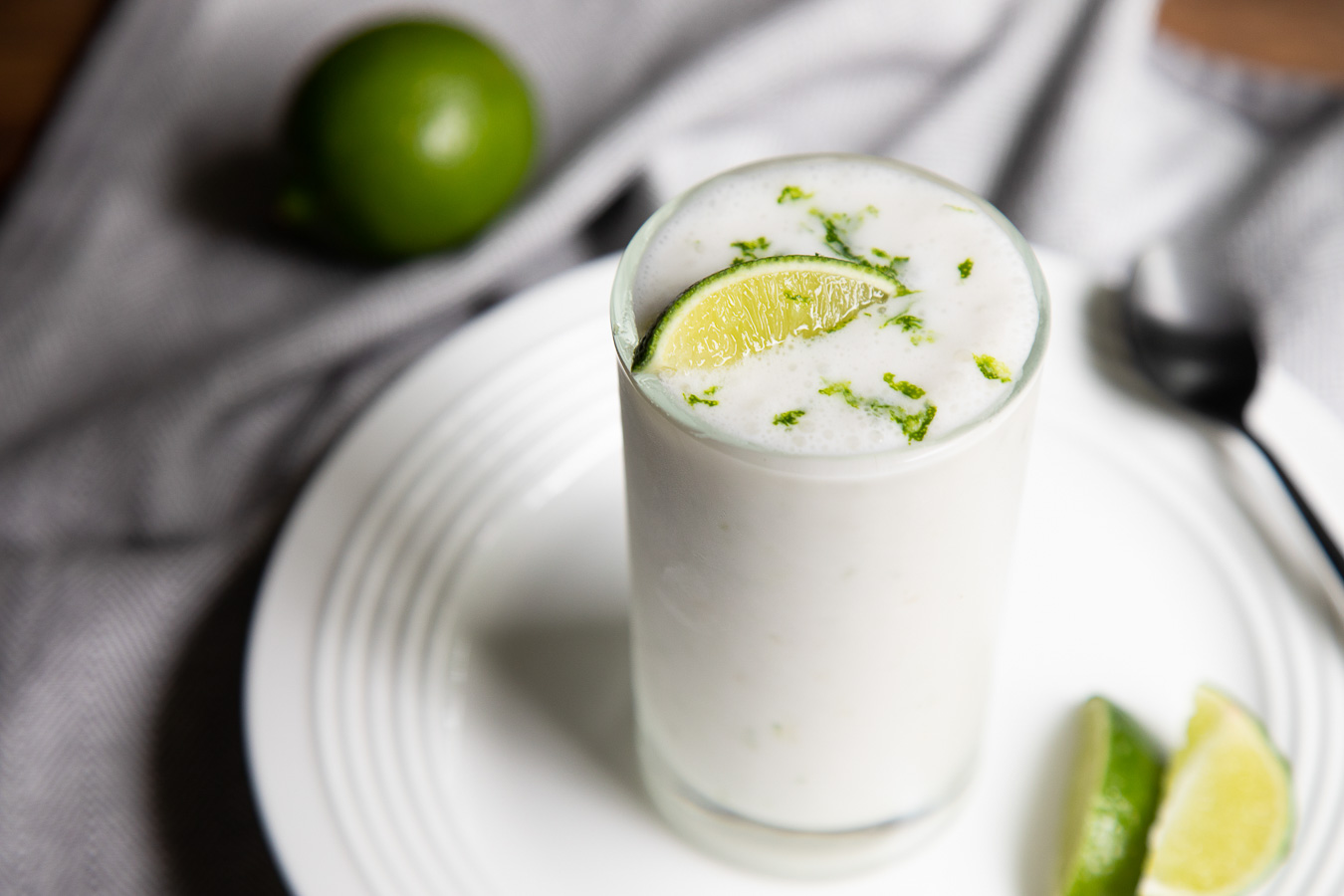 Piña Colada Smoothie
While I'm on this smoothie soapbox – the other thing that drives me bonkers about the "smoothie trend" is the size of the drinks I see. They're huge! Do we need 3-4 cups of pureed fruit? Since we're being nothing but honest about the purpose of this smoothie recipe, you'll notice it makes about 1.5 cups of deliciousness – a manageable amount.
And if you're being good, share it with your partner! Sharing a dessert (or a huge donut for that matter) just sounds better than having the whole thing yourself, right? haha!
The recipe below calls for pineapple sherbet, but you can use whatever tropical flavor of sherbet or sorbet sounds good. I recently discovered that the available flavors of fruity sherbets and sorbets isn't as predictable as you'd think.
Originally, this recipe was going to use lime sorbet, but it was nowhere to be found on market shelves. Coconut was a second option. No go on that front too.
Instead this dessert recipe became the ultimate in tropicality (is that a word?). It's a lime smoothie with coconut milk and pineapple sherbet! May you have more luck in the freezer aisle than I! And if you can try this with lime sorbet, let me know how it is!!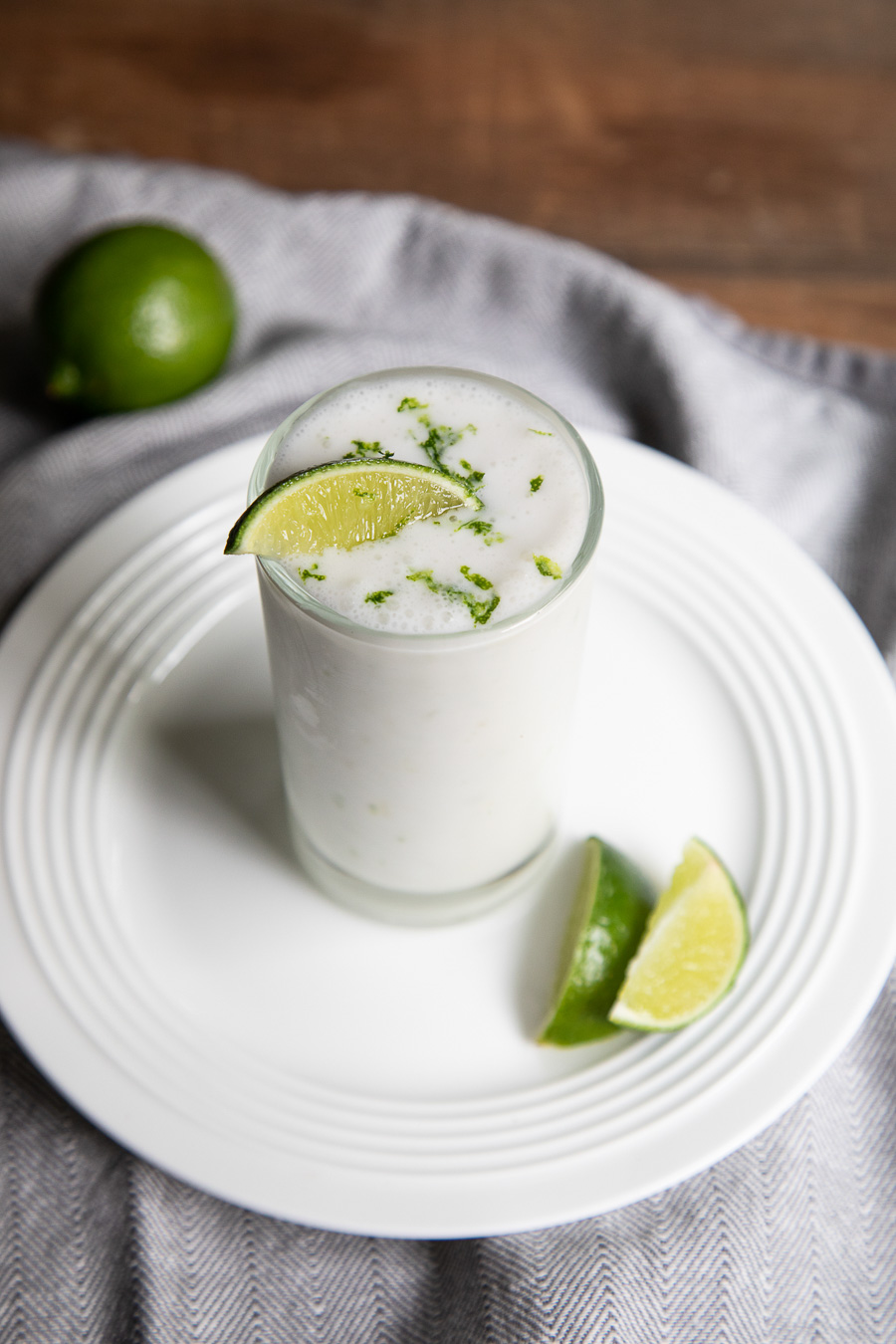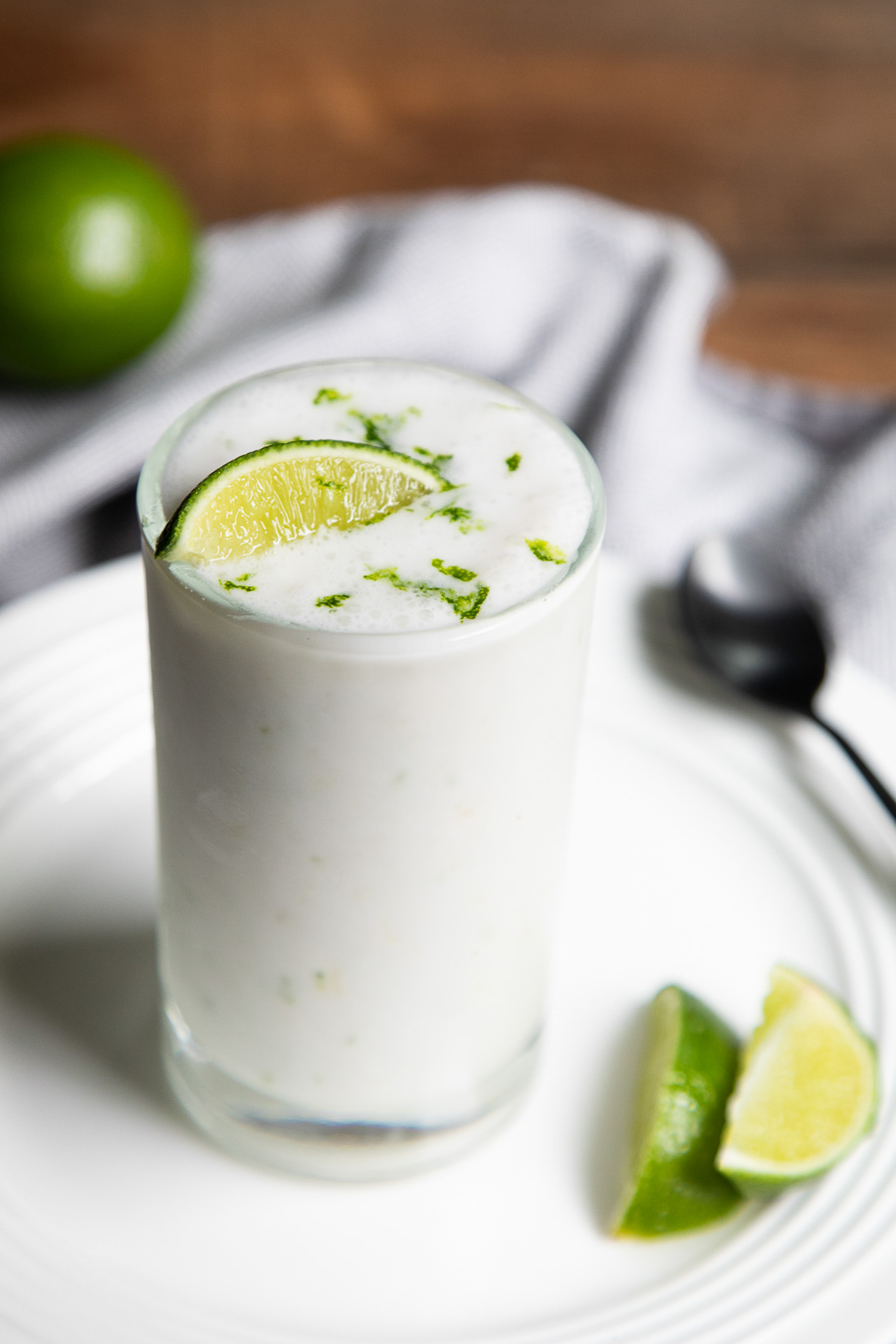 Print Recipe
PIÑA COLADA SMOOTHIE
Get those Caribbean beach vibes with this simple drink recipes for a coconut lime smoothie. Coconut milk mellows out pineapple sherbet with a bit of tang from the fresh lime!! Everyone will be wanting more!
Ingredients
1

cup

pineapple sherbet

½

cup

coconut milk

¼

teaspoon

lime zest plus more to garnish

1

tablespoon

fresh lime juice

Lime wedges to garnish
Instructions
Add the sherbet, coconut milk, lime zest, and lime juice to a blender. Puree until smooth.

Pour into a serving glass and garnish with lime zest and lime wedges.
Nutrition
Calories:
440
kcal
|
Carbohydrates:
49
g
|
Protein:
4
g
|
Fat:
27
g
|
Saturated Fat:
23
g
|
Polyunsaturated Fat:
0.4
g
|
Monounsaturated Fat:
2
g
|
Cholesterol:
1
mg
|
Sodium:
83
mg
|
Potassium:
409
mg
|
Fiber:
2
g
|
Sugar:
36
g
|
Vitamin A:
76
IU
|
Vitamin C:
9
mg
|
Calcium:
103
mg
|
Iron:
4
mg