This post on the "best safety razor for women" is sponsored by WLDOHO.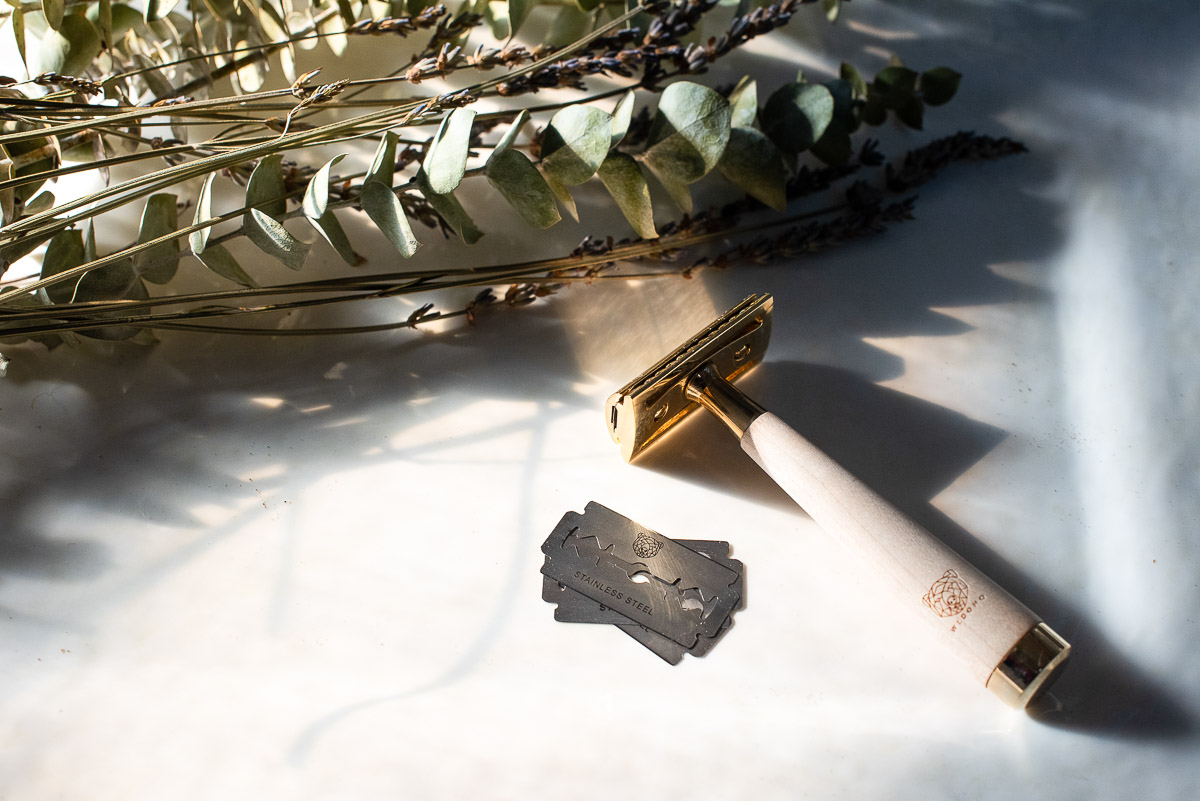 When I first got into sustainable living, I heard pretty early about safety razors as a lovely plastic-free alternative – an easy way to start living more eco-friendly. So I tried the brand I'd seen most and quickly realized how much I hated it!
Now, however, I've finally found what I think is the best safety razor…my WLDOHO blade…AND I LOVE IT! So here is my complete review as well as my tips for how to use a safety razor because there is a learning curve.
Best Safety Razor
So before we get too far, this isn't my first safety razor. Before this one by WLDOHO, I had a multi-blade razor by a very well known company in the current world of safety razors. I had many terrible experiences with it and really never loved it (even after a year of using it).
So a few months back, WLDOHO (pronounced Vuhl-d-hah) reached out to me about trying their razor. I said yes, quickly, because I still HATED that first razor and was ready to go back to plastic blades for the sake of my sanity!
If you follow me on Instagram, you may have seen my story about my first use with this sustainable razor. Whereas my first time with the other blade led to razor burn and eventually cuts, this razor gave me the softest shave I've had in years (long before I switched to the safety razor). The dream of finding the best safety razor had come true!
It was only after my raving review about the product did we decide to collaborate on this full post and review! And I couldn't be more excited since I know I'm not the only one wondering about safety razors and scared for one reason or another of them.
WLDOHO DISCOUNT CODE: LUCI10 for 10% off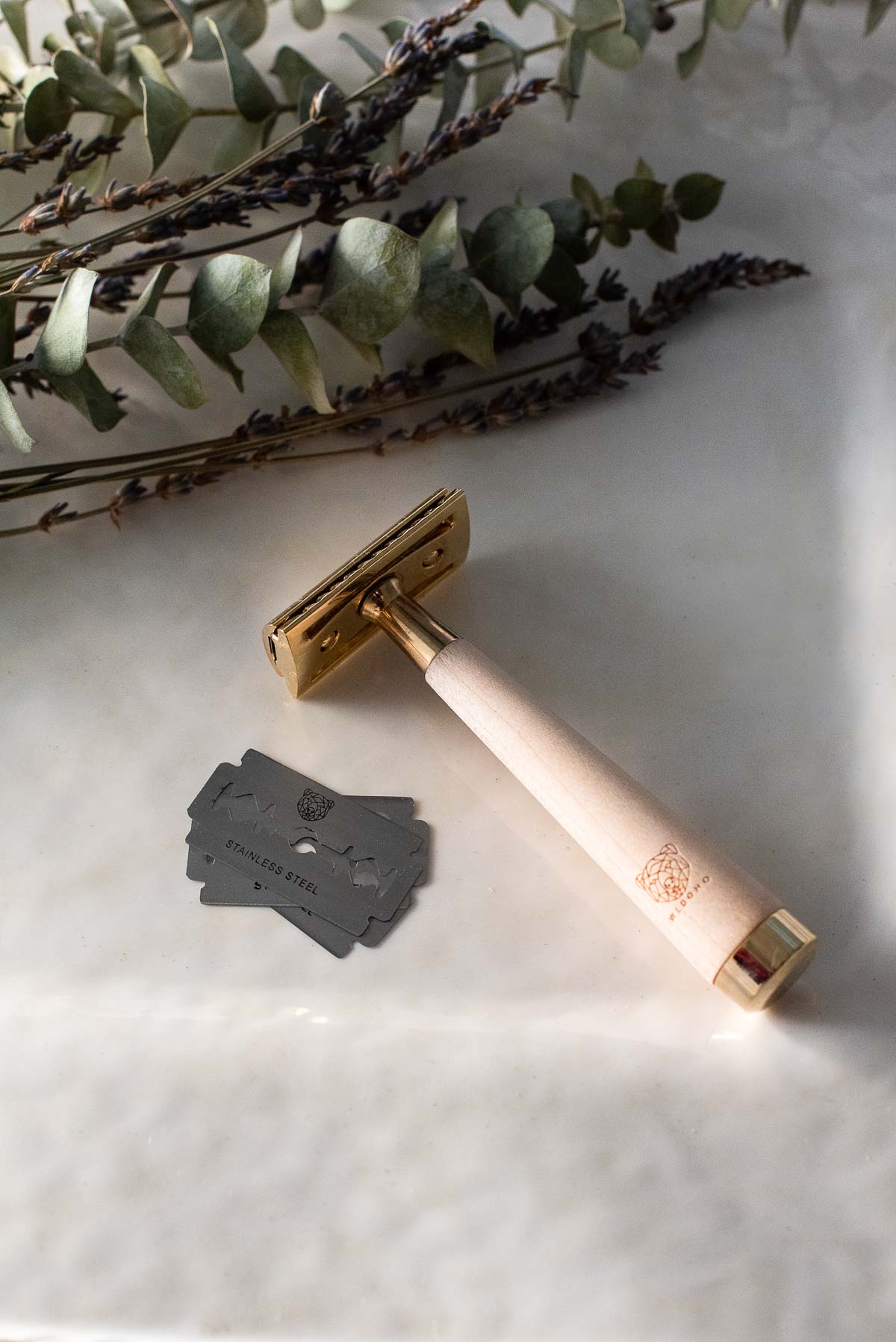 Why are Safety Razors more Sustainable?
Let's start first with what a safety razor is. The term "safety razor" is actually an old one as it was the safer option for shaving as compared with the open blade previously used. The idea is that you have more control and some protection around the open blade!
Safety razors are more sustainable because only the blades are replaced, rather than the whole razor "head" (with surrounding plastic and rubber) or the whole razor itself. And the blades are recyclable themselves (see note below about razor recycling)
The WLDOHO razor has no plastic whatsoever; Handles are made of wood and/or metal, depending on your selection; and the head is made of antibacterial zinc alloy that stays rustproof. See their 11 designs here. This one pictured is the "SUED."
They also work with onetreeplanted to plant a tree with every order!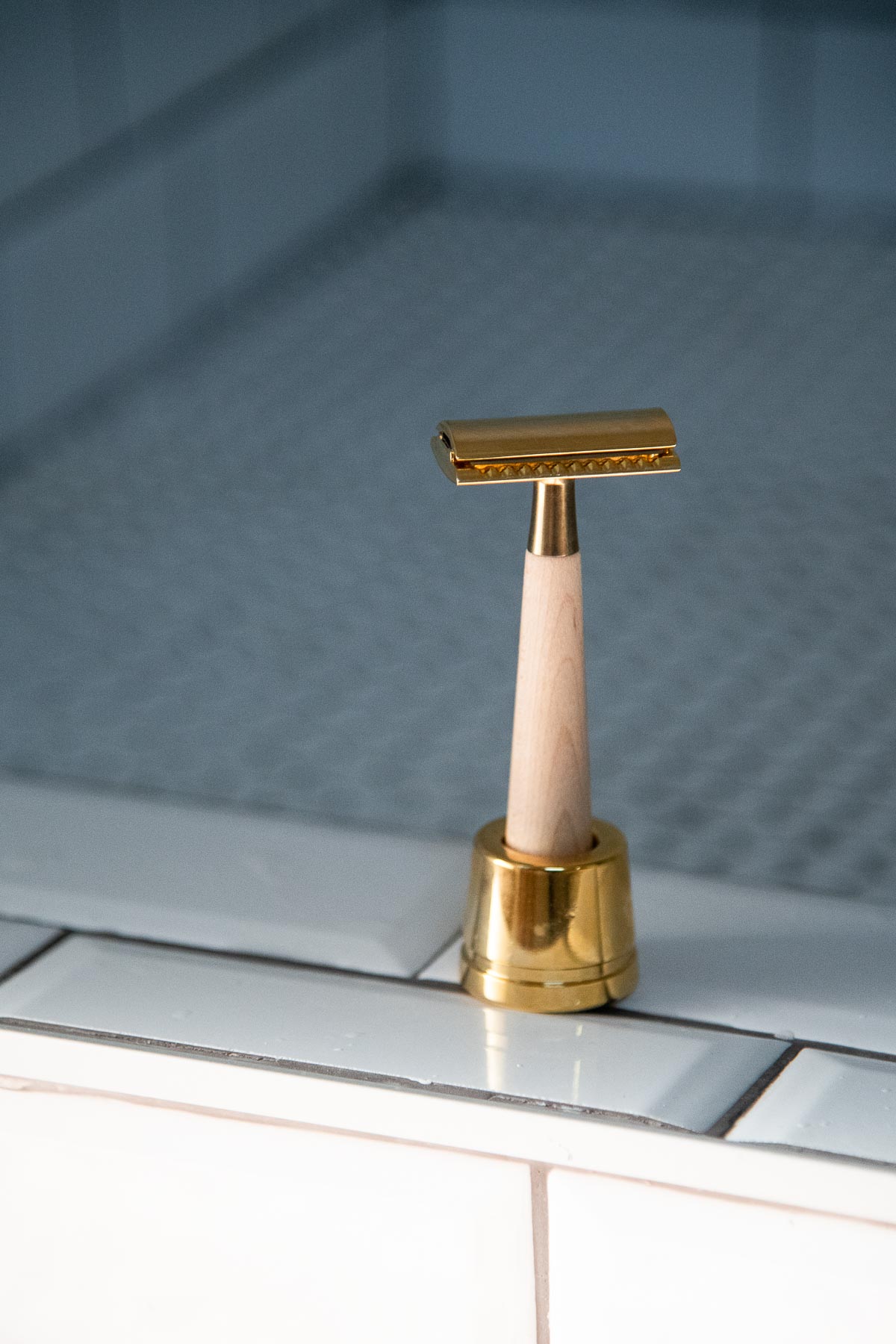 Safety Razor for Women
It seems that there are a billion choices of razors out there for women. Somewhere about college, I realized that not a one was good enough and I preferred men's razors. They had more cushioning built in and usually offered a number of blades to give me a better, painless shave!
Until I tried my first safety razor, I'd been using men's razors exclusively! So when it came time to try a new razor, I thought I wanted multiple blades and a look that resembled the disposable options I'm used to.
I now know that isn't the case – in fact, quite the opposite. While the shape of the WLDOHO razor looks a little too abnormal, it's actually PERFECT and ONE blade is just right!
WLDOHO DISCOUNT CODE: LUCI10 for 10% off
The metal piece around the two-sided blades helps you to keep the blade at just the right angle for an effective, SAFE shave! The weight is also evenly distributed throughout the razor, so you won't be accidentally applying too much pressure with the blade (like I did many times with the other razor).
Finally, having just one blade (if it's a good one) is better for shaving as you aren't giving each blades chances to cut your protective skin layer.
Trust me on this one – this is the best safety razor for women and men!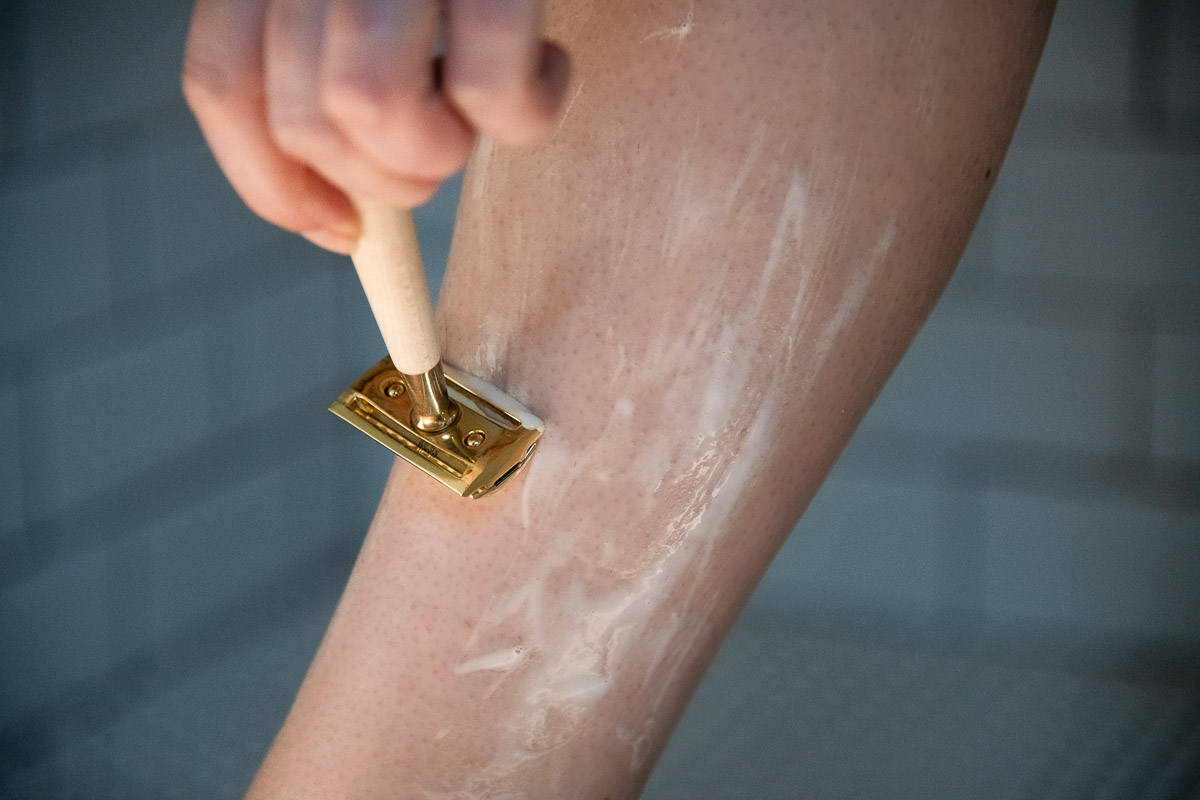 How to Use Safety Razor
I've been shaving with safety razors for nearly two years. I researched how to use a safety razor before and during my use and have since also gathered tips from friends and now have plenty of my own experience.
First. Safety razors are for wet shaving and with a soap or cream ONLY. You will hurt your skin terribly if these two things aren't happening. Check out WLDOHO's shaving soaps as well – also plastic-free and available in many scents.
Second, if you have sensitive skin, skin that is prone to razor burn, or just want a better shave, exfoliation before shaving is important. This removes any dead skin and gets your skin more even before the razor glides over. (see all my go to beauty body tools, but definitely look into using a body plane for a better shave)
Once in the shower, let your legs and skin warm up in the warmth of the water and steam before shaving. If you have goosebumps, you will inevitably get razor burn.
An important thing to note about safety razors, you cannot do "a quick shave," you really need to shave slowly and with intention. This means slowly going around your ankle, along your calf, and across your armpits. Do not apply pressure to the razor AT ALL – this can lead to cuts and razor burn.
If you suffer from "strawberry skin" (what looks like seeing your hair follicles under your skin – I absolutely suffer from this), then you want to put cold water on your legs just after shaving. Instead of freezing your whole body, you can take a pitcher of cold water into the shower and let it sit there until you're ready.
Finally, you should absolutely moisturize right after you shower. I get out of the shower, apply my facial skincare, and then immediately moisturize my body with my favorite body oil.
Ok. One more thing, but this isn't every time. Dull blades (in the kitchen and in the shower) only lead to problems. You want to change the blades after every 10 shaves or so. Not to fret, this will keep you safe and it works out to just 2¢ per shave – quite a bargain!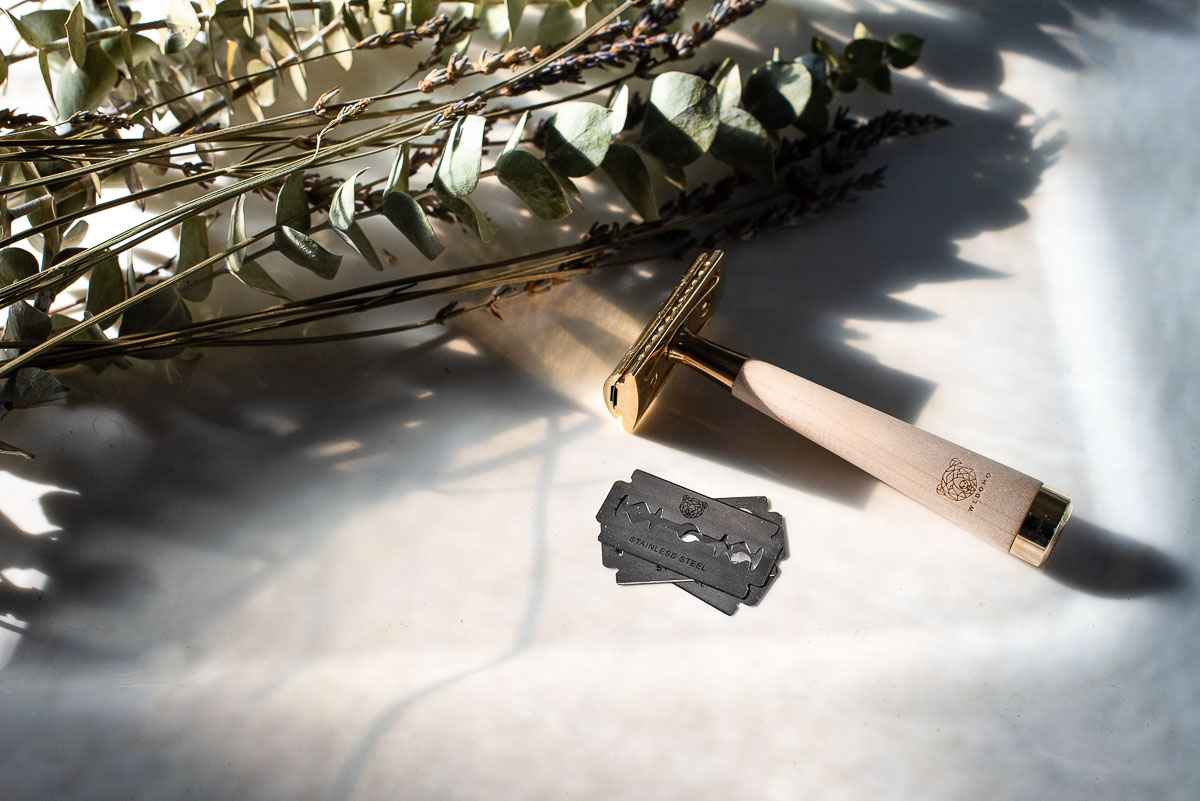 WLDOHO DISCOUNT CODE: LUCI10 for 10% off
Photos by Sacramento Photographer Salgu Wissmath
This post is sponsored by WLDOHO. All honest opinions are, of course, my own. Thank you for supporting Luci's Morsels and the brands that keep our electric composter running!