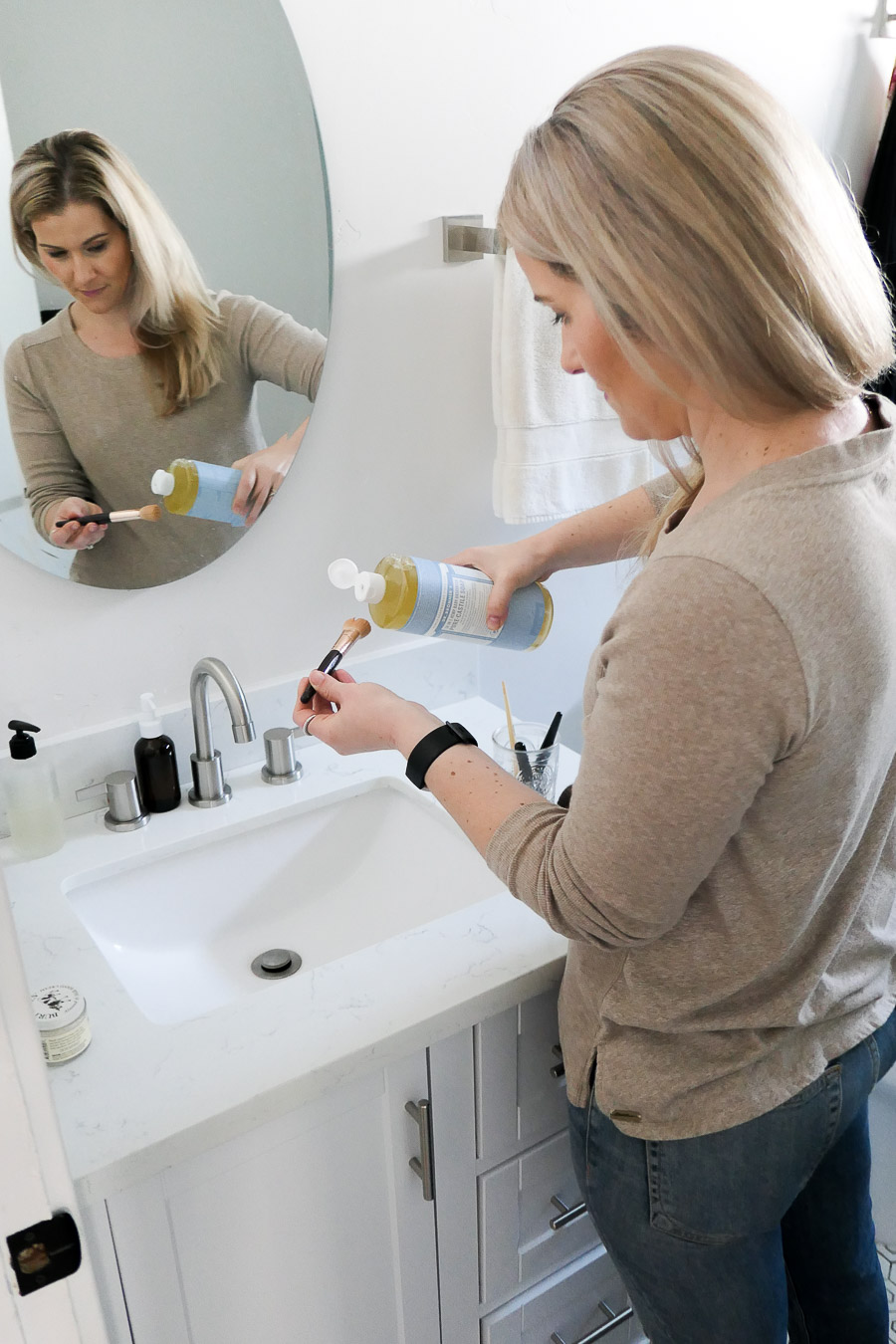 When it comes to clean living and sustainable living, one of the big first steps (besides transitioning to clean beauty) is swapping out your cleaning products – one of the most toxic places in our homes. Since it can be work to make these changes, here are our current clean home products.
You'll notice that we don't have many products – 5 store bought ones, I believe. The thing is that many products often can serve multiple purposes as you'll see below.
So while we've largely eliminated most of the chemical-laden items (not all), we also don't have a lot of space in use for cleaning products, so they aren't taking up too much space in our small home!
My Clean Home Products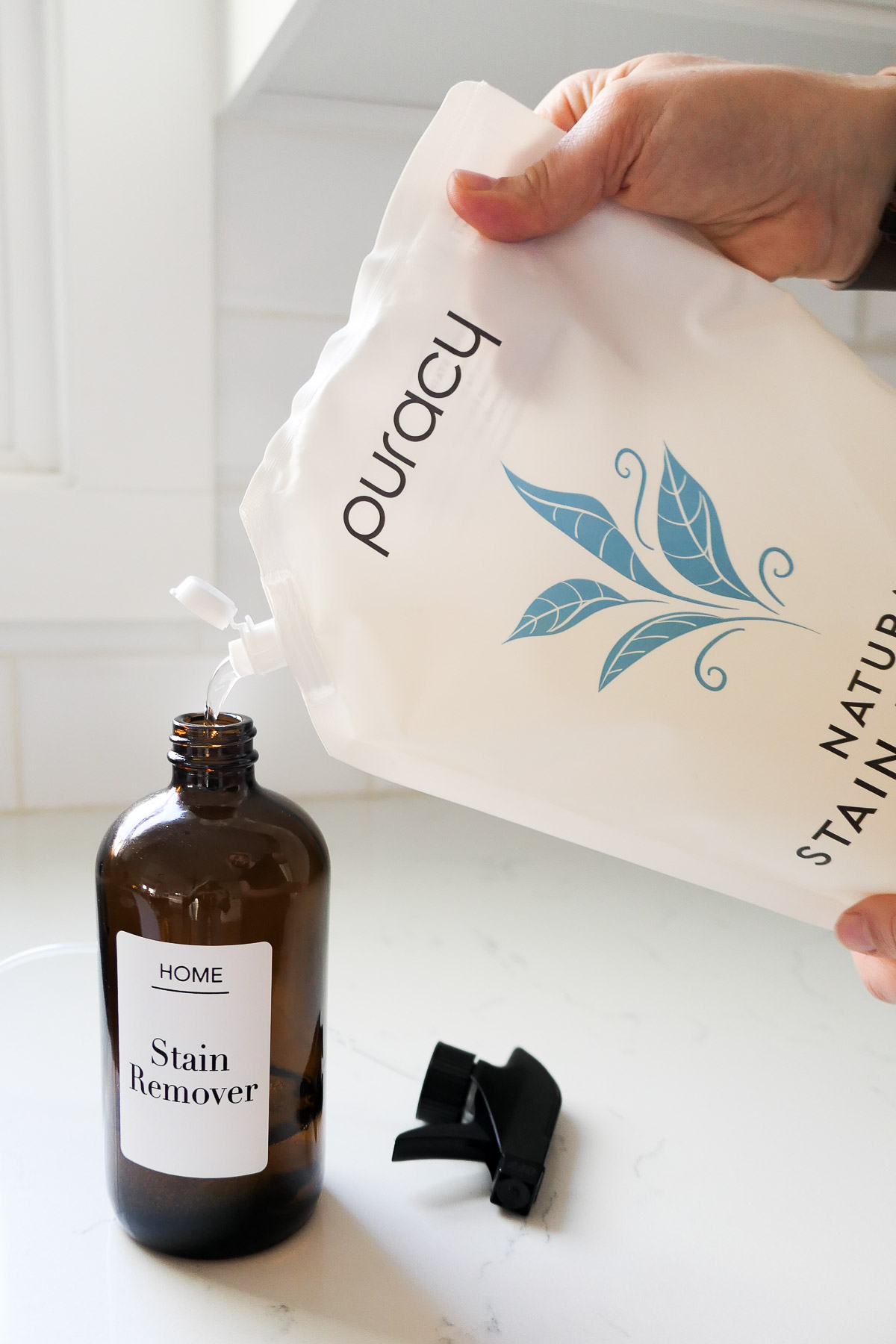 Best Plant-Based Stain Remover
Let's start with my favorite stain spray. It all started at a mom's coffee hour after a fitness class when I had a roughly 3 month baby and really no idea what stains meant.
Two moms with toddlers were talking nearby and the topic of stains came up – you know, for all those messy eating stains. One mom said, hands down this stain spray is the only one she could use on all those berry stains!
So, obviously, I went to buy some. Then I fell in love with it and started buying the bulk refill pouches to fill bottles big and small all over the house – laundry room, bathrooms, and a travel size for on the go. You know I'm big on refill pouches!
We used it religiously with cloth diapers and now religiously with all the food stains. And we ALL use it – it's the only stain spray in our house for clothes big and small!
TIP: Because it's plant-based and the natural enzymes need some time to work their magic, it's best to spray the stain as soon as possible and then let it sit.
I often spray the garment and then just throw it in the dirty clothes to await laundry day!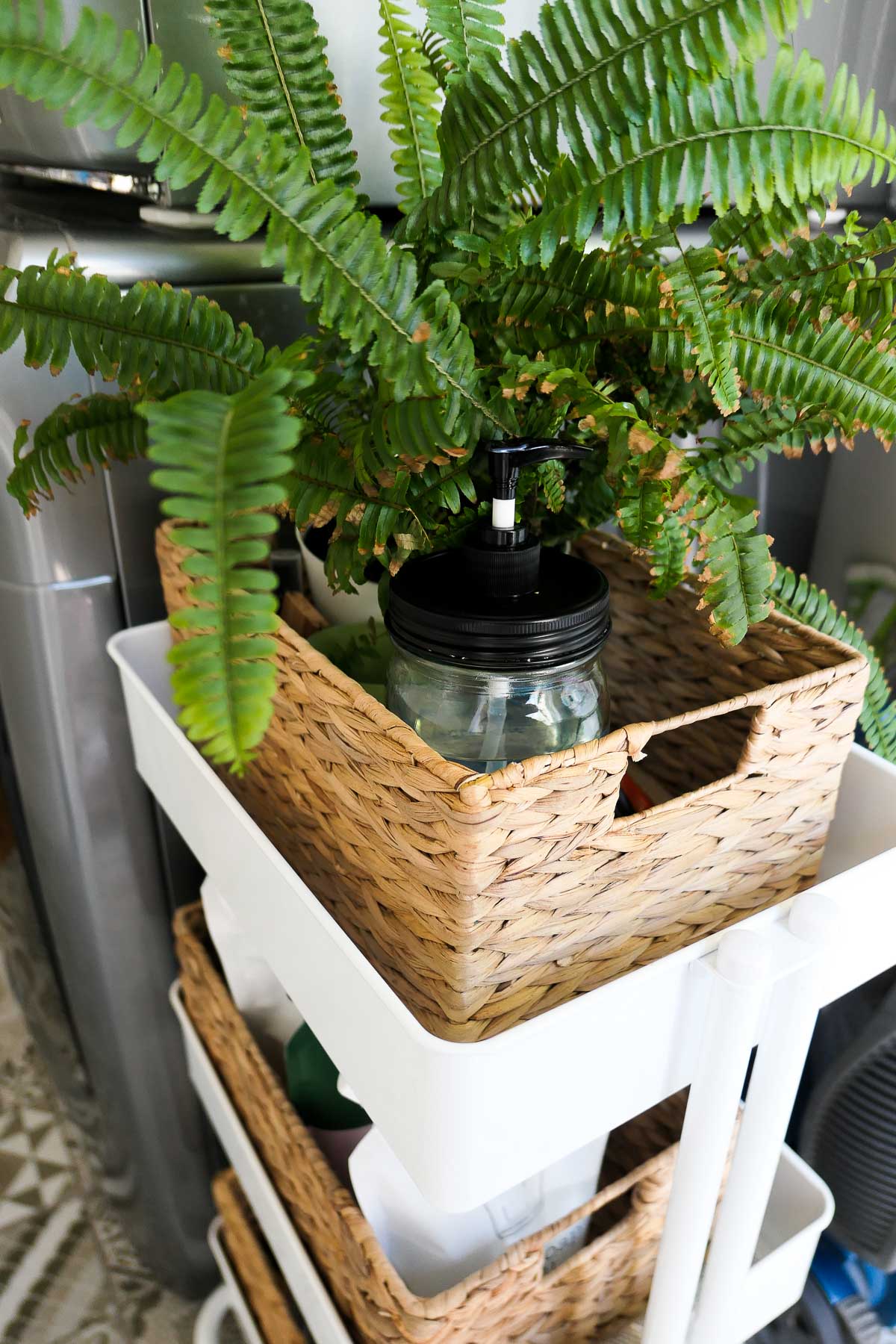 My Favorite Clean Laundry Detergent
Laundry detergent is a funny story for me. LOOOOONG before I ever cared about sustainable living, I hated scented laundry detergents and they hated me. Or rather my skin hated them.
I think I grew up with the standard grocery store detergents (in powder soap form if I recall). Somewhere along the line in college, however, I switched to a "free & clear" option – I think a store-brand even, so we aren't talking fancy.
And then at one point in grad school, I remember breaking out all over my body when I bought the same brand but a different scent. It was fairly traumatizing since I was covered in red splotches and was so itchy. I was scared of any fitted clothing for a while.
Anyway, we use ECOS laundry detergent (in the unscented version). I think I landed on this one first because it was the clean laundry option at Costco, so it was in my budget.
When our son was born, we had a few months of having two detergents and eventually I decided that was dumb and we could just all use this unscented detergent and wash all our clothes together.
So that's what we do. And I was getting this detergent at my refill store (see how to shop refill stores), then they ran out at some point and had other options I didn't like as well.
So I bought a bulk size and just refill that canning jar above (fitted with wide mouth pump lids – not exactly the ones I have).
They're also a climate positive company (a step beyond being carbon neutral).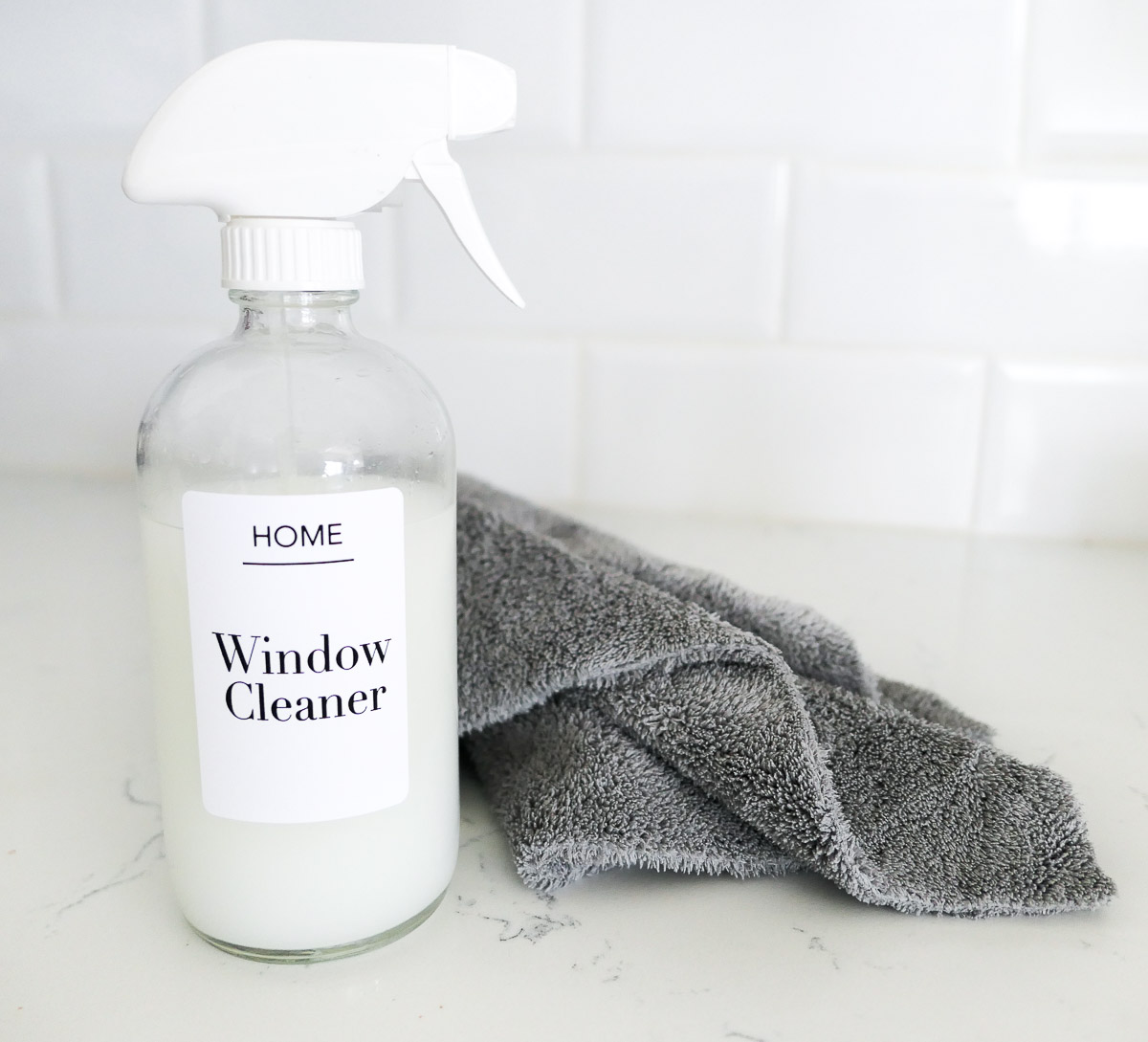 Clean Home Products for the Kitchen
Ok. But let's talk kitchens. First things first. Many standard countertop cleaners are disinfectants, including a lot of harsh chemicals – harsh on your counters and harsh on your bodies.
While disinfectants have their place in the kitchen, most cleaning really just needs an all purpose cleaner and a rag.
For a while I was making my own countertop cleaner (safe for granite, quartz, and marble). You can get that DIY countertop cleaner recipe here.
Then life got a little busy, so I purchased this multi-purpose cleaner concentrate. If you don't have time/interest in making your own products and/or don't have a refill store, I'd highly encourage you to check out concentrates.
Cleaning product concentrates come in liquid and powder form, each easily added to water. Besides often being clean products, concentrates limit the packaging needed for water-filled produced normally on the shelf.
The pure water weight omitted also drastically cuts down on emissions.
Glass Cleaner
Can I tell you a secret? I haven't tried them all, but we haven't found a PERFECT glass cleaner – by my husband's standard. I've done the DIY one and it works fine 🤷🏼‍♀️ – albeit a little goes an annoyingly long way.
I tried one at the refill store but didn't love that one either, though more than the DIY option.
And then clean one that we've liked the most is the Seventh Generation (a B Corp) Glass Cleaner. It actually works pretty freaking good and I'm totally ok using it, but my husband uses another PERFECT glass cleaner, so if you need PERFECT, I don't have a solution yet.
Laundry Booster & Deep Cleaning Powder
The most recent addition to my small clean home products arsenal is this Branch Basics Oxygen Boost.
A multifunctional product, this powder can be added to laundry as a color booster, used to clean grouts, treat clothing stains, and even to clean carpets. It's a one-size-fits-all just about.
I've only used it as a boost in the laundry and to trail clean about 12″ of my kitchen grout, but it did look AMAZINGLY white even just on the small section I cleaned!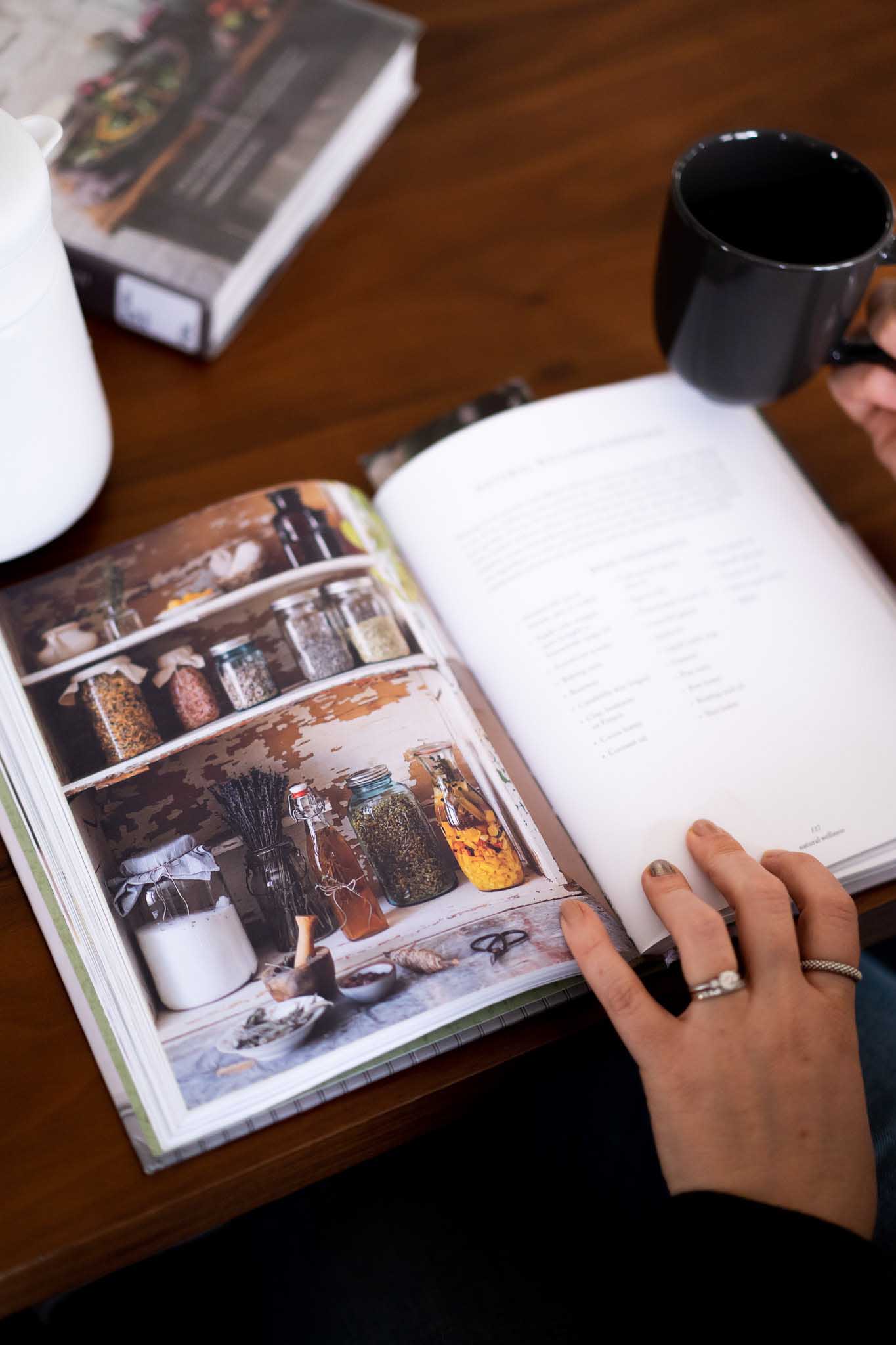 DIY Clean Home Product Recipes
Ok. I covered the basics here of what we use – clearly very basic.
If you're interested in trying out some of your own homemade recipes – which I highly encourage you to do – then you absolutely should look into the Simply Living Well book. You can also check your local library to get a taste of it first!
In here, you'll find most recipes contain combinations of castile soap, vinegar, rubbing alcohol, baking soda, corn starch, and water.
You can try whipping up full batches or even just making a quick thing for when you run out and are in need.
Try any of these sustainable bathroom product and practice swaps too!
Small Home Living Tips
Want some organization tips for small home living? Check out these posts of kitchen appliance organization, how to store reusable bags, seasonal clothing storage, and small home office ideas, including mail and paperwork organization!
You'll also want to read how we're making our home more sustainable; my go to clean home cleaning products; a spring cleaning room-by-room checklist that you can practice year round; and how to declutter your mailbox!
Keep an eye on this constantly updated list of sustainable product reviews for every aspect of life!
And try these sustainable swaps for 2023!