This Plastic Bag Recycling Post is Sponsored by Clover Sonoma.
If you think all plastic is recyclable or all things with a triangle and number are recyclable, think again. Read on to learn about plastic bag recycling and how to do it correctly!
On this path of sustainable living, it feels as though I'm constantly adding things to do. There is so much to learn and it takes time to really incorporate it all into your life. It's not as though I'm always looking for behaviors to change; they just come my way now. So I have to pick and choose what we're ready to tackle and when.
A few months ago (or whenever spring was this year!), we tried a meal delivery subscription service for a week. I said ok to it all only because it advertised that everything was recyclable. Great!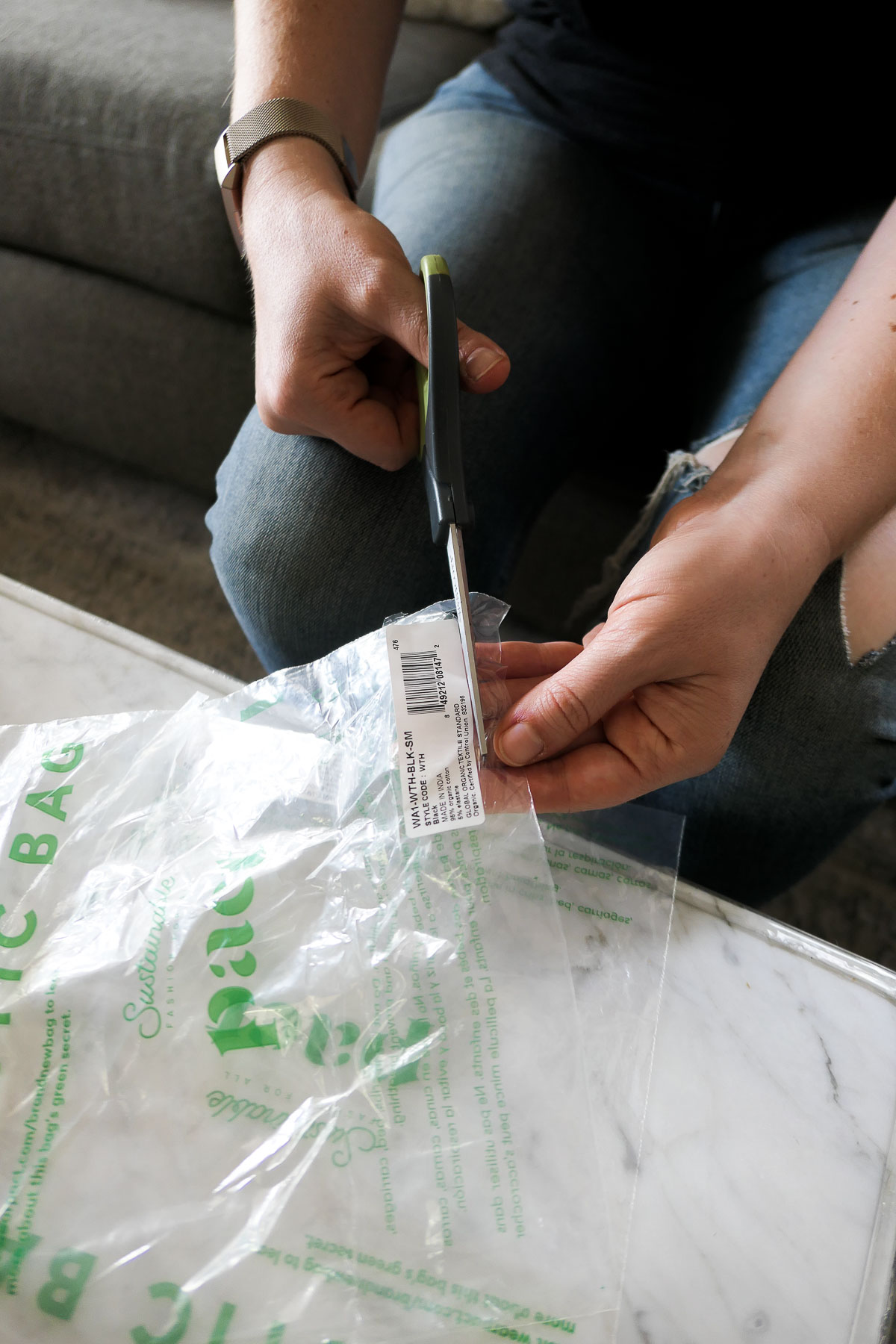 So the food arrived and I had A TON of plastic bags, but something told me that I couldn't just throw it in the curbside recycling.
Sacramento has an app to help you decide between the trash or recycling bin. It isn't perfect, but it is a help. So when these bags showed up, I'd used the app enough to question how "recyclable" they truly were.
I went to the almighty Google and searched "plastic bag recycling." And so it all began on how we now recycle plastic bags properly, do the store drop off, and have a growing realization and distaste for just how many plastic bags are in our life.
Plastic Bag Recycling
Our biggest source of trash and recycling is food packaging – hands down. If we just never ate, we'd be fine! Since we keep getting hungry, however, we need to be more proactive.
Clover Sonoma – a B-corp dairy and the first US dairy to be certified American Humane – reached out to me about doing a "sustainable challenge" for the month of September.
I wasn't ready to pretend to start composting (beyond my love for our electric composter) but something related to food (and packaging) waste seemed fitting.
So I've been learning about how to recycle plastic bags correctly and documenting it all on Instagram all month!
Clover Sonoma just launched the first fully renewable milk carton made of cardboard and a bioplastic sugarcane liner that's biodegradable thereby getting rid of the plastic involved in other cartons.
They're basically making it easier to have less food packaging waste with no extra work on my part! Although, the bioplastic sugarcane liner is made of a renewable product, Clover Sonoma's Fully Renewable Milk Carton is not compostable and still needs to be recycled.
Despite massive changes in the food and dairy industry, Clover Sonoma has been conscious and careful about what goes into their products (and what doesn't) for three generations.
The 30 family farms in Northern California with which they work follow rigorous quality and animal humane standards that go above and beyond U.S. and California requirements.
As a Certified B Corporation (find out what a B Corp is here ), Clover Sonoma meets the highest standards of verified social and environmental performance, transparency, and accountability, and has some of the highest standards in the dairy industry. And they're leading the way for sustainable dairies in the US!
So lets us individuals do our part in proper recycling and care alongside companies like Clover Sonoma doing their part…
What can't be recycled curbside?
Most curbside recycling programs don't accept soft-sided plastics. This includes plastic mailers, plastic shopping bags, ziploc bags, cling film (saran wrap), plastic air pouches, plastic zippered pouches.
Even my beloved compostable trash bags and ziplocs are a no-go in the recycle bin!
It's best to check with your local waste management and see if they take it or not. You might just be lucky enough to live somewhere that accepts it all!
And when you're ready, check out these plastic wrap replacements.
Do I have to do anything to the bags?
Yep. Just like with ALL recycling, you have to clean the items (that had food) and remove any labels and stickers.
Some stickers and labels just peel off, but I find most need to be cut out. It's a simple process and I like to do it when I first get the item, so everything goes into our bag or bags ready to be recycled.
View this post on Instagram
As for food containers, just a quick rinse with water OR soap & water will do the trick. And then let it air dry before putting it away with your other bags to recycle.
If you have a number of bags, you can do a shallow soapy bath in your sink for them all. I've also heard about just adding them to the top rack of your next dishwasher load, but I haven't tried this.
I just want to reiterate here that all recycling needs to be cleaned of food scraps – not just the films and wraps. Food in a recycling bin can ruin the whole lot with rot, mold, and germs!
Where do I take the bags?
Many stores around the US take these soft plastic wraps and bags. You can do a quick search here to check for local places. It's important to note that not all places that accept the bags are listed. My local Sprouts grocery store takes them and didn't appear on the list.
Also, some places aren't taking the bags right now for safety. Other places are, however, so you might just need to try another store or give them a call before heading out. The customer service at any store will be able to help you!
Lessons from Plastic Bag Recycling
So. As a small family of 2+ and given that we're trying to be mindful of single-use plastics, learning about proper plastic bag recycling has been interesting and a bit overwhelming.
Not only is getting the plastics collected and ready to recycle more work, but we have quite a bit of plastic, which is depressing. I was able to smash all our plastics into a single plastic shopping bag. BUT IT'S SO MUCH and this is only for one month!! That means we have about 12 of these bags per year – just our little house!
We have so far to go to limit our consumption of single-use plastics, but being able to visualize exactly how much we consume has been so helpful.
And now we can set goals to have fewer shipping bags, fewer zippered bags, and no more cling film! These kitchen swaps are helping more than ever.
Thank you for supporting all Luci's Morsels collaborations. All opinions are, of course, my own.