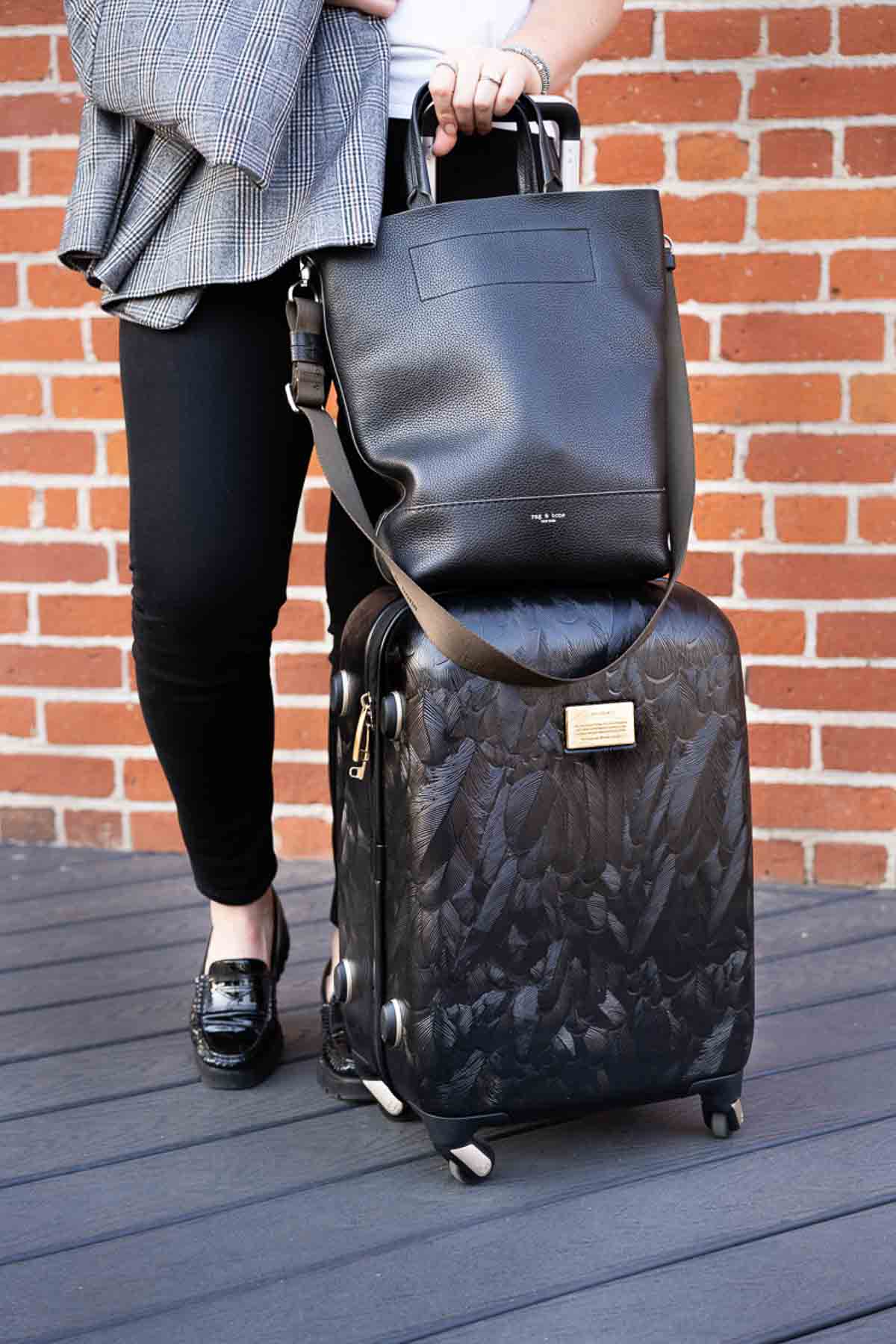 In packing for any trip, there are certain things you can cut back on and leave at home, however devastating it may seem. And while I'm fine cutting back and leaving some things at home, obviously not everything can stay behind. So I've been focusing more on finding the best refillable travel containers – generic and brand specific.
Here are my favorite things that come in mini refillable containers, as well as a few containers for filling the rest and a few sustainable alternatives that save space! I'm rather big on using the same items and brands of things I use at home on the go, but I understand that has its limitations.
Choosing smaller, refillable containers is just one of my easy sustainable travel tips!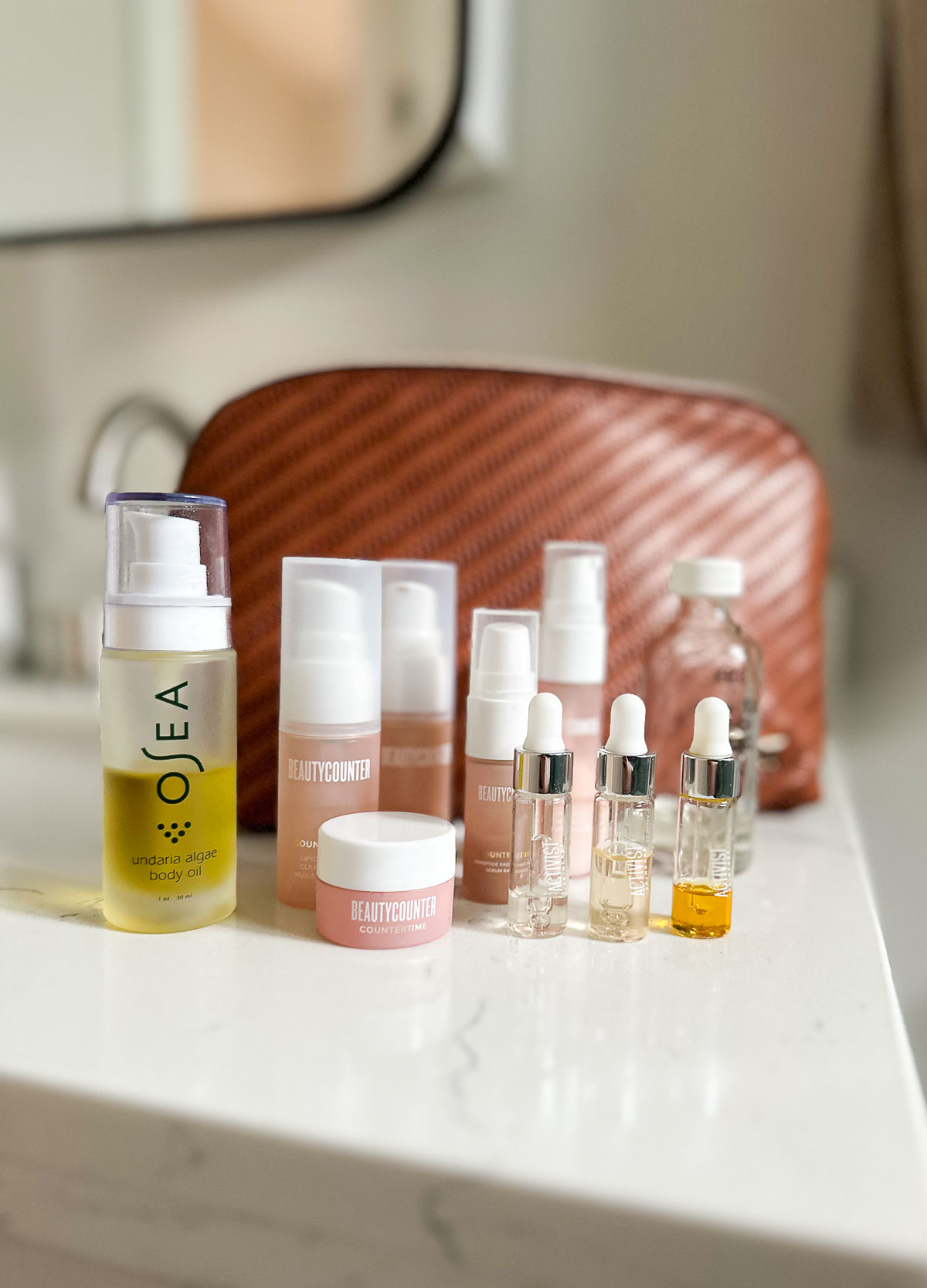 Refillable Travel Containers
There are so many travel bottles out there, but after too many 'explosions' of my shampoo I'm always leery of those "leak-proof" claims.
Hilariously enough, my cowboy boots were assaulted by some explosive shampoo on one return trip. I was initially devastated but now I love that it's turned into a worn look. And I have a fun story to share when I wear them.
Anyway, since you can't always count on the trendy distressed look to save you from an explosion gone wrong and because we (i.e. me) are trying to cut back on size and weight of luggage, let's talk refillable travel containers!
When it comes to refillable travel bottles, I prefer silicone ones – not the hard-sided ones because I find them easier to use and clean.
My most trusted brand is GoToob by Humangear. We got ours from this brand about 10 years ago and still use them.
You can get the 3-pack of the 3.4oz. bottles on Amazon, Target, and from The Container Store. There are also 1.7oz containers.
The packs of 3 usually include three different colors (though you can get all clear and I've seen all black). I love these GoToobs for 2 reasons. Well, actually 3!
The FIRST is that they have never, ever exploded or leaked on me. I always put my shampoo and conditioner in them and for at least 10 years, I've never had a problem.
SECOND, there is an identifier on the cap with sham, cond, sun, lotion, and soap in addition to a blank space. Just twist it to the right product. You'll never accidentally put sunscreen in your hair again!
THIRD, the bottles are squishy, so it's far easier to get all the product out. This is crucial when you're on the last days of a long trip. So many travel size bottles are hard-sided so you end up pulling a muscle trying to force it down to the opening!
The squishy factor (clearly a technical term!), is also great because that means the containers will be able to bend more and take up less space as you use more product!
The same brand also sells GoTubbs which are little container perfect for pills, jewelry, and anything little you like. They aren't leak proof, but it's a good way to store some essentials!
Target sells a similar travel containers for kids with adorable penguins! I'd use these too as an adult and they even have the identifiers.
I recently stumbled on these refillable travel containers that have airless pumps and are made of recycled plastic. I obviously can't vouch for them, but I love the idea for hair care and beauty products!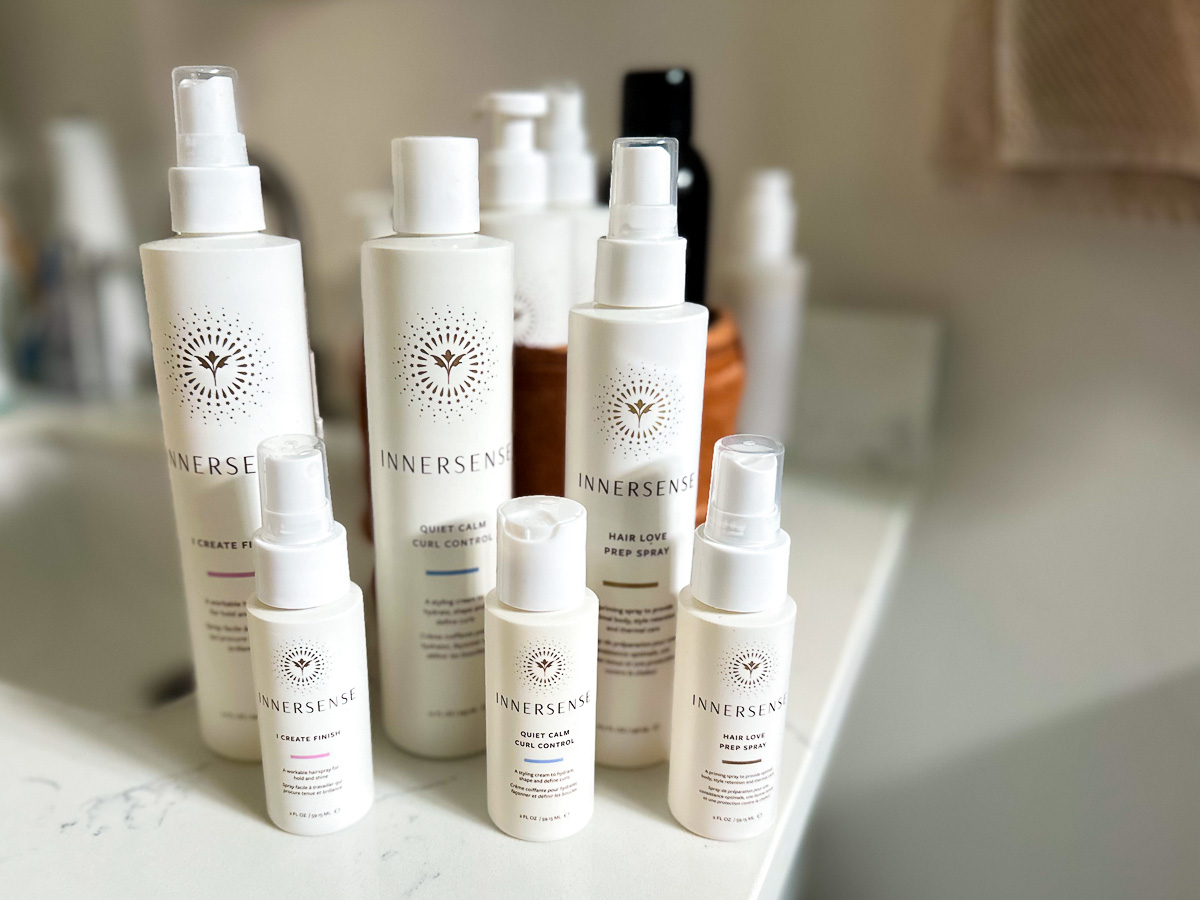 Refillable Haircare for Travel
I have a long list of reasons I love Innersense hair care, but on that list is that they have refillable, miniature bottles of most of their line – not just shampoo and conditioner. And if that weren't enough, these 2 oz. hair care bottles are also made of recycled plastic!
For this upcoming trip, I purchased (because I use them the most) the following hair styling refillable containers.
Use discount code LUCI15 for 15% off your first Innersense purchase
Now, while Innersense offers travel sizes of the shampoo and conditioner I use, and I could even just use one of the refillable travel containers above, I'm actually planning to take small shampoo and conditioner bars!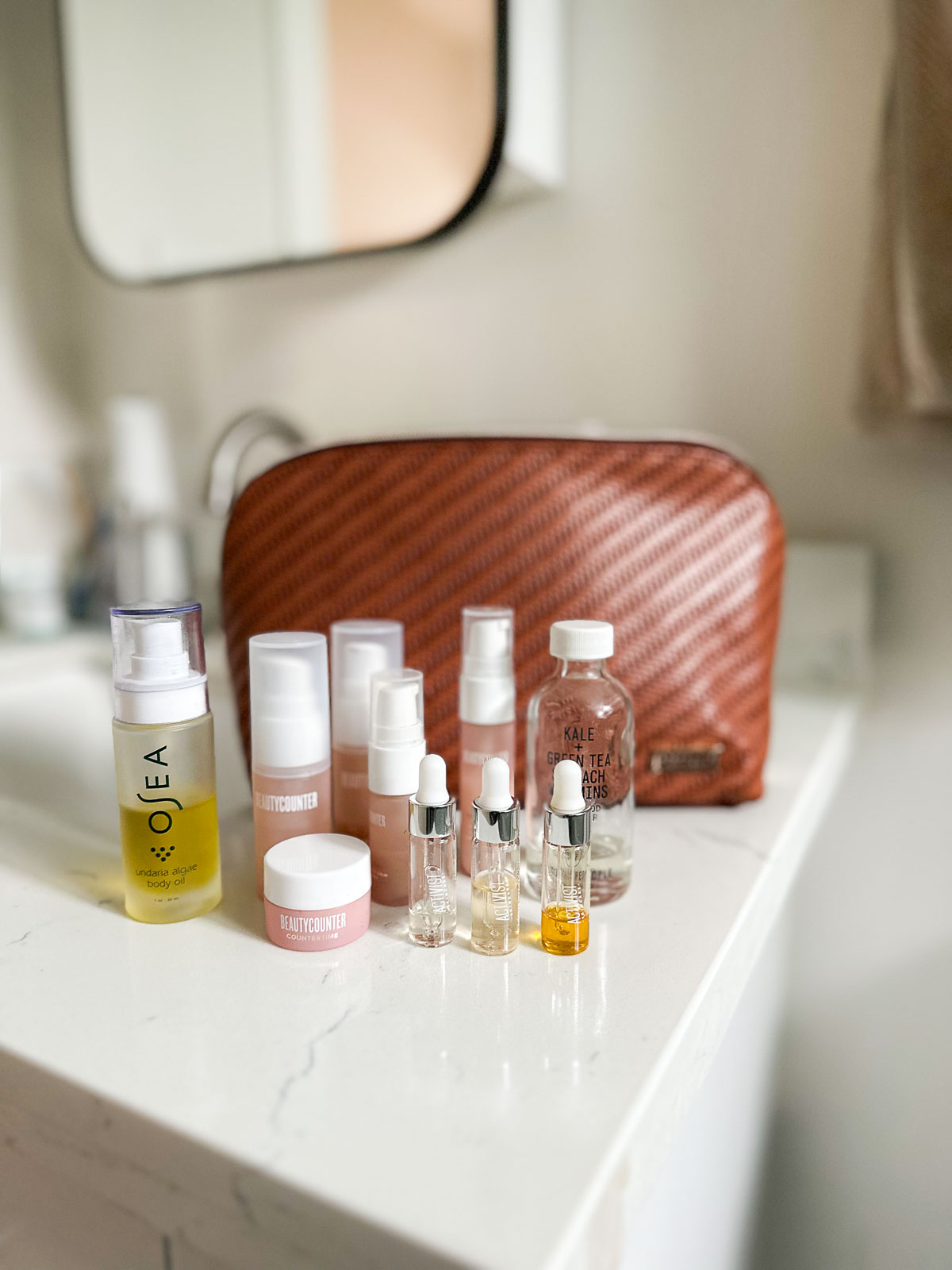 Refillable Skincare for Travel
Many companies are starting to come out with miniature sizes of their product,s but the key is finding ones that are refillable (and easily refillable at that). Anything with a screw-on lid is great as it lets you refill easily. Further if the full size option can dispense easily without changing the formula or consistency, you're golden!
My current skincare options are almost completely refillable, which more than a little freakin' fabulous!
Check out my Beautycounter product review here and you'll see just how much I love my Beautycounter skincare regimen. They often sell a carryon set of their countertime regimen. Each of the items comes in a completely refillable container (with Beautycounter or any other product). The collection includes a cleansing oil, toning water, serum, face cream, and an overnight cream containers – totally fine for any brand.
I also recently tried the Activist skincare, a completely refillable, clean skincare line. Their trial kit comes with refillable, travel sizes, and I'm excited to take the serum and face oil in these small containers with droppers. I've traveled with them, and they don't leak, so I'm quite happy.
Use code LUCISMORSELS for 15% off your Activist order. Check out their trial kit for travel sizes!
A few other favorite products of mine that come in small, refillable containers:

And check out this post on refill pouches and what personal care brands offer refill pouches!
Refillable Travel Perfume Bottle
I actually don't wear perfume, but I know a lot of people do and have a need for this! And since a big glass bottle is heavy and breakable, not to mention the weight of all the liquid – this is a great place to cut back.
You want to look for a mini spray bottle or atomizer. I've found quite a few selection on Etsy from glass to aluminum and bamboo casings. This bamboo perfume spray bottle is attractive because it isn't breakable and has a sleek cover for the spray button!
Travel Size Makeup?
Some makeup brands offer mini sizes of their products, but they usually aren't refillable at all. I do support the downsizing of your suitcase, but at the cost of even more beauty empties to make sure you recycle properly…I don't think it's worth it.
So rather than makeup minis, I'd use refillable containers as much as you can (think foundation in a small tub or container) and think about just downsizing the amount of makeup you'll be taking on a trip. See my complete clean makeup routine here.
For my upcoming trip to Scotland, I'm taking the following items:
Additionally, I have luck saving the items from the "gifts with purchase" for my remaining travel size toiletry needs. And when you really strike out with the above options, get some sealed containers and make your own mini size.
Check out these refillable makeup products, refillable skincare products, and refillable deodorants brands!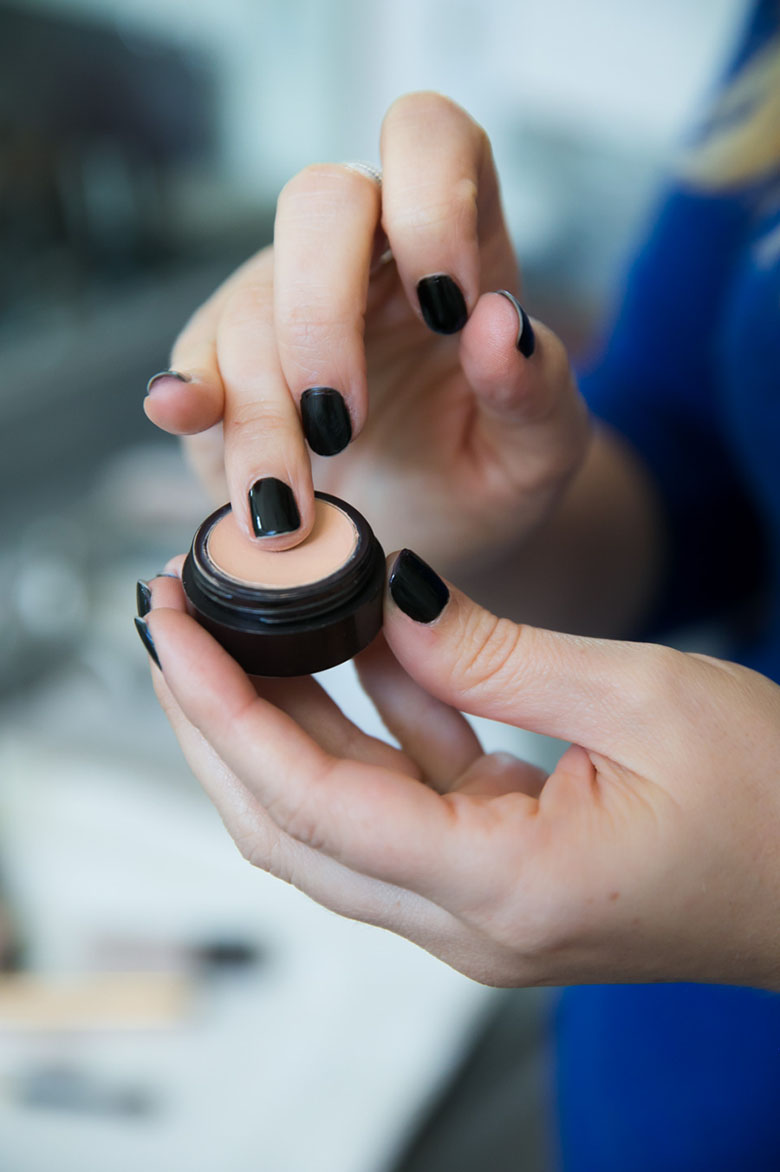 Where to get Travel Size Beauty Products
For those things you can't live without, check out Sephora's extensive minis section. IT'S HUGE!!! They have just about everything and a long list of clean beauty brands via Sephora online and in store.
The options for travel size toiletries, cosmetics, and shampoo bottles are actually quite numerous. You just might need to do a little research. Remember that you can only take up to 3.4 oz. of any one item through TSA. Most makeup items are actually much smaller. And remember you can always use the GoToobs and GoTubbs to downsize for your trip!
Looking to downsize more? Check out what I take in my travel wallet and tips for how to avoid overpacking.
Clean & Sustainable Beauty
Since clean beauty is an important part of sustainable living (what we wash down the drain matters as much as what we put on our skin), be sure to check out these other clean beauty roundups:
Clean Beauty at Nordstrom
Clean Beauty at Sephora
Clean Beauty at Target
Clean Beauty at Walmart
Clean Beauty at ULTA
Best Beautycounter Products
Common questions include do shampoo bars really work and how do you use them? What natural deodorant actually works? What's the best safety razor for women (and how to use them properly). And how to clean your makeup brushes (on the cheap and easy)!
There are also great clean skin & hair care products for men!
And you'll want to check out these wonderful clean beauty bar soaps as well as body tools for smooth skin all over yourself!