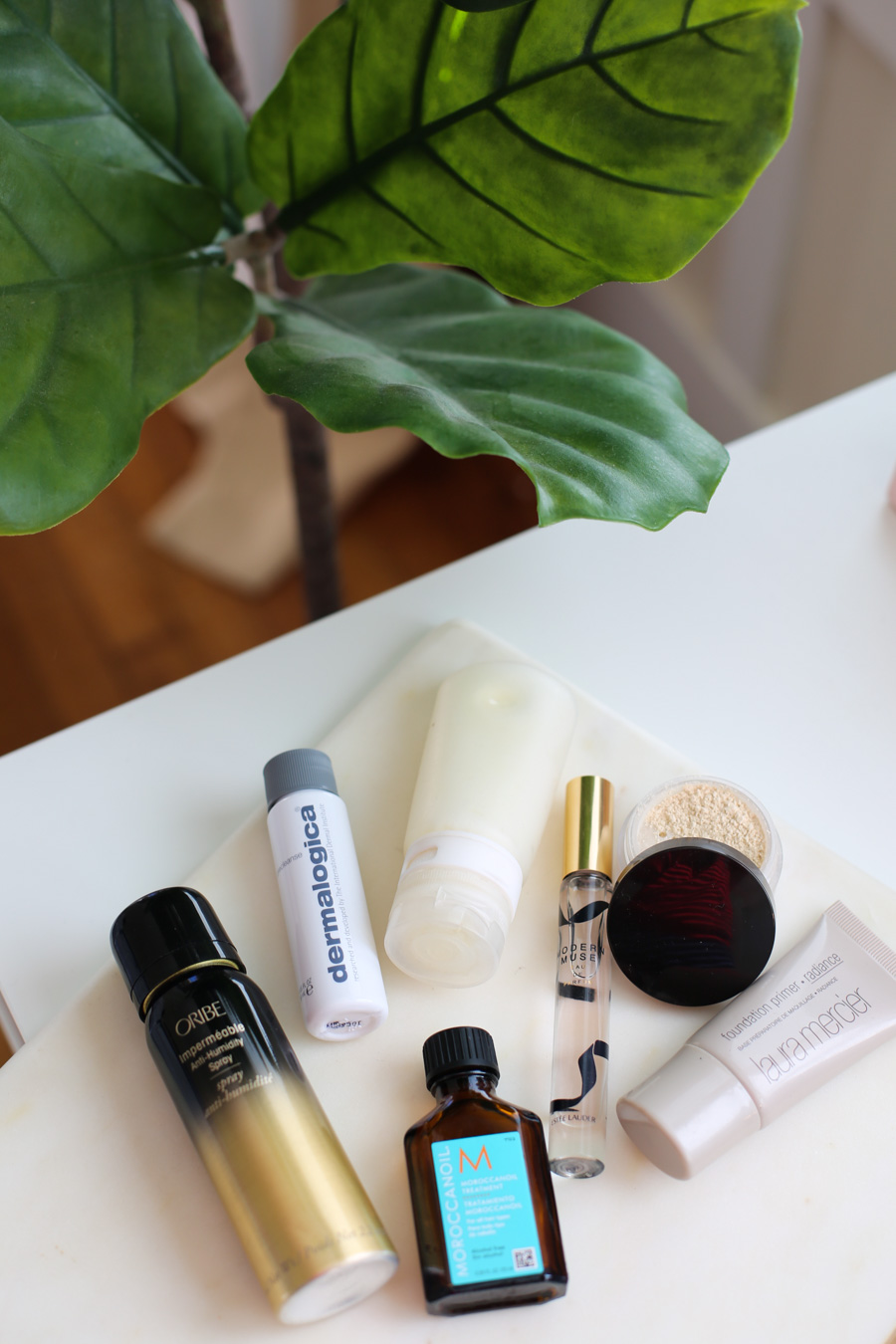 In packing for any trip, there are certain things you can cut back on and leave at home, however devastating it is, but the one thing you really can't do is shrink your belongings! One of the things I absolutely love doing, for long trips and short, is to get as many 'mini' or travel size toiletries and cosmetics as I can.
Here are my favorite things that come in mini sizes, the best travel size bottles, and where you can find travel size makeup. I usually opt to take the same brands I use at home, as you'll see below. Things like lotion, toothpaste, face wash, and other fairly general items, however, I go for a smaller size rather than the exact same product…
The Best Travel Size Bottles
There are so many travel bottles out there, but after too many 'explosions' of my shampoo I'm always leery of those "leak-proof" claims.
Hilariously enough, my cowboy boots were assaulted by some explosive shampoo on one return trip. I was initially devastated but now I love that it's turned into a worn look. And I have a fun story to share when I wear them.
Anyway, since you can't always count on the trendy distressed look to save you from an explosion gone wrong, let's talk dependable travel size bottles.
My absolute favorite brand is GoToob. You can get the 3-pack of 2oz. bottles on Amazon and Target. The packs of 3 usually include three different colors (though you can get all clear and I've seen all black). I love these GoToobs for 2 reasons. Well, actually 3!
The FIRST is that they have never, ever exploded or leaked on me. I always put my shampoo and conditioner in them and for at least 10 years, I've never had a problem.
SECOND, there is an identifier on the cap with sham, cond, sun, lotion, and soap in addition to a blank space. Just twist it to the right product. You'll never accidentally put sunscreen in your hair again!
THIRD, the bottles are squishy, so it's far easier to get all the product out. This is crucial when you're on the last days of a long trip. So many travel size bottles are hard-sided so you end up pulling a muscle trying to force it down to the opening!
The same brand also sells GoTubbs which are little container perfect for pills, jewelry, and anything little you like. They aren't leak proof, but it's a good way to store some essentials!
Travel Size Toiletries
When it comes to toiletries, nothing beats the "mini" section at Target. My favorite items to grab in this section are the toothpaste, shaving cream, body wash, small face wipe packs, and the mini lint rollers! There are some necessary travel size toiletries, however, that aren't available at Target.
Face creams and special skin products are a no go.
Additionally, I have luck saving the items from the "gifts with purchase" for my remaining travel size toiletry needs. And when you really strike out with the above options, get some sealed containers and make your own mini size.
Travel Sized Beauty Products
Mini Makeup
I have a limited makeup situation when I'm on the plane (usually tinted moisturizer, eyeliner, and mascara), but I don't skimp on my makeup selection during the trip.
It should be noted that I don't do lots of eye makeup, so I have a single travel case that keeps me all organized and ready to go.
Many companies have smaller versions of their products. You all know I'm a huge Laura Mercier fan for my makeup and they have quite a selection! The three items that save me quite a bit of room are my foundation primer, tinted moisturizer, and their mini setting powder (read my full review of the Laura Mercier setting powder).
These mini sizes aren't bargains, but if you only use them for travel, you'll have them a long time!
And when you've used up all the product, remember to recycle them properly through Nordstrom's BeautyCycle program!
Hair On the Go
And for your hair, those economy size bottles won't do you any good to lighten your suitcase. Oribe has a travel-size trio of dry shampoo, hair spray, and anti-frizz spray that you shouldn't leave home without! My favorite Innersense hair products (clean, B Corp hair brand) also sells travel size, refillable sizes (or click on individual products to select travel sizes)!
Travel Perfume
One other thing I'm trying for the first time on this trip is a perfume rollerball. I usually leave perfume at home, fearful it will explode in my bag. Not only will everything smell, but then I'll have glass pieces with which to deal.
What I love about the rollerball idea is that you can take more than one and they don't take up much space at all. You could even throw them in your purse!!
Where to get Travel Size Beauty Products
Since we don't all use Laura Mercier makeup, I'd highly encourage you to check out Sephora's travel makeup section. IT'S HUGE!!! They have just about everything. Look out for their travel size mascaras and a wide range of primers to mini makeup palettes and brushes! This world is your travel-sized oyster!
The options for travel size toiletries, cosmetics, and shampoo bottles are actually quite numerous. You just might need to do a little research. Remember that you can only take up to 3.4 oz. of any one item through TSA. Most makeup items are actually much smaller. And remember you can always use the GoToobs and GoTubbs to downsize for your trip!