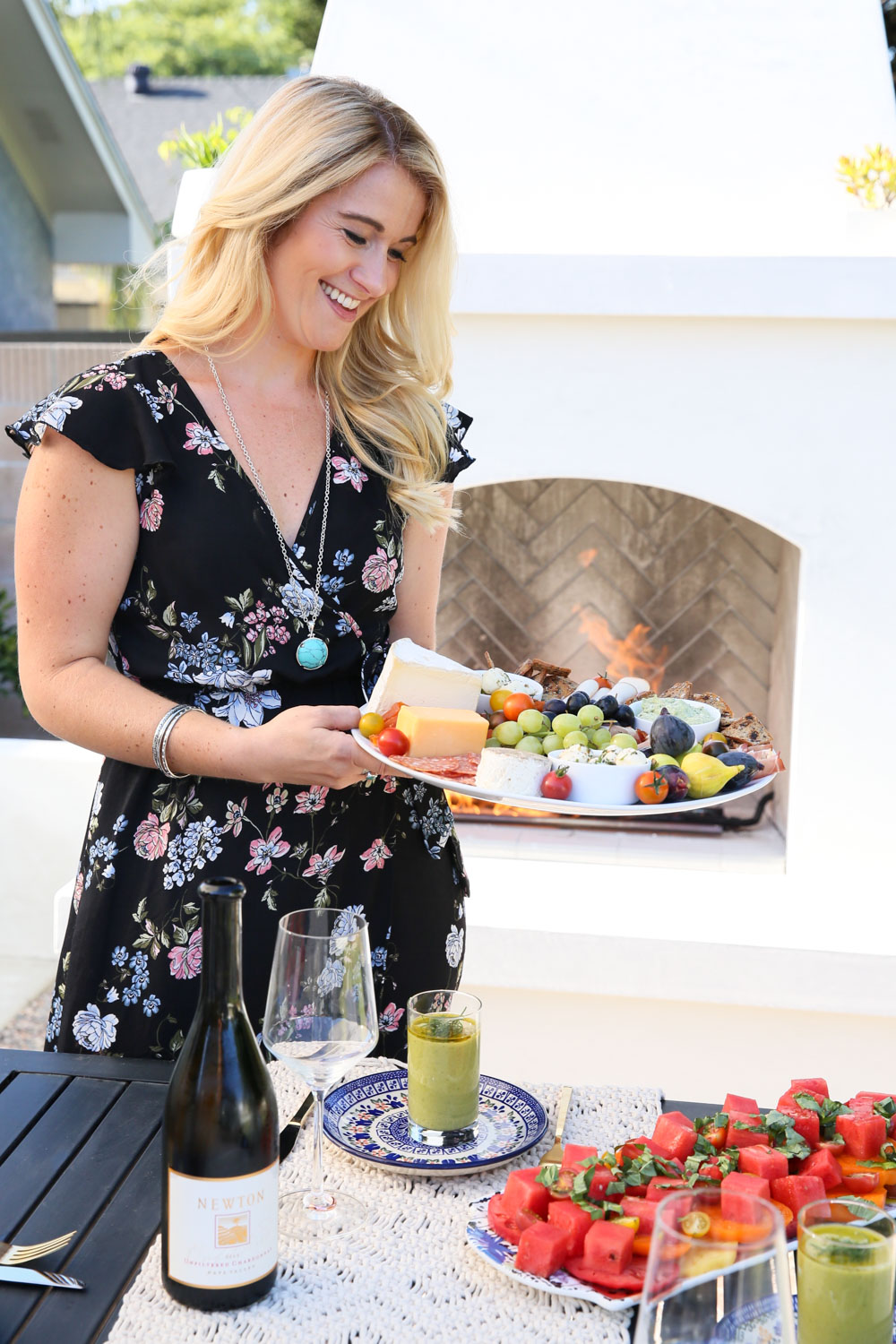 One of my favorite summer pastime is having friends and family over for food and drinks. We aren't back to my former entertaining ways just yet, but we're starting to socialize and certainly enjoying our time outside as a family. There's something about entertaining, however, that gives me a boost, so I've been trying to find some easy al fresco table decor ideas to incorporate into our meals.
Obviously I'm not going out of my way to buy anything decor-related, but summer is full of so much great produce, that it can serve to brighten up a dinner table in no time. Even just making a summer produce salad or one of these summer mocktails livens up your spread!
Herbs, stone fruit, tomatoes, zucchini from the garden, fresh herbs, and so much more just make such a beautiful centerpieces and place settings. And then we can keep enjoying those goodies at meals to come!
So whether it's dinner for the three of us or a very excited summer dinner party, we're all ready for summer table decor with very little work! Check out these backyard entertaining ideas as well!
easy al fresco table decor
Don't waste a lot of effort with this one. A few whole apricots and berries in a small colander or bowl. If your family is anything like mine, the decor is going to become a sweet treat during the meal as well!
Whatever fruits you have will be great here. Other stone fruits – peaches, nectarines, or plums – would be great. You could even do berries, but you'll want to get those back in the fridge after the meal.
A note here to make sure that the fruit has no damaged spots (i.e. punctures or soft spots). These fruits can sit out far past a meal if this is the case. Otherwise the damaged fruit will affect the others. Feel free to cut these ones up – for the meal or to stick in the freezer for a smoothie!
Obviously the small flowers are a lovely touch but not necessary at all!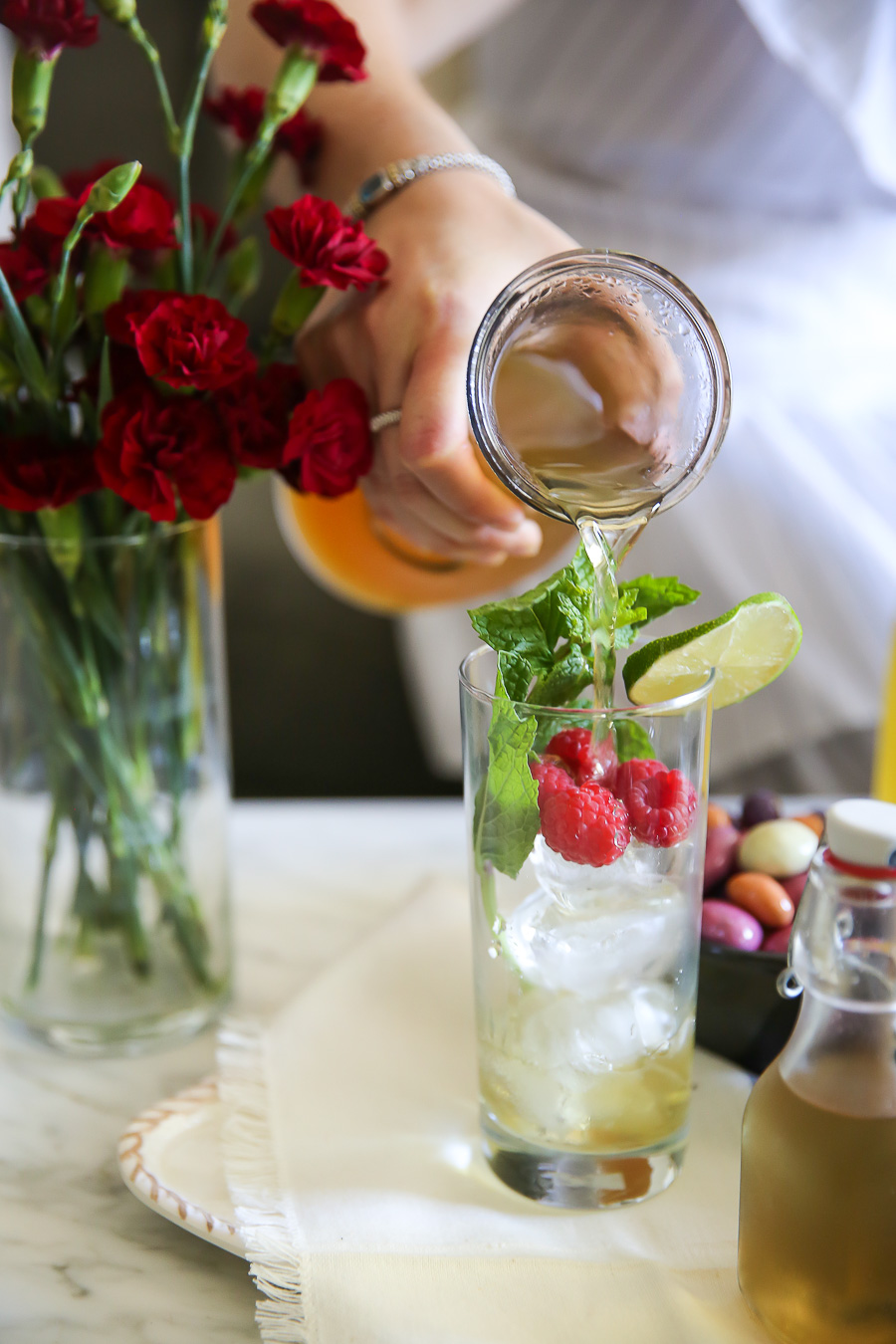 No matter what you're having to drink (ice water, healthy iced tea, or a mixed something), jazz up the glass with fresh herbs or fruit. I love adding mint and berries to an iced tea or water glass. Of course you can add them to any type of drink.
You can also freeze some fruit or herbs in ice cube trays for some chilly fun!
You know I'm a sucker for flowers. I love flowers singularly or in a full bouquet, however. This setup just has one stem in a small jar and it looks so elegant.
This is a great way to reuse containers as well! If you plan to do the single bud or stem, this is especially so. I have some washed out olive oil bottles even an amber glass pill bottle that will be great for this. Use what you have – it's easy and fancy AND a great way to be sustainable!
If you have a plant in your garden to borrow a stem from, that's so easy. If not, try to find something small at the farmers market! And you can even try super simple dried flower decor (to use all season or year long)!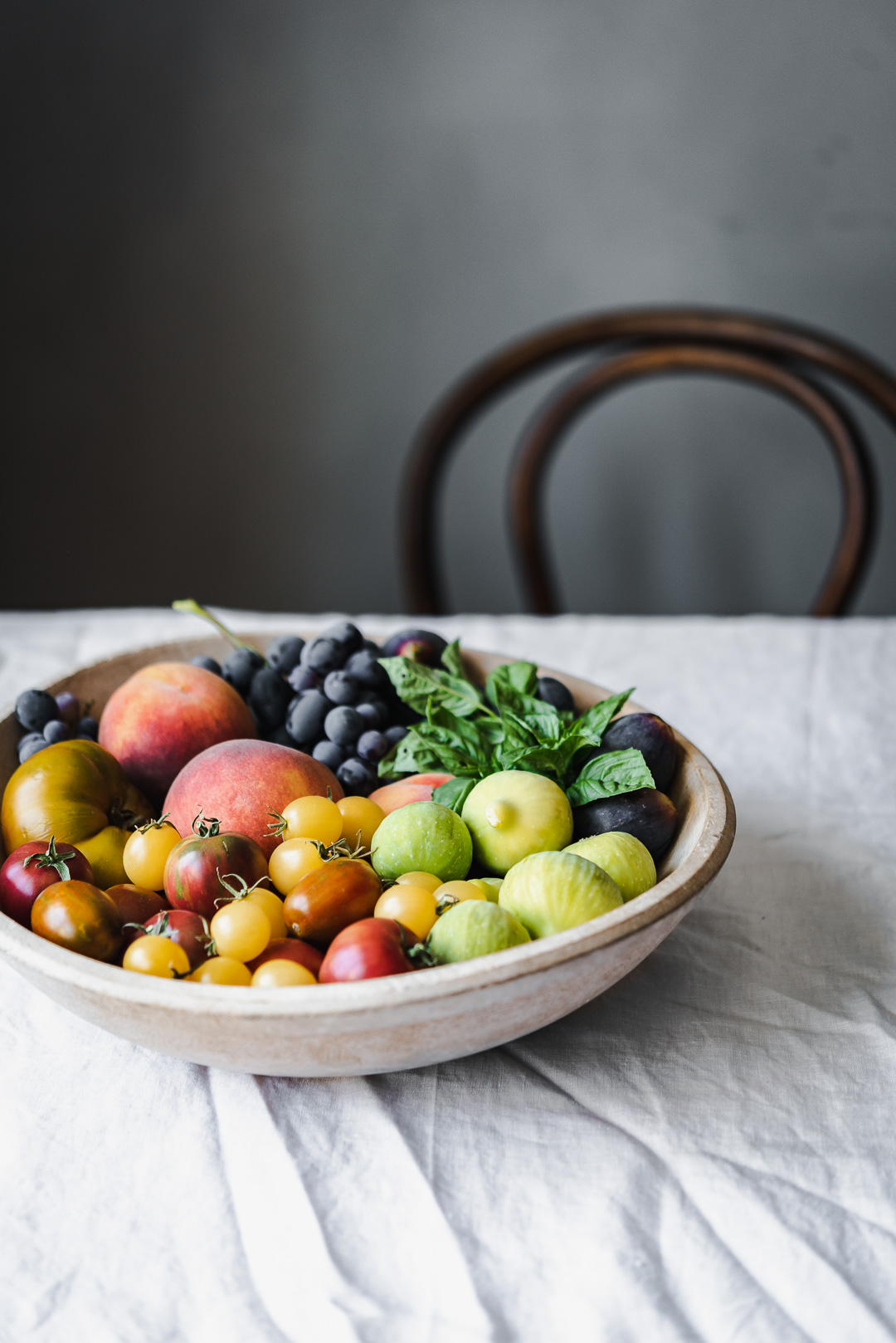 Summer Harvest in Bowl via ful-filled
Whether it's your farmers market haul, your garden haul, or your grocery store run haul, display it all in a bowl in the center of the table.
Even with the bowl of just heirloom tomatoes below, it's a beautiful mix of colors that brings happiness!
The same applies here about not using wet, damp, or punctured fruit. If you have trouble with fruit flies, feel free to keep the bowl in the fridge between meal times. (read this article about storing tomatoes in the fridge!)
Whole Heirloom Tomatoes in Bowl
Isn't this bowl gorgeous? You could swap in and out any summer produce here. If it's from your garden, all the better! You can also use summer tomatoes to make this gorgeous tomato and cheese appetizer board!