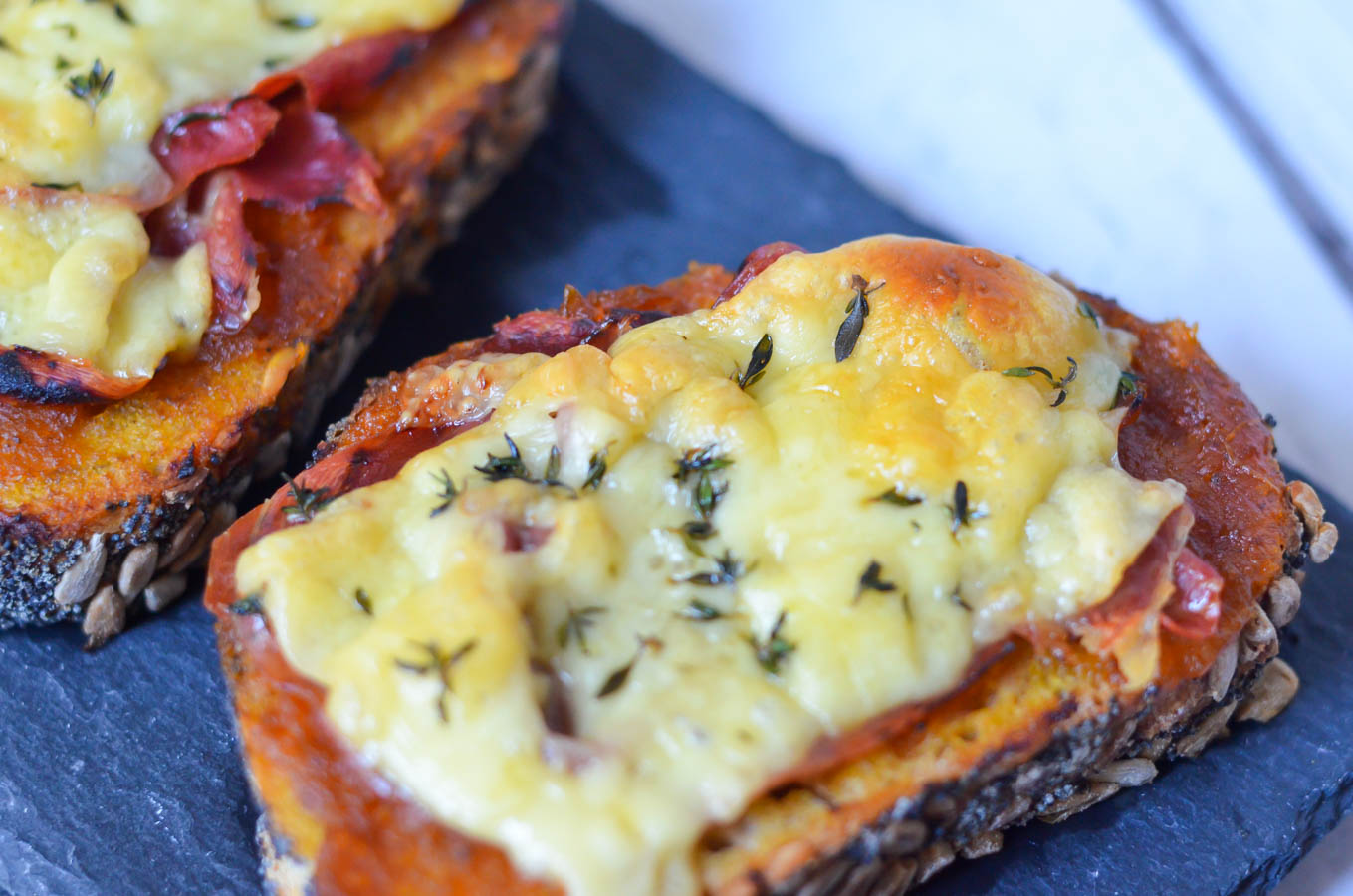 I like to play this fun game with my husband's lunch. I make recipes at home to share here and then put them in his lunch without any explanation. At some point during the day, I get a text from him asking what it is along with his thoughts. I totally did that with this homemade pumpkin butter and the pumpkin butter toast.
The best part was that he told me how much he liked it before I even told him all the layers (just a few). Then we raced a bit to see who could eat more of the leftovers last weekend. It was super tasty and I LOVED how easy it was.
You could make these with a big salad and have a meal in less than 15 minutes!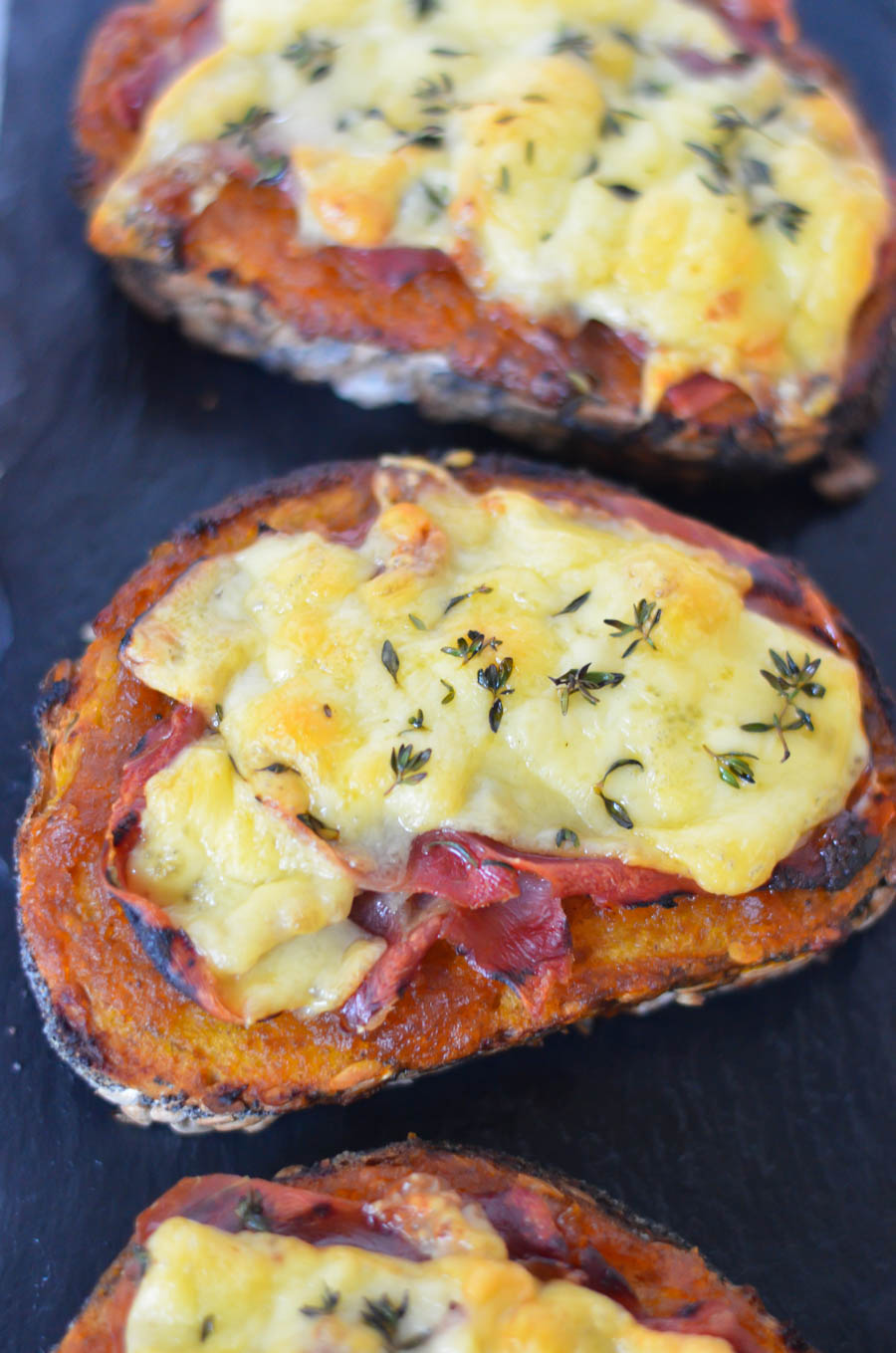 Pumpkin Butter Toast
When we were in Calgary, we had a few savory breakfast tartines that were so delicious, I almost regretted sharing them with my mom.
Of course, it was better for us to share, but the thought did cross my mind a time or two. I came home wanting to make some savory toasts and knew it had to be seasonal, so pumpkin butter was the obvious choice for a bit of sweet…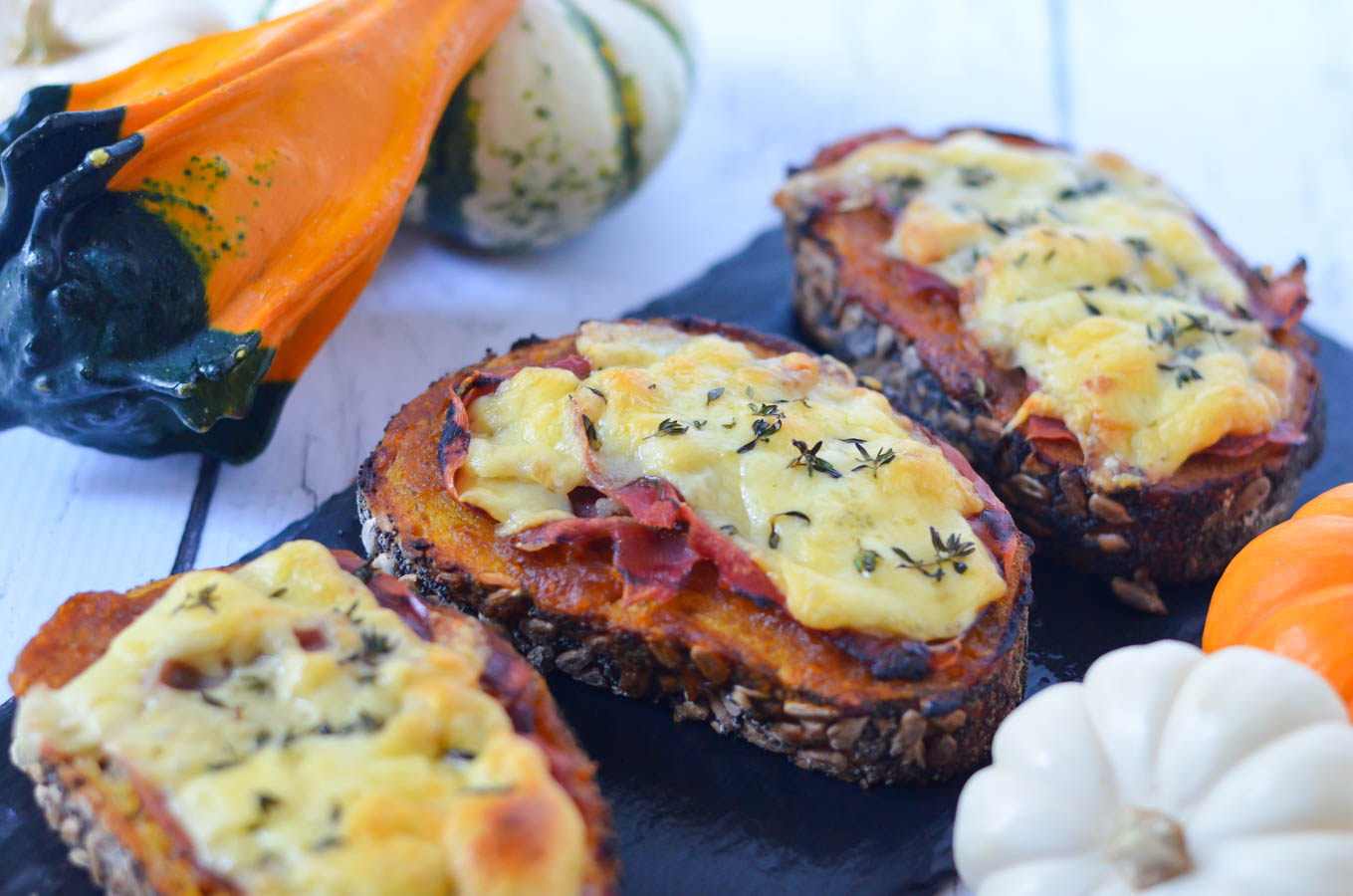 Homemade Pumpkin Butter
In my humble opinion, pumpkin butter is delicious. The best part? It's really easy to make and if you have trouble finding it after Halloween, you don't have to wait around (or even bulk buy beforehand).
If you really want to be super homesteady, you can bake your own pumpkin puree. But if you want to just buy plain pumpkin puree in the can, I'm all for it!
So besides pumpkin puree, ginger ale, some sugar, and those traditional "pumpkin spices" are all that go into pumpkin butter. So easy. There's also no butter – so no dairy and absolutely plant-based.
what goes well with pumpkin butter
If you're loving the idea of this seasonal flavor but looking for pumpkin butter uses, take a walk down flavor town lane with me!
On a basic level, it's good on buttery toast. I like 'butters' a bit more than jams because they aren't quite as sweet.
But some other fun ideas are to do pumpkin butter thumbprint cookies (please send me a dozen) and a pumpkin butter grilled cheese. I even had the crazy idea of smothering cinnamon rolls with pumpkin butter in lieu of frosting. Doesn't that sound amazing?
I don't know if I can convince my husband to top a whole pan of cinnamon rolls with pumpkin butter, so I may just have to taste test one on my own, but I'm up for it!
I also like to serve it on fall charcuterie boards, Thanksgiving appetizer platters and any friendsgiving get-together!
If you have any leftover pumpkin puree (not butter) this season, try these pumpkin quesadillas and this simple pumpkin toast! You can make your own pumpkin puree from your leftover front porch pumpkins too!
And as for this pumpkin butter toast – it goes really well with pumpkin butter – obviously. You could, of course, use smoked gouda cheese (I'm not a fan of smoked flavors) or any cheese you want really.
I would suggest something with a bit of a bite since the pumpkin butter is sweet. And I encourage you not to skip the thyme (though you could use the dried herb – just use much less) as it cuts the sweetness too!
You could also use any other jam you like here. Fig and apple butter are available year round (I especially love the fig butter from Trader Joe's) and would be easy substitutes in this recipe.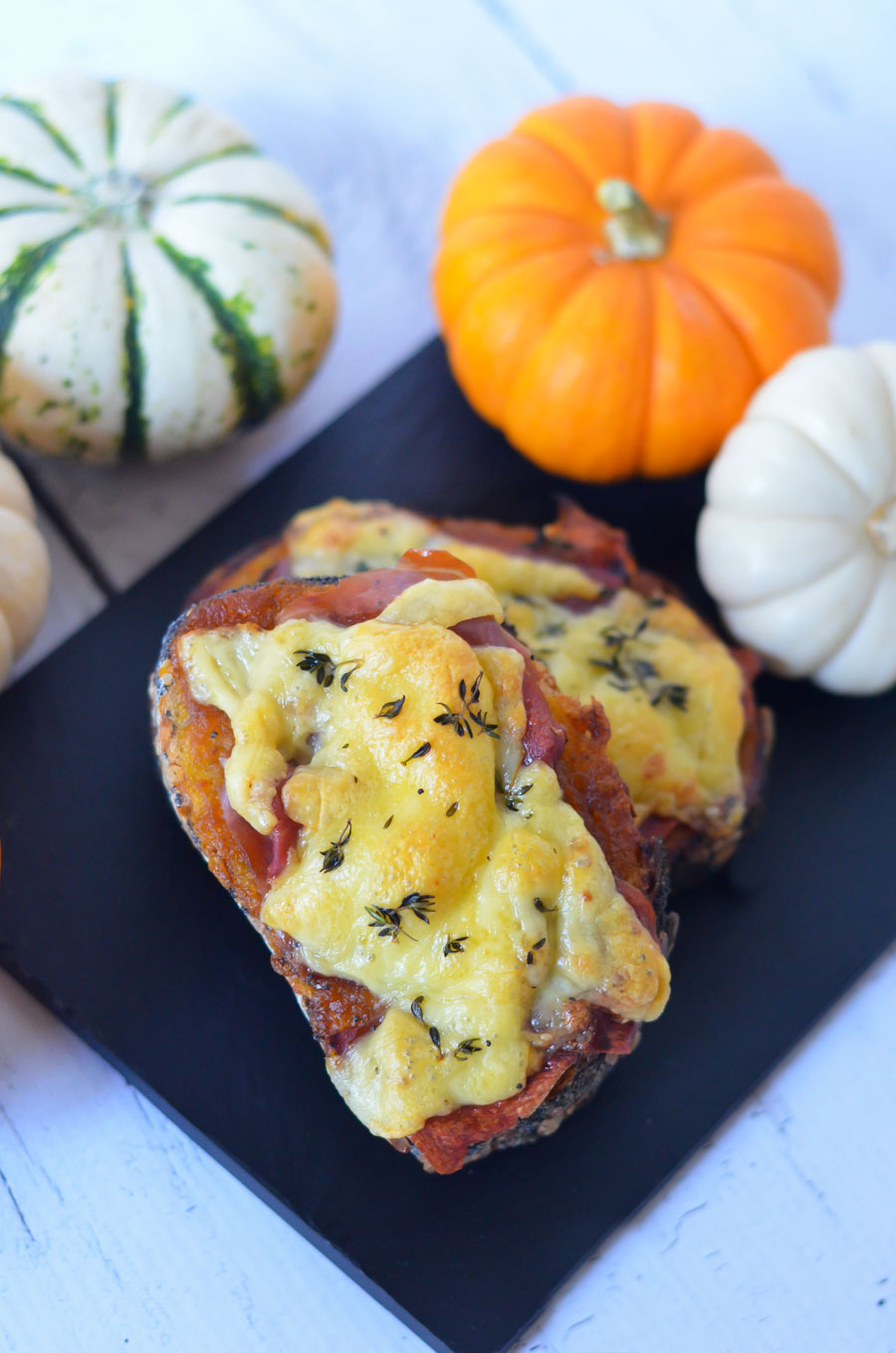 cooking prosciutto
Recently I've been cooking prosciutto in dinners. Usually we buy it for a charcuterie board. I had some leftover slices a few months ago and crisped it up in my pan to go on top of an otherwise vegetarian pasta dish. My husband was ecstatic.
And just last week, I added it to a bunch of sautéed veggies before making an easy stovetop frittata. I might need to share that dish soon – so easy and tasty. If you haven't tried cooking prosciutto, I recommend giving it a go.
It cooks very quickly and you might add a bit of oil to the pan to prevent sticking. Just watch it!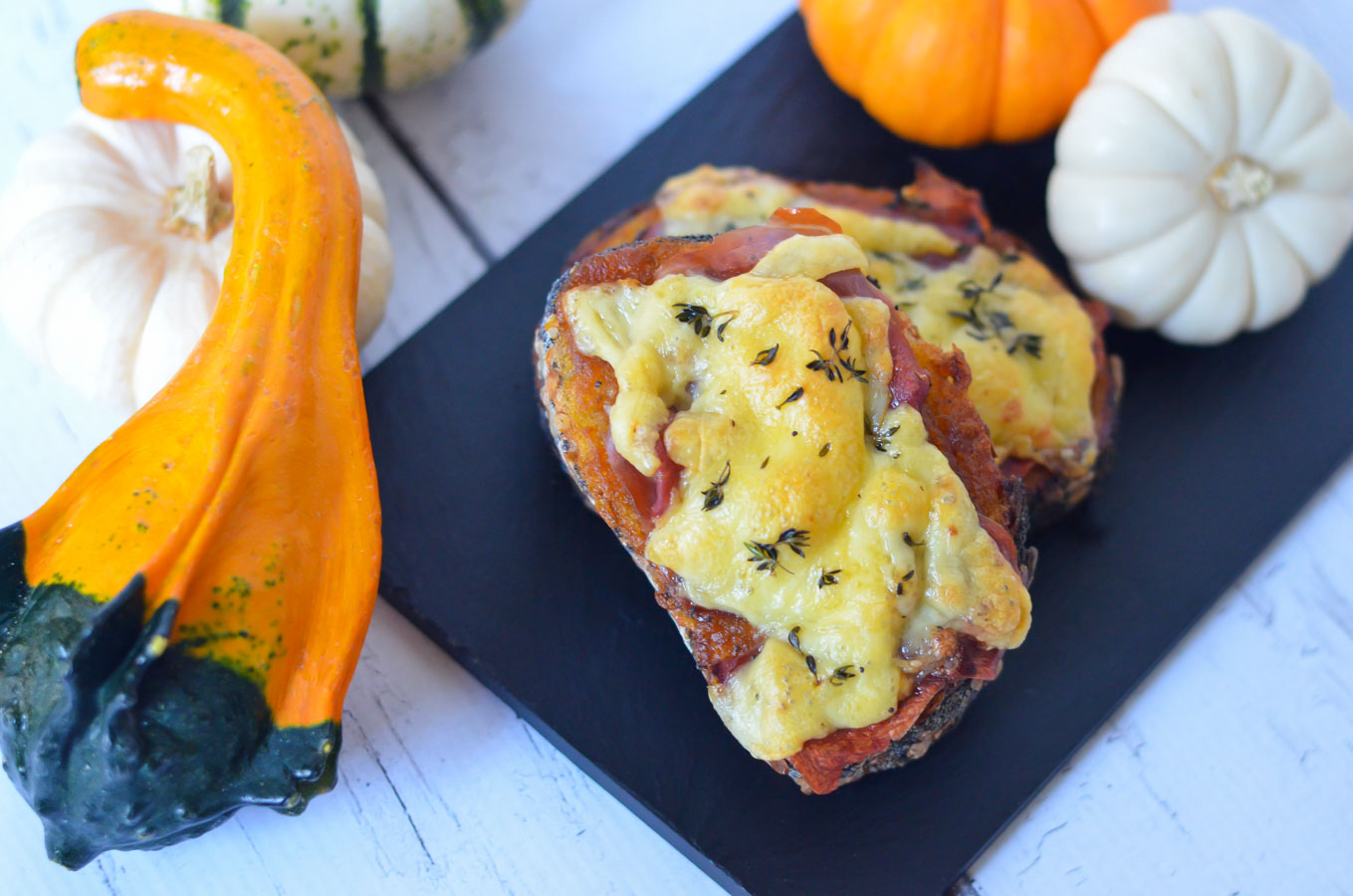 If you just need every meal served on a lovely piece of toast, try this smoked salmon toast, spicy avocado toast, a tuna tartare tartine for two, beautiful radish toast, some ricotta and zucchini toast, or this ceviche toast! One loaf of bread and you're set for the week on meals!
If you love savory breakfast recipes like I do, then you'll love this savory french toast (served with marinara and roasted veggies) as well as these ham & cheese waffles.
For a complete meal, check out these chicken sausage breakfast bowls.
And for more fall goodness, try this snack mix (themed for Halloween) but perfect all season!
Frequently Asked Questions
How to make pumpkin butter?
Pumpkin butter is made by heating pumpkin puree, ginger ale/ginger beer, sugar and cloves over high heat. Bring to boil and let simmer on low to thicken. Cool and enjoy!
Print Recipe
PUMPKIN BUTTER TOASTS
This pumpkin butter was inspired by a seasonal Trader Joe's favorite. If you like other fruit butters, you'll enjoy this pumpkin butter. Just a few ingredients and a little patience bring you a crazy amount of flavor and fun!! And it's absolutely delicious in this prosciutto toast.
Ingredients
PUMPKIN BUTTER
15

oz.

can pumpkin puree

⅓

cup

ginger ale

¾

cup

sugar

½

teaspoon

ground cloves

1

teaspoon

cinnamon

½

teaspoon

nutmeg
PROSCIUTTO TOASTS
4

slices

hearty bread

¼

cup

pumpkin butter

2

oz.

prosciutto

¼

lb

gouda cheese (smoked or regular)

thinly sliced

fresh thyme
Instructions
PUMPKIN BUTTER
Combine all ingredients in a large saucepan over high heat. Bring to a boil. Reduce heat to low and let simmer for 30 minutes until thickened, stirring very frequently to avoid burning.

Let cool completely and refrigerate until ready to use.
PROSCIUTTO TOASTS
Set oven or toasted oven to broil.

Top each slice of bread w. 1 tablespoon pumpkin butter each. Divide prosciutto on top of pumpkin butter. Tops with cheese slices and fresh thyme.

Broil toasts 8-10 minutes until cheese is bubbly and beginning to brown in places.
Notes
To make ahead, cook as instructed. Let toasts cool completely on wire rack before wrapping and refrigerating. Simply toast to reheat.
Save this recipe on Pinterest!
Make this recipe? I'd love to see how it turned out…
PINTEREST: Upload a photo and your review to this Pin!
INSTAGRAM:  Tag me @lucismorsels and use #LMrecipes
recipe adapted from All Recipes
Nutrition
Calories:
365
kcal
|
Carbohydrates:
42
g
|
Protein:
16
g
|
Fat:
15
g
|
Saturated Fat:
7
g
|
Polyunsaturated Fat:
2
g
|
Monounsaturated Fat:
5
g
|
Trans Fat:
0.02
g
|
Cholesterol:
42
mg
|
Sodium:
714
mg
|
Potassium:
153
mg
|
Fiber:
2
g
|
Sugar:
10
g
|
Vitamin A:
169
IU
|
Vitamin C:
0.1
mg
|
Calcium:
235
mg
|
Iron:
3
mg