If you're looking into how to wear jogger pants (especially for work), you'll love this pair. . .
I've recently been in a funk with my wardrobe. I generally feel that way at the end of summer – the heat brings out the basics in me. And it hadn't been cool enough for some fall fashion until just recently!
So I've been on the hunt for a few pieces to upgrade my wardrobe. Of course I could get dresses and heels and the like, but I want pieces I know I will wear. Enter these adorable high-waisted lace pants (similar). These jogger pants are insanely comfortable and flattering while fitting into my pants-obsessed style. And I loved dressing up these babies with some basics and my plaid blazer for fall.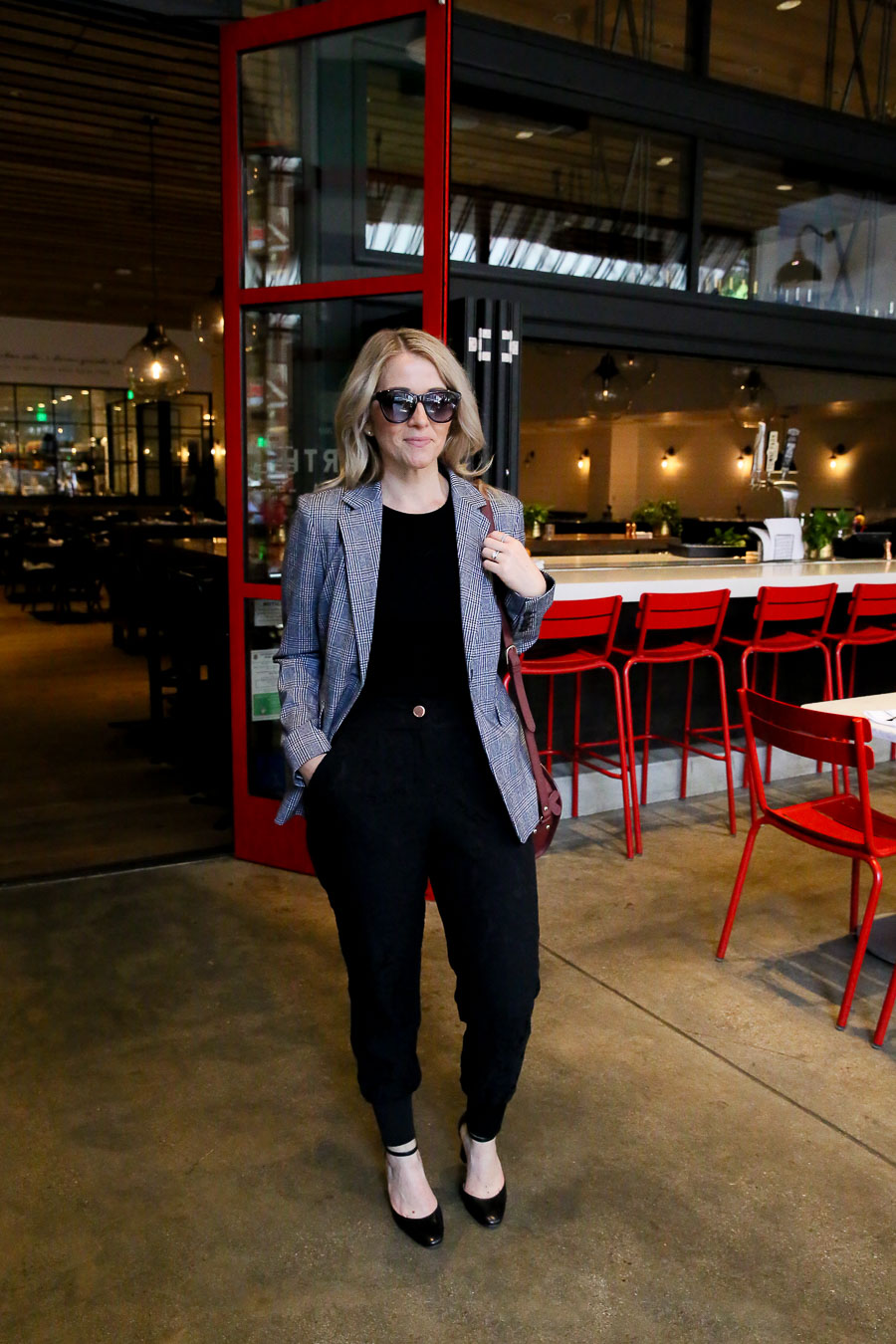 Nordstrom Signature Blazer | ASOS Crop Top (similar)
Ted Baker Pants (similar)| Naturalizer Pumps | APC Crossbody Bag
Givenchy Sunnies | LAGOS X Ring
How to Wear Jogger Pants to Work
Jogger pants tend to be insanely casual, but with a few tweaks, you can dress them up quite easily.
First, embrace the cuffed hem and wear them with feminine flats or heels. I've been living in my ankle straps pumps all summer, so they were my obvious go to.
And one of the things I love about this pair of jogger pants (besides that adorable floral lace pattern) is that they're high-waisted. Many jogger pants hit at your hips, but this longer, leaner cut just screams tailored style. And yet, they're still so comfortable. Oh – and they have pockets too!

Plaid Blazer Outfit Ideas
Since ordering this blazer in the summer, I've been keeping my eye out for blazer outfit inspiration. I love the dark hues and rigid pattern paired with these flirty and very tailored pants. I'm also dying to wear it with fun dresses – black and monochrome of course, but maybe also some dark florals. The juxtaposition will be so fun.
The point is, you don't have to only wear plaid blazers as part of a muted, neutral ensemble. Have fun with them!
Get this Dressed Up Jogger Pants Ensemble. . .