We're slowly getting back into travel these days. Thankfully it's easy to find fabulous day trips in California, which is getting us out there more and more. Recently we (re)visited Belden Barns – a sustainable winery (of which we're members)!
Sometimes I get really down about the difficulties of living sustainably. It feels overwhelming. But you know what makes me feel better? A glass of wine from a sustainable winery. It's basic, I know. And I'm not mad about it!
It took me a while after we started trying to buy more organic, local produce to realize that flowers, wine, and coffee were also produce and needed my intentional purchasing as well.
On the topic of coffee, an important topic around here, drinking coffee sustainably was an immediate effort on our part.
Befriending local flower farmers was another eye-opener on this topic – something I hope to cover more here soon.
And then, finally, sustainable alcohol brands, including beer and wine was a big one too.
So, let's get to some sustainable winery fun (as well as why we're wine club members at this winery).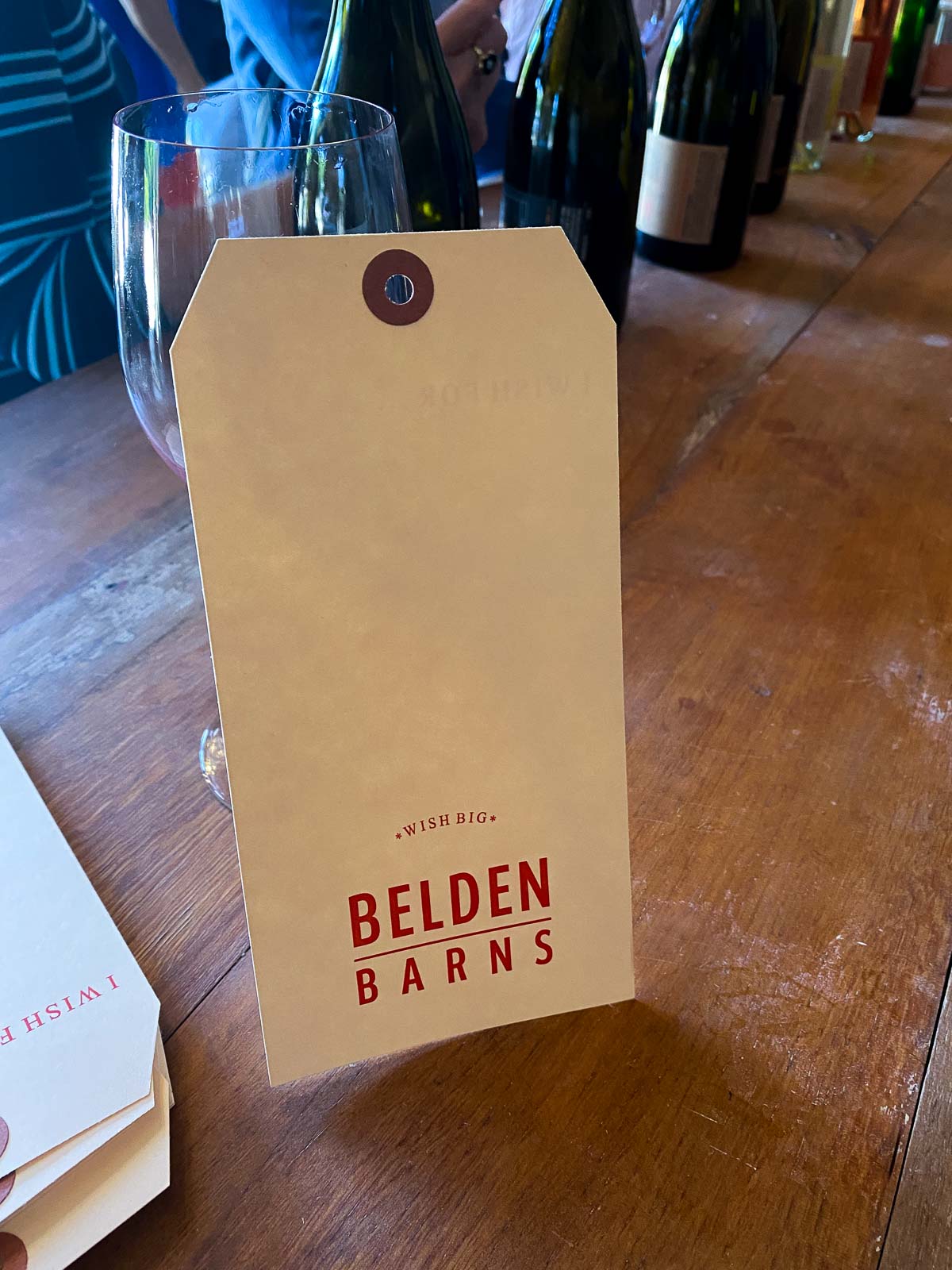 Sustainable Sonoma Winery Day Trip
We first were introduced to Belden Barns in mid-2020. We needed a safe way to get us out of the house (with a baby).
At the time, Belden Barns was offering a fun way to do a day trip to the winery. For the price of buying at least 2 bottles of wine, you can come and enjoy a picnic outdoors under their wishing tree.
It was a great, safe way to get out.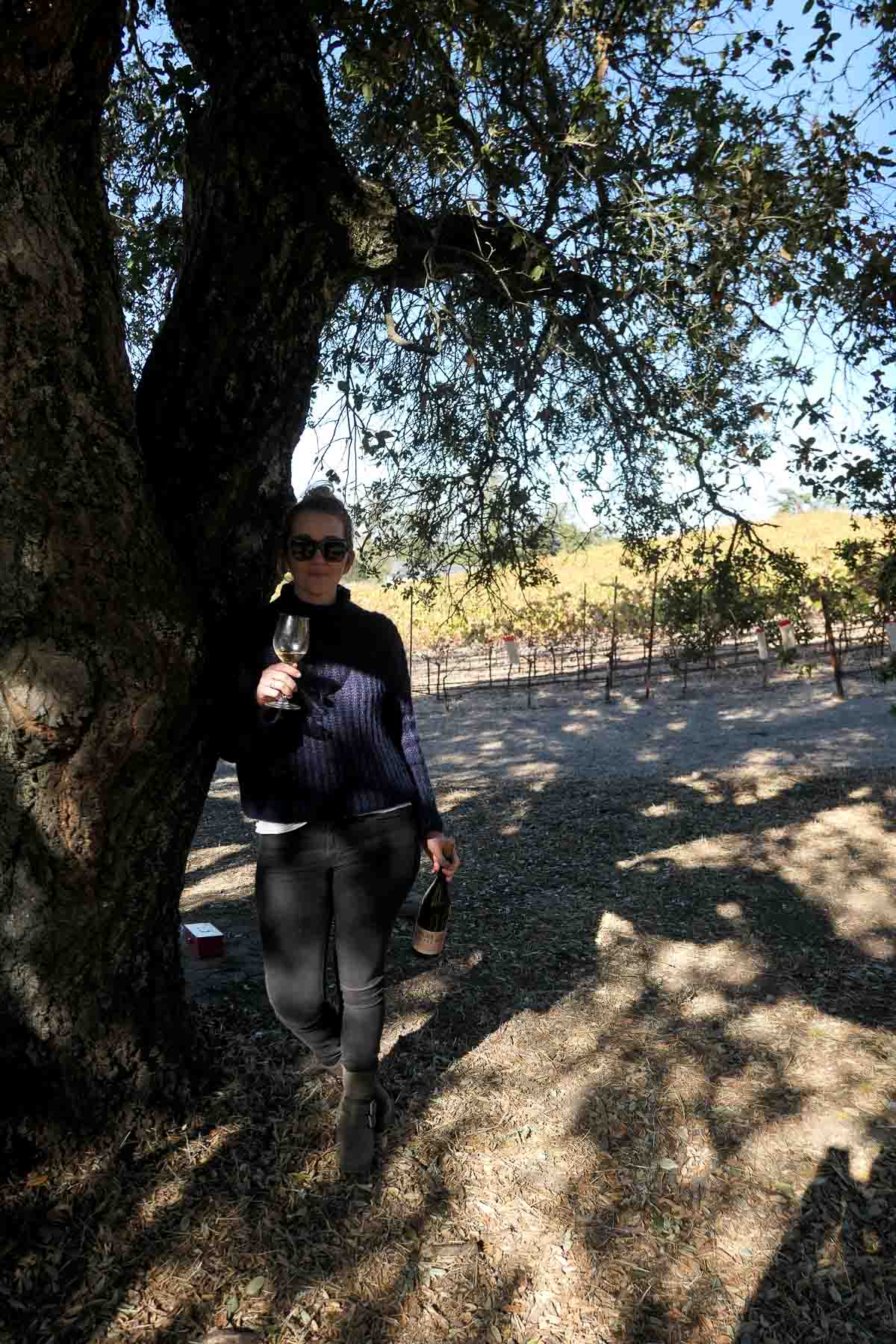 Part of the appeal was that we could bring an 18 month old baby. Not only was he welcomed, but he enjoyed the time because we were outside, walking around, and we brought food!
What Makes Belden Barns a Sustainable Winery?
If you've hung around here long enough, you well know that there's no one-size-fits-all when it comes to being sustainable.
Belden Barns is verified and Certified to be 100% sustainable. Sonoma County actually boasts that 99% of their wineries are sustainable, seeking certification and annual improvement. Belden Barns is right in there!
The winery is working toward become certified organic (a long, expensive process) and the entirety of the property is watered from a rain catchment pond at the bottom of their site! And the produce grown on the farm amidst the vines is all organic!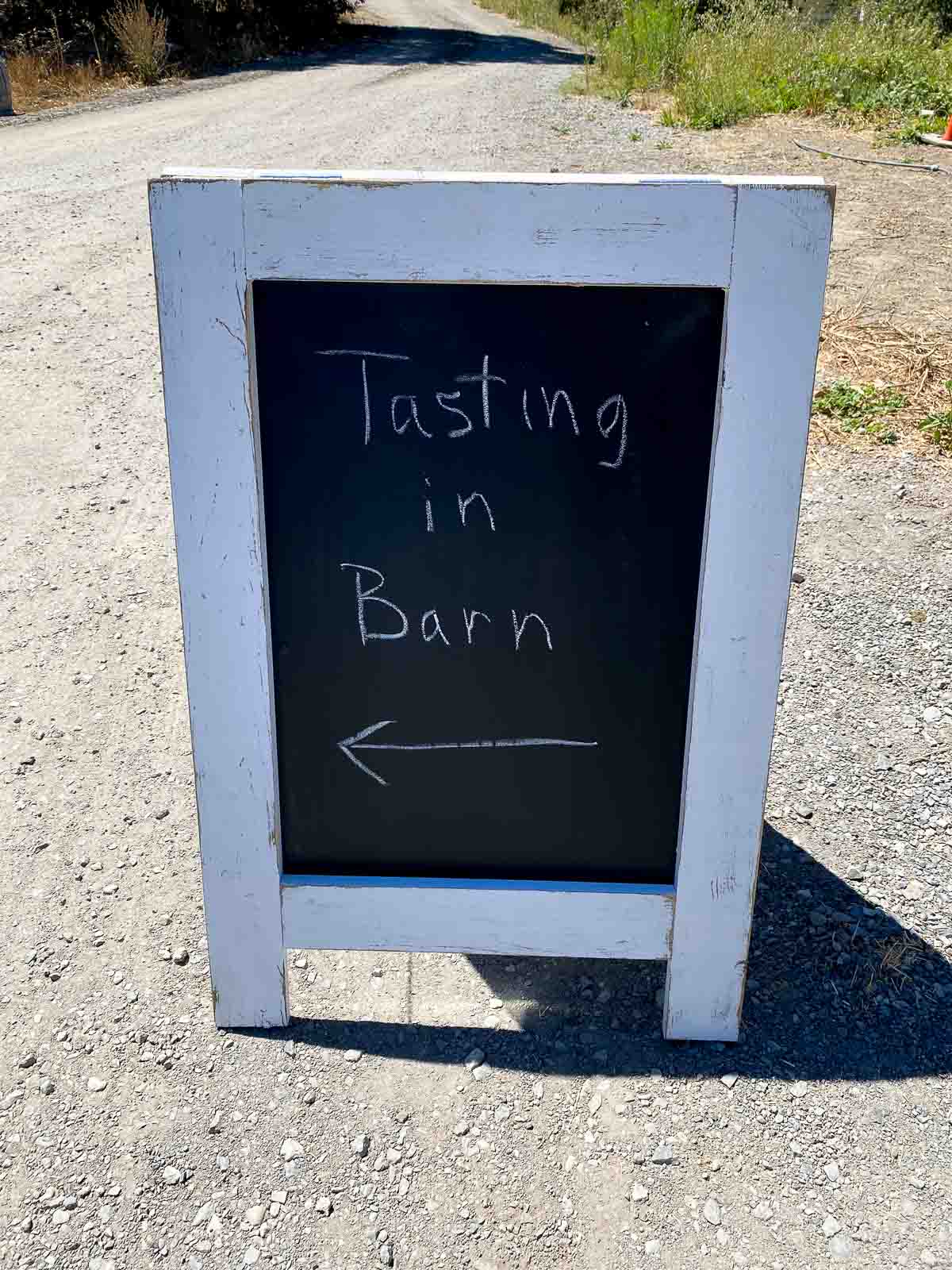 Sustainable Wine Tasting
Ok. So now that life is a little more "normal," wine tastings are back open. When we went a few weeks ago, there was one weekly tasting – a Saturday morning.
Tastings take place in the milking barn (see how gorgeous it is below). Owners Nate and Lauren do the tastings together, sharing stories of how to they started in wine making, and the histories of each of their wines!
Parents of two, Nate and Lauren bring their love and family into the whole experience, making you feel like you're in the in – almost as though you're a part of the winemaking story!
The tasting, a $20 fee per person, included a sampling of 7 of their wines. As wine club members, the tasting is free.
Even if you aren't a member, however, if you buy at least two bottles, your tasting fee is waived!
After the tasting, you're able to wander the vineyards and farm. There are also adirondack chairs and hay bales under their wishing tree – the symbol of the winery – for you to enjoy wine, enjoy a picnic, or just enjoy the fresh California air!
Kid Friendly Winery
I mentioned above that kids are welcomed here. I understand that a winery and wine tasting that is open to kiddos might deter people as you imagine the lovely calm of the day disappearing.
Thankfully, Lauren and Nate sought to create a space for those of us parents who want to go wine tasting and can safely and happily bring their little ones.
Because the winery isn't on the main drag and isn't super famous, it's not inundated with kids – save maybe our cutie upon occasion!
Belden Barns Wines
At the moment, the sustainable Sonoma winery offers 11 wines from a blanc de noirs (a sparkling wine made from Pinot Noir grapes) and their famous Grüner Veltliner to their grenache and syrah, with delectable options in between.
Their Grüner Veltliner is the one that put the winery on the map as it was the first planting of the vine in Sonoma. A wine popular from Austria to the Czech Republic, it's a delicious treat with a mineral note.
That sounds fancy (and I'm not big on wine speak), but basically the rocky soil bequests a flavor in the wine that makes in different from most wines, but also very easy to drink with just about anything!
If you aren't into oakiness, this is one to try! And if you're into wine, the Belden Barns Grüner has been named one of the 8 wines to try before you die!
Sustainable Winery Club Membership
We've never been wine club members before. Usually we're a random assortment kind of group, but we've been growing up (hah!) and also enjoying the dependability of a few go-to wines.
Last year for my birthday, my husband gave me (us, really, but I'm fine with it), a wine membership to Belden Barns – a wonderful sustainable gift idea!
A few selling points about this sustainable winery wine club membership. First, there isn't a fee. They offer 3 levels, varying between 1-2 shipments per year and a minimum of 6 or 12 bottles per shipment.
On top of that you get a 10-25% discount on all wines, including the ones in your shipments, as well as the comped tasting fees.
The Best Way to Get to the Winery
For whatever reason, maps apps take you on a curvy, narrow road to the winery. Yes, you'll get there, but you won't be happy.
Instead, travel to the Bennett Valley Fire Station – 6161 Bennett Valley Rd, Santa Rosa, CA 95404. From there, enter Belden Barns as your destination at 5561 Sonoma Mountain Road, Santa Rosa, CA 95404. This route will keep you on a much better road!
Wine Country Travel
Even living in Los Angeles, our preferred California wine country was back up here in the north (though I will say the Santa Ynez area had some LOVELY wines).
A few items to check out: