Last weekend I visited the Original LA Flower Market in downtown LA. I've heard about this mecca of blooms since moving to Southern California but had yet to venture out there. I found out a few months ago that a friend of mine liked arranging flowers and was quite good at it.
Since I don't consider myself talented in any way when it comes to beautiful blooms, I conned her into joining me at the market and sharing her tips for arranging flowers for a beginner like me…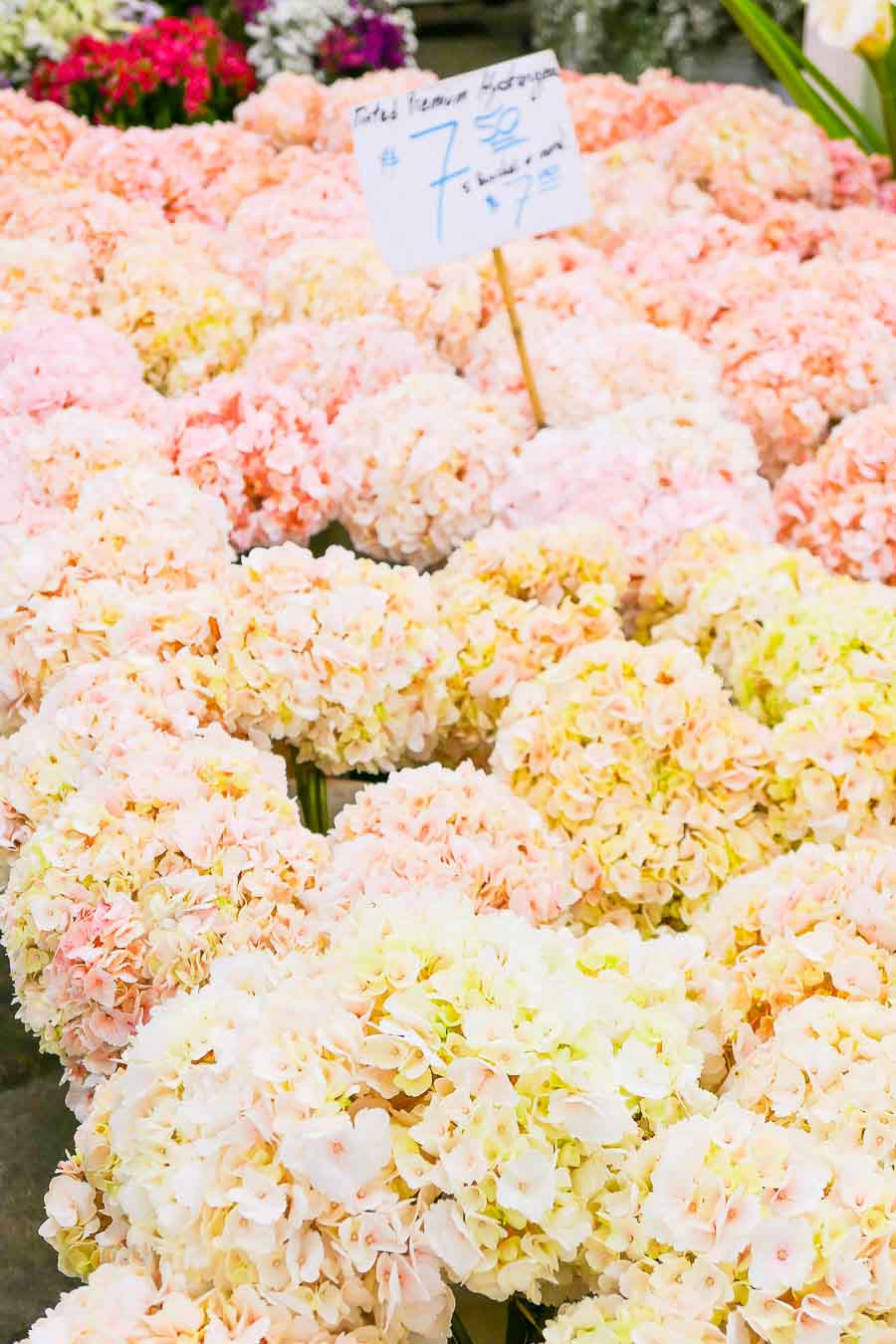 Los Angeles Flower Market
To be honest, the flower market wasn't exactly what I expected. I thought it would be some sort of magically beautified place with rock bottom prices. Rather, it's a warehouse of sorts with vendors selling all kinds of flowers at a range of prices.
Most flowers don't have signs with prices, so be aware that haggling is part of getting a lower price. For the girl used to spending less than $5 on flowers at Trader Joe's (i.e. me), I was a little surprised at the not-so-bargain-prices.
I bought three types of flowers for a little over $15 and used some of the greenery my friend picked out for my bouquet.
At the end of the day, however, an adventure that ended in two beautiful flower arrangements on my table and a morning of fun for $20 was well worth it and I plan to do it again! So let's add this to my list of things to do in LA.
When it comes time for your visit to the flower market and your adventure into floral arrangements, here are a few tips for arranging flowers (mostly from my friend) to get a beautiful bouquet…
Tips for Arranging Flowers
1. It's best to arrive at the market with an idea of one flower or a color scheme you want to replicate.
I had no idea and walked around the market a few times before finally selecting those dark purple anemones. My next lap around, I picked up the white flowers. And then I finally landed on the mini sunflowers for a secondary pop of color.
2. Picking one centerpiece flower for your bouquet is ideal. Then you can build around that one with smaller blooms of different shapes and sizes.
3. Plan to walk around the stalls a few times to bring your whole bouquet together (and find the best prices).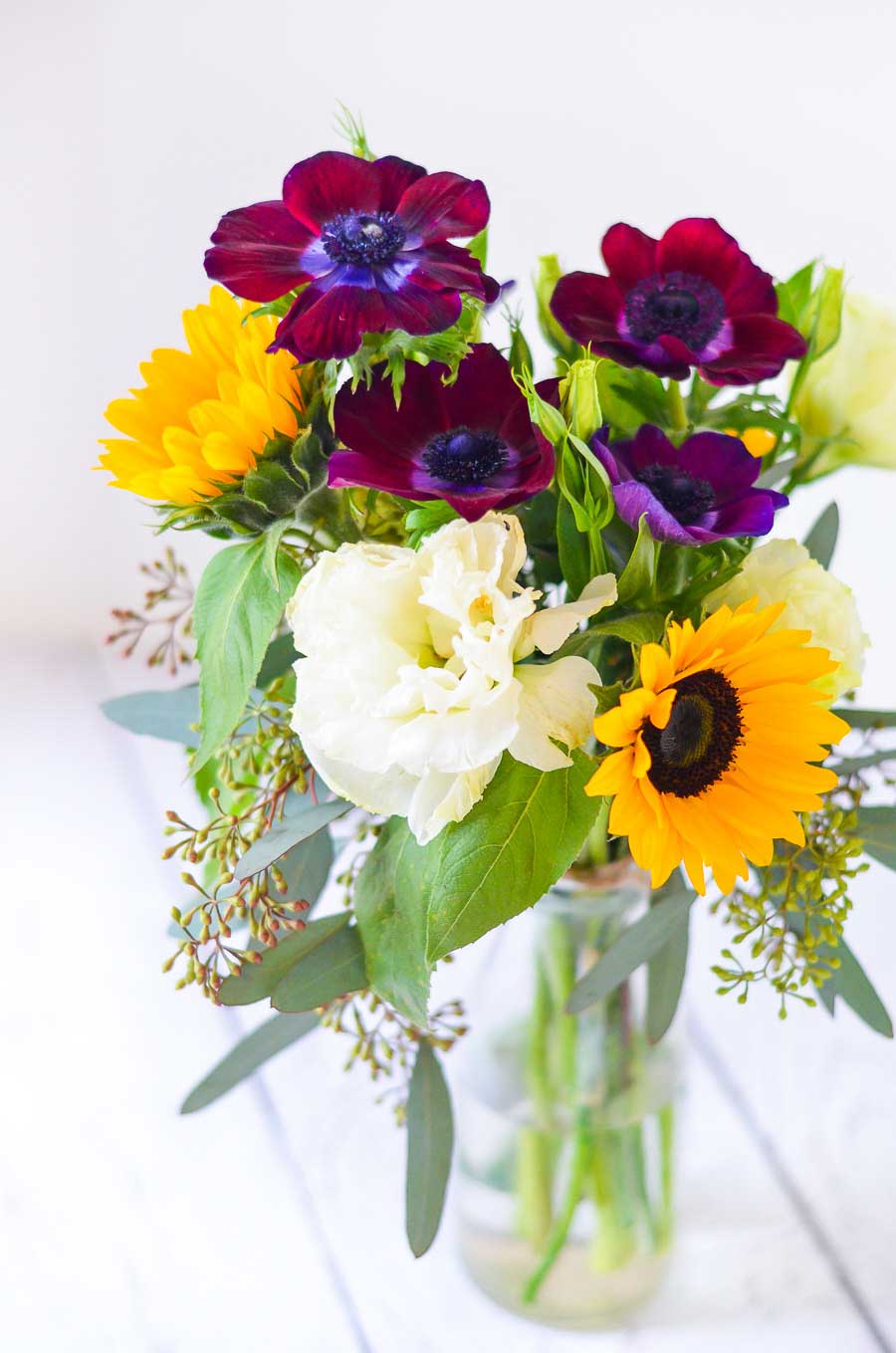 4. If some flowers look a little tired, check their stems to see if they've been resting in the water. Sometimes the stems just need some time in water to be bright and beautiful again.
5. Bring cash. Though some vendors take cards, cash is easiest.
6. Once home, place stems in water if you aren't going to arrange them right away.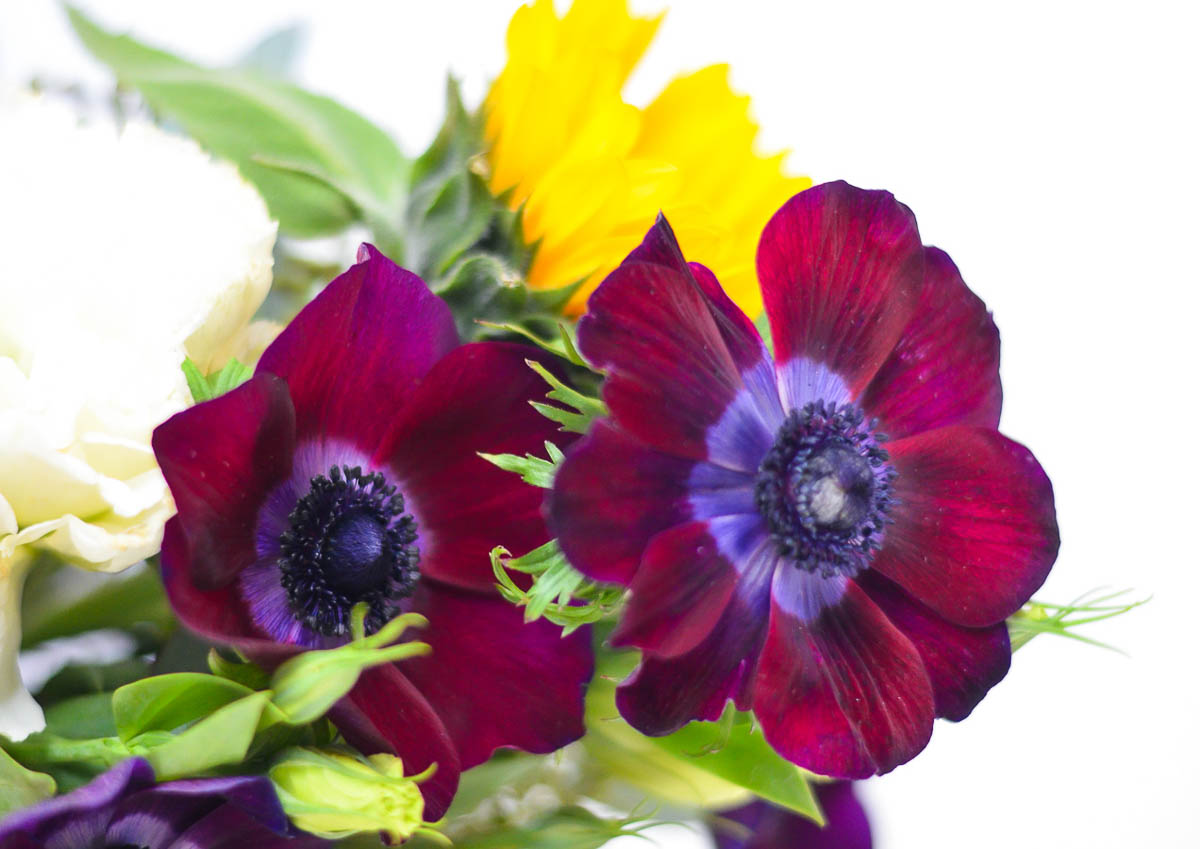 7. Arrange your flowers in your hand. This way you can easily adjust heights and 'layout.
8. Remember to look at your arrangement from the side when you're designing it. After all, we don't usually look at arrangements from the top down!
9. Once you have your arrangement pretty set, cut stems at an angle to be the right height for your vase.
10. Use rubber bands or twine to secure your arrangement if necessary. You can also use tape to create a grid to keep your flowers in place (see photos here).

Get some fun floral arrangement tips from a florist here as well as some fun ways to bring greenery into your house! In cooler months, you'll love these natural winter decor ideas and don't miss this al fresco summer table inspiration.
You can also try your hand at much longer lasting dried flower decor, which can be a big presentation or small and simple!