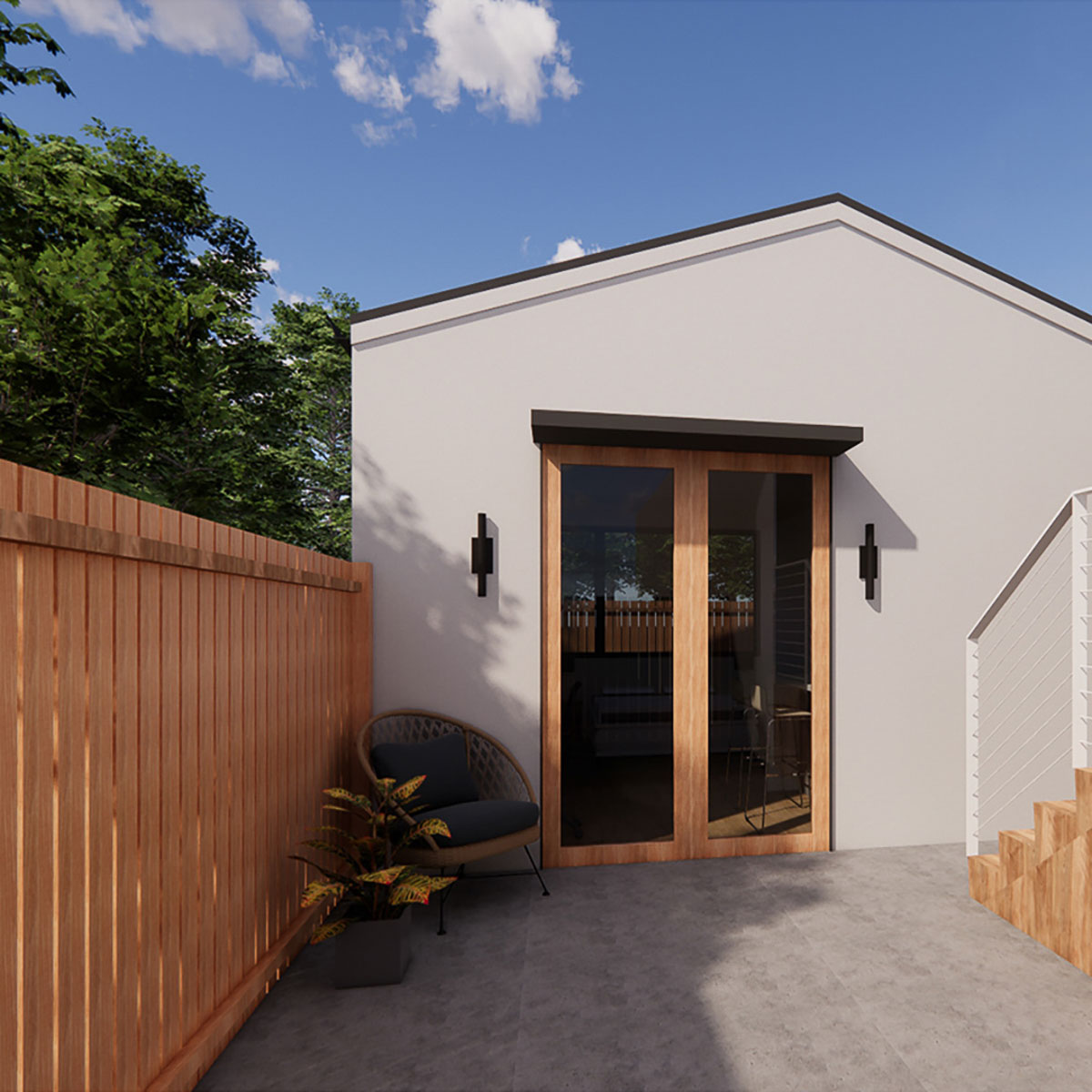 We're officially into our 3rd week of construction in our backyard, into the umpteenth month of planning our ADU, and nearly 3 years since we first had the idea when touring our home before moving to Sacramento. So here's the backstory, the ADU plans and renderings, as well the before photos.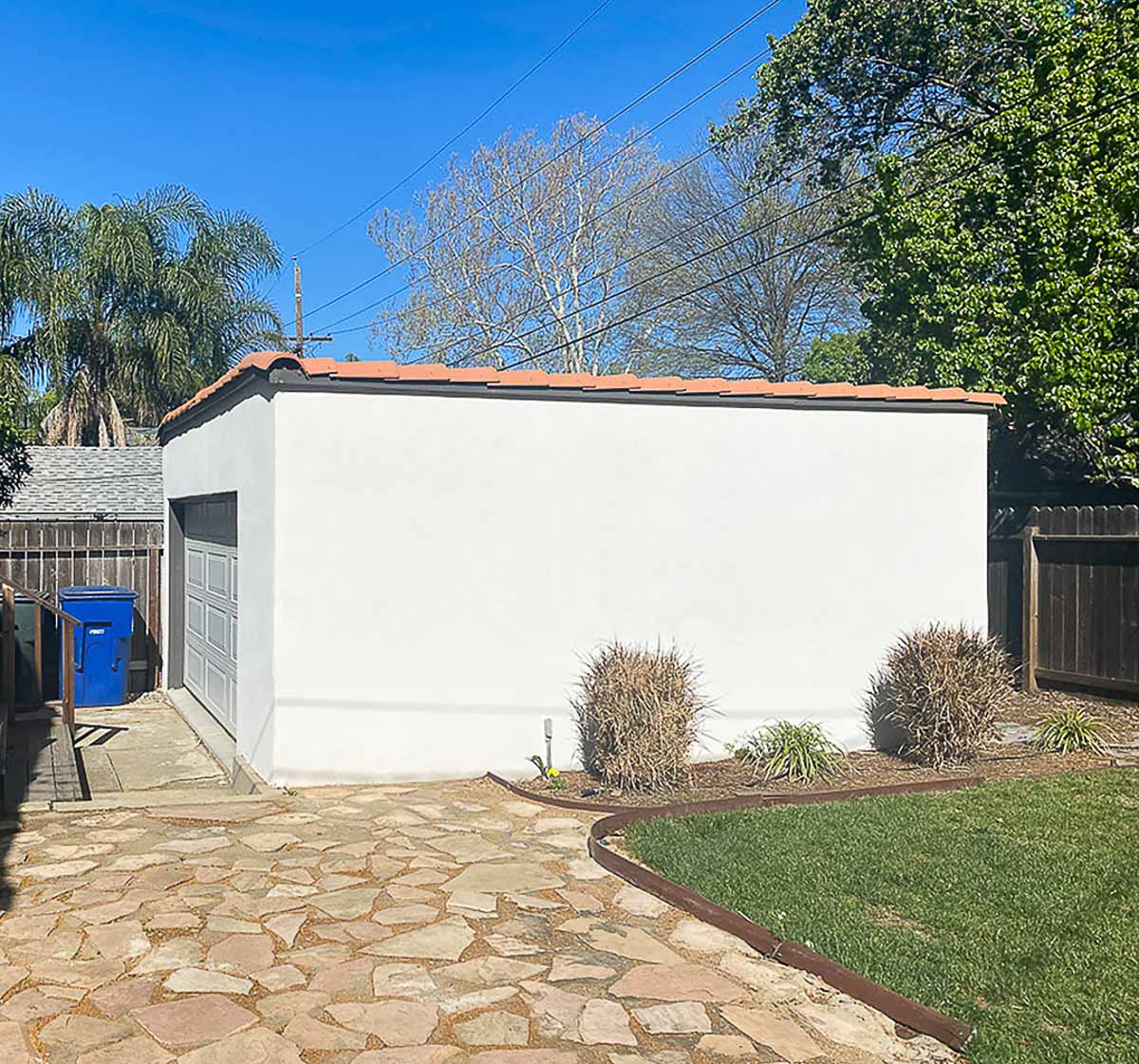 ADU Plans
While we love our smaller house (measuring just under 1250 sq. feet), we need to stretch out a bit more. Our 2 bedroom house is just the right size for us right now – because our nearly 3 year old is currently sleeping in our room.
He soon will be ready for his own space. Once he moves into the second bedroom, we lose our home offices, guest room, and some general storage space (though thankfully that last one won't be as immediate).
Because having a space for guests (namely grandparents) to stay is so important to us, we had to figure something out.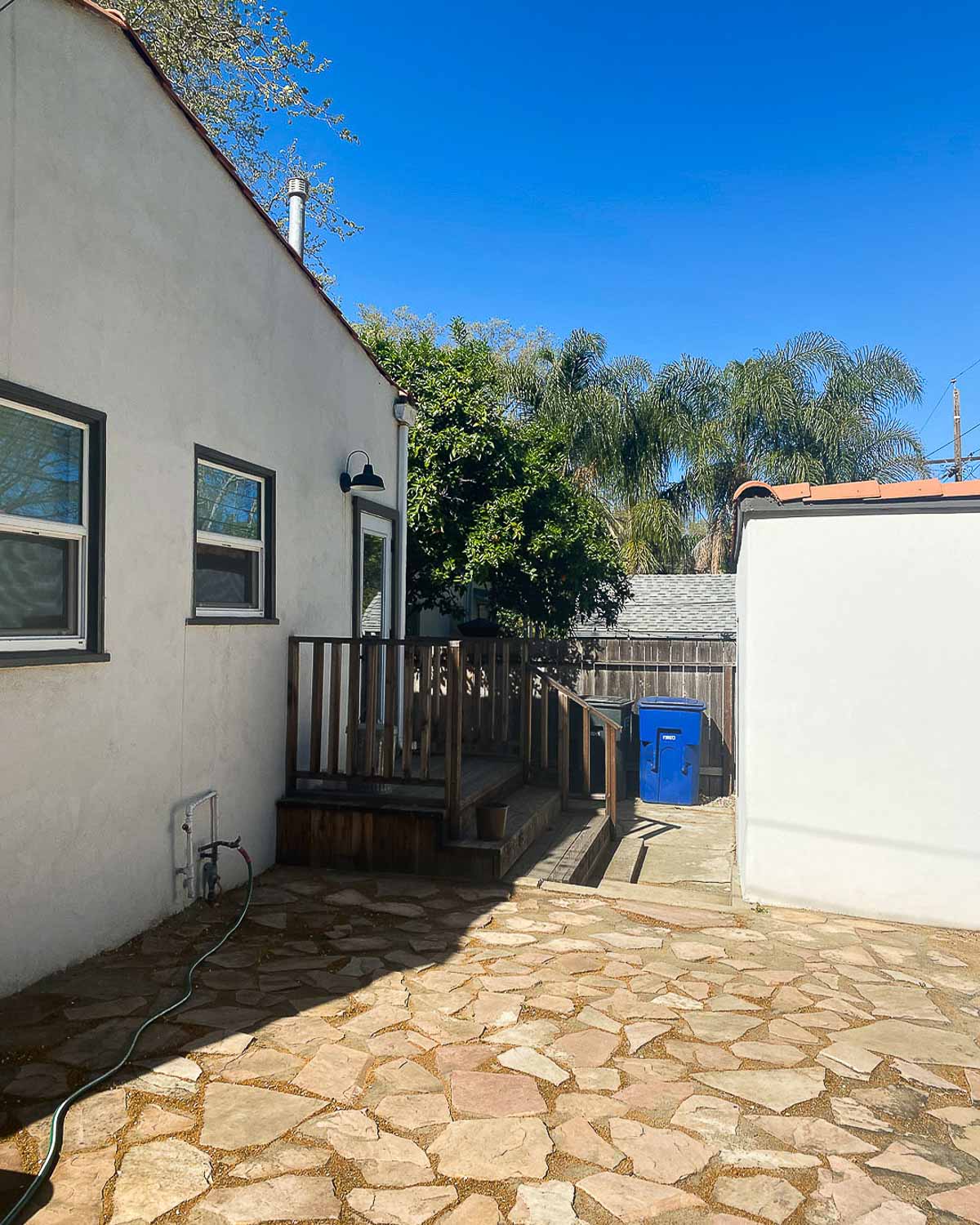 Also, our house was built in 1925, and, like all the homes in our area, the garages are detached and basically impossible to get your car into.
While storage of things would be a fine idea for the space, we just don't own that many things we need to store out there and can much better utilize the space for work and guests.
So my architect husband began re-designing this very small space.
Meanwhile, while we think they did a pretty great job flipping the house before we bought it (see bungalow before/after photos here), the backyard and garage were very much not a part of that.
The backyard, while fine, didn't have design or care put into it. The flagstone was basically set into sand and quickly became a tripping hazard – as did that brown plastic edging you can see.
And what you can't see in these photos is that in the dead of summer, our backyard BAKES in 100+ degree weather, so besides my small garden on the side there, we weren't using the backyard much and we really want to!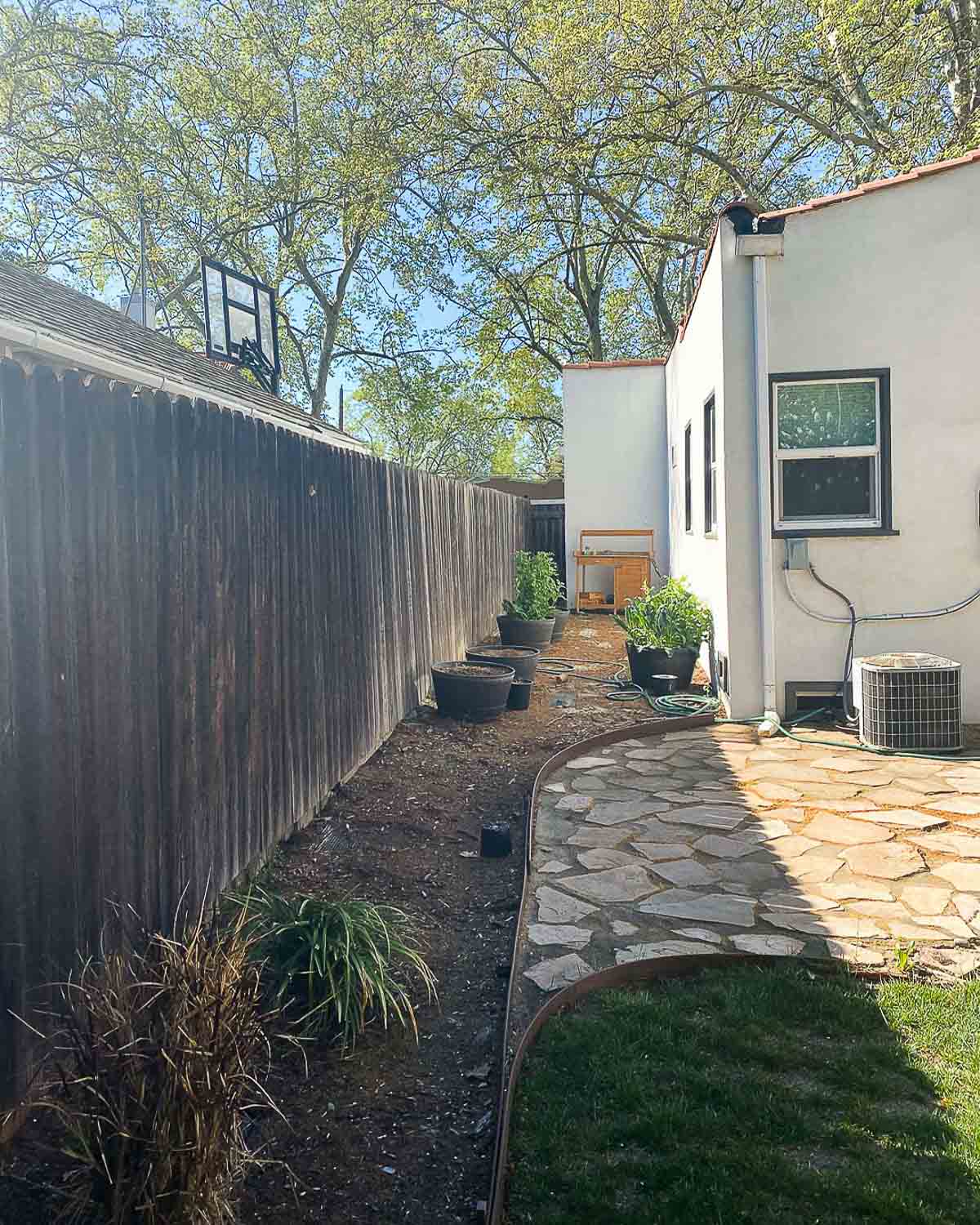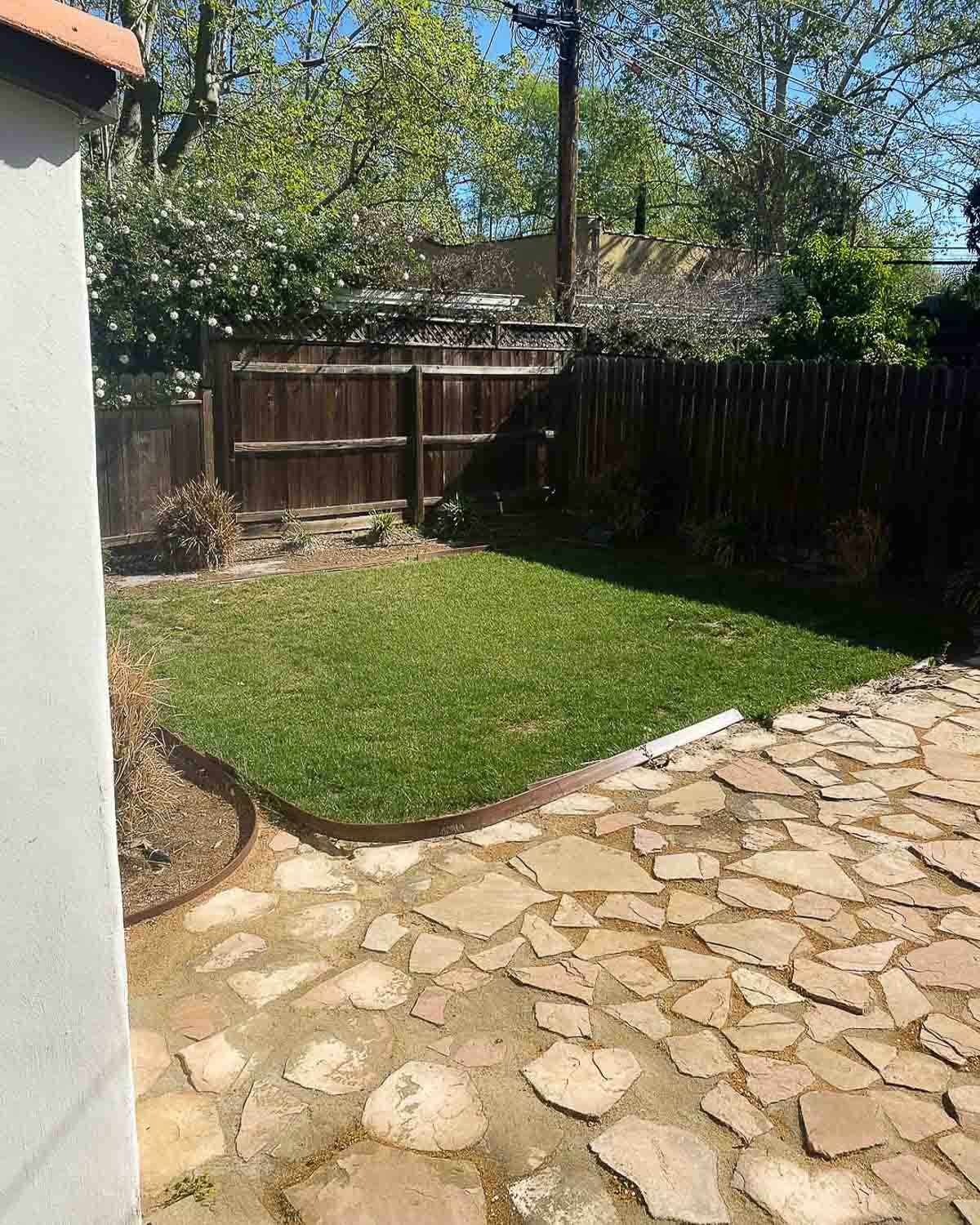 Small ADU plans
ADU (Accessory Dwelling Unit) means a lot of different things. Besides being at least a basic, liveable space, there aren't really guidelines.
Trying to keep the layout of the backyard roughly the same, we kept the footprint of the ADU the same as the garage – roughly 18′ x 18′.
So the end living space is going to be less than 400 sq. feet, BUT it will have a bed, closet, kitchen with an oven and stove, and a bathroom with a door – not to mention a small desk space (hello my new home office) and a bar area for eating.
Outside, the stone area will become an even (safe) place for a dining table and my garden area on the side will get an upgrade to raised beds (hopefully with drip irrigation) and a clothesline.
We're a little undecided about where to place the extra seating area (drawn below in the upper right hand corner). That area will be hit by that hot Sacramento summer sun, but it feels so much more balanced over there.
Thankfully we don't have to finalize the backyard portion of it for some time.
California Landscaping
One of the things we've been talking about through the ADU plans process is California landscaping – basically native plants and drought-resistant plants.
We're hoping to incorporate more plants than these original plans show, but we are also planning to keep a grassy area – just a small one for play.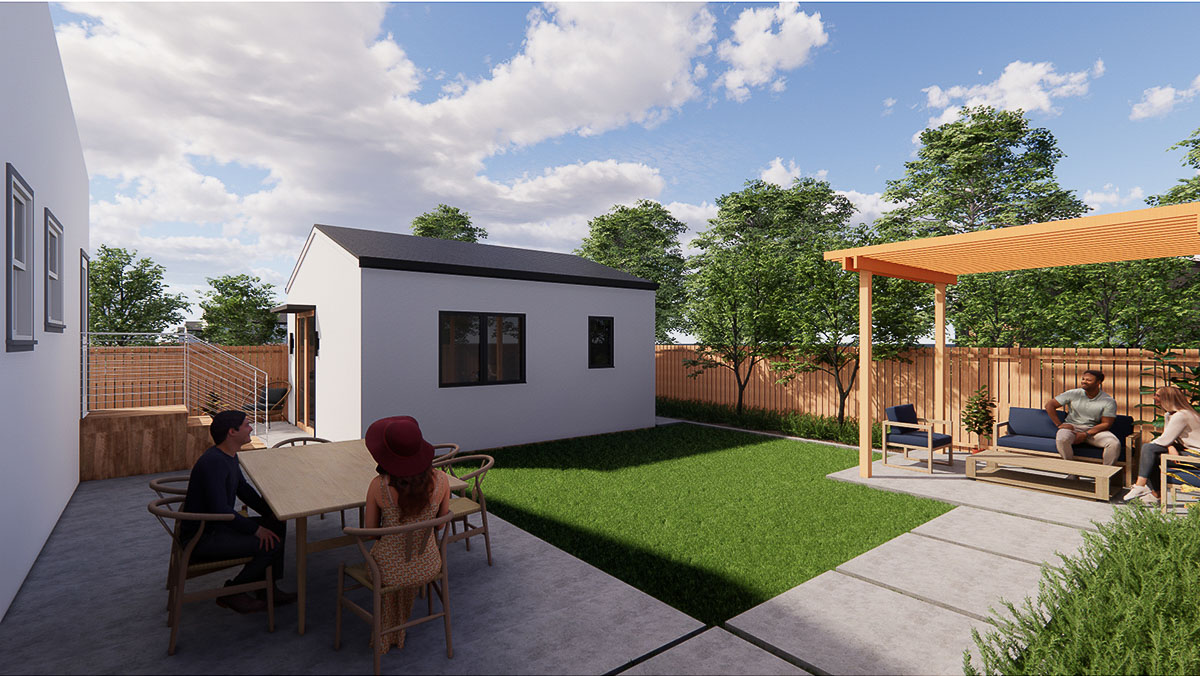 ADU & Backyard Remodel Timeline
We're working with a local contractor on this project and the projected timeline is 3-4 months, which would be mid-July to mid-August. Of course, most projects take longer than expected.
We've also already had one set back. After seeing the basic windows our contractor planned to use, we wanted something better (better looking, easier to operate, and longer-lasting). Unfortunately the ones we really like are 16 weeks for delivery, so we'd have to pause construction for 2-3 months.
After some more store visits, my husband found an option that's only 4 weeks out for windows and 8 weeks for the door – not ideal, but certainly better. So that's our first set back. We'll see what's left.
You can see my frequent updates on my Instagram ADU highlight here.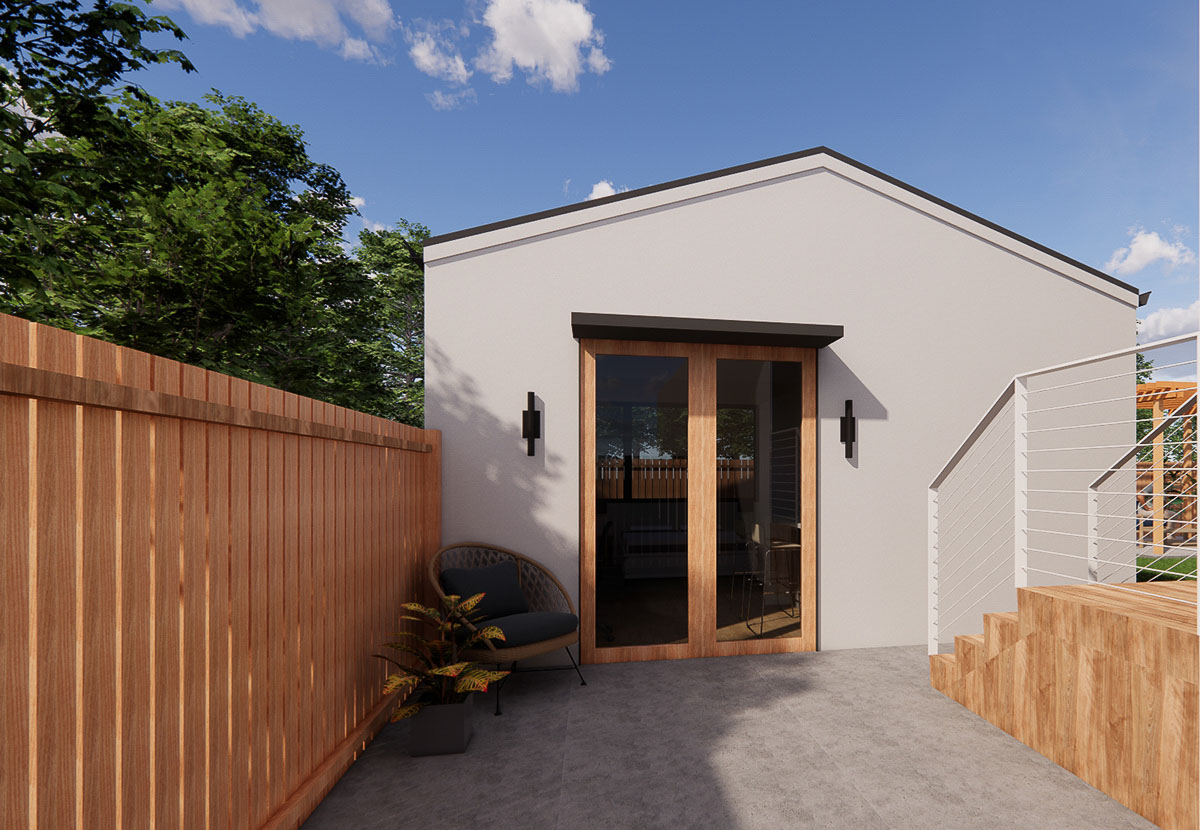 See more ADU Updates
Small Home Living Tips
Want some organization tips for small home living? Check out these posts of kitchen appliance organization, how to store reusable bags, seasonal clothing storage, and small home office ideas, including mail and paperwork organization!
You'll also want to read how we're making our home more sustainable; my go to clean home cleaning products; a spring cleaning room-by-room checklist that you can practice year round; and how to declutter your mailbox!
Keep an eye on this constantly updated list of sustainable product reviews for every aspect of life!